The month May was named for the Greek Goddess Maia, who was identified with the Roman era goddess of fertility, Bona Dea, whose festival was held in May. Conversely, the Roman poet Ovid provides a second etymology, in which he says that the month of May is named for the maiores, Latin for "elders"
"All things seem possible in May."
–  Edwin Way Teale

31/5/17:
France, Vitry: clashes after cops fire flashballs and disencirclement grenades at passers-by after youths open up hydrants in hot weather…Dunkirk: cops stoned by groups of youths following control

Germany, Nuremberg: 100s of students clash with cops in spontaneous resistance to deportation of fellow Afghan student. Video here.

Chile, Santiago: students clash with cops

Zimbabwe, Matabeleland: miners & wives clash with cops after strike is declared illegal "Anti-riot police were on Wednesday called to restore order at Turk Mine in Bubi District where wives of the striking workers became violent as they barred their husbands from returning to work before receiving salaries….The miners are owed three months salaries and on Monday laid down their tools in protest. Some of the miners together with their wives are said to have turned violent after the mine's management accused them of conducting an illegal strike. "They started pelting managers with stones. They accused management of being insensitive by telling them that their strike was illegal….running battles between the police and workers ensued leading to the police firing teargas. …The wives of the miners who joined the protest on Monday said they were considering denying their husbands sex to pressurise them to demand their dues from their employer."
Canada, Vancouver: mayor's offices occupied as part of resistance to eviction

30/5/17:
Colombia, Buenaventura: tractor-truck burnt as public sector strike continues

Pakistan, Sindh: riots over power cuts spread to another region "Enraged people took to the streets at many places in Karachi, Hyderabad, Mirpurkhas, Badin, Sukkur, Khairpur and other districts to vent their anger against the K-Electric and Hyderabad Electric Supply Company (Hesco)….At several places in the province, authorities called in police and paramilitary Rangers to disperse the protesting crowds and prevent further aggravation of the situation….In Karachi, major protests were witnessed in Orangi Town, Nazimabad, Liaquatabad, Lasbela, Saudabad, Malir 15, Shah Faisal Colony, Landhi, Korangi, Gulistan-e-Jauhar and several other localities. Irate people chanted slogans and set old tyres and wooden stuff on fire on main roads to suspend vehicular traffic. They also pelted moving vehicles with stones. An angry mob stormed an office of the KE in Nazimabad locality and torched the kiosk of private security guards. Violent youths ransacked the office furniture and tried to torch it too. …In Hyderabad, irate residents of Khata Chowk and Cheetal Chari stormed the City Cloth Market asking the shopkeepers to shut their businesses in protest over the prolonged power failures. The protesters lit bonfires at Fakir Ka Pir and City Cloth Market area against non-supply of electricity. Vehicular traffic remained suspended on the main road for a few hours and the market remained shut for several hours. Similar demonstrations were also held in Badin, Tando Bago, Matli Talhar, Nondo Shahar and other areas, where residents complained that the duration of loadshedding had reached to 18-20 hours in a day."
Chile, Santiago: bottles v. rubber bullets as cops evict squatted social centre

France, Charente: 3rd day of clashes between youths and cops…Grenoble: 11 electricity company cars destroyed by anti-capitalist libertarians For fuller explanation in English see this

29/5/17:
Pakistan: protesters against power cuts killed as violent demonstrations erupt in several north-western towns "Hundreds of protesters burned and rampaged through government offices and police checkpoints, snatching valuables and police weapons…They tried to burn a main power station in the town of Dargai…. Similar clashes took place in Peshawar, Charsadda and Swat. In Peshawar, protesters took to the streets for the third day of rallies and roadblocks…At least two offices of the power supply department were ransacked…The protesters have been angered by the daily 10-12 hours of power cuts in the summer heat. The fact that Muslims fast and abstain from drinking water in daylight hours during the holy month of Ramadan has made things worse" More here "Two protesters were killed and 14 others injured when personnel of the Levies force fired at protesters who torched the offices of the Peshawar Electric Supply Company (Pesco) against the unbearable and unannounced power cuts in Dargai…Deputy Commissioner (DC) Sardar Bahadur and two Levies personnel also sustained injuries as the charged protesters pelted stones at them. The army was called out to control the situation after the protesters torched a Levies post. The stick-wielding residents of Wartair Union Council and surrounding localities in Dargai entered the Pesco offices, ransacked the furniture and other equipment and put the offices on fire to protest the unscheduled and prolonged power outages. The personnel of the Levies force present to protect the entity's offices resorted to firing at the protesters to break the violent protest. ..The protesters later regrouped at the Dargai Chowk and blocked the busy Malakand road for traffic and ransacked shops, smashed the closed-circuit television cameras (CCTV) installed at the square and pelted stones at signboards and vehicles damaging windshields of various vehicles." And here "…protesters first ransacked a WAPDA office and later turned their anger towards law enforcement agencies called in to control the situation. The ensuing clashes led to the death of at least one protester and caused injuries to several others, including officials of the local administration. Protesters assaulted the WAPDA office early morning, setting fire to computers and furniture inside the office. A PESCO spokesperson said protesters also burnt records stored in the office of the XEN (executive engineer) and SDOs (sub-divisional officers) and also broke windows of the officials' cars. The flow of traffic was also disrupted as the thousands of protesters blocked the main Mardan Road. Consequently, levies officials reached the site to control the situation. Sources said officials resorted to aerial fire to disperse the protesters, which led to the death of one protester and caused injuries to four others…This sparked further anger among the demonstrators, who then turned their fury towards the authorities and burnt down the nearby police station. In the ongoing clashes, an assistant commissioner was also injured. "…2 power stations occupied

Peru, Chiclayo: masked workers protesting their exclusion from control of sugar factory confront cops with stones etc.

UK, Devon : attack on demockrazy
South Africa, Western Cape : residents block roads with burning tyres in housing protest
Zambia, Lusaka: students riot over unpaid allowances
Italy, Rome: workers occupy research institute against job cuts

France, Yvelines: cops attacked by groups of youths 4 times within space of a few hours in different parts of region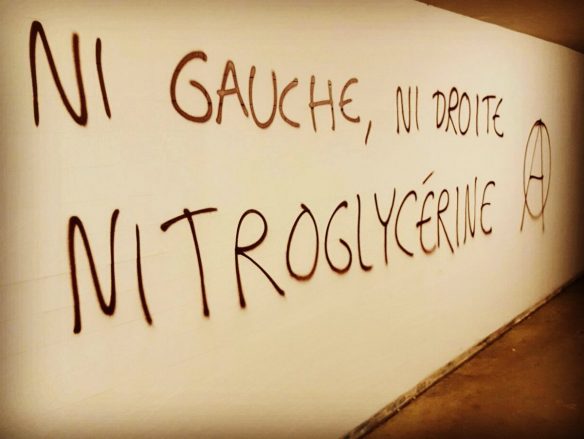 Besancon election slogan: "neither left nor right – nitroglycerine" (sounds better in French, with the repetition of "ni")
28/5/17:
Germany, Berlin: clashes after activists dig ditch across street

France, Grenoble: cops attacked as they turn off hydrant opened up to cool people down during hot weather

Iran, Khorramabad: depositors ripped off by state affiliated development financial institution block roads, smash windows, chanting "Death to Bazvand [ie the local governor]"

27/5/17:
South Africa, Western Cape: cop shop burnt out in arson attack

Germany, Berlin: massive conflict with riot cops after activists dig ditch in road

Italy, Sicily: clashes with state at G7 conference

Guatemala, Izabal: mayor's house and police station burns after protester against toxic mine killed; mayor flees town for fear of being lynched

UK, London: women occupy Holloway prison demanding "affordable" housing

26/5/17:
France, Essonne: 10 masked youths attack army patrol with stones…Seine-et-Marne: 20 youths attack security guards with iron bars after being refused entry to leisure centre when they tried to get in for free

Senegal, Mbour: clashes with cops during demo against pollution &  miserable health consequences of fish factory

Morocco, Al-Hoceima: clashes with cops, stones thrown,  after activist interrupts sermon "Thousands of Moroccans marched under the watch of police in Al-Hoceima last week, waving banners proclaiming "Are you a government or a gang?""
Pakistan, Islamabad: farmers clash with state over subsidy cuts

25/5/17:
France, Melun: 4 cop cars damaged as 20 youths chuck stones at cop in ambush

Brazil, Brasilia: government withdraws troops

US, California: hunger strike launched at Folsom Prison "Prisoners in B4 ASU are forced to sit or stand idle in their cells or yard cages without meaningful exercise, education, or rehabilitative programs. We are already forced to endure atypical and significant hardships due to being in segregated housing and solitary confined. When taken together, these conditions constitute cruel and unusual punishment under the US Constitution. We are being deprived of basic human needs, including normal human contact, environmental and sensory stimulation, mental and physical health, entertainment, physical exercise, sleep, access to courts, and meaningful activity. Prolonged exposure to these deprivations has caused and will cause serious physical and psychological harm. FSP (Folsom State Prison) is deliberately indifferent to prisoners suffering. They are aware that prolonged social isolation, and lack of environmental stimuli causes "serious psychological pain and suffering and permanent psychological pain and suffering, and permanent psychological and physical injury."…Oakland: dockers walk out after discovery of nooses

Colombia, Cali: masked libertarian students chuck potato bombs at riot cops Explanation here

Mexico: call by various workers in Wal-Mart, Sam's Club, Suburbia, Bodega Aurrera and FEMSA in different states for solidarity national work stoppage & boycott

24/5/17:
Brazil, Brasilia: anti-government protesters set fire to Ministry of Agriculture, plunder other ministries, force their evacuation "The protesters have "occupied" the Ministries Esplanade which is surrounded by the ministerial buildings. The protesters reportedly set the Agricultural Ministry's building on fire and smashed windows at several other ministerial buildings, Brazilian media report. The affected ministries have been evacuated….The protesters are erecting barricades on the streets using "sofas, chairs and tables" from nearby buildings and are burning litter. The demonstrators burnt public bicycles and "plundered" the Ministry of Planning, according to some reports….The demonstrators also "did some damage" to the Brasilia Metropolitan Cathedral and the Museum of the Republic."…Videos…Rio: molotovs chucked at cops as government increases public sector contributions to the state "The hike in required contributions from 11 percent to 14 percent of a public employee's pay was approved by the Rio state Legislative Assembly, whose headquarters was protected by a huge security detail deployed to contain the demonstrations in which hundreds of angry citizens took part. During the protests, clashes erupted between the police and demonstrators, who hurled Molotov cocktails and were responded to with tear gas and rubber bullets." …Anarchist take on this here

Brasilia, Ministry of Agriculture
…Para: 10 killed by cops during clashes as cops evict settlers
US, California: 8 screws hospitalised in prison riot

Venezuela, Maracaibo: various state buildings set on fire "Consumed by the flames, the headquarters of the Ministry of Housing and Habitat (Inavi), the Ombudsman's Office, the Rafael Urdaneta Center and the Irdez, where the offices of the Republic of Los Muchachos and the Secretariat of Indigenous Peoples were in operation."… Regional Sports Institute looted "The sports authority said that, apart from office supplies, computers and printers, "two high-performance bikes assigned to bicicross, balloons, gloves, whistles and a part of the lighting system that was missing from the 'Pachencho' valued in thousands Of millions of bolivars…"…It was sparked off after the death of José Adrián Duque Bravo, a resident of the Torres del Saladillo"
Tunisia, Tataouine: new governor resigns after less than a month following massive strike and riot movement against unemployment (see entry for 22/5/17)

Turkey: imprisoned anarchists & others go on hunger strike

UK, Scotland: worker sabotages refinery

South Africa, North West: mayor taken hostage, municipal buildings torched, as part of service delivery protest… Pietermaritzburg (KwaZulu Natal): striking municipal workers sabotage the spectacle of "creativity"  See also this

23/5/17:
Interesting reflection on Manchester bombing (post 5 on this largely uninteresting thread):"There's plenty to say but what I want to concentrate on an aspect of British "intelligence" and some questions about its role in the background to this horrible event. I haven't read any of them but I'm aware that there are some conspiracy theories doing the rounds on the interweb.
On the face of it it's perfectly reasonable that the "security forces" can't follow every suspected terrorist or fellow traveller. But there had been warnings about Salman Abedi over years from family, friends, Imams and others in the community that were quite specific about his political motivations as a "dangerous extremist" and his wish to become a suicide bomber. Some of this was reported directly to the police and some through the sinister "Prevent" system. These weren't ambiguous warnings; they were clear, persistent and ongoing and from various areas. Yes, Salman Abedi was "known" but "not regarded as a threat" according to Home Secretary Amber Rudd. Even more astonishing is that young Salman was allowed to travel to and fro to Libya, but also went to Turkey, Syria, Dusseldorf in Germany and, according to his father, Saudi Arabia (everything here is taken from the British mainstream press, Telegraph, Independent, etc). My sister-in-law lives with her extended family in Libya (they had to flee Tripoli from Isis and her youngest granddaughter has recently died of cholera). I know something of the difficulties of travelling between Britain and Libya but it seems it was it was no problem for Salman the jihadist and the rest of his family. NBC news, quoting a US intelligence official, said that Salman had "travelled to Libya in the last 12 months, one of the multiple countries he had visited" and that "he had clear links to al-Qaida and could have connections to other groups". The French minister, Gerard Collumb, said that Abedi had "proven links with IS". No wonder that British intelligence is annoyed about these "leaks".
How could Salman Abedi and his family, known supporters of jihad, been given so much leeway in travelling around these terrorist hot-spots?
Salman's father, Ramadan Abedi (aka, Abu Ismail) has something of a past.  According to some reports he worked in Gaddafi's security apparatus in the late 90's, so he won't exactly be a shrinking violet. He fled Libya to Britain some time after and returned just before Gaddafi was overthrown in 2011. Back in Britain Ramandan has a job as a "security guard" with one report saying it's at an airport. He often leads the prayers at Didsbury mosque where he follows the Saudi, Salafist line on Islam. He was (and remains as far as we know) a member of the Libyan Islamic Fighter's Group (LIFG), an al-Qaida affiliated group that has been used and abused by British intelligence depending on Britain's relationship with Gaddifi. There are a number of ex(?) LIFG members living in the Fallowfields district of Manchester and some, at least, have been involved in al-Qaida linked terrorist networks in Libya. Salman's father and brothers have returned frequently to Libya and they were in Tripoli at the time of the bombing apparently talking to other terrorist elements involved in the increasingly entangled infighting in the city.
After the British and French "victory" in the Libyan war of 2011/12, there were very credible reports that the CIA and MI6 were transporting Libyan al-Qaida affiliates and their weaponry in C-17 transporters from Libya to the Turkish border with Syria so that they could fight Assad's forces (Times, September 14, 2012). This was the "rat line" according to Seymour Hersh in his very well researched 2014 extended article "The Red Line and the Rat Line".
The possibility has to be raised that Ramandan Abedi, his clique and possibly his family was and remained (up until a couple of days ago anyway – now they are a busted flush) a very useful asset for British intelligence in the politics of a Libya virtually destroyed by the western "coalition". It would also explain what appears to be a certain "protection" and ability to travel freely given to him and his family. As in many cases before it happens that the terrorist turns and bite the hands that feed them. And behind all their lies, we have to continue to put up with the sickening hypocrisy of the ruling class."
Haiti: striking garment workers block roads, subsequently severely beaten
Gambia, Farato: youths barricade roads with burning cars, tyres etc., attack cops in resistance to eviction & demolition

22/5/17:
South Africa, Pretoria: main road barricaded during service delivery protest "Protestors burnt tyres on the busy road and blocked roads with waste and garbage….The protest organised by concerned residents of Mamelodi is linked to service delivery including the lack of waste collection and electricity."
Tunisia, Tataouine: 3rd day of revolt in several cities & towns in southern parts of country after protester  is run over & killed by cops in strike movement against unemployment… 2 police stations and several state vehicles set on fire…protesters force closure of two oil and gas pumping stations…  More here….Hazoua: attack on border post in solidarity with movement in Tataouine; 12 state officials wounded

France, Yvelines: 50 or so youths chuck projectiles at cops, set fire to bins, as cops try to stop filming of rap video…Essonne: cop car smashed as stones rain on cops

21/5/17:
France, Aulnay-sous-Bois: unofficial rap video ends with attack on cops by about 150 youths

20/5/17:
Eire, Dublin:  water warriors attack water meters . See also  this from 2 years ago"Groups of anti-water meter activists are offering to remove people's meters and have set up Facebook pages advertising their alleged illegal activities. Branding themselves the 'Anti-Water Meter Fairies', the group have posted pictures of dozens of removed meters across the Dublin area.'Dublin South Water Meter Fairies' and another group reporting to be from Balbriggan, Lusk and Skerries, have actively been posting images and videos depicting the removal and destruction of meters.Individuals wearing balaclavas or masks are seen in some pictures with tools used to remove meters.In a video posted on the 'Balbriggan, Lusk, Rush and Skerries Meter Fairies' page, a masked man is standing in front of two removed meters as part of "a message to Minister Alan Kelly".He then proceeds to pick up a sledgehammer and smashes the meters to pieces."After all that hardship and after all of the struggle, we're just going to take the meters out and do this to them," he says.In another video, a masked man claims that the fairies have "a network of people" and have "the tools and the know how to remove every meter".The Dublin South Group claims to be actively involved in Rathfarnham, Ballinteer, Churchtown, Dundrum and Sandyford, where they say they will remove meters on request.The pages were described as "disgraceful" by Fine Gael councillor Neale Richmond, who reported them to gardai."Advertising online, this is clearly a subversive organisation seeking to willingly break the law and destroy public property," Mr Richmond said.He called the groups "sinister" and claimed that the removal of water meters "is attacking the very fabric of the State"." …Update on trial (May 28th)

France, Seine-et-Marne: cars burnt, cop car damaged after arrests following attempt to cut down pole supporting CCTV camera

Greece, Athens: riot cops attacked with stones

19/5/17:
Colombia, Buenaventura: curfew declared following riots, looting and barricades after several days of general strike demanding public services & drinkable water, in which mayor's house and car were stoned

South Africa, Soweto: burning barricades in housing protest…Bloemfontein: looting during council workers' strike

18/5/17:
Brazil, Rio: projectiles thrown at cops during anti-government protests ""We are protesting against all the law reforms. It is not enough to overthrow the current representative of capital," said protester Maria de Souza."

Greece, Athens: further clashes with cops on anti-austerity demo (includes video & photos)…anarchists storm parliament

17/5/17:
Venezuela, Tachira: troops sent in after mass looting and torching of police stations "We are the new Jews of the 21st century that Hitler pursued," Maduro said during the cabinet meeting. "We don't carry the yellow Star of David … we carry red hearts that are filled with desire to fight for human dignity. ..Social media has for weeks buzzed with videos of Venezuelan emigrés in countries from Australia to the United States shouting insults at public officials and in some cases family members in public places. Maduro's critics say it is outrageous for officials to spend money on foreign travel when people are struggling to obtain food and children are dying for lack of basic medicines. But some opposition sympathizers say such mob-like harassment is the wrong way to confront the government." More here. "The government and the opposition have blamed each other of sending armed groups to sow violence in the protests….In Tachira, some 20 shops, restaurants and a school were looted on Wednesday, according to authorities. Two police stations were also set on fire and a military outpost attacked with firebombs during the previous night."
For those Leftists who think the uprising there is simplistically for the right-wing opposition, it should be pointed out that  the official opposition has condemned looting and even said that looting has been the work of the government  (see entries on this site for 10/5/17 and 14/4/17, for instance).
Brazil: riots & demonstrations throughout country after tapes reveal President collusion with diseased meat company

Greece, Athens: clashes with cops on anti-austerity demo More here & here "…hooded youths smashed the windows of a TV van and threw a firebomb at police, who responded with bursts of tear gas."
UK, Bristol: disused factory occupied

16/5/17:
Venezuela, Socopo de Barinas: cops fire live rounds as 10 businesses are looted… Miranda: bakery and automobile store looted
Dominican Republic, Santo Domingo: university closed after riotous clashes with cops
15/5/17:
France: letter from anarchist imprisoned for burning cop car
Colombia, Cesar: attack on major petrol production site in attempt to close it down; truck burned, helicopter attacked
US, Washington DC: Trump hotel has anti-Trump  slogans projected onto facade Should be said that these slogans are very consititution-minded.

14/5/17:
South Africa, Western Cape: students continue occupation of admin building

Australia, Victoria: riot at youth detention centre
13/5/17:
Bulgaria, Sofia: prison workers strike over slave labour

France, Mayotte (French department in Indian Ocean): lieutenant-colonel hospitalised by rock thrown at his car…Marseille: shop run by Eiffage, company involved in CCTV and other surveillance apparatuses, has its windows smashed and is tagged with "Smart-sell, cameras, bourgeois park…smash your sterile world" and "Better a vandal than resigned!"
Nigeria, Ondo: roads blocked, attempt to burn down polices station in attempt to prevent arrest of suspect
12/5/17:
South Africa, Western Cape: land occupied en masse in movement against lack of housing

New Zealand, Dunedin: bank occupied by climate change activists

11/5/17:
Ukraine, Kryvyi Rih: mass strikes and occupations of mines; access roads blocked
China, Guangdong: incinerator project scrapped after demonstrations, mass strikes and closures of schools (video)… 2 reports on increased state controls and surveillance in China. This one includes surveillance of those living outside China. "The proposal states intelligence agencies could "collect and process" information on foreigners and Chinese citizens and conduct work outside the country's borders. …In April, authorities in Beijing began offering cash rewards of up to 500,000 yuan ($72,500) for citizens who turn in foreign spies. The proposed law allows for rewards for "major contributions" to intelligence activities to be offered nationwide." Whereas this one is specifically about the Xinjiang region: "China Expected to Expand DNA Collection in Xinjiang… public security authorities are laying groundwork for the mass collection of biometric data in the Xinjiang region…The purchases of DNA testing equipment in Xinjiang were confirmed by an official at the regional Public Security Bureau. … In Xinjiang's Sheche County, suppliers were being sought for voiceprint collection systems and 3-D portrait systems…If used at full capacity, the new equipment could be used to profile up to 10,000 DNA samples a day and several million a year…The scale of the purchases raises "a legitimate concern that Chinese authorities could be planning to DNA profile a large fraction, or even all" of the Uighur people in Xinjiang…Since it started collecting DNA profiles in 1989, China has amassed the unique genetic information on more than 40 million people, constituting the world's largest DNA database". For an analysis of the myths surrounding DNA see this.

South Africa, Ennerdale (near Johannesburg):  4th day of clashes with cops over housing "Police fired tear gas to disperse crowds in Ennerdale township, south of the economic capital, after residents blocked roads with rocks and burnt tyres. Some schools and businesses were closed due to the protests. The government urged residents to stop violence, intimidation and looting while pushing their demands."…More here…Marikana: workers disrupt mine output and damage property  "Platinum producer Lonmin said on Thursday community protesters demanding 1 000 jobs were disrupting output, damaging property and intimidating employees around its Marikana and other operations in South Africa. The Lonmin ructions are the latest flare-up on South Africa's restless platinum belt between impoverished communities seeking a bigger slice of the mineral pie and companies grappling with depressed prices and rising costs. Lonmin said production at two shafts had stopped because of the protests and its output losses amounted to around R40 million ($3 million) over seven days, but it could not meet the protesters' demands for jobs. "These demands are not realistic in the current economic climate and cannot be acceded to without threatening the sustainability of the business," Lonmin said in a statement."…Port Elizabeth: unemployment protesters shoot at cops

10/5/17:
Puerto Rico, Rio Piedras: indefinite student strike against cuts deemed illegal

South Africa, Western Cape: wages strike deemed illegal…More here "…more than 200 workers on Wednesday staged a protest at the university in Grahamstown, trashing rubbish bins and littering inside and around the main administration building where they had assembled. This happened despite an agreement the university signed with trade unions "to maintain peace and harmony within the employment relationship""…Tshwane: bins burnt, etc, as locals riot for electricity, water and housing More here…Port Elizabeth: clashes during protest against end of school busing "…chaos erupted as people began jumping over the fence and damaged property. "When problems erupted, members of the Public Order Policing Unit used stun grenades, rubber bullets and teargas to disperse the protesters" …Coligny: bus set alight in protest over jobs…Finetown: clashes during housing protests  "The game of cat and mouse continued in Finetown, in the south of Johannesburg, on Wednesday as protesters slung stones, and police responded with rubber bullets and teargas.It has become a game as residents use cardboard shields to sneak up on cops to pelt them with stones.Police then jump into their Nyalas and charge down the road, ignoring and crushing rocks and debris dumped by the community.Protesters have learned to extinguish 40mm teargas grenades by either pouring water on them or starving them of oxygen by placing a bucket over it.Now police follow up the teargas with a volley of rubber bullets. Each time a Nyala charges down the road it is met with a hail of rocks and stones from the community" Video here

Tunisia, Tebourba: 100s riots after fruit seller sets himself alight following cops preventing him from selling
Venezuela, Merida: kids' clothes store and cheese truck looted; official opposition denounce looting …call from El Libertario to support uprising

9/5/17:
France, Besancon: high school blockaded against the electoral circus…Essonne: riots continue, cars burn, for  3rd night  following death of youth in cop car chase
Spain/Morocco: 300 migrants break through border 

Chile, Santiago: water cannon used as 250,000 students demand cancellation of debts Video here
UK, Anfield: football celebrity's car attacked…Aberdeen: your art is what you eat

South Africa, Johannesburg: clashes as protesters demand land and housing for 3rd day running…Limpopo: police station gutted, 2 cop vehicles burnt, as 700 locals demonstrate over disappearance of woman
8/5/17:
South Africa, Johannesburg: shops looted, roads barricade, in housing protests More here...Cologny: houses burnt, etc. after judge free 2 white killers of black teenager on low bail…Western Cape: students occupy offices in protest against accommodation shortage
Chile, Santiago: more student clashes with the state (video)
France: demonstrations in several cities against Macron on day or day after he's elected More here and here and here
China, Guandong: massive movement against incinerator More here & here
7/5/17:
South Africa: attacks on journocops during protests in Limpopo and North-West

Iran, Golestan Province: miners attack President Rouhani's car following deadly disaster

France, Paris: post election clashes…Essonne: riots continue following death of teenager in cop car chase…Nantes: arrests following anti-election attacks on Town Hall etc.…Strasbourg: heavy clashes between ultra-left/anarchists and extreme right
6/5/17:
France, Essonne: riots after teenager dies being chased by cops

5/5/17:
Australia, Perth: riot in juvenile detention centre

Taiwan, Taipei: aborigines occupation of/sit -in on part of road smashed up by cops

Indonesia, Pekanbaru: over 200 prisoners still at large after over 400 escape

4/5/17:
Argentina, Buenos Aires: women occupy downtown with tent city in movement against femicide

2/5/17:
South Africa, North-West: truck torched in unemployment riot

Honduras, La Lima: 2000 farm workers take over 10 farms demanding better working conditions and health care

New Zealand, Otago: wind farm data collection mast wrecked
1/5/17:
Various May Day riots…More here

Germany, Berlin: cars burnt More here and here…videos here…Thuringen: more clashes
France, Paris: cops hurt in clashes More here…Besancon: ATMs & banks windows smashed, lots of anti-election slogans, including many against Melenchon as well as the usual slogans against Macron & Le Pen …Brittany: containers, boat attachments and car burnt in anti-election attack…Maine-et-Loire: bottles and stones against Front National HQ
Italy, Turin: clashes with cops Video here
Turkey, Istanbul: more clashes
Gabon, Libreville: roundabout occupied as cops ban Mayday demo
Spain, Barcelona: shop windows etc. smashed
Puerto Rico, Rio Piedras: several business windows smashed, TV bus attacked  …Video here
Honduras, Tegucigalpa: brief clashes on Mayday march
US, Texas: governor's office occupied against immigration crackdown …Portland, Oregon: riot against cops etc. after cops ban march More here and here….Olympia, Washington: another riot …New York: clashes…Philadelphia: 20 cars and several builidings damaged in anti-gentrification demo…More here …More here and here
Italy, Turin: eggs & flagpoles v. truncheons & pepper spray
Iran: a look at workers' opposition over the last year (traditional reformist site)