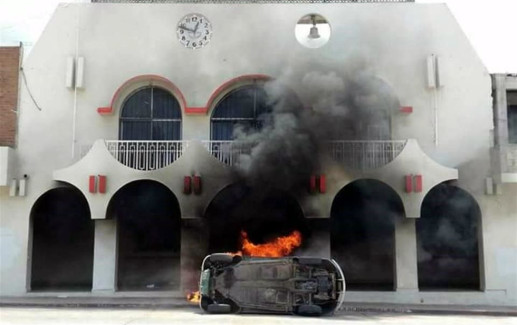 "November — with uncanny witchery in its changed trees. With murky red sunsets flaming in smoky crimson…days full of a fine, pale sunshine that sifted through the late, leafless gold of the juniper-trees and glimmered among the grey beeches, lighting up evergreen banks of moss and washing the colonnades of the pines…Days when an exquisite melancholy seemed to hang over the landscape and dream…."
– L.M. Montgomery
30/11/17:
UK, Surrey: part of oil drilling site occupied by those angry at environmental destruction
Honduras: various clashes over election "In the city of La Ceiba, protesters set up barricades and burned tires across a bridge and blocked at least two other motorways. In capital city Tegucigalpa, police fired tear gas to disperse Nasralla supporters who were peacefully gathered outside the election tribunal where the vote was being counted. The fumes entered the building, prompting the evacuation of staff. Clashes between police and masked protesters continued through the night." …100 arrested for looting…San Pedro Sula: bank looted during protests Although much of this seems to be dominated by political factions, I doubt smashing bank windows and looting the bank is part of the false opposition's strategy.

Colombia: all air pilot strikes declared illegal during 2-month strike

29/11/17:
Germany, Berlin: police station splattered with paint in solidarity with those evicted from Athens anarchist squat

Spain, Madrid: massive 24-hour anti-Uber taxi driver strike blocks city; some minor confrontations with cops; Barcelona & other areas also effected

Greece, Athens: cops clash with anti-foreclosure protesters "Greek police used teargas on Wednesday to disperse protesters from an Athens courtroom where they had been trying to halt dozens of planned foreclosure auctions of property….TV footage showed protesters hurling objects at police in a corridor filled with smoke and police pushing them back."
US, Washington state: end of Olympia blockade More here. See also entry for 26/11/17

28/11/17:
Panama, Cabo Verde: residents barricade main roads in movement against pre-paid electricity meters "The demonstrators closed the National Avenue with metal bars, rubbish skips, mattresses and other objects to block the passage of vehicles …Units of the National Police (PN), went to the area to clear the road, but there was a confrontation between both parties. The clashes were affected by  tear gas.…  GNF [electricity company]… indicated that 90% of the residents of Cape Verde do not pay for electricity and therefore they have had to install meters with the prepaid system."
Burkina Faso, Ouagadougou: students erect burning tyre barricades, clash with cops, during visit by Macron

UK, Lancashire: cop car vandalised "Someone has run over the top of the vehicle, before kicking in the search light and breaking it. Sergeant Shaun Pearson says this is the second time in five weeks for a police car to be targeted. He's now calling for the vandals to stop, saying it isn't clever and the repairs end up costing the police hundreds of pounds."
China, Beijing: report on brutal evictions of migrant workers and repression of solidarity actions with them "…part of a broader plan to modernize, beautify and gentrify the Chinese capital as a showcase for the Communist Party."

27/11/17:
Ecuador, El Oro: after cops kill 16-year-old girl during operation against smugglers, military and cops forced by rioters to retreat to barracks; cop patrol car torched, other cop cars attacked; cop temporarily taken hostage. More here
""The death of Nicol is the final straw," shouted the people who threw stones, bottles, sticks and all types of blunt objects against the uniformed police that guarded the police HQ of Arenillas. The objective of the protesters was to burn the HQ, just as they had done with a police patrol car…Due to the enraged mob, an agent of the Dinased [section of police dealing with disappearances], who came to remove the body of the teenager, was arrested by the people to "carry out  justice with their own hands." … the policeman was detained for several minutes and they even had gasoline ready with the intention of burning him…. In the end the policeman was released.. "
Guinea, Matoto: high school students besiege & chuck stones at private home of Minister of Education in support of teachers' strike…Bouliwel: high school students stone admin buildings,  put up burning barricades See reports for 25th, 22nd & 21st below

Argentina, Cordoba: clashes with cops on demo protesting killing of Mapuche See report for 25th below

26/11/17:
US, Washington state: as blockade of freight railway line hits 9th day, a list of demands is published: "1. make the port a beach again
2. blow up the sun
3. the complete destruction of time itself
4. a brick for every window
5. a wrecking ball
6. that, while science still exists, one of us be endowed with an Adamantium laced skeleton
7. a swift and brutal end to the exploitation commonly referred to as "science"
8. the destruction of all dams, and the return of the salmon
9. no motor boats ever again
10. that fascists and politicians spontaneously combust
11. compost the police
12. release of all prisoners and the Total Destruction of prison, in all of its forms
13. cessation of all space exploration
14. the return of the Tasmanian wolf, the aurochs, the dodo bird, the coral reefs, and all other creatures and habitats that have ceased to be
15. the wilderness
16. total freedom
17.
18. the liquidation of Pacific Union's assets, to be equally distributed among all children
19. mandatory clown uniforms for all Olympia parking employees
20. that steve hall fight a bear"
Nepal, Rukum: critique of bourgeois demockcrazy…?
Algeria, Ouargla: youth severely injured by cops during riots against electoral fraud

25/11/17:
UK, Brighton: Deliveroo workers in wildcat strike More here

Argentina, Buenos Aires: attack on major cultural centre following killing by state of another Mapuche on a demo; graffiti sprayed: "Benneton – Out!" & "Assassins – long live the people!"…Bariloche: cathedral interior smashed up during riots for the same reason "A group of people entered the cathedral of the city of Río Negro…According to Infobae, a group of people entered the Cathedral of Our Lady of Nahuel Huapi, in the center of the city, and broke benches, statues and paintings, and after 20 minutes left. In addition, another group set fire to a sector in front of the building of the Civic Center, one of the most recognized in Bariloche, and closed the street. Then, they went to the National Parks office, where for another 20 minutes they burned some boxes and cut off traffic." 

Brazil, Sao Paulo state: landless workers' movement occupy farm of rapist doctor "The women of MST released a public statement saying that they continue to fight "against machismo and violence against women and LGBTs."  Brazil's Landless Workers' Movement marked this year's International Day for the Elimination of Violence against Women by occupying a farm owned by Dr. Roger Abdelmassih, condemned in 2010 to 278 years in prison for raping 39 women, most of whom were his patients."
Guinea, Mamou: high school students put up barricades in support of teachers' strike…they  attack students not supporting teachers' strike
Belgium, Brussels: shop windows smashed as demo against Libyan slavery turns into riot More here "The Belgian capital was hit by violence again on Saturday as masked hooligans damaged police cars and looted shops in central Brussels. It was the third major case of unrest in the city since early November." …Cop hospitalised with fractured skull…another report about increasing state surveillance

Canada, Quebec: fascists v antifas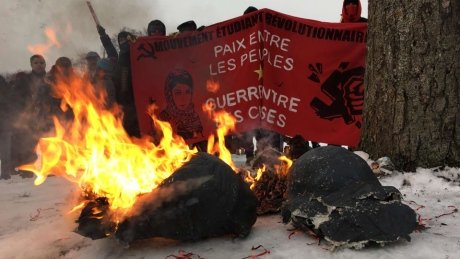 Quebec: "peace between peoples, war between classes"
24/11/17:
France, Paris: crappy "dialogue" over prison reform disrupted with insults, stink bombs, leaflets, etc. Pdf of leaflet in French here

Canada, Ontario: white supremacist rally shut down
Venezuela, Nirgua: looting after some who queued for 5 hours for flour told to leave empty-handed because bureaucratic forms weren't accepted
Colombia, Cali: heavy clashes between residents and cops over forced housing construction on protected green area

Germany, Munich: several Amazon warehouses blockaded

23/11/17:
Germany, Berlin: Amazon vehicle torched
Colombia, Cordoba: 2 cop injured during riot against cop checkpoints
Algeria, Tindouf: riots against phoney elections "The clashes intensified when young rioters attacked the headquarters of the Tindouf administrative court. Several offices of this state structure   burned… the rioters were expressing their anger at  ballot box stuffing… Algerie Part [media outlet] is continuing its investigations to identify the precise reasons for this sudden popular anger that erupted in a region hosting many strategic military units of the Algerian army" Not sure how independent this action was, as some of it seems to be linked to some Islamist Party.


France, Val-de-Marne: clashes as high school students demonstrate against Libyan slave markets
Trinidad & Tobago, Port of Spain: youth from high unemployment area block major road with burning tyres, etc., following arrests

Taiwan, Taipeh: union workers try to storm legislature, attack it with paint, throw eggs at cops, in protest against new law  restricting  labour rights, reducing holidays etc.
22/11/17:
Guinea, Conakry: major road blocked for previous 72 hours due to teachers' strike More here. It's not exactly clear what's going on in this strike, which started on the 13 November; there've been several riots of high school kids clashing with the cops – some getting killed – sometimes reported as demanding the end of the strike and the renewal of their courses (!!), sometimes reported as supporting the strike (see entry for 21/11/17). The teachers are hardening their stance, demanding a general strike. The total blocking of this street (using burning bins and tyres) seems to be carried out by youths – who demand protection money from anyone daring to try traveling along it, though few do dare. At night, for up to 7 hours, there are cat-and mouse conflicts with the  cops around this main road. From this distance – and not really knowing anything about the country, I get the impression that  those high school students demanding the end of the strike are doing it as  a pretext  for rioting and generally subverting normality in an admittedly hardly class-conscious manner.  Though sometimes it seems that the students support the strike (or at least some do). I've only just started reporting on this movement because up till now the press has been saying that the students oppose the strike, though over the last 2-3 days this seems to have changed (not sure if it's just the reporting that's changed or the actual situation).

France, Paris: clashes over new education reforms Typically mad Daily Express headline: "Paris CARNAGE: Riots on the streets as students clash with police", and then goes on to describe something quite tame. See also this French anarchist site about these reforms.

South Africa, North West: road blocked, bus torched in protest against unpaid wages

Greece, Lesbos: refugees demanding transfer & trying to camp in main square attacked by fascists & shopkeepers Report on the Lesbos concentration camp here

21/11/17:
France, Isere: bins burnt, cops & firefighters attacked with stones, bottles etc. after youth being chased by cops is killed by train…Essonne: off-duty cop ambushed and thumped, his car immobilised…Grenoble: centre for scientific & technological propaganda torched in city increasingly devoted to nauseating scientific research
Guinea, Conakry: riots in different areas due to cop killing of high school student and wounding of at least 15 others "The day after the death of a 17-year-old, shot dead by the police during a demonstration, according to his family and a member of the Red Cross,  violent incidents erupted in several neighborhoods of the Guinean capital…Hundreds of young people, being schooled or not, burned tires, dumped garbage cans and clashed with police using stones and slingshots. They countered by using stones as well as tear gas, or firing warning shots in the air, witnesses said. …In the state media, the Minister of Justice, Cheick Sako,  again denounced on Tuesday a call to strike by the unions as "illegal" and described it as "wildcat" because it was launched without respecting the notice required by law. The strikers, supported by the students, demand the total application of the special status of Education, which provides for an increase in the index and wages obtained under General Lansana Conte (1984-2008), confirmed in September 2016 during negotiations between government and education unions. In February, eight people were killed, including several by bullets, during demonstrations related to a teachers' strike."
South Korea, Seongju: bridge occupied as residents and activists clash with cops over missile deployment site More here

Senegal, Dakar: students studying for the Masters degree riot against the cops in protests about failure to receive their grants

20/11/17:
Chile, Santiago: metro line sabotaged in anti-election action

Greece, Lesbos: refugees vandalise UN offices during riot against horrendous conditions

Italy, Lecce: anti-pipeline tunnel protesters clash with cops

Indonesia, Jakarta: residents clash with cops over private company land grab

Nigeria, Osogbo: students badly injured by cops during protests against fees hikes

19/11/17:
France, La Reunion: shops and street furniture smashed as youths riot against closure of road to prevent improvised motorbike races More here "The McDonald's fast food restaurant at the Port saw its windows broken, crates were stolen. The interior of the establishment has been turned upside down.…The police were hit by stones and responded with tear gas grenades. A vehicle was burned as well as garbage cans. Several businesses have been vandalized….During the clashes between police and youth, a tear gas canister landed in a house in the Port. The occupant was able to get out of his home after being heavily inconvenienced by the cloud of burning smoke for the eyes. The man was in shock."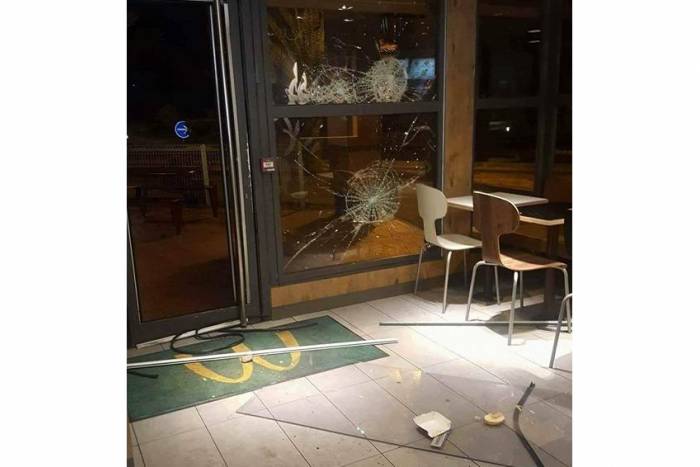 McDonalds, Le Port, La Reunion
Kenya, Nairobi: clashes continue following discovery of dead bodies

Australia, Melbourne: 7 vehicles belonging to prison/detention centre racket immobilised; lots of graffiti

Chile, Valparaiso: road blockaded with burning debris in demo against elections (communiqué) "OUR ONLY ELECTION IS THE VIOLENCE ORGANIZED FOR TOTAL LIBERATION"
18/11/17:
UK, Berkshire: clashes with riot cops as they shut down rave party

Kenya, Nairobi: looting, cars & buses torched, after 4 people killed "Four people were killed overnight, and a member of Parliament was shot in the leg today during confrontations with police. It all comes just a day before an important Supreme Court decision about the country's presidential election…. there were four people killed in an area that's opposition heavy. And this morning, we heard accusations that they were shot to death because of their tribe. The police chief says that's just not true and that politicians are using that to incite violence. But either way, the killings have unleashed riots in some parts of Nairobi. People have set cars and buses on fire. And in some other areas, there's looting" More here. Despite being dominated by the official "opposition" it's very unlikely this official "opposition" would approve of stuff such as looting.

Ukraine, Odessa: clashes with cops on demo against tree destruction/building construction "The protesters entered the construction site almost immediately, bringing down the gates. The police used tear gas, batons and firecrackers to stop them and disperse the protest. The protesters were throwing cobblestones and lighting flares….Head of the Odesa police tried to calm the protesters, but he was pushed. The witnesses say he received a head injury. The protesters and police are still fighting." …at least 6 cops injured "…the police chief and at least five other officers have been injured during confrontations with protesters… around 200 people gathered at a public park in the Black Sea coastal city to protest development plans for the area."…In fact over 20 cops injured "Law enforcement officers sought medical help because of head injury, brain concussion, bruises, chemical burns of the skin and upper respiratory tract, as well as chemical pinkeye"

Italy, Genoa: car belonging to Consular Service & other cars torched in solidarity with anarchist prisoners

France, Yvelines: 3rd night of clashes with cops "Saturday night, the district of Val-Fourré, Mantes-la-Jolie was once again the scene of clashes between sixty individuals and law enforcement. Numerous projectiles, as well as Molotov cocktails, were thrown at police officers and firefighters, who were on site to extinguish burning cars. In total, a dozen vehicles were burned. According to a police source, these successive acts of violence are "probably reprisals" for the case that has involved the police station of Mantes-la-Jolie since last week. "Violence against the police is quite common in the neighborhood, but it is sure that it is the arrest that set the powder on fire. Many young people are tired of the behavior of some police officers," confirms a resident of Val Fourré. Police are suspected of insulting, beating and burning  the hands of a 27-year-old neighborhood resident during his arrest on 7 November." …Paris: windows of banks, luxury shops & Saudi Arabia Embassy smashed on anti-Macron demo…Yvelines: 3rd night of clashes with cops…New Caledonia: 10 escape from prison; 2 still free next day (19th November)

South Africa: student organisation gives rulers & university authorities time to organise repression of upcoming struggles for free education "The SA Students Congress (Sasco), the country's biggest student organisation, has threatened to disrupt the start of the 2018 academic year at universities across the country if free education is not realised. Sasco secretary-general Tembani Makata said the organisation wanted free education to be implemented, saying the ANC had already adopted a resolution on this. To force the government's hand, Sasco has issued an instruction to all its structures that "the 2018 academic year must not commence unless there is free education", she said. The finer details of this protest action would be worked out at Sasco's national congress to be held during the second week of December. However, Makata said the anticipated action would include ensuring that no registration of both new and returning students happened at all campuses."
17/11/17:
Sweden, Malmo: police passport office attacked with rocks (communiqué)

Greece: clashes with cops in Athens & Thessaloniki on anniversary of repression of student uprising, 1973 Video here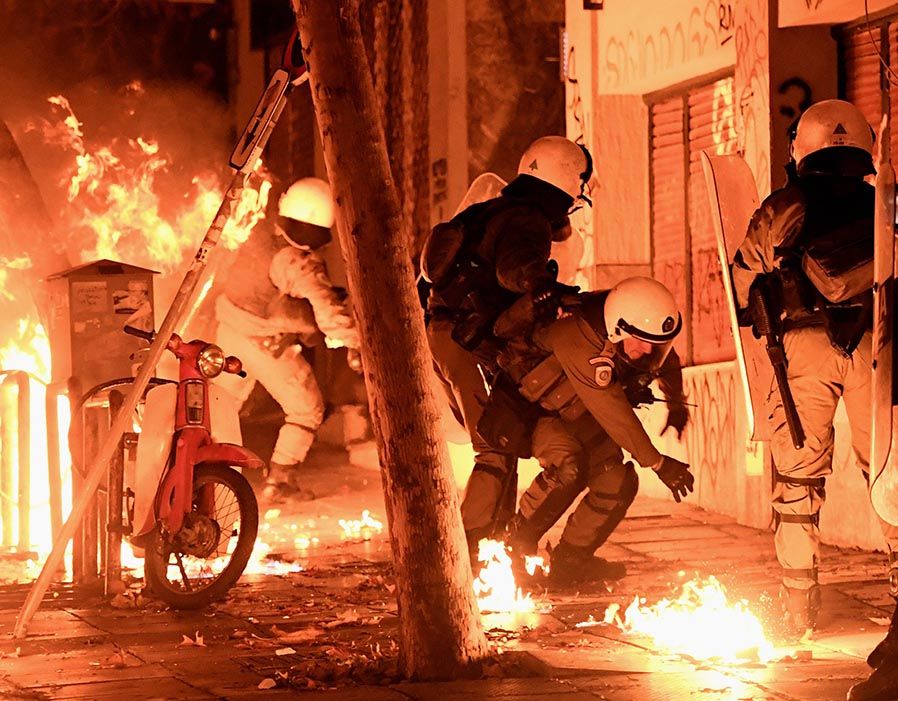 Athens
New Zealand, Aukland: activists occupy Labour PM's offices demanding immediate help for abandoned Manus Island refugees "This week Papua New Guinea government officials have been destroying the water supplies, and the refugees are reaching their 17th day without water, power, food and essential medication."…Labour Party offices occupied throughout country

Italy, Milan: clashes over education reforms (video)

16/11/17:
UK, Scotland: engineering workers, still following union leadership, briefly occupy yards "…workers at the Scottish engineering firm BiFab briefly occupied and barricaded the company's construction yards. The occupation took place after contractual disputes left BiFab on the brink of bankruptcy and 1,400 workers facing unemployment…Although workers effectively took control of the yards, the GMB and Unite trade unions were at pains to insist the action was a "work-in." Alan Ritchie from the GMB said, "The workers have decided to continue a work-in. They will be maintaining the gates to make sure the contract, which is 77 percent complete, will not be taken out of any of these yards." In a statement on its web page, Unite went further, stating "… the workforce voted unanimously to continue working until further notice to give the company time to sort the financial crisis. BiFab have indicated that at present the company has insufficient funds to pay wages and salaries this week."
Nigeria, Odukpani: transmission tower cut down by "vandals" "This act of vandalism is a clear unpatriotic act of sabotage against the transmission expansion initiatives of the present management of the company….replacing vandalized costly transmission equipment and lines lost to activities of vandals… is anti-progressive…TCN is unrelenting in its efforts to serve the nation and will continue to diligently pursue its planned transmission rehabilitation and expansion programme, in line with the Federal government's strategy on incremental power..."
US, Philadelphia: students occupy provost's offices demanding reinstatement of "communist" professor

South Africa, KwaZulu Natal: informal settlers clash with cops as they block roads in protest at mayor's broken promises following lethal fire "Hundreds of displaced shack-dwellers, left homeless after a fire swept through their settlement at the weekend, barricaded Clare Road in protest as a wave of cold and rain hit the province. Protestors dragged rubbish and trees on to the busy arterial road, obstructing traffic. Riot police forced the mob to disperse using teargas and stun grenades. The protest, the shack dwellers claim, comes after eThekwini mayor Zandile Gumede reneged on a promise to provide building materials to those affected by the fire."
Kenya, Nairobi: university closed after students "go on rampage" following discovery of dead  student
France, Nantes: clashes with cops during demo against new labour code modifications (video). See also this text by me about aspects of this movement…Hauts-de-Seine: 3 cop cars burnt in front of police station…Yvelines: youths attack cops following brutal arrest

Guinea, Conakry: high school students set up burning barricades in protest against teacher shortages

15/11/17:
Greece, Athens: anarchists occupy Polytechnic after throwing molotovs at cops

Belgium, Brussels: 100s clash with cops during encounter with famous rapper "The youths threw projectiles at police and damaged stores and cars…. The gathering started throwing projectiles at the officers and even forced them to retreat"
US, Texas: school students walk out over teacher's racist comments

Nigeria, Lagos: evicted residents occupy Governor's offices on anniversary of eviction-cum-massacre "Residents of the waterfront community stormed the governor's office to demand that they be permitted to return to their homes. The aggrieved evictees were met with hostility from police officers guarding the office of the governor, but showed resilience in pressing home their demand to resettle in their land. During the eviction process that happened on six different occasions, millions of naira worth of property was destroyed, with around 500 houses demolished or burned down. The forced eviction in Otodo-Gbame began in November 2016 and was officially condemned by Amnesty International on Wednesday….No fewer than 11 residents drowned during one of the evictions and many were shot, including Elijah Avonda and Daniel Aya, who died as a result of their injuries."
India, Maharashtra: sugar farmers block roads, pelt stones, burn vehicles in movement demanding better prices from sugar companies
UK, Llanelli: teenagers rebel against anti-social society

14/11/17:
Colombia, Cartagena: free beer for all the workers, free beer for all the workers, free beer for all the workers when the red revolution comes (as sung here) "In the southeastern zone of Cartagena there were riots due to a traffic accident that overturned a truck carrying beer. …the driver was imprisoned inside the vehicle, while hundreds of people looted the cargo of beer. In videos that were made viral through social networks we can see the way in which people arrived with buckets and bags to collect the bottles of beers that had not been broken in the accident. Even several children are observed among the crowd of people." Video here.

France, Yvelines: cops stoned twice in same area in just a few hours…Grenoble: projectiles thrown at cops after arrest of man dealing hash

13/11/17:
France, Yvelines: several attacks and ambushes of cops in different areas of this Parisian banlieu; office completely destroyed by fire, several cop cars damaged by projectiles See also entry for 18/11/17 for the context of this and other clashes in the area.

World: report on an aspect of the future Capital has for us
Nigeria, Ibadan: cops fire live rounds as students block motorway; several injured More here

Dominican Republic, San Francisco de Macorís: confrontations between cops & students 3 months after  cop killing of student as authorities whitewash cops of blame (video here)

South Africa, Gauteng: wildcat strike in gold mine…North-West: residents seize control of community radio station

Germany, Hamburg: car park burns as several cars belonging to cop and NATO-supporting company are torched in solidarity with G20 demo prisoners

12/11/17:
France, Montreuil (Parisian banlieu): report on demo against toxic factory (from an email; no link): "…demonstration yesterday, Sunday, November 12, 2017, in Montreuil to demand the closure of the SNEM trash factory, outsourcing of Airbus and Safran, located at the heart of housing, schools, colleges, care centers for the disabled, etc.
As I've already said [see entry for 27/9/17 and this in French ] the SNEM stirs up more and more concern, outrage and even anger in the area of ​​Bas Montreuil. Even though chromium 6, which is necessary for the surfacing of aircraft parts, has been blacklisted by the European Commission since the summer, as a "carcinogenic, mutagenic and reprotoxic" product, SNEM continues to use it because it benefits from the derogation, without precise time limit, granted by the prefecture of Seine-Saint-Denis: trash no doubt, but strategic trash!
Despite the illusions that many people share, to varying degrees, in the possibility of pressure on the mayor to negotiate with the prefecture, etc., it is nonetheless true that small groups of intransigents do not place any trust in the local authorities, any more than in the trade union leaders who, including those in SUD, beyond shedding a few crocodile tears, go as far as to practice a code of silence about very dangerous phenomena.
Thus, the day before the event, hydrocarbons were mixed with chromic acid and then placed very dangerously in plastic drums, which are always stored in the factory. The mixture is very toxic in the presence of oxygen and even unstable enough to become explosive. Anyway, there were several hundred people at the height of the event, demanding the immediate closure of SNEM, the reclassification of employees and the decontamination of the area. The anger was all the stronger because, apart from some trade unionists from SUD-SOLIDAIRES who had come individually to the demonstration, trade unionists have since September de facto boycotted the slightest demonstrations of resistance, and so  call for a demonstration in Montreuil for the defense of employment, of course. The local CGT  union, as always the most advance when it comes to ignominies, is hostile to the closure and declares that it is just necessary "to invest so that the SNEM is rendered more secure". From the first blockade of September, Richard Delumbee, secretary of the CGT local union of Montreuil, dared to declare: "For the moment, nothing has been proved and yet today, the employees cannot work because of this collective psychosis . They are very worried and have begun to be afraid of the aggressiveness of some local residents" – crude trade union shitheads! The CGT does not even call for support for the two isolated "residents", arrested by cops in plain clothes in the streets of Montreuil, then put in custody a few hours after one of the blockades, released but charged  with "aggression and rebellion against the depositories of the public force" by the prosecutor of Bobigny. They have go to trial within two months." Apparently not one ultra-leftist, including those who live very close by, went along to this demo. One even dismissed it as a demo of bourgeois bohemian ecologists, as if the majority of those demonstrating weren't just "ordinary" proletarians concerned about their and their children's health. Clearly a discussion on Bordiga's collected texts from 1951 to 1955  is far more relevant.

11/11/17:
South Africa, Johannesburg: city's IT bureaucracy sabotaged "A break-in and the theft of copper cable worth about R2 million at the City of Johannesburg's data centre in Braamfontein on Saturday is intended to sabotage the initiative of building and securing the city's data and infrastructure environment, mayor Herman Mashaba said. The city was currently in the process of building its data centre and disaster recovery centre"…revolution on the cards?

Belgium, Brussels: 22 cops injured during riot in celebration of Morocco qualifying for World Cup "…overturned, burning cars and broken shop windows in Brussels city centre  as well as police trucks firing water cannons ". More here " Around 300 people were involved. Police officers had objects thrown at them, cars were burned and commercial property and some of the preparations for the Plaisirs d'Hiver [temporary structures being built for the city's Christmas market] were damaged." Leaflet in French about this here.

UK, W.Yorks: wildcat strike by bin workers
France, Hauts-de-France: bins & scooter burnt, firefighters stoned This article refers to the firefighters as "soldiers of fire", because they're part of the military in France, subject to military law.

Germany, Bavaria: 4 young refugees smash up "care" centre
"Initial statements claim the boys were 'dissatisfied with their accommodation situation' so decided to destroy the place, causing €20,000 worth of damage and making the centre entirely uninhabitable for other guests. Several police patrols were sent to the site and arrested one of the 16-year-old rioters at the scene. The three others fled into nearby woods, smashing the windscreen of a police car which was parked outside of the home."
10/11/17:
Chile, Aracunia: bus torched in Mapuche territory in protest against Pope's visit "Hooded activists in Chile have burned a bus and scattered pamphlets in protest of an upcoming visit by Pope Francis to a southern region claimed by the Mapuche indigenous group as its ancestral territory. …The pamphlets read: "Fire to the churches. Pope Francis: You're not welcome to Araucania.""
Colombia, Bogota: main roads blocked as clashes erupt between hooded students & riot cops

Brazil: protests against new labour law in 24 out of 27 states This article says that Brazil was "rocked" by these protests, but so far no rocks have been involved in what on the surface seems like a mass of passive demos submissive to Trade Unionist leadership.

Australia, Sydney: politician's jacket ripped as protesters over Manus Island conditions for refugees clash with cops

UK, Clackmannanshire: critique of war and its phoney memorials

New Zealand, Hamilton: a critique of science &  pseudo-"education" See also this

Guinea, Boké: home of mine director ransacked as riots against electricity cuts continue; 2 gendarmes hospitalised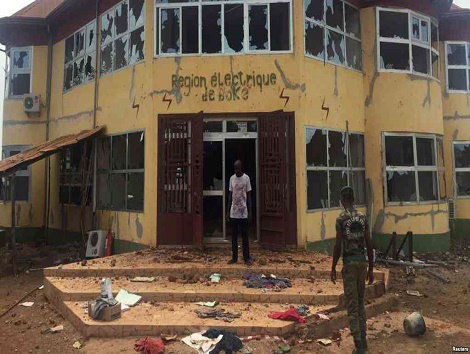 Electricity company building, Boké
9/11/17:
Guinea, Boké: police station & gendarmerie torched and looted, cars & motorbikes burnt, banks attacked  in riots against electricity cuts… roads barricaded "…all neighborhoods and even the estate where the experts reside are plunged into darkness.  Demonstrations against power shedding became common practices in Bokė. In September, several riots broke out in Kamsar, Kolaboui and Bokė to demand the current. These riots caused extensive material damage and loss of life."

US, Washington DC: over 1000 occupy Senate offices in protest against Trump's policy towards "illegal" immigrant kids
Nigeria, Ado Ekiti: collective punishment of poorer students after arson attack "For carrying out attacks on some structures belonging to Federal Polytechnic Ado Ekiti, authorities of the institution on Thursday has
announced the  imposition of  N20,000 reparation fee on each of the students to pay for the damages done to the Polytechnic. The institution, which announced the reopening of the school, which was closed on October 7 following a violent protest caused by the death of a student at the school's health centre, Taiwo Oluwafemi, said only the students who pay the money will be allowed entry into
the campus." See entry for 7/10/17

Italy, Naples: far-left students and others occupy university building against social democrat politician…Rome: clashes with cops over education
Poland, Warsaw: occupation of forestry agency against environmental destruction

Pakistan, Islamabad: report on students' strike…students win demand for reinstatement of expelled students

8/11/17:
Spain, Catalonia: workers' strike co-opted by independentist circus "Although the strike was originally to demand an increase in minimal wage levels in the region, it was quickly adopted by pro-independence associations and parties to protest against the imposition of direct rule and the incarceration of various former top nationalist ministers"
UK, Cheshire: cop car tyres slashed…Southend: Queen Victoria not amused

7/11/17:
Switzerland, Bern: prison construction company vehicles torched

UK, Wigan: posties' wildcat strike

6/11/17:
Greece, Athens: following previous day's riot, state ideologists prepare justifications for an attack on Exarcheia in the name of "anti-terrorism", as shots are fired at Socialist Party offices on edge of Exarcheia…claimed by "Revolutionary Self-Defense"

5/11/17:
Morocco, Oujda: riots break out after funeral of motorcyclist killed by man protected by the elite "…it is not only Rif that is almost in a situation of civil disobedience. Bordering Algeria, the region of Oujda has also lived to the rhythm of protests and demonstrations for several months. Forgotten by the central government, its population regularly goes out on the streets to denounce unemployment, marginalization and misery…last Sunday, thousands of young people clashed with the police and beat the pavement to shout out their misery, express the hogra and denounce the murder of a motorcyclist by a notable of the region, that Rabat wants at all price to protect….In most cities in eastern Morocco, Makhzen security services still behave like a colonial police. It is against this state of affairs that the population of Oujda and the surrounding communities revolted this week. Hundreds of people organized on Sunday, November 5, after the funeral of the young deceased, a protest march from the center of Beni Drar to the headquarters of the "caidat" Beni Khaled, which they attacked with stones before   blocking traffic on the national road linking Oujda to Nador, one of the poorest regions of Morocco. They also forced themselves into the communal store of Beni Khaled commune to try to occupy it. Morocco is on the brink of implosion. Depleted by economic predation and large-scale corruption, all regions of Morocco are indeed at boiling point." More here "They also forced their way into the communal depot of Bni Khaled Commune, where they burned four privately owned cars and motorcycles and attacked several other commercial stores and smashed the windows of a school bus and an ambulance"
Greece, Athens (& Larissa): anarchists throw molotovs at cops etc., courthouse in Larissa graffitied "Hooded anarchists launched a barrage of petrol bomb attacks against police during extensive rioting in the notorious area of Exarcheia, Athens, on Sunday evening. The clashes continued until the early hours of Monday morning, resulting in vehicles being damaged.  No injuries or arrests were reported….The opposition is accusing the government of turning a blind eye to the anarchists, who have created a no-go area in the centre of the Greek capital. Meanwhile, anarchists for the Rouvikonas group (Rubicon) vandalized the main courthouse in the central city of Larissa. In an attack, which was recorded on camera for propaganda purposes, a group of men threw paint at the entrance of the building in broad daylight in the centre of the city."

Tunisia, Gafsa: part of national guard post & security vehicle torched as youths block main road in  protest against not being employed (also this)

UK, Leeds: roads barricaded with burning bins; fireworks chucked at cops…Manchester: 60 youths attack cop van…Belfast: arson attack on war memorial…Edinburgh: cops attacked with rocks and fireworks
"COPS … found themselves pinned down and under attack from gangs of youths who tried to smash their way into their vehicle using paving slabs, rocks and rockets… six colleagues found themselves trapped by a baying mob of hooded and masked teenagers on wasteland off Pennywell Road in Muirhouse. …Police have described how a mob went on the rampage, pinning them back in Muirhouse That was a moment a heroic WPC was left horrifically burned by a fire-work when they turned on her. Moments earlier a police car had its windscreen smashed in. While another van load of cops narrowly escaped when a gang of 50 rampaging youths ambushed them under a hail of fireworks and projectiles….A police van had to do an emergency stop and about-turn because about 50 youths smashed its windows throwing rocks and fireworks"…at least 4 cars set alight "A CAR was driven into a bonfire and police and firefighters came under attack amid Bonfire Night mayhem in the Capital. At least four cars were reportedly set alight around Craigentinny…Residents described police vans getting their windows smashed by youths in Muirhouse and fire fighters were kicked and punched as they tried to put out a fire at Lawfield Farm, Dalkeith. Rockets were set alight under cars and from highrise flats."…Staffordshire: arson attack on Amazon warehouse "Saturday's blaze came almost exactly a year after the same warehouse was torched in a suspected arson attack on November 13, 2016….In August this year six staff members were arrested on suspicion of stealing goods worth a reported £250,000 from the Rugeley depot."
Australia, Canberra: aboriginals occupy famous abandoned restaurant

3/11/17:
France, Yvelines: cops get pissed during 6 hours of clashes "Around 3:30 am, several patrols were hit by stones and bottles of urine, thrown from the roof of a nine-storey building on Paul Brard Avenue, near the police station. While they want to question the perpetrators, the police realize they have blocked access to the roof with several breezeblocks. A surveillance device is then put in place and the security forces block access to the roof to prevent them from escaping. A game of patience is then played out. "We thought they would eventually leave," says a source close to the case. It is finally at 9 am when the police go onto the roof and stop the six Conflanais at the origin of these projectiles. Aged 18-24, these young people of Conflan were placed in police custody"…Chambery: screws cars torched "In recent days, the jailers of the Chambery prison have been receiving a few paybacks for the violence they carry out daily on prisoners. On three occasions, they've found their personal vehicle in ashes parked just in front of the jail. On the night of Wednesday 2nd to Friday 3rd November, the car of a screw goes up in smoke. This same agent had already seen his first car destroyed by  flames a few months ago. A few nights ago, between Tuesday 24th and Wednesday 25th October, it was the car of one of his fellow tormentors which was burned. The cops say that on the night of one of these attacks, surveillance cameras near the prison filmed two people on motorbikes wearing scream masks."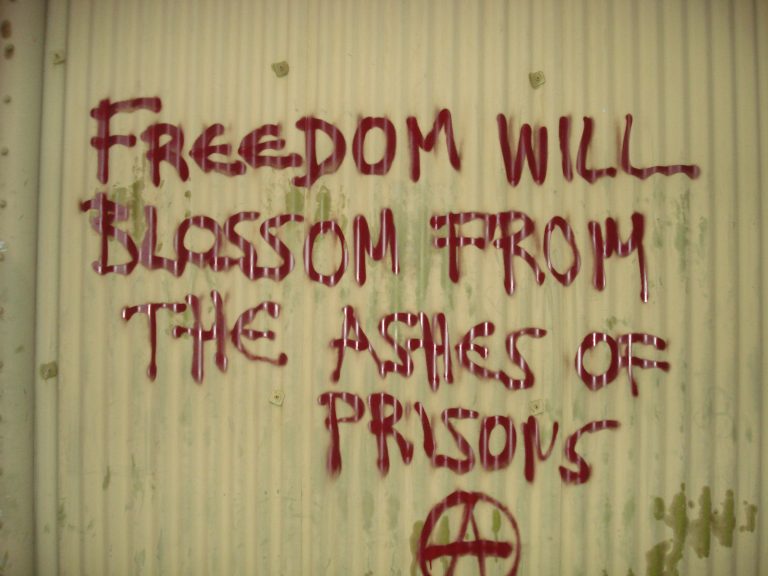 Colombia, Cauca: clashes with riot cops as indigenous blockade Pan-American highway in several places again See entry for 1/11/17

Australia, Sydney: Immigration Department and MP's offices occupied in protest against horrendous situation of refugees on Manus Island "Three women have been arrested after chaining themselves together as part of protests at the Immigration Department building in Sydney's CBD. The protests come amid dire conditions at the recently closed Manus Island detention centre. The protesters briefly occupied the government department and then stormed the offices of Labor frontbencher Tanya Plibersek demanding authorities bring refugees stuck on Manus Island to Australia. The Australian-funded detention centre was officially closed on Tuesday but up to 600 refugees and asylum seekers remain on the site without food, water or electricity."
See also this urgent message from the refugees on Manus Island
UK, Northamptonshire: special constable loses her head
2/11/17:
South Africa, Gauteng: roads barricaded by students in anti-fees protests…Western Cape: campus vandalised as student demands are rejected "Violent protests spread to UCT as chaos erupted after a group of students blocked entrances, slashed the tyres of buses and flung human faeces in a lecture hall….six people were arrested – their status as students was unconfirmed following the blocking of entrances on the campus and the vandalism of buses. Student activist Simone Cornelius said that students' demands included a 0% fee"
US: Trump's Twitter account briefly sabotaged

India, Kerala: government and cop vehicles torched in protests against oil pipeline construction More here "Violence and arson were reported for the second day Thursday from Mukkam along the Kozhikode-Malappuram route, where people have been protesting against the proposed liquefied natural gas (LNG) pipeline of Gas Authority of India Ltd …The agitators blocked the road by setting tyres and logs on fire. When the police intervened to restore traffic, stones were hurled at them, forcing them to resort to lathicharge."...Hyderabad: students vandalise college after teacher's suicide following sexual harassment "After the college refused to take immediate action without any probe, the students then broke tables, smashed window panes and tore the photograph of the dean in his office." Although carried out by a nationalist organisation, their nationalism wasn't the primary aspect of this action (though it's possible that one of the motivations for being very public about this issue may have been as publicity for their nationalist organisation).

France, Isere: report saying attack on gendarme's vehicles (see entry for 26/10/17) has been claimed by feminist women close to libertarian circles "This group of women explains they acted out of a "desire for revenge", asserting that they want to fight against sexism and gender definitions … "We do not want to remain in the position of victims in which society would like to place us by seeing us as girls" …The fire broke out around 3.30am, on the night of 25 to 26 October, in front of the houses of police officers. The evacuation of the inhabitants was done quickly, but several cars had been burnt out before the firemen could extinguish the flames. In their message, the arsonists say they had padlocked the access door to the police station car park "as a way of making  a joke to firefighters" and had used 10 liters of gasoline to ensure the strength of the flames. "We targeted the private cars of the cops…because we wanted to attack [their] personal belongings" [translation by me, though you can now see the whole communiqué in English , not translated by myself].

1/11/17:

South Africa, Western Cape: 3 arrested during student protests "Around 100 students marched on the universities premises, overturned furniture and dustbins and attempted to block roads.  UCT staff and students gathered on Wednesday to discuss highly contentious issues, like free higher education and fee increases for 2018."
India, Delhi: 5th day of occupation of park by farmers demanding better pension rights, waiving of loans, land reform etc.
UK, Sheffield: cop injured by youths on estate
France, Toulouse: Halloween car and bin burning continues till 4a.m. "25 incidents of urban violence (car, container or garbage fires) have been reported to firefighters. About fifteen cars were destroyed…Beyond Toulouse, other fires were reported in the department of Haute-Garonne, including Muret, Eaunes and Labastidette. "It's a night where there have been more car fires than usual," says one of the firefighters. The police speak of a "national phenomenon" with incidents of the same type in several other cities in France. " [See also entry for 31/10/17]…Correze: several bins etc., car burnt, cops stoned  by teenagers…Savoie: 25 skips & bins burnt…Lyon: cars and bins burnt in 70 different parts of Greater Lyon…Aube: 4 hours of cat & mouse games between youths and cops "Clashes took place in La Chapelle-Saint-Luc on the night of Tuesday to Wednesday between the police and many youths. Around 8 pm, firefighters were called to a trash fire … the firefighters faced loads of projectiles. Arriving shortly  afterwards, the police suffered the same fate. The authors then fled. For four hours, the police – municipal police, national police, the BAC and the canine brigade – played cat and mouse in the commune with the youths.…A minivan was burned, two windows of a local association and  barriers broken, a bus shelter and many bins destroyed" …And lots more Halloween night fires …and even more in the Paris banlieus

Colombia, Cucuta/Ocana: clashes with cops as peasant movement against state murders block 8 different parts of main motorway, burn tractors, etc "While the Police and the Army are moving to decongest the national stretch of Norte de Santander, the peasants say  the demonstrators have been fired upon. Two tractors were incinerated….The Public Force began an operation on Wednesday in order to unblock the road between Cúcuta and Ocaña, where hundreds of peasants maintain a blockade at different points of the main road corridor of Norte de Santander….In the first attack to recover the road…riot police  accompanied by the Army found fifteen heavy loaded cars across the road, trees that were felled with chainsaws, bridges obstructed with barbed wire and burning tires…From the Ye de Astilleros to Sardinata, the Police found eight obstructed points " See entry for 25/10/17… Cauca: 3rd day of protests by indigenous population against government failure to act on 15-year-old agreement; roads blocked with trees & rocks, stones thrown, freight vehicles attacked, 1 burnt