"Guy Fawkes – the only person to enter parliament with honorable intentions"
– old anarchist slogan
"Gmorning
November
You lurch & you lumber
From bonfire to ember
From waking to slumber
You deaden the grass
& you piss in the pot
The birds all haul ass
And the pumpkins all rot
Remember, November:
Momentous elections
Ignite us, divide us,
Divine new directions
November"
―
"Welcome sweet November, the season of senses."

―
23/11/20:
22/11/20:
"…at the same time as they set it on fire and knocked down the giant letters with the word Fresnillo, they additionally prevented the entry of the fire department, as well as the municipal police. ..As the mayor's office burned, the chants of feminist groups began to be heard to the rhythm of "The fault is not mine " and "Without Fear", anthems of the fight against gender violence. For his part, Mayor Saúl Monreal requested the support of the state and the National Guard, since each time the municipal riot group tried to enter, they were blocked from passing and the patrols started getting stoned."
"Police were the targets of fireworks mortars and projectile throws. Reinforcements were then requested. Several cars were set on fire during the night. Garbage container fires were also reported in the Marbé district, where a fire was started at Jean-Moulin kindergarten around 3 a.m. The facade of the school building was burnt down, but the flames obviously did not spread inside, luckily. …Already last weekend, Mâcon was the scene of urban violence. The firefighters had been ambushed and violently targeted, as were the police when they arrived."
21/11/20:
" Guatemalans were angered because lawmakers approved $65,000 to pay for meals for themselves, but cut funding for coronavirus patients and human rights agencies."
This law is being pushed for by the Minister of the Interior,  Gerald Darmanin, who wrote for Action Francaise, an openly fascist monarchist organisation. Shortly after he became Minister of the Interior, he said: "it is necessary to stop the ensauvagement of a certain part of society.", an expression previously used almost exclusively  by far-right groups, implying  that Muslims  were barbarians (Action Francaise came into existence during the Dreyfus affair and was openly anti-semitic). This Minister has been accused by a fellow right-wing Deputy  of rape , without so far it being proved in court.  Among Deputies who signed a declaration attacking those who'd said he was a rapist, are 2 other Deputies accused by other fellow Deputies of sexual harassment. This Minister said on 15th November, "The cancer  of this society is lack of respect for authority". One might be forgiven for thinking that all these miserable contradictions are expressive of the decline and fall of the Capitalist Empire without any prospect of something arising from such an all-encompassing descent into unmitigated decomposition, but if opinion polls are anything to go by, 85% of the French think that as soon as confinement/lockdown is over there'll be a social insurrection. Which is why this on and off confinement will probably extend till environmental collapse, mass suicide and psychosis  make such en event almost impossible.
20/11/20:
18/11/20:
17/11/20:
"In videos taken by Twitter users, journalists are seen being beaten and detained by security forces….The proposed law would make it illegal to "disseminate, by whatever means and on whatever medium, with the aim of damaging physical or psychological integrity, the image of the face or any other element of identification of an official of the national police or a member of the national gendarmerie when they are acting in the context of a police operation."
14/10/20:
"The demonstrations have continued despite Home Secretary Priti Patel banning protests throughout a second-stage lockdown that runs through December 2. Britons are banned from meeting with more than one other person in outdoor public places."
13/11/20:
12/11/20:
10/11/20:
War on war, Namur
""War on war" and "Death to industries", can be read on the various monuments on November 11, Armistice day. Tags also represent the circled A of the anarchists as well as the symbol "Peace and love". "So dirtying the memory of veterans and all those who sacrificed their lives for our freedoms [sic], that hits me deeply," responded Maxime Prévot. "The Yellow Vests didn't have a lot of credibility before that, they've definitely lost what little they had left. And their honor too." "I will assess the possibility of filing a complaint and charging them for the cost of restoration," he concluded."
In fact, one of the tags was not "Death to industries" but "Dead for the industries" – i.e they died for industry.
"Occupying your university, blockading a board of directors, disrupting your amphitheater will potentially be punishable with 3 years in prison and a € 45,000 fine. …[At the moment, according to a 2010 law)]"entering or remaining within the confines of a higher education establishment without being authorized to do so … or having been there authorized by the competent authorities, with the aim of obstructing the holding of a debate organized in its premises, is punished by one year's imprisonment and a fine of € 7,500 "….[But now, with the law currently before parliament] the relatively restrictive goal of "hindering organized debate on the premises" becomes "the goal of disturbing the tranquility or order of the establishment". … In addition, the fact of committing this offense in a meeting – which is characteristic of any protest movement – increases the sanction to 3 years in prison and a € 45,000 fine.". This has not yet gone through parliament, but is likely to go through it next week.
The above report links to an article from June 2018 about a high school occupation in Paris in May of that year. Rough translation of relevant bits:
"This Friday June 15 at noon, the Arago May 22 support committee, which brings together parents of young people arrested during the occupation of Arago high school, calls for demonstrations to demand the release of all those indicted…. About twenty students and high school students are appearing for "participation in a group with a view to committing degradation or violence" and "intrusion into a school". The evidence supposed to prove a violent intention? Hooded plastic raincoats or black clothes or swimming pool goggles to protect against tear gas that some young people were in possession of. During a press conference Wednesday, June 13 at the headquarters of the League of Human Rights (LDH), young people, their parents and their lawyers, denounced "massive violations of fundamental rights", during the arrest of 101 high school and college students, including around 40 minors, on May 22nd. That day, around a hundred young demonstrators broke into Arago high school to organize a general assembly against the ORE and Parcoursup law [laws greatly restricting University access]…. Among the many breaches of the Code of Criminal Procedure noted by lawyers, M. Kempf lists three main ones: the lack of notification of rights, the failure to respect the obligation to preserve the dignity of those detained, and the violation of the obligation of courtesy which prohibits use of the familiar "tu" form …. the call of the principal of the school to the police, as soon as it noted the entry of a hundred young demonstrators in Arago, started an unprecedented collective repression. Jeanne, an underage high school student and Leo, a student, both taken into custody on May 22, recounted how they were arrested without resisting at around 8 p.m. on the pretext of simply verifying their identity. Like the others arrested, they were then kept in the dark in police vans until one in the morning. Without knowing why, neither being able to eat or drink, nor the possibility of going to the bathroom. …"We were so short of space that some were lying under the seats," said Jeanne, who was unable to see a doctor after suffering a thigh injury during the protest and was limping. However, referral to a doctor at the start of police custody is compulsory in the case of a minor. As is the obligation to notify parents and, regardless of age, to consult a lawyer from the start of custody. At one in the morning, the young pupils and students were taken to the police station … where they were "herded like animals". Informed of their placement in police custody during the night, they were then dispatched to various police stations in Paris or the inner suburbs. Jeanne and Léo claim to have been placed in a cell full of urine and vomit with more than twenty. Léo, taken to a Hauts-de-Seine police station, said the police refused to give them stuff to clean the cell on the pretext that "they were not in a hotel". He also explains that he witnessed violence and threats against young people asking for water. One of them reportedly suffered  strangulation because he wanted to use the bathroom. He was only able to eat on Tuesday at 2 p.m. On Tuesday evening, he learned that his police custody was extended by 24 hours. Jeanne spent more than 20 hours at the depot before being presented to a children's judge. Which is illegal. The young people arrested were also threatened with heavy penalties to force them to give their fingerprints, their DNA and the codes of their phone. This despite the reservations of the European Court of Human Rights on the abusive nature of the taking of genetic fingerprints. …the young demonstrators neither attacked the guard of the school … nor broke down the door. Parents also announced at the press conference that they "reserve the right to file a complaint" against violations of fundamental freedoms suffered by their children. Including in civil cases, to convict the state and "seek reparations against illegal proceedings"…. the precedent of the Suger high school, when 55 high school students – including 44 minors – from this Saint-Denis high school were taken into custody, on March 8, 2017, after trying to block their establishment in solidarity with Theo, the young man from Aulnay-sous-Bois who filed a complaint against the police for a rape committed with a telescopic baton… the two offenses used to indict the young people arrested in Arago were introduced into the Penal Code in March 2010, under Sarkozy. "

9/11/20:
8/11/20:
7/11/20:
"…the best turnout since 1960, but it's not as high as many media forecasts were claiming on the day of the election. It means that 37% of Americans entitled to vote did not do so. That compares with 31.4% who voted for Biden and 29.6% who voted for Trump. So once again, the No Vote party polled the highest national vote in the US election. Moreover, there were another 20m voting age Americans excluded from the poll for various nefarious reasons (they had committed a felony or the state administration had refused their registration). So the voting age turnout was just 58%, implying that a sizeable section of America's working classes did not vote and/or were not allowed to vote."
"As liberals celebrated the election of Biden/Harris, comrades in Atlanta and Philadelphia had their doors kicked in by agents of the state, their partners' houses raided, phones and laptops seized, and now sit in cages. The NYPD announces the creation of an "anti-looting task force" and for a week straight, brutally squashes any attempt at protest in the city. This comes in the wake of 20k+ arrests in the US since the George Floyd uprising began in late May"
These comments from 2 different people seem  pertinent:
"I'm disgusted by all the liberals and progressives who are implicitly and explicitly praising the exact same racist and exclusionary system that brought Boss Tweet to power. Will the Democrats push for the elimination of the Electoral College? Will they reunite the incarcerated children with their parents or guardians? Will the drone assassinations end? Will Guantanamo finally close? Will federal charges against protesters be dropped? Will Biden make good in his promise to round up anarchists and looters? What will the liberals and progressives do about the already mobilized and armed right-wing racist scumbag MAGAs who are guaranteed to be even more agitated and ready for civil unrest, and who have plenty of supporters among law enforcement?"
A comrade just texted me with a similar message about today. To paraphrase:
Quote:
Joe Biden's win feels like when I went from a Level 4 maximum security prison to a medium security one."
"This and that, they must be the same
What is legal is just what's real
What I'm given to understand
Is exactly what I steal
I wormed my way into the heart of the crowd
I wormed my way into the heart of the crowd
I was shocked to find what was allowed
I didn't lose myself in the crowd
Shot by both sides
On the run to the outside of everything
Shot by both sides
They must have come to a secret understanding"
6/11/20:
5/11/20:
Sample quote: "Classes were canceled following riots Thursday, November 5 at the Malraux high school in Montataire. They started around 10 a.m. inside the facility and continued outside. Projectiles were thrown at the police. …Today, the abolition of breaks ("recess")… has apparently served as the trigger for a real riot. …Thick smoke invades the establishment. They come from the toilets. The alarm is ringing. Start of panic. The students are evacuated to the schoolyard and brought to safety. They  stay there for about 3 hours surrounded by their teachers trying to reassure them…Beginning inside the high school, the hostile movement spread around the establishment. While the students are still parked in the inner courtyard, individuals outside attack the newly deployed law enforcement agencies. Projectiles, including stones, are thrown at the police. While the police initiate a maneuver to evacuate the school forecourt, a young girl is trampled in the crowd….The events mobilized 27 firefighters and around 30 law enforcement officials. Three young people were referred to the Creil hospital center for mild intoxication, an asthma attack and a spasmophilia attack. A staff member's car was partially set on fire. Classes have been canceled. Three young people were arrested by the Creil police. The high school students we met could not identify the perpetrators: "With  masks, hooded, it was difficult to know who it was," say several of them waiting for their bus to return home after the battle….a message on Snapchat clearly announced the blockade intentions for this Thursday, November 5. It was released early in the week. The high school students were there, urged to arm themselves, encouraged to confront and "bring back anything that burns, anything that explodes, anything that launches out to show that we are the most pissed off in the Oise"."
"We just feel like prisoners at the moment. Recently we had this boy who committed suicide and this is their response, to lock us in."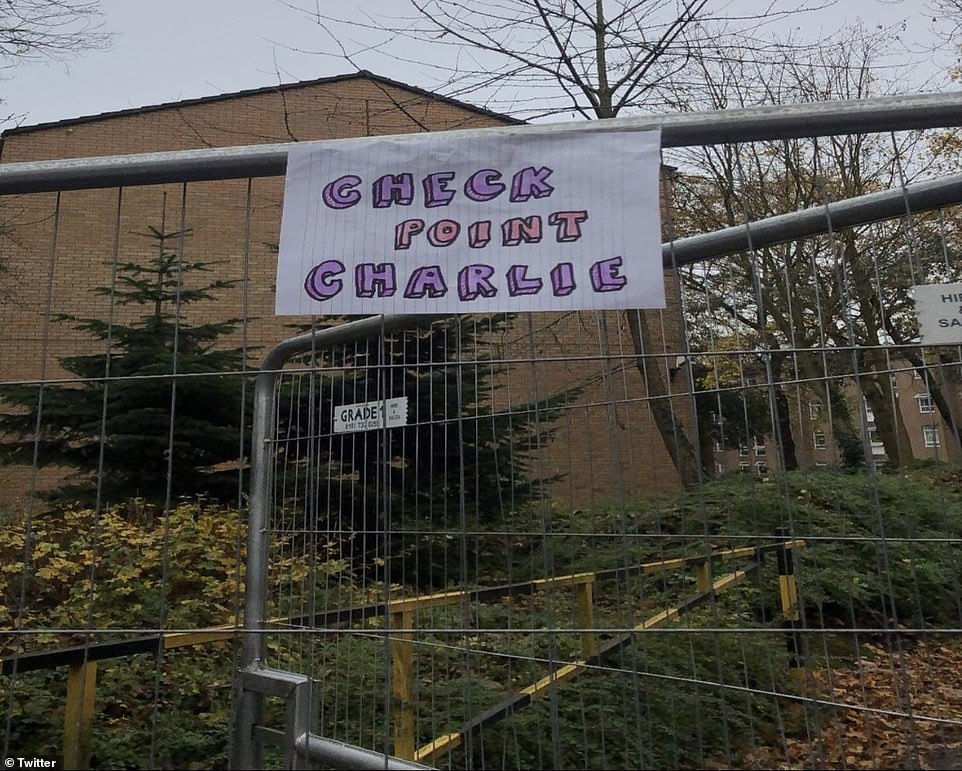 Manchester students: offence against rulers' defence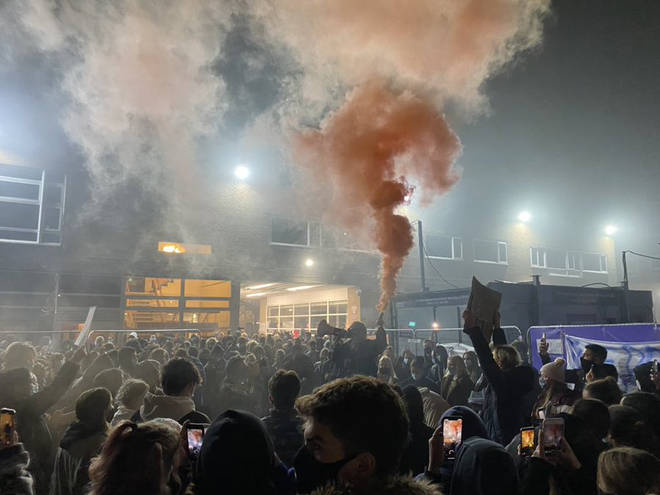 4/11/20:
Curfew: Middle English (denoting a regulation requiring people to extinguish fires at a fixed hour in the evening, or a bell rung at that hour); from the French cuvrir 'to cover' + feu 'fire'
3/11/20:
2/11/20:
1/11/20:
See 31/10/20 for explanation