Chronology
January…February…March…2020 here
This is a chronology not based on the date the information was published but based on the date I received it.
It should be clear that I am not in accord with the ideological aspects of the content of many of the articles I link to.
29/4/21:
Loose translation:
Covid-19 in India.
Posted on 27 April 2021 by Gérard Maudrux
India seems to be facing a gigantic epidemic wave. The press headlines speak of a world record. "With 300,000 infections per day, the situation seems to be out of control in India" according to France Info and Europe 1 on 26 April 2021, "India, new record of new cases in the world" according to Euronews…
We have to keep our wits about us, and seen from France, these headlines remind me a bit of the story of the mote and the beam in the eye. Are they trying to scare us (more)? Without wishing to minimise what is happening in India, and without prejudging what tomorrow will bring, which may be worse, what is the situation today, all things considered?
NEW CASES
350,000 new cases yesterday in India. Hmmm. And in France? For 1 month, in France, the average is nearly 35,000 cases / day, more than 20,000 cases / day the previous 2 months, and we had a peak of 86,850 cases on November 7, 2020. France population – 67 million, India 1,375 million, 20 times more. If they are at 350,000 cases/day, with the same population, we would be at 700,000 cases/day, i.e. twice as many as them. Worse, they have a one-day peak, we have had a daily peak for months, and we would have had a peak of 1.74 million on 7th November!
To date they have 3 times more cases than in their first wave, we have 10 times more than in our first wave (we test more, they do too). So where is this world record, the real one? This curve also shows it: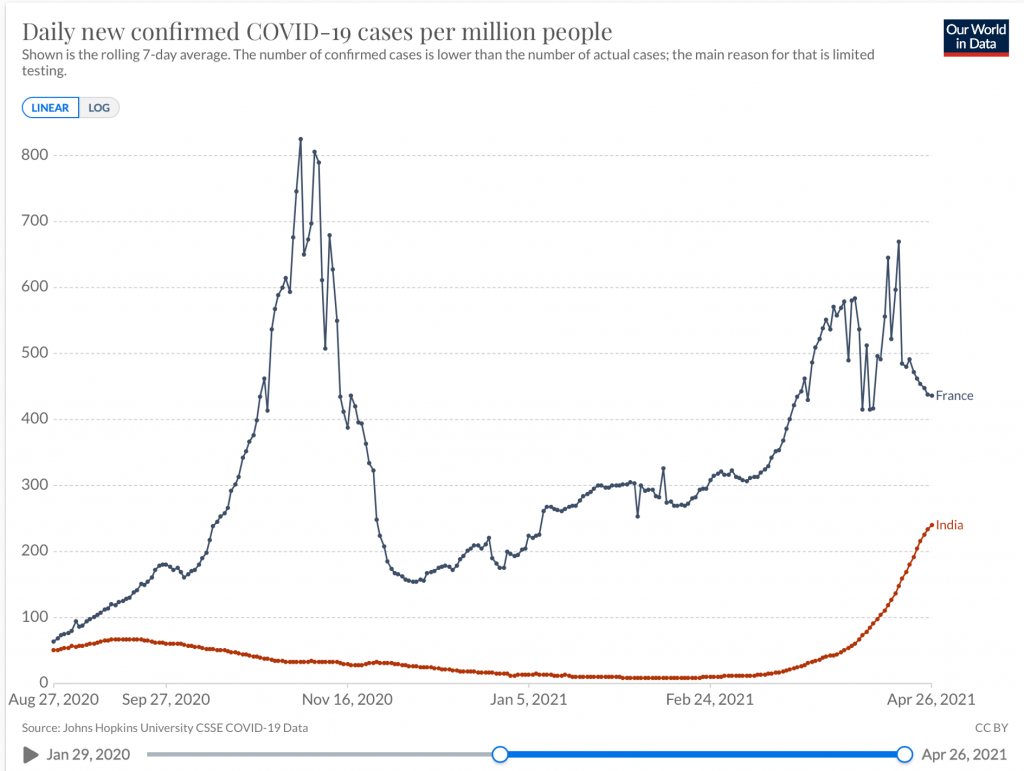 Number of cases/million inhabitants, France in black, India in red. Source: Our World in Data
DEATHS
As for deaths, what is the situation? 3,000 deaths/day there, and 350 here yesterday, 400 the day before yesterday, an average of 300/day for the last two months, i.e. twice as many as India proportionate to the population. Of course, we have to wait 15 days to have a better idea of the deaths corresponding to these 350,000 daily cases, but here again, on the one hand, we have a peak, and on the other hand, an average over the last few months. To better appreciate these averages, let's look at the situation over 1 year, what about the mortality due to Covid in India since the beginning? 192,000 deaths in total in India, compared to 103,000 here. With the same population we would have had 1 million deaths despite much better sanitary conditions.
Why such a difference? Of course, one can doubt the field reports and the statistics, which are certainly underestimated, but not by a ratio of 1 to 10. Their population is younger, but not as much as one might think. If life expectancy is lower there, 71 years against 83, it is largely because infant mortality is 10 times higher than in France (27/1000 instead of 3) https://www.insee.fr/fr/statistiques/2383448. In proportion, we have twice as many people over 60 as they do, so it is normal that they have half as many deaths, but not 10 times less. On the other hand, we must also take into account their sanitary conditions: if India had the same conditions as us, they would probably have half as many deaths (we save half of those who go into intensive care, in India they cannot even take them into normal care). Basically these two criteria cancel each other out, one dividing by two, the other multiplying by two. So we remain in a ratio of 1 to 10. It is elsewhere that we must look for explanations. Apart from the way of processing, I can't see it.
TREATMENTS
India has used HCQ extensively, but also ivermectin, although not validated by their health agency, which has the same attitude as ours. In India we can observe the same situation as in Mexico, with a government opposed to early treatment, and states that ignore it, which allows us to judge the effectiveness of these treatments, whereas the country by country figures show nothing. In Mexico, for example, I have already shown you (and Enzo Lolo on Médiapart) that Chiapas, which distributes ivermectin, has 4 to 5 times fewer deaths than the rest of the country, the highest being in Mexico City, where mortality is 10 times that of Chiapas. Seeing this, Mexico City started using Ivermectin two months ago. As a result, there has been a significant drop in deaths, while the overall picture for the country is not so good.
In India, Uttar Pradesh has been using Ivermectin since the end of August 2020. 200 million inhabitants, 3 times more than us, 10,000 deaths by 20 April 2021, 10 times less than us, a ratio of 1 to 30. You can see here, the cases and deaths by region (move the cursor over each one to get the details). The region most affected today by the Indian variant, which seems to be the nastiest to date, is Maharashtra, where the capital Bombay is located. 104 million inhabitants, 62,000 deaths, 12 times more than Uttar Pradesh! The situation with regard to ivermectin is strictly comparable with that in Chiapas and Mexico.
To deal with this situation, the Ministry of Health has just issued a protocol, on 22 April, with … ivermectin (and HCQ)! And Mexico has done it on 23 April for the whole country.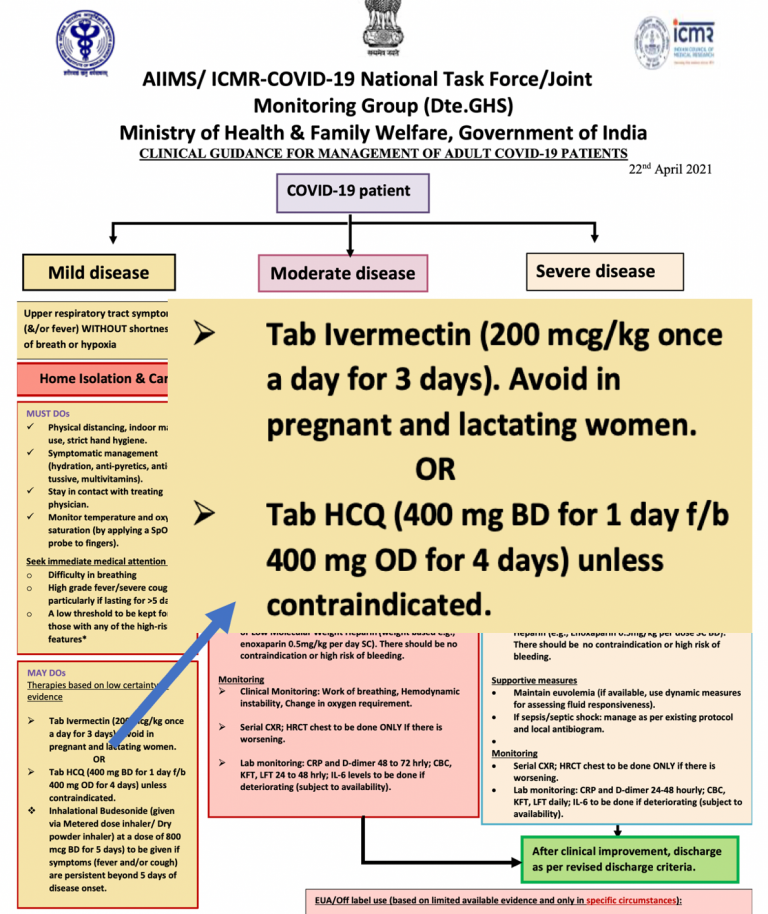 As far as vaccination is concerned, India is the country that has vaccinated the most in the world [SF: in numerical terms, though obviously not proportionate to the total population], mainly with AstraZeneca, and as in many places, there is a parallel with a resurgence of cases and the appearance of mutants. Is there a relationship between this massive vaccination and the new wave, as in many countries? Now, let's make it clear that "massive" must be qualified: massive in absolute numbers compared to many countries, given the number of doses injected in one and a half months, but on the scale of the country, it's not very significant: 100 million first doses, 22 million with two doses, that's still low with only 1.7% of the population vaccinated with two doses.
All this is of course to be followed closely, because the wave has only just begun there, whereas in our country it has been dragging on for 4 months and is proportionally more important, although with less nasty variants. Their figure of 3,000 deaths should rise sharply, but you should know that in November we had peaks of 1,000 deaths for a fortnight, which would make 20,000 deaths/day in their country. Let's hope they do better than France, given their current health conditions.
The results of the use of ivermectin will be interesting to follow, wit
h one reservation: the arrival of BigPharma, with Gilead managing to push its Remdesir that everyone is snatching up over there, replacing ivermectin. However, all the studies show that this product does not reduce mortality in any way, producing serious side effects, particularly of a renal nature, whereas ivermectin, which reduces mortality by a factor of 5, managed to maintain a more than respectable mortality rate in the states where it was used. Succeeding in selling a drug that is no longer wanted and which, in the best case scenario, would reduce hospitalisation by two days in a country where people can't be hospitalised, is a great achievement!
See also Ivermictin.
Ivermectin is a vastly cheaper method of treating Covid than the vaccines. Apparently ivermectin costs the state 10 euros for 15 kilos of the medicine. The daily dose per person depends on their weight – 0.2 milligrams per kilo. Which would, for someone weighing 80 kilos, cost the state (admittedly before packaging, delivery costs, etc.) just 1.6 euros for 10,000 days' supply (or, more rationally, less than half a cent for 30 days' supply, or even more rationally – since you're likely to recover after less than 10 days, 0.16 of a centime for 10 days).
***
An extraordinary example of Facebook censorship:
A Facebook post from a friend about the warning from various doctors back in February about AZ vaccines, stating simply that "in February 2021, Professor Sucharit Bhakdi, M.D. and a number of his colleagues warned the European Medicines Agency about the potential danger of blood clots and cerebral vein thrombosis in millions of people receiving experimental gene-based injections", adding that "in the long term we may be creating dangerously overactive immune systems in billions of unwitting subjects" has been taken off and replaced with this: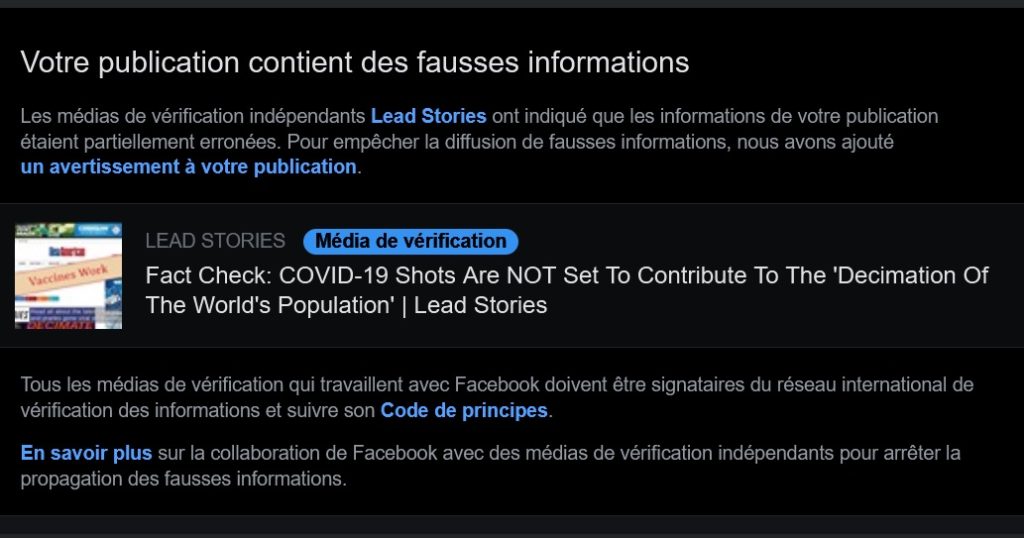 This is not only clearly a falsification of his original post but also a censorship of something that is largely an expression of mainstream concern about the AstraZeneca vaccine.
24/4/21:
23/4/21:
Pfizer forecasts $26bn of Covid-19 vaccine revenue after first-quarter success
In the meantime, on the other side of reality, other more profound Israeli sicknesses prevail:
https://www.timesofisrael.com/in-jerusalem-palestinians-and-jews-see-a-night-of-rage-hate/
https://www.timesofisrael.com/dozens-hurt-at-old-city-clash-as-extremist-jews-march-chanting-death-to-arabs/
22/4/21:
Translation of part of it:
"From the many testimonies brought to our attention by doctors and
medical staff, we will give here as examples selected quotations from a
letter sent to the committee by a medical staff member in the internal
medicine department of one of the largest hospitals in the country,
which describes a collection of hospitalization cases in his department,
which indicate consistent problematic conduct, suffering from
carelessness and lack of professionalism, and which largely stems from the fact
that the Ministry of Health has never issued clear guidelines on what
should be reported and what should not. The descriptions include a
variety of pathologies that led to hospitalization, and which appeared
in close proximity to Pfizer vaccine, including ITP, neutropenia, chest
pain, vasculitis, fever, speech disorder, high blood pressure, acute
renal failure and bradycardia. In all cases, physicians refrained from
linking the vaccine to the phenomenon that led to hospitalization, did
not even mention the vaccine in the patient's medical file, and did not
report the case to any external party – a fact that impairs differential
diagnoses and is an obstacle to establishing accurate information. For
example, the letter said: "It was not reported to any external party and
if the issue arose from the family, they were simply told that there was
no connection between the things because bradycardia takes a long time
to develop." In the context of another case, the letter stated: "Even
chest pain near the vaccine with an increase in troponin in a patient
without a cardiac background was not treated as possible results of the
vaccine and of course was not reported to the Ministry and was not
discussed with the patient." Another example: "I took the patient to the
ward and asked him about the reason for his hospitalization. He did not
address the vaccine at all and only after I asked did he mention that
the speech disorder appeared a few hours after the vaccination. Then the
doctor on duty came to question him, where the patient did not mention
the vaccine. Even after I gently hinted to the doctor that it might be
worthwhile to check if there was a connection to the vaccine he did not
address my words.An intensive care consultation was called, the on-call
doctor examined the patient and told the doctor on duty that she should
consult the senior doctor about differential diagnoses. I gently hinted
to her that it might also be worthwhile to check if there was a
connection to the vaccine, but she rejected me with the words 'OK, okay,
there could be a thousand reasons for this' …". Another example:
"Although the diagnosis of vasculitis is abnormal, as well as following
it with chemotherapy, the doctors did not think that the diagnosis
should be linked to the vaccine, despite the strange coincidence of the
two patients without similar background diseases with the same
diagnosis, bed by bed, both about 10 Days after the vaccine (the patient
with myocarditis was released and then returned after a few days). I
asked a senior doctor how he knows it is not related to the vaccine and
he simply replied that 'it is a disease that develops over a long period
of time, so it may not come from the vaccine' …".
According to him, what makes the situation even worse is the fact that
doctors, who are based on the principle of evidence-based medicine,
refrain from reporting a phenomenon that is not known in the medical
literature, and in his words "even if he (the doctor) thinks
independently, in the end in order to give a diagnosis in the patient's
case it must be backed up in the professional literature. If there is no
literature that talks about it (or if the literature is not written in
the textbook accepted by the internal medicine doctor) he simply will
not write it. If it has not been investigated, then it does not exist."
This evidence indicates a diagnostic tendency, which outright rejects
any connection between the side effect and the vaccine, and thus causes
a significant under-reporting of vaccine-related side effects from
hospitals and clinics."
21/4/21:
20/4/21:
This happened back in January. The doctor has received 541,729€ from the pharmaceutical industry, of which 52,812€ was from Gilead, the main pharmaceutical company that has financed innumerable studies showing the apparent uselessness of hydroxychloroquine. Gilead is the manufacturer of remdesivir, which truly is useless – at best – against Covid, even according to the WHO.
19/4/21:
18/4/21:
"New Covid-19 variants appear to be escaping vaccines, with the latest figures showing a doubling in cases of the South African mutation in the UK in the last month. Meanwhile, 77 cases of a separate variant from India – which it is also feared may resist vaccines – have now been found in the UK."
17/4/21:
"In front of the Quinta de Olivos, in Plaza de Mayo and in the area of the Buenos Aires Obelisk, thousands of people demonstrated during Saturday afternoon against the restrictive measures promoted by the national government during the last week. The main reason for the protest was the suspension of the attendance of students in the schools of the Metropolitan Area of Buenos Aires (AMBA)… the Police of the city of Buenos Aires arrested six people…when a group of demonstrators tried to pull down the fences … of the Government House and threw fireworks at the police officers…In Plaza de Mayo there was also a confrontation between the PFA and the demonstrators. It happened when the latter started to move the fences and the security force moved them away from the entrance firing water at them …The largest mobilization was in the downtown area. As the afternoon went by, the Plaza de la República received the first demonstrators, and they were joined by dozens of vehicles that blocked the vicinity of Avenida 9 de Julio. ..Those who approached the concentration points -a group of people also gathered at the corner of Cabildo and Juramento- expressed their discomfort at the impossibility for the students of the initial, primary and secondary levels of the AMBA to attend schools until April 30…"We want freedom and justice," said a man in dialogue with TN…"Face-to-face education is essential," read one of the posters. In Olivos, a teenager consulted on this issue, said: "I won't be able to see my friends. It's not the same. A lot of things are lost in the virtual world. The content is similar but it is not the same".
16/4/21:
"Concerns have been raised that in combination, these two mutations make the strain more infectious and better at evading antibodies gained from prior infections or vaccinations"
15/4/21:
"A private group on Facebook. There are more than 18 thousand members and they are no vax health workers… the number is rising by the minute. Half of the followers have joined in the last week.
…The group and its followers are also organizing a demonstration in Rome for next April 21. In the group you can find doctors, nurses, health workers, psychologists from all over Italy, all united in the fight, not against Covid-19, but against the vaccine. Bound … by the desire to oppose the decree law that imposes on these categories the obligation to undergo the inoculation of the serum. … " the group was born mainly to unite and undertake something all together, the legal ways as I see have already been undertaken by many of you so now it's time to move in another direction. Enough talk, let's take back our freedom by demonstrating peacefully in Rome on April 21 at 3 pm"….A few days ago another very disturbing post warned: "It's not with lawyers that you win, but with our absence. Entire departments with a sudden shortage of staff, are worth more than 100 wasteful lawsuits!". …As stated in paragraph 1 of Article 4 of Decree-Law No. 44 of April 1, "Vaccination is an essential requirement for the exercise of the profession and for the performance of work services rendered by those obliged." …Those who demonstrate that making the vaccine subjects them to a health risk can refuse to do so. Without consequence to their job. The only thing needed is a simple medical certificate. …" This follows threats by the state not to pay them if they refuse the vaccination.
14/4/21:
13/4/21:
11/4/21:
"… rioters lit fires and smashed in several storefront windows ". Video here
10/4/21:
"France has become the second country after Germany to recommend that younger people who have had a first dose of the Oxford/AstraZeneca vaccine be given a different jab for their follow-up shot. The mixed-dose approach has been recommended by health experts in both countries — despite there being little clinical trial data to support it …The World Health Organization reiterated its position on Friday that there was "no data on interchangeability of vaccine platforms", noting further research was needed. The move comes as the European Medicines Agency said it is also probing a possible link between the Johnson & Johnson vaccine and four serious cases of unusual blood clots in the US, where it is currently being rolled out. It is not yet being distributed in the EU or UK…. … Élisabeth Bouvet, a vaccine expert and member of the HAS, said…"It is really a choice based on safety. …Given that the protection of the Covid-19 vaccines begins to diminish after three months, these people need an additional dose," she added. "The idea is to give mRNA vaccine as a second dose for this population in a 'prime-boost' strategy." Even in the absence of clinical data, Bouvet said that they believed the approach carried low risks of side effects and was likely to offer people additional protection given that the Covid-19 vaccines all aim at the same spike protein on the coronavirus. "We think that this approach will work," she said. "There is no reason to expect any particular side effects with mixed dosing but it would be good to study the immune response it creates." Peter English, a retired Public Health England consultant in communicable disease control, said it was "reasonable" to use other vaccines…"
Note: "the protection of the Covid-19 vaccines begins to diminish after three months". Also note how they say "they believed the approach carried low risks of side effects ". Isn't "science" wonderful! Having originally based it's criteria of "objectivity" on clinical trials, science has now become no better than "belief" regardless of evidence. Touching wood is about as scientific.
As curfew and massively repressed social life depressingly continues in France, it may be worth being reminded of similar things amongst the slave states of the USA before the official abolition of slavery: "If the planters [slaveholders in the United States] did not always agree on practices for maintaining discipline, they all considered certain police and surveillance measures to be indispensable in the closed world of their property. Thus … the foreman was not to leave the plantation without permission, but was to keep a constant watch on the work in the fields, periodically search the cabins of the Negroes for weapons or stolen goods, and carry with him the keys to the various buildings on the farm. Curfew began around eight or nine o'clock in the evening and no slave was to leave the "quarters" where rounds were made to ensure his presence. No slave was to leave the plantation without a pass specifying the reason and probable duration of his absence, and most planters only exceptionally allowed their Blacks to visit their relatives living on other estates on Sundays. On the contrary, they were careful to limit their contact with the outside world." (Michel Fabre, Esclaves et planteurs, Julliard, 1970, p. 201-202)
7/4/21:
"The unrest came a week after similar violence when police broke up an illegal party in the city. This week the exchanges were more heated, with police at one point being attacked by a Molotov cocktail. They responded with rubber bullets and tear gas. Two young people were injured. Some 21 were arrested by police for questioning, but all have since been released"
Amongst other things, he points out that there have been virtually no autopsies for those who have died (as compared with those who died from AIDS-related illnesses in the past), so it's impossible to say whether someone died either because of Covid or died of something else whilst having Covid. See also this – "Despite the increasing number of published studies on COVID-19, in all the examined studies the lack of a well-defined pathophysiology of death among patients who died following COVID-19 infection is evident. Autopsy should be considered mandatory to define the exact cause of death, thus providing useful clinical and epidemiologic information as well as pathophysiological insights to further provide therapeutic tools." However, the doctor's claim that this comes from an order from the WHO is not true (see this).

Bits and pieces about Israel:
State limits access to tests in order to increase vaccinations "Responding to an increase in demand for serology tests, which detect antibodies in the blood of people who have recovered from the disease or been vaccinated, the Health Ministry has decided to restrict access in an effort to encourage vaccination, Channel 12 reported Tuesday. Formerly, serology tests, which are administered by health providers or in hospitals, were available to anyone.…Since the policy was announced, there has been an increase in demand for the test, especially among young people in Arab and ultra-Orthodox communities, who are reluctant to get vaccinated, the report said. Health providers have struggled to meet increased demand for the tests, and the Health Ministry also wishes to limit tests in order to encourage vaccination."
***
The Director General of the Ministry of Health (Hezi Levi), responsible for the vaccination programme, and Israel's "Corona Project Manager" (Nahman Ash) were almost certainly involved in a vaccination scandal in the 1990s involving illegal anthrax experiments on Israel's young soldiers. Hezi Levi was the Chief Medical Officer for the IDF at the time and Nahman Ash was his second-in-command. "The trial's organizers exploited the high motivation and innocence of the soldiers, most of whom were attending courses or were at the start of their military service, and whom they approached to participate in secret experiments. Crucial information was hidden from the soldiers during the recruitment process; they were forbidden from informing their unit doctor about their participation, and most of them didn't even tell their parents. All this, along with the exploitation of troops that occurs within a hierarchy, completely undermined the informed consent given by the soldiers. The process was so tainted by defects that it's doubtful whether the soldiers' signatures can even be considered as agreement."
***
Israel's Ministry of Health has published totally incorrect information about the Pfizer vaccine, saying it is FDA APPROVED ( the FDA is the USA's Food and Drug Agency). The People's (sic*) Committee says it has filed a motion in the High Court regarding a request for the Ministry of Health for a corrective publication regarding the deception involved in FDA APPROVED, to open a criminal investigation against those responsible for the misleading publication and to take disciplinary action against those responsible. This is a very significant document.
https://drive.google.com/file/d/1DCa5YXQXdA3jlDa0t2wGV23CJajjG-cj/view
The High Court has ordered the state to respond within a week to the petition.
https://drive.google.com/file/d/1krWdAmQppgTdnjwFSWI67swC0oFVgPBB/view
Committee website: https://www.the-people-committee.com/
Long report from this committee (not all of which I've read yet): The Israeli People Committee – Interim Conclusion Report – April 2021
* I am generally wary of expressions like "The People", which tends to be another form of representation. As with all expressions, it depends on context, how it's used: by "The People" some people mean "the working class" or even "proletariat", both of which phrases have their own history of being used in a manipulative manner. For the misuse of the phrase "The People" see this.
6/4/21:
5/4/21:
"One protester was killed and at least three others were critically injured as the police opened fire on mobs agitating against anti-COVID-19 restrictions in Saltha upazila of Faridpur on Monday night. The mobs attacked the upazila administrative office, Saltha police station, office of the assistant commissioner for land and muktijoddha complex and engaged in clashes with the police, according to witnesses…locals at one stage attacked sub-inspector Mizanur Rahman…hundreds of people marched towards the local police station and set fire to government installations, including the upazila parishad building, police station, AC Land office, UNO's residence, upazila agriculture office"
4/4/21:
It seems to me that the massive publicity given to the couple of deaths from blood clots of the AstraZeneca vaccine is possibly a cover for something far worse.
As usual they have their get-out clause – that the vaccine did not necessarily cause the reactions
"When viewing the vaccine analysis print you should remember that:
Reporters are asked to submit Yellow Card reports even if they only have a suspicion that the medicine may have caused the adverse reaction. The existence of an adverse reaction report in the print does not necessarily mean that the vaccine has caused the suspected reaction.
It may be difficult to tell the difference between something that has occurred naturally and a suspected adverse reaction. Sometimes these events can be part of the condition being treated rather than being caused by the vaccine.
Many factors have to be considered when assessing whether the vaccine has caused a reported adverse reaction. When monitoring the safety of vaccines and medicines, MHRA staff carry out careful analysis of these factors.
For a medicine or vaccine to be considered safe, the expected benefits will be greater than the risk of having harmful reactions. It is important to note that most people take medicines and vaccines without having any serious side effects."
Pfizer side effects – 283 fatalities
This includes:
3204 blood disorders (1 fatal)
1462 cardiac disorders (39 fatal)
10 congenital disorders (0 fatal)
1108 ear disorders (0 fatal)
23 Endocrine disorders (0 fatal)
1758 Eye disorders (0 fatal but 17 cases of blindness)
12682 Gastrointestinal disorders (14 fatal)
34688 General disorders (126 fatal)

26 Hepatic disorders (0 fatal)
652 Immune system disorders (1 fatal)
2653 Infections (51 fatal)
669 injuries (2 fatal)
741 Metabolic disorders (1 fatal)
15714 Muscle and Tissue disorders (0 fatal)
43 Neoplasms (0 fatal)
22156 Nervous system disorders (19 fatal)
294 Renal and urinary disorders (2 fatal)
4932 Respiratory disorders (19 fatal)
83 problems from surgical & medical procedures (0 fatal)
1462 Vascular disorders (4 fatal)
AstraZeneca side effects – 421 fatalities
This includes:
2411 blood disorders (2 fatal)
3768 cardiac disorders (51 fatal)
29 congenital disorders (0 fatal)
2574 ear disorders (0 fatal)
60 Endocrine disorders (0 fatal)
4566 Eye disorders (0 fatal but 59 cases of blindness)
39988 Gastrointestinal disorders (6 fatal)
131533 General disorders (196 fatal)

87 Hepatic disorders (0 fatal)
1109 Immune system disorders (1 fatal)
7375 Infections (47 fatal)
2201 injuries (1 fatal)
4679 Metabolic disorders (2 fatal)
47015 Muscle and Tissue disorders (1 fatal)
63 Neoplasms (1 fatal)
81702 Nervous system disorders (49 fatal)
1044 Renal and urinary disorders (1 fatal)
10643 Respiratory disorders (40 fatal)
279 problems from surgical & medical procedures (1 fatal)
3362 Vascular disorders (22 fatal)
Even if the qualifier "Reporters are asked to submit Yellow Card reports even if they only have a suspicion that the medicine may have caused the adverse reaction" means excessive over-reporting and that just 10% of the adverse reactions were caused by the vaccine that's still a hell of a lot of deaths that have not had publicity, as compared with the 2 that have. Why are the deaths by blood clots considered to be definitely associated with the AZ vaccine whereas the other 702 including those from Pfizer (or 711 if you add on the 9 deaths possibly associated with unspecified brands of vaccine) are not definitely associated with the vaccines of AZ and Pfizer? Another thing that seems to indicate at least shoddiness on the part of this report is that it was published on April 1st and talks of 2 deaths from AZ, yet the next day the newspapers reported 7 deaths ( https://www.theguardian.com/society/2021/apr/02/covid-further-rare-blood-clot-cases-found-in-oxford-astrazeneca-recipients ). Certainly not deliberate, but indicative of the need to be very wary of the facts and figures given about all this considering they not only seem to have got it considerably wrong but don't even bother to mention the fact that they got it wrong.
My suspicion following the publication of the list that the focus on blood clots covers up other deaths possibly caused by the vaccine stems from my lack of comprehension of why they should only focus on blood clots as an anomaly. It doesn't seem any more anomalous than the other deaths, and in fact is proportionally less so than many of the other deaths. Look at this (deaths from various years around 2013 because I couldn't be bothered to dig further to get the same year for each of these deaths…some of those medical sites you have to read half the report until you get to what you're looking for, so, Mr. Impatient that I am, I chose the ones that focused on what I wanted pretty quickly). I presumed that deaths from blood clots meant deaths from venous thromboembolism (though in the list they say the deaths were caused by Immune thrombocytopenia and Thrombocytopeni, but venous thromboembolism is not mentioned), but I may be wrong.
Number of deaths from blood clots in UK 2013 –
"Over the 3-year period of 2013–15, the average number of deaths from venous thromboembolism in England was 12640 per annum."
– https://www.thelancet.com/pdfs/journals/lanres/PIIS2213-2600(19)30448-5.pdf
2 (or 7) following AZ vaccine
1 following Pfizer vaccine
Number from cardiac disorders 2013 – 64,000
https://www.bhf.org.uk/what-we-do/news-from-the-bhf/news-archive/2014/october/heart-disease-deaths
Deaths from Cardiac disorders:
51 following AZ vaccine
39 following Pfizer vaccine
64,000 is roughly 5 times the amount of 12640. But 51 is significantly over 5 times the amount of 7. So why focus on the 7? (originally 2). Why are blood clots more of an anomaly relative to normal illness-specific fatalities?
Gastrointestinal disorders (2012) – 1,646 deaths –
– https://www.ons.gov.uk/peoplepopulationandcommunity/birthsdeathsandmarriages/deaths/bulletins/deathsinvolvingclostridiumdifficileenglandandwales/2013-08-22
14 following Pfizer vaccine
6 following AZ vaccine
1645 is roughly an 8th the amount of 12640. But 6 (for AZ) is almost the same as 7 for blood clots. So why focus on the 7 for blood clots? Why are blood clots more of an anomaly relative to normal illness-specific fatalities?
Deaths from Nervous system disorders – 31,925 in 2014 –
https://assets.publishing.service.gov.uk/government/uploads/system/uploads/attachment_data/file/683860/Deaths_associated_with_neurological_conditions_data_analysis_report.pdf
49 following AZ
19 following Pfizer
31,925 is roughly 2.5 times the amount of 12640. But 49 (for AZ) is well over 2.5 times the amount of 7. So why focus on the 7? Why are blood clots more of an anomaly relative to normal illness-specific fatalities?
3/4/21:
"While many countries have resumed use of the vaccine after pausing their programmes, others have remained nervous. Among them, Canada has suspended use of the jab for people under the age of 55, while Germany has suspended routine use of the jab in the under-60s. The latter has noted 31 cases of CVST after giving 2.7m doses of the Oxford/AstraZeneca vaccine, 19 of which were associated with low platelets, and nine deaths. At present, most of these rare clotting events appear to be occurring in women under the age of 65 – but quite why this is remains unclear."
This 2015 article about deaths following the flu vaccine, finishes with "At worst (unsuitable vaccine and unsuitable recipient), vaccination may result in the collapse of immunity, severe exacerbation of existing health conditions, and rapid development of fatal complications. The above considerations do not call for utopic 'personal' flu vaccines, but they do emphasize the critical importance of evaluating individual PEI status prior to vaccination, and using this parameter as a novel stratification/fitness index. This index should be thoroughly refined, and key parameters of pre-existing humoral and cellular immunity having the greatest impact on the immune response to vaccination should be extensively examined. Novel national infrastructures, including banks of regularly updated personal serum and medical histories should be created, and novel methodology should be developed to ensure fast computerized individual evaluations, which is critical in a pandemic period. This approach will inevitably cause criticism as complicating an already complex problem. However, it may help break the deadlock of the current policy of influenza vaccination, maintain human health and save lives. "The race is on, the stakes are high, and the world is nervously watching". With the Covid vaccines there is NO EVALUATION OF INDIVIDUAL PEI STATUS PRIOR TO VACCINATION (I'm presuming – hopefully rightly – that PEI here stands for "Personal Experience Inventory"). Moreover, the 'experts' advising the continued use of the AZ vaccine are using the justification that Covid itself carries a greater risk of blood clotting than the vaccination without acknowledging that the introduction of the same disease through direct vaccination injection into previously healthy people must carry a similar risk.

"The Israeli People's Committee has uncovered a multitude of malfunctions and failures at the administrative, ethical and legal levels during the COVID-19 vaccination campaign at the beginning of 2021 in Israel. In this document, we aim at presenting and elaborating the main features of these malfunctions, which have led to severe damages in many Israelis in the short term, and sadly to possible future damages. It seems that the entire country got caught up in a medical-social chaos, where the leadership has enabled a situation of fear and uncertainty to run its course out of control, and even contributed to its further enhancement. But most of all, we cannot ignore severe suspicions shared by all the committee members, that the fundamental sin, which led to the chaos and its casualties, is the way in which two very powerful personages, prime minister Benjamin Netanyahu and Pfizer CEO Dr. Albert Bourla, agreed upon a massive vaccination campaign in Israel that is unprecedented in scale and nature. A vaccination campaign that lacks effective safeguards for public safety, that is devoid of any concern for people who may be harmed by the vaccine, and that has allegedly guaranteed to encompass populations, for which the safety of the vaccine has not been tested (pregnant women and their fetuses), and later also children, for whom the need to be vaccinated is totally unclear, while pushing aside any safety considerations. From this exact episode, where both parties came to an agreement regarding the vaccination campaign, which involved a wide variety of ethical and safety violations, an unrestrained drama was initiated that has revealed itself to be impulsive, neglectful and reckless. The agreed upon vaccination campaign concerns matters of life and death, yet is being conducted in an amateurish, irresponsible and aggressive manner, and it led to the political arena taking over the medical arena and bending it to its needs, while paralyzing all alarm systems, monitoring measures and open scientific discussion. Unfortunately, most of the medical system collaborated with this unsupervised process, starting with the higher ranks, and ending with field doctors – some actively, some by keeping quiet from fear of reprisal."
2/4/21:
"Police chief Archie Gamboa assured Thursday that the police would not start shooting the troublemakers. "The president has probably put too much emphasis on law enforcement in this time of crisis," he said. Hours before Rodrigo Duterte's statements Wednesday evening, nearly 20 people living in slums in Manila were arrested for staging a protest against the government, accused of failing to provide food aid to the poor. …"I ordered the police and the army as well as village officials to shoot people in the event of a problem or a fight that would put your lives on the line," the president said. "Instead of causing problems, I will send you to the grave," he thundered before explaining that after two weeks of confinement, the epidemic was continuing to progress."
Covid has so far killed 0.012% of the population of the Phillipines.
1/4/21:
"We were preparing a video of an interview with a general practitioner, a most interesting point of view that we wanted to share with you. Before even publishing it, take a look at the message we received: YouTube does not allow content that explicitly calls into question the effectiveness of social distancing and self-isolation measures advocated by local health authorities or the World Health Organization (WHO), and which may encourage people not to respect them "
"Calm returned after unrest all evening in Bois de la Cambre after a fake festival … Large groups of young people played a game of cat and mouse with the police all evening. This afternoon, a multitude of people showed up for "La Boum", a fake festival that supposedly took place there. Peace did not return until 10 p.m. Dozens were injured and 22 people were arrested. 7 police horses were also injured. … The police put it at about 2,000 participants. They had turned up for the April fishing festival [April Fools Day in French is "Poisson d'avril" – Fish April] "La Boum" announced via Facebook by an anonymous artist collective from Brussels. From the beginning of this week it was clear that it was a joke, but it all got out of hand. Young people in particular often came together to party without a mouth mask. …the atmosphere only became grim when the police arrived a little after 4 pm. "Then it started to derail…The police first tried to quietly evacuate the park, but that did not work. So they deployed the great resources: horses, dogs and the water cannon." …A large part of the park had already been evacuated by 6.30 p.m., but a hard core of a few hundred people continues to play a game of cat and mouse with the police for hours. During the evening twilight, the party is still going on, according to these images. … Fireworks are even set off by the revelers around 9 pm. At the same time, the water cannon must also be deployed several times. At that time, two large groups with several hundred young people are running amok in the Bois de la Cambre….Minister of the Interior Annelies Verlinden (CD&V) reacts indignantly. "The April Fool's joke that got out of hand today in the Bois de la Cambre is a blow to all those people who are doing their best to respect the corona measures," she said in a press release. …"I am well aware that the COVID crisis is now taking a very long time for many people and especially young people and that it is not always easy to comply with the measures," she continues. "The more consistently we show solidarity with the measures, the faster we can stop the spread of the virus together." The Brussels mayor Philippe Close (PS) is also unhappy about what happened. Earlier this week, he had already asked the public prosecutor's office to take action against the April Fish Festival and the police were also on standby this afternoon, he said. "We cannot tolerate thousands of people coming together while the virus is still spreading…Everyone needs a party, but we cannot accept this." … "It is still much too early for this", says virologist Steven Van Gucht…"We are at a stage where very few people are vaccinated and protected, so we have to keep insisting on the measures. This is not worth repeating. " Van Gucht says he understands that many young people are tired of it, but still asks to persist. "By letting go too early you can potentially cause thousands of extra deaths that are not necessary because in a few weeks the people at risk for complications and deaths will be vaccinated. It's too early to let go, however difficult that may be."
More here, here and here. "Spokesperson" for the collective apparently "responsible" for the fake festival speaks here. This spokesperson says that they want to spread the idea of "wild parties" (flashmob parties?) throughout Europe, as if the idea came from them. In fact, spontaneously or organised on Facebook or wherever, such parties, in defiance of the authorities, have existed for some time (see for instance, Facebook festivals, France May 2010) . I remember towards the end of confinement in Montpellier in May last year, a party of 100 people developed in the park without having been pre-organised at all. The absurdity of this epoch is that something as simple and banal as a street or park party is now defined as a threat to people's lives and a callous egotistical act – both by "revolutionaries" and conservatives.