I wrote this with SB at the end of 1969, beginning of 1970. A resumé of it forms part of the text "1969: revolution as personal and as theatre".  Half of it was reproduced in the famous "Schoolkids Oz" (see "the oz trial"), selected by a schoolkid who'd seen the play and had turned up at my house for the meeting advertised in our leaflet handed out at our performances of it, and then got involved in the  production of the schookids issue of Oz (none of this we knew about beforehand: only when we bought a copy of the schoolkids Oz did we find out).
It was produced on a stenciled roneo and this was taken from a  photocopy of it, so it's (once more) not a very good reproduction.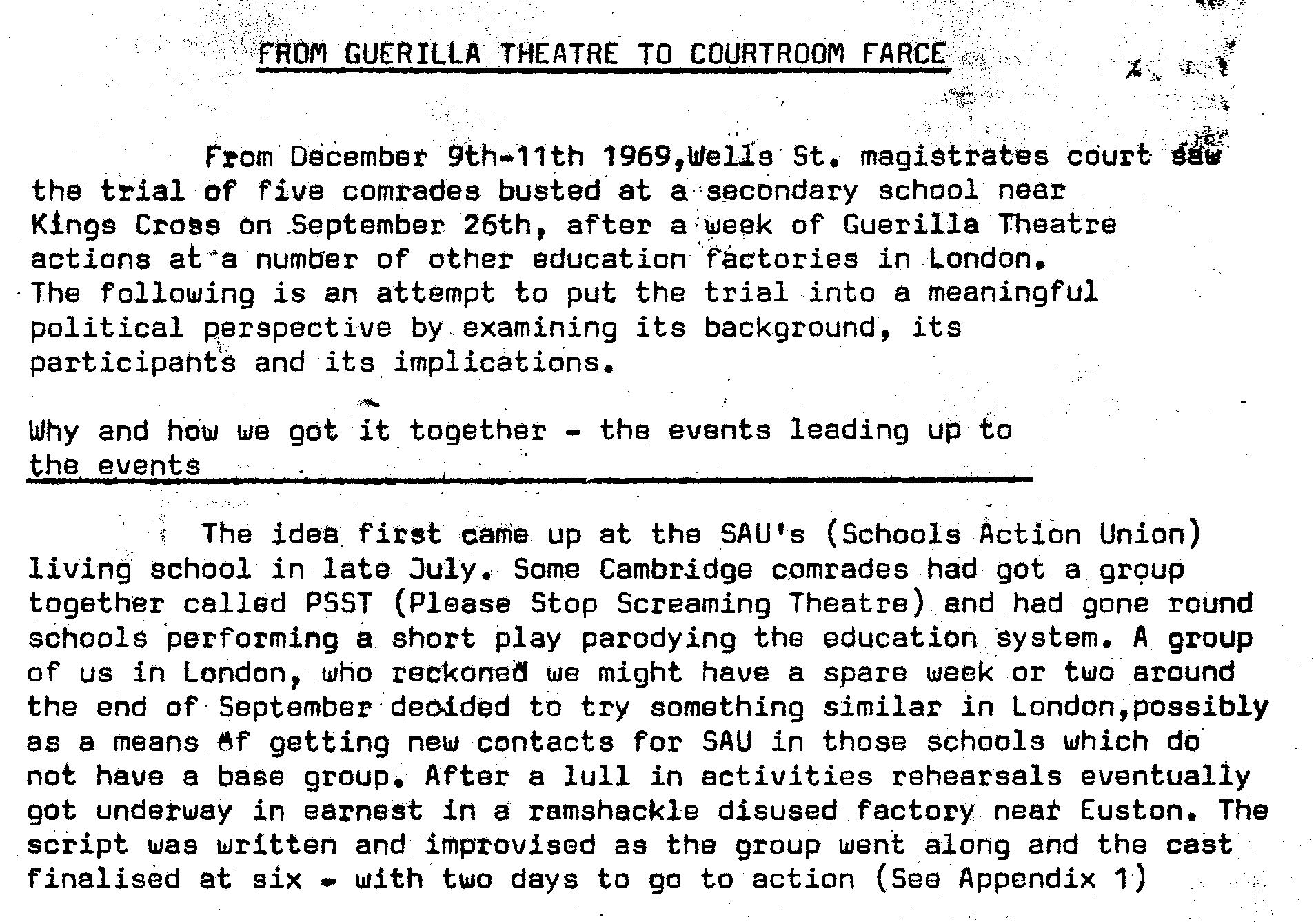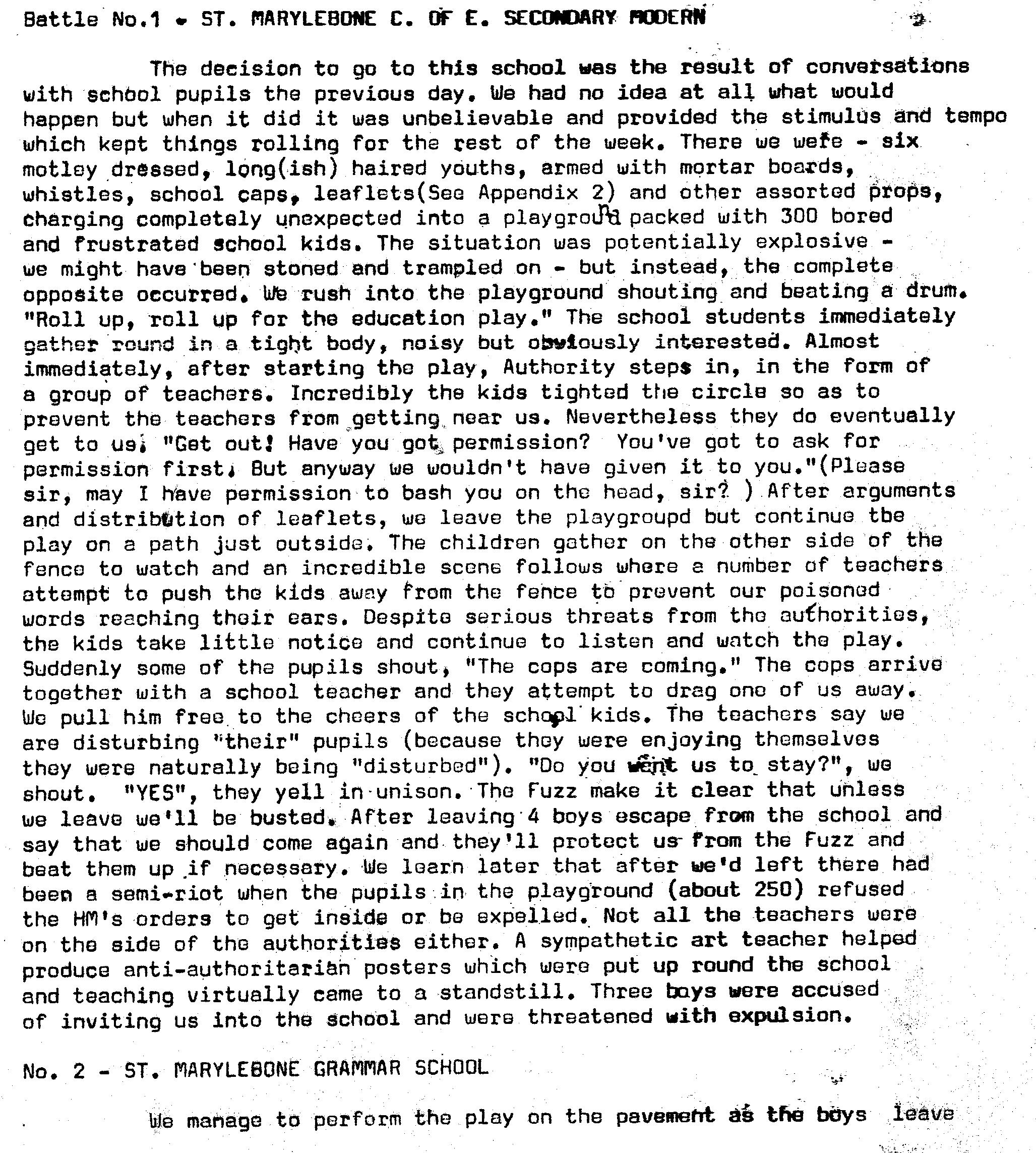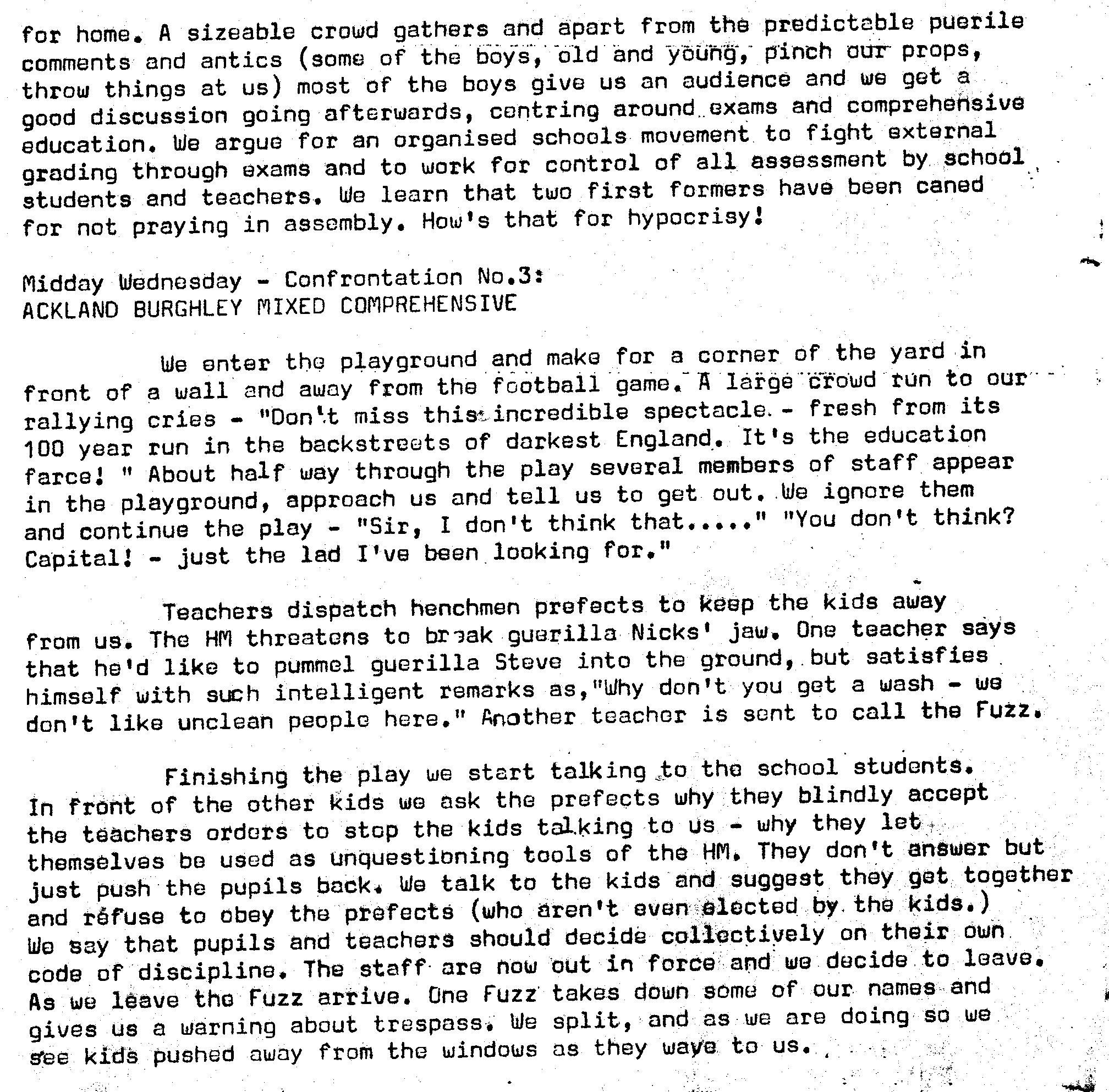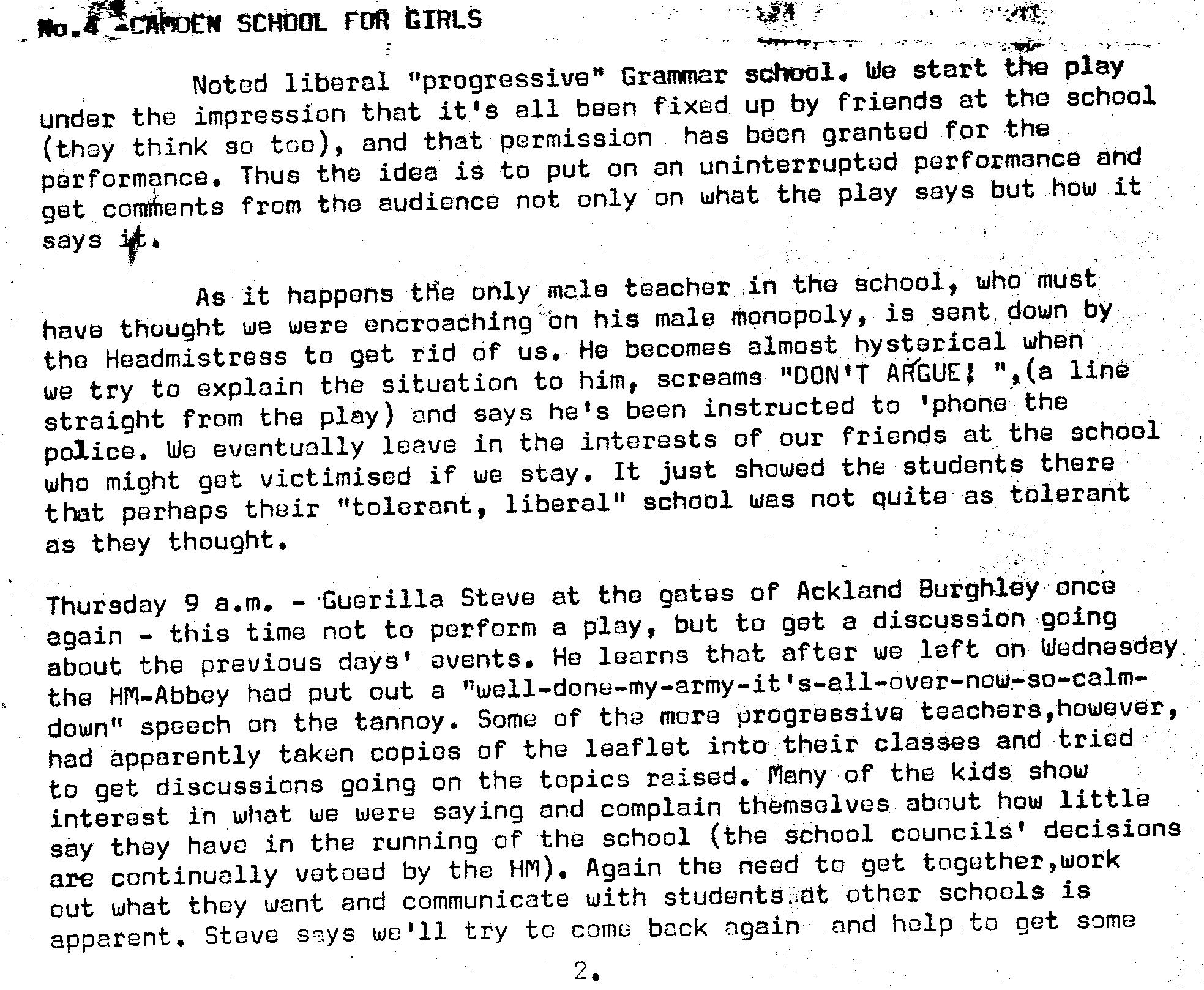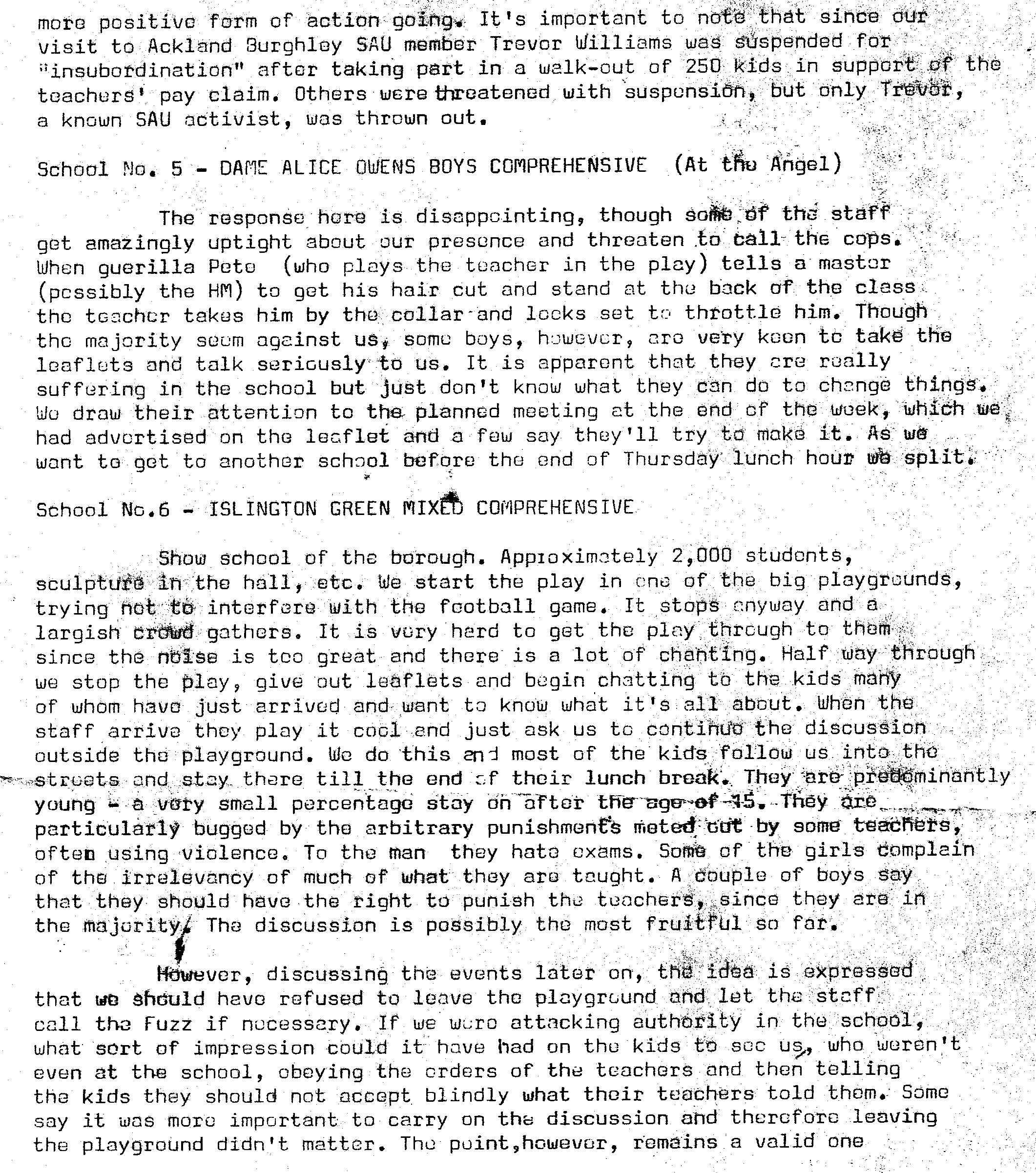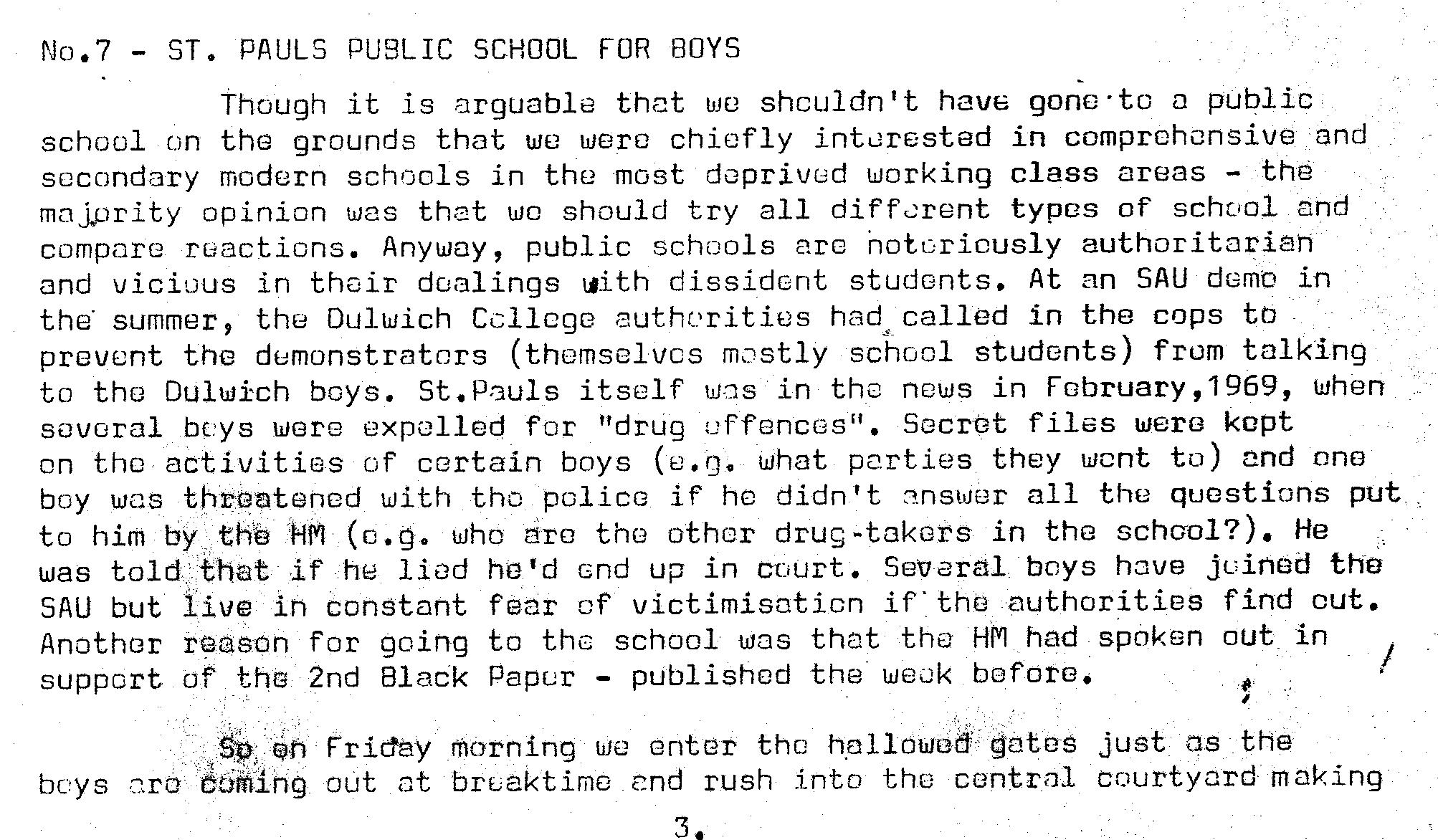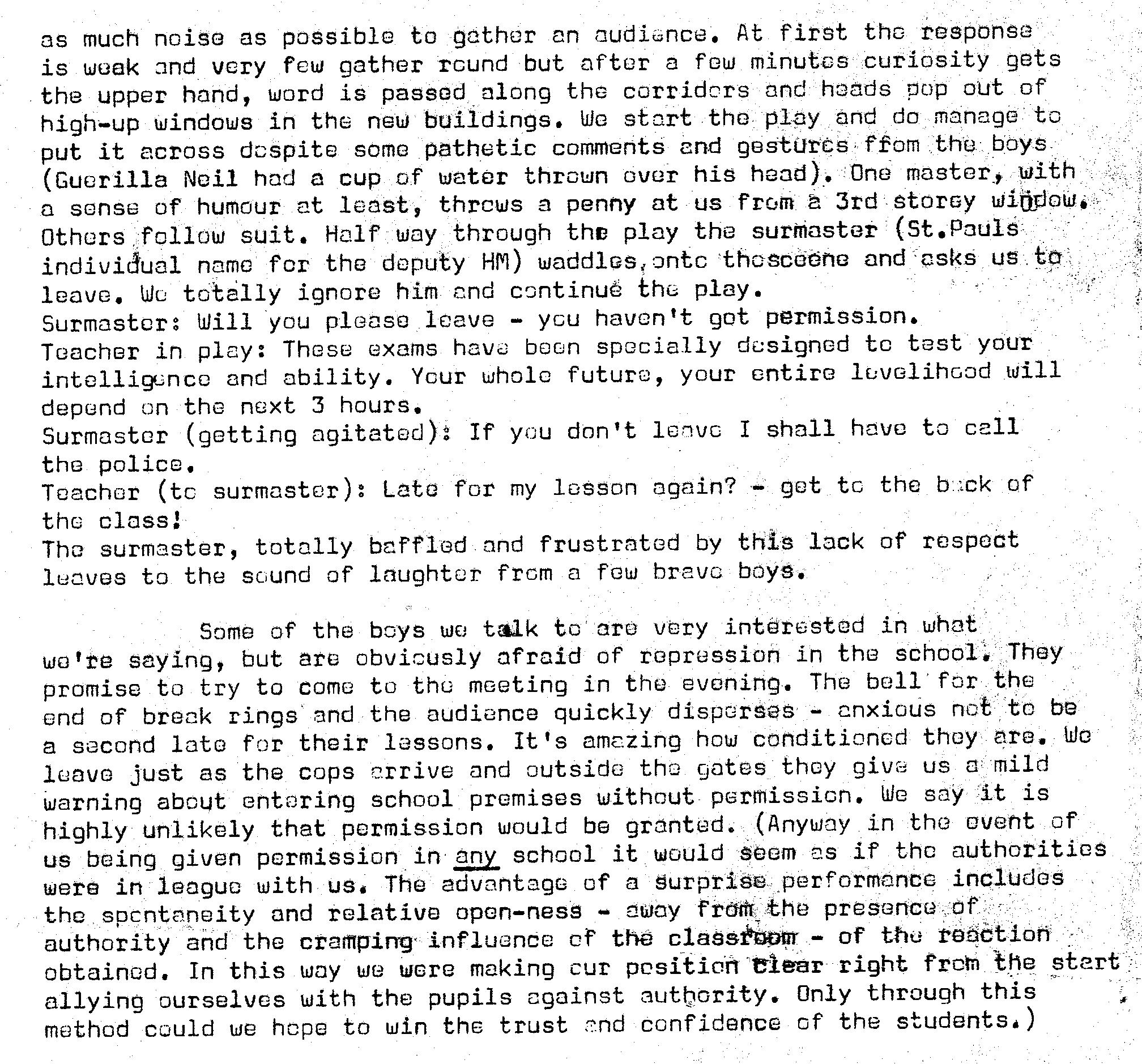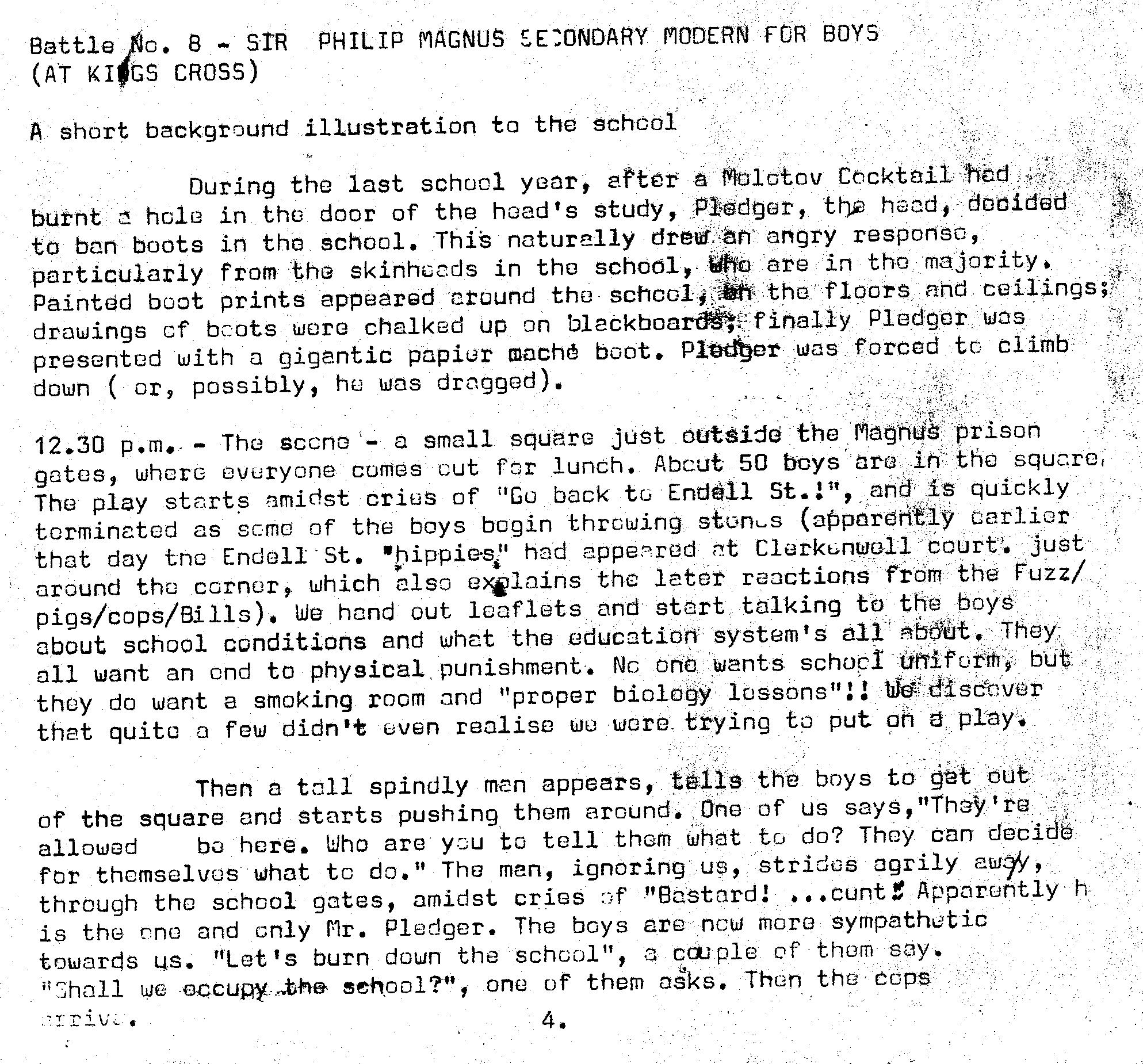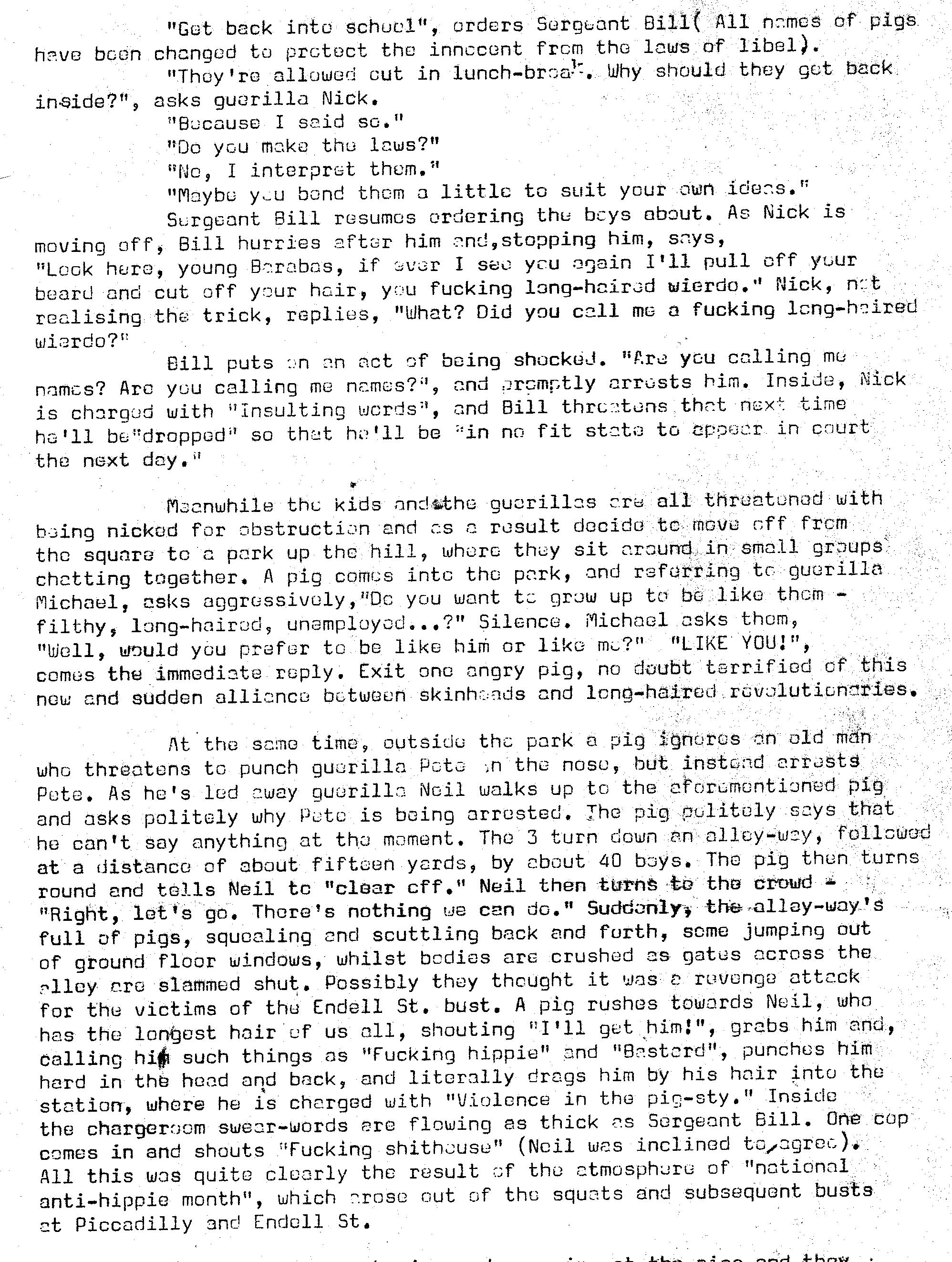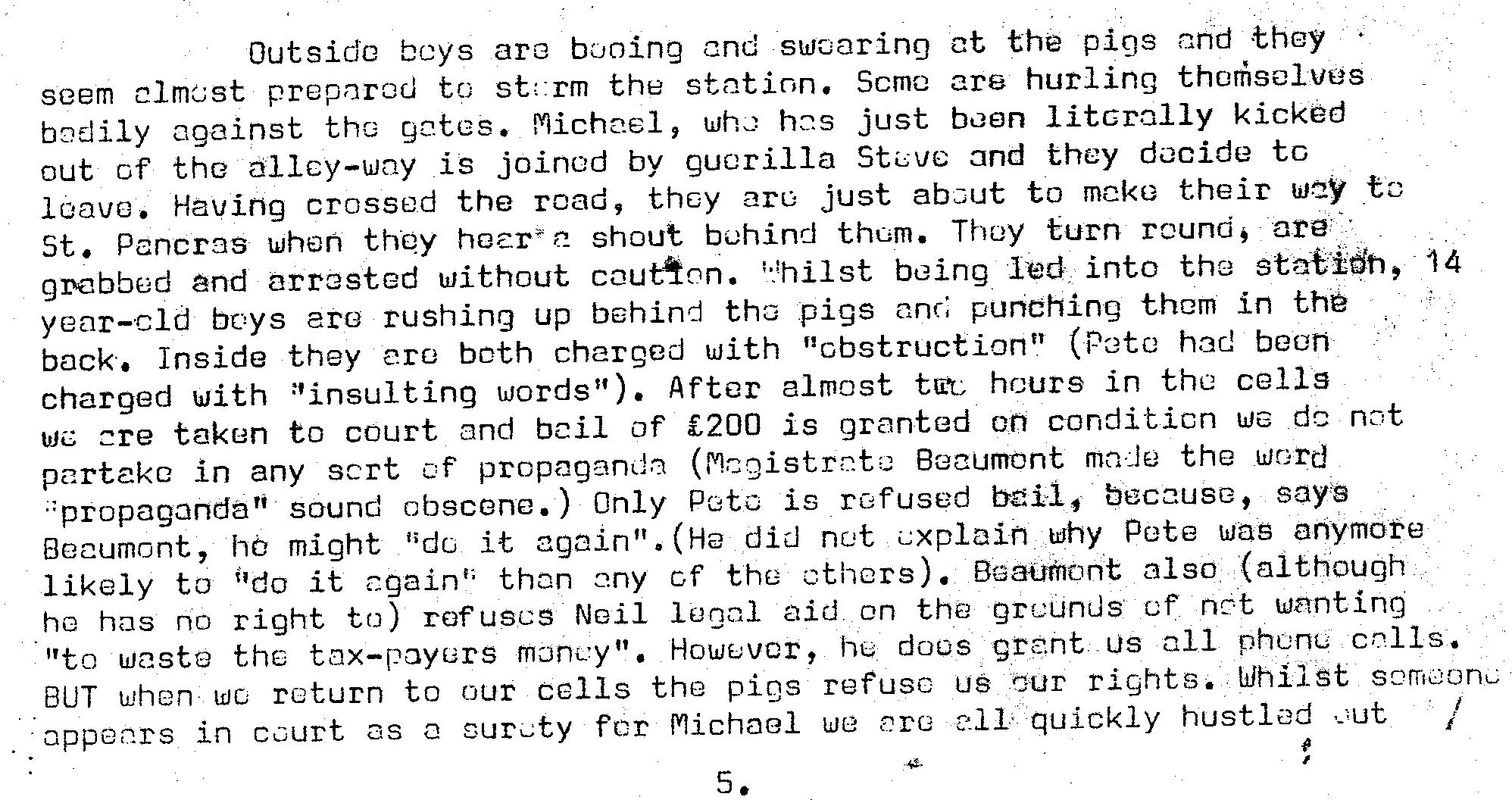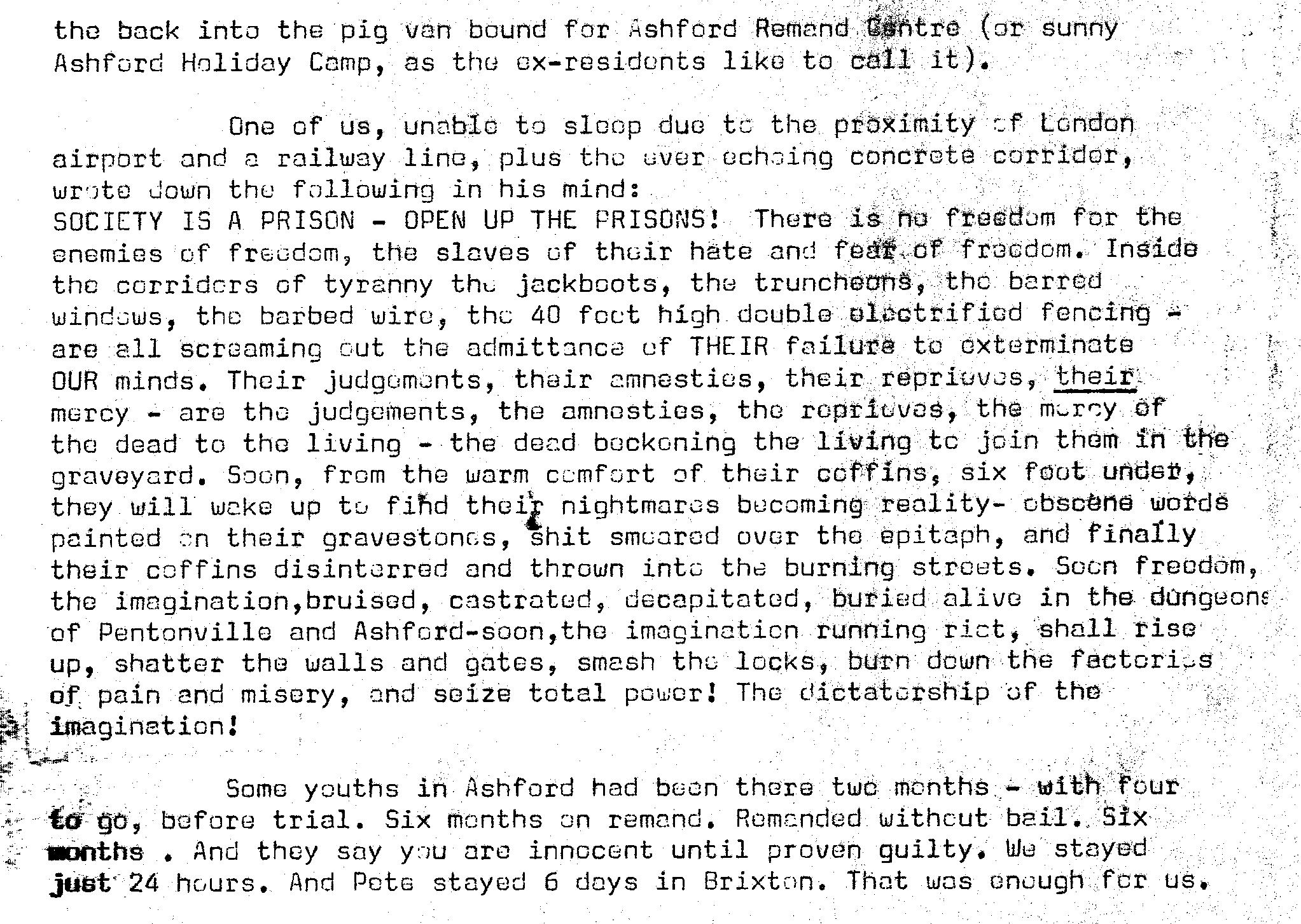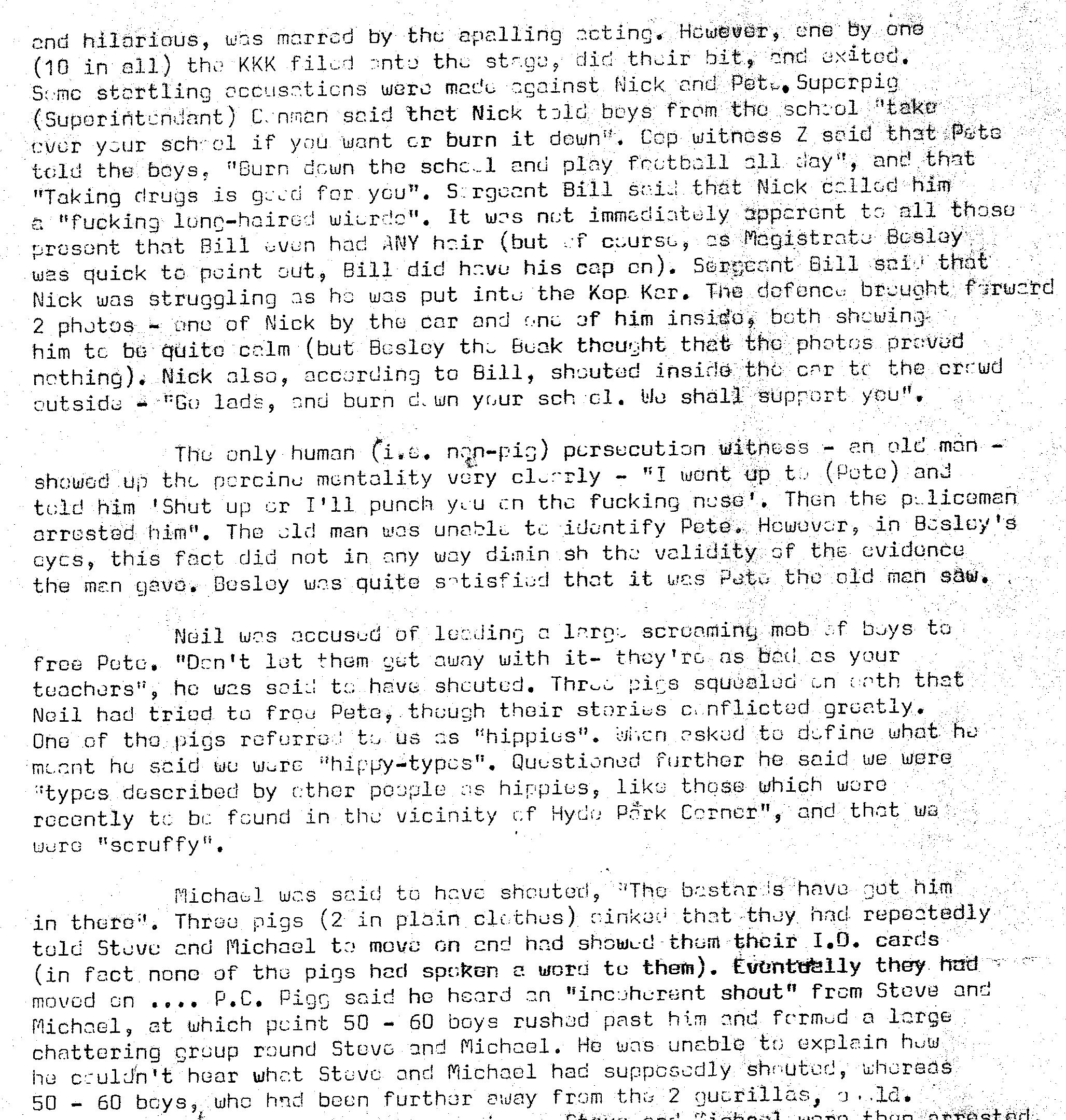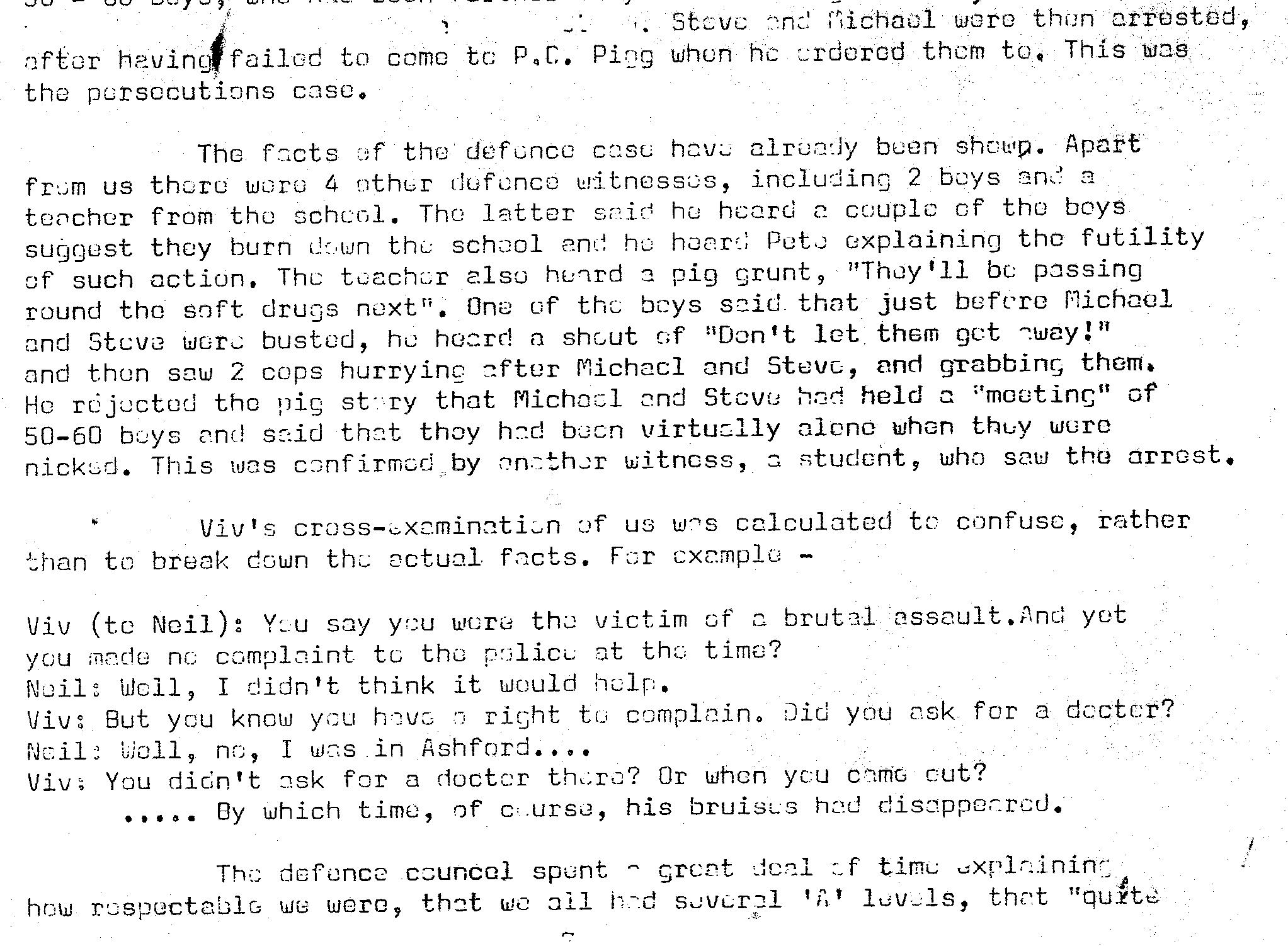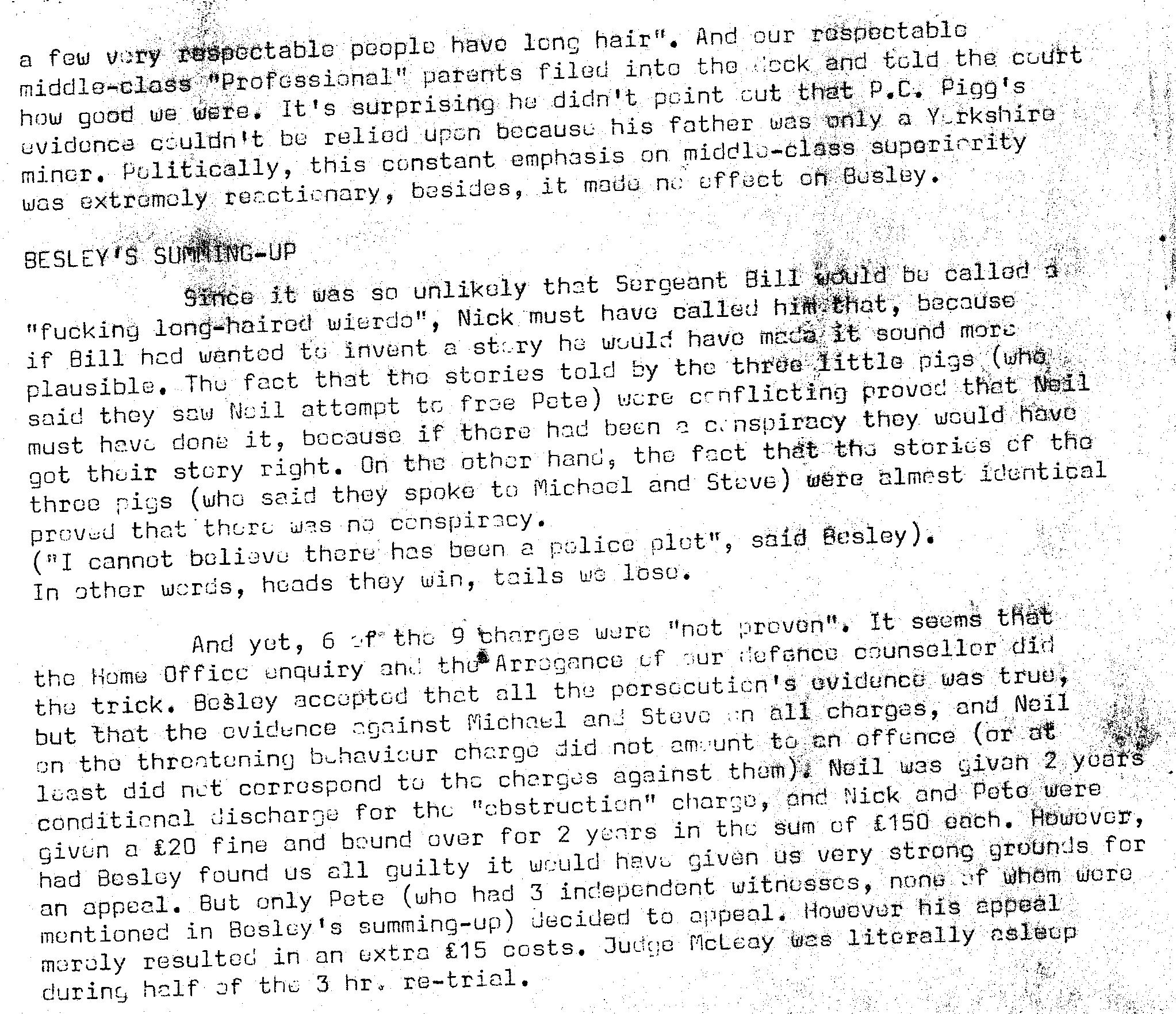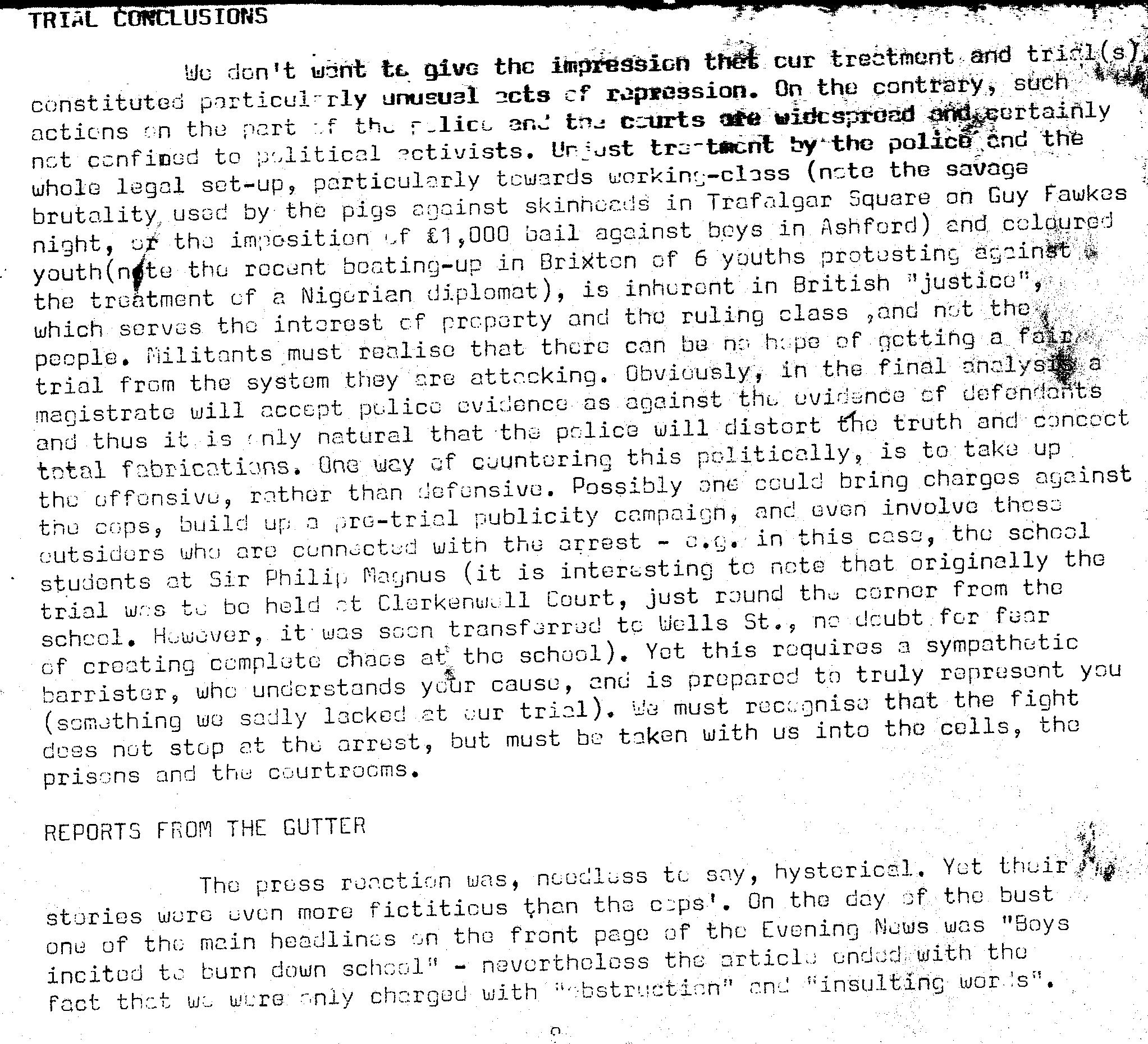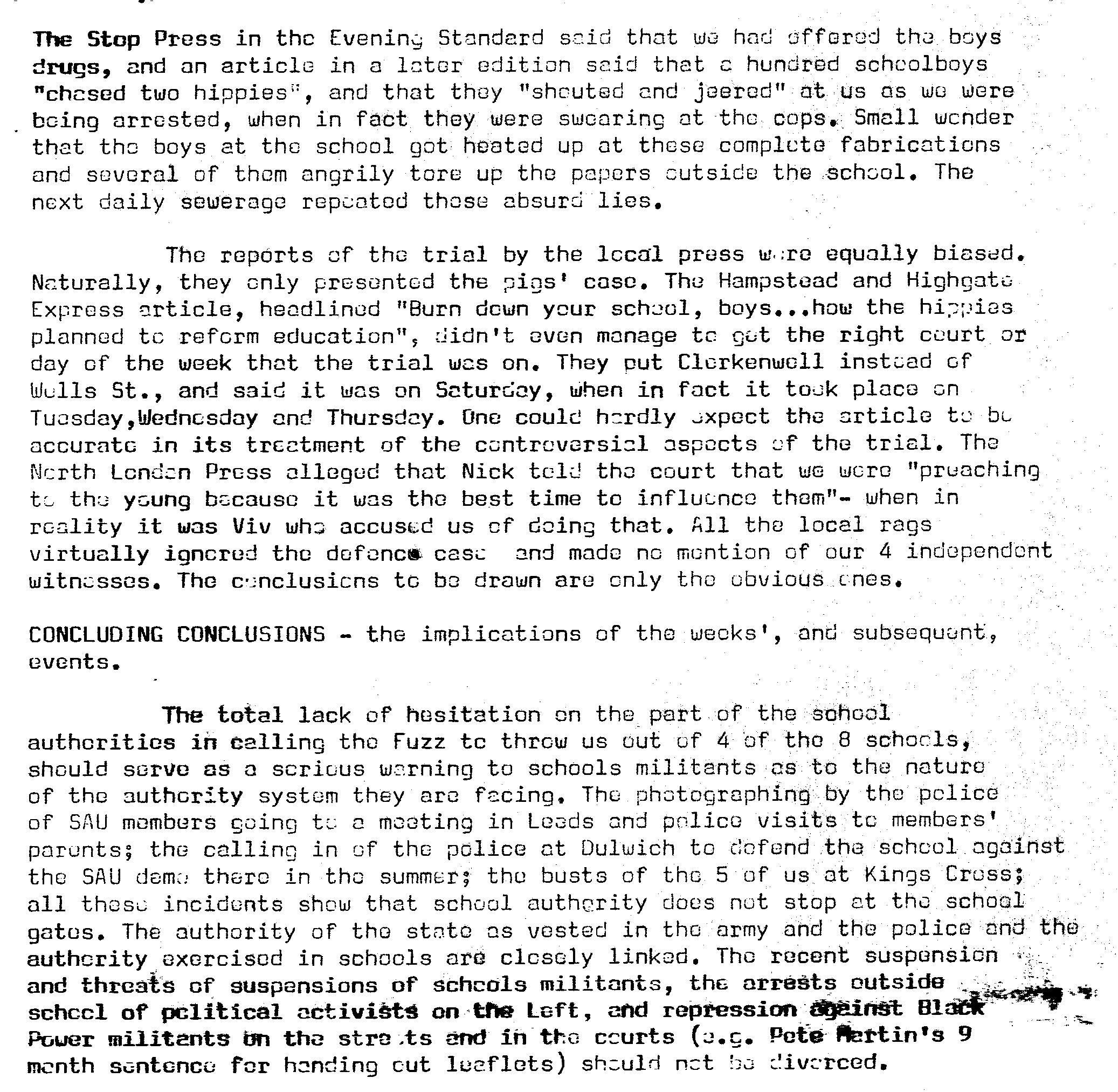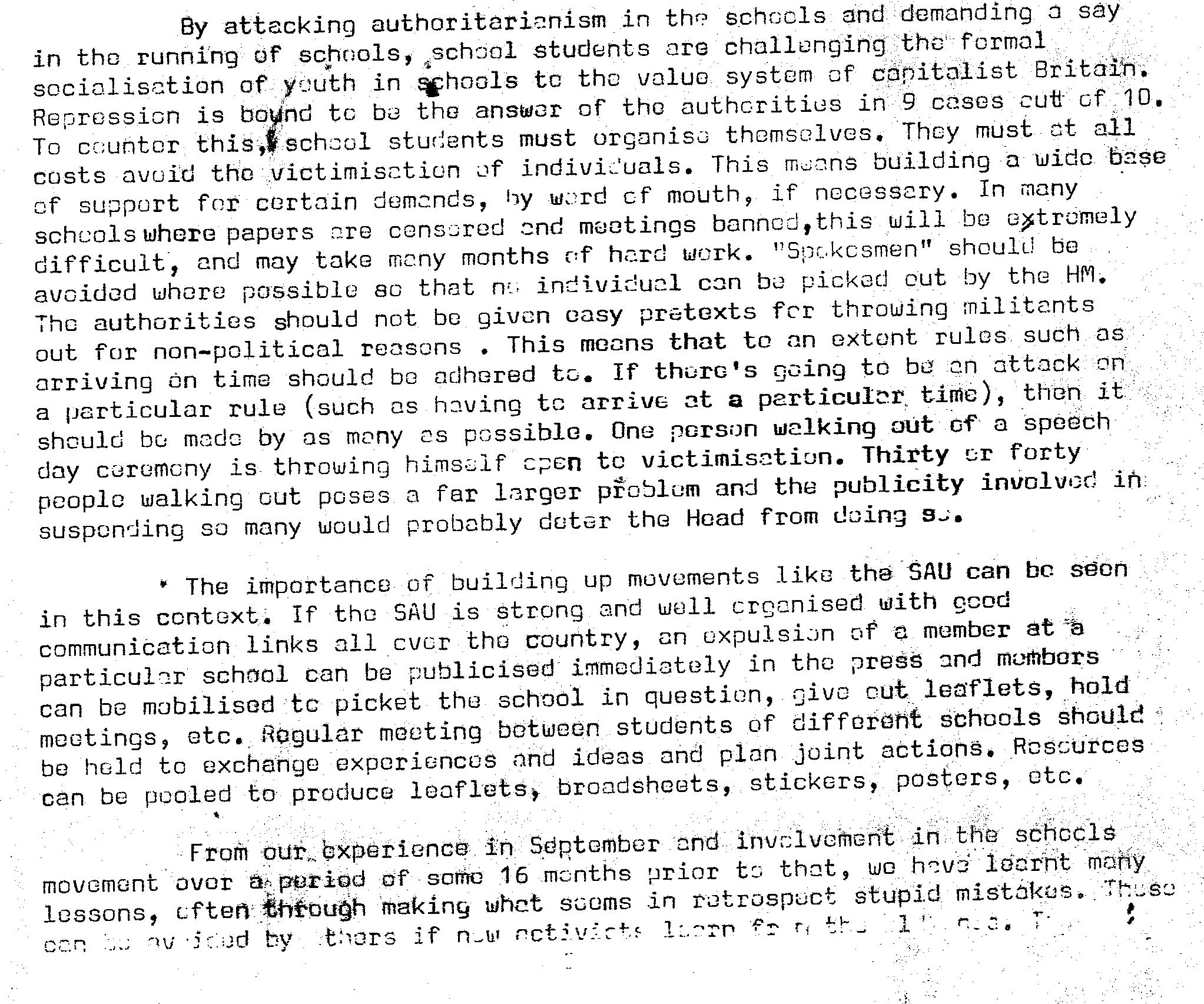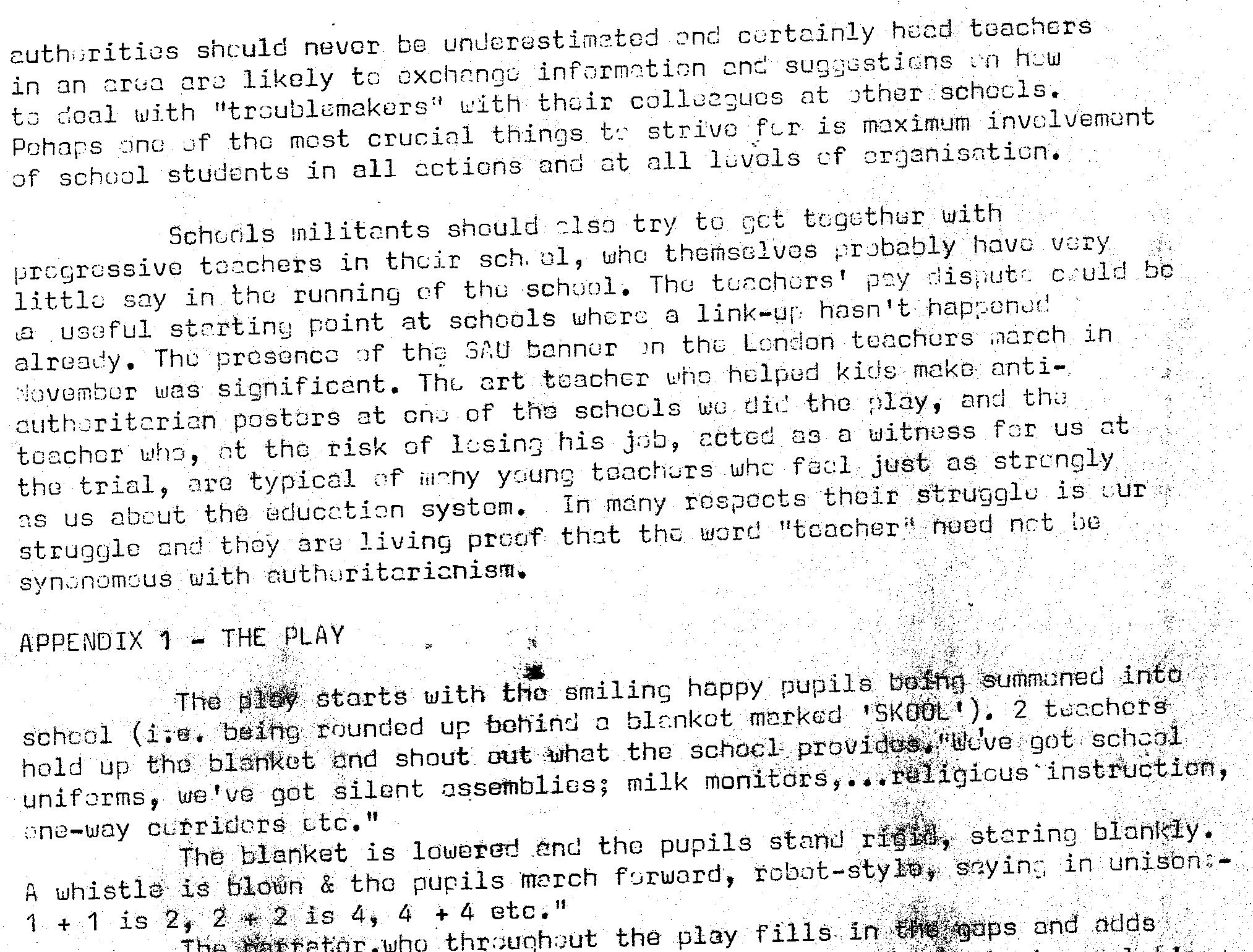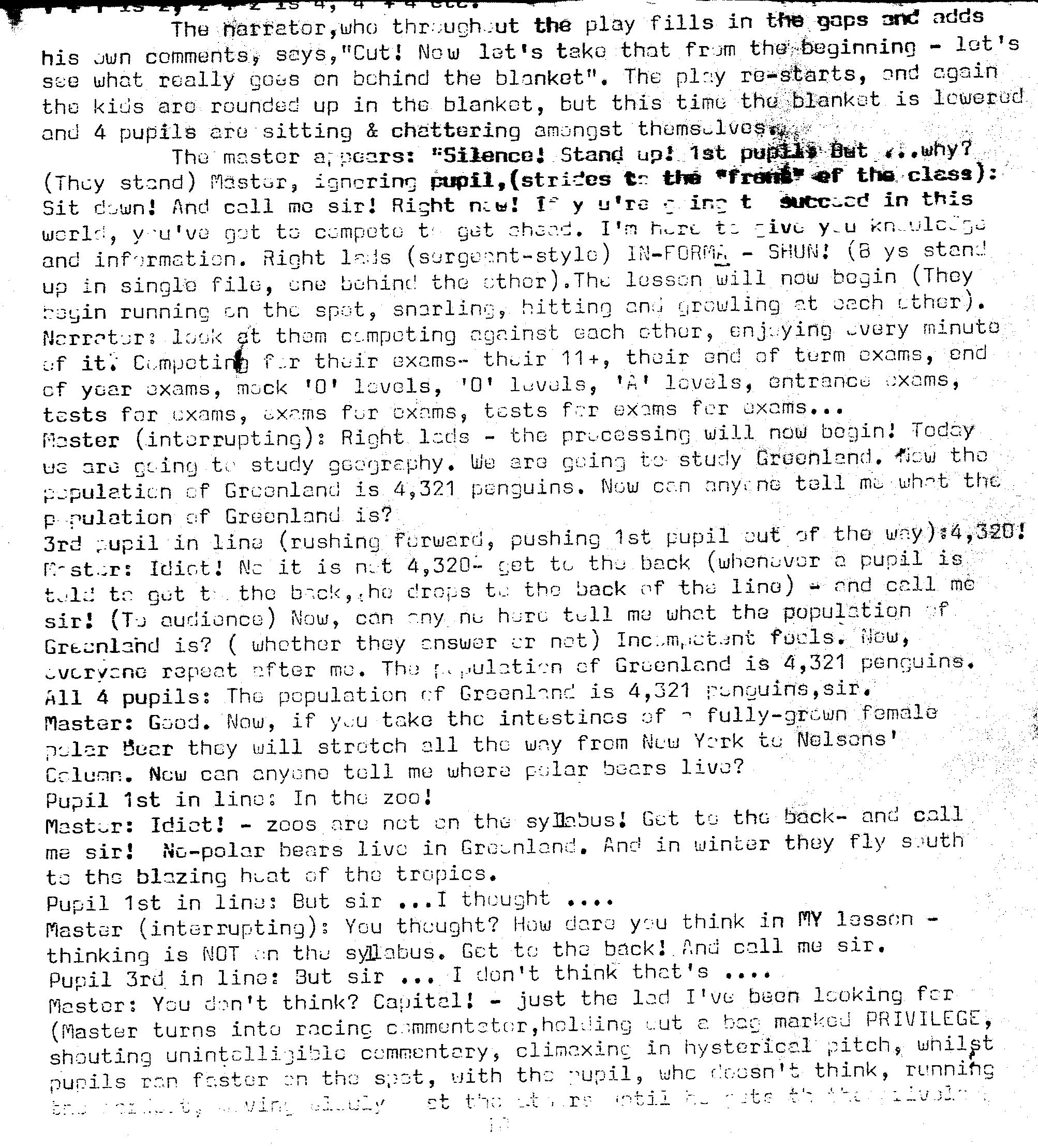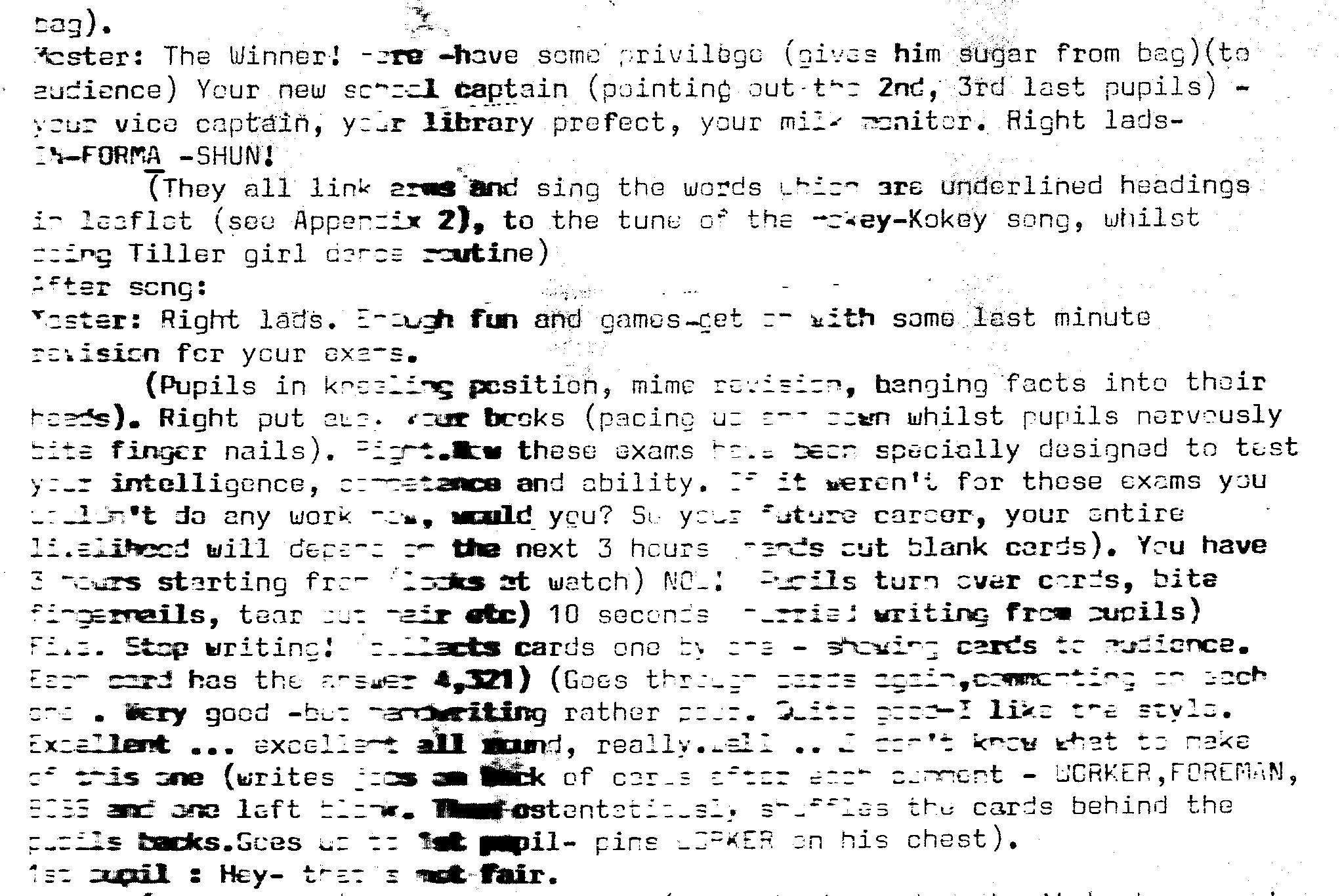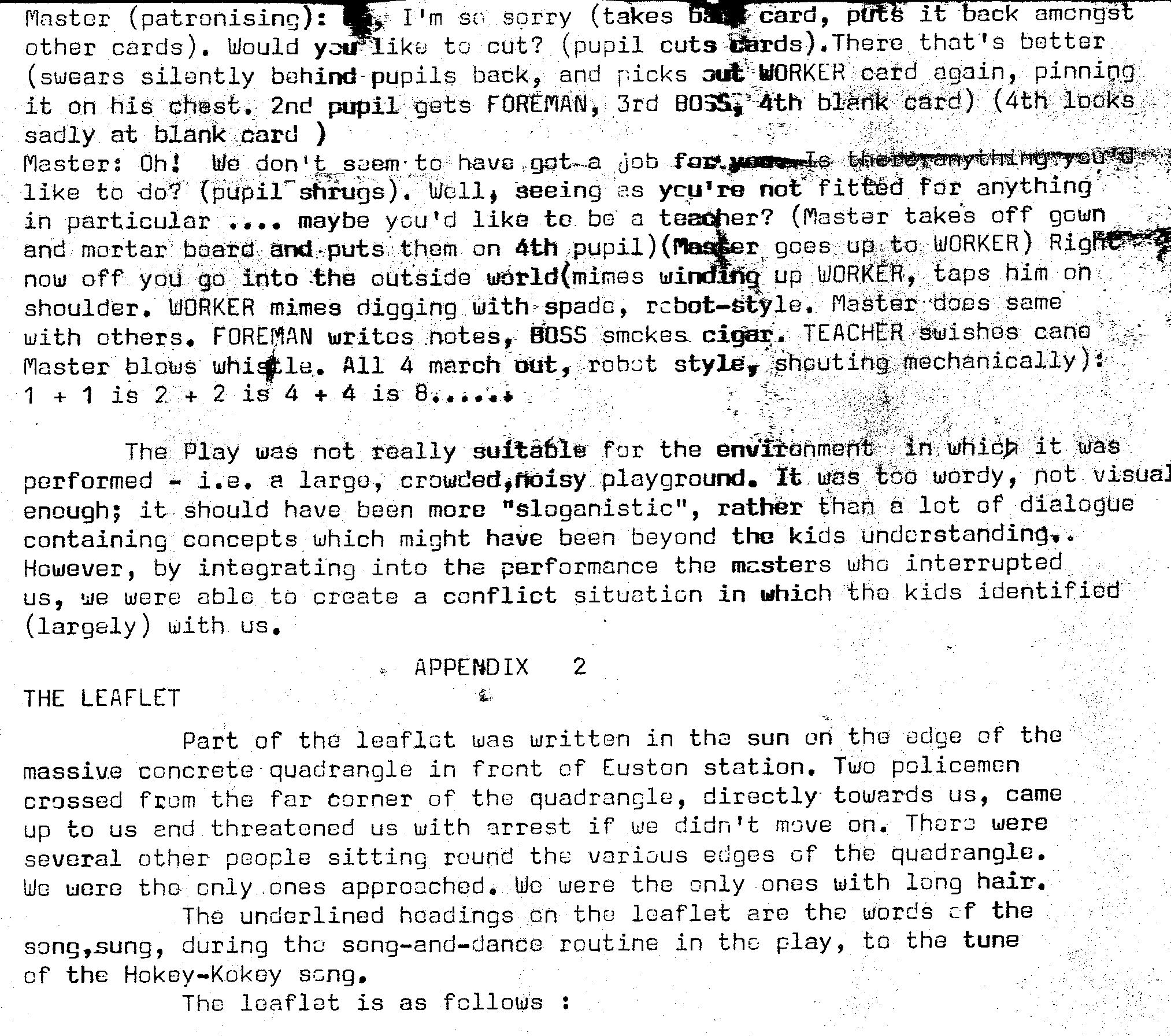 (the capitalised bits in it were the words of the song we sang during the song 'n' dance routine in the play, to the tune of the Hokey-Kokey song):
YOU PUMP YOUR FACTS STRAIGHT IN
We are all forced to memorise thousands of dull, meaningless facts. They decide what and how we learn!
YOU TAKE YOUR QUESTIONS OUT
We always have to answer their questions (in tests, exercises, homework, mocks, exams) – never question their answers!
YOU TAKE YOUR YOUNG MINDS AND YOU TWIST THEM ALL ABOUT
We are all moulded to think the same, act the same, dress the same – be the same. Authority and fear are used to keep us down, to crush our own personality and our own ideas, to make us obey blindly and without thought!
YOU GIVE THEM COMPETITION SO THEY HATE ONE ANOTHER
They say that to be successful we must compete against each other. So knowledge becomes a possession not to be shared, but to be jealously guarded, making us mean and isolated. We begin to accept the school's judgement of our friends ("You've only got 3 'O' levels!!! Heee!)!
SO IT'S COMPETITION FOR EXAMINATION – YES THAT'S EDUCATION
Exams are an endless series of hurdles – a race to acquire a better position at the expense of those who fail. They cause fear and worry; the rigid sylabus prevents wider learning and they waste a great deal of time. They govern the whole of our education!
* * * * * *
The same situation continues beyond the school-gates. Just like school, the outside world, through its newspapers, its radio, its
advertising (all in the hands of the few) moulds our minds to accept its values. Just like school, the outside world forces us to obey,
without allowing us control over the decisions that affect us!
We believe that in school, as everywhere else, the authorities must be attacked and questioned on every level.
We believe that education should be based on co-operation, not competition – working with people – not against them!