September 2014

30/9/14:
South Africa, Western Cape: residents of "illegal housing" flare up against cops, market and cars in protest against  arrests and threatened destruction of housing "The Panorama Hill complex, an upmarket block of flats at the entrance to Hangberg, became the target of angry residents who burned and damaged six cars after a community member was arrested. On Tuesday morning, rocks and tree branches littered the road at the entrance to Hangberg as a police Nyala parked close by. Tenants from the complex inspected the damage to their vehicles as more police arrived. A block away, the Hout Bay harbour market was in disarray as sculptures, paintings, crockery and an ATM were damaged and silverware allegedly stolen. …."Children and adults were throwing stones and rocks."…"I saw them light the cars and then I started to pray. Apparently, they were promised this land and it is the second or third time they have done this.""… striking casualised post office workers burn vehicles and smash windows at sorting depot
UK, Yorkshire: wildcat strike over job problems and paper work
US, Colorado: 12 to 15-year-olds shout "Don't censor history" as they walk out of classes "…triggered by the proposal from the five-member board to change elements of the district's advanced placement history classes.The proposed changes would discourage civil disobedience and promote the benefits of the free enterprise system, as well as "positive aspects of the United States and its heritage," board member Julie Williams said last week." (prompted partly by what appears to be a wildcat strike by teachers 12 days previously) …more here…and here (includes liberal "demockracy now!" video)
Colombia, Cucuta: informal traders burn cars and damage border bridge with Venezuela in resistance to cop crackdown on smuggling
Greece, Halandri: demolition planned for 40-year-old  Roma camp postponed due to riot
29/9/14:
Morocco, occupied Dakhla: cops launch tear gas at protest against death of political prisoner
Greece, Halandri (near Athens): riot at Roma settlement as riot cops move in to demolish; main road to capital blocked
China, Hong Kong: more secondary schools go out on strike as vale of tear gas envelops city…students accuse "occupy central" of hijacking their movement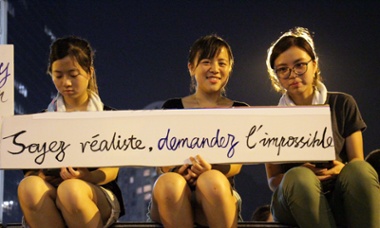 So nice to see such a neatly and correctly handwritten version of this old slogan from 46 years ago – sadly, only 1 of these women looks enthusiastic about it. No surprise –  so far  this is no May '68. The old slogan is pertinent – but not yet pertinent to the current ideologies in Hong Kong.  The slogan used there (and, I must emphathise again – so neatly and correctly written!) is clearly  contradicted by a boringly possible demand submissive to our masters' notion of what's realistic – a demand for something capitalism could grant. A more "democratic" form of bourgeois election than that proposed by the current alliance of the Hong Kong elite with the mainland CP bureaucracy might feasibly be granted if it suited the various interests as well as helped suppress any independent elements developing within the movement there. Sure, this might  admittedly also involve  a potentially explosive  resolution of the conflicts of interest going on within and between the different capitalist camps: some are even talking of potentially changing the situation to what happened in Ukraine, even though the histories and ideologies are relatively very different…
Clearly the conflict between pro-US and pro-Communist Party bureaucratic interests involves them assessing the danger of things getting out of control. Insofar as what goes on there is of concern to those wanting some global independent opposition, it's obviously worth attempting to look behind the spectacular facade of opposing interests and try to work out what's going on. For instance, check out this contemptuous pro-bureaucracy report here, which nevertheless mentions some pertinent contradictions.
See also here: "Occupy Central and the pan-Democrats have intervened in a bid to ensure that the protests remain limited to the narrow demand for open chief executive elections. They represent layers of the corporate elite and upper middle classes who fear that Hong Kong's position as a major Asian financial center and their own interests will be undermined by Beijing's control over the former British colony….As part of its "pivot to Asia", the Obama administration signaled that it intended to step up the pressure on "human rights" in Hong Kong with the appointment last year of veteran diplomatic Clifford Hart as the new US consul. In his first public statements,…There are undoubtedly close links between the US and sections of the Occupy Movement and the pan-Democrats…. leaked emails between prominent media tycoon Jimmy Lai and his top aide Mark Simon revealed that he had supplied funds to the Occupy Movement and several pan-Democrats. Simon, a former US naval analyst, had been the head of the Hong Kong branch of Republicans Abroad and organized meetings with leading US figures. In May, Lai reportedly met with prominent neo-con and former deputy defense secretary Paul Wolfowitz. At the same time, the Occupy Movement and pan-Democrats are concerned that the protests not become the focus for the broader social demands of the working class. The social gulf between rich and poor in Hong Kong is particularly marked. A small wealthy elite of billionaires and multi-millionaires lives in luxury while a fifth of Hong Kong's population is below the poverty line. Income tax and corporate tax rates are among the lowest in the world. Welfare measures are virtually non-existent…. a tearful Occupy Movement founder Benny Tai had expressed concerns that "the situation was getting out of control." It is a concern that all sections of Hong Kong's ruling elite share — both pro-Beijing and "pro-democratic.""
And this, about the Big Four audit accountancy firms is interesting: "The audit firms, who between them had global revenues last year of £66.3bn and employ more than 700,000 people worldwide, joined the fray by placing adverts in three Chinese-language newspapers criticising Occupy Central, which has suggested it will stage a sit-in to block traffic in Hong Kong's business district as part of its campaign. The advert said: "We hereby announce that we are opposed to this movement, and are concerned that 'Occupy Central' would have negative and long-lasting impact on the rule of law, the society and the economy of Hong Kong. We hope that the disagreements could be resolved through negotiation and dialogue instead.""
 Whilst this expression of business interest implies a fear that the state could provoke excessive opposition by being too heavy-handed: "WHAT is worse for big business in Hong Kong: street protests, or the tear gas fired to disperse the protesters? That is the uncomfortable question now confronting Hong Kong's button-down business community, which has co-existed relatively peacefully with the city's Communist Party overlords since the handover to Chinese rule in 1997…. For now, the protests are an inconvenience, but they are surely not enough to force a major Western company – or even a Chinese state-owned company – to seek a new headquarters, especially in an age when most employees can probably operate from home indefinitely. Hong Kong's political and financial advantages are too great to be overshadowed by barricaded subway stops and college students blocking downtown arteries. But the same cannot be said of a city that responds to peaceful student protests with tear gas….Hong Kong's handling of the protests…suggests a government that lacks the competence to do what other world cities do regularly: peacefully manage a student protest.If Hong Kong's business community hopes to preserve what is unique about their city….they need to be just as vocal about the negative consequences of assaulting unarmed students as they have been about threats to shut down the central business district. It's time for them to reaffirm how a world-class business city should behave under duress."
.But of course, the main thing is to write our slogans neatly and correctly!!! "Be realistic – demand impeccable handwriting!"
France, Lisle-sur-Tarn: dam busters fight with cops; tear gas and flash balls from the cops,  bolts, acid and petrol bombs from the ecologists (video)
South Africa, Cape Town: report on growing hostility towards gentrification
28/9/14:
China, Hong Kong: "If today I don't stand out, I will hate myself in future…Even if I get a criminal record, it will be a glorious one."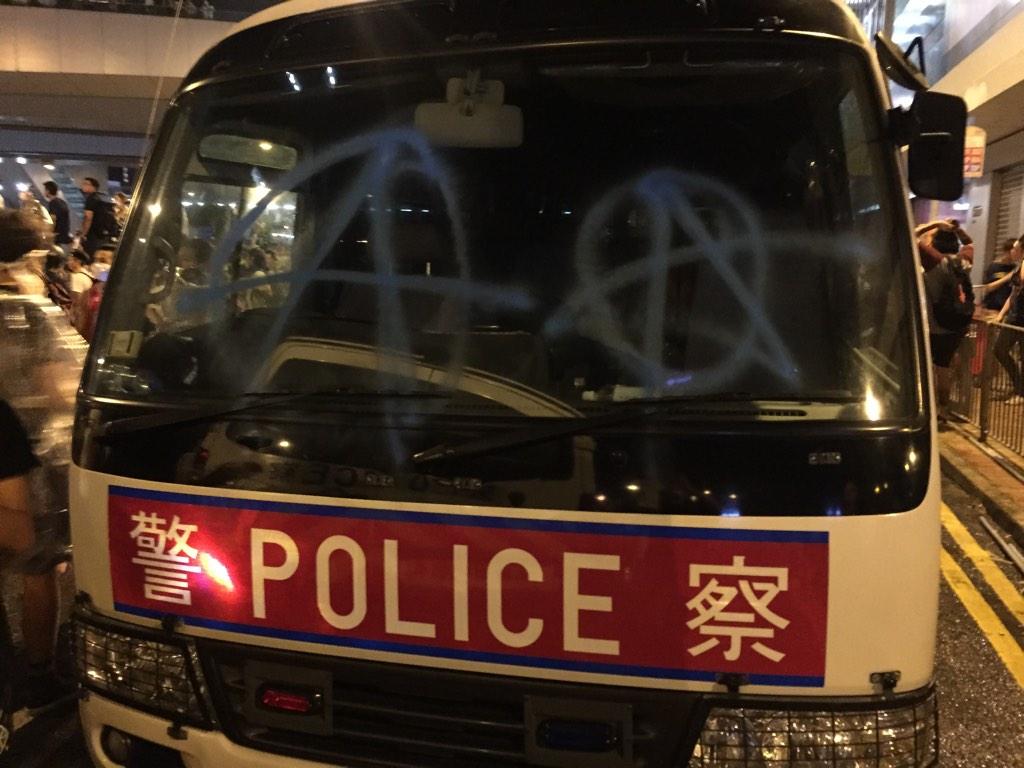 US, St.Louis: another Ferguson cop shot and slightly  wounded; report claims both shootings of cops are unrelated to protests…2 arrested at protest as cops continue to refuse to arrest cop who killed Mike Brown…call-out from black reformists ("Black lives matter") for 4 day (October 10th to 13th) demonstrations and discussions in Ferguson ostensibly in order to put pressure on grand jury 
27/9/14:
Mexico, Guerrero: report of 22 cops, probably linked to organised crime, arrested after students demonstrate, seize 3 buses and break windows of legislative chamber because of disappearance of 57 students.
Brazil, Amazon region : 4 day blockade of rail line ends
Canada, Ontario: brief – probably successful – wildcat strike against dismissal of union official  at General Motors plant
Algeria, Chlef: gendarmes clash with players and supporters after they go onto pitch at amateur football match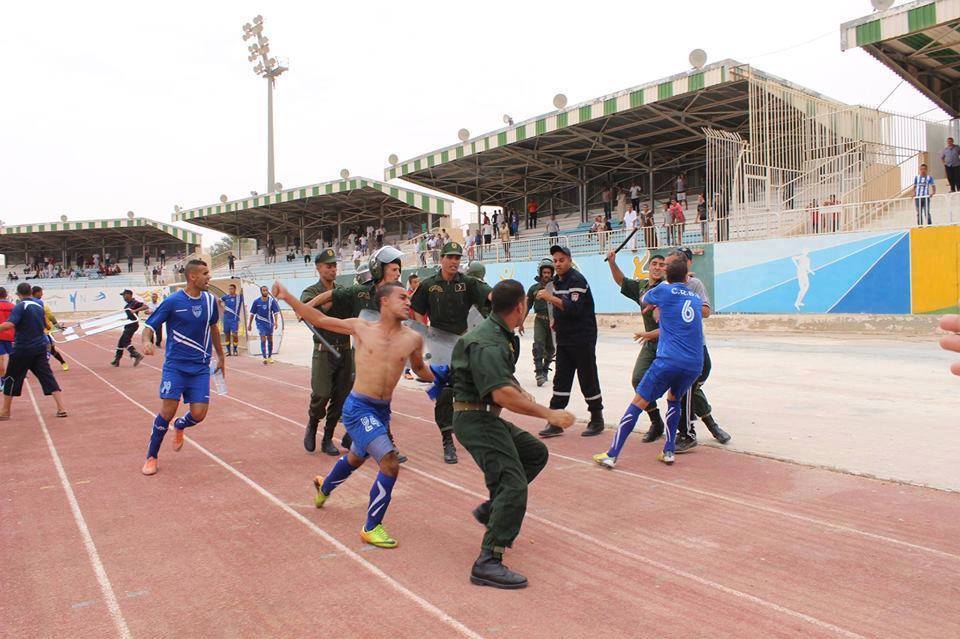 US, St.Louis: cop shot in arm in Ferguson (though this might have nothing to do with the shooting of Mike Brown; see here)
China, Hong Kong: "Occupy Central" reschedules  The implicit aim of this movement, regardless of it's ideology of "demockracy", is dictatorship of the bourgeoisie (local and multinational) as against dictatorship of the Chinese Communist Party bureaucracy. Whether the momentum goes beyond these false (externally defined) choices is, for the moment, largely futile speculation. But there are signs that things are – at least a bit –  getting out of control of the professional activists of "Occupy Central" (e.g. the latest intensification of conflict, with the breaking into the main government compound, and the boycott of secondary school classes, has forced "Occupy Central" to re-schedule their long-planned occupation). Nevertheless, if there's to be no sell-out or re-organisation of current misery or worse, independent forms of action have to also develop independent content, independent ideas that contest the ideologies that make such movements "respectable". See also This Riot Is Not In Ferguson, It Is In Hong Kong "The police have used disproportionate force to stop the legitimate actions of the students and that should be condemned," said Benny Tai, one of the three main organizers of the pro-democracy Occupy Central movement." – implying that proportionate force would be fine,  being the force this guy would probably claim he'd use if developments were to see him in charge of the filth.
26/9/14:
South Africa, Cape Town: long ongoing postal dispute causes closure of most postal centres  amid incidents of violence & "intimidation" by striking casual workers
Argentina, Buenos Aires: angry residents attack local cop shop because of "insecurity" after 13-year-old killed by robbers This is similar in motivation to the anger expressed in Guinea (see entry for 22/9/14). Though there are incereasing amounts of people who recognise that the cops are there to protect dominant commodified social relations,  the ruling class and its property, they still have some idea of some specialised force protecting "ordinary people". The uprising in Egypt in 2011 also involved a hardly known radical attack on this notion of policing – in Thala: "Thala, a town without police, without a municipality, managed by the people… a town with a revolutionary tradition, resisted and won. Today, there are no police in town. Young people take it in turns to deal with security….After the death of Marouan, his friends were consumed with anger. One of them, filling his motorbike with petrol, set it on fire and crashed it into the police station, causing a fire that forced the police to leave the town. On 17th February, Nemri Bassem, a mechanical engineer unemployed since 2004, occupied the police station and stayed there, demanding his right to work….Nemri is not alone. Many young people joined him for his hours at the police station, which has today been converted into a place where you can listen to music, play cards and talk about revolution."
China, Hong Kong: interesting development, boring demand, as 12 year old pupils boycott classes (more here and here) 
Venezuela, Valles del Tuy: 100s of workers occupy 2 factories abandoned by capital flight
India, New Delhi: parents clash with cops, throw stones at school, block road, etc., after molestation of girl, claiming cops' were protecting the school's principal
25/9/14:
US, St.Louis: clashes with Ferguson cops as top cop Jackson apologises for Brown killing  whilst his cops brutally  close down protest camp …more here, here and here "Jackson had stepped out to answer questions from the protesters and was walking with them, when a scuffle broke out. According to the protesters, who lashed out at officials on social media, the police attacked peaceful protesters. …"If you are not resigning tonight, go home," a man on a bullhorn, told Jackson" Here: "I don't think he was marching with the protesters more than 30 seconds before the riot cops came out into the crowd and tried to get themselves closer to him and protect him," said French, a St. Louis elected official who has been following demonstrations since the Aug. 9 shooting and who supports calls for Jackson's resignation. "Just them being out there pushing started stuff — it's a complete misread of the situation. His very presence agitated the crowd."  Clearly, as always, there are those hoping to advance their political careers by recuperating anger into a mere change of personnel at the top, just as there are those who would be temporarily satisfied by a mere change of who makes the world miserable. Fortunately, there are also a growing number of people who will never be satisfied until there's some irreversible change of perspective, a society based on the needs and desires of the community of individuals, people who will continue to find the weak links in hierarchical social control, regardless of  the appearance of change this society deems necessary to control explosions of anger.
India, Bhubaneswar: illegal vendors smash Municipal Corporation property in protest against demolition of kiosks
Chile, Puente Alto: prison riot
France, La Reunion: arson attack on section of the town hall in Chaudron area (for information about riots here in 2013 in French, check outthis)
24/9/14:
US, Milwaukee: protesters against cop killing of black guy block roads during rush hour; no arrests   Whereas in most places this is nothing much, in the US it's a big deal. "Dontre Hamilton was a 31 year old schizophrenic black man who was napping in a park in the middle of the day last April when a police officer harassed him and then shot him 14 times to leave him dead. Needless to say, that officer is still on the force. We took our protest to city hall to demand that the mayor address issues of police violence. Needless to say, "he wasn't there." Around 30 of us then blocked major intersections downtown during rush hour for the next couple of hours, at one point taking an interstate off-ramp and blocking up the interstate. Chanting Dontre Hamilton's name and "civil unrest" at the police officers while blocking traffic seemed to keep the police on their toes a bit as no one was arrested." (from here)
Finland, Helsinki: anarchist report of wildcat bus  strike  
France, La Reunion: another small riot in the Chaudron area; bus ticket office burnt down
23/9/14:
France, La Reunion (large island off east coast of Africa, a department belonging to France): unemployed rioters attack cops etc. (video) "Tense evening   last night in the borough of  Chaudron ["cauldron" in French]. Four police vans of the departmental Company of Intervention were mobilized to restore calm. Clashes erupted between youths and policemen, throwing stones, tear gas, burning garbage … The area was shaken by the vandalism but no injuries were reported. There is anger in the borough  of Chaudron and last night, dozens of young people decided to take to the streets to express their anger. After several instances of bins being set on fire in the early evening – around 7.30pm – tension rose a notch around 10 pm  ….Once again, the anger of unemployed youth has been evident for several days in the department. After the demonstrations that rocked Sainte-Clotilde earlier this week, the Chaudron district was shaken by vandalism last night. Social unrest is rising up: one in three is unemployed on the island. According to police interviewed last night, many people   also tried to attack the petrol station but the area was quickly made secure. In the end, there were thankfully no injuries   but people will discover a sad spectacle on the roadways …" See also here: "Clashes between youths and police in Chaudron…The anger of unemployed youth has been evident for several days in the department. Yesterday and this afternoon, tensions were palpable in Moufia, in Sainte-Clotilde and more precisely on the outskirts of the city of Alamandas where several individuals disrupted traffic on Monday, September 22 to voice their demands: to find a job.  … incidents broke out tonight in the borough of  Chaudron. Thirty young people decided to take to the streets to express their anger. Bins were set on fire and firefighters were pelted with stones…. calm  returned but at 10pm, it was the representatives of law enforcement who became the object of thrown stones…. masked and armed with stones, protesters launched provocations at the police. Attacked with all kinds of projectiles and particularly large rocks, men of the Commission finally responded with tear gas."
US, St.Louis: "unruly crowd" hit cops with rocks, loot store, attack cop cars, molotov city truck, fire shots at cops, etc. after burning of part of Mike Brown memorial (video here) A friend writes: "Thought you might wanna know the memorial for mike brown burned yesterday-arson or an errant candle who  knows. Good cop Johnson came in with pastors later on and news said people spit on the pastors and told the media to leave cause they lie. Then some kids broke into a beauty store on the main strip at night. Lots of cops responded. Crowd of 150 or so gathered yelling at police. Despite lots of black activist peacekeeper types, people threw stones at cops who then chased them back into side streets. They said people fired guns at them too:/. Later on some building in the quaint part of ferguson was set on fire with gasoline they say. Maybe it was a museum, I'm not sure. And they said the lot where police impound cars was tried to set on fire with molotovs. Busy night. People still jump on any provocation to restart things."…demonstration in another St.Louis suburb after woman dies in cop custody…Louisiana: 65-year-old woman arrested for inciting riot after cops shoot 14-year-old
Senegal, Dakar: students riot because of 10 month delay in payment of loans
South Africa, Gauteng: major road blockaded with rocks  for 7 hours….Eastern Cape: municipal building torched in service delivery protest (more here)…yet another   irony of the New South Africapartheid
22/9/14:
Guinea, Coyah: angry residents attack gendarmes, kill gang member, for fear that they'd protect bandits who killed woman ""If we take a bandit, we will kill him because the security forces are doing nothing to secure us here. Instead, as soon as they arrest a bandit, a few days later they release him and he becomes a danger again," warned one of the kids." (from here)
France, Mayotte (small island off east coast of Africa, belonging to France): football fans attack each other, then turn on cops "At Kawéni yesterday morning, groups of Majicavo young people, armed with clubs, sticks and also chombos and Molotov cocktails harassed the police. The clashes were violent, police vehicles were damaged. The violence began Saturday after a scuffle … At the final whistle, young fans … reportedly attacked Kawéni players  provoking violent fights. According to police, the clashes   injured two people, one being hit by  a sword while the second victim was hit with a bottle. …Officials from the BAC (anti-crime brigade) were stoned near Jumbo. Then fifty youths blocked traffic first by the  SNIE supermarket  then at the Mega roundabout.… Many vehicles were damaged….From Koropa to Kawéni, the ground was strewn with overturned trash cans and debris, sometimes burning."
South Africa, Grabouw: various associations, political and business interests, the church, etc. announce plan  to tame the social explosions independent of these representatives " More than 50 people representing the municipality, the protesters, police, community organisations and the Grabouw Taxi Association met for more than four hours at the Grabouw police station on Friday. That was followed by Monday's meeting at the Grabouw municipal offices in Pineview to agree to the joint statement….Last week, access to the N2 highway was blocked for three days and there was extensive damage to private and public property. Workers were intimidated and local businesses closed. Twelve schools in the area were closed in the middle of the preliminary matric exams and more than 5000 pupils were sent home. GCO committee member and African National Congress supporter Zwai Bhangazana said he was not satisfied with the outcome of the meetings. He said the people who protested last week were tired of all the forums being created….Bhangazana was the last person to address a crowd of more than 1000 protesters on Thursday last week before they dispersed. He played an important role in restoring calm and was also one of the most vocal and angry representatives at the meeting on Friday."
One might well guess that the dissenting voice by a governing party supporter capable of restoring calm after some increasingly angry service delivery protests, is "dissenting" for the simple reason of maintaining credibility with those he's able to calm. Clearly someone able to play 2 sides at once. The following, from SK in South Africa, outlines some of the strategic uses and contradictions of such things as stoning public transport buses, etc. It was written partly in response to me asking this "I was wondering about the constant stoning of cars and buses in the service delivery protests. Mokonyane in the Azikwelwa text talks of previous bus stonings, and their absence in the '57 bus boycott. I don't know if it's just a sign of worsening desperation – desperately trying to get attention for a persistently untenable situation or a sign of the decomposition of any proletarian identity and mutual recognition or that it in fact helps the situation…or a combination of all these and more? Any ideas on this?":
"Stoning of traffic during SA protests seems to me a straightforward tactical move to which people resort when they cannot blockade roads through other means. As such it is an expression of weakness, but not necessarily of desperation. Even when there are sufficient numbers to defend barricades against an initial assault from the forces of order such a defence can hardly be expected to withstand renewed offensive once police reinforcements are called in. Without the organisation of alternative forms of strategies — for example one involving systematic use of tactical retreat in order to continuously regroup, erect new barricades further along the line and defend them as long as tenable until a new retreat is called for, all of which would require a significantly higher level of co-ordination than has been shown until now — stoning of vehicles is an entirely understandable, though hardly very successful, method used by protesters to achieve quite simple practical ends. As such I don't think there's any need to read signs of proletarian decomposition into it by referring to ancient movements whose aims, methods and conditions are very different to what is currently taking place. It should be noted that while a bus boycott could successfully draw in all the members of a geographically-limited community to achieve its aims, this is simply not possible for a road blockade, since there is no analagous spatially cohesive community to be found amongst ALL users of a particular road who might be similarly mobilised by a 'proletarian identity' or anything else. As for desperation, this is of course a major factor behind all protests as such. The reasoning behind why these protests adopt this particular tactic of stoning vehicles and the barricades they form a substitute for, however, can be understood can be seen in the text Choke Points, which mapped the high-traffic nodes and lines through which the majority of commodities circulate in the eastern United States. Noting the existence of only seven such lines passing from the ports to the rest of the country, and recent blockades of one such line in Canada by a handful of Native American activists, the authors asked:
 'If an action conducted by a relatively small group of people (infinitesimal compared to the thousands present for the November 2nd shutdown of the Port of Oakland [following the repression of the 2011 Occupy movement]) could halt a major Class I route operated by CN [The Canadian National Railway Company] for a few hours, what could possibly emerge if intermodal railway line blockades became a tactic diffused and implemented in the same way plaza occupations were globally diffused in 2011-2012?' (Choke Points: Mapping an Anticapitalist Counter-Logistics in California; Degenerate Communism)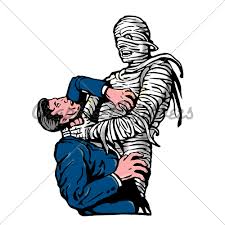 Such questions are well worth posing considering the fact that road blockades have become widely diffused on at least a national scale  in South Africa during the struggles of the 1970s/80s as well as those of today; similar steps were taken in the 1997 – 2001 Argentinian piquetero movement; and both road and rail blockades were tactics deployed nation-wide in the 2006 anti-CPE movement in France as well as the recent revolt in Langa, Cape Town, in which all road and rail routes in and out of the township were blocked for the day.
 This latter is a local demonstration of how the general strike today increasingly takes the form not of a voluntary withdrawal of labour at the point of production, 'but rather as masses of people who work in unorganized workplaces, who are unemployed or underemployed or precarious in one way or another, converging on the chokepoints of capital flow… In such a situation,' say participants of the Oakland Commune in the very stimulating text Blockading the Port is Only the First of Many Last Resorts, 'the flying picket, originally developed as a secondary instrument of solidarity, becomes the primary mechanism of the strike. If postindustrial capital focuses on the seaways and highways, the streets and the mall, focuses on accelerating and volatilizing its networked flows, then its antagonists will also need to be mobile and multiple. In November 2010, during the French general strike, we saw how a couple dozen flying pickets could effectively bring a city of millions to a halt. Such mobile blockades are the technique for an age and place in which production has been offshored, an age in which most of us work, if we work at all, in small and unorganized workplaces devoted to the transport, distribution, administration and sale of goods produced elsewhere.' The stay-away produced by the revolt, which was effectively a local general-strike as the vast majority of Langa residents worked elsewhere, was imposed by those unemployed, part-time and precarious young workers who blockaded the roads and railway lines of the township.
 'Choke Points' also details the possibilities for blockades of intermodal rail yards and air cargo warehouses, concluding that the former would be rendered obsolete by successful blockade of rail lines and the latter insignificant by dint of the relatively low number of commodities involved — not to mention the difficulty presented by far tighter security surrounding all air transport! Another possibility not mentioned in that text was demonstrated by the 2000 UK fuel protests in which the week-long blockade of major oil refineries and depots led to only 5% of normal fuel deliveries being made, with all the inevitable consequences. 
Simultaneous blockades of ports, major railways, highways, freight truck chokepoints, rail yards, air cargo warehouses and oil-refineries would not only significantly disrupt the circulation of all commodity-capital but also severely strain the capacities of the forces of law and order to crush such actions by forcing them to stretch their troops over widely dispersed locales thus depriving them of the ability to concentrate their offensive power at a single point. Police resources are already placed under strain by the rising tide of protest in the country. A recent incident during a taxi-driver's strike illustrates how difficult it is for them to contain concerted action even at the current level of operations: 
On the first day of spring [Sam Fanto note: 1st September in South Africa] a series of revolts sprouted  throughout the fringes of Cape Town. In the townships of Nyanga, Gugulethu, Khayelitsha and Philippi, taxi-drivers torched seven buses, burnt tyres, closed taxi ranks and pelted passing cars with stones. The violence spilled over onto the N2 and the authorities closed a section of the highway and diverted traffic. As has happened before, a section of township residents took the opportunity to unite with the drivers in their protest, in a significant moment of solidarity between the struggles of workers and those of township residents. 
Curiously, earlier taxi driver strikes, in 2009, were the most recent prior occasion for what went down this year. These included the burning of municipal vehicles by both striking workers and township residents in Port Elizabeth, Cape Town and elsewhere: "in the Kuwait section of Khayelitsha, taxi drivers and residents set alight a car and a municipal van" (iol.com,) as well as looting — the main targets being sources of food: In Nyanga, one bread delivery truck driver was killed and another truck was "set alight and was later looted by members of the public." (SAPA); a number of shops were pillaged: "Some excited residents could be seen running through the streets carrying looted food items." (westcapenews.com)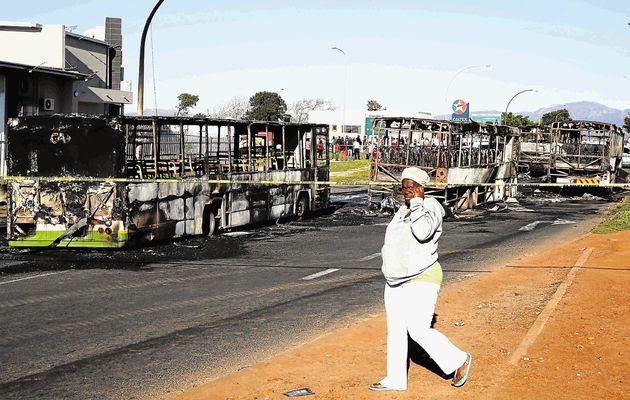 Buses cleaned out during a bout of spring cleaning: taxi-driver's strike, Nyanga, 1 September 2014
In Nelson Mandela Bay (Port Elizabeth) a wildcat strike by taxi drivers involved the barricading roads as well as the stoning and petrol bombing of police vehicles, buses and government buildings across the city, again carried out by both workers and surrounding proletarians. (Port Elizabeth Herald) In the same report, a state spokesperson stated with typically staggering insight "These violent actions do not belong in a peace-loving society." The strike was notable for its involvement of youth and the ferocity of their attacks on state authority. In scenes reminiscent of the uprisings of the 70s & 80s, various municipal buildings, including two clinics and one of the ruling party's (ANC) offices were reportedly burned down. 
In addition to a counter-attack against a state which has for years continued a relentless assault against them, the young proletarians used the strike as an opportunity to carry out a practical critique of an urban landscape whose sole purpose was the circulation of commodities – including the commodity which creates all others, labor. This critique, born of boredom and opportunity, seems to be the most reasonable explanation of a situation where delivery trucks were petrol-bombed by youths having no connection to the taxi drivers or their immediate interests, and where "gangs of youngsters were seen… stoning cars." (The Port Elizabeth Herald) In times of crisis illusions are dispersed like teargas in a gust of wind. State provision of public transport was thus revealed to be not a social service to a human community but an economic service to the community of capital, just as the police were revealed not as guardians of human beings but bodyguards (antibodies) of the commodity economy, its veins (roads), its blood cells (cars), and its heart (capitalist production). 
This much was admitted by the provincial safety and security spokesman Bobby Stevenson when he revealed that, to the state, "safety and security" means nothing more than the provision of conditions which guarantee the free movement of the commodity. The following was all he had to say; here we see the meaning of "law and order" in this society; here is its justice, its democracy, its freedom, its morality: 
"A situation of lawlessness cannot be tolerated in a democracy, and our economy cannot be held to ransom." [He] said he had written to the provincial commissioner requesting that police members travel with commuters on buses equipped with radios. Police vehicles should escort buses and rapid response units [should] be located in strategic spots to ensure the free movement of buses and other vehicles that wish to convey workers to work.'
Attentive readers will notice how increasingly totalitarian the "freedom" of this democracy tends to become (cops on radio-equipped buses herding workers into their kraals). 
What is of interest in this year's taxi strike, more particularly an incident therefrom involving a delivery truck, is the difficulty the authorities had in clamping down those whose actions were marked by audacity and anger. The truck was delivering dairy products to Shoprite supermarket in the township of Mfuleni when it was attacked. According to eyewitnesses the truck was approaching a traffic circle when it was stoned, allegedly by taxi operators. 
Police patrolling the area quickly dispersed the crowd and advised the truck operator to park the vehicle next to a satellite police station in the vicinity, leaving the station with only the two officers stationed there on regular basis. Eyewitnesses said the mob returned after the police left and removed the battery from the truck, cut its wires and set it alight. 
"They broke it open and people started looting yoghurts, milk and other dairy products," said one witness. Police in the station couldn't do anything to stop the looting as they were outnumbered. (groundup.org.za; 2 September 2014)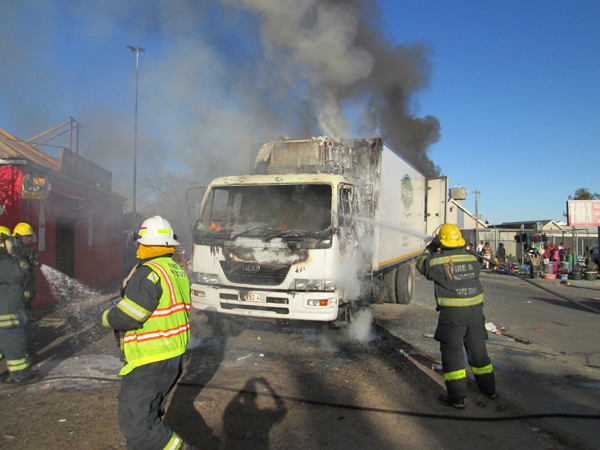 Delivery truck during taxi-driver's strike, Mfuleni, 2014.
'Rise, like lions after slumber in unvanquishable number!
 Shake your chains to earth like dew
which in sleep had fallen on you: 
Ye are many—they are few!' 
(Percy Bysshe Shelley) 
Such moments, significant as they are, are nonetheless with their own contradictions, for example the mob-mentality of the crowd which tried to attack the truck-driver, a fellow-worker who did them no harm, even after he abandoned the vehicle. The point is not to ignore the continued poverty of such moments in order to eulogise them, but to identify tendencies expressed through them which illustrate possible openings and avenues for future steps along the road towards an endlessly enriched life for all.
When networks of commodity-capital circulation are disrupted, they open up space for new forms of action and relation. Streets are transformed from murderous conveyor-belts into marvelous living-rooms for dialogue, feast, festival, self-expression, protest, organisation, recovery. Rapid climate change turns what is normally a concrete desert dominated by dead objects into a fertile proliferation of teeming possibilities and playful people taking their chances with gusto and gut-rage, handfuls at a time. Thus a participant of last year's massive mobilisations in Brazil could take to the streets normally reserved for machines and dance to the music of now comradely strangers normally reserved and silent carrying a sign that said 'Cities are for people, not cars.'
There are also tactics which divert networks towards radical ends, with disruption produced as a secondary benefit. One example is when the children of the townships commandeered buses during the uprisings of the 1970s/80s in order to transport people to neighbourhood assemblies and mass meetings, or to drive them into the sides of schools and factories. As for trains, that the Mexican revolution was of course famous for,   a  more recent example is when members of the Mandela Park Anti-Eviction Campaign forced their way onto trains in order to join demonstrations in the city center.
The above by no means represents some sort of ultimate stratagem to be universally applied, once and for all, by masses assigned the task of implementing the directives of others. They are simply an outline meant to demonstrate a few directions for collective action not yet taken, inspired by what has already been done by those determined to change their own lives. The possibilities for subversion are limited by little more than your imagination, audacity, and organisational capacity"
21/9/14:
Canada, Quebec: luddites sabotage railway cable in solidarity with evicted indigenous tribe
France, Avignon: car set fire to in order to ambush cops and firemen; several cops hit by stones and cop car window broken
Mexico, Michoacan: cops arrested and charged after riot following the cops' killing of 3 young men
20/9/14:
Australia, New South Wales: prison riot
South Africa, Gauteng: Tshwane University of Technology campus closed down after 18 cars burnt in ongoing dispute between students and authorities (see also this and this )
Chile, Los Lagos: cops and security evict familes, then use water cannon to disperse protesters, who fought back with stones and other projectiles
19/9/14:
UK, Blackpool: 500 youths pelt cops with cans
France, Morlaix: agricultural farmer and workers burn down tax office, preventing firemen reaching it (video)

Kenya: most university students on strike over delays in government loans "Students in most public universities have gone on strike to protest the delay in the release of their loans by the government.   At the University of Nairobi, students have blocked University Way and adjacent roads, demanding the immediate release of the funds by the Higher Education Loans Board. Their counterparts from the Technical University of Kenya have also blocked Haille Sellasie Avenue over similar grievances. In Mombasa students from the Technical University are also on the rampage and have blocked roads in Tudor area."…clashes with cops, barricades, banks and shops closed for fear of looting
Bulgaria: miners in sit-in strike over unpaid wages
18/9/14:
Brazil, Sao Paulo: Homeless Workers' Movement protest blocks main road with burning tyres etc. (videos and article in Portuguese)…cops kill an illegal street seller in clash "…during the operation the officers were surrounded and some vendors tried to remove the bullet proof vest of one of the agents"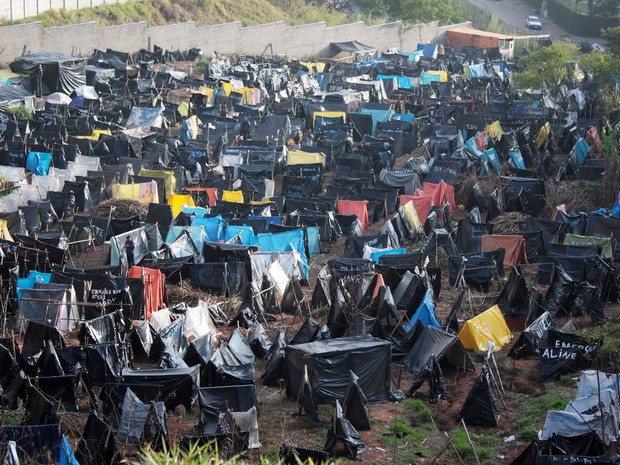 Homeless Workers Movement land occupation, which has been going since 6th September
Ecuador, Quito: clashes with cops on demo against labour laws and rising transport costs (video) More here, showing that the President (Correa) is trying to do what the representative of the Left wing of capital, Maduro, the  Chavista President of Venezuela, has tried to do with the movement in his country, namely make out that  all opposition is a manipulation of the Right wing of capital: "Correa stated that the current demands   opponents are trying to promote are destabilization processes such as occurred in Venezuela, and said he would not take it. During the protest march there were several disturbances in which 15 policemen were injured… Interior Minister Jose Serrano said. … hooded individuals who were part of the demonstration  attacked soldiers with Molotov cocktails, stones and burning trees… In other cities such as coastal Guayaquil there were also demonstrations"
Greece, Athens: molotovs thrown, banks attacked on anniversary of fascist murder of rapper "… extreme left protesters threw Molotov cocktails and rocks on the sidelines of an event marking the first anniversary of the murder of a rapper by a fascist sympathizer of the Golden Dawn. Thousands of protesters gathered in Keratsini, a town in the nearby suburbs of Athens, where Pavlos Fyssas, known by the stage name of P Killah, was killed a year ago by a militant nationalist formation. Brief scenes of violence erupted when dozens of hooded protesters   left the ranks of the event before being chased through the streets by law enforcement. According to a police official, at least four banks, two shops and a kiosk were attacked."
South Africa, Western Cape: 2 houses burn on 4th day of Grabouw service delivery protests as politicians blame opposing politicans for being the "third force" behind the movement…report on criminalisation of dissent
Eire, Dublin: 100s of anti-water meter protesters stop workers installing them…Cork:  entrance   to waste site blockaded… as pigs add to stench "Sergeant Brian Murphy from Gurranabraher garda station stepped in when the Churchfield protest, which continues to divide the community, became heated.
"People are entitled to protest and we will protect that right to protest but a solution needs to be reached by means of a political approach," he told protestors.
"The last thing anybody wants is for this to become confrontational. Diplomacy is the first step to resolving any difficult situation and matters should not be escalated to the extent that decent working people are having their livelihoods affected. Some of the businesses disrupted have nothing to do with the waste facility, yet their workers can't carry on with their normal working day. Blocking a public road is not the answer,""
Papua New Guinea: 3rd day of major highway blockade due to killing of tribal member
US, Chicago: pathetic piece of artistic recuperation of Ferguson (and other) riots
17/9/14:
Bolivia: riot and massive rooftop and courtyard protest at prison against screws' theft of money and other belongings (video) More here
Turkey, Hakkari: more schools burnt down in protest against outlawing of Kurdish-speaking schools This might well have been committed by a section of the PKK. Whilst the  PKK is clearly a nationalist organisation prepared to do deals with other Statist gangs (see the comment by mikail firtinaci Sep 11 2014 14:26 on this thread), groupings of individuals within the organisation may well have other ideas and methods, though if they don't oppose their own heirarchy eventually they'll merely  become fodder for it &/or become disillusioned.
Spain, Barcelona: protests against tourism
India, Kolkata: crossing in front of police station blocked by students after cops break up and beat up students in protest 
France, Lille: cops use tear gas as about 50 youths surround cops dealing with moped accident and insult them…Paris: firefighters putting out  burning car attacked with "projectiles" by youths; speculation that car was burnt deliberately to attract cops into an ambush
UK, Lewes: a tear-jerking story
South Africa, Western Cape: fire station set alight in 3rd day of Grabouw service delivery protest "Protesters set a fire station alight on Wednesday after they damaged a Home Affairs office by pelting it with stones on Tuesday night.  While a stretch of the N2 was opened for traffic at the foot of Sir Lowry's Pass by 8am, a 2km stretch remained closed for three hours…. "According to information received, residents have been throwing stones at motorists on the N2 since Monday. They put rocks and burning wood on the road to show their dissatisfaction with response from authorities." On Monday night, spaza shops and seven wendy houses belonging to the municipality were destroyed. "Police are investigating housebreaking, theft, malicious damage to property, public violence and intimidation cases after these shops were broken into….  On Wednesday, protesters used sheets of corrugated iron as shields as they advanced towards police on the N2. Police used stun grenades, water cannons and rubber bullets to disperse crowds that continued to march towards the blue line. Angry residents yelled at police and media to leave the area. Two passing motorists were pelted with stones, but drove on without serious damage to their vehicles…. Protesters continued to hurl stones at police after 3.30pm. Cape Argus photographer Willem Law was hit on the shoulder while capturing the drama. Meanwhile, thousands of school pupils stayed at home, amid reports of threats and intimidation. …."The bus services were cancelled as they were being attacked en route." (more here , here, and here)"…Community Safety MEC Dan Plato described the rioting, stone-throwing and violence in Grabouw as "organised guerrilla-type tactics"…. "According to our information there are three large groups responsible for the violence in Grabouw and moving in different directions to cause problems,".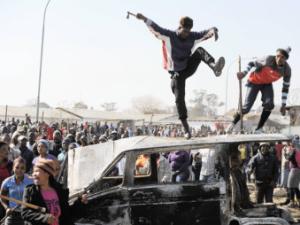 dancing against the state – a service delivery protest
Rustengerg: 16 illegal aliens escape from jail…KwaZulu Natal: arson destroys opposition party's offices
Phillipines, Manila: activists chuck coins, jostle and heckle Budget Secretary
US, St Louis: protesters disrupt council meeting again "no more business as usual"(though one suspects this is the pacifist "correct" opposition reforming its formerly discredited methods…but maybe not)… California: vandals damage over 90 doors and 90 windows of juvenile miseducation centre
Fortunately, in the US the abolition of the cane for these savage miscreants has been replaced with this: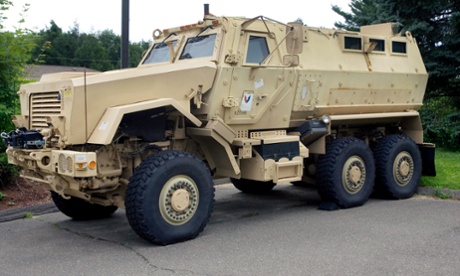 An MRAP mine-resistant armoured vehicle of the type acquired by US school districts under a Pentagon giveaway of military equipment and weaponry…that'll teach 'em
16/9/14:
Bolivia: riot and massive rooftop and courtyard protest at prison (video) – no context to this video at all
Brazil, Sao Paulo: violent resistance to violent  eviction seems to succeed "Military Police confronted a group known as the "homeless" who  set fire to a bus … An eviction in the city of Sao Paulo, Brazil, generated a confrontation between the military police of the city and a group of occupants of an abandoned hotel, which housed over 200 families. …Military Police tried to access the hotel via  shields, making use of tear gas and rubber bullets; the  occupants' response was swift and they clashed with officers with sticks and stones, some reports suggesting that even sofas were thrown through the windows of the building.…At the same time, a demonstration of support for the occupation cut off Avenida Sao Paulo with barricades and setting fire to piles of rubbish caused disruption to traffic in the city center. There've  now been three… eviction attempts, the other two … conducted in July and August, respectively, ended in failure due to lack of resources such as trucks to transport the belongings of occupants.Notably, during clashes at least one  Military Police officer was wounded   and has been taken to hospital… "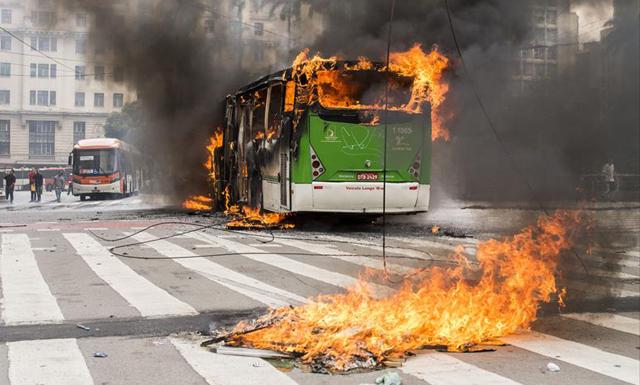 sao paulo, september 16th
Mali: violent clashes between cops and informal traders as the State, supported by shopkeepers,  forces them off   highroad
France, Tarn: eviction of those resisting dam construction – and a video (both in French; in English, see this)
South Africa, Gauteng: report saying there've been 229 illegal protests in this region over last 3 months…Durban: informal settlers block roads with boulders and burning tyres in service delivery protest
15/9/14:
South Africa, Western Cape: main road blocked with fires; cops and cars stoned; shops looted – during a night and day of service delivery protests "The N2 was closed to traffic, with police directing motorists around the area via alternative routes. However, protesters under the cover of darkness had begun throwing stones at cars on the alternative routes as well….Police moved into the area to restore order, with protesters throwing stones at them in response….."Protesters are using the darkness to evade police, as they keep switching positions."…It had been reported to police that a number of shops in Melrose Place and Xola Naledi owned by foreign nationals had been looted by protesters on Monday evening….Earlier, police fired rubber bullets and used teargas to disperse more than 1000 people protesting over service delivery at the Grabouw municipal offices. The rubber bullets were fired when protesters marching in Ou Kaapse Weg started throwing stones at police….Oil was poured on the highway and later rocks and burning tyres were used to block access to the town….Grievances included in the memorandum were lack of housing, poor and expensive electricity supply and bad road conditions."…More here "…protesters threw stones and set oil alight on the highway. But a Grabouw community organisation has criticised the violence – distancing itself from "criminals who are not part of our protests…I know nothing about the N2. That's wrong, unacceptable, and we condemn it in strongest possible terms. The police must act against those responsible."...Tshwane: university suspends student council after violent protests.…Cape Town: taxi drivers go on illegal strike against heavy fines "They put tyres in the road to stop other drivers from working and hammered on the sides of passing minibuses…A heavy police presence, including a Nyala [cop vehicle – see below], was stationed at the Nyanga taxi terminus early on Monday morning….Earlier in September a taxi driver was shot dead and 11 buses burnt or damaged near the Nyanga bus terminus….Msinga Mbemba, another taxi driver, said on Monday morning they were regularly arrested and, as a result, lost their jobs. "We can't afford these fines and when we are arrested we can't apply for our professional driving permit." Taxi drivers chanted and danced at the station, stopping minibuses from leaving." (more here)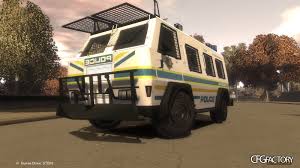 A "Nyala" –  a sweet South African cop vehicle,                                                 named after this brutal animal: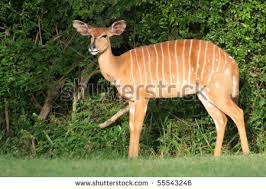 a "Nyala" – a  vicious South African antelope
France, Paris: vehicle belonging to prison collaborator company burnt out….Picardie: partial blockade of newly developed 1000-cow factory farm (French video here)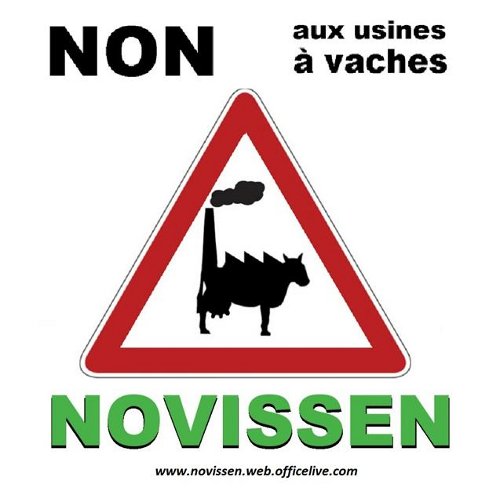 Unfortunately "NOVISION" would be a more appropriate name for these Good Citizens, blind to anything other than a narrow single issue. Still their poster (above) is quite good. Of course, factory farming, or factories for humans, should be opposed, but not with ideologies that even the Mini-star of Ecology can support. In fact, officially these people are willing to accept a 500-cow factory farm, thus belying even their own single issue ideology (see also entry for 12/9/14, on a cows attempt to liberate itself from the forces of the state and market system reducing it to a commodity).
In  France the eradication of the small peasantry and their replacement with agro-business, battery farms, factory farming  – ie the transformation of agriculture into big business and monopolies – has been vastly helped by the propaganda machine. In 2006 the media went into overdrive with their panicky catastrophist brainwashing about bird flu. For over a month it was the main item of  TV news on every single channel. How many people in France died from this potential plague? Not one. How many people died in Europe? Just 5 – in Azerbaijan, a very poor country on the edge of Asia. How many globally? 359, all in what might be called "Third World " countries ( though this term is rather dubious) – ie  159 in Indonesia, 61 in Vietnam, 60 in Egypt, 19 in Cambodia….etc. In other words, poor countries, where lots of people die from lack of proper sanitation of which bird flu was merely one of the symptoms.  The 2009 swine fever epidemic was far worse, of course, but even here there were no deaths in Europe or North America, and virtually none in South America or Oceania. Again – poor countries in Africa and Asia. After 3 years the estimate was 284,500 deaths worldwide. A hell of a lot, you might say. But then each year, between 250,00 and half a million people die of "ordinary" flu. And in 2012 1.3 million died from TB, an illness which is very cheap to cure. And yet , because it has no manipulative value – in particular as a method for justifying the increasing destruction of  the small peasantry (and of vastly boosting the profits of the pharmaceutical industry: over 1bn euros worth of State subsidies in France for medication that was never used, in the case of  swine flu ) –  you don't get constant terrorising by Big Brother of the dangers of flu or TB. And even less about the even more potentially dangerous  looming catastrophes produced by the commodification of everything: fracking, nuclear power, pollution, destruction of flora and fauna, etc. In 2006, at the height of the Black Death bird flu terror campaign that was going to lay half the population of France to waste, a large  free range chicken farm just up the road from me had repeated daily visits from the gendarmes, ordering them to clean up the farm or face being closed down. The enormity of the cost, not to mention the virtual impossibility,  of sterilising an environment filled with chicken shit inevitably meant that they had to close down. The farm had been going for well over 100 years.
Spain, Madrid: "fierce resistance" to nazi squat
14/9/14:
US: detailed legalistic unravelling of how Feguson and St.Louis cops are breaking their own laws to protect Michael Brown's killer
Bangladesh, Dhaka: slum dwellers resist eviction ""The clash erupted as some evicted people instigated the slum dwellers that we will demolish the slum and shops behind the rail tracks and they attacked us with sticks, stones and brickbats forcing police to retaliate and police charge batons to bring the situation under control leaving 10 people injured.""
Sudan, Khartoum: main road blocked with burning tyres in power and water cuts protest; cops respond with tear gas, protesters respond to tear gas with stones…Darfur: confusing report of students protests  – against teacher strike or solidarity with it? "Riot police in North Darfur capital El-Fasher used tear gas and live ammunition to disperse student demonstrators who took to the streets to protest against a teachers' strike, which has entered its second week. Last week, more than 1,000 teachers went on strike over unpaid salary arrears since 2005. …Protestors closed all private schools in El-Fasher, saying they must show solidarity with public schools."  
France, Vallé de la Lys: 7 cars burn; mayor claims to be scared of urban guerilla warfare and uses it as a pretext to  write to President for extra cop powers
13/9/14:
China, Guangdong: 1000s in spontaneous march against incinerator; clashes with cops
12/9/14:
France, Seine-et-Marne: over 1m euros worth of damage as Veolia trucks (obnoxious company) are burnt in arson attack…Montauban: cow liberates itself from slaughterhouse but the forces of oppression shoot it with 6 bullets "… "Liberty or death!"...Doubtless wishing to escape certain doom, a cow took the key to the fields on Friday morning in Montauban (Tarn-et-Garonne) by escaping an enclosure of the slaughterhouse. Speeding along the Tarn, this young blonde limousine then caused panic around the station. According to La Depeche du Midi, the beast, in its mad race,  wreaked havoc among motorists at Gasseras roundabout before entering the railway track and heading for the station. To prevent accidents, rail traffic was disrupted on Friday, for about twenty minutes on the Paris-Toulouse line. The cow was  then chased by a large collection  of firefighters, municipal and national police, and also slaughterhouse  and SNCF staff. Those pursuing her managed to isolate the animal at the storage area for SNCF equipment . A veterinarian from theTarn-et-Garonne  county fire and rescue service  tried to anesthetize the animal by means of a hypodermic syringe fired by rifle. But far from asleep, the cow remained agitated, threatening to leave the track and the road.  Potentially dangerous to public order, the decision to shoot it was then taken by the national police. Six bullets were fired into the animal."
Indonesia, Makassar: heavy fight between squatters resisting eviction and cops
USA, New York: report of a kind of strike by Uber drivers A curious development, particularly considering the movement against Uber by non-Uber taxi drivers.
11/9/14: 
Chile: riots and clashes throughout country on 41st anniversary of coup (video)  See "chile: the Allende years" for a reflection on what happened in the early '70s leading up to the coup.

Colombia, Cesar: motorbike taxi drivers riot after bike immobilisation "…they began to cause trouble, moving on to the headquarters of the Municipal Institute of Traffic and Transportation, destroying stationery, computers and chairs and burning a motorcycle. Protesters lashed out at stores, Stones were used to  attack the mayor's house, destroy sewerage networks in the building and burning tyres to block roads."
South Africa, Tshwane: students go "on rampage", university closes gates…Gauteng: provincial premier develops strategy to combat service delivery protests……report of looting of foreign-owned shops following service delivery protests Once again, it's not clear if foreign-owned shops were the only shops in the area (and thus the only lootable ones) or indeed if it was only shops owned by foreigners that were looted. …a tragic heart-rending story
France, Paris: van belonging to prison building and management firm burnt
Australia, Adelaide: truck drivers and families block roads against bosses forcing them to cut corners and endanger lives… Melbourne: protesters clash with cops…report of riot cops kidnapping aboriginal kids at gunpoint
Japan, Tokyo: 3rd anniversary of anti-nuclear tents in front of ministry
UK, Slough: for once, the rich get burnt
Come, friendly fires, and fall on Slough!                                                                                 It's only fit for cars now,                                                                                                           There isn't grass to graze a cow….
And get that man with double chin
Who'll always cheat and always win,
Who washes his repulsive skin
In women's tears…
10/9/14:
US, St.Louis: cops pelted with bricks etc. at protest about cop murder of Mike Brown "police were pelted with bricks, rocks, concrete chunks, filled water bottles and glass bottles during the nearly three-hour stand-off with demonstrators….someone threw a brick at St. Louis County police officers. Someone else threw a bottle, then outran police who tried to capture him. "… professional activist denounces "professional agitators" (video)
Chile, Santiago: on eve of anniversary of Pinochet's coup, several small incidents in different areas " San Bernardo:…The policeman was traveling in a police van when an unknown group fired makeshift weapons at the vehicle. Splinters of the shot caused injuries in one eye. The policeman was taken to hospital and his condition is stable….Peñalolen….traffic was stopped with barricades and bonfires and clashes with police from Special Forces. In addition, a group of ten people stopped a Transantiago bus , forcing out the driver and a passenger. With the machine at their  disposal, it was burned in the street….Quilicura, meanwhile, there were incidents in close proximity to a police station. In the square barricades were put up and… a team from TVN Press was threatened with a gun that was fired on more than one occasion. No injuries were reported."
Turkey, Istanbul: construction workers win "Workers at a construction site … have succeeded in pushing forward their requests. Dozens of workers had blocked a road in the Halkalı neighborhood on Sept. 8, two days after an elevator collapse killed 10 fellow workers … The workers at the Tema Park residential complex project denounced their working conditions as "inhumane," showing how even the meals provided by the construction company contained parasites and worms.  After two days of negotiations amid a broader public outcry over construction workers' safety and living conditions, the striking workers' 14-point demand request conveyed through lawyers was accepted by the company. Most importantly, the deal gives workers the right to stop their labor whenever they think a malfunction poses a threat to their lives. The constructor company has also committed to monitoring subcontractors and requesting that they do not cut expenses regarding work safety material from the wages of workers, which has reportedly been a common practice up to now. The company will also ensure that workers' wages and social security are regularly paid, while lifts and elevators will be checked more often for safety. The deal also includes a series of measures aimed at improving the living conditions at the workers' living quarters, with the company vowing to improve the conditions of the dormitories and the quality of the meals. Workers will be provided with 24 hours of hot water, two computers, wardrobes and refrigerators for collective use, which had all previously been lacking." (see entries for 3/9/14 and 7/9/14 below)
South Africa: 134 violent service delivery protests nationwide between January and August
9/9/14:
Brazil: indigenous Indians attack deforestation loggers "A group of indigenous ka'apor Brazilians  decided to take action to stop the unauthorized cutting of trees in the Amazon rainforest of High Turiaçu. Accusing the state of doing nothing to defend the Amazon and its inhabitants, the natives  located areas of illegal loggers, set fire to tents, seized chainsaws and vehicles, and chased away the occupants"
US, St.Louis: Ferguson council meeting shouted down
South Africa, Tshwane: protesters burn tyres, throw bottles and stones "residents of Extension 11 in Mamelodi East had "vented their anger about the lack of service delivery and other social problems" in the area." …students burn bus in protest about funding
8/9/14:
South Africa, Rustenberg: Marikana inquiry commission head cancels tour of mine due to "security concerns" after accusations of association with scab union "While we were leaving, we were labelled as NUM people. It was also said we were there to waste time….Inquiry chairman Ian Farlam abruptly cancelled an inspection in loco at Marikana, near Rustenburg, on Monday because of security concerns. " 
France, Lisle sur Tarn: new confrontations between opponents of dam  deforestation and the forces of the commodity "Violent confrontation on the site of Sivens resumed this Monday, September 8 shortly after 7 pm. When the riot police appeared to "open the way" for the loggers to carry on with the deforestation perimeter … they found dozens of opponents trying to block the way, some perched in trees, fifty  sitting down and five … buried. Even as riot police were blocking access to the site, dozens of other opponents had managed to reach those on the site, who call themselves "the resistance". The situation was completely stuck until late morning, no   deforestation machine  managing to enter the perimeter where they were supposed to  be put to work. In early afternoon  firefighters cleared the five people who were buried, who were immediately replaced with five others" (more here in English)
Sudan, Darfur: cops kill at least one protester in UN-policed displaced persons camp
Turkey: football fans face life imprisonment for their participation in anti-government movement
Spain: terrible austerity and cutbacks hit the poor Spanish cops 
UK, London: significant (but possibly only temporary) victory against the criminalisation of squatting
7/9/14:
Chile, Santiago: hooded demonstrators put up barricades, attack professional liar from the TV, on anniversary demo of Chile's coup d'etat
Colombia, Sucre: cops use masses of tear gas as residents riot and burn tyres in protest against electricity cuts
Egypt: widespread arrests of "Anarchists" and "Radical Leftist Activists"
Turkey, Istanbul: cops tear gas workers' demo against death of 10 construction workers (see also this, from last week)…called "riots" here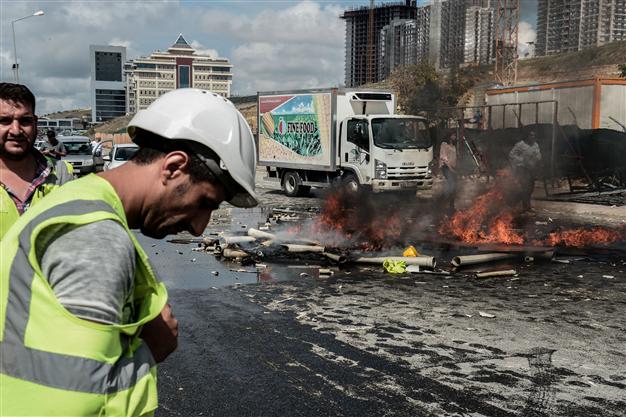 Istanbul de-construction workers
France, Calais: anti-fascists clash with fascists
6/9/14:
France, Nancy: anti-nuclear graffiti blitz of banks, McDonalds & EDF…Yvelines: about 20 attack cop crew with "mortar"-style fire crackers and stones; cops respond with tear gas
Uganda, Mbale: residents armed with machetes and hoes block roads with rocks etc. in protest against developer blocking water well (see, also, this about water and its  commodification)
New Zealand, Hamilton: street party turns into mini-riot (more here)
5/9/14:
Italy, Naples: 2 cop cars wrecked during protest against cop killing of 17-year-old
UK, Lincolnshire: 12 hour riot at immigrant detention centre (not at all informative report, though this provides context) (better information here)
US, Oakland: Broadway blocked by protesters against militarisation of the law
Uganda, Kampala: Intelligent-Life-Discovered-In-Parliament  Shock!
4/9/14:
Brazil: indigenous Indians attack deforestation loggers "A group of indigenous ka'apor Brazilians  decided to take action to stop the unauthorized cutting of trees in the Amazon rainforest of High Turiaçu. Accusing the state of doing nothing to defend the Amazon and its inhabitants, the natives  located areas of illegal loggers, set fire to tents, seized chainsaws and vehicles, and chased away the occupants"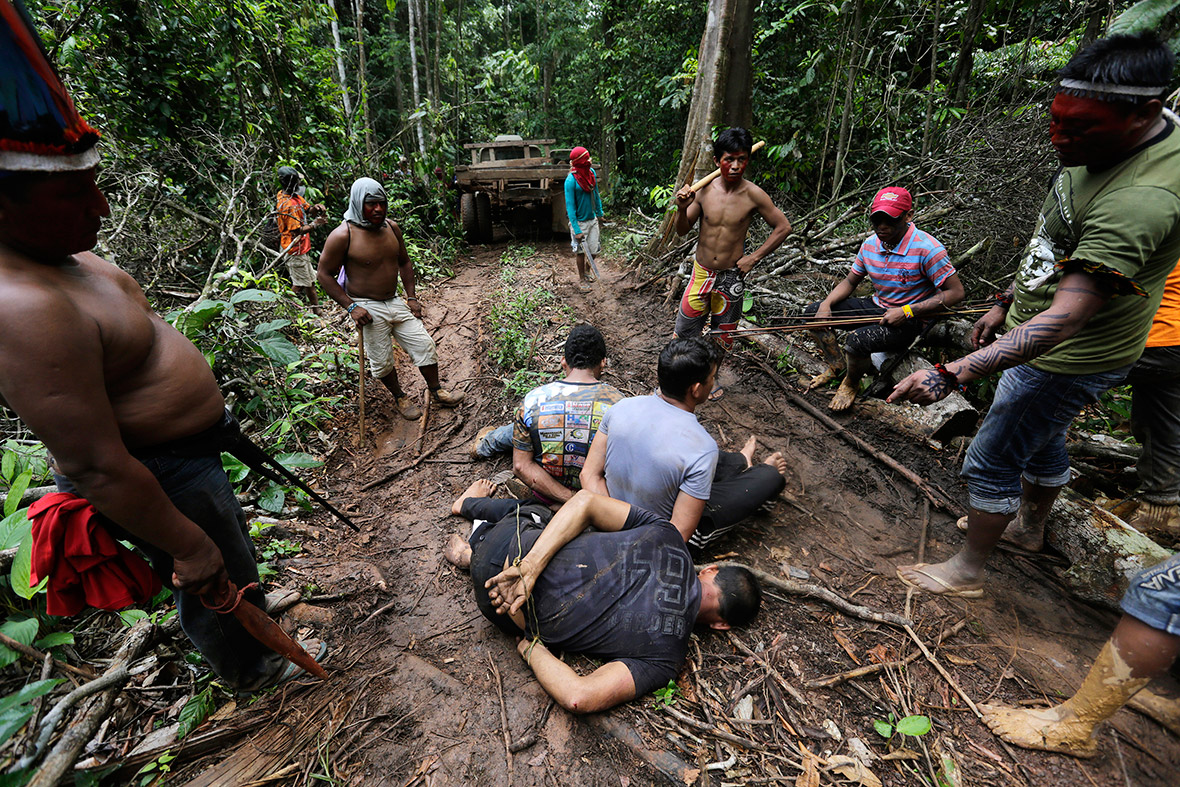 indigenous indians "chasing off" loggers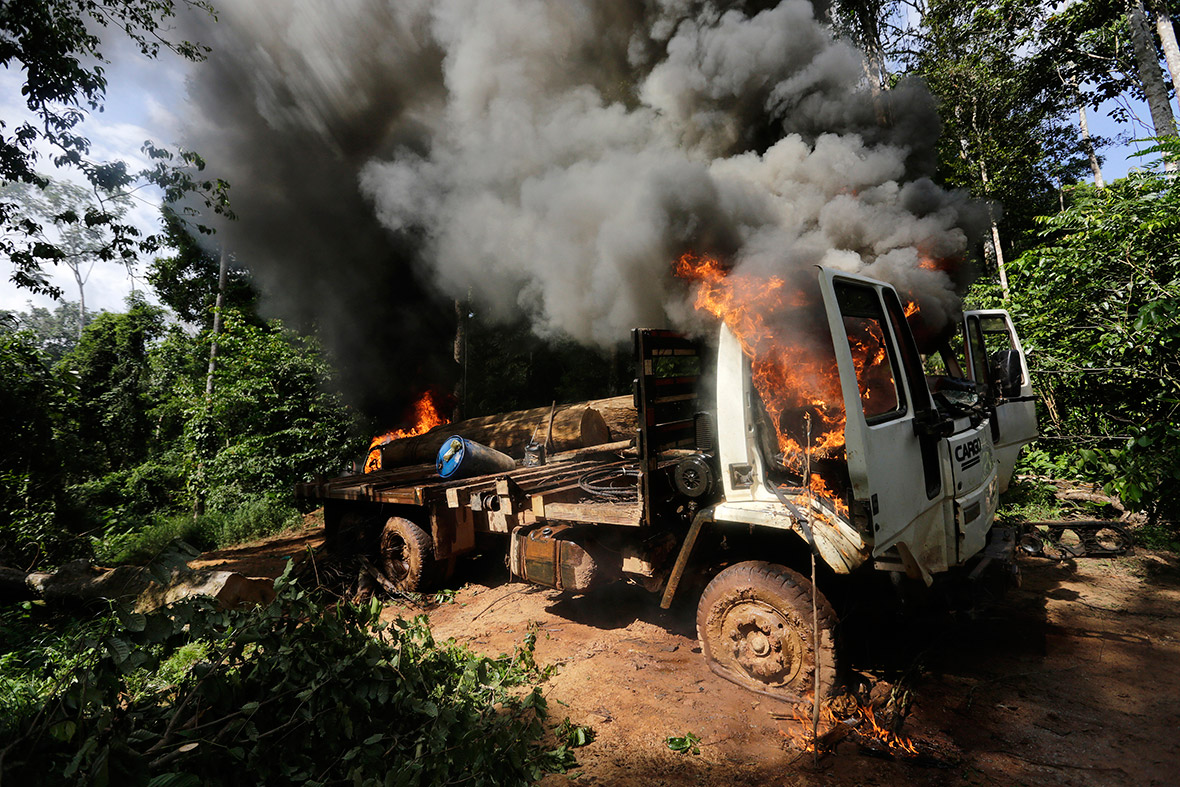 Colombia, Atlantico: burning tyres in response to cop killing young man on demo against electricity cuts
Nigeria, Otuoke: riot cops called to dismantle students' barricade of University
Dominican Republic:  riots erupt in Bonao and Santiago over government backing for mining of vast national park (for background information, see this) "Protesters blocked roads with burning tires, tree trunks and other debris and stoned vehicles on the site…there were also riots outside the headquarters of the Central Cibao Regional University Center of the Autonomous University of Santo Domingo (CURCE-UASD) in ancient Autopista Duarte and near the Multicenter La Sirena. Teaching was interrupted at this university ...In the neighborhood of Las Mercedes hooded youths reported that protests and demonstrations  on Thursday will run onto other urban areas of the municipality, among them  Los Transformadores and Las Amapolas, presumably so that the will of the Dominican people is respected".
India, Manipur: 2 major highroads blockaded indefinitely in protest against cop killing of 2 protesters
South Africa, Johannesburg: report on post office worker's strike...KwaZulu Natal: university campus closed after students break windows etc.
3/9/14:
Turkey, Istanbul: workers riot over miserable working conditions "The workers brandished signs and shouted slogans demanding the management's resignation. Some angry laborers also set various construction materials on fire, partially blocking traffic in the outer western suburb. Workers told media that they were angry about low pay coupled with unsanitary conditions, claiming that they had found bugs and worms in their meals."
US, Nashville: riot in juvenile prison, 6 escape (video) "Juvenile offenders, armed with sticks and poles, busted out of their dorms. Six teens became a mob of two-dozen. Swat teams posted outside watched some rioters shoot off fire extinguishers. Others chased away and attacked unarmed guards. Two staff members were hurt…. James Henry is the commissioner of Tennessee's Department of Children's Services. He said for the second time this week, teens got loose by kicking out aluminum panels under windows…."When they came out of their rooms they breached the door and they got out. They were able to knock those doors out again because they'd done it the night before very quickly." On Monday night, thirty-two teens escaped the same facility. They busted out of their dorms, pulled up a section of chain link fence, and ran for a nearby highway. Six of those escapees remain at large."