"My favourite poem is the one that starts 'Thirty days hath September' because it actually tells you something."
– Groucho Marx
"Reading the morning newspaper is the realist's morning prayer. One orients one's attitude toward the world either by God or by what the world is. The former gives as much security as the latter, in that one knows how one stands. "   – Hegel
Wailsday, 30/9/15:
Argentina, Salta: the heat feel the heat…as indigenous occupy gas company, cut off routes
Mexico, Campeche: various actions by workers in 3 towns – cutting water off, depositing garbage in streets etc., demanding payment of salaries before end of local mayors' mandates…Chiapas: riots against the new mayor "The protesters set cars ablaze and people vandalized the Municipal Presidency"
Cambodia: report on increases in strikes and likelihood of further increases
Colombia, Carupano: riot over arrests after protest over lack of water supply; roads blockaded, car and motorbike burnt; 1 person killed by the state…Cundinamarca: similar protests over lack of drinking water; roads blocked, police station attacked
South Africa, North West: 3 schools and clinic burnt down in service delivery protest…KwaZulu Natal: students pelt insecurity guards with stones, property damaged as movement over funding continues
India, Kerala: plantation workers strike inspired by wildcat strike in Munnar taken over by Trade Unions eager to recuperate and bathe in the reflected glory of the earlier victorious  wildcat strike
US, Illinois: high school students walk out of school in support of teachers More here "…the union contacted the district to get back to bargaining as soon as possible. He said the agreement was turned down by an "overwhelming margin." On Tuesday night, members of the East St. Louis football team decided to organize the student walkout, said Elijah Smith, 16, a sophomore and right tackle on the varsity team. The students met in the cafeteria Wednesday morning and left before classes started, he said. They walked more than two miles down State Street to the administration building. Police cars with flashing lights waited and officers watched. When the gathering of more than 100 students blocked the entrance and gathered near windows, a security officer shooed them away …They said they planned to stay until they could meet with administrators….One substitute teacher, Marshata Caradine, was on the parking lot with the students. She said she is encouraging them to do this. "I'm bending their ear, 'Come and do it,' because they're doing it in Ferguson and turning the world around," Caradine said…."What I see on a daily basis is atrocious because I know it is not preparing our children for a better tomorrow," she said. Teachers with the East St. Louis Federation of Teachers, Local 1220, are worried about a district proposal that would double the amount of years it would take a new teacher to get through the salary schedule". East St.Louis is on the other side of the Mississipi river from St.Louis itself and is in another state – Illinois. State workers in Illinois can strike, but in Missouri it is forbidden. A friend writes:  "…one news report i saw said the union encouraged the teachers to approve the contract, but teachers voted it down anyway."
Tearsday, 29/9/15:
Colombia, Bogota: Universidad Pedagogica closed after hooded students and riot cops clash
Peru (south east): after having killed 4 protesters against mine construction, the state declares state of emergency "The Peruvian government declared a state of emergency today in six south-eastern provinces of the country after the death of four people in a violent demonstration against the largest mining project in Peru, led by a Chinese consortium. …The establishment of the state of emergency includes suspending  rights of assembly and the inviolability of the home. The clashes began after a meeting of the inhabitants of the area who refuse the construction of an ore processing plant at Las Bambas main mining site in Peru, which extracts copper. They believe that the plant will pollute their water and their cultures….the Chinese consortium MMG… bought the assets of Glencore Xstrata for nearly $ 6 billion in April 2014." [see entry for yesterday, 28/9/15]
France, Paris: victorious striking chambermaids hold fashion week for the poor to celebrate
Lebanon, Beirut: protesters clash with cops as they block Energy Ministry doors Conservative side of this:"…the demonstrators stressed they want accountability, saying their intention is not to ransack the ministry…."The authorities are stealing public money without being held accountable…"  Radical side: "They also stressed that they refuse to negotiate with any of the relevant parties"
Mexico, Zumpango: 7th day of occupation of town hall by municipal workers demanding unpaid salaries before mayor (PRI) is replaced….Tierra Colorada: 80 municipal workers strike for the same reason (PAN mayor)
Israel, Jerusalem: wildcat strike by train drivers during week-long festival
Denmark, Birkerod: cop stabbed by Palestinian in asylum-seekers' detention centre
South Africa, KwaZulu Natal: furious protests over student funding close down several campuses "Protesting students brought traffic to a standstill in Newholmes Way and Pietermaritz Street last week, when more than 1 000 gathered and went on a rampage, burning tyres and barricading the road. Buildings on all three campuses were also damaged, with windows and water pipes being broken. Light fixtures in lecture theatres were also ripped out and bins upturned and litter strewn all around the campus and in classrooms…Lectures have been postponed and the campuses shut down until further notice."…. Western Cape: whole "community" protest arrests with burning tyres, rocks and stone-throwing There is something very confused and confusing about these events. The arrests were for the killing and burning of 2 drug dealers who'd plagued the area for some time. Drugs are obviously used to pacify and divide proletarians and to intensify our impoverishment (and have been ever since heroin was brought into the Haight-Ashbury district of San Francisco in the aftermath of the soft-drug-induced "summer of love" – and certainly before then in black areas of the US). However, the complaint is that the cops weren't "doing their job" and had failed to detain these people after the locals had told them about them. Moreover, though one can understand the rage, is killing and burning fairly low level drug dealers (ie not the ones organising the supply routes and the whole business) – getting at the easiest targets – a strategic method of attacking the use of drugs by this society? After all, as long as present conditions continue, drug-dealing with all its inherent risks, is still going to be seen as preferable to normal wage slavery with its crap wages. This is certainly not to assume the aloof luxury of moralist finger-wagging,  but if we are to struggle against the inhumanity inflicted on us, we have to reduce our own inhuman tendencies to the minimum. As Nietzsche said, "Whoever fights monsters should see to it that in the process he does not become a monster. And if you gaze long enough into an abyss, the abyss will gaze back into you."
Moanday, 28/9/15:
France, Seine-Saint-Denis: 3 cars overturned, bin burnt, at high school student demo supporting migrants…la Manche: wildcat strike against sacking of worker
Peru, Challhuahuacho: cops kill at least 3 as anti-copper mine protesters try to enter mining area "… ambulances couldn't reach Challhuahuacho, the town of about 10,000 residents where the clinic is located, because police had shot at a vehicle carrying doctors."
Italy, Sardinia: miners occupy mine shaft as part of resistance to  redundancies
Stunday, 27/9/15:
Switzerland, near Zurich: 9 army vehicles set alight and destroyed in military base
France, Caen: undocumented squat disused church building…la Drome: about 20 youths stone passing cars; cop car window broken; municipal building also attacked…Yvelines: gendarmes attacked with stones and metal bar by half a dozen youths 
Shatterday, 26/9/15:
Germany, Leipzig: as 800 cops protect fascists, various masked youths attack both of them with stones etc.; pacifist priest condemns attack on cop car as "violence" (also reports – in French – from other areas of Germany)
Mexico, Mexico City: cop, fast food restaurant, cafe and adverts attacked on demo about the 43 disappeared students (anarchist article here)
UK, London: cafe selling bowls of cereal for ridiculous prices in  poor area attacked by angry mob of a few hundred with paint and smoke bombs Video here Eyewitness participant account here "…a number of upmarket Estate agents got smashed up and kicked in with boots and flying metal street furniture. As riot cops tried to keep up with the bloc and occasionally try to cut it off or snatch people, they were very obviously outnumbered and the crowd weren't having any of it, with missiles flying, confrontations and very physical scuffles breaking out continuously, leading to a decent amount of pighats flying about…There was a "hipster cop pig" effigy set alight, bins pulled into the road and put on fire, which was helpfully much exacerbated by the clueless cops who struggled with the burning effigy spreading the fire. De-arresting was fearless, as at one point almost fifty people swarmed to try and take back one of their own, driving riotcops with shields and batons back off the road."
India, Bangalore: locals sabotage stench-producing compost plant  "…a few people from the villages entered the plant premises and damaged computers and office equipment…Angry villagers damaged the unit. They set the dry waste on fire and destroyed a few properties belonging to the compost."
Frightday, 25/9/15:
Mexico, Michoacan de Ocampo: students hijack bus for demo, clash with cops, attack professional manipulators (more info about Mexico here)
Colombia, Cucuta: 3 main roads barricaded by protesting informal sellers of petrol; clashes with cops (video)…Barranquilla: 2 roads barricaded in protests against 3-day electricity cut
South Africa, Limpopo: service delivery protesters dig trench across road "…protesters blocked roads with stones. Police removed the obstacles, but a deep hole has been dug across the road"
Thumpsday, 24/9/15: 
South Africa, KwaZulu Natal: compromise deal reached after taxi strike stops all public transport for 4 days "Durban public transport was disrupted for a fourth day on Thursday after minibus taxi operators went on strike last week demanding the release of hundreds of impounded taxis. Thousands of commuters have been without transport since Monday afternoon. More than 160 minibus taxis were impounded by the metro police for operating without legal route permits. In some parts of the city, private buses and taxis have been stopped and prevented from transporting people."
Wailsday, 23/9/15:
US, Illinois: demonstration outside prison in support of prisoners' hunger strike (more here from anti-state sl)
Canada, Montreal: indigenous women shut down phoney pipeline consultation
India, Bihar: Congress Party workers smash up Congress Party offices This they did whilst shouting pro-Congress Party slogans. This is the essence of how ideology works – colonising proletarians' point of view even as they oppose aspects of a world that denies them any genuine voice. Either the self-contradiction is confronted by such people striving to discover the words and theory expressing their physically expressed antagonism or they just don't make sense.
UK, London: mass eviction clashes (video here) More here
France, Grenoble: 2 cops hospitalised after their car windows are smashed by young man…Beauvais: small prison riot
Ukraine, Kharkiv: no idea what this is about "Unknown persons dressed in camouflage and wearing balaclavas, who had reportedly picketed the house of former Kharkiv Governor Mykhailo Dobkin, have come to the Kharkiv town hall…"We're at Kharkiv City Council where a session is taking place now. Prior to that, more than 200 people wearing balaclavas came to the house of Mykhailo Dobkin. Now they've moved to the city council's building and asked [Kharkiv Mayor] Hennadiy Kernes to come out…There have been several clashes between police and people wearing balaclavas. A few minutes ago, someone released tear gas. The city council's doorway is surrounded by a thick cordon of police. The guys stepped about 20 meters back. No specific demands were announced by the people in balaclavas, but while standing outside Dobkin's house, they said their task was to throw Dobkin away from the city and make everything possible so that Kernes would not become Kharkiv mayor…They attempted to brawl at Kernes' outer office, broke a telephone set and went away. At the exit, they clashed with police. They had pepper-spray balls with them. They beat a police officer, tore his uniform. Then they quickly got into several buses and left"
Tearsday, 22/9/15:
Uruguay, Montevideo: video of students hurling rocks at riot filth after being ousted from occupation of  government building over education funding…report in English here "Various sectors of Uruguay's transportation and education movement held a 24-hour strike after a group of students was forcefully evicted from the Uruguayan public education administration headquarters.  The incident took place after students demanding increased funding for education, were forcefully removed by police from the public building… On Wednesday, several trade union movements criticized the government's handling of the incident. "On national teacher day, the national government makes use of the repressive aparatus to fight with students and teachers, for demanding better education for our students and workers," the Associations of High School Teachers (ADES) said in a statement. …."Those of whom participated in the violence were the taxi unions and other organizations that have little to do with the complaints of the students," Uruguayan Minister of Education Maria Julia Muñoz stated."…Santa Catelina: cops surrounded, stoned, burning barricades after cops wrongly arrest 2 youths
Mexico, Guerrero: students seize 12 buses to go to demo; petrol bombs thrown at cops; lorry torched "On Monday, protesters had ransacked the prosecutor's office in Chilpancingo." Video here "…the students descended from the buses, placed a truck across the tunnel and set fire to it, local media reported. The students then reportedly threw rocks, molotov cocktails and rockets at the police, who responded with tear gas to try to disperse them…..Four police officers – including two female officers – were held hostage until 10.30am when they were released and sent back to Chilpancingo on board ambulances"…Radical university radio programme organisers increasingly subjected to state-manipulated violence in the run-up to the anniversary of the disappearance of the 43 students
South Africa, Gauteng: lessons and tests suspended after doors broken, tyres burnt as students protest crime, stale food and bad accomodation More here…KwaZulu Natal: court prohibits student and sugar workers' protests "…at the Edgewood campus…strikers broke windows, removed students from classes…Of the mill strike… amendments were made to the Labour Relations Act that required the company to reconsider its casual labour policy…. Those not offered permanent jobs went to the CCMA and lost. They then began a strike that included threats of violence, setting alight a company bakkie and a private vehicle."…policing the police "Institute for Security Studies senior researcher Johan Burger said it appeared that the attacks on police were on the rise and this was "extremely worrying". "The attacks on police need to be seen in the context that all levels of violence are increasing, and examples of this can be seen in mob justice and community protests."…taxi drivers stop all public transport…North West: municipal property destroyed, chief finance officer assaulted as demonstrators demand jobs "I'm sick and tired of stealing. There is nothing to steal any more here in Vryburg. Let them give us jobs," said one….Two municipal security guards and a bystander were also attacked during the chaos."
Kenya, Nairobi: journalists and cops stoned as students demonstrate about delays in loans
UK, Durham: prisoners sunbathe on prison roof and wreck a bit of it This trashy article illustrates a typical journalistic contempt for basic human desires – so what else is new?
Moanday, 21/9/15:
South Africa, KwaZulu Natal: student riots cost university about 2 million euros
Eire, Dublin: homeless and anti-austerity group occupy part of private estate construction site demanding social housing
France, Dijon: anarchist squatters successfully resist demolition bid & tear gas, attack ERDF attempts to cut off electricity, barricade social squat for  asylum seekers and themselves
Hungary: army authorised to shoot refugees
Stunday, 20/9/15:
South Africa, Western Cape: as "mob justice" kills criminals who add to people's misery, it also attacks cops, burns cop car, puts up barricades
Lebanon, Beirut: clashes with cops as "You stink" movement tries to march on parliament
India, Delhi: youths clash with cops
Shatterday, 19/9/15:
Mexico, Chietla: city hall, cop motorbike & 2 cars   burnt in response to police indifference to torture and murder of elderly woman 
South Africa, Johannesburg: report about clever method of opening upmarket squats
Canada, British Colombia: indigenous win anti-fish farm battle (see entry on 9/9/15)…or did they???
Burkina Faso, Ouagadougou: 3rd day of barricades, burning tyres, etc.
India, Ahmadabad: sit-ins, roads blocked and cops pelted after farmer's leader is arrested "Ahead of Patel's detention, the Gujarat state government banned mobile Internet services to prevent protests and rumours from spreading. The ban remained in place late Saturday."
Frightday, 18/9/15:
Switzerland, Basel: anti-militarist demo attacks cops, newspaper building etc; rubber bullets & tear gas fired "…fireworks and stones the size of fists were thrown at officers," police said. It also claims that the protesters tried to blind several police using lasers. …The police fired rubber bullets and used tear gas on protesters…Several buildings were damaged with thrown stones, steel screws, construction equipment, bottles… According to various witnesses, several windows of the building housing the Basler Zeitung were broken. Several vehicles of border guard police, police and delivery vehicles were damaged. …Nearly two to three hundred people marched late Friday afternoon in Basel to protest against the holding of the military exercise called "CONEX 15" … The exercise, scheduled until September 25 particularly wants training for the army in order to restore security in the event of a breach of the Swiss border" More here in French
Finland: General strike (more here and here)
Thumpsday, 17/9/15:
Colombia, San Andresito de San José: fly pitchers riot against cops after cop shoots & wounds one of them
Burkina Faso: barricades as demonstrations against military coup spread throughout country; house of member of party of former president torched; shops close in several cities (in French) More here in English "…they had to shoot in the air to disperse hundreds of people who threw stones, burned tyres and blocked streets in the capital"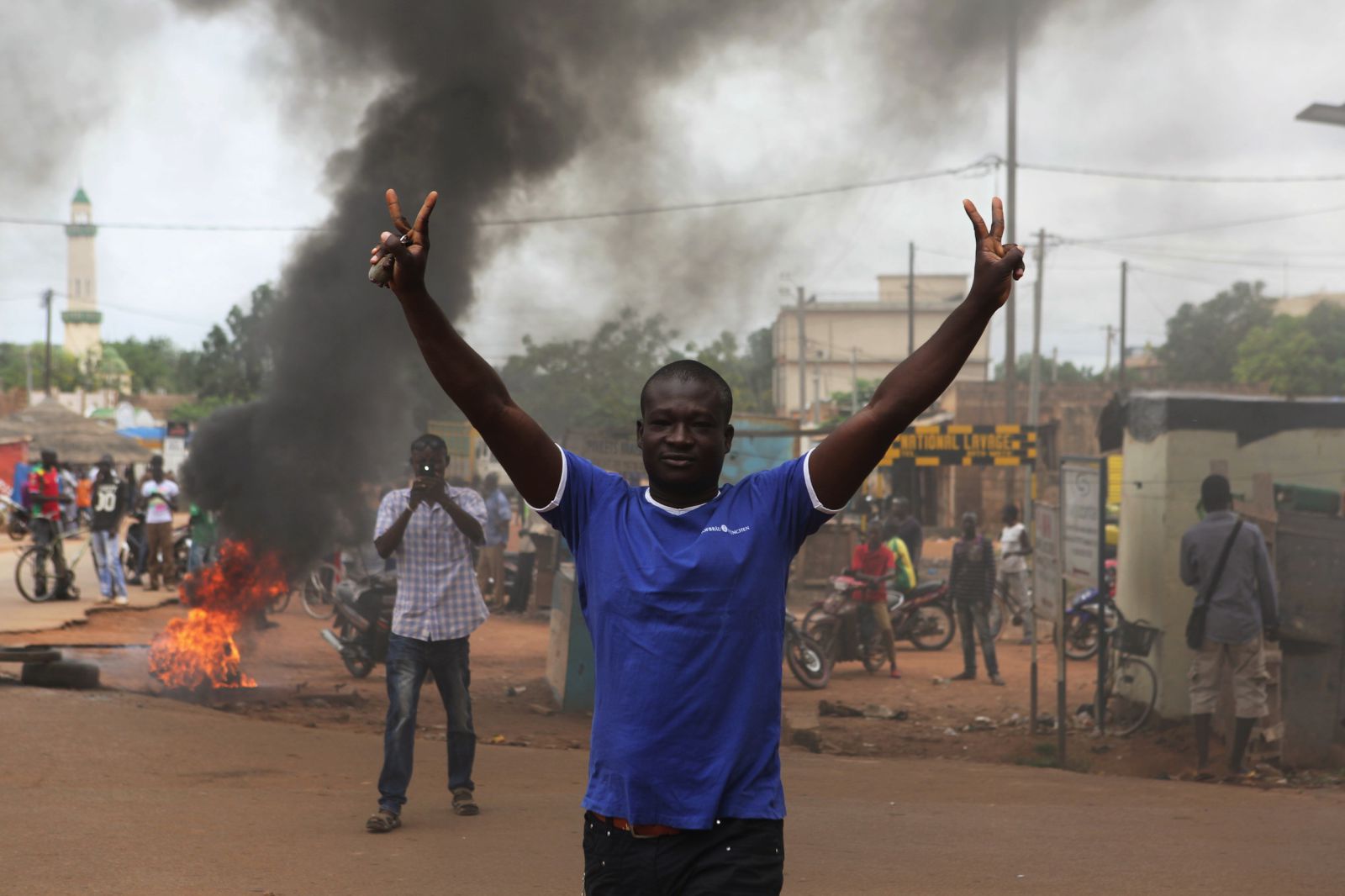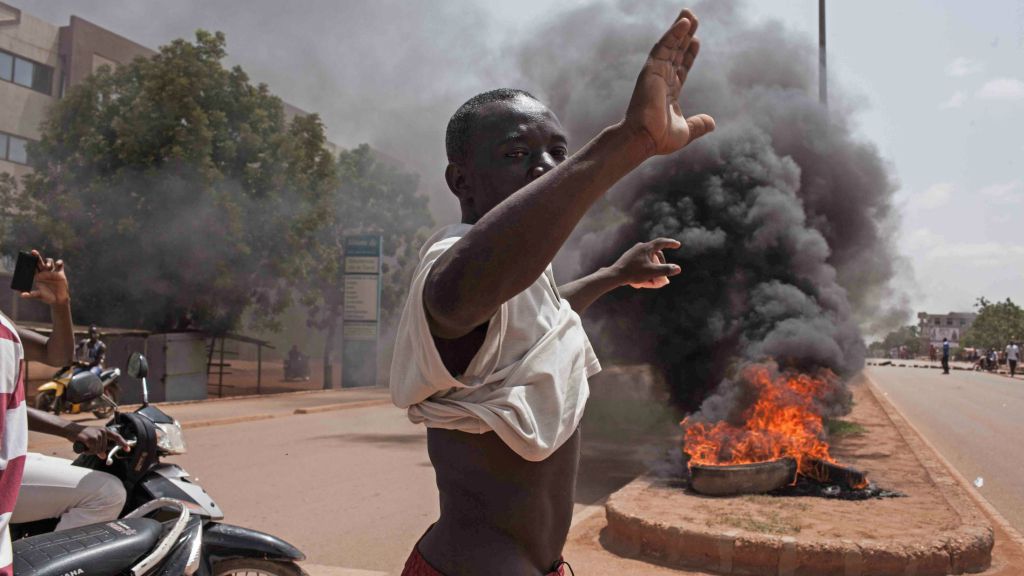 Ouagadougou, Burkina Faso                                                
South Africa, Western Cape: arrests after strikers burn down and destroy warehouse…KwaZulu Natal: authorities close down all student facilities, on or off campus, after campus residence is burnt down in continuing protests about debts "Thursday, a Westville campus residence was torched and students staying there were taken to other residences. On Monday night, a private bus which the university contracted to transport students was burnt to ashes. On Sunday night, two cars and the building which houses the office of vice-chancellor Albert van Jaarsveld were torched. Police spokesman Thulani Zwane said at 2.05am on Thursday, a group of people wearing balaclavas set a laundry building at the Westville campus alight. About five rooms and the laundry were set alight while students were sleeping inside….After the announcement on Thursday that students had to leave, violence erupted at the Pietermaritzburg campus where a car was overturned." 
Greece, Athens: police station attacked with molotovs (more here)
UK, London: immigration enforcers' van windscreen smashed
Wailsday, 16/9/15:
France, la Manche: nuke transportation delayed for several hours due to fake bomb on tracks "The organisation Greenpeace, in a statement, denied any participation in this action, as explained by Yannick Rousselet, in charge of its nuclear campaign, "Obviously, there is a clear link between the departure of the train from Valognes and the presence of this material on the railways, (…) we just need to make it  clear that we would not oppose such transportation, that we do not intend to disrupt it; now there are different movements in the anti-nuclear movement and the fact can't be excluded that people have wanted to express their disagreement with nuclear power by this method, but it is not ours'." See this official French document on transportation of nuclear substances and this map illustrating routes: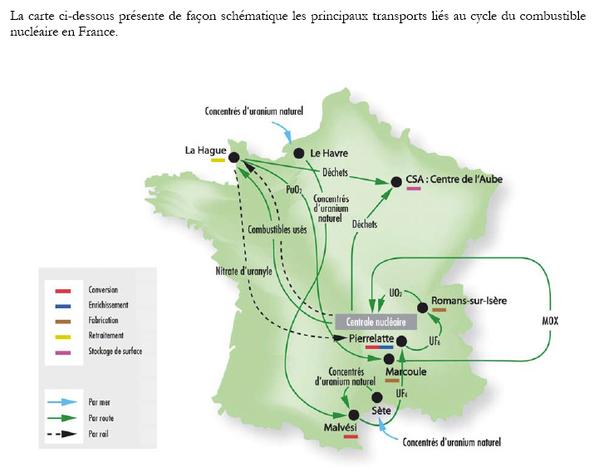 Germany, Dresden: SPD offices attacked with very putrid smelling stink bombs (butric acid)
India, Kerala: women workers begin tea strike 3 days after successful women workers' wildcat in Munnar See also this, from 23/9/15 "…only 1 per cent of the profit from global tea trade goes to the picker. The rest gets split between the retailer, blender, factory owner, trader and the auctioneer. But rather than the economics of it, tea workers are let down by a system that treats them akin to slaves in the 21st century….The trade unions of KDHPL…were dumped by workers because they failed to address the iniquities perpetuated by the feudal-capitalist legacy of colonial planters." And this (from 19/9/15). See also this (28/9/15)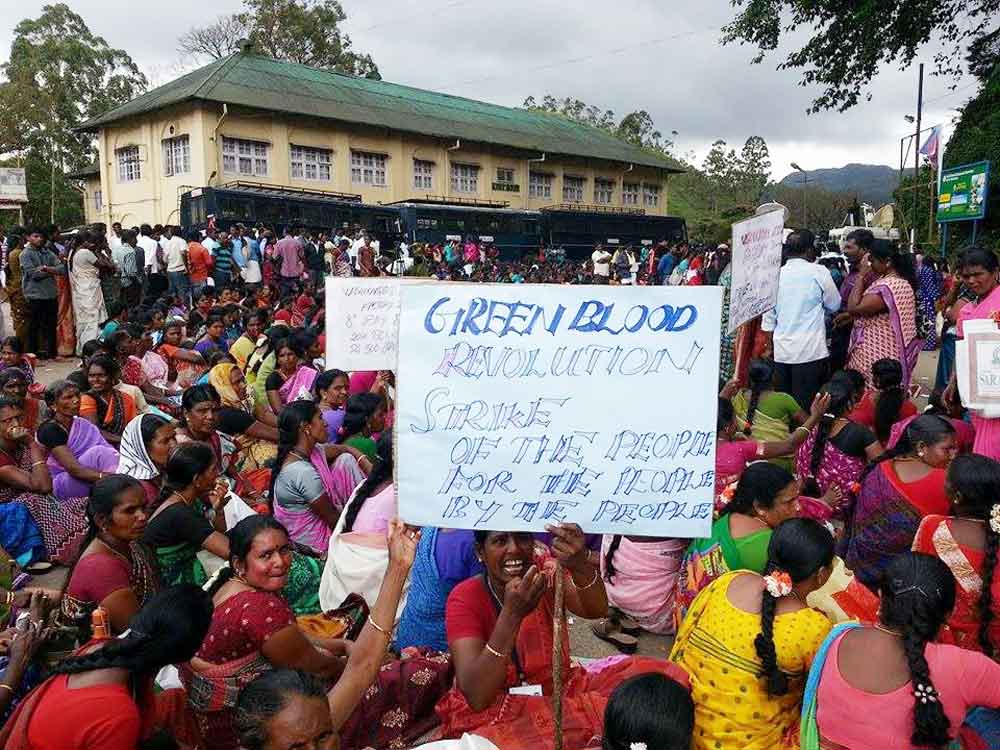 South Africa, KwaZulu Natal: university closes for 2 more days in response to continuing protests; campus property and vehicles damaged; insecurity guard hospitalised
Lebanon, Beirut: decomposition intensifies
Switzerland, Zurich: offices of anti-abortion party trashed
Hungary (Serbian border): cops tear gas and water cannon refugees as they try to break through border "Baton-wielding Hungarian riot police unleashed tear gas and water cannons against hundreds of migrants Wednesday after they broke through a razor-wire fence and tried to surge into the country from Serbia. Crying children fled the acrid smoke and dozens of people were injured in the chaos. … On the sealed border into Hungary, frustrated men — many of them war refugees from Syria and Iraq — hurled rocks and plastic water bottles at the helmeted riot police as they chanted "Open" Open!" in English. Children and women cried as the young men, their faces wrapped in scarves, charged toward the police through thick smoke from tear gas and tires set on fire by the crowd. …"We fled wars and violence and did not expect such brutality and inhumane treatment in Europe," shouted an Iraqi…Serbian state television said three of its staff members reporting at the border were beaten by Hungarian police with batons and that their equipment was broken. Radio-Television Serbia said that Hungarian police pushed a cameraman against the wall and then beat him on the head and back and then smashed his camera. A reporter's arm was also hurt. The beatings occurred while the journalists stood between police and the migrants even though they identified themselves as journalists"…opposition politician claims clash was manipulated by the government
US, Minnesota: school students walk out after school board member's anti-Muslim remark
Greece, Thessaloniki: anarchist report on resistance to gold mine
UK: celebrities do something useful 
Tearsday, 15/9/15:
France, Toulouse: 5 cops hurt as 15 surround them during intervention over bar brawl
India, Delhi: art students do what artists invariably do – paint over cracks
South Africa, Western Cape: cop van torched, cops stoned in vigilante protest about criminal killing 14-year-old…University closes all of its campuses in Durban and Pietermaritzburg following protests…KwaZulu Natal: university unrest spreads to 2nd campus "Students have embarked on a violent protest torching and damaging university property. "
New Zealand, Wellington: nicey nicey goody goodies continue to parade their credentials on behalf of all those who can't be bothered "Citizens have come from around the country to participate in our search and seizure action, putting themselves on the line for the hundreds of thousands of New Zealanders who can't. All those participating have undergone practical training in non-violent civil disobedience, the principles of which will be maintained throughout our action"
UK, Manchester: 3rd day of rooftop protest by prisoner gets support from demo outside prison walls More here "A protest party complete with DJ and fireworks was set up on Monday night in the street outside the Victorian prison"
Japan, Tokyo: cops pushed to ground and punched on demo against insecurity bill
Moanday, 14/9/15:
Germany. Hamburg: courtroom windows broken, "Fuck the Nazis and the state" written on its wall… Ingolstadt: railway army convoy attacked, painted over and damaged with handgun bullets
South Africa, KwaZulu Natal: vehicles and building set alight as students get angry over lack of accomodation & ending right to pay debts in instalments whilst continuing studying "Students damaged buildings and burnt at least two cars at the University of KwaZulu-Natal's Westville campus on Monday in protests that again focused on funding and lack of accommodation. Roads near the campus were barricaded with rocks, turning the area into a traffic nightmare. Five campuses across the province were involved in the protests…Students emerged occasionally from residences to hurl stones and bottles at the university's security guards …Campus security guards, known by students as the Red Ants because of their red uniforms and black bullet-proof vests, were armed with crowd control weapons similar to paintball guns. They used tear gas on Monday to fend off the students. The students used ironing boards as shields against the crowd control weapons. The smell of charred wood and melted metal hung over the campus, with the two burnt vehicles, twisted by the flames, in front of the university's Risk Management Services offices. The offices had also been damaged by fire. Campus security came under attack from stone- and bottle-throwers who hid in the residences." More here, here   "Rubber bullets were eventually fired to disperse the throng that attacked police with stones and bottles. Fire Department officials were also at the scene after a bus parked on the campus was set alight. Several buildings on the main campus in Alan Paton Road were damaged after students threw rocks at the windows" and here "the main administration block was set alight. Protests continued through to Monday morning with the police's Public Order Policing unit being deployed. Two cars were also torched and numerous tyres were set alight and staff arriving for work in the morning found the entrances blocked by protesters."…Durban: roads blocked with burning tyres etc. for over 5 hours in protest over lack of electricity…Cape Town: local state destruction of homes met with stone throwing v. rubber bullets…report on illegal occupation of houses…Gauteng: workers demanding unpaid back pay blockade ANC regional executive committee and staff in building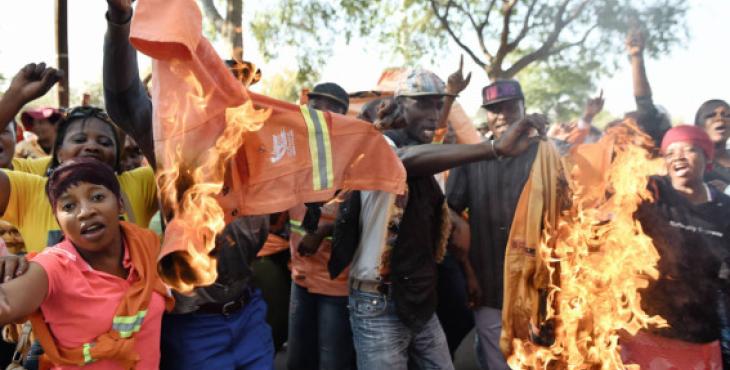 Street-sweepers burn their municipal uniforms while 'arresting' the mayor and Regional Executive Committee of the South African capital city, Pretoria (Tshwane ), who they locked inside the mayoral building
For more about the above action and other stuff see "South Africa: street-sweepers "arrest" mayor…& MORE!!!" – on this site
Greece, Agia Triada: anarchists smash up privatisation finance company's office "The comrades levelled the floor. Computers, laptops, offices, windows, printers, cameras etc. were broken. Files were also destroyed "
Indonesia, Bandung: empty police station attacked with molotovs
Stunday, 13/9/15:
New Zealand, Lake Horowhenua: Maoris occupy sailing club in land struggle
India, Kerala: wildcat women's 9-day tea party finally wins strike See also here and here
Brazil, Sao Paulo: anarchist incendiary attack on bank accompanied by communique
UK, London: jolly good show of "opposition" to mass murdering environmentally brutal oil company
Canada: report of sabotage of logging company machinery by Mapuche 
Shatterday, 12/9/15:
UK, Cambridgeshire: one-man prison riot "The cell was flooded with water and according to reports "a series of small fires" were started."
Peru, Andoas: indigenous people occupy airfield against oil exploitation
Germany, Hamburg: anti-fascists fight cops  "Clashes with riot police erupted during a reportedly spontaneous Antifa demonstration in the Schanzenviertel neighbourhood of Hamburg on Saturday. Some reports suggest it was directly linked to the rival anti-immigration march of right-wing radicals that had been banned from the same area. Protesters fought off police at Hamburg's main railway station, smashing windows, attacking officers with pepper spray, and throwing fire crackers. Ruptly's footage shows police knocking down a seemingly innocent bystander by barging into him at full speed after blinding him with pepper spray. Police also forcefully blocked paramedics trying to reach the unconscious man, as the crowd screamed around them. Officers were seen wielding batons, while demonstrators threw bottles and pyrotechnics. The chaotic scene reportedly ended with several dozen arrests. Authorities had to temporary shut the station down, although a conflicting report said the disruption in railway traffic was due to a group of people who went to protest on the tracks, rather than the clashes."
Australia, Melbourne: CCTV cameras fail to record their own theft
Jordan, Petra: riot and barricades after man is run down and killed by truck
Frightday, 11/9/15:
Chile: more riots in different parts of country on 42nd anniversary of Pinochet's coup "A riot policeman was slightly injured by a bullet during the incidents that occurred in the municipality of San Bernardo, south of the Chilean capital … small incidents involving hooded people barricaded roads, disabled the power lines and clashed with police in parts of the capital…in Tirúa, in the Araucania region, scene of the "Mapuche conflict", a group of masked men set fire to a farm's agricultural machinery in the forestry company Mininco, despite the area being under police surveillance…. in the centre of the capital there were traffic light cuts and barricades in front of the headquarters of the University of Santiago …Meanwhile, in Villa Francia, one of the most combative people during the military regime, there were isolated incidents forcing urban transport bus routes to be diverted….Minor incidents also occurred in the Santiago municipality of La Florida, where a vehicle was burned; Valparaiso, with traffic cuts in proximity to the University of Playa Ancha, and Rancagua, where there were power outages and barricades."…video here. See also here "When the head of the demonstration passed in front of the headquarters of the Executive a minute of silence was held and speakers read out Allende's final famous speech, who delivered it a few hours before dying while La Moneda was besieged by the military….the demonstration went smoothly until finally a small group of hooded youths started incidents and clashes with the police. The hooded men attacked two bank branches with Molotov cocktails and set up barricades outside the general cemetery; riots also occurred within the enclosure, where police intervened with water jets and tear gas " See "chile: the Allende years" for a reflection on what happened in the early '70s leading up to the coup. Also, see "Strange Defeat" for an analysis from autumn 1973 and a critique of leftism's adoration of Allende. Anarchist take on current situation here.
Nepal: cop killed after 5 protesters are killed by cops "The officer was being taken to hospital after being beaten by protesters on his way to work in the southeastern district of Mahottari when a mob stopped the ambulance, dragged him out and torched the vehicle." See entry for 10/9/15 for Maoist connection to these riots. I shall not be reporting any further about these things because they seem overly dominated by the Maoists (who had previously been in the government and had, amongst other things, repressed strikes).
Benin, Cotonou: violent confrontations between motorcycle taxi drivers and cops after cops kill driver (2nd riot over similar incident within a month)
Armenia, Yerevan: hundreds, probably thousands, of youths block central avenue of city in movement against electricity price hikes (more here)
Thumpsday, 10/9/15:
Germany, Flensburg: Danish consulate attacked in solidarity with migrants
South Africa, North-West: youths burn down tribal office in protest demanding jobs More here and here
Chile: 10 molotovs thrown at riot cops outside Santiago University
Senegal, Dakar: 10th day of riots between fly-pitchers and cops, as state clamps down on poorest
UK, Scotland: 2 sit-ins at job centres (in Edinburgh & Glasgow) over harrassment of claimants
France, Hainaut: industrial zone blocked with cars, lorries & burning tyres by workers resisting redundancies
Nepal: army sent to riot zone as 4 protesters are killed after judge's house is burnt down see also here "Three protesters died in Jaleshwor of Mahottarai district in southern Nepal when police fired shots and tear gas at them when they surrounded the police headquarters and torched the house of a local judge, said Home Ministry spokesperson Laxmi Prasad Dhakal. Another agitator was seriously injured in the firing. Clashes also broke out in the southern Saptari district, where one more protester was killed. The clashes erupted when protesters threw stones and bottles as police tried to escort vehicles through a blocked national highway."  More here. As I said on Monday: " …it should be pointed out that these are dominated by the Maoists, who are, perhaps obviously, nevertheless recuperating a general dissatisfaction. For an analysis of Nepalese Maoism see this and this and any other article  about Nepal by Red Marriott."
Wailsday, 9/9/15:
US, Alabama: prison rebellion – a radical account
France, Pas-de-Calais: deputy director of prison taken hostage by prisoner demanding release from solitary confinement and transfer to another prison…Paris: report on empty school occupied by migrants since the start of August
UK, Cumbria: construction workers at nuclear plant turn 3-hour wildcat strike into a 3-day wildcat after aggressive policing "Workers at 14 different sub-contractors are involved in the dispute. …Workers from the firms took part in official picketing action between 5.30am and 9am yesterday, Wednesday, before a number of workers walked out in unofficial strike action that afternoon….The workers who left the site are out until next Monday….The long-standing row centres on contractors' health and safety concerns. …Workers at a number of other construction sites were discussing joining the action in solidarity."
Chile, Santiago: students supporting Mapuche tribe erect barricades, chuck molotovs etc. at riot cops
Canada, British Colombia: indigenous tribe blockade fish farm run by international company Video here Radio programme here 
South Africa, Rustenburg: shops looted as residents block roads demanding municipality deal with sewage and allocate housing Invariably the reporters portray looting as being purely against foreign-owned shops, whereas often these are the only shops in the area or sometimes other shops are also looted but are not mentioned because it doesn't help the journalists' agenda to portray the looting as xenophobic. Which is also not to say that sometimes xenophobia plays a part."These shops are expensive and they do not give us credit, that is why we loot them" …The group started blocking roads in the township with rocks and other objects following a meeting in which a resolution was apparently taken to block all entrances on Wednesday morning to prevent people from going to work or school."
Lebanon: public sector workers vote to strike and join demonstrations "Revolution is not an apple that falls when ripe – you have to make it fall"…you can't make an omelette without…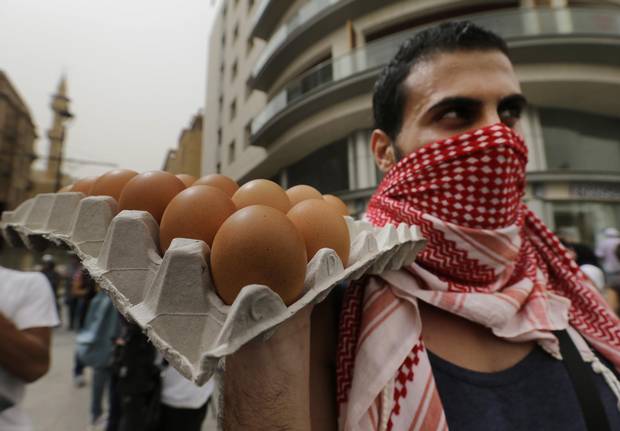 Whilst some prepare eggs to be generously thrown at politicians (the one on the right reads "People's Gift") others try to tear down barbed wire that protects these politicians and the gangs of cops that serve them
Germany: unlucky 13th strike of pilots against wage cuts and increased retirement age ruled illegal…and then ruling is reversed
New Zealand, Aukland: Prime Minister's office occupied by protesters demanding public, rather than secret, trade negotiations Regardless of the reformist mentality that permeates such actions, this is a rather naive demand: even if given the appearance of being granted, the reality will inevitably be very different.  Like with parliamentary democracy, the neon-lit window of transparency pulls down the blind on the wheeling & dealing of opaque social relations, the secret talks where the essential nuances are discussed. I say "naive" but I feel these people are wilfully naive, as anyone even slightly familiar with such dealings knows full well that what politicians do and what they give the appearance of doing are 2 very different things. Such "naivety" is just an other-directed activist role: it's an attitude that chooses to forget what it already knows because honestly facing such contradictions complicates the desire for an action that hopes to  convince spectators of its correctness.  
However, in certain contexts this can be a radical demand; in the shipyards of Gdansk, Poland in 1980, the strikers demanded that all negotiations be broadcast over loudspeakers to the crowd outside and this gave strength to the movement. The negotiators couldn't claim to have discussed anything other than what was discussed as they never met outside the ships from where the discussions were broadcast.
Kenya, Nairobi: nurses' go-slow/strike declared illegal (see also report for 3/9/15)
China, Hong Kong: new "Occupy" as minibus drivers block traffic protesting driving ticket fines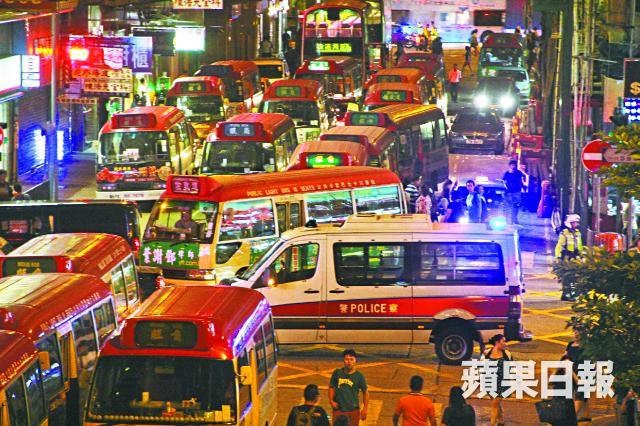 Tearsday, 8/9/15:
South Africa, Limpopo: 20 buses burnt and satelite police station vandalised etc "Violent protests by residents of Mapela outside Mokopane, Limpopo, entered its second week as residents demanded jobs and community projects from mining company Mogalakwena Platinum Mine, owned by Anglo American Platinum. Learning at schools was disrupted as residents continued to block roads and vandalise properties in the area. …In another protest, buses were burnt down overnight in Marapong, Lephalale. At least 20 buses were reportedly set alight and a satellite police station was also vandalised. …In Vuwani, residents looted shops and vandalised property as they continued protesting against being included in the newly planned Malamulele Municipality."…Mpumalanga: residents demanding jobs block road next to police station
Canada, Ottawa: taxi drivers block roads, smash scab cabs
Switzerland, Basel: incendiary attack on railway infrastructure "On the night of 7 to 8 September, we set fire to the Rhine port of Basel, with the intention of sabotaging the railway infrastructure. Among other things, this same infrastructure is protected by Swiss army troops doing their CONEX15  training exercises in mid-September. The uniformed men learn how to protect Swiss interests against rebellions from within and against migrants from without. We are on the side of deportees and the poor. We attack with joy the exploiters and their infrastructure."  Apparently CONEX15 is specifically aimed at repressing any insurrectionary movements: see this in French
Australia, Perth: parents blockade car park construction site destroying kids' playing fields
Hungary, Roszke: more breakthroughs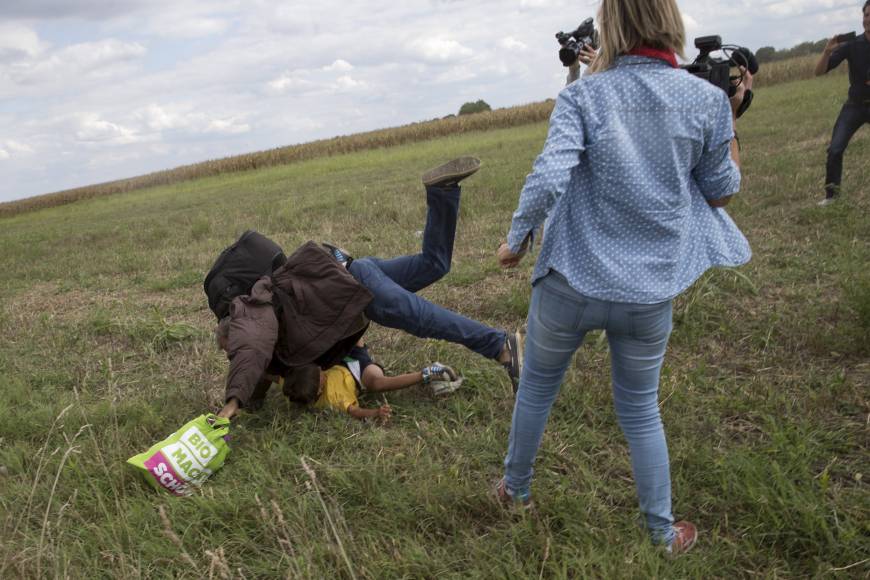 camerawoman/pig: running migrant with kid tripped up by professional manipulator/collaborator (video and consequences here)
New Zealand, Northland: Maoiris occupy airport
UK, Yarl's Wood: protests and hunger strike by women at detention centre
Moanday, 7/9/15:
France, Mayotte: riot by locals against arrest of illegal immigrant; barricades, vehicles burnt
Guatemala: ballots burned, riots & blockades in various parts of the country after elections " Several blockades and clashes between residents and police occurred after Sunday's election in Guatemala…vehicular obstructions on at least six different routes caused by people dissatisfied with the election results in the municipalities. According to the source such incidents occurred in San José Acatempa, Route 7-E, which connects Rio Dulce to El Estor, Santa Rosa, Barberena, at the entrance to San Vicente Pacaya and Palin. "Demonstrators set fire to a vehicle in one lane 54 kilometer to the east, in Santa Rosa, and blocked the route" …The National Civil Police (PNC) confirmed the arrest of 15 people for disturbing public order in riots in the village The Cerinal, Barberena, a town 60 kilometers southwest of the capital….molotov cocktails thrown at the police…The PNC reported …the arrest of 16 other Guatemalans for rioting, damage and attacks on authority in the departments of El Progreso, Petén and Escuintla. Another seven, he explained, were arrested for riots and burning a police car in Estancia de la Virgen, Acasaguastlán San Cristobal, a town located 94 kilometers northeast of here. PNC said that in San Andres, 526 kilometers north of this city, five people arrested for assaulting police…. the inhabitants of the municipality of San Andrés clashed with security forces during a protest against the reelection of Mayor Milton Mendez…. ballot boxes and ballot papers were destroyed or burned  in 29 municipalities…."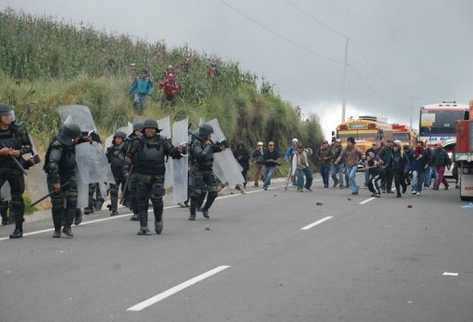 on the run in Guatemala
Nepal, Janakpur: government party torched & completely destroyed  in continuing protests against division of country Though it should be pointed out that these are dominated by the Maoists, who, perhaps obviously, are, nevertheless, recuperating a general dissatisfaction. For an analysis of Nepalese Maoism see this and this and any other article  about Nepal by Red Marriott.
South Africa, Limpopo: "violent"  protests demanding jobs enter 2nd week "Running battles continue, roads around the mine are blocked leading to disruption of schools around the area."
Pakistan, Quetta: students riot over mad exam "results" "Police was chased out by the protesting students outside the board office, which was ransacked and damaged partially by stone-throwing protesters. … unruly students, who were angry over the examinations and its consequent final results in which large number of students turned to fail. Some students claimed that they had been awarded 109 marks out of 100 and another cited 103 marks out of 100, proving that they had mixed up the examinations and the results, resulting in violent protest demonstration. One of the students, Shahbaz Khan said he passed the first year examination last year but in second year result the board has failed him in his already passed first year exam. The trouble did not confine to the board office, as the students marched to the office of the Quetta commissioner and later tried to enter the Red Zone where the offices of the chief minister and the governor are located. Students took to the streets and fought pitched battles with the police and contingents of the Frontier Corps, who chased out the students from the Red Zone and cleared up the area where Civil Secretariat is located.  The students blocked many roads by obstructing the vehicular traffic, burning tyres on the road and physically present on the road disallowing movement of vehicles "…Peshawar: trainee doctors riot "…trainee doctors of Khyber Medical College (KMC) on Monday turned violent and damaged infrastructure and smashed windowpanes of the college and its adjacent tertiary care hospital, Khyber Teaching Hospital (KTH) during a protest over seats for the House Officers. The trainee doctors took to the main University Road and blocked it for traffic after they developed differences with the hospital administration over accommodation of all graduates of the KMC in the KTH. …The doctors later entered the Khyber Teaching Hospital (KTH) and started damaging everything in sight. "They didn't care for the public property and smashed windowpanes," an official of the hospital told The News. The protesting doctors then went to the administration block and besieged the office of the hospital director. "The hospital director along with other officials locked themselves in the office to remain safe but the doctors broke the main door and entered the office. They used abusive language but didn't physically hit the medical director and others," the official added. After causing serious damage to the KTH administration block in KTH, the doctors went to KMC and damaged its infrastructure for no obvious reasons. "  Everywhere, the chaos of  intensified bureaucratisation and cut-backs of funding for this bureaucratisation created by the crisis of capitalist reproduction makes previously simple – even if utterly alienated – activity increasingly an exhausting mess to deal with. So that even those people with middle class aspirations resort to explosions of nihilist frustration faced with such increasingly exhausting and mind-twistingly complicated contradictions. 
Spain, Valencia: migrants riot at detention centre (6th – 7th Sept.)
Hungary, Serbian border: more clashes between migrants and cops Video here
South Sudan, Lakes State: unemployed youths riot against NGOs' recruitment policies as they break into Internally Displaced Persons camp
Belgium, Brussels: more farmer/tractor protests "Police estimated that more than 7,000 demonstrators and 1,455 tractors took part … footage filmed by the French-language state broadcaster RTBF showed farmers trying to breaking down a police barricade with their tractors….protesters threw hay, eggs, bottles, stones and sticks at police. One group lit a large bonfire with tree branches and tyres, and a caravan was also set on fire. The police, who received extra assistance from colleagues in the Netherlands, used tear gas and water cannon against the most violent protesters." See my comment for 3/9/15 (Argentina).
Malodova, Chișinău: "occupy" tents against protection racket state continues after previous day's mass demo
Stunday, 6/9/15:
France, Yvelines: about 20 youths attack cops with stones
Peru, the Andes: company's gold shares drop 10% as community protesters take over key installations at gold mine
Greece, Lesbos: 3rd day of clashes between migrants and Syriza's cops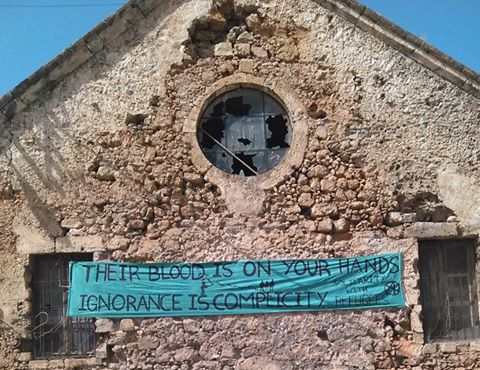 Greece, Chania: banner supporting migrants
UK, Cambridge: family fun with the filth
Shatterday, 5/9/15:
Hungary, Budapest: football fans clash with cops "…a group of 1,500-2,000 hooligans mounted repeated and sustained attacks against police with bottles, petards [sic – should read: fireworks], stones and traffic pollards [sic], the spokesperson said. In response, police were forced to deploy tear gas, dogs, mounted police and water cannon " Undoubtedly some of these people will be amongst those fascists who'd attacked migrants just the same day (see this,) but also many who just hate the cops;  they didn't seem to attack the opposing Romanian fans at all, and that's a positive sign, and the attacks on the migrants seemed to involve far less fans. The spectacle tends to promote an image of their fascistic tendencies because it serves the dominant interest to see them as utterly inhuman morons. But it's too easy to dismiss all football "hooligans" as fascists. Whilst the gang mentality and the nationalism promoted by the football spectacle  unavoidably tends towards a total lack of consistency in their targets, it would be a mistake to simply dismiss them all as if there's some absolute inevitability in their inability to recognise their class interest. 
Chile, Santiago: riots & barricades on anniversary of Pinochet's coup "…a group of hooded youths put up barricades, caused power outages by throwing chains onto the power lines and burned at least two private cars on Avenida Recoleta. The situation became especially violent when unknown people fired at the riot police" 
Switzerland, Zurich: cops fire rubber bullets at pro-migrant demonstrators 
Frightday, 4/9/15:
Germany, Marburg: racist anti-migrant student building attacked; windows broken, paintbombs & graffiti
South Africa, KwaZulu Natal: high school students riot after principal fails to give reports because parents hadn't paid fees "An Overport principal's car was trashed, and school property was damaged, when Grade 12 pupils went on the rampage because they were not given their reports on Friday afternoon. The principal… had not released their reports because their parents had not paid fees. As a result, they were unable to submit their university applications in time. Police arrested a 19-year-old matric pupil who threw bricks at officers and their vehicles. "
UK, Liverpool: roads blockaded against construction firm's blacklist
Kenya, Kilifi: woman killed by cops as striking workers block highway
Iraq, Baghdad: more demonstrations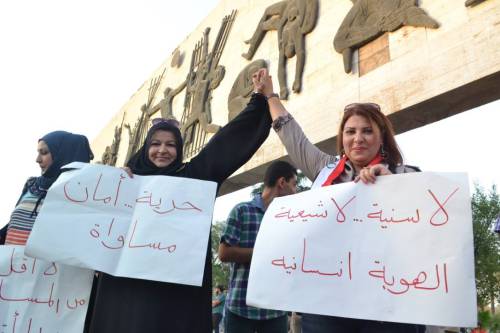 "neither Sunni nor Shiite – human identity and freedom"
Greece, Lesbos: 200 migrants clash with cops
US, Washington: black block anti-cop mini-riot after cop not prosecuted for shooting & paralysing would-be shoplifter (anarchist report here)…New Orleans: cop car window broken…Missouri: 2 women arrested for anti-cop graffiti…New York state: more graffiti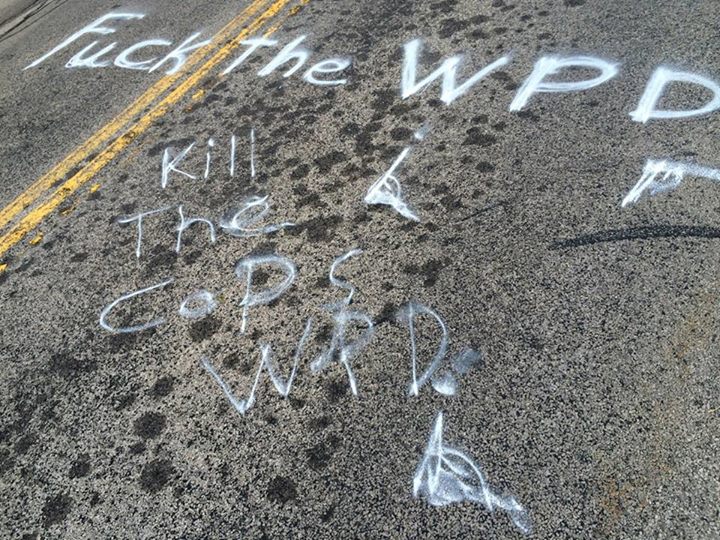 Whilst basic proletarian graffiti like this gets horror shock reactions from cop-lovers exaggeratedly fearful of any results, this safely sweet "middle class graffiti" elsewhere gets results and praise: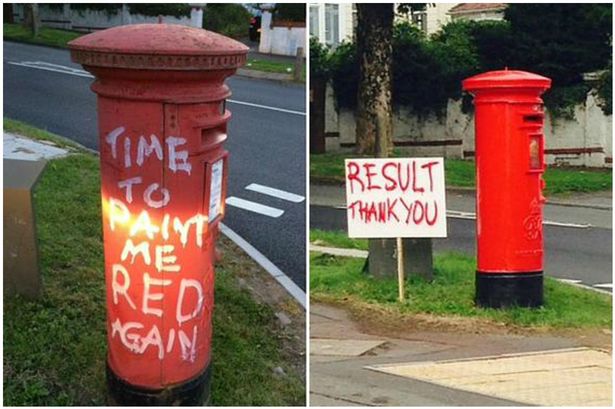 Meanwhile: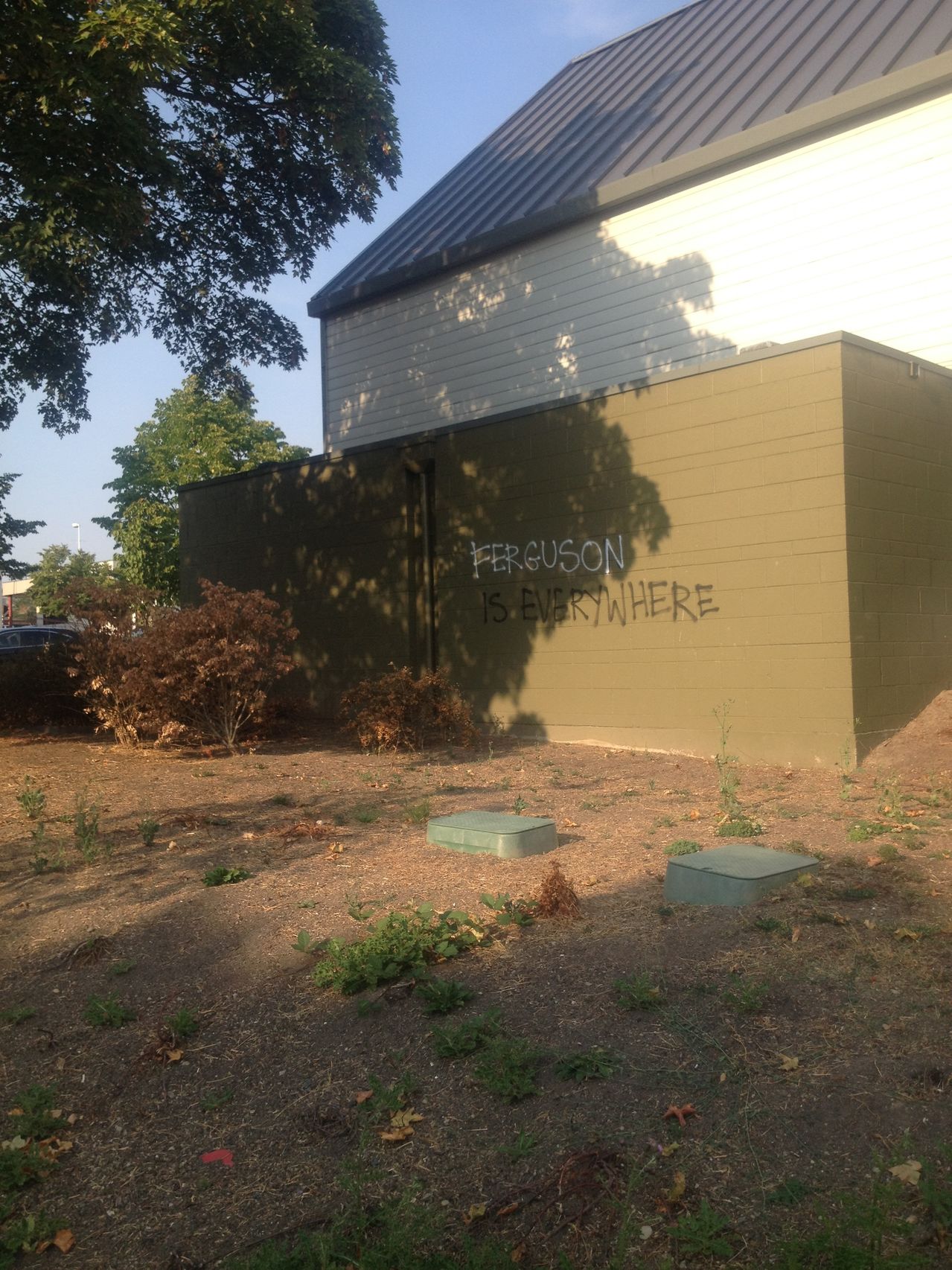 Thumpsday, 3/9/15:
Germany, Berlin: cop van attacked with cobblestones; blue light, radiator grill and bonnet smashed
South Africa, Gauteng: workers furious for not being paid burn 4 trucks, attack municipal building, block roads with fires, etc. "… as the fire engulfed the vehicles, the workers, employed under the Vat Alles programme, angrily threw stones, smashing the windows of two other bakkies. Missiles also rained down on the municipal building, as the workers smashed office windows with stones and damaged furniture. Computers, desks and chairs were wrecked and then the workers turned to the streets. One uprooted a road sign and hurled it into the fire…."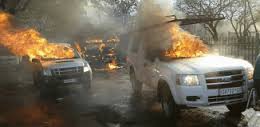 …Union supports these workers' angry protests…KwaZulu Natal: students shot with rubber bullets and pepper sprayed in protest against enrolment fees etc.
Kenya, Nyeri: protesting crowds attempt to storm Governor's office because of health crisis as nurses' strike enters 3rd day "…officers intercepted the charged crowd as it headed for the governor's office demanding to meet him over the worsening situation triggered by the ongoing strike by nurses. This caused a stand-off that gave way to running battles as the protesters blocked roads in town using burning tyres and harassed motorists."
Argentina, Entre Rios: tractor blockade by agricultural farmers & peasants protesting increasing cost of survival at state government building leads to cop injuries and burning tyres, etc.  Despite the increasing and accelerating proletarianisation of this sector of workers, the mentality globally seems to be generally very corporatist and often very right-wing (the fact that the Argentinian flag is seen at this demonstration is a small indication of this). This is a general problem though – how are separate movements fighting against the increasing misery of their specific situation to connect and develop an active communication which enables each to recognise their struggle in each other's – the basic, if banally obvious, question that has always been at the centre of all social struggles?
France, Rhin-Rh0ne: once again travellers block roads with burning tyres, etc. demanding right of prisoners to attend funeral of murdered family members – and win!
Australia, New South Wales: small prison riot
Wailsday, 2/9/15: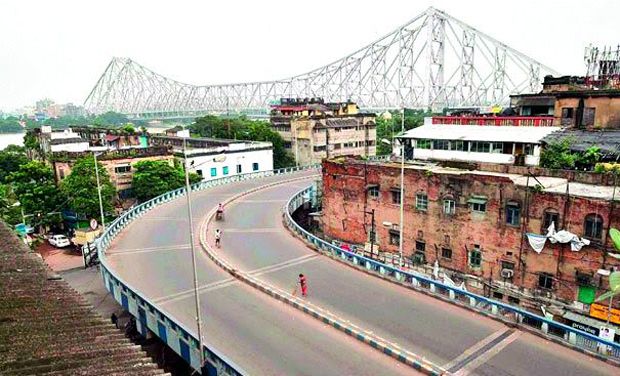 General strike, India
India: between 150 million (here)…and 300 million (here) go on strike…clashes in West Bengal…1000 arrested in West Bengal…Lucknow: PE graduates in extra-curricula training "Several including 14 cops and two senior police and administrative officers were injured and 17 vehicles were damaged or set afire in the clash between police and BP Ed graduates on Tuesday. The hour-long pitched battle …led to traffic jam in the busy Charbagh-Nishatganj route and connecting roads for several hours, subjecting hundreds of commuters to harassment. Later, 101 were arrested on charges of rioting. The 50metre stretch opposite Darulshafa, Bapu Bhawan, BJP office, Capitol Cinema and GPO was littered with broken bricks, stones, shards of glass, shoes and sandals, wooden sticks, as proof of anarchy that prevailed. The rioters primarily targeted government vehicles. Five police vehicles were set on fire, including a police jeep and four two-wheelers. A blue-beaconed ambassador car was also set afire. The rioters also broke two more blue-beaconed ambassador cars and another beaconed SUV Renault Duster. At least 10 more motor vehicles of commuters and scribes were vandalised too…After issuing a warning to the protesters more than 15 times on the portable public address system, cops summoned water cannon. … as soon as the tender ran out of water, within minutes protestors regrouped and retaliated with heavy brick batting, pushing police on the backfoot…. the mob went on a rampage setting government and police vehicles on fire, vandalised vehicles and reportedly looted some commoner and behaved inappropriately with females. School children were also caught in the melee. Those injured included additional superintendent of police (east) Rajiv Malhotra and additional district magistrate (east) Nidhi Srivastava. At this police was forced to cane charge leaving many protesters including women injured." This seems to have largely been a passive follow-the-trade-union-leader stay-at-home strike, which obviously leaves the objectified form and content of one's alienated labour intact: a protest, but hardly a struggle – though it remains to be seen whether anything further develops out of it. However, the fact that this massive strike has hardly been mentioned by the word's media  perhaps indicates a fear of it becoming an example, however weak, which could lead to encouraging other mass strikes in other countries. news …Strike cost 550 million US dollars…For other information about India (but not about this strike) see Gurgaon workers news and FARIDABAD MAJDOOR SAMACHAR (FARIDABAD WORKERS NEWSPAPER) Though most of this is in Hindu, this and some other stuff isn't.
South Africa, Limpopo: 3rd day of  clashes as locals demand mining jobs "More than 500 residents in Malabana, a rural village north-west of Polokwane, halted traffic for several hours with burning tyres on Wednesday to demand jobs from the company mining on their doorstep. The premier producer of platinum in the world is faced with revolt from communities. Officials have, since Monday, had to be escorted by police to the site. The protest started on Monday after residents complained they were not considered for job opportunities on the mine. Protesters burnt the local clinic and vandalised garbage bins. Police had to use rubber bullets to disperse protesters and made 11 arrests on Tuesday….they did not have water in the area, and had to rely on contaminated stream water. When the struggle ensued with police on Wednesday, residents said police fired rubber bullets and broke some residents' homes. A furious Maria Ledwaba of Ga-Molekane said police broke her door and forcibly entered her house and broke her wardrobe because they accused her family of hiding protesters. "
Dominican Republic: students riots over university underfunding block roads So far as I can see, the only class consciousness displayed in this riot is the lack of  sufficient seating in the classes. Nevertheless, faced with this: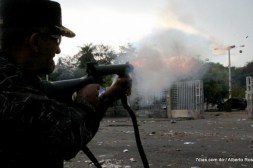 they responded with this: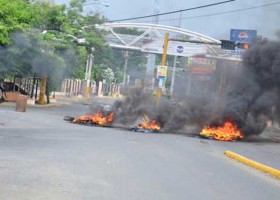 (or maybe the other way round)
Peru, Loreto: 48-hour strike against largest private oil company in country force shop and school closures and block main roads of state capital with pickets of burning tyres & cars etc.
Armenia, Yerevan: sit-down protests against electricity fees hike
US, Baltimore: fairly minor clashes with filth at Freddie Gray hearing…whilst professional activists of "Occupy Baltimore" try to possess these protests, insisting they'll remain "peaceful"…Texas: horror shock graffiti outrage shock outrage horror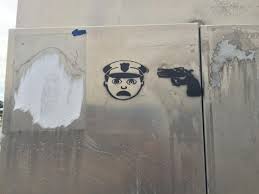 Tearsday, 1/9/15:
UK, Flintshire: prison construction site blocked by anti-prison demonstrators "Prisons are part of the problem. They are abusive places used by the state to control and threaten us."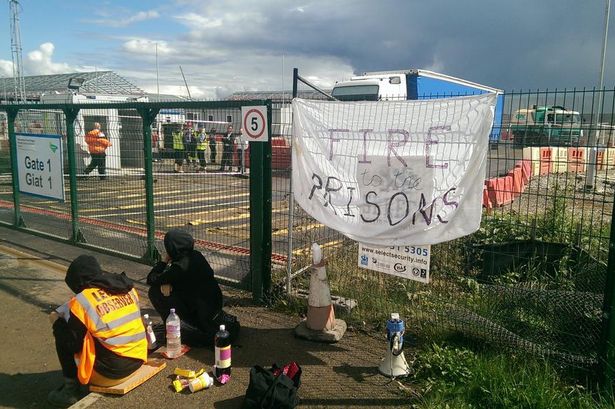 India, Manipur (31st August – 1st September): Ministers' & councillors' houses & police station set on fire, 7 killed, in riot by indigenous against new land bill attacking land of  indigenous population " An irate mob set Churachandpur police station on fire this afternoon. The police fired in retaliation, resulting in the death of three protesters and injuries to two. The agitators also set a vehicle and a motor workshop on fire. They blocked roads all over the town with boulders and huge trees to block security reinforcements, thus putting the town under siege. Trouble erupted last evening after a 12-hour bandh, called by three student organisations, ended at 6pm. …Last night, the protesters torched the private houses of Lok Sabha MP Thangso Baite, health minister Phungzathang Tonsing, Assembly Hill Areas Committee chairman Chaltolien Amo and Congress legislators T.N. Haokip, Manga Vaiphei and Vungjagin Valte, located in and around Churachandpur town…."We could not control the mob last night. My vehicle was burnt. …The Manipur Land Revenue and Land Reforms (Seventh Amendment) Bill, 2015, proposes a cabinet approval for purchase of land by a non-Manipuri person…."The amendment of the bill disturbs the rights of the tribal people. People are angry because our representatives did not speak for us when it was passed in the Assembly"… the land law has not been extended to the hills till now and if it is extended to the hills it will disturb the tribal people's rights."
Colombia, Atlantico: riot as cops are  stoned during funeral of 13-year-old killed by cops riot, followed by destruction of police station, mayor's offices and HQ of Agricultural bank 2 days previously "A group of young people waiting outside the cemetry for the procession  began throwing stones at the police who accompanied the parade…."Everything was normal but suddenly a boy started throwing stones and sticks, and everything was a mess, the coffin was left on the pavement and everyone ran because they thought there could be a repeat of Sunday," said Humberto Currea . He was referring to what triggered the death of the teenager on Sunday night when, in the midst of a clash between police and some young, a shot hit…the child, who fell to the floor unconscious. The child was taken to a local hospital and when people heard of his death the excesses that ended in the destruction of the offices of the mayor, the police station and the headquarters of the Agricultural Bank happened."
Lebanon, Beirut: 6-hour occupation of environment ministry ended by riot cops "Environment Minister al-Mashnouq was whisked away from the ministry after all protesters were evacuated out of the complex. The Lebanese Red Cross said they have transferred seven protesters to hospital and treated 60 others on the ground. Interior Minister Nouhad al-Mashnouq said that if reports protesters had been beaten up were confirmed, those responsible would be punished. The two ministers share the last same name because they are related. The environment minister was locked inside the building as protesters sat on the floor, clapping and chanting slogans against him.." Video here. See (once again) Scents of an Ending, an interesting article on the development of this movement. Interview with another participant here :"… politicians are united by their sectarian incitement and neoliberal politics. The political elite keeps religious communities constantly scared of one another and worried about the "rights" of their respective sects, so it can split the profit it generates through corrupt and often illegal government dealings. The political class has essentially divided the country's resources/wealth among one another and each so-called representative of a sect has tasked himself with keeping his subjects docile while exploiting his public office." Though unfortunately this person, despite describing themselves as " an anti-authoritarian queer" believes in a secular state, as if the state doesn't inherently strive to maintain divisions  amongst the working class even if these divisions don't necessarily take a religious sectarian form.
Syria: sit-ins in parts of country demanding end of blockades
South Africa, Limpopo: roads closed after night of looting and burning of businesses "…residents continued to protest against planned inclusion into a newly demarcated Malamulele Municipality….a total shutdown in the area saw schools and businesses closing down as the protests turned violent… several businesses were looted and some burnt down. These include two hardware stores, two bar lounges and a butchery…there was no public transport in or out of the area as roads were barricaded with tyres and rocks. On Monday police fired rubber bullets to disperse crowds "…Cape Town: semi-homeless burn tyres, block roads in movement for housing allocation rights "Langa backyarders have burnt tyres and thrown rubbish in Bhunga Avenue, blocking several roads hoping that the City would include them on the list of beneficiaries for 463 houses being built in the area. On Tuesday an office of the City's disaster risk management was damaged by the protesters and three people were arrested for public violence. "…Western Cape: student movement protesting 50% Afrikaans language policy hots up  It should be noted that this is dominated by millionaire & demagogue Malumele's EFF party, and comes almost 40 years after the Soweto uprising which started as a protest, totally independent of all formal organisations and political parties,  against the state's insistence that high school kids be taught in the language of the oppressors (Afrikaans). See in particular the section "Reflections On The Black Consciousness Movement and the South African Revolution (Aug. 1979)  – here.

Nigeria, Bayelsa: arrests of suspected saboteurs of environmentally-brutal pipeline