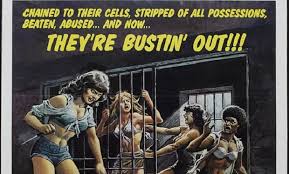 "In September the garden has cooled, and with it my possessiveness… The harvest has dwindled, and I have grown apart from the intense midsummer relationship that brought it on."
–  Robert Finch 
"In September, we will wander through the warm winds of summer's wreckage. We will welcome summer's ghost."
–  Henry Rollins
"The morrow was a bright September morn;
The earth was beautiful as if newborn;
There was nameless splendor everywhere,
That wild exhilaration in the air."
–   Henry Wadsworth Longfellow 
30/9/16:
Kenya, Kisumu: chief planning officer's house and cars burnt during protest against possible abduction
Germany, Berlin: 50 asylum seekers attack guards
Australia, Sydney: scuffles with cops at protests against PM's honorary doctorate award
29/9/16:
Madagascar, Soamahamanina: fighting between cops and protesters as cops are surrounded during demo against gold mine
US, San Diego: protesters occupy intersection, chuck bottles at cops, etc. after another murder by the cops
Brazil, Sao Paulo state: 200 prisoners escape after riot, just half re-captured "The riot began at the morning check-up, with prisoners burning mattresses and rushing the fence. Once the fence broke, the prisoners escaped down a four-meter slope and across a road….According to G1, the Jardinopolis prison has a capacity for 1,080 prisoners but currently holds 1,864 inmates." Latest report says 470 PRISONERS ESCAPED!!!!
South Africa, University of Johannesburg: lecture hall on fire as protests continue…1 dead, R600 million in damage and 118 arrested in current wave of student agitation "'No arrests have been made in connection with some of the major property damage but the police have launched a culpable homicide investigation into the death of cleaner Celumusa Ntuli. Ntuli had been cleaning the Jubilee Hall residence at Wits when protesters discharged fire extinguishers on Tuesday last week. He became ill and was hospitalised for three days. At the weekend Ntuli's condition deteriorated and he was to be readmitted to hospital but died before arriving. The cause of death has not been established…The University of Fort Hare, after almost two weeks of protest, closed its campuses because of an attempt by "a certain group of students to destabilise the academic programme". All the CCTV cameras on the university's Alice campus have been destroyed. A maintenance building was set alight on Thursday, resulting in millions of rands' of damage. No arrests have been reported. At the University of Pretoria two cars were petrol-bombed in student protests yesterday. There have been no arrests." 
SK writes: In the [last] year … none of the developments have really indicated any practical movement beyond the desire '_to dutifully run this society, and ON THE CHEAP become social workers, team leaders, heads of personnel, executives, sociologists, psychologists, journalists, work inspectors, in order to educate us , counsel us , direct us , inspect us , inform us , lead us , make us work tomorrow…'_ denounced by the LEP apprentices… The destruction of university property is partially a symptom of not knowing what to do with liberated spaces and infrastructure themselves (as during the 1991 insurrection in Iraq when proletarians, not knowing what to do with the army barracks and equipment abandoned by soldiers, burnt them to prevent the stuff falling into the hands of Kurdish nationalists), and partially a symptom of not having enough active participation on the part of the student body in order to liberate these spaces and infrastructure successfully in the first place (as when people stone passing cars when they are unable to successfully barricade a road).
Obviously, the emergence of a massive nationwide movement against the blackmail of school-fees and student debt is certainly a hugely positive development from the purely symbolic Rhodes Must Fall protests …and the hazy ideological demand to 'decolonise education' indicates some vague desire to transform the social relations and function of schooling, but these two things seem, for all practical purposes, poles apart from each other, precisely because the demand for free education is so concrete and easy to advertise (both for the spectacle and those who try to oppose it) whereas decolonising education could mean almost anything.
In that regard, theory, critical conversations and so on could certainly play a part moving opposition a step further in a radical direction. When I went to UCT a year ago where the administration building was under siege, I shouted out, half-jokingly 'Abolish exams! 100% for all!' to the slightly bemused amusement of student onlookers. Such a demand is certainly as clear and concrete as free education, but students would obviously need to begin a far more radical criticism of schooling and their own roles and aspirations before such a desire can be expressed.
28/9/16:
South Africa, Limpopo: lectures suspended due to student protests at University's Mankweng campus…four universities shut down by students "Students at the University of Limpopo have been protesting since Tuesday night…Students on the ground have confirmed that Tshwane University of Technology in Polokwane, Seshego FET college and University of Venda have joined the protest and also shutdown in solidarity with the University of Limpopo."…Eastern Cape: clashes at Rhodes University More here
27/9/16:
US, Dakota: indigenous Indians occupy pipeline construction site…Alabama: report on screws supprting prisoners' strike
Eire, Dublin: threat of wildcat solidarity strike from railmen forces talks with & concessions to bus drivers
France, Arras: ambushed cops attacked with projectiles by about a dozen youths…Orne: prisoner single-handedly attacks 5 screws 
South Africa, Durban (KwaZulu Natal): campus closed for 2 days after students sling stones at cops and journalists during fees protests…students vs pigs in city centre… riots hit new high as students shoot shit at Commerce building…and fire guts turnstile & communal room...
Johannesburg: bank worker steals R3 million, claims 'spiritual healer' made him do it… fees protests disrupt soccer, opera and blood donations 'Protest action at the University of Cape Town (UCT) led to the forced postponement of the opening of The Magic Flute' hosted by the Cape Town Opera (CTO)' which was scheduled to open on Tuesday evening. According to a statement released by the CTO' managing director Michael Williams said the postponement was "an unprecedented situation for CTO which' in 17 years of staging operas locally and internationally' has never had to postpone a production"…In addition' the Premier Soccer League (PSL) was forced to cancel the scheduled game between Bidvest Wits and Orlando Pirates on Saturday after threats erupted that Wits University students were planning to disrupt the match.'…  Pretoria: shantytown residents barricade tunnel and roads

UK, London: report of former HQ of anti-squatting company being squatted
Zimbabwe, Harare: vagrants and illegal vendors unite against the state "Police yesterday fought running battles with illegal vendors who were protesting confiscation of of their wares by municipal police…Police had to  fire teargas …to disperse the vendors, some of whom fought back throwing stones at the law enforcement agents. Business was brought to a halt in most parts of the city centre as shop owners closed their shops fearing that the warring vendors would destroy their properties. Some vagrants, who were allegedly given food by vendors…also joined the protests"
Kenya, Nairobe: students riot,  block main roads for 5 hours in protest against wreckless drivers 
Greece, Athens: unionised hotel workers attempting to storm  Ministry of Labour clash with cops 
26/9/16:
Mexico, Chilpancingo: students launch home-made rockets at army base
Malaysia, Johor Bahru: chief cop's BMW destroyed in arson attack
South Africa, Pretoria: 2 staff cars and computer lab burnt out during protest by students against fee increases… KwaZulu Natal: another arson attack on campus "This morning at about 07:15am a building was set alight at the UKZN Campus in PMB by a group of about five people. Last week the campus was the scene of running battles between the police and students amid protests demanding the elimination of fees. A fire was started at the Malherbe Residence. Cars were stoned, one student was injured and police had to use rubber bullets, stun grenades and tear gas."
25/9/16:
France, Valence: prison revolt – 2 screws attacked, keys seized, cell doors opened…More here: CCTV cameras smashed, fires lit
Australia, Perth: clashes with riot cops as hundreds try to get into festival for free
24/9/16:
Burundi: thousands protest in response to UN report
Finland: 15000 march in anti-racist demonstration
France, Clermont-Ferrand: cops ambushed as bins burn; 8 molotovs and loads of stones thrown at them by a dozen youths
23/9/16:
US, Charlotte, NC: protesters briefly occupy motorway overpass Anarchist report here…Really interesting eyewitness accounts here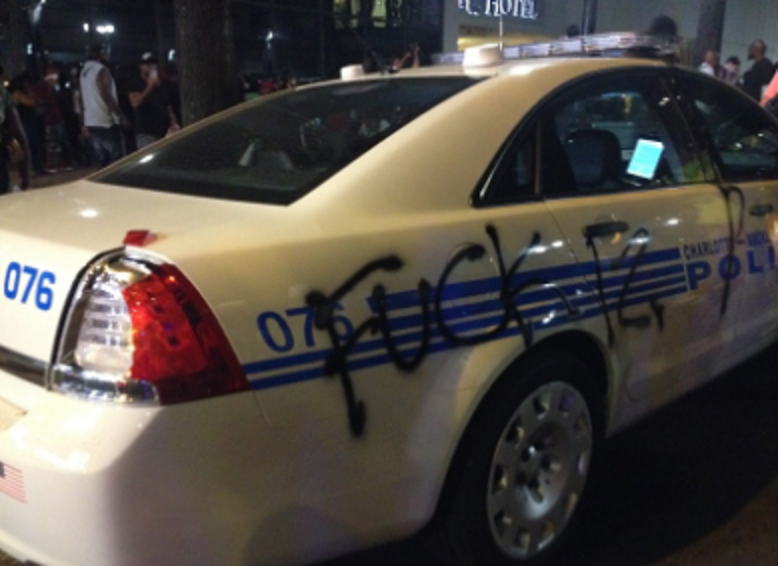 …California: Walmart remains closed for 3rd day following 12-year-old's arson attack causing $1m. worth of damages…Portland (Oregon): clashes with cops at Black Lives Matter demo…100 students occupy oldest building at University of Mississippi against fascist threats
Germany, Hamburg: car of top cop responsible for racist swoops explodes 
France, Vendée: cop and town hall cars get smashed up
22/9/16:
South Africa: students clash with cops at University KwaZulu Natal whilst building housing security guards is torched at Eastern Cape campus "The unrest erupted at a Johannesburg university three days ago after the government announced a rise of up to 8 percent in 2017 tuition fees – well above the inflation rate. Demonstrations over the cost of university education, prohibitive for many black students, have highlighted frustration at enduring inequalities in Africa's most industrialised country more than two decades after the end of white-minority rule. Television footage showed students hurling stones at police at the University of KwaZulu-Natal in the east of the country. Police retaliated with tear gas to disperse the protesters as the two sides engaged in running battles across campus. "The students attempted to set a building on fire and were pelting motorists and police with rocks," said Thulani Zwane, police spokesman for KwaZulu-Natal province. Earlier this month, 32 students were arrested after a law library at the university was torched during protests. Police said they were investigating arson at the University of Fort Hare in neighbouring Eastern Cape province after a building housing university security guards was torched. "Three rooms in the building were burnt down," Marinda Mills, police spokeswoman for the province said. Violent protests last year forced President Jacob Zuma to freeze tuition fees for 2016, but universities said that to do so again in 2017 would diminish academic programme standards."
US, Charlotte, NC: protesters block roads on 3rd night of protests as protester shot at point blank range dies More here. Hard to know if it was some cop's rubber bullet or a mad and sad gunman in the crowd.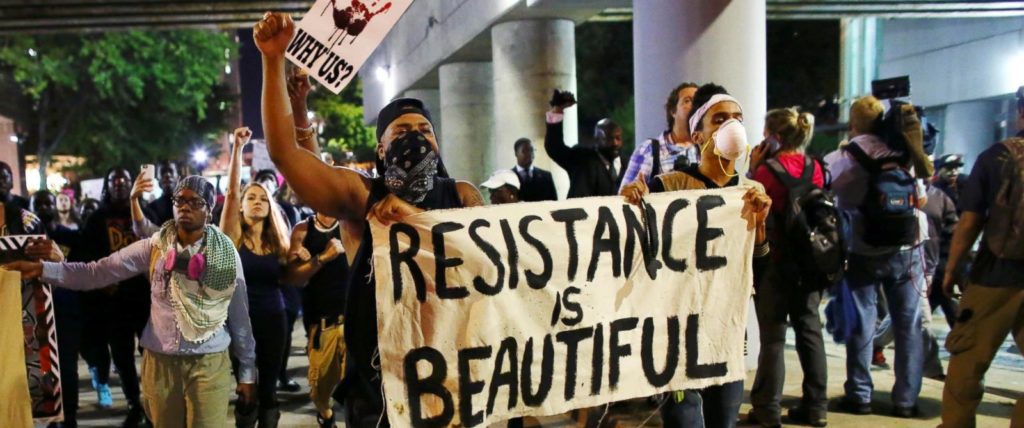 Algeria, Ait Naoual Mezada (north of Setif): confrontations with cops, highways blocked, in protest against place school is to be constructed
Ait Naoual Mezada
Peru, Bagua: court frees indigenous indians accused of killing 12 cops "The court in Bagua also struck down charges of rebellion and causing serious injury presented by prosecutors during the years-long trial….The confrontation, in which hundreds of police tried to dislodge members of local indigenous tribes blocking a highway, occurred at a remote area called the Devil's Curve, where the Andean foothills meet the Amazon jungle. It is not far from the city of Bagua. Ahead of the June 5, 2009 clash, thousands of spear-toting natives, some with faces daubed in war paint, had massed to defend the rainforest against legislative decrees they saw as part of a land grab by multinationals under a free-trade deals. Ten civilians died in the clash in addition to the 12 police. Hours later, several miles away, another clash left more police officers dead."
Sweden: report saying that 3 cops a day resign in part due to 55 no-go areas "A regular shift for the Swedish force includes being attacked by thugs who throw stones at the officers and their patrol cars, vehicles being set ablaze, and in some cases personal injuries."
France, Paris: high school blockaded with burning bins, CCTV sabotaged, banks attacked This took place on a day where nothing was organised by the unions or political groups nationally.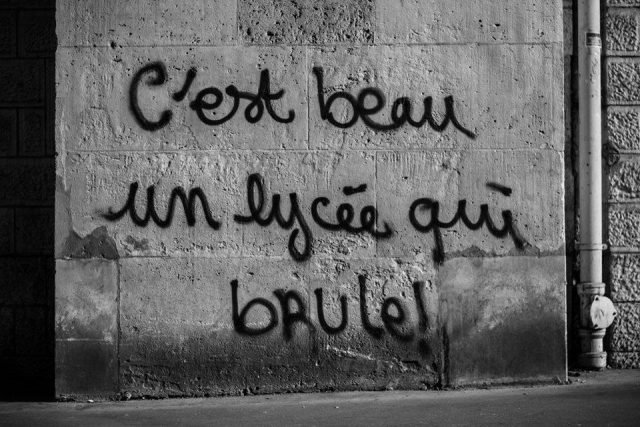 "It's beautiful – a high school which is burning"
"1. The Lycee Voltaire was not blocked because the police were in front and prevented the students from bringing garbage bins while deliberately aiming at them with a flash-ball at  face level . A similar situation in other high schools last week and today.
2. Bergson High School is the only school that held a blockade last week and today, where there were 200 to 300 people.
3. Bins were set alight and everyone moved on to Lycee Voltaire to get hold of people at recess.
4. In front of the school, the administration locked students in, claiming that there would be risks. What risks? Use of the state of emergency against rebellious youth. It is the administration which blocked the  high school students  because they could not do it themselves.
5. Wildcat demo  to Nation [area of city], where there were a few tags and banks attacked [and the manufacturer of prisons and CRA – 'Bouygues'…].
6. The metro is taken collectively to go to Paris 1 [university] and try to get into the faculty whilst chanting messages of solidarity with Abdoulaye. He is a young guy threatened with expulsion, while this is a political [sic] refugee [sic!]. And he risks death in his country. The CRS block the entrance of the faculty, but slogans are chanted.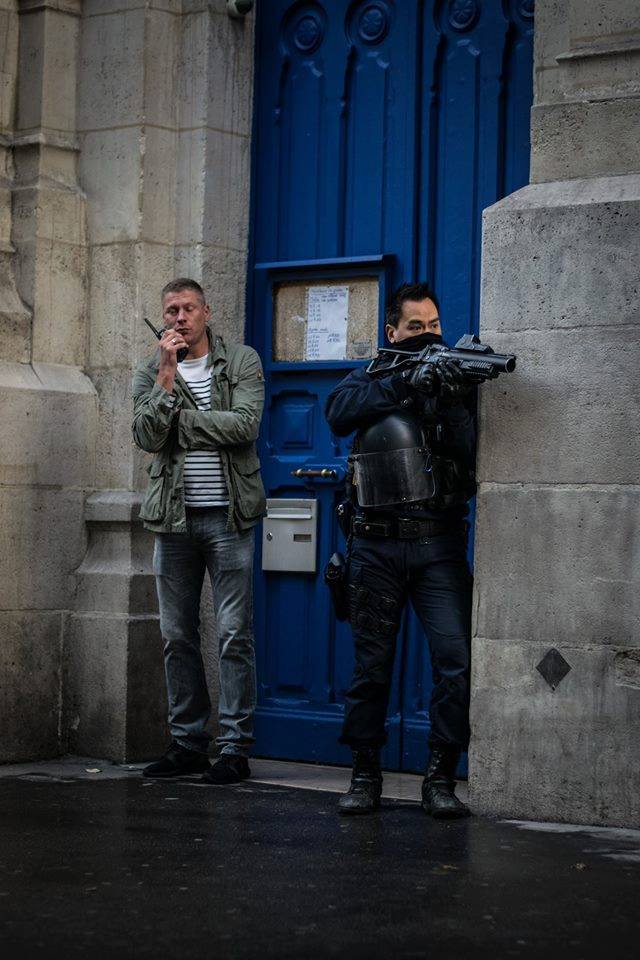 Voltaire High School: cops defending to the death the right to say stuff they disagree with
More here:
"The students, many of whom had their faces concealed by a hood or mask, also shouted "Justice for Adama! ", referring to Adama Traoré who died in July in the Val-d'Oise during his arrest by the police, and" Everybody hates the police! ".
They stacked bins outside the gates of the establishment of the 11th arrondissement, tagged slogans "It's closed" and "Burn your school." They sported a banner of MILI (inter independent struggles Movement) proclaiming "Youth is here, it will explode throughout Panama." The MILI, a movement of high school students and Uni students, had called  September 22nd a day of the "fight against the  labor law and its world" and to denounce police violence.The Labor law, contested since the spring in the streets was promulgated on 9 August. In front of  the gates of the Voltaire high school, a girl had put a white sign "Youth Arise". Another high school student was trying to break a security camera installed a few meters higher, using a stick." [On a video from Taranis News, a metro camera is seen to explode]
21/9/16:
US, Charlotte, NC: national guard called out in 2nd night of protests Anarchist reports here.   At the beginning of the evening, a crowd of 600 marched to a church, and masked black youth started screaming "Fuck Jesus, Fuck Church" to applause and cheers from half the crowd.  The other half dispersed but those who remained moved to the NC Hornets team store and looted it completely, leaving brand new Jordan sneakers strewn across the road.  Looting continued, with convenience stores and others targeted.
The combative section ballooned to 500 at points, but generally numbered 300-400.  Later at night, the cops deployed massive amounts of tear gas to split the crowd into two or three groups.  One group looted a bar, another went to the highway and blockaded it.  The crowd reunited on the highway until driven off by riot police.  At that point, however, the crowd returned to downtown smashing banks and luxury stores. [H]…Video here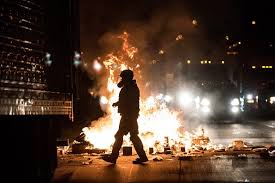 Charlotta continua
…Alabama: prison dorm resists confiscation of mobile phone, force screws to leave…report saying prison strike has spread to 46 jails etc.
Argentina, Buenos Aires : incendiary attack against a cop vehicle (communiqué in Spanish) 
Saudi Arabia Khobar: Saudis and foreigners unite and go on unofficial strike against unpaid wages
South Africa, Johannesburg, Wits: Students promise to make university ungovernable until demand for free education is met More here "Protesters threw stones at security guards outside a main campus building, smashing some windows. Some guards threw projectiles back at the students. Classes were also suspended Wednesday at the University of Cape Town because of security concerns."…confrontation with police at Nelson Mandela Metropolitan University "…students blocked the road….they danced at the traffic circle in the middle of the road, banged empty water bottles together, and sang struggle songs. Public order police in riot gear, and armed with shields and batons, pushed the students back onto the campus. Students pushed back and a group at the back began hurling water bottles at police. Hundreds of students scattered as police deployed stun grenades. They soon returned and began to congregate in front of the campus entrance."
France, Calais: 100s of migrants clash with cops again as barricades are built across roadways…Toulouse: vehicle of company that participates in prison construction burnt out (see also this)…also in Toulouse:  sabotage of vehicles in solidarity with the present repressive operation in Italy
Canada, Orillia: anti-abortion posters attacked 
Cameroon, Douala: Commissioner of Public Security wounded as barricades are erected by motorbike taxi drivers in resistance to massive state impounding of untaxed vehicles
20/9/16:
US,  Charlotte, North Carolina.  Clashes break out after cops kill disabled man More here "The shooting led to protests in the city Tuesday night that blocked I-85, and resulted in damaged police cars and 16 injured officers."
Uruguay, Montevideo : several schools closed with chains and glue, and a leaflet against education left on the sites
UK, Staffordshire: vandals attack MacDonalds, Costa, Nationwide and a University
France, Poitiers: cop car set on fire in middle of afternoon…Besancon: Chamber of Commerce – a dozen windows smashed; building tagged with "Neither Capital nor State" amongst others
Eire, Dublin: riot in youth  detention centre "senior management were in the centre all evening but were unable to prevent serious damage being caused to one of the remaining wings of the centre, which is supposed to house up to 90 inmates but is thought to contain only between 30 and 40 now."…More here "Since the €56m centre officially opened in January last year, there have been dozens of serious attacks on staff leading to high levels of sickness leave….In the last attempted break-out in August eight young offenders broke out of their secured rooms and onto a detention centre roof after a staff member was overpowered and threatened with boiling water. The incident that led to the riot and fire was started while staff were protesting about attacks, injuries and fears for their lives at the gates of the facility in north county Dublin. … the offenders used the protest to their advantage when one requested refreshments, and a staff member who brought them was confronted, threatened and overpowered at the door and had their keys taken. The offender was then able to free others who then took over the accommodation block. Eight offenders then accessed the roof and started pulling the tiles off, and set fire to Blocks 1, 2 and 3. When emergency services were called it is reported that some of the offenders on the roof threw roof tiles down at them. There were no reports of injuries to fire crews, but the blaze took hold and eleven units of Dublin Fire Brigade spent hours fighting the fire. Accommodation Block 3 collapsed due to the extent of the blaze, and Blocks 1 and 2 were left gutted. One staff member was injured and treated in hospital when searching the facility for detainees who had absconded from their accommodation."
Democratic Republic of Congo: lethal clashes continue over elections; some looting "Clashes first broke out between police and groups of stone-hurling protesters on Monday morning. The violence escalated to include attacks on police property and ruling party offices in the Congo's capital city. An office of the main opposition party was also torched, and at least two bodies were found inside on Tuesday"
Canada: worker at Royal Mint accused of smuggling $180 000 worth of gold up his bum
South Africa: comprehensive summary of the day's events at disrupted universities across the country
See here for more detailed context and student voices…Langa: protesters about service delivery and housing block roads with burning barricades More here "The protesting started last night with the Post Office that they attempted to set alight and they tried to break in at Shoprite You Save. And they attempted to set a railway alight."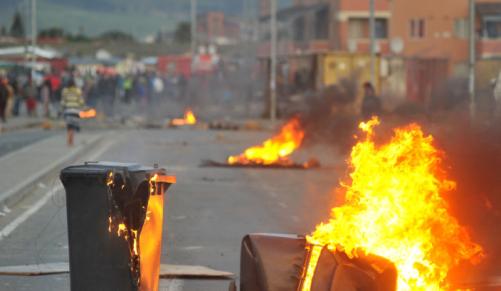 Langer
… Limpopo: primary school barricaded by angry parents protesting against governing body 'The group made up mostly of women were singing while carrying sign boards that said "SGB Must Fall". Some were threatening to burn down the school which is situated on the same street where a satellite police station was torched over a week ago during protests.'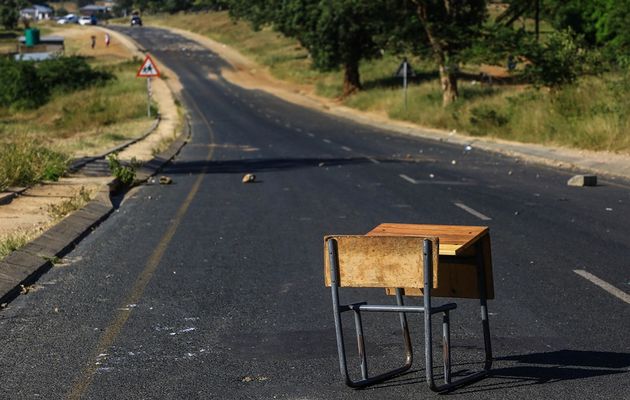 School for the oppressed 
Pakistan, Larkana: report on squatted 45 acres of land, with village and crops
Thaïland (Nong Khai, Laos frontier): 10 Uighur migrants escape from an immigration detention centre…and are sadly recaptured after a short while Thailand locks up migrants and asylum seekers, such as the Uighurs (a persecuted minority in China), some of whom are kept inside for two years.
Regarding the policy of Thailand vis-à-vis foreign countries close by, here's what we wrote on  May 23, 2016: "One can never emphasize enough the absolute horror experienced by Burmese, Cambodian or Laotian migrants in Thailand, and the treatment of refugees by the authorities (and by some non-negligible part of the population) over several  decades. Thailand did not hesitate, in the late 70s, to return Cambodian refugees, in the middle of the Khmer Rouge horror, across minefields and later to return  Vietnamese boat people by sea… similar treatment is reserved today for the  Rohingyas of Burma, a group coming from the Muslim culture and  religion who are escaping  the state of Arakan en masse, where they are treated as outcasts." [Pi]
France, Poitiers: cop car set on fire in middle of afternoon
19/9/16:
US: consequences of  the national prison strike  Repression continues  with lots of searches and reprisals against participants and solitary confinement imposed in many prisons. Nevertheless many prisoners discuss the continuation of the strike and how to coordinate actions. In South Carolina actions are continuing. 350 prisoners from a jail are refusing to work.
France, Nancy: cops ambushed, their car smashed, as they become target of  stones and gunshots
Chile, Santiago: flash-bang sent into Police Evangelical Church in solidarity with Italian FAI anarchists recently arrested (communiqué in spanish)


UK, Essex: old mole upsets golfers
South Africa, Cape Town: UCT shut down in protest demanding return of suspended students…more here…. calm returns to Stellenbosch University following a week of disruptions
18/9/16:
Belgium, Brussels: riot – cops stoned and several vehicles damaged after cops gratuitously bash woman & arrest her teenage sons
France, Bouche du Rhone: Front National scum deliberately hit by car
India, Uttar Pradesh: cops stoned, 3 cop vehicles damaged, after cops kill man arrested for robbery
US, Arizona : Blockade of Correctional Officer Training Academy in Tucson
re. the New York bombing: on the 19th March this year I posted this: 
anti-Trump demos – main road blocked in Arizona, scuffles with cops in New York Whilst the support Trump is getting is indicative of the mad mentality of the USA,  he's very unlikely to win the presidential election anyway, unless he can arrange for some Daesh bombing in some major city a couple of weeks before the election; so it'll almost certainly be the mass murderer with a human face – Clinton – and here she is sharing a joke with her apparent arch-rival, back in 2003: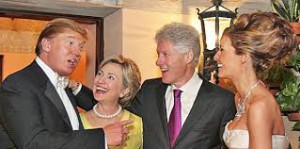 But the real idiocy of elections is the fact that the false choices utterly overwhelm people's consciousness for months and months and attacking misery at work, in the streets etc. is once more avoided.[SF]
I should add that if Trump were to be elected (still not very likely) would it be such a bad thing, however indicative of serious false consciousness amongst vast swathes of the US working class? The chances of riots and significant conflict arising out of his presidency are far greater than under Clinton; it would be a major problem for the vast majority of the US ruling class, who seriously do not want a Trump victory, and is far less likely to produce the relatively passive response to Hitler's accession to the throne in 1933. Clinton is, in any case, clearly a warmonger, and is a far cleverer piece of shit than Trump: see this, for instance.
17/9/16:
Sweden, Bergsjön: cops attacked with stones & fireworks
US, California: rap's riotous revelry
South Africa: miners demonstration demand unpaid salaries…Limpopo: 3 school classrooms and staff room torched "The burning incident was the second one at Humula high school, where buildings were also torched in June last year. Community leader, Chief Mkhacani Mukhomi, says they believe the perpetrators wanted to sabotage the performance of learners, as their records for the year have all been lost in the fire."
France: list of various anti-cop incidents …including the following not previously mentioned here:
10/9: Rennes: cop car stoned as youths are harrassed by cops; 19-year-old arrested, charged with "outrage" and threatening cops with death.
9/9: Rouen: cops stoned during control of car papers; library windows smashed following arrest of one of those accused of initiating the stoning…
Australia, Victoria: prisoners riot at young offenders prison "Inmates repeatedly beat down windows and other sectors of the complex as well as allegedly set a building on fire"
16/9/16:
South Africa: miners, possibly inspired by their counterparts in Bolivia, arrested for possession of dynamite Conditions in South Africa, where miners are one of the most minutely monitored & controlled workforces in the world, as opposed to Bolivia, where the miners are in a way self-employed (or, to put it another way, outsourced as independent contractors), seem to militate against the strategic use of dynamite in this country.
It's also not certain what the intention was in this instance. Possibly the dynamite was being smuggled in order to be sold on the black market, though I have no idea what demand, if any, there might be for the stuff. Presumably, however, since reports of explosives have never come up during miners struggles before, there are not many who have taken a mind to appropriate this colorful substance for their own uses, as it's difficult to believe that some could not have been smuggled out, if only during moments of unrest when the mechanisms of surveillance and control were compromised — where there's a will there's a way… [SK]…… Eastern Cape: moratorium placed on $200 million after massive resistance by indigenous communities A key strategy of the struggle was the pre-emptive sabotage of all attempts to conduct the 'environmental impact assessment' that is used to greenwash all such developments. Denouncing in advance a procedure whose outcome was determined in advance, the villagers cut through the spectacle of 'consultation' and eco-friendly bullshit with which the bourgeoisie imposes a rubber-stamped legitimacy on its ruthless rapacity (in the face of community opposition Mark Caruso, boss of the Australian firm attempting to open the mine, quoted the Old Testament 'And I will strike down upon thee with great vengeance and furious anger, those who attempt to poison and destroy my brothers. And you will know my name is the Lord when I lay my vengeance upon thee'; following the murder of one of the opponents to the mine, his brother Patrick Caruso candidly admitted:"Well, there is always blood where there are these types of projects … in my experience you cannot have development without blood" — a rare moment of straight talking in these universally mealy-mouthed times).
'Three weeks ago Environmental Impact Assessment consultants sent by Caruso faced a difficult challenge to consult with residents of the six rural village neighbourhoods community (Luphithini, Mnyameni, Mtolani, Mdatya Mpindweni and Nyavini) about the latest mining rights application that he had lodged (see the report). The meeting did not last long and the team, led by EIA consultant Pieter Badenhorst, was told not to come back. Last Wednesday, on 29 April 2015, confident that since they had the authority of the Amadiba chief Lunga Baleni to back them up, Badenhorst returned with a larger team, who travelled in a convoy led by Caruso's local agent and community 'fixer', Zamile Qunya to gather data for the EIA, their difficulty increased. Soon after the convoy had entered the Amadiba Tribal area, word travelled faster than their convoy and by the time they had reached turnoff to Xolobeni, the consultants were confronted by a barricade of logs and brushwood on the road, manned by an ever-growing group of angry residents.
Believing that opposition to the mining proposal had been orchestrated by outsiders and was confined to a small minority of "just one village", one of the team began to realise that Qunya had greatly exaggerated his influence and that although Chief Lunga Baleni might have had formal powers, he had forsaken his authority and respect.' (here)  More context and history to this long-standing conflict can be found here and here…Gauteng: strike at R164-million Sarah Baartman Centre "Building of the R164-million Sarah Baartman Centre of Remembrance in Hankey was halted yesterday when about 200 Lubbe Construction workers blocked the town's Main Street. The strikers, who all live in the town, want the same pay as those brought in from Johannesburg and Rustenburg. They claim they earn only R3 000 a month  while those from the north are paid R9 000. The Department of Arts and Culture started the R164-million project two years ago and planned to have it completed this month.The centre is being built next to the grave of celebrated Khoikhoi beauty Baartman, who visited Europe in the early 19th century and was put on display as a freak." Good example of how arts and culture, nationalist anti-imperialism, and capitalism currently go together [SK]
USA, Alabama : screw stabbed by prisoner dies More info on what happens at Holman here and here  Holman Prison, AL: Free Alabama Movement issues press release calling for an end to the humanitarian crisis at the prison. They state through social media that many guards are not reporting to work and that much of the prison remains unguarded…
Mexico, Oaxaca: cops clash with teachers again
France, Rhone: fire in young offenders' prison
Venezuela, Trujillo: rioters attack town hall…and loot shoe shop
Germany, Leipzig: fascist leader's car torched
15/9/16:
Chile, Santiago : several clashes with police in front of Manuel Barros Borgoño high school to mark Black September (communiqué in Spanish with pictures)
Uganda, Kampala: youths release piglets in parliament, chaos ensues as people struggle to tell difference between them and MP "Two members belonging to pressure group the Jobless Brotherhood have dropped piglets at the Ugandan Parliament in protest of government's decision to award Members of Parliament with Shs200m each for new cars. According to Daily Monitor, Joseph Mubiru and Ferdinand Luta arrived at Parliament early on Thursday morning, releasing scores of piglets painted in yellow and blue, signifying the National Resistance Movement (NRM) and the Forum for Democratic Change (FDC)[presumably the two main political parties]. Upon arrival, the duo released the piglets from sacks, letting them loose to roam around the premises, causing chaos in the process."
France, Paris: up to 4000 clash with cops as up to 170,000 demonstrate against labour law throughout country…Interesting report here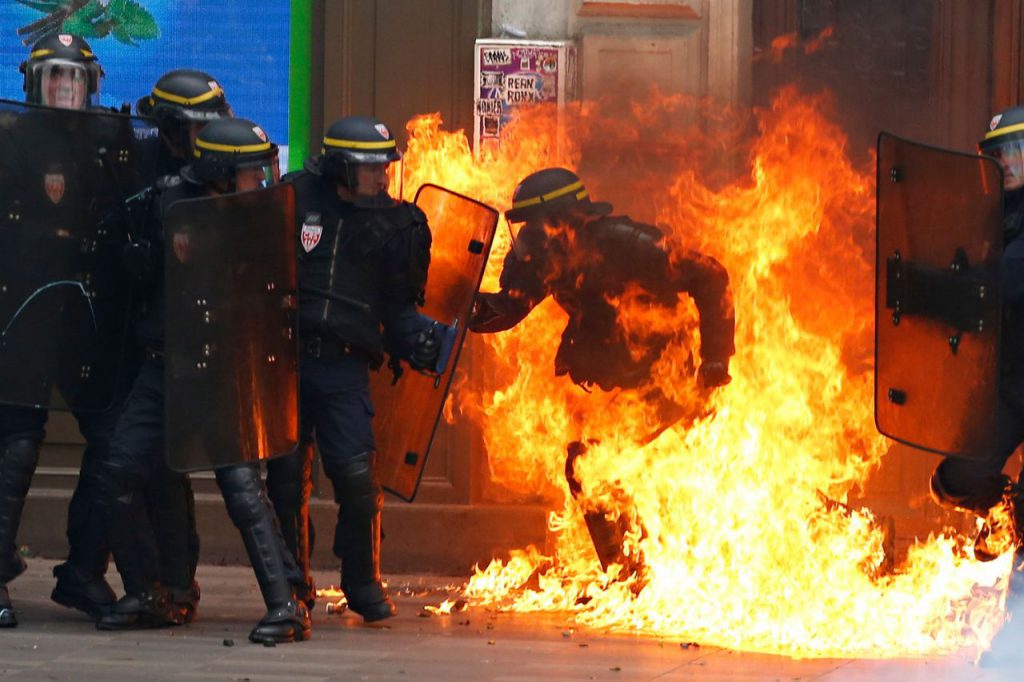 Paris: inflamed desire
Bretagne: windows of Front National offices smashed after having been tagged earlier in the week
And windows will know the perfume of the stone and of morning's air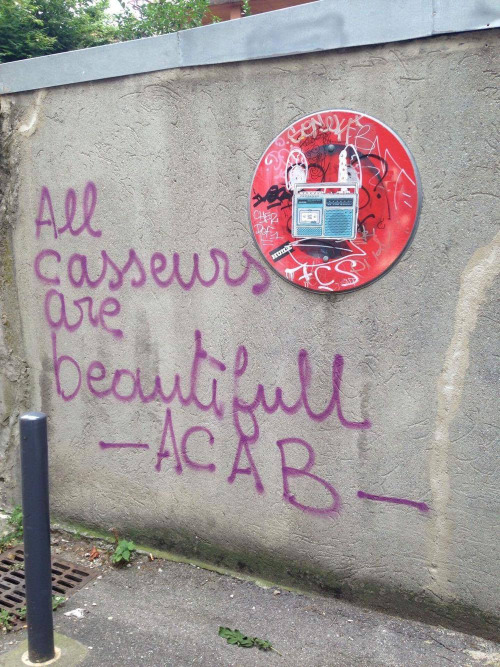 US, Washington DC: anti-pipeline activists occupy Ministry of the Interior
Italy, Piacenza: striking worker killed on picket line
14/9/16:
South Africa, Cape Town: fifth protest at fifth school in as many days as pupils rebel against drug-tests See here for report on the four others.
UK: report showing that 50 vehicles are torched every day
France, Metz: buildings of  bosses' organisations covered with waste engine oil and graffiti attacking labour law
13/9/16:
Mexico, Ecatepec (Mexico City's huge suburb in neighbouring State of Mexico): Explosive-Incendiary Sabotage of Police Vehicles (communiqué in Spanish)
Germany, Hamburg : estate agency attacked (communiqué en German; in French here)

South Africa, Mpumalanga: decision to purchase R1.5-million car reversed after protests
French Guyana, St Laurent: sub-prefecture set on fire as riot erupts following violent arrest of young man for drink driving "During the arrest, the dogs accompanying gendarmes bit one of the family members who was hospitalized. Angered, Fabrice's family then went to the police to demand an account without receiving explanations. At 7pm, spirits began to intensify and tires were burned outside the police barracks. Glass bottles were also thrown at the police. An hour later, the police tried to disperse the crowd by launching tear gas. Young people from several neighborhoods of St. Laurent retaliated by throwing molotov cocktails. During the clashes, the father of Fabrice claims to have been beaten by the police. During the night, a fire was then said to have ignited at the sub-prefecture. A fire which was brought under control thanks to the intervention of firefighters. The damage is significant. Cars were burned, windows broken and several shops were damaged. The pharmacy, located near the cemetery, was also burgled. There is no market in the town today. In a statement released on Wednesday afternoon, the prefect announced that the sub-prefecture will remain closed until further notice because of the damage it suffered."
US, Dakota: Facebook censors mass arrests of pipeline protesters
France, Drome: cops and firemen ambushed as 50 or so youths burn closed kindergarten The video accompanying this report tries to make out that it was a gratuitous attack on a kindergarten, even though it had been closed for several months pending its proposed transformation into a library. But what can you expect from journalists?
China, Guandong: heavy clashes with cops as villagers protest arrest of mayor "…the village was now in police lockdown, and that internet connections were down. Videos obtained by Hong Kong's RTHK from villagers show hundreds of police in riot gear confronting at least several dozen villagers marching with Chinese national flags on Tuesday morning….the police had used tear gas and rubber bullets in the operation. …The RTHK footage also showed villagers throwing rocks at huddled ranks of police equipped with riot shields….In 2011, Wukan made international headlines when villagers ransacked the police station and government offices in protest against landgrabs and corruption. After months of demonstrations, the government fired the former village chief and villagers voted in many protest leaders." 

Another video here
Regarding this struggle, our friend Lao She (Old Snake), who knows China, sent us the following text, rich in details:
Wukan: strength and weaknesses of the opposition to the expropriations in rural China
To understand anything about the latest riots in the village of Wukan, you must first understand what the characteristics of land tenure in mainland China are, characterized by the absence of private ownership of land. In essence, it is still based on two forms of ownership, established at the time of the formation of the Maoist state. The first is based on state property. Only the central government can dispose of it. The second is based on collective property. Local authorities can manage them within the areas under their control, the villages forming local bases of the statist pyramid whose summit is based in Beijing. In other words, land is no more commodified than it was in the days of Mao. Nobody can sell or buy it. On the other hand, depending on the extent of their respective powers, the authorities may authorize its use and distribution. In principle, unless authorized by the central government, the authorities in rural areas cannot expel farmers unless they, due to poverty, cannot develop the plots they lease them. Which, with the accelerated expansion of market relations in the countryside happens increasingly in huge proportions. In coastal villages like Wukan, it was not so much the case, at least not to the same extent as today.
The extensive riots of 2011 broke out precisely because the mayor of Wukan, and his associates, with the aim of renting out the fertile and more or less valuable communal land to developers, tried to drive out the villagers, unleashing their particularly brutal militia against them. That's why, in Wukan, as indeed in a lot of other villages in China, they brandished the banner of the fight against corruption as well as the red flag, a symbol of the collective ownership of land in their eyes – an illusion in my opinion – as their last line of defence. In 2011, given that the situation was becoming increasingly tense throughout the whole of Guangdong Province, the birthplace of "market socialism, and that the fierce resistance of Wukan was turning into a symbol, Beijing put pressure on Canton, the seat of the provincial government, to freeze land transactions, remove the mayor, to imprison and torture him, as well as members of his clan, in the special prison in the provincial capital reserved for corrupt local cadres, and to speed up the organization of municipal elections, scheduled by the 1987 law (!) which allowed those who had no party political affiliation to access municipal functions, including that of mayor. So it was Lin Zuluan, who had been appointed by the villagers to negotiate with Canton, presented by our democrats as "the leader of the revolt," who ascended to the post and tried, from there, to domestic the goat and the cabbage.
Today it is the same Lin Zuluan who is on trial for corruption in Canton and, of course, in the tradition of the Moscow trials and those of Beijing, has confessed to his "crimes." I do not know to what extent he has "dipped his long chopsticks in the soup," as the Cantonese put it. For those who know China and the mores of the members of the current "celestial bureaucracy", from the bottom to the top of the pyramid, it would not be surprising. Anyway, the repression that strikes Wakun today is not contingent. The central government and all the bureaucrats involved in the provinces have decided to end the policy regarding concessions to those people they found difficult to deal with, who had tried to set up the previous team residing in the vicinity of the Forbidden City. As stated by the current Secretary General of the Party, during his inauguration speech on "market socialism", there is certainly a "market", but especially "socialism." In other words, unrelenting coercion applied to all individuals who do not accept the yoke. Wukan was, somehow, the symbol of "local democracy" concomitant to the previous phase of "market socialism". Which resulted, as elsewhere after a few years, in the ruin and accelerated impoverishment of hundreds of thousands of villagers. This led Lin Zuluan to sell communal land, already vacant or about to be, to developers, including those originating from Hong Kong, very close. It is against the resumption of such expropriations, where the role of the corruption of local officials from Wukan may have been negligible, that the villagers protested, more radically, at least in terms of form, because in terms of content the same limits, based on the defence of collective ownership and the red flag, quickly emerged. Sometimes associated with portraits of the Great Helmsman. In this sense, the mayor, Lin Zuluan, seemed to the villagers as the guarantor of the status quo. But the status quo is no longer a possibility for the state. The steamroller of "market socialism" is freewheeling ahead to crush the least resistance. Such is Beijing's current objective. Wukan acted as a symbol of the earlier precarious compromise. So Wukan must be annihilated. We'll see in the near future, in Wukan and elsewhere, if the wretched of the Earth in China can break with their own illusions and end the Chinese version of statist ideology which has been hampering them for generations.
Lao She (Old Snake), September 2016
PS: For further questions, please visit the site of "La Discordia" and its  pages devoted to the discussion of revolts in China today, January 2016 (in French): Programme de décembre 2015/janvier 2016 et discussion "Des révoltes dans la Chine d'aujourd'hui" ( December 2015/January 2016 programme and discussion "Revolts in China today ") 
[translation from the French by SF]
12/9/16:
Spain (A Lama prison) : combative prisoner José Adrián Poblete Darre in solidarity with a collective of prisoners' mums' victims of repression  (in Spanish)
France, Argentière-la-Bessée, Alps region : locals demonstrate against overhead power lines, steal material and do some sabotage: 5 arrests …and lots of raids in personal homes afterwards…Vivonne: a hundred or so prisoners  revolt and set fire to part of prison More here "A dozen cells were destroyed"
US, Florida: prisoners take over dormitory "These riots will continue to increase in frequency, increasing the likelihood that our corrections officers will be injured, said Kimberly Schultz, president of Teamsters 2011, the union representing FDC's officers. She said that prisoners have assaulted 30 officers since April and that one prison, Franklin, has had three inmate riots this year alone."
11/9/16:
UK, Rosyth (Scotland): wildcat strike sparked off by aircraft carrier electrical workers
Chile, Santiago: confrontations with cops on anniversary of Pinochet coup…Communiqué in Spanish by "rebel delinquents and anarchist vandals" claiming barricades and street fighting against cops during the night in Lo Prado, a Santiago suburb…See "chile: the Allende years" for a reflection on what happened in the early '70s leading up to the coup, and also this about how Allende collaborated with his own demise.

Italy, Catania: fights with cops at protest against PM's visit (video here)
Switzerland, Chiasso: about 40 acts of international vandalism against buildings on wildcat demo against Swiss anti-migrant policies
France, Toulouse: 5 vehicles belonging to companies involved in prison construction have their tyres punctured
10/9/16:
Germany, Neurath: sabotage of signalling control as part of struggle against coal transport railway line (communiqué in German)…translation in french 
9/9/16: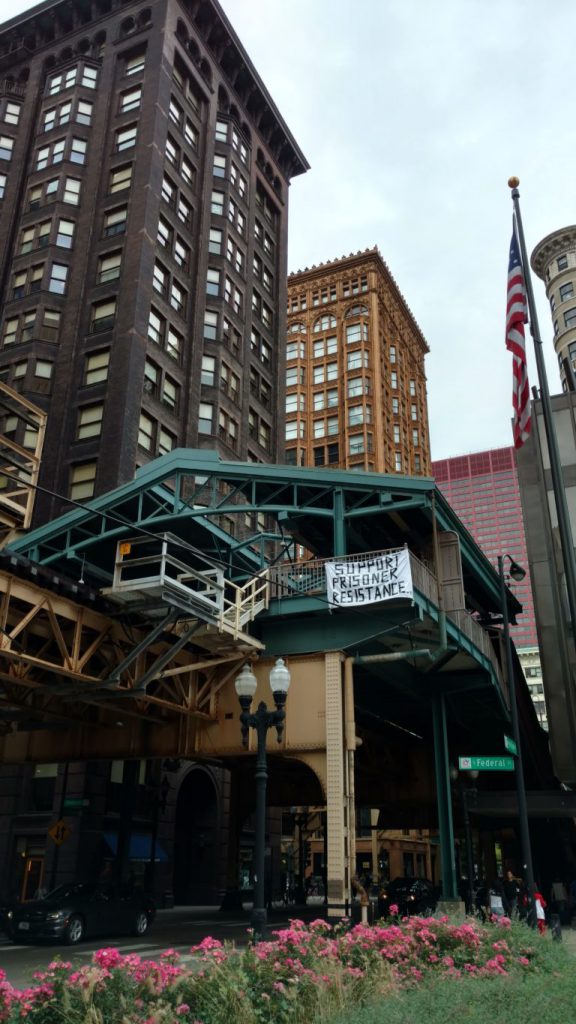 Chicago
US:  prison strike in 24 states and 40 prisons… More here and here
The friend who sent the following said "hard to tell how connected it is but I guess we'll never know":
Mayo, Florida This article also references "pockets of inmates refusing to work across the state". Also this reports "smaller [disturbances] were reported in a number of other prisons across the state".
Bristol, Florida (yet another Florida panhandle prison).
Marquette, Michigan    Site of this previous food strike
Tecumseh, Nebraska (in anticipation of sept. 9?)
Waterville, Nova Scotia, Canada
Guantanamo Bay ("small number of men at Camp 6 are continuing their hunger strikes")
This is from here:
A few women incarcerated people refused to work and because of the nationwide prison strike, and fear of an uprising, the prison was locked down stopping ALL slave labor!
And this references "confirmed strikes underway in Florida, South Carolina, and Texas".
More snippets of information here.
Zimbabwe, Harare: clashes with cops Still dominated by the official opposition parties.
Dominican Republic, Santo Domingo: access roads to university blocked with burning tyres, stones and garbage in movement demanding increase in state budget for the university…residents in popular area burn public transport vehicle after unarmed drug dealer is killed by cops
Democratic Republic of Congo: police station burnt and cars smashed in riot following cop killing of bystander with "stray bullet"
Colombia, Cauca: indigenous trying to liberate "mother earth" in clashes with riot cops; one cop shot,  2 indigenous shot by cops "10 days ago serious damage occurred at the Hacienda 'Garcia Top…According to the complaint made that day by the owner of the hacienda, indigenous indians destroyed appliances, caused damage to the house and burned a vehicle and two motorcycles."
Venezuela, Bolivar: looting and rioting after cops kill youth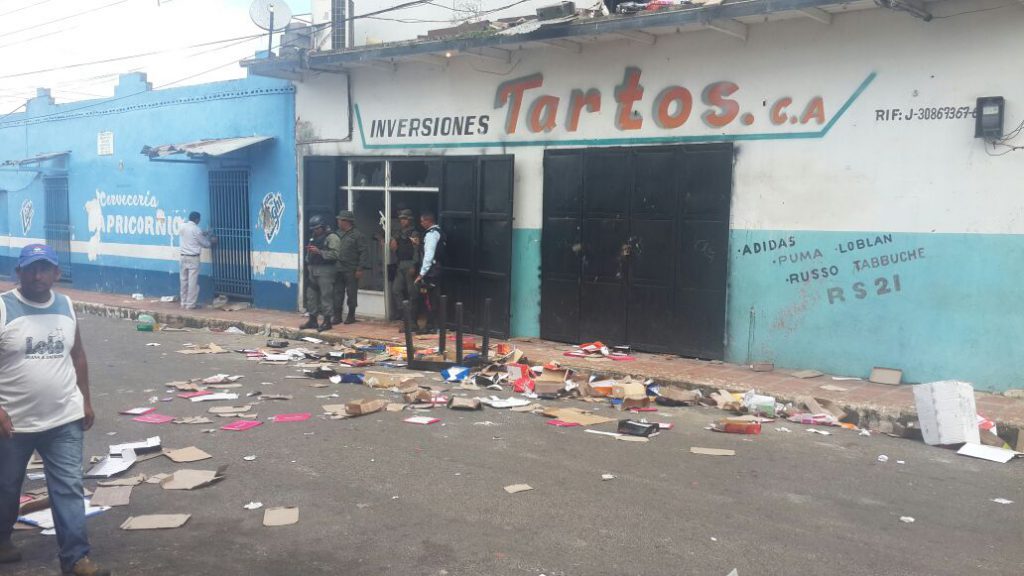 looted shop in El Palmar, Bolivar, Venezuela
8/9/16:
Brazil: autonomous actions during movement against recently elected President A text by Brazilian anarchists give some context for these actions. It has lots of pictures of actions in large Brazilian cities  For a translation in English (with no pictures), see here ("Why some anarchists are in the streets even if nobody called us").
Chile, Santiago : high school students clash with cops for "Black september" and in memory of Claudia López, a female anarchist killed by police on september 11th 1998 See also this, about Chile's Allende years
Mexico, Ostula, State of Michoacán : Ostula community members reactivate roadblock against narco and mining threats   This communiqué is rather ambiguous, since it calls for the respect of the community's traditional authorities and autonomy, but also asks the State to fullfill its role in the fight against the "Caballeros Templarios" Cartel. This illustrates how the project of indigenous' communities' "autonomy" is often (and has often been in the past) compatible with the existence of the State. (Note by Pi)

South Africa, Cape Town: evictions temporarily halted after tourist market occupied…Western Cape: students launch arson attacks as warning to authorities to cede to their demands for a transport allowance and other things

Honduras, Tegucigalpa: occupation of admin building of university in protest against privatisation leads to clashes with cops
Germany, Magdeburg: police cars destroyed in £630,000 arson attack
7/9/16:
Iran, Teheran: students and workers in separate sit-ins
South Africa, Boksburg: 100 people attack police station demanding immediate release of comrades, days after pigs were made to squeal in outrage when people in the same area attacked them as they raided illegal saloons
US, Florida: at least 4 prison dorms barricaded "The action is believed to be part of a nationwide prisoner strike planned for September 9 in observance of the anniversary of the Attica Prison riot that occurred at Attica Correctional Facility in Attica, New York in 1971." More here.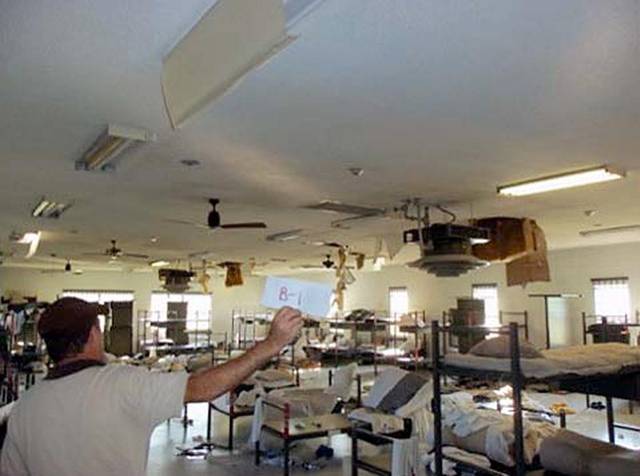 See these pages (1,  2,  3 ) about Attica, 1971 (scroll down to the last paragraph of page 1 for the start). "We, the inmates of Attica prison, say to you, the sincere people of society, the prison system of which your courts have rendered unto, is without question the authoritative fangs of a coward in power" – The Popular Manifesto of Attica, September 1971.
Chile, Valvidia: lots of demonstrations and barricades against Fishing Act which favours big industry as against small fishermen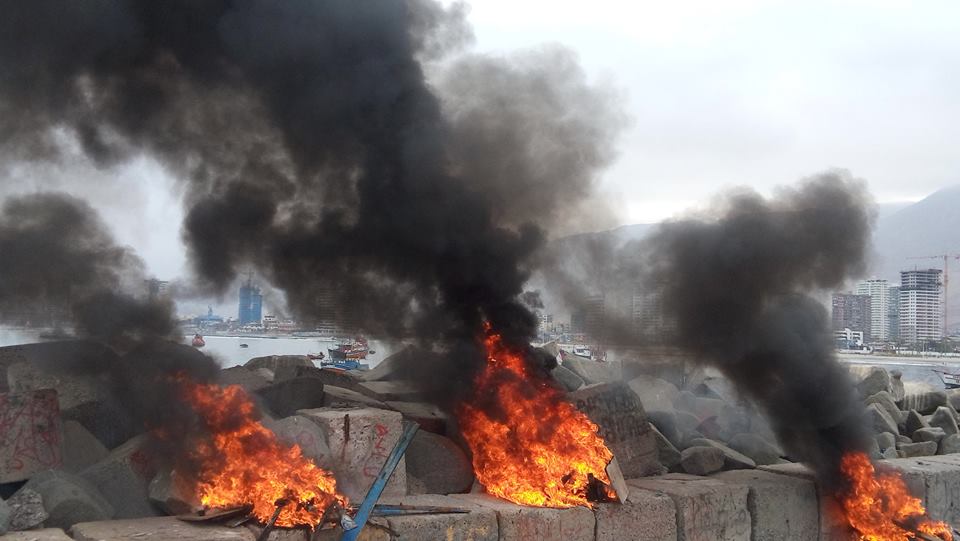 Valvidia barricades
South Africa, KZN: another campus building set alight 
Sweden, Södertälje: reactionary report of 2 nights of riots; 150 cars burnt this year in this town of just over 84,000 people
France, Savoie: 8 prisoners refuse to return to their cell, attack guards, destroy bathroom, burn dry grass
6/9/16:
US, Michigan: prison incorrections officer stabbed, another hurt…South Dakota : lockdowns continue against the Dakota Access pipeline
France, Essonne: arson attack on future detention centre for migrants 
South Africa, KwaZulu Natal: heavy clashes with cops at university over fees increases "The senate building and six vehicles outside the Westville campus were set alight at about midnight. University spokesman Lesiba Seshoka said students were arrested following the burning. "The damages run into a couple of millions of rand." Student protests also turned violent at the Howard college campus and Pietermaritzburg campus with the stoning of property and barricading of roads. The torching and unrest comes exactly a year after protest action and fires at the campus in September last year' which caused an estimated R80m in damages."…Here for more background info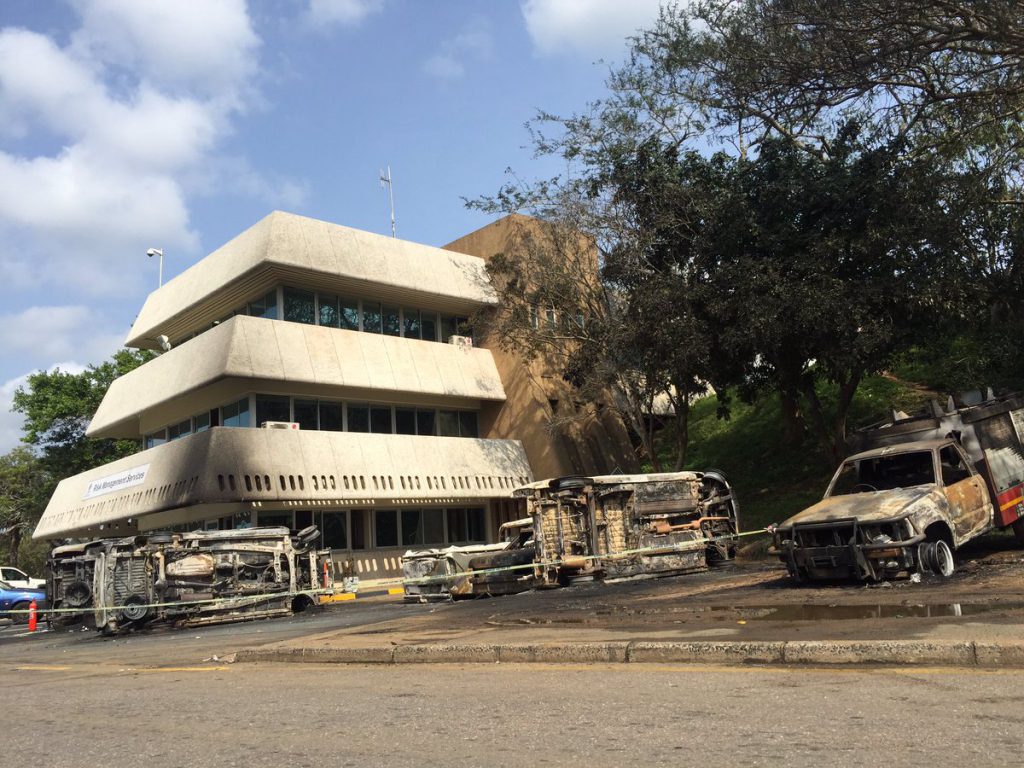 Westville campus, KwaZulu Natal
…Gauteng: evicted land squatters block roads with burning tyres & stones
Panama, Panama City: clashes with cops as indigenous try to march on Presidential Palace in opposition to dam construction
UK, London: small City airport runway occupied by Black Lives Matter; flights disrupted "nine protesters had erected a tripod on the runway and locked themselves together."…Firearri
5/9/16:
South Africa, Mamelodi: bus burnt in anti-eviction action…Western Cape: classroom torched during protest against fines for being late "…children protested against a R5 penalty for arriving late. The group set a classroom and rubbish bins alight, hurled stones at the building, and broke the windows of a classroom where Grade 12s were writing their exams. Cars parked on the premises, including that of the principal, were damaged and learners allegedly threw stones at the police when they arrived." More here. "The pupils say they have also been fined R500 for urinating or defecating at the school when the toilets were locked…Governing body secretary and teacher Vusi Mahobe confirmed pupils were fined at the school as a rule. He said the rule for late-coming was instituted this year, but there was no proper consultation process. Pupils targeted Mahobe's car as well as the school 
principal's yesterday, damaging the vehicles. Mahobe said parents had recently questioned the rule but their queries fell on deaf ears….The school's Learner Representative Council (LRC) wants this practice scrapped or they will continue protesting indefinitely, disrupting classes and damaging property in the process."
US, Nebraska: fire to the prisons… Arizona : Fight to Protect sacred O'odham mountain continues

Brazil, Brasilia: landless occupy government Planning Ministry "Dubbing their protest the "cries of the excluded", Brazil's Landless Workers' Movement (MST) and other farmers' groups occupied the office of the Planning Ministry in central Brasilia, the MST said in a statement. "The demand is for the immediate settlement of more than 120,000 families (living) in encampments throughout the country"
4/9/16:
Canada, Nova Scotia: 5 prison staff hurt in "mélée"
Switzerland, Basel: 5 cops surrounded by 200 and attacked with bottles
Benin, Cotonou: cop 4X4 vehicle destroyed by fire This happened after people got furious over the death of a motorbike-taxi driver caused by cops deliberately running into him after he drove the wrong way down a one-way street; local people covered the roads with burning tyre barricades until dispersed by tear gas grenades.
3/9/16:
US, North Dakota: clashes as indigenous population resist destruction of their land by $3.8bn pipeline construction "… construction crews destroyed American Indian burial and cultural sites on private land in southern North Dakota….four private security guards and two guard dogs were injured after several hundred protesters confronted construction crews at the site just outside the Standing Rock Sioux reservation. One of the security officers was taken to a Bismarck hospital for undisclosed injuries. The two guard dogs were taken to a Bismarck veterinary clinic….Tribe spokesman Steve Sitting Bear said protesters reported that six people had been bitten by security dogs, including a young child. At least 30 people were pepper-sprayed". ...More about the dogs…See this for background information. And this, which has an interview with those involved in this resistance (scroll down to page 6).
France, Montelimar: youths stone cop cars and fire engines as 3 cars, 4 bins and a tree are set on fire in 3rd ambush of the week…Nimes: 6 refugees escape from detention centre, 4 re-captured
Italy, Brescia: cops and cop car surrounded by about 30 people who smash window and chuck stones etc.
2/9/16:
Greece, Zografou : all of the Town Hall's vehicles burnt – communiqué (translation in Spanish) 
US, Nevada: VIP section of Burning Man festival sabotaged "A group of revellers stormed through the event's White Ocean VIP camp, which had become the home away from home for celebrities like Nina Agdal, Katy Perry, and sisters Cara and Poppy Delevingne over the weekend …Burning Man organisers claim the vandals cut electrical cords, glued doors shut and dumped hundreds of gallons of water throughout the site just before the event began"

France, Grigny: cop car smashed up as cops get attacked by about 20 youths…Isere: 20 classes at Middle School smashed up as France returns to school "Computer equipment, tables, completely shattered doors as well as broken windows and tags on the walls…The damage is estimated at around 50,000 euros"…  Millau : opponents of Foreign Legion installation and other opponents of wind turbine projects in nearby area disturb officials' meeting by throwing documents through the window and fruit at bureaucrats Unfortunately it didn't stop the aformentioned bureaucrats' dirty work…Calais: report saying that each night migrants put up 25 to 30 blockades on the roads…professional liars of the Daily Hate Mail almost killed by refugees' ambush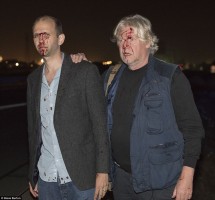 Daily Maul
Argentina: road blockades as Union-dominated demos against austerity measures spread throughout country
Canada, New Brunswick: protesters against threat to fish due to natural gas storage occupy Minister of Fisheries and Oceans'  office
Belgium, Gosselies: about 60 workers seize Caterpillar factory equipment, including excavators, block factory and tell journalists to leave as company announces closure and transfer to France
India: strikers and cops clash (though hardly) as up to 150 million go on official strike for increases in minimum wage and against neoliberal policies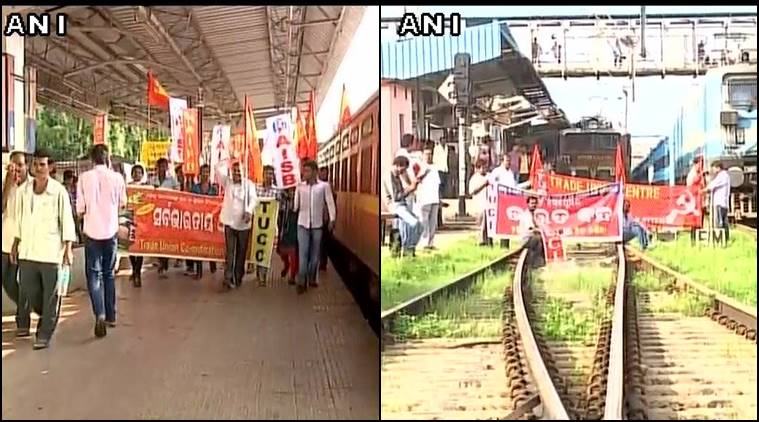 workers occupy line at Bhubaneswar railway station in Odisha
More here: "Television footage showed flag-waving protesters squatting on railway tracks in the states of Orissa and West Bengal, which has a long history of left-wing union activism. More than 20 protesters were arrested after they damaged two government buses in West Bengal". Sporadic clashes in Kerala. And more here. Considering what 150 million people – apparently the largest strike in human history – could do if they weren't so timid, these rare instances of illegality seem rather sad. The day seems just like some jolly good show of opposition for the Trade Unions, and yet the government was so unconcerned by this strike that they could decide that  a nurses' strike was illegal and not encounter any solidarity from other workers (so far)….Meanwhile, a new weapon of brutality is added to the state's arsenal…Imphal: school vandalised by parents after boy's death through neglect
Germany, Hamburg: cops attacked with chairs and hair dryer at migrant centre…Berlin: sit-in in front of Ministry of Labour… also a demo in a shopping mall…ends in clashes with cops "Leftist demonstrators rallying against "exploitation, social division and exclusion"… threw stones at police in the area surrounding Ministergarten Street, not far from the German Ministry of Labor and Social Affairs… Some demonstrators also threw firecrackers and smoke pellets….In another incident, a large group of protesters tried to break a police cordon and eventually were engaged in clashes with police officers. Police had to use tear gas to disperse the protest."
1/9/16:
South Africa, Nelson Mandealer University: hundreds of workers walk off the job over working conditions

France, Paris: Socialist Party offices wrecked by about 50 masked people in the late afternoon…Calais: more clashes between refugees and cops
Gabon, Libreville: heavy clashes with protesters after parliament is partly burnt following rigged election of son of country's dictator for over 40 years Once again, obviously when an election is rigged opposition political parties will participate and maybe even dominate protests since they're the ones who lose out when there's no "authentic" bourgeois election bollocks; nevertheless, there are almost invariably independent elements who just hate the regime.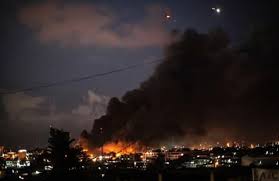 a warm welcome for the new parliament
Malawi, Thyolo: villagers occupy tea estate stolen from them
Australia, Perth: mini riot in juvenile detention centre "The Department of Corrective Services' special operations group were brought in and used flash bombs and pepper spray on four males aged 17 and 18 who barricaded themselves in a wing of the Banksia Hill centre on Thursday. The detainees smashed windows and pulled doors off cupboards, the fridge and oven and the centre was in lockdown from 12.55pm to 2.30pm, according to the CPSU/CSA union, causing up to $150,000 damage. A similar incident occurred on Monday when three teenagers barricaded themselves inside a unit and smashed a television and furniture."
Sweden, Trollhättan: cops and municipality hold talks following 2 nights of mini-riots"Violent clashes between locals and police have hit the town of Trollhättan in southwest Sweden for the second consecutive night. Firecrackers and stones were thrown at police cars while several bus stops were damaged, local media reported. About 40-60 people, some of them wearing masks, took part in the Thursday clashes…"We haven't seen trouble of this kind before. There hasn't been anything expressed directly other than that people don't like a police presence in the area," Lennartsson said. The city of Trolhättan, in particular the Kronogården area, were earlier mentioned in newspapers as the city was called the most highly segregated city in Sweden. Half of the population in Kronogården is said to have been born abroad. "
Eire, Dublin: 2 cops attacked by gang of youths
Greece, Athens: tags and ATMs blocked as part of international solidarity with imprisoned anarchists 
UK, Derbyshire: Jaguar Jaguar burning bright in the forest of the B&Q car park