"April is the cruellest month… mixing memory and desire, stirring dull roots with spring rain."

– T.S. Eliot,

The Waste Land 
The Romans gave this month the Latin name Aprilis but the derivation of this name is uncertain. The traditional etymology is from the verb aperire, "to open", in allusion to its being the season when trees and flowers begin to "open", which is supported by comparison with the modern Greek use of άνοιξη (ánixi) (opening) for spring. Since some of the Roman months were named in honor of divinities, and as April was sacred to the goddess Venus, her Veneralia being held on the first day, it has been suggested that Aprilis was originally her month Aphrilis, from her equivalent Greek goddess name Aphrodite (Aphros), or from the Etruscan name Apru. 
30/4/17:
France, Seine-St.Denis: Vinci (involved in prison construction, etc.) utility burnt, tyres of Sodexo (prison food supplier), Engie (main gas supplier) & JCDecaux (involved in prisoners' exploitation) punctured in solidarity with anarchist prisoners

pdf in French of text in solidarity with these prisoners here
28/4/17:
Brazil: banks trashed, roads barricaded, etc. in Rio & Sao Paulo, as teachers, bus drivers, healthcare providers, oil industry workers & public sector workers join general strike against austerity "The shutdown was not total. In Rio, bus and metro companies ran a reduced service. Most shops and banks remained open. But students were told to remain at home and there were skirmishes between protesters and police at Santos Dumont airport and the main bus terminal. São Paulo was hit harder, with a shutdown of many bus lines and fierce clashes on the road to the Congonhas airport." More here "Friday night a group of protesters advanced on the Sao Paulo neighborhood where Temer owns a house. They broke up sidewalks and lobbed chunks of concrete at police trying to disperse the crowd with tear gas and flash grenades. Protesters also set some buses on fire…A congressional bill that would weaken labor laws passed this week in the lower house of Congress. Among the items on the bill, which will now be voted on in the Senate, are an end to paid overtime, the possibility of working under a temporary contract permanently, and the ability to lay off an entire staff and replace them with lower-salaried workers without any penalty to the company. "A controversial pension reform, which would set minimum retirement ages for men and women at 65 and 62, respectively, is also expected to be voted on next week." …Reformist report here about how the state is rolling back workers' rights "If the reform passes, it could eliminate the 8-hour workday, open the door for businesses to side-step labor legislation and collective bargaining, end the mandatory payment of union dues and further facilitate outsourcing….The neighboring apartment building recently outsourced the administration of its building to a company that pays the woman in her position only minimum wage, roughly $300 a month, a little over half of what Marlei makes. If they can do that without the reform, just imagine what they could do with it, she figures.The labor reform is being sold as the antidote to Brazil's worst recession since The Great Depression. Rising unemployment has tripled in five years, to nearly 14%."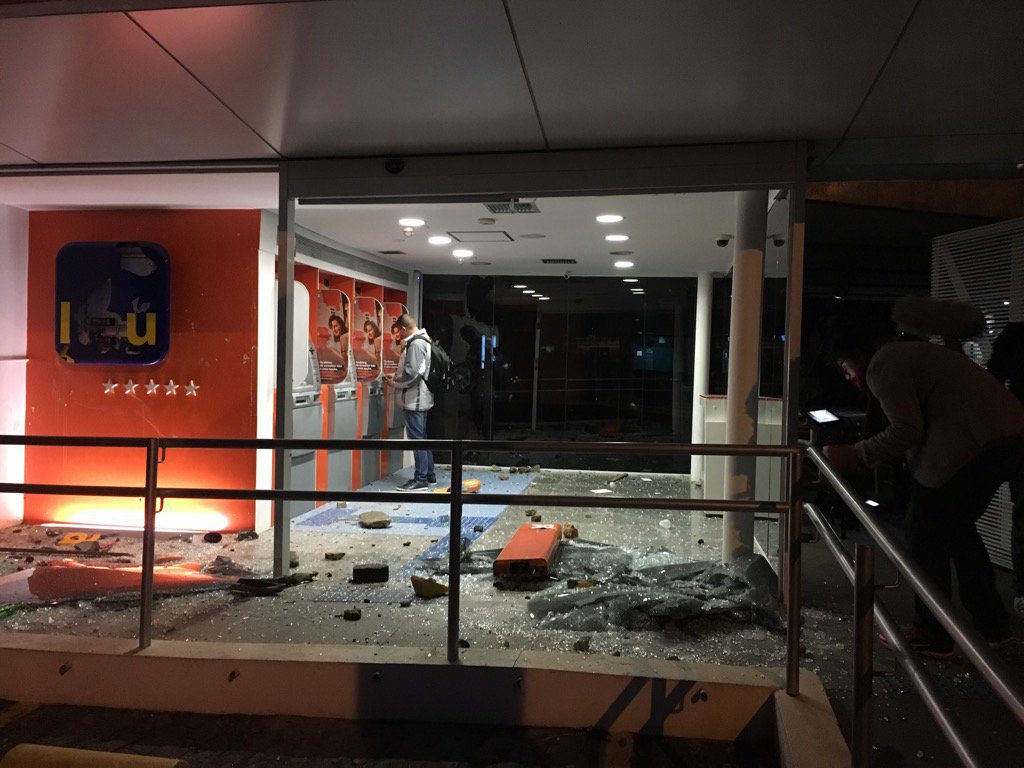 Above: Sao Paulo – trashed bank

Below: Rio – after hours of clashes with police in front of the legislative building, several buses were torched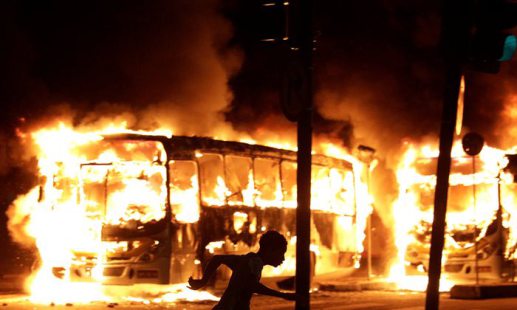 Zambia, Lusaka: government shuts down university after student riots over tuition fee hikes

27/4/17:
China, Guangxi: clashes with cops as local state tries to demolish homes to make way for haughty-culture exhibition "…the police were using pepper spray, police dogs and batons to attack protesters…the government had tried sending in demolition teams to raze village homes in Yongning on Thursday, running into determined opposition when they got to Liang village. The government sent in an estimated 1,000 riot police and other security personnel to deal with the protests, which brought around 6,000 protesters out onto the street…Villagers were also shown trying to hold off the police with rocks and flagpoles, while women and children were among those beaten. Liang village is now encircled by police checkpoints, and no vehicles are allowed to move through freely, local residents said." Video of cops being beaten back and more here "One villager posted on Weibo along with photos of bloody villagers: "The voice of the whole village says: first settle then demolish! First settle then demolish! First settle then demolish! But they ignored it, sent eight public buses and [a number of] police cars without license plates to the village to make trouble – they won't even let children and elderly people go! Many children were beaten by electric batons…"

France, Paris: clashes as 4 high schools are blockaded in protest against election
"
Four high schools were blocked this Thursday morning in Paris and six others partially.
Blockade put in place by high school students mobilized against the candidates present in the second round of the presidential election.
…
barricades were erected with rubbish bins and electoral panels.
A banner saying "Neither Marine
[Le Pen]
, nor Macron, neither country, nor boss" was hoisted on the barricade.
…
Several hundred people then gathered in the Place de la Republique, at the start of a demonstration that was to head towards the Place de la Nation.
A part of the procession finally turned towards the Place de la Bastille.
Clashes took place in the square and near Boulevard Beaumarchais, in the middle of the traffic that had not been cut.
Protesters then threw bottles or stones at the police, who responded with tear gas.
On the way to the procession, several bank branches were vandalized and tagged with the same anti Marine Le Pen and anti Emmanuel Macron slogans."
More here
in English.
"Mobs of angry protesters also smashed the windows of local businesses, while one business shop window was emblazoned with the message "neither banker, nor racist" in apparent reference to both candidates."
…Rennes:  cops teargas high school students
"
Teenagers in Rennes and other French cities have held rallies or blocked schools in a protest against both presidential candidates…about 1,000 people came out in the western city to chant "neither Le Pen nor Macron".Riot police used tear gas to stop them reaching the historic city centre."
Guinea, Boke: 4th day of anti-mining riots; 1 killed""Shooting broke out again today because the police were patrolling and there were clashes. Young people have begun to erect barricades again," said Mamadou Diallo, a resident of Boke.He said he had seen several people with gunshot wounds being treated in a local hospital….Demonstrators burned three vehicles belonging to SMB but mining operations picked up again by Thursday"
26/4/17:
Guinea, Boke: 17 wounded by cops as resistance to mining and protest over lack of electricity continues
"

In  the TP neighbourhood this morning, the Coumbassa family was attacked.

His crime: to give lodging to a gendarme who serves in the city.

A crowd stormed the Coumbassa family's concession and destroyed "the big house and the annex".

"A member of the family was wounded there and the same people promised to return at night with gasoline to set it on fire," a source of the family, inconsolable.

The population of Boké demand  electricity supplies in their homes.

Yesterday Tuesday, several buildings   and gear belonging to the EDG mining company  were ransacked."
France: top cop complains that cops are no longer respected/feared "There is no respect for those wearing  uniforms. Part of the population, certainly a minority, seeks confrontation with authority at all costs  and often refuses ID controls" explained Philippe Capon, the boss of Unsa-police. In the neighborhoods, "work is becoming infernal". Should be pointed out that this in response to  only an increase of 1.2% in such attacks. In the 70s and 80s there was considerably less respect for/fear of uniforms than there is now. Far too many people seem to think that France is permanently in a state of insurrection when it's very very far from the case (for the moment, at least).

Sweden , Gothenburg: 2nd night of riots  "Police say the rioting originally started on Saturday evening when they were attacked by several "youths" who threw rocks at them. The officers decided to increase their presence the following day but were attacked once again in the evening by more young men, this time armed with Molotov cocktails…Hammarkullen is considered one of 55 no-go zones where police are not welcome and are often attacked. In December last year, police had to use a helicopter and special police forces to return order to the area after multiple cars were set on fire."
 "The fire destroyed several apparatuses and structural parts of the lower floors of the laboratory. …The amount of damage is around half a million euros.  Cryptolab is a laboratory of industrial mathematics and cryptography created in 2010 that conducts cutting-edge research in the field of data and information security, in particular banking (electronic payments) or computer science. It works in close collaboration with national partners, such as the Ministry of Defence, which appeared on one of the lab's promotional brochures in 2015, or internationally, such as the State of Israel through the Bruno Kessler Foundation, to create armaments intended for the "management of urban security" …"
France, Corsica (Ajaccio): clashes at Le Pen rally
It seems
that most of this attack comes from Corsican nationalists, though below the photo showing criticism of Le Pen for being pro-nuclear is an unusual stance for those who want an independent Corsica.
US: anti-war demos in at least 12 cities following intervention in Syria
…
Florida: anti-war demonstration clashes  There's a list of links to English language reports here on this French language site. It seems that this demo largely involved various types of maoists, including those of the RCP. A contact writes: "The minimal number of hand-made signs versus the sea of identitcal paper slogans cranked out by the Organization, and the banner "Refuse Fascism", with its apeal "In the Name of Humanity…" –  a humanity from which the Maoists have done a better job of subtracting than anyone else – confirms the growing power of this best and most well-financed …of the bureaucratic left, an archaism brought back to life by the return to archaic conditions in society.  One notices the complete absence of anarchist signs or those of the other tendencies as well…downright monolithic; positively stone-age….I just found the same Maoist signs masquerading, or being taken as the new normal for protest, on the NYT Charles Blow editorial page. This is what the RCP is succeeding at now, becoming the face of modern protest for an amnesiac America."  Later, the same contact wrote: "I just got a much better screen-grab of the demo in Jacksonville (FL) and it is now clear that the sea of yellow signs are not those of the RCP (whose banner nonetheless leads the demo), but those of Workers' World – the /other/ Stalinists, whose nationwide presence has so far been less prominent. Also curious (sanctioned by whom?) are the numerous Syrian flags. An article I saw after typing-in 'anti war demonstrations in Florida' gave me another story, that there were counter demonstrators with whom the anti-war demonstrators had been fighting. That notwithstanding, what I have seen so far (there is more to be seen that I haven't yet) shows cops attacking the demonstrators, and not counter-demonstrators….A third group, featured in the RT version of events in Florida. Ramsey Clark has long been a fixture of pro-ML politics here, but this is the first time in a long while I've seen his outfit featured prominently in the news. The graveyard of leftism is coming back to life."  And this affirms that the "International League of Peoples' Struggle", a Maoist front behind the International Action Committees, are significantly involved in these demos against the bombing of Syria. For a critique of Maoism in practice see this…. For a good comparison of intervention in Syria and in Libya, see this….For a statement from Syrian and Iranian "Socialists"  see this (which is not   in any way to endorse the political perspectives of this group)… For a reminder that every idiot's "favourite UK Prime Minister" was in favour of chemical weapons, see this….
France, Guyana (Cayenne): commissioner of police seriously injured during violent confrontations as strike leaders are refused an audience with the prefecture, the first expression of anti-state violence since General Strike began 3 weeks ago
"

A commissioner was injured, tear gas was used by the gendarmes. 

…"…

The commissioner is seriously injured, "said a policeman at the megaphone from the front door of the prefecture, barricaded.

"Heavily wounded at the collarbone", this man remained "unconscious on the ground for about ten minutes" and "we were forced to use tear gas to extricate him"…

Several other policemen, as well as another commissioner, are "slightly injured" after being beaten, according to Laurent Lenoble, who described the violence as "unacceptable."

The collective has "taken a turn" which is "far from respecting republican values" and it "is discredited", he regretted. 

According to a member of the collective "Pou La Gwiyann ​​dékolé" (for Guiana to take off), which had organized a rally in front of the prefecture since mid-afternoon to demand that its demands be taken into account, the "500

Brothers against delinquency ", a group whose hooded members supervise the demonstrations, made a cordon in front of the policemen.

But the crowd managed to beat them up.

"
Check out the entry for 4/4/17 for some nuanced comments.

France, Essonne: 6 screws injured in youth section of prison  This attack at Fleury follows demonstrations by screws in front of prisons in Fresnes (Val-de-Marne) and Bois-d'Arcy (Yvelines) to protest against the assault of two of them in front of their home or on their way to work, poor things. The one at Val-de-Marne was recognised by former prisoners and ended up in hospital.

Overpopulation at Fleury  is 148.8% on average, which implies several people per cell with beds on the ground.
The situation is more critical in the men's quarters (171%) than in the women's sector with an average of 246 inmates.
Prison overcrowding is constantly increasing as the rate of occupancy among men was 150% in 2013 and 156% in 2014.  The state is planning to build well over 30 prisons, though inevitably these too will become overcrowded as, for obvious reasons, capital is forced to lock up increasing amounts of those they need to crush and/or to put to slave labour.
The screws have decided to go on strike against the counter-violence of those on the receiving end of state brutality. We should support such a strike as long as it continues for a minimum of 100 years.
Argentina, Buenos Aires: clashes with cops during general strike as demonstrators block main motorway
"
The one day strike action over cuts to government spending and rising prices saw transport services grind to a halt. Teachers, factory workers and other important public sector employees also took part in the walkout." More here (includes videos)"…national and international flights were canceled as well as public transportation during the 24-hour general strike, bringing a halt to activities in health, education, manufacturing, banking, garbage collection, and even some government offices...
They are protesting double-digit inflation, rising basic commodity products, cuts to services, and mass layoffs. The protests took place on the same day that Macri hosts the first World Economic Forum, in the high-class neighborhood of Puerto Madero in Buenos Aires. The event brings together politicians, bankers, businessmen, think tanks, NGOs, and representatives of other governments."
5/4/17:
France, Guyana: strike leaders occupy space station during general strike The reasons for this strike are multiple: unemployment, health conditions, judicial questions and, above all, lack of "security" (ie the high murder rate, which is largely being attributed to lack of border controls). So – for the moment – not essentially a radical strike at all even if virtually nobody is working…More here – which says that the state is offering an injection of 5 billion euros spread over 10 years (the strike leaders want 2.5 billion now), part of which will be used to finance a new prison and a squadron of mobile gendarmes! Pi writes: "

It is interesting to see how a very difficult social situation in a very unusual territory (developing from colonial France, which served for a long time as a penal colony, and which was sparsely populated: especially  communities of "marrons", former escaped slaves who

established isolated villages, and Native Americans) can also generate very restrained and "moderate" dynamics, where recourse to the centralist state, institutional funding, "security" etc.

a

re directly demanded."

(most of this is reproduced from our entry for 28/3/17)…Yvelines: 20 or so youths attack cops with stones

Philippines, Bulacan: Duterte, full of demagogic populist rhetoric,  backs off from threats to evict  thousands of squatting families
"Thousands of homeless families who faced eviction for occupying idle units in six government housing projects in Bulacan province last month are going to keep the houses after all. President Duterte on Tuesday said he would give members of the urban poor group Kalipunan ng Damayang Maralita (Kadamay) the government houses in Bulacan, and asked military and police personnel, supposed to be the original beneficiaries, to let go of the units. In turn, Mr. Dutere promised to build better houses for members of the police and the military by December, as he sought understanding for the poor. As of March 20, 5,262 houses had been occupied by Kadamay members…"Let's not trouble the people there because they're fighting back. Their only sin is really, they are poor like us," Mr. Duterte said at the 120th anniversary celebration of the Philippine Army in Fort Bonifacio on Tuesday. "I will give you better houses, more expensive, more comfortable and more spacious," he added. The President said he would supervise the new housing project for the police and soldiers himself and make sure these had running water and electricity. The tone of the President's statements on Tuesday was a departure from that of his statements last month, when he said the homeless families that occupied the Bulacan houses must follow the law or he would be forced to remove them from the area. "That's good. But it should be written down. They have to issue that document because that statement could be taken back anytime," Kadamay chair Gloria Arellano said. "We will not celebrate yet. We will not yet offer our gratitude …"
Venezuela, Caracas: clashes with cops as Maduro becomes increasingly dictatorial
This is largely dominated by the right-wing opposition parties, which does NOT, of course, mean, like most of the Left,  that we shouldn't oppose Chavismo or Murdurismo. But then the Left have never opposed anything fundamentally. About the only site from Venezuela with more or less an acceptable class perspective is "El Libertario", which  Leftist worshippers of Chavez and his heir  have (
in the past)
denounced  as "false anarchists" merely because they've supported certain elements of opposition.

3/4/17:
Rwanda, Kigali: prisoners riot just 3 days after previous riot
"

Inmates protesting living conditions at Gasabo prison in the Rwandan capital of Kigali hurled stones over the prison's walls on Monday, damaging nearby houses and disrupting traffic, residents and officials said. Rioting began on Friday when the prison, which houses at least 5,000 inmates, caught fire, according to residents living near the prison. Police used tear gas to stop the protest….Riots are rare in Rwanda. The United Nations Special Rapporteur on the Rights to Freedom of Peaceful Assembly and of Association has in the past described Rwanda as a nation where protests are not allowed."It was like 200 people throwing stones at the same time and when the riot police arrived, they kept throwing stones…They were hurling stones over there and it looked like hundreds of stones being thrown. You can see it, the window and door glasses have been smashed"