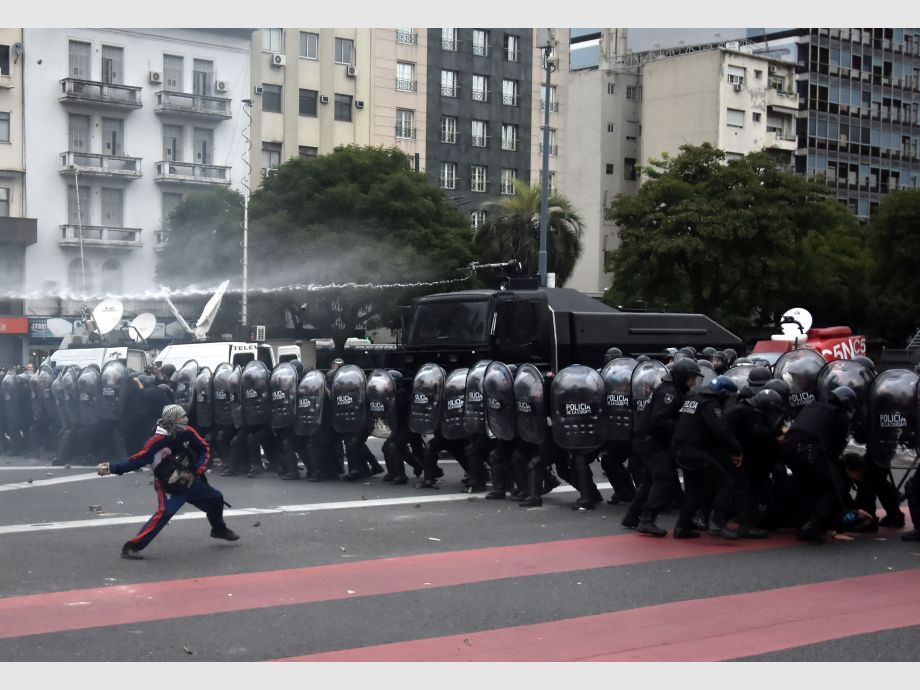 "August stared at her, aghast. "Did I know that kissing you would bring your soul to surface? That – THAT – would have the same effect as pain or music?…"
― Victoria Schwab
31/8/17:
Peru, Lima: teachers teargassed yet again, after union leader hastily withdraws from the field of battle More here in English (video)

Canada, British Columbia: 2nd salmon farm occupied by native Americans

UK, Greater Manchester: the end of luxury

30/8/17:
Guatemala, Ixquisis: security guards seek refuge after locals torch machinery for hydroelectric plant project See also this from January in English

UK, Bristol: horror shock as youths do their best to alleviate the boredom & humiliation of meaningless normality…riot vans called in
US, California: Democrats call for prosecution of anti-fascists Kind of obvious maybe but here you see the Democrats openly revealing their true loyalties and values: they would rather the police successfully disarm the anti-fascists, and protect the fascists as they assault the people of Berkeley, than see the fascists and their protectors defeated. As a contact wrote, "How  very Weimar!"
29/8/17:
US, Texas: looting as Hurricane Harvey hits a 2nd time See also "Hurricane Harvey: 5 reasons looting is essential for survival"

Germany: call for international demos on September 9th against totalitarian crackdown on German Indymedia (see also entry for 25/9/17). Whatever one might think about this eclectic mish-mash of a site, it's obvious that one has to fight the desire by the ruling class to monopolise all public discourse and to crack down on those who give publicity to those who oppose this shit world, especially as this latest bit of repression is being carried out in virtual silence. See also this

Canada, British Columbia: native Americans and others occupy salmon farm

Indonesia: report about eviction of  those resisting environmentally- catastrophic airport construction (see also this)

UK, Merseyside: rioting bullocks reappropriate their spoiled good walk See also this

28/8/17:
Chile, Wallmapu: 29 logging trucks destroyed by indigenous Mapuches (see also entry for  19/8)

South Africa, Johannesburg: service delivery protesters burn down bus station, barricade roads with burning tyres and rocks…North West: large tractor tyres burnt in front of municipality offices in protest against electricity bills (more here)

UK, Staffordshire: classic cop cars mindfully, proudly and joyfully attacked "Another four classic motors – including another American police car and a customer's vehicle – were also damaged during the incident"

27/8/17:
US, Berkeley: anarchists rout right-wing …attack professional liars/snitches of the media "A number of journalists also reported that they were harassed by antifa members who did not want to be recorded. A video shows one reporter fleeing from a group of antifa members shouting "take his camera, take his phone."

France, Hautes-Alpes: report and communiqué of the destruction of about 50 motors & engines used for construction site of high-voltage electricity lines since February Just in case no-one knows, high-tension electricity pylons and cables (whether overground or underground) cause leukemia, kill wildlife and cause bad sleep amongst other miseries.

26/8/17:
Nigeria, Owerri: 3 killed by the state as cops and market traders clash

Australia,Sydney: graffiti against Captain Crook As a crude example of dominant insane discourse, the absurd outrage towards some not very important graffiti shows how stupid people's mentality becomes when they succumb to the inculcation of  suffocating ruling manipulation, up to the point where a bit of writing on a statue indicating the falsification of Australian history is, in a typical totalitarian inversion of reality, compared with Stalin's falsification of history and empty-headed people manage to swallow and regurgitate this bullshit.

South Africa, Limpopo: cop barracks gutted by fire (arson?)

25/8/17:
South Africa, Pretoria: schoolkids boycott school in protest against uniforms

Germany: state shuts down Indymedia!!!  "They have also conducted raids in Freiburg to seize computers and harass those they accuse of maintaining the site, absurdly justifying this on the grounds that the alleged administrators constitute an illegal organization for the sake of destroying the German Constitution." More here

Peru, Lima: more teacher/cop clashes as strike enters 3rd month

Zimbabwe, Bubiana: clashes between cops and land invaders "The villagers have threatened to engage in fresh farm invasions, arguing that they did not benefit from the government-sanctioned land-reform progamme. Villagers from the country's semi-arid region of Mwenezi district last week trooped into Bubiana conservancy, owned by the Department of National Parks and Wildlife, barely a month after looting property and setting alight an assortment of goods and vehicles at a nearby ranch. Up to two police officers were injured while dozens of villagers have been arrested. Police in riot gear sealed off the entrance to the conservancy after fighting the villagers, who were armed. The lodge at the property has since closed as the villagers threatened to vandalise part of it during the violent clashes….The villagers, armed with machetes and axes, cut the security fence and entered the property. As the villagers were busy clearing the land, police in riot gear arrived. According to workers at the conservancy, the villagers were angered by the government's failure to resettle them at the nearby Mujingwe conservancy….Some of the villagers have vowed to continue invading properties in the area. "We are not going to be intimidated by the police because we feel we deserve land like anyone else," said Antony Dhlamini. "We have been asking government to resettle us in some of these properties over the years, but nothing has happened and therefore we are going to take it upon ourselves to get land….The invasion of Bubiana Ranch came barely a month after the villagers from the same district invaded the nearby Mujingwe ranch, before looting property and setting alight goods and vehicles. At Mujingwe ranch, the villagers had cleared 10 000 hectares of land before they were evicted from the sanctuary by police. Property worth $100 000 had been destroyed as the villagers indiscriminately set alight property and other valuables."
Bolivia, La Paz: arson attack on Argentinian embassy due to disappearance of arrested protester

Colombia, Cali: clashes and roads blocked during resistance to metro construction

24/8/17:
Belgium, Brussels: molotov thrown at police station; no arrests

South Africa, Durban: after days of rioting and land invasion, council forced to guarantee that 500 new homes will be built (see entry for 22/8/17) More here "The eThekwini Municipality has condemned the violent protests which have erupted in parts of Durban, which saw the blocking of roads and the torching of a municipal bus."…though elsewhere brutal evictions continue "The evictions from the housing units in the Sydenham suburb came after residents refused to pay rent, saying that they had been promised to "rent to own" the houses, later finding out that this was not the case. Tempers flared as various items were carried out of homes, resulting in residents throwing stones at police and other law enforcement officers, who fired rubber bullets."…
Peru, Lima: more teachers v cops confrontations; several arrests "In the police report, it is explained  that the arrested teachers had demonstrated violently, had attacked the police agents and insulted them" (see entries for 23, 17, 16, 10 & 3 this month, below)

Italy, Rome: clashes between migrants and filth during eviction of occupied building Videos here

23/8/17:
France, Rennes: 4 cars and a van burnt, probably in retaliation for cop murder of young man (see entries for 18/8, 7/8 & 1/8)

Peru, Lima: striking teachers clash with cops again (see entries for 17, 16, 10 & 3 this month, below) "The angry demonstrators temporarily closed a number of streets and even tried to erect a makeshift roadblock on a downtown thoroughfare, but police forces managed to clear the streets of striking teachers and break up their gatherings.  School teachers from some parts of the Latin American country, including the capital, have been on strike now for the past 70 days"
South Africa, Gauteng: houses of several leaders of scab union petrol bombed as miners' strike continues "Workers affiliated to Amcu, the majority union at Vaal Sanitaryware, have been on strike for the past three months, while NUM members have continued going to work. Vaal Sanitaryware employs just over 400 workers, and around 150 of them belong to the NUM. NUM's branch chairperson at Vaal Sanitary Tebogo Litelu said that the union's leadership had been targeted as seven houses were petrol bombed by unknown people in different parts of the township since the beginning of the strike."…North West: major road blocked with burning truck as residents demand arrest of farmer following disappearance of man shot for "stealing" oranges

US, Virginia: wildcat strike against racism and sexual harassment More here

Chile, Villa Francia: barricades block roads "…pamphlets were distributed,  attributed to the Lautaro Youth Movement (MJL), which say "For a different and better life: let's unleash insolence against this country of business!"."

22/8/17:
UK, Cumbria: 9-hour prison riot breaks out after tobacco ban "Inmates smashed sinks, flooded cells and destroyed TVs at the Category C HMP Haverigg as they became the latest prison to be subject to the smoking ban….On Tuesday lags in the Langdale wing of HMP Haverigg, in Cumbria, staged a peaceful protest after they were told tobacco would not sold as part of the all-out ban. But anti-riot units were scrambled after violent confrontations broke out. A source said: "The protest turned violent and the whole place went up. Inmates were smashing up cells, flooding them, throwing TVs, breaking up pool tables. "Staff were forced to evacuate the wing, which was left looking like a bomb had hit it."… There was also trouble at Cat C Featherstone prison, in Staffordshire, which is also implementing the ban. A dozen inmates refused to be locked up after lunch in protest at the 687-capacity jail going smoke free. Three prisoners were placed on report after guard's used force to secure them in their cells on 30 July."
France, Puy-de-Dôme: arson attack on major cable network/phone mast for phone companies & radio stations sabotaged (communiqué)

Australia, Adelaide: prison riot stops with pizza delivery "Prisoners barricaded themselves inside a cell, lit fires with matches, ripped cell doors off the hinges and smashed appliances before reportedly negotiating with guards to end the protest in exchange for 20 pizzas. "
South Africa, Durban: shack dwellers force private security to beat retreat in resistance to evictions (video) More here…Johannesburg: 20 prisoners awaiting trial escape from prison van

US, Arizona: anarchist report on clashes with cops after Trump rally More here

Poland: report on resistance to destruction of probably last of the primeval forests of Europe

21/8/17:
Guinea, Conakry: barricades of burning tyres, road blockades, in protests against electricity cuts "Several districts of the Guinean capital Conakry, notably the commune of Ratoma, have woken up to a series of demonstrations against the relaying of power to households. In Koloma-market, very early in the morning, young people erected barricades on the roadway and burned tires in some places in protest against the lack of electricity. The "Le Prince" motorway is blocked from the market-Koloma until the roundabout of Bambéto…. A journalist from Africaguinee.com …observed clashes between youths who threw stones and CMIS policemen backed up with tear gas. On the tarmac the traces of the clashes are still visible. Until we left, the police were struggling to restore traffic. Farther north, on Transversal Number 2, women and youth blocked the road to Kaporo rail, again with the same demands, preventing motorists from passing."
20/8/17:
South Africa, Cape Town: local councillor's office torched, his house attacked, as part of resistance to shack destruction
Canada, Quebec: cops pelted with projectiles by anti-fascists as  fascists are trapped in garage Video here
Australia: 25 bank signs throughout country changed in campaign against coal

France, Paris: truck belonging to prison construction company torched

Indonesia: Uber drivers on wildcat strike

19/8/17:
Chile, Wallmapu: 18 logging trucks torched (see also entry for  28/8)
Indonesia, Papua: trucks burnt, roads blocked as cops clash with striking miners

US, Boston: 33 arrests as urine, bottles, etc. thrown at cops protecting small group of fascists

18/8/17:
France, Rennes: 15 cars torched as part of fury about 26-year-old killed by cops…Dijon: man arrested for having wrecked 10 CCTV cameras over 10 months

17/8/17:
Switzerland, Zurich: machinery for prison refurbishment destroyed

Jordan: riots in various parts of country against manipulated election "The rioters blocked with burning tires the al-Tayba roundabout in the Irbid province in northern Jordan before the security forces intervened to disperse them using tear gas. Similar unrest was seen in the al-Karak province. Two power plants in the al-Hashemiya and Rawdat al-Amir Rashed were also shut down by rioters, but electricity was soon restored to the affected areas."
Colombia, Segovia: striking miner killed by riot cops (see entries for 15/8/17, 3/8/17, 1/8/17 & 31/7/17 for more information on this struggle)

Peru: government declares teachers strike illegal (see entries for 16, 10 & 3 this month, below)

Panama, San Felix: tourism and transport workers express support for teachers beaten up by cops during strike
France, Val d'Oise: cops attacked by youths as they arrest people trying to break into supermarket in middle of night…Seine-St.Denis: firearm and taser stolen from cops as they get surrounded by about 20 youths whilst trying to pursue suspected drug dealer

US, New Hampshire: Republican Party HQ attacked "The headquarters of the Republican Party in New Hampshire was branded with the word "Nazi"…Vandals spray painted a heart around the scrawled message, and are believed to have also thrown several rocks through the windows of the building…."The New Hampshire Democratic Party wholly condemns this criminal action and hopes the perpetrator is held accountable. "There is no place for that in our politics." …San Francisco: dockers announce anti-fascist strike and march for 26th August …Virginia: 2  confederate monuments improved "No hero," in black spray paint written on the base of Confederate General Robert E Lee's statue. Also on the statue of Confederate President Jefferson Davis…North Carolina: "My general's got no nose" "How does he smell?" "Terrible" ho ho…Arizona: 2 more monuments to confederate leaders improved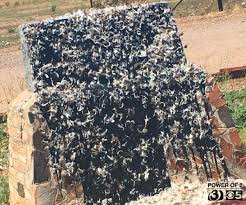 monument to Jeff Davis – Confederate President – tarred & feathered
UK, Blackpool: "yobs" spoil a good walk spoiled

16/8/17:
Peru, Lima: teachers clash with cops

Venezuela, Amazonas: 37 prisoners massacred by Maduro's left-wing capitalist filth during riot

South Africa, Pretoria: striking taxi-drivers bring parts of city to a halt "…taxi drivers blocked all major intersections in Mabopane, Ga-Rankuwa and Soshanguve, north of Pretoria, in a bid to prevent people from getting to work…. train services have halted…..some entrances to Mamelodi, east of Pretoria, were blocked….Metro police said there was no application made for the protest action and no permission was given for the strike. Metrorail train services operating from Mabopane to Soshanguve were meanwhile temporarily suspended due to violent taxi protesters who blocked the railway lines with foreign objects under the Ruth First bridge. Metrorail spokesperson Lillian Mofokeng said trains are turning around at Kopanong Station. In Pienaarspoort trains are turning around at Mamelodi Gardens station due to taxi drivers burning objects at Pienaarspoort level crossing."
15/8/17:
France, Meuse: riots against nuclear waste dump; cops use water cannon, percussion grenades, tear gas; 6 demonstrators seriously injured; 2 cops injured as molotovs & rocks are thrown See also this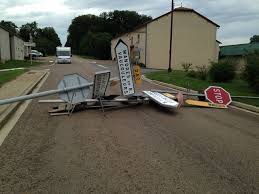 US, Chicago: anti-fascists clash with cops…state intensifies terror/paranoia…More here
"Donald is a believer in the big-lie theory," his lawyer had told me. "If you say something again and again, people will believe you."….Ivana Trump told her lawyer Michael Kennedy that from time to time her husband reads a book of Hitler's collected speeches, My New Order, which he keeps in a cabinet by his bed." – from here
Nigeria, Lagos: bikers clash with state security personnel

Colombia, Nariño: part of mayor's office and archives burnt during riot against cop shooting of minor …Segovia: riot of striking miners refusing to submit to multinational mining company as teenage son of a miner is killed by cops …Bogota: riot during 10-hour blockade by 300 against rat-infested landfill "…three bulldozers immobilized, a destroyed electrical plant, two light reflectors damaged and a dismantled dump."
Algeria, Sidi Yahia: 2 trucks belonging to property developer torched after landslide kills 10-year-old following previous warnings of potential landslide

14/8/17:
Egypt, Mahalla al-Kubra : textile workers organise sit-ins in shifts "The workers leave company property by the end of their shift, leaving the strike in the hands of the succeeding shift workers, instead of continuously and simultaneously occupying the premises as they had in previous strikes. One of the striking workers, who spoke to Mada Masr on Monday under the condition of anonymity, said that the strike is being implemented at all of the company's several factories, which include eight spinning factories, seven cloth factories, one wool factory, one grille workshop, 11 textile factories, as well as the garage, electricity and water departments."
US, North Carolina: confederate statue pulled down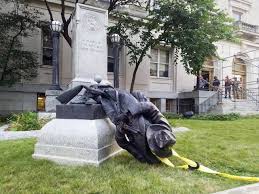 …Florida: Confederate statue splattered with paint, as another one is pulled down officially…photo of Maoist red fascists trying to stamp their "refusefascism.org" logo onto woman murdered in Charlottesville A contact writes: "The Party is once again achieving an appearance of near ubiquity, and, considering the article in Al Jazeera recently, heightened respectability. There is another front page spread in the Guardian with rotating photos today, with a photo of a crowd with very little more than the "No!…" poster (presumably the butt of Naomi Klein's new No is not Enough – allowing her as a kind of super-trendy leftist to stay to the left of militant Maoist social democracy) the Party uses everywhere, supposedly symbolising the mass reaction to the killing and maiming in Charlottesville."

South Africa, Cape Town: clashes as tenants resist  eviction "Water cannon were used to disperse protesters who burnt tyres and rubbish in an anti-eviction protest in Cape Town on Monday. People being evicted from a low-cost apartment complex in Steenberg also started a fire in a building used to store bins. Residents of Steen Villa said they were being evicted for failing to pay rent which had become unaffordable."
Venezuela: 7 million hit by sabotage of 2 major telecommunications/internet companies

13/8/17:
Canada, Ontario: forest occupied to prevent eco-destruction

US, Virginia (Charlottesville): fascists forced to flee "After a few minutes, a crowd of anti-far-right protestors rushed the improvised podium. Kessler fled and made his escape with the protection of waiting state police in riot gear. Behind the line of police, the crowd resumed chanting, "Nazis go home" and "we are unstoppable another world is possible". Video of this here… more demos angry about implications of Charlottesville…more here…hackers take over nazi website…Seattle: minor skirmishes as anti-fascists protest fascist fuck-ups…worth remembering that as far back as February, in Tennessee a bill was  put forward making drivers who hit protesters immune from prosecution Apparently there are other states considering this "right to kill" law (North Dakota, Florida, Rhodes Island, Texas  and North Carolina), and other states proposing other forms of anti-protest bills…see also this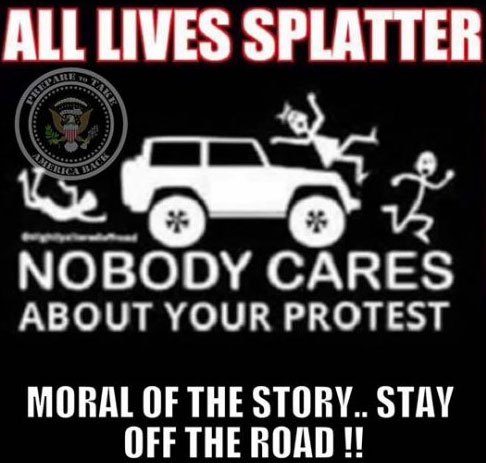 Illustration posted by the leader of the Santa Fe police union on Facebook
Iran, Tehran : 1000s of football fans chant slogans against presence of state's plain clothes security forces
France, Seine-St.Denis: riot, shop looted, as cops crack down on motorbike "rodeo"

Morocco, Rif: clashes between cops and protesters demanding release of prisoners

12/8/17:
US, Virginia (Charlottesville): woman killed by fascist…anti-fascist demos organised throughout US…Oakland motorway shut down "As a small gesture of solidarity, of pause and remembrance, the march stormed onto the 580 freeway blocking all traffic in both directions and lit smoke bombs and fireworks. Cars honked in support, rolled down windows and fists raised. "…and Switzerland

Nigeria, Ogoniland: 100s occupy Shell petrol facility Unfortunately, this did not express  a critique of the polluting effects of oil extraction, but rather a demand that the facility be run by a local petrol company.

11/8/17:
Ghana, Volta Region: bikers burn tyres, storm police station after 2 bikers killed in cop car chase More here "…vandalised the police station and the operational vehicle in the area. The action by the irate youth caused the officers at post to flee for their lives. "

South Africa, KwaZulu Natal: striking call centre workers block off magistrates court with burning tyres More here
Egypt, Mahalla al-Kubra: report of 10,000 more workers on strike in textile industry (see entry for 8/8/17)
10/8/17:
Italy, Rome: clashes as cops evict 80 squatting families

Peru, Lima: clashes as cops prevent striking teachers reaching Congress

Morocco, Rif: sit-ins and clashes after funeral of protester shot by cops 3 weeks previously

UK, Aberdeen: report of attacks on 6 institutions inculcating idiotic submission to  this sick sad stupid society

9/8/17:
South Africa, KwaZulu Natal: molotovs thrown at university building during student strike
Canada, Ontario: union workers occupy factory, halting production, in protest against attacks on pensions

Spain, Basque country: train stopped in anti-tourist protest See comments for 1/8/17 on this subject.

Australia, Tasmania: prison riot

Panama, Panama City: anti-Über clashes

8/8/17:
Egypt, Mahalla Al-Kubra: 6000 workers strike and sit in in textile factory "…five years after the 25 January Revolution, strikes in Egypt are usually dispersed by force or by threats of suspension and have acted as a main source of opposition to different governments. Also, a  Cairo High Court ruled in May 2015 that any employee proven to have participated in a strike will be forced into retirement for "delaying the interests of the public".

Switzerland, Basel & Zurich : 2 separate incendiary attacks on companies involved in prison construction
South Africa, Gauteng: protests with burning tyres etc. throughout province against President "Areas reportedly affected include Soweto, Turrfontein, Hillbrow, Braamfontein as well as numerous communities in Pretoria. Johannesburg Metro police spokesperson Wayne Minnaar explained that protests began as early as 4am. "Soweto and Turffontein residents burnt tyres and blockaded streets from at around 4am on Tuesday morning," he said. "Routes affected include the Soweto Highway, Chris Hani road, N12, Impala road R55 and Beyers Naude." …Meanwhile, Tuesday's protests also led to the closure of numerous schools in Meadowlands, Gauteng police said. "
New Zealand, Christchurch: animal rights activists occupy MP's office in protest against factory farming

Nepal, Dolakha: full-scale riot follows aggressive exam invigilator's accusation of cheating "Irate students pelted stones.Police fired tear gas and baton-charged at examinees contain the situation….Students resorted to vandalism of the school administration and examination hall."
Italy, Bologna: clashes with cops evicting 5-year old occupation More here More here "Police initially attempted to drag protesters away from the entrance but, when that failed, began beating people with truncheons. Protesters fought back, creating barricades from bales of hay that had been set on fire. The entire area was shut down with police closing off streets to all traffic for hours. Fighting then spilled over into nearby streets with protesters denouncing the injuries of around a dozen people, two seriously injured by police. Police, meanwhile, claim six officers were injured during the fighting. La Repubblica reports numerous local residents coming out of their houses angered by police actions. "What problems were they causing?" one asked police."
7/8/17:
France, Rennes: 2 vehicles torched, probably in continuing protest against killer cops (see entry for 1/8/17); similar burnings took place on 4/8/17

Morocco/Spain (Ceuta): 187 migrants celebrate their successful crossing of border by force (video)

Argentina, Buenos Aires: disappearance of young supporter of Mapuches during eviction provokes  riots; "long live anarchy – death to the state!" shouted as mobile TV truck gets attacked

Australia, Melbourne: mayor's house paint-bombed in protest about homelessness More details here

US, Arkansas: screws taken hostage in maximum security Gulag

Indonesia, Jakarta: dockers clash with cops

Italy, Naples: 30 migrants prevent arrest of one of them by surrounding 5 soldiers

Bangladesh, Dhaka: 100s of garment workers block streets, damage vehicles, etc., demanding payment of unpaid wages More here "Two police officials and several others were injured on Monday during a clash between garment workers and police in Mirpur. … the injured police officers were hurt when bricks were thrown at them….workers of Meridian Fashions Limited in Mirpur 1 start agitating in front of the Mollick Tower in Mirpur demanding due salaries and bonuses. The clash ensued when police tried to disperse the protesting garment works away from the road. Protesting workers also blocked the road at Mirpur 2 and damaged several vehicles on the Chiriakhana (Zoo) Road. They also vandalised the glass exteriors of some of the nearby garment factories in the area…Terming workers' protest illegal, the authorities of Meridian Fashions Limited shut their installation up to Wednesday."
Congo: state represses internet images amidst growing opposition

6/8/17:
France, Toulouse: lorry belonging to construction company for prisons torched (communiqué)
Tunisia, Zarzis: fishermen prevent racists docking for urgently need supplies for the master race
Australia, Sydney: housing protesters occupy empty units before being violently evicted

UK: report on hospital workers' strikes, comparing wildcat and official strikes
US, Oregon: fascists v. anti-fascists

5/8/17:
India, Darjeeling: report on workers' sabotage of English breakfast "Since June, Darjeeling has been hit by violent protests and prolonged strikes in support of a campaign by a local party demanding a separate state for the area's majority Nepali-speaking Gorkha community. …The upshot: some 100,000 workers – permanent and temporary – working in the gardens have halted work. Production has been severely hit. Only a third of last year's crop of 8.32 million kg had been harvested when work stopped in June. If the trouble continues, garden owners say they are staring at losses amounting to nearly $40m. "This is the worst crisis we have ever faced. Future orders are being cancelled, and there is no fresh supply. Connoisseurs of Darjeeling may have to soon switch to other teas until the situation improves". Obviously this site does not support any political party or any state, but there's more to this struggle than meets the eye of the journalist reporting it.

4/8/17:
Bangladesh, Dhaka: clashes with cops as residents lay seige to building where domestic worker was probably killed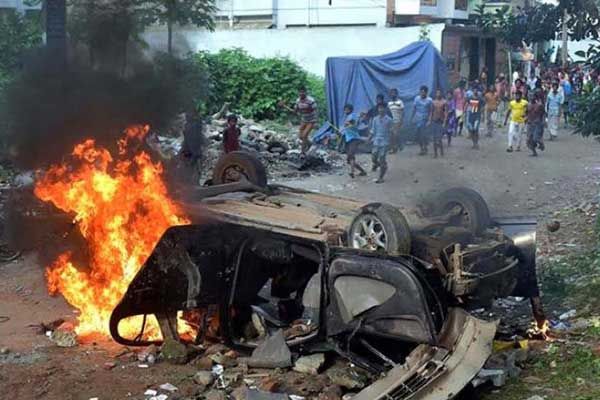 Dhaka: car burnt out during furious protest against employers' probably murder of maid
France, St.Denis: 4 cop cars torched "The mayor (PCF – French Communist Party) Laurent Russier, who "strongly condemns these degradations", decided to file a complaint this Friday afternoon. "I support the municipal police officers. The local public security and prevention service they carry out and which they embody is essential for the city of Saint-Denis"

India, Kerala : assistant commissioner of police injured as fight between students turns into clash with cops Anarcho-leftist text about this here. The appeal for "unity" is, however, typical leftism designed to repress any critiques other than those of the existing state (but not of any would-be states).

3/8/17:
Canada, Toronto: 6-month rent strike declares victory
Spain, Alicante: 650 Algerians with about 250 vehicles force ferry company (Algérie Ferries) to allow them to cross Mediterranean for free, threatening to smash everything if they didn't

Dominican Republic: 48-hour strike against corruption, riots etc. in both Santo Domingo & San Francisco de Macoris "New riots were registered today in the city of San Francisco de Macorís, in the Dominican Northeast, and had repercussions in the capital city of the Autonomous University of Santo Domingo (UASD). In San Francisco de Macoris this Wednesday was the second day of a strike that kept most of the commercial establishments closed and traffic halted by the throwing and burning of rubbish in the streets. The strikers demand punishment for the corrupt, prosecution of the perpetrators of the millionaire embezzlement detected in the municipal council during the administration of Félix Manuel Rodríguez, and the construction of various infrastructures. Demonstrators burned tyres in front of the provincial governor's house, Juan Antigua Javier, and also broke glass from the front of the Palace of Justice…In the capital city the university faced groups of hooded people and police. The young men threw stones from inside … and the uniformed men fired tear gas at the facility."
Peru, Lima: massive march of striking teachers as strike reaches its 8th week "An estimated 10,000 teachers reached the capital city of Lima…The strikes have continued to escalate, with the teachers taking an airport in Jauja, and closed off numerous roads in Cuzco and Ayacucho. On July 21 the Peruvian government declared a state of emergency in the area where the teachers organized the strikes, effectively suspending constitutional rights of individual liberty, security, free travel and assembly for a duration of 30 days, which include the districts of Cusco, Machu Picchu, Ollantaytambo, San Sebastian and Wanchaq. The government is anxious to reach an agreement, as the strikes have exerted a strong impact on traffic in the area. Flights have been blocked to the region, tourist travel to Machu Picchu has been interrupted, and main roads have been blocked by protesters "

South Africa, Soweto: roads blocked with burning tyres, rocks and burning bus in protest against racial distraction "The residents say government has continuously marginalised the coloured community and has made the Klipspruit  saga a racial issue to deviate attention from important national issues."

Colombia, Segovia (Antioquia): 1 dead as miners' struggle hots up; destruction of drill valued at over $1m., school wrecked (see entries for 1/8/17 & 31/7/17)

UK, Lincoln: knight of the living dead "Art, like Dracula, may be dead, but it flies very well nonetheless." (Chris Shutes)…Gloucestershire: free parking horror shock scandal disgrace!!!
Italy, Ventimiglia: 7 arrested refugees hurt 4 cops, smash frame of bullet-proof door and bullet-proof window

2/8/17:
Israel, Haifa: chemical workers threatened with redundancies block roads, set fires "…enraged workers block roads, light fires outside factory premises, call on Environmental Protection Min. Elkin to intervene; workers explain fear of inability to support families. Workers from the Haifa Chemicals company erected a protest tent Wednesday evening both inside and outside its plant after it was announced earlier in the day that the company was closing shop and letting go of its 800 employees."
Morocco, Tangier: clashes with cops as migrants try to get over border

1/8/17:
Pakistan, Lahore: sit-in by junior doctors demanding pay rise attacked by cops

UK, Hertfordshire: 2nd day of "disturbances" at prison "Personnel from the Tornado team were called in again less than 24 hours after spearheading efforts to restore order at the Category C adult male training jail. On Monday multiple prisoners were involved in a lengthy disturbance across two wings at the jail, which holds a total of just over 1,000 men. The first episode was resolved shortly after 10pm. No staff or inmates were injured, but dozens of cells are reported to have been damaged." More here "A prison that has been hit by two days of unrest and disorder has been keeping inmates locked up in their cells for entire weekends for as long as three months… around 50 cells were damaged. Prisoners in the category C jail, which holds about 1,000, had been locked up for the third consecutive weekend, with food being served cold through the cell door. … on Tuesday, trouble began again after prisoners took over a wing of the prison and smashed some windows ……prisoners at The Mount are routinely locked in the cells – known as being "banged up" – from Friday afternoon until Monday afternoon because of staff shortages. Gloria Morrison, campaign coordinator for the Jengba group, which campaigns against joint enterprise sentences, said prisoners were becoming desperate. "Prisoners only want to organise meetings at weekends, because it's the only time they get out of their cell," said Morrison, who spoke to an inmate serving a life sentence on Sunday, and his mother on Monday. "It's not just three weekends that this has been happening, it's been at least three months. They are not getting fed until the late evening and they are just getting a sandwich, a biscuit and a drink in their cell, there's no hot food. "I don't like prisons but The Mount has always been a fairly good nick in the past." Morrison said visitors were caught up in the disturbance on Monday and weren't allowed to leave, which was corroborated by one eyewitness"….Wiltshire: 5 screws hospitalised…London: cops pelted with fireworks in mini-riot
Dominican Republic, San Francisco de Macoris: university temporarily closed after riots following cop murder of student leader

Colombia, Antioquia: state imposes curfew as clashes between miners and riot pigs continue…6 cops hospitalised (see entry for 31/7/17)
Spain, Barcelona: youth group of nationalist party recuperate critique of tourism See also this and this. "…masked activists set off flares outside the restaurant full of tourists on the island of Palma de Majorca. They also set off smoke flares over luxury yachts before running through the restaurant throwing confetti over diners." I say "recuperate" but I'd guess this is on the border of recuperation and genuine subversion. Though one wanders what kind of "anarchists" belong to a political party which believes in the nation-state. Catalan independence weakens the Spanish working class as a whole, and, besides, will  depend as much on tourism as it does today,  within the existing uncontested misery of economics. Seems like these "anarchists" have simplistically repressed such contradictions because it all seems too difficult to think about: it's simply enough to belong to a self-styled "anti-capitalist" party and kid oneself that such politicians mean what they say. If everybody who claimed to be "anti-capitalist" was genuinely so, the revolution would be just around the corner. Moreover, unless an attack on tourism is expressed as part of an attack on the economy as a whole, it comes over as xenophobic, especially within the context of localist (here, Catalan) nationalism. Note added 12/8/17: apparently these people in Barcelona do not, by any means, call themselves anarchists: see  comment in comment box below.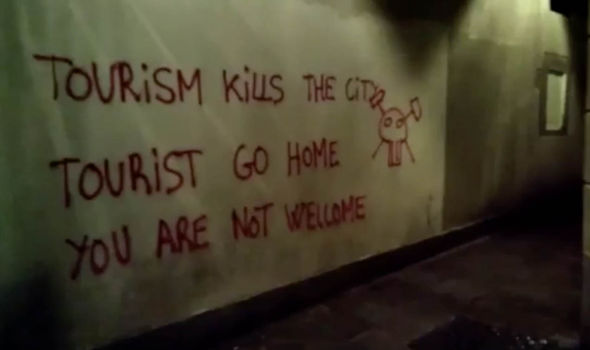 "Tourism — human circulation packaged for consumption, a by-product of the circulation of commodities — is the opportunity to go and see what has been banalized. The economic organization of travel to different places already guarantees their equivalence. The modernization that has eliminated the time involved in travel has simultaneously eliminated any real space from it. " – Debord, Society of the Spectacle
France, Rennes: fires started in retaliation for cops shooting  guy dead "Between 10.30pm [Monday]and 3.00 am, several groups of individuals wandered round a large area of ​​the Blosne district, on the far southern part of Rennes. Individuals attacked vehicles and garbage cans using molotov cocktails, baseball bats and petrol cans. In total, six vehicles were completely destroyed by fire, and six others were degraded by flame spread. Several garbage containers were also burned. Police in Rennes said that "the father of the victim had threatened the police with reprisals"."