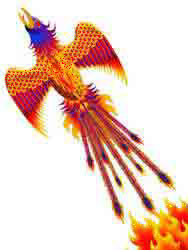 "It doesn't matter whether skies are grey or blue
It's raining in my heart 'cause I can't be with you
I'm only living for the day you're home to stay
So It might as well rain until September" –
Carole King
"But now in September the garden has cooled, and with it my possessiveness. The sun warms my back instead of beating on my head … The harvest has dwindled, and I have grown apart from the intense midsummer relationship that brought it on." –     
30/9/17:
Haiti, Port-au-Prince: riot against the budget in rich part of city "…a demonstration by several thousand people opposing the government's budget and demanding the departure of the Head of State … degenerated into violence when the demonstrators arrived in Pétion-ville..individuals broke several storefronts and windshields of several vehicles. Stones and shards of bottles were also thrown at some buildings, unimpressed by the security agents who fired shots in the air. The protesters also erected several barricades, blocking traffic. Sporadic shot was reported in the Juvénat neighborhood. The damage seems considerable… The police had to use teargas to disperse the crowd of highly motivated demonstrators… Several wounded were reported. Numerous arrests were made…Some of the demonstrators tried to reach the city center but met with a strong resistance from the CIMOs on the Champ de Mars, which made intensive use of tear gas… causing scenes of panic and causing respiratory inconveniences in many local residents…The opposition denounces the violence, alleging an infiltration of the peaceful march by men of the power in place, to provoke troubles and accuse the opposition of disorder…" See also this video, and report below, both about riots on  12/9/17… Government withdraws bits of budget after threats of massive transport strikes, unions withdraw threats

Italy, Turin: more clashes at anti-G7 protests

29/9/17:
South Africa, Gauteng: striking shop workers throw stones at supermarket car park cars and windows

Zimbabwe, Harare: violent clashes as anti-Mugabe protesters destroy one of his ruling party cars, break into shops, etc. More here

Italy, Turin: clashes between youths protesting G7 and cops

27/9/17:
France, Montreuil (just outside Paris): parents and local residents blocking access to toxic factory close to schools get teargassed, along with kids in nearby playground; 2 protesters arrested, 2 hospitalised…Essonne: cop truck ambushed – receives a hail of rocks

Colombia, Bogota: confrontations with riot cops as students block 3 different roads in  solidarity with locals protesting unhealthy landfill (video here)

Israel, Tel Aviv (Herzliya): disabled protesters demanding increase in benefits to minimum wage level clash with cops 'We'll block the entire country today, you'll see what's what,' says protest leader….A Herzliya protest staged by the disabled—part of the struggle to raise disability benefits to minimum wage levels—saw clashes between demonstrators and police Wednesday, with one protester cuffed and later released.The protest, taking place near HaSira Interchange on Herzliya's highway 2, turned acrimonious when police asked protesters to disperse after 15 minutes, whereas they asked to block the road for a full hour….After the two sides negotiated on the matter, they failed to reach an agreement, at which point police officers began forcibly removing some protesters….The protest was organized by the "Disabled Panthers" organization"
Nigeria, Lokoja: students riot, block main highway, after death of student and others in road "accident" "Students of the Kogi State Polytechnic, Lokoja have blocked the Lokoja-Abuja highway following a fatal accident …. About five people have reportedly died in resulting multiple accidents. A student of the polytechnic is one of the casualties. …The traffic light at the junction is has been vandalized by the angry youths. Police officers have since arrived at the scene and they fired tear gas to disperse the protesters but had to retreat when they exhausted the teargas they came with."
26/9/17:
Canada, Baffin Island: prisoners smash up part of prison "Four… inmates destroyed "85 per cent of the building's medium security bed space and 33 per cent of the maximum security bed space," according to information from the Department of Justice….no one was injured in the two-hour-long incident." More on the conditions of this prison

Iran, Arak: CEO of strike-torn industry arrested "It seems likely that his arrest was designed to end the workers' strike, placate the protesters, and perhaps even punish him for causing the protest by not paying the workers. …After Azarab workers held a protest assembly and its subsequent unpleasant events, Azarab's officials settled 18 million rials (roughly $536) wages of each worker; whereas they could have done that before the outbreak of protests."
UK, Liverpool: fires set on 2nd day of prison riot

Chile, Santiago: demonstrators in support of indigenous Mapuche Indians clash with cops(video) (more videos here & here )

South Africa, Eastern Cape: students riot during fees protest "The University of Fort Hare is still assessing damage caused to property after students went on the rampage on Tuesday night. University spokesperson, Kgotso Moabi, says a couple of buildings have been vandalised on the Alice campus. He says the university has been trying to iron out a number of issues with the students' body. A month-long protest by nursing students has resulted in the closure of the nursing faculty on the East London campus over a lecturer. Moabi says, "I can confirm that Tuesday night the students embarked on a strike and in the process of that strike they have damaged some property at school, they have vandalised a couple of our buildings. We are still assessing damage and lost items. We're not quite sure at this point in time, we are currently doing an assessment of the damage to property and if there are any stolen items…"

US, Washington: activists occupy Republican Party offices as part of opposition to withdrawing rights of children of illegal  immigrants to stay

25/9/17:
Belgium, Malines & Genk: arson attacks on factory producing accessories for arms industry

South Africa, KwaZulu Natal: 5 prisoners escape…Western Cape: service delivery protesters lacking electricity on informal settlement block roads etc. "…hundreds of residents from an informal settlement near Sir Lowry's Pass Village took to the streets to protest over the lack of electricity. The violent protest forced the closure of the N2 near Strand between Broadlands and Hazeldene Roads. The roadway was barricaded with burning tyres and debris and protesters also broke down traffic lights and stoned passing vehicles. At least 19 people were arrested for public violence…. said more than 500 residents protested. Two city council vehicles were damaged, two traffic lights were broken and three city council workers injured.,,,The supply of electricity was causing friction between residents in formal housing and those in informal settlements. "People from the informal settlement connect their wiring to the big Eskom poles and that often causes electricity cuts for those living in formal houses". More here "On Monday their protests in Broadlands and Hazeldene caused traffic congestion and the N2 was only reopened about 6pm. This came after roads had to be closed at the same location last week due to protest action."
France, Seine-Saint-Denis (Paris banlieu): school and 6 cars torched during riot "…the motive for these acts remains unknown, although several Internet users refer to a link with the Yacine case, a young man found dead in the middle of September in a cellar in the neighborhood. Several rumors have started to circulate, implying the police staged the whole thing to cover up for a blunder."…though this suggests it had more to do with the death of a guy who "fell", earlier in the day in a neighbouring banlieu, from the 7th floor after the BAC smashed into his flat looking for cannabis

Mali, Koury: riot after customs and cops clamp down on man selling hemp and pharmaceuticals; 1 dead "… the forces of repression were forced to leave quickly for fear of being lynched. According to the sub-prefect of  Koury, Boubacar Cassambara, several hundred traders suddenly decided to break into the Sub-Prefecture, then into the customs offices where they broke the windows and then continued onto the office of the gendarmerie brigade. There, they were repulsed by warning shots from the Yorosso reinforcement dispatched by elements of the gendarmerie …the   demonstrators then went on, in their retreat, to sack and burn the water and forest station. One demonstrator died and two others were wounded in the confusion created by these violent demonstrations."

Venezuela, Chacao: youth group independent of official opposition barricade main roads with burning rubbish, street barriers, etc

India, Uttar Pradesh: 1000 students charged with arson See entry for 23/9/17

Guinea, Boké: mining back to normal after over a week of riots "Riots have gripped Boke and surrounding towns several times this year as angry youths have pillaged police posts and blocked trains and railroads to protest against electricity cuts and a lack of jobs and services". 
UK, Yorkshire: cop car given paint job

24/9/17:
Dominican Republic: 4 people escape prison, plus massive looting, in aftermath of hurricane "…police have been kept busy with the latest incident being a prison break that took place late Sunday in which four people escaped. However… two were captured shortly afterwards … another challenge is that of "massive looting" in the capital and other sections of the island. "I can report that immediately following the passage of Hurricane Maria we have had massive looting. Several business places in the city of Roseau and to a less extent in the town of Portsmouth had looting.""
France, Essonne: clashes continue over youth who lost his eye because of cop flashball "..clashes erupted in the early evening, involving individuals rallying against "police violence". … projectiles were thrown at the police, who had come in large numbers, and damage was committed, in particular, on street furniture. Tear gas was used by the police, according to a local journalist. The police also reportedly used flash-balls." See entry for 20/9/17 for more information.

US, Berkeley: "free" speech very expensive…as hell and high water comes to  the town…Milo Minderbender forced to cancel "Free Spew Week" "Milo Minderbinder: We're gonna come out of this war rich!
Yossarian: You're gonna come out rich. We're gonna come out dead." – Catch 22.

Germany, Berlin: leader of neo-nazis & family attacked, demos in 3 other towns, as election result of 13% for fascists announced

23/9/17:
Australia, Melbourne: gay disruption of inauguration of moronic  Christian fundamentalist homophobic group

Iran, Arak: report of cops being arrested for not beating up workers protesting unpaid salaries (see entry for 19/9/17 below)."The Iran regime has arrested some police officers…The police officers did not follow the order to beat the workers as they said, "We will not beat our countrymen with baton."… On Wednesday, September 20, 1800 workers of the Azarab factory in Arak gathered in the factory for the fourth day of their protests, for lack of payment of their salaries and benefits for six months."
India, Uttar Pradesh: heavy clashes between students & cops after cops lathicharge students protesting against harassment of female students "… students from boys' hostels indulged in hurling stones and petrol bombs, targeting the police and paramilitary forces on VC Lodge Road on campus late on Saturday evening. Violence broke out following reports of some hostel inmates suffering injuries in cane-charge by policemen near VC lodge. Angered over this, students retaliated….According to reports, police had to resort to cane-charge after a group of boys blocked the gate of the Vice-Chancellor's lodge in support of girl hostellers protesting since Friday against the menace of harassment on campus. " More here"Several videos have surfaced showing male police personnel and PAC officers brutally beating up girls and barging into the girls' hostel. Media personnel covering the event were also caught in the clashes. Journalists and Lucknow University students would also join the protests on Sunday. The media professionals staged a protest near the CM's residence on Sunday. The students who have been protesting over two days, refused to lift their dharna near the front gate, even as Prime Minister Narendra Modi was visiting the city on Saturday and was supposed to pass by the prestigious university. The girls wanted to draw his attention to the persistent problem at BHU, of lack of security, sexual harassment inside the campus and 'victim shaming'…The female students alleged that the police thrashed and pulled them by their hair, even as the Varanasi district magistrate, who was present on the spot, denied the claims."

France, Paris: various groups of people attempt subversion of Mélencon's circus ….More here "They tore down posters from "Unsubmissive France". Some threw projectiles on the stage and knocked down barriers. Supporters of Jean-Luc Mélenchon booed and repelled them to the cries of "Resistance!" A few blows were exchanged. On the sidelines of the demonstration, young people dressed in black chanted slogans against the police or "Neither God, nor master … nor Mélenchon" and waved banners "Work kills, death by dictate" or "Mélenchon is submissive.""   The tactics of some of this black bloc (some described them as antifa), such as pepper-spraying those submissive to Mélenchon, seem counter-productive and pointless at best. Of course, Mélenchon deserves to be attacked – for what he is:  an ex-Minister full of demagogic rhetoric, typically playing both sides in all aspects of the social question (eg last autumn he supported the police demonstrations when they complained about how unhappy their lot was). And his supporters should be attacked, though not necessarily physically, for what they are: submissive.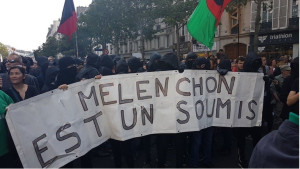 "Mélenchon is submissive": a reference to Mélenchon's slogan "France Insoumis" – "Unsubmissive France", or less literally -"Insubordinate France"
…Le Mans: bottles and stones v. cop teargas during concert…Calais: clashes & arrests during protest against lousy conditions for refugees…2 "anti-authoritarian" Indymedia sites (Nantes & Grenoble) withdraw communiqué for cop vehicle garage burning of  21/9/17 in submission to cop threat of closing the sites down
US, Missouri:  protests over acquittal of killer cop in shopping mall More here "Air Force lieutenant and undercover cop among several who claim they were forcibly arrested for being St. Louis protesters" More here

22/9/17:
Germany, Berlin: up to 3000 occupy national theatre in protest against gentrification & neoliberalism More here
"
The protesters, who have formed an artists' collective called From Dust to Glitter, plan to occupy the building in east Berlin for three months while staging performances free of charge.They held their first "assembly" on Saturday evening, urging theatre lovers to show up in force and bring supplies such as toilet paper, printers and food and drink."
Unfortunately, even if this ends up with a conflict with the state, this will probably be just another attraction for bohemians and other tourists who like risqué entertainment with a bit of edge.
 South Africa, Gauteng: 2 killed by cops and bailiffs during eviction of land squatters ""The police came in the morning and they started shooting together with the Red Ants. People died. They shoot at everyone they see and they are using live ammunition'" said Sbo Ndlovu. Makhubele said people "started occupying the land last week" and were resisting eviction. Ndlovu said they were not given eviction notices. "We've just experienced the worst experience' which we never thought would happen'" said Ndlovu. "We are requesting government to intervene."" …as if the government hadn't already intervened  – on the side of brutal murder.
Colombia, Sucre: cops injure several people as traffic is blocked during riot over lack of water distribution

Argentina, San Juan: 6 young teenagers burn mattresses etc. in juvenile police station "The kids demanded that their cases be sped up and that is why they decided to protest by burning mattresses and breaking everything. Moreover, after the incident the police station was out of service and the adolescents had to be transferred to other units. Some take a long time, three or four months "
21/9/17:
France, Grenoble: arson attack on garages of gendarmerie More here "Around 50 cars were destroyed by the extremists in the police car park in Grenoble as president Macron is due to adopt the reforms by executive order tomorrow. One police officer is in hospital after he inhaled smoke from the arson."  …destruction valued at 2 million euros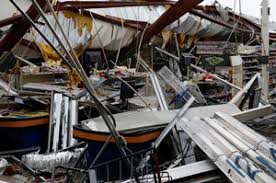 remains of gendarme's garage, Grenoble
…And here's the communiqué (in English) that explained the action… Video here  "We entered the Vigny-Musset gendarmerie barracks. We burned 6 intervention vans and two logistics trucks. More than 1500 square meters of the garage and the warehouse were destroyed. This action is part of a wave of attacks in solidarity with people who are going on trial at the moment."…Paris: minor clashes with cops during demo against new Labour Code…whilst 2000 riot cops phone in sick as protest about their unhappy lot
20/9/17:
France, Essonne: 3rd night of riots over man losing eye after cops fire flashball  "Since Monday evening, garbage cans and cars have been set on fire in this sensitive area. And groups of young people throw Molotov cocktails and stones at the police officers responsible for calling for the intervention of the firemen. … new riots occurred in the early evening, starting at 9 pm, causing damage to one of the police cars." See entry for 17/9/17.

Algeria, Reggane: clashes as youths protesting unemployment close job centres

Guinea, Kamsar: youths overturn 2 massive containers in riots against continued electricity cuts…Kolaboui: main roads barricaded against continued electricity cuts "Protesters erected barricades on the main arteries preventing the re-entry and exit of any vehicles from or to Kamsar, Boké or Conakry" These riots have spread from Boké to other towns close by (see also entries for 18/9/17, 15/9/17, 13/9/17 & 10/9/11 below, and 27/4/17, 26/4/17 & 24/4/17, here )

Colombia, Tunja: potato bombs thrown during heavy clashes between cops and hooded students over method of tuition fee collection Video here 

Russia, Moscow: over 100 migrants arrested after clashes with security guards who beat migrant to death over unpaid bills

US, St. Louis: cops call demo "unlawful assembly" after shopping mall is closed down in protest against killer cop's acquittal… New York state: part of Cornell University occupied by blacks against racism…report of 4 Trump golf courses vandalised
Togo: 9-year-old killed during riots against continued presidency in 2 different towns Obviously such events are initially dominated by rivals for state power, but, generally speaking, there is always an independent element that heightens the tension.

South Africa, KwaZulu Natal: main road barricaded as locals protest about housing, unemployment, use of government funds & road safety 

19/9/17:
Iran, Arak: state attacks workers from 2 companies as they block main motorway in protest against unpaid salaries More here "…a number of workers of two factories, Azarab and Hepco, staged protest gathering at two different locations in the city of Arak. Workers of Azarab Company closed the main Arak-Tehran road and demanded the authorities pay attention to their protest when the Special Forces attacked them… workers of Hepco Company also blocked Arak's railway line."
France, Limoges: 5 cop cars torched … Hauts-de-France: riot cops forced out of hotel by migrants that they'd just previously forced out of their camp "On their return from their mission, the CRS 16 did not expect to see the migrants from the evacuated camp as neighbors…To top it off, it is the policemen who have had to pack up their bags"…Normandy: 80 people surround police station, force next day's release of Turkish man held in custody for not having EU driving licence

US, Missouri: mayor postpones planned events fearing continuation of angry protests for 5th night running

India, Punjab: farmers clash with cops after they assault women whilst trying to make arrest and repress planned 5-day sit-in protest "…farmers started pelting stones on and assaulted the policemen, allegedly with wooden sticks. The villagers allegedly also partially damaged the police vehicle. Later, SHO [Station House Officer] Vijay Kumar and munshi Hardev Singh were admitted to the Sangrur civil hospital with injuries to his head." More here.

Germany, North Rhine-Westphalia: cops show they're worth every penny we have to spend on them

18/9/17:
Peru, Amazon area: indigenous occupy oil platform in action against pollution (article written 27/12/17) "Hundreds of indigenous Achuar men, women, and children, many carrying ceremonial spears, organized into units by clan and village…followed their apus, or chiefs, toward seven targets: the area's lone paved road, a power plant, and five facilities for the pumping and processing of petroleum. The sites were occupied, their night staff escorted peacefully outside. By morning, the Achuar of the Corrientes controlled the local infrastructure of Lot 192, the country's largest and most notorious oil block. Over the next two days, the occupations spread. On the neighboring Tigre and the Pastaza rivers, Kichwa and Quechua chiefs led takeovers of key roads, the only airstrip, and several oil batteries. "This is not a symbolic action — we have completely paralyzed the country's most important oil field," declared a spokesperson for several of the indigenous federations backing the protest. The takeover of Lot 192 lasted for 43 days."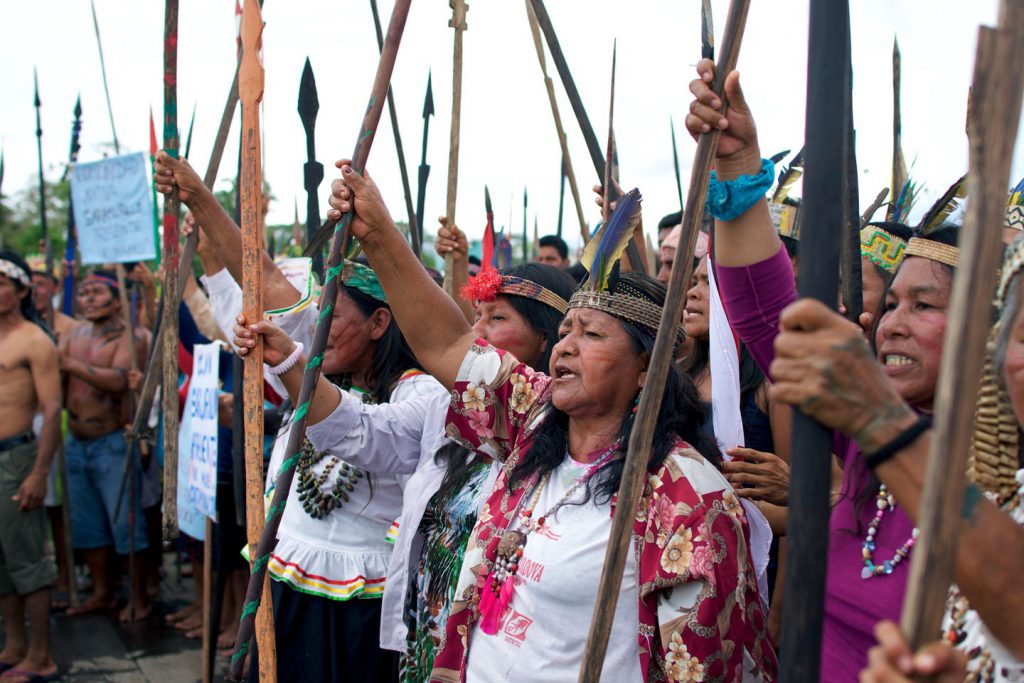 France, Limoges: gendarme's cars torched by….gendarmes apparently!!! Almost certainly this communiqué is a joke: "In the night of 18th September 2017 we, ex-gendarmes of the mobile gendarmerie unit 41/2, collectively decided to set fire to three Mobile Gendarmerie vans, parked in the Jourdan Barracks complex in Limoges.With this act we are leaving the gendarmerie for good.We also want to send all our solidarity to those accused in the case of the burnt car in quai valmy, whose trial begins today, 19th September in Paris. We are leaving the gendarmerie because we no longer want to kill, maim, repress, control, obey. After the murder of Rémi Fraisse we met to discuss the meaning of our job as Mobile Gendarmes.Adama Traoré's death confirmed our doubts on the meaning of our tasks.We no longer want to beat up demonstrators during demonstrations.We no longer want to terrorize the inhabitants of New Caledonia and Guiana.We no longer want to be guards in courtrooms.We no longer want to serve in the occupation army in banlieues and ex-colonies.We no longer want to obey politicians or act as the armed hand of Capital.We no longer want any chiefs at all.Our barracks is a prison, this mutiny is a first step towards the conquest of our freedom.We call on all our colleagues, who could contemplate the fire of last night from their lodgings above, to join us. Spread the R.A.G.E! Anarchist Revolt of Exiled Gendarmes"
US, Georgia: cop car torched as riot develops after yet another fatal cop murder of semi-suicidal guy carrying unopened Swiss army-type knife…
 before                                           during                                                      after
–  progress!
…Anarchist report here…More here "Schultz' family and its attorney said the student held a multipurpose utility tool and the blade was not extended. Schultz' parents, Lynne and William Schultz, said at a news conference on Monday that Schultz had a history of mental illness and may have been having a mental episode when shot.The Georgia Bureau of Investigation said Schultz left three suicide notes and had called 911 claiming to see a young man with a knife and possibly a gun on campus."…Missouri: 100s of high school students in St.Louis region walk out over judges' acquittal of killer cop on 4th day of protests"More than 110 students walked out of Kirkwood High School; more than 250 students walked out of Webster Groves High School and Hixson Middle School. Students also walked out of University City High School, in the same district that saw protests and some vandalism Saturday night. Administrators at some schools, including University City, embraced the demonstrations. University City Superintendent Sharonica Hardin-Bartley, who is African-American, and high school Principal Susan Hill helped students organize their protest march, which was attended by more than 300 students, staff and community members. They let students return to class without any mark on their disciplinary records. Webster Groves also gave its students excused absences. "We really wanted it to be a teachable moment. I do think there is value in having organized protest and having a voice," Hardin-Bartley said…. But Kirkwood High School said it will give unexcused absences to students who walked out, per school policy. The school had warned parents over the weekend of the consequences of walking out. The Hazelwood School District had also made clear Friday that any students who walked out would be disciplined, saying it would be disruptive and that student safety could not be guaranteed during a walkout. "While the Hazelwood School District respects students' voices and their First Amendment rights, we cannot condone disruptive behavior, protests, violence and/or walkouts during the school day," said Hazelwood Superintendent Nettie Collins-Hart…Devin Corley, a 14-year-old freshman who walked out, said he thinks Kirkwood's unexcused absence policy is "disrespectful." He said it punishes students for standing up for their beliefs."…evening protests outside city's injustice centre (video)

Pakistan, Karachi: water cannon and baton charges v. bottles and stones, as teachers protest unpaid salaries

South Africa, Cape Town: buses burnt as taxi strikers get furious "MyCiti bus was set alight, as the taxi strike which started in Cape Town on Monday caused chaos the city's streets. A Golden Arrow bus was also set alight earlier on Monday, while buses and private vehicles have been stoned and commuters, police and traffic officials attacked in various incidents across the city. …protesters burned tyres to blocked the roads. It was removed by SAPS members roads are opened…. buses thrown with stones. …SAPS and Traffic members thrown with stones….Buses, SAPS POPS  thrown with stones. Members took action using rubber and gas to disperse the crowd… Delft attack on buses one bus set alight. Also attacked were Traffic and Fire Department members. No injuries reported just damages."[grammatical errors in original]

Greece, Athens: further clashes with cops on anniversary of fascist murder of rapper "Two bystanders were injured by flying stones, and a member of a Greek TV crew covering the march was beaten up by protesters. Police detained three suspected rioters. Youths smashed the windows of a local municipal building, damaged and looted a coffee shop and threw at least one gasoline bomb at police. About 2,200 people took part in two separate marches organized by left-wing groups. In the northern city of Thessaloniki, another protest in memory of the slain singer degenerated into clashes with police, who fired tear gas and stun grenades after coming under attack with Molotov cocktails and rocks. Rioters also smashed up a coffee shop. A similar protest Sunday in central Athens ended in violence, with riot police using tear gas against protesters using gasoline bombs. One detained youth was injured after being struck by a car while trying to escape from custody." More here

Ivory Coast, Abidjan: clashes between students and cops in protests against increase in registration fees "…the police threw tear gas and used water jets to disperse the students, who set up barriers and threw stones at the forces of the order. "…Sylvère Kennedy, Communications Officer of the powerful Student and School Federation of Côte d'Ivoire (FESCI), told AFP, "We say no to this profitable and organized scam, backed by the ministry"…On Wednesday, clashes had already occurred between police and students, for the same reasons. The clashes resulted in several injuries among students."
Guinea, Boké: mining operations resume after riots See also entries for 15/9/17, 13/9/17 & 10/9/11 below, and 27/4/17, 26/4/17 & 24/4/17, here
17/9/17:
US, St.Louis: 3rd night of riotous protests "St. Louis police in riot gear broke up a protest that turned rowdy on Sunday night with property damage including broken storefront windows, ordering protesters to disperse and making several arrests. Demonstrators gathered in central St. Louis for the third straight night to protest the acquittal of former police officer Jason Stockley, 36, of first-degree murder in the 2011 shooting death of Anthony Lamar Smith, 24….Demonstrators broke windows and attempted to block a ramp to an interstate highway, police and witnesses said. Police also reported confiscating weapons including at least one handgun from protesters….Police confiscated plastic spray bottles containing an unknown chemical that was on officers, who were then decontaminated …Sunday's gathering was the largest of the three nights with more 1,000 protesters. Police in turn deployed their largest show of force….Earlier in the evening, a handful of demonstrators threw bottles in response to a police officer making arrests, the first indication that the protest could turn violent. "Agitators are breaking multiple windows at Olive & 10th. Officers are heading to scene," police tweeted. Protesters broke large ceramic flowerpots at the entrances to several downtown buildings. A few took chunks of the ceramic and hurled them at windows, drawing in the police. The protests began on Friday shortly after the acquittal on Friday, when 33 people were arrested and 10 officers injured, police said. Violence flared anew on Saturday night when about 100 protesters, some holding bats or hammers, shattered windows and skirmished with police .."Windows can be replaced. Lives can't," said Missy Gunn, a member of Ferguson frontline and mother of three children including a college-age son. She said she feared for him every night."…Cops chant "Whose streets? our streets"…Berkeley: is the university about to stop its  function of so-called  "education", and provide time for self-directed education as boycott of classes is called in response to  alt-right…?

France, Rheims: undocumented refugees occupying and camping on campus forces closure of education factory…Essonne: guy could lose an eye after cops fire flashball following getting stoned during chase

16/9/17:
Malawi, Mzuzu City: massive destruction of council planning offices by arson attack; mayor's house stoned "Property worth over K200 million [over 200,000 pounds sterling] was lost in the fire that gutted Mzuzu City Council (MCC) planning offices on the night of September 15 to 16,2017. The offices are suspected to have been set on fire by some angry vendors plying their trade at Mzuzu's Zigwagwa Market in retaliation to the destruction of their structures by the MCC the same night. Apart from the fire, the suspected angry vendors damaged the city Mayor's house in Mchengatuwa by breaking windowpanes."
US, St.Louis: public transport halted after 2nd night of fury Video here
"The St. Louis Police Department said on Saturday evening that some protesters clashed with police and scuffles broke out. The police accused demonstrators of smashing windows at the Mayor's house, the St. Louis Public Library and several businesses. Officers fired tear gas and rubber bullets" More here "Protesters angry over the acquittal of a white former St. Louis police officer in the killing of a black man briefly marched through two malls in an affluent area of St. Louis County. Authorities had to temporarily close West County Center in Des Peres around noon Saturday when 200 to 300 people marched and chanted. There were no arrests and nothing was damaged, but many stores immediately pulled metal security screens over their shop fronts once protesters arrived. A short time later, protesters went to Chesterfield Mall in Chesterfield and held a brief demonstration."…St.Louis proletarians get some amelioration of their misery

Greece, Athens: molotovs against Golden Dawn fascists on anniversary of fascist killing of rapper Video here

Ukraine, Odessa: furious parents of girls killed due to fire safety violations clash with cops as they try to storm town hall

Germany: report showing increasing attacks on fascists during election campaign

15/9/17:
US, Missouri (St.Louis): armoured cars deployed;   Mayor's house splattered with paint, his windows broke; cops hospitalised after projectiles thrown; professional liars attacked; 100s block cop bus – all after lone judge acquits cop for murdering unarmed black guy and planting weapon on him More here "Ten law enforcement officers have been injured during protests in St. Louis after a judge acquitted a white former police officer in the shooting death of a black man. St. Louis interim police Chief Lawrence O'Toole says nine city officers were hurt Friday and one State Highway Patrol officer. One city officer suffered a broken jaw and another a dislocated shoulder. … one officer had a serious injury from a brick thrown …a second was headed to the hospital as well….protesters broke a window and splattered paint on Mayor Lyda Krewson's house. Police in riot gear responded, moved the crowd away from the house and eventually broke up the group with tear gas. Later, at least two armored vehicles were deployed….the group marched back to a commercial intersection and staged a sit-in for about 20 minutes. The group was silent for some minutes, with the only noise being the sound of a news helicopter overhead. The group later began marching down Euclid Avenue in an area with restaurants, bars and shops. A protester threw a rock through a restaurant window. Another group of protesters burned an American flag as other demonstrators cheered….Some journalists covering demonstrations in downtown St. Louis over a former police officer's acquittal in a 2011 shooting say they have been the targets of threats and violence from protesters. A freelance videographer for The Associated Press said a protester approached him Friday, took his camera and threw it to the ground, breaking the view finder. Later in the day while he was using a different camera, he said he was surrounded by six men who told him to put the camera away or he'd be beaten. Also Friday, a reporter for KTVI in St. Louis reported that a protester taunted him about the media, drawing a crowd. The reporter described the group as being angry and in his face, and said three water bottles were thrown at him….Protesters had surrounded a police vehicle in front of the old police building near Tucker Boulevard and Clark Avenue and were damaging it with rocks. Police approached and tried to secure the vehicle and protesters threw rocks and pieces of curbing at them. Police then used pepper spray on the protesters." Anarchist report here " The judge wrote, "Finally, the Court observes, based on its nearly thirty years on the bench, that an urban heroin dealer not in possession of a firearm would be an anomaly.""…Video here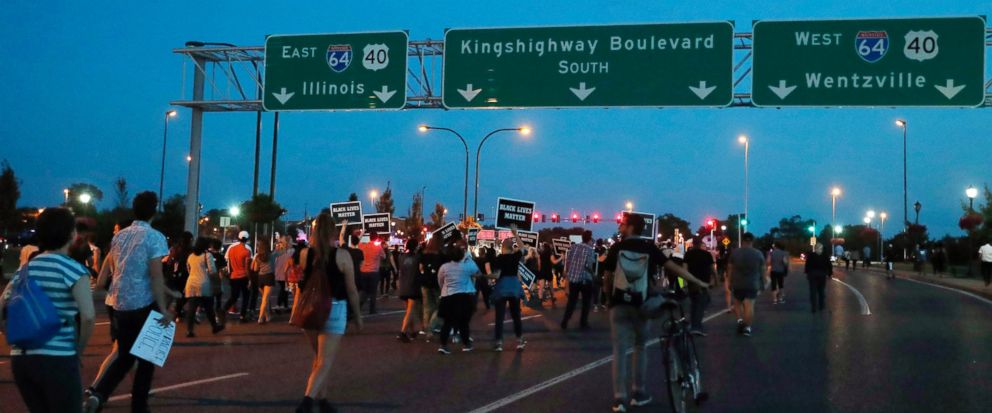 Temporary blocking  of motorway, St. Louis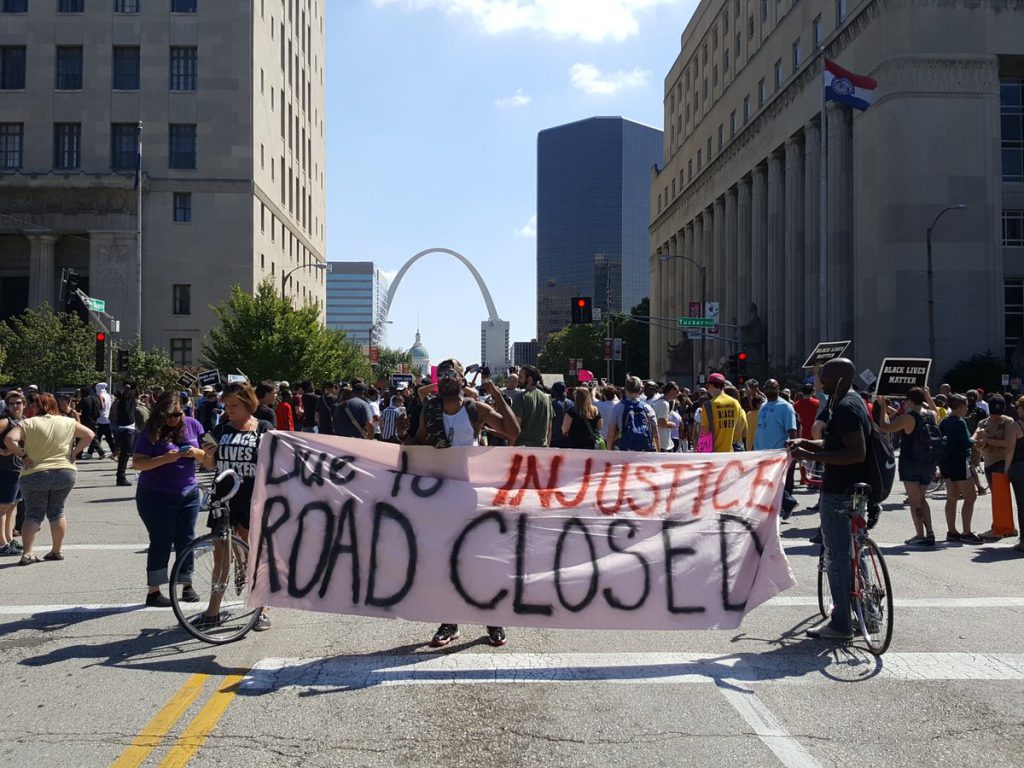 …Meanwhile NAACP issues warning to blacks about danger of travelling through Missouri as state makes prosecuting unlawful discrimination harder…and St.Louis schools shut down…Minneapolis: high school students briefly shut rail service & block traffic in anti-racist march
Brazil, Sao Paulo: indigenous Indians occupy National Park & disconnect transmission towers against privatisation of their land for real estate speculation

India, Kerala: cops attack nurses as they have sit-down strike in front of hospital following sit-in

Guinea, Boké: unrest continues…mining manager complains that riots have blocked production (see below)

South Africa, Pretoria: projectiles thrown into Burmese Embassy during protest against Nobel Peace Prize winner's genocidal policies I was in two minds about putting this up. Though the policies of Myanmar towards those in Muslim areas is undoubtedly brutal and genocidal at various times similar brutality is meted out to various sections of the population of countries where Muslims are in charge of the state, and most of these Muslim organisations organising demonstrations against Aung San Suu Kyi remain silent about such things. They are also usually mysogenist, homophobic and generally repressive towards any attempts at asserting a sense of life amongst those at the bottom of their own  hierarchies as well, beginning with women.  However, this demo included lots of non-Muslims (Buddhists included) – so it seemed worth putting up, with these words to modify any sense of uncritical support. (For an examination of Buddhism in Thailand see this).

UK: celebrity genius outraged about the worst possible thing that could ever happen to anybody anywhere

14/9/17:
South Africa, Western Cape: exam hall burnt down on 4th day of protests "Violence entered the fourth day after private security guards disrupted a student gathering …The Multi Purpose Hall, an exam venue at the CPUT Cape Town campus, was allegedly burnt by protesting students. … a clash between students and private security guards led to a computer lab being damaged….On Monday, an industrial design workshop building was burnt down, forcing all business and engineering activities to be suspended. Yesterday protesters disrupted classes at the Mowbray campus, forcing a shutdown until further notice, the university confirmed. Students and workers have been protesting for reasons including: the lifting of the suspensions of four students …; the clarification of the insourced worker contracts; the release of two students."…Hout Bay (Western Cape): angry protests continue as cops are charged with attempted murder after shooting 14-year-old in mouth "Protests erupted in Hout Bay when small-scale fishers were unhappy regarding the Department of Agriculture, Forestry and Fisheries' proposed total allowable catch reduction for the West Coast rock lobster. Residents joined the fishermen, aligning their struggle with ongoing housing and service delivery issues. They set benches on fire and used flares and petrol bombs, resulting in public order police being deployed….Protesters set fire to debris and clashed again with police near Harbour Road, setting fire to a digger loader with petrol bombs. City Law Enforcement spokesperson Wayne Dyason said flares were fired at police and the road to Hangberg was blocked off, but no injuries were reported."
Argentina, Buenos Aires: 25 high schools occupied by students fighting miseducation reform

Guinea, Boké: another person (a student) dies (of teargas asphyxiation) as riots continue More here in English. "…over the course of two days rioters destroyed a police post and vehicle, leading to a lethal response by government forces…rioters also attempted to block bauxite miners from arriving to work at the mines" See also entries for 13/9/17 & 10/9/11 below, and 27/4/17, 26/4/17 & 24/4/17, here

Sri Lanka: striking electricity workers sabotage Central Electricity Board power lines
Canada, Ontario: report of anarchist sabotage of pipelines
Nigeria: report that 40% of oil production was lost to sabotage in 2016

US, Berkeley (California): $600,000 spent on security for right-wing mutterer…whilst other scumbags await their turn to recruit for their sweet politikkks…New York: Wall St. statues vandalised

13/9/17:
Belgium, Brussels: undocumented migrants occupy hotel

Guinea, Boké: 1 killed during further riots over mining "Rioters on Wednesday pillaged a gendarmerie post and set fire to a security forces vehicle, before Guinean forces opened fire to push them back. They also blocked streets to prevent mine workers from going to work"…though probably the riot was  over electricity "Since this morning, the city of Boké city has seen an insurrectional situation due to clashes between  young rioters demanding the restoration of the current electricity cut in the city for several days, and the forces of order. Commercial activities and road traffic are virtually paralyzed. The tension has just risen one notch with the sacking of the premises of the mobile gendarmerie, located in the district of Dibya. Food rations stored there were systematically looted by demonstrators who transported them to their homes. According to our information, the gendarmes, low in numbers and faced with the fury of the demonstrators, have withdrawn to the local headquarters of the Central Bank." See also entries for 10/9/11 below, and 27/4/17, 26/4/17 & 24/4/17, here
Tunisia, Tunis: clashes as national assembly passes "reconciliation bill" that forgives crimes of Ben Ali's old regime "…demonstrators tried to invade the seat of parliament and responded to being opposed by the police by throwing glass bottles and stones."

South Africa, Western Cape: angry protests about fishing quotas continue "…angry protesters took to the street for the second day to protest over the allocation of fishing rights and the delivery of basic services….The 14-year-old boy shot on Tuesday with a rubber bullet, allegedly by police, was recovering in hospital….Disgruntled fishers stormed the Foreshore offices of the department on Monday, demanding an immediate suspension of the West Coast Rock Lobster fishing rights allocation process."…KwaZulu Natal: schoolkids loot and burn their school…Western Cape: 3rd day of violent protests at University of Technology forces suspension of studies "Violent protests entered a third day at the Cape Peninsula University of Technology (CPUT), forcing the institution to suspend all academic activities at its Faculty of Business and Management Sciences in Cape Town yesterday.This came a day after CPUT announced that all academic activities were suspended at the institution's engineering faculty on Tuesday.On Monday, the industrial design workshop building was allegedly petrol-bombed and a car stoned….The university has been on lockdown after students and workers clashed with police and private security guards since Monday. They were demanding that CPUT lift the suspension of four student leaders and improve the contracts of in-sourced workers….Yesterday, a group of protesters disrupted classes on the Mowbray campus….A security guard… said: "Management is proving us wrong. We are supporting the students because they are the future leaders of our country – the fight to free the arrested students, lifting of the four students' suspensions and the insourcing of worker contracts are all a struggle for free education."
Greece, Athens: gold miners clash with cops over redundancies

Ivory Coast, Cocody: clashes as student march against increased fees is teargassed by cops

US, New York: Christopher Columbus statue vandalised See Howard Zinn on Columbus:  1. Columbus. By the way, Zinn's famous book, "A People's Histoory of the United States" is interesting only up until he gets to the post-war period (ie his adult life), when he falls into classic uncritical "libertarian" leftism, ignoring all the contradictions of this period in a bland and useless valorisation of every single movement that he mentions.
12/9/17:
Haiti, Port-au-Prince:  riot against national budget "Protesters brought parts of the Haitian capital Port–au–Prince to a standstill Tuesday, setting vehicles alight and damaging local businesses in violent demonstrations against the government's budget plans. "These little thieves in Parliament voted for this budget to help the government exploit the people," said protester Marco Paul Delva, standing by a barricade of flaming tires near the legislature. Traffic in the center of Port–au–Prince and on key routes around the city ground to a halt after protesters threw stones and tires across roads. Although demonstrators gathered in relatively small groups, the protest took police by surprise — and they were unable to intervene in some blocked–off areas. Protesters set at least two cars on fire and threw stones that smashed several shop windows…."To renew your driving license, you must now show a receipt confirming you have paid RM664.39, no matter if you are a poor taxi driver or a street vendor," claimed Jean Claude Reimbold. "But the bourgeois pay nothing: thanks to their corruption, they don't pay for water, electricity or income tax."
South Africa, Western Cape: armoured cop truck burnt, cops pelted with projectiles, barricades of burning tyres as locals protest fishing quotas

France, Paris: minor clashes as 24,000 demonstrate against new Labour Law…Lyon: clashes as cops teargas anarchists and high school students because they want to be at the head of demo; CGT collaborate with cops classifying these anarchists etc. as "potential window-breakers" …Nantes & Caen: various clashes "…in Nantes, clashes erupted after the demonstration against the reform between anti-capitalist demonstrators and police forces. As the protest ended at the call of the CGT-FO-FSU-Solidaires-Unef, around 4:30 pm, at least 1,000 demonstrators, acc[ording to the police, most of them with their faces hidden, continued to parade. In particular, they walked behind a banner proclaiming: "Youth return to give you a bad turn". Targeted by various types of projectiles, the forces of order responded with masses amounts of tear gas….According to Ouest-France, the headquarters of Medef Calvados [local HQ of national bosses' organisation] in Caen was vandalized at mid-day around 12:30."  Anarchist report in French about Caen here.
A helluva lot of bullshit about this law, thrown from all directions, including the "anarchist" milieu. One neoliberal deputy on TV complained,  "Macron pretends to crack down hard and the CGT pretends to oppose him". Which is just about right. This law is a clever divide and rule – for those working for big companies it's a massive improvement should they be laid off (big increases in redundancy payments); it hits those working in small companies most, but Macron's not attacking the public sector so far (though it looks like he's going to attack their pension rights or, at least, the pensions of some of them). A friend writes: "There are plenty of small indications in the texts of the local unions of the CGT or in the reports of the protests in the press, concerning the classic strategy of the CGT to control the mobilization, and even to establish the general framework. The CGT has already called for a new day of mobilizations… whilst having negotiated with the government alongside the other unions since the beginning. We find fun things, like this remark in Nice, where the trams or buses were completely blocked, to make a little show, but not for too long of course: "It's very unusual for us, as a matter of principle we hardly ever strike because we are a powerful union and we negotiate well with (Mayor LR, Christian) Estrosi," said Tuesday's     mobilization legal officer for the CGT, Daniel Descotes, at Lignes d'Azur. Christian Estrosi claims to have asked, in vain, to avoid resorting to a strike. "It is not our status as  tram drivers that we defend but we think that everyone in the workplace is being attacked like never before since the war," adds Daniel Descotes."
[travail = work; aïe = aaagh]
(a replaced bus shelter "ad" in Besançon)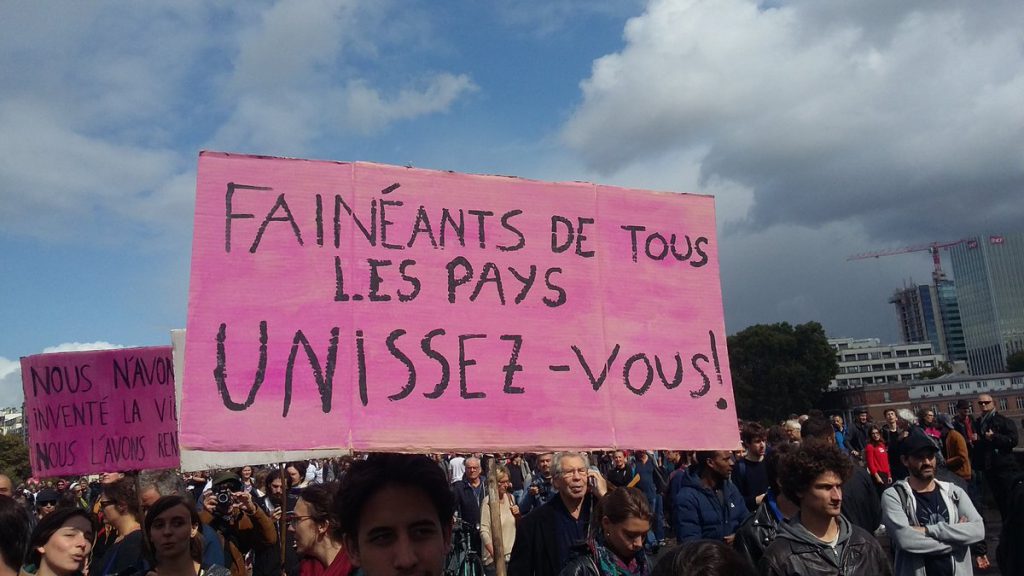 Lazy slackers of the world unite!
…Pas-de-Calais (and other places): operation snailspace blocks motorways  They claim that 10,000 trucks blocked roads across the country,  500 being in Paris. This was partly related to the new Labour Law, but is primarily aimed at preserving the monopoly of those who currently run the various fun fairs in France, concerning which Hollande, when he was president, passed a law making access to the areas of local councils put aside for these fairs subject to competitive tendering. The leader of this racket is a Marine Le Pen-voting fascist anti-black, anti-Arab racist rich guy (Marcel Campion),    a recipient of the Légion d'Honneur who really does not deserve any support whatsoever.

British Virgin Islands: over 100 prisoners escape during hurricane…looting explained "People looting in the wake of Hurricane Irma should not be criticised, according to the owner of a company that has been raided. Looters are stealing from businesses on the British Virgin Islands in a desperate bid to survive and help their families. Biff Smith and Amy Edmons both 40, who run Dream Yacht Charter, have seen their business looted in the days since the storm struck the island of Tortola. Ms Edmons said: 'People are looting, but it is not out of spite or because they want to cash in on it, they just want to help their families.' " In a world where the bleeding obvious is repressed and disparaged, it's refreshing to see people who officially you'd expect would oppose such actions making banalities explicit.

US, Florida: more looting…meanwhile, the local state concentrates on cracking down on looters… rather than helping to save lives   "The Rehabilitation Center at Hollywood Hills… desperately kept calling Florida Gov. Rick Scott begging for help. In fact, they called a full 36 hours prior to the first death."
11/9/17:
South Africa, KwaZulu Natal: protesting high school students set fire to school "…the pupils were demanding "a more beautiful school", scholar transport and for the provincial Department of Education to provide them with breakfast, as well as the lunch it already gives them."…Western Cape: university building petrol bombed as students support workers' demands over contracts and demand reinstatement of suspended students… Western Cape (Proteadorp, Kleinmond): municipal vehicle burnt, etc. after cops fire rubber bullets against march protesting lack of housing etc. "The seaside town was turned into a war zone as protesters and the police clashed following what was meant to be a peaceful march. One person was arrested for firing live ammunition into the air, protesters and police exchanged stones and rubber bullets, and a municipal vehicle was torched….At issue are a lack of housing in the area, inadequate graveyard space, a shortage of schools and a town cleaning tender … Older pupils have to travel to Grabouw, Hermanus, Hawston and Caledon to attend high school. Travel expenses can amount to R700 a month….Residents told Weekend Argus that as soon as they gathered for their March on Monday, police blocked their way down Kleinmond main road towards the municipal offices….Running battles between protesters and police broke out. Further protests took place over the rest of the week."
India, West Bengal: workers and leftists in heavy clashes with cops over Ponzi scheme scam Video here See this about the scam

Dominican Republic, Santo Domingo: student shot during university protests demanding, amongst other things, clarification of murder and mafia in distribution of student cards

Chile, Valdivia: barricades, vehicle burnt, molotovs on anniversary of fascist coup…Santiago: bus & van burnt, barricades in different parts of city, a bit of looting on horrific anniversary See "chile: the Allende years" for a reflection on what happened in the early '70s leading up to the coup.

10/9/17:
South Africa, Limpopo: 4 prisoners awaiting trial escape from police station

Chile, Santiago: water cannon v. rocks & molotovs on eve of anniversary of Pinochet's coup See "chile: the Allende years" for a reflection on what happened in the early '70s leading up to the coup.

US, Florida: shops looted as hurricane hits…Oregon: cops v. antifa "They reportedly threw smoke bombs and projectiles at police, and knocked down a fence officials had set-up to avoid violence. Two officers sustained injuries while attempting to separate the groups." Anarchist report here

Canada, Vancouver: antifa v. fascoids Photos here…Montreal: occupation of rail track in protest against oil company

Guinea, Boké: roads barricaded in protest against constant power cuts and lack of water supply…Lola: youths attack police station "…young people attacked and vandalized the police station in the rural commune of Foumbadou, Lola prefecture in the forests of Guinea …. the young people seriously injured the Inspector of Police, Ibrahima Sylla, before carrying away several motorcycles… including those of the Foumbadou Youth Secretary-General, the Sous-Préfectural Director of Youth and a new UNICEF motorcycle offered to the community. According to the sub-prefect of Ibrahima Milla Camara, his car was also targeted in this operation of vandalism and robbery…According to this colleague, it is not the first time that young people have attacked public buildings in this locality. " 

8/9/17:
Peru, Lima: teachers teargassed as they occupy main road near Congress Report in English & video here

India, Rajasthan: cop killed during riot following cop beating guy during motorbike check "…hundreds gathered at a police station in the area and started throwing stones. The force used teargas to disperse the mob that went on a rampage, setting a power house and a few vehicles on fire. A curfew was imposed around 1 am" More here "Locals alleged that the constable had assaulted the couple on Friday night over some issue, following which hundreds of people gathered at a police station in the area in protest and started throwing stones at the cops. The mob also set a transformer and several vehicles, including an ambulance, on fire. They also attacked journalists who had reached the spot".

US, Virginia: wildcat strikers win demand to have abusive manager sacked

UK, Lancashire: Mercedes Bernz

France, St.Martin: more looting in aftermath of hurricane This report doesn't describe what places  were looted; it's obvious that I support looting of shops, other businesses and state property – looting of individuals or their houses is another matter. It serves the dominant world to confuse the two, to make them equivalent.

7/9/17:
South Africa, Western Cape: street barricaded, car burnt, in furious protest against dangerous drivers

Iran,  Kurdistan province: roads closed, clashes with state in regional capital as protests against cop killings of cross-border porters spread "Despite all the security measures and obstructions, protests were held in Sanandaj. On some streets, there was a chase between the riot force and the protesters, during which a number of young people were arrested. Reports indicate the arrest of at least 11 young protesters by security forces. According to reports, a young man's arrest in Ferdowsi Street caused chaos in the protest and led to a clash between security forces and protesters. The cities of Kurdistan are tense after the protests in Baneh. The people of Baneh are still in strike. Local sources say that routes to Baneh are closed."
More here in French "Demonstrations and protests continue in many cities in the province of Iranian Kurdistan for the fifth consecutive day. These spontaneous demonstrations broke out after the killings of two Kolbers workers…assassinated by the repressive forces of the totalitarian and fascist Iranian regime, not far from the city of Siné during the day of Monday 4th September 2017.  Kolbers are the Kurdish name given to local precarious workers, porters and freight carriers who operate in the mountainous border regions of Iran-Iraq-Turkey. They are regularly targeted and shot dead or seriously wounded by border guards and the Iranian military under the guise of "combating smuggling" …While demonstrations continued yesterday 7th September and today 8th September 2017 in the towns of Baneh and Sineh, militants and activists from the city of Kermanshah called for action yesterday, whilst leaflets also circulated inviting the population of Sine and other towns of Rojhelat to descend into the streets. 10 former Kurdish political prisoners and civil activists who had been arrested and later released for showing solidarity with the people of Rojhelat began yesterday a three-day hunger strike to protest the attacks on the Kolbers.…As the anger of the population continues to grow against the genocidal and discriminatory policies of the Iranian regime and its attempts at repression, it has continued to send its police and military forces to the large towns of the Rojhelat in an attempt to intimidate and frighten the Kurdish population.…Teheran has deployed a large number of Etelaat agents in "civilian" form … in Baneh, Marivan, Sine, Sardasht, Kermanshah and Sanandaj . In addition,…the regime is also deploying massively its sinister anti-riot units of Motorcyclist Voltigeurs, and units of the Revolutionary Guards of the IRGC in all the strategic places located around the government buildings of the cities quoted above. It should also be noted that the Fatah Police in charge of surveillance of  Iranian cyberspace has succeeded in virtually cutting off all the internet connections of the province, hence the few videos and photos of the protests in progress in the Rojhelat which reach us via social networks." More here in English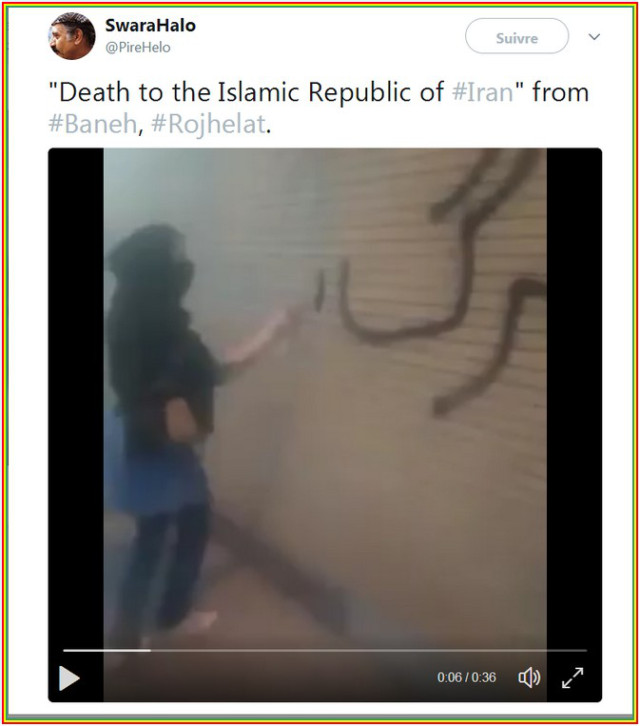 Mexico, Oaxaca: teachers clash with cops during presidential visit "Members of the National Coordinator of Education Workers (CNTE) union… managed to blockade streets in the early hours of the morning, also decrying educational reforms introduced by Nieto's government. During the clashes, a projectile hit a helicopter carrying media people covering the president's visit to the region. No injuries from those on board the helicopter were reported but an emergency landing was made at a local field. The rocket was reportedly launched by the protesting teachers. At least three police officers were also injured facing off with the protesters." Anarchist report and video here Photos, film and report in Spanish here. A friend writes about the earthquake in Mexico: "The most damaged areas after the recent earthquake were the Tehuantepec isthmus' communities struggling against wind farms, and for their "autonomy". The media talked a lot about Juchitan, the main town in the area, since the town hall collapsed and most of victims were reported there, but the nearby villages have experienced lots of damaged : it seems a huge number of houses collapsed, leaving people with very little. According to a comrade there, the situation in these villages, only half an hour or an hour away from Juchitan, is a lot worse. Houses were struck by the earthquake but also by the waves, since several villages are located on the coast. Comrades there are struggling to send autonomous support there, since the State is trying to enter the communities through its aid policy (the
same thing happens regularly when indigenous communities in Oaxaca or Guerrero especially are struck by "natural" disasters). "So that nobody feels the need to settle deals with the State", the comrade wrote…."
Chile, Temuco: hooded people build barricades of burning trees etc. on University campus in protest against new anti-"terrorist" law and in support of hunger strikers

France, St.Martin (Caribbean island part-owned by French state): looting of TVs etc. in wake of Hurricanes Irma and Jose More here, here and here "Hundreds of extra police are being sent to the Caribbean island of St Martin after reports of people breaking into shops…"The situation is serious," Dutch Prime Minister Mark Rutte said Friday when asked about reports of looting on the island…an AFP photographer saw a crowd of around a dozen people breaking into a mini-supermarket"

Paraguay, Asuncion: minor clashes as cops block rural workers' march

6/9/17:
South Korea, Soseong-ri: 8000 cops confront 300 villagers protesting against missile deployment "Some 38 protesters were wounded in tussles with police, with 21 sent to hospital" More here "As people took to the streets to protest the deployment of this system in front of the community's administrative building, demonstrators reportedly tried to break in."

US, New Jersey: pro-"Dreamers" occupy Congressional office

Vietnam, Than Hoá: 6000 garment workers on wildcat strike "The work stoppage began on Wednesday after a factory manager told workers not to sleep on sheets used to cover stock during their breaks….The demands include a basic salary increase, no deduction of wages in case of sickness, accidents or other unexpected events and a better maternity policy….The company's leaders are negotiating with workers but have yet to reach an agreement. S&H Vina sacked the manager who offended the workers"
5/9/17:
US, Kansas: huge prison riot "Buildings are burning and some inmates have gotten weapons" More here "…a violent inmate uprising late Tuesday …saw multiple fires set in the facility. Inmates smashed windows throughout the Norton Correctional Facility. They took over staff offices and destroyed computers. They broke into the prison's clinic and stole syringes. And some were wielding homemade weapons…The Kansas Department of Corrections described the incident as an "inmate disturbance," but a correctional officer said it was a "full-blown riot" that involved 400 or more inmates in the prison in northwestern Kansas that houses roughly 850. "When a little disturbance is when the inmates take over the facility, I don't know what a riot is," said the correctional officer, who spoke on condition of anonymity. "Basically, they tried to burn the place down." And here "…lethal force by guards was on the table, according to a log book obtained by The Star…The log confirms correctional officers' accounts about the state of disarray inside the Kansas prison: Inmates wrapped "large pieces of glass" in towels to use as weapons, they threw rocks at correctional officers, and they tried to devise a plan to charge the guards on duty."…Albuquerque: high school & college students walk-out over Trump's plans to deport children ""Immigrants are allowed here. You do have a right to be here. No matter where you come from, you have a right to be who you are," said Albuquerque High student, Rowan Ortega. It all began at the University of New Mexico as hundreds of students left class and began marching to rally a point along Central just outside of the bookstore. After the rally, the walkouts didn't end there. Students at high schools started their walkouts after lunch."…Colorado (Denver): similar walk-outs here

Police open fired at least 20 rounds in the air but the mob kept pelting stones." Video here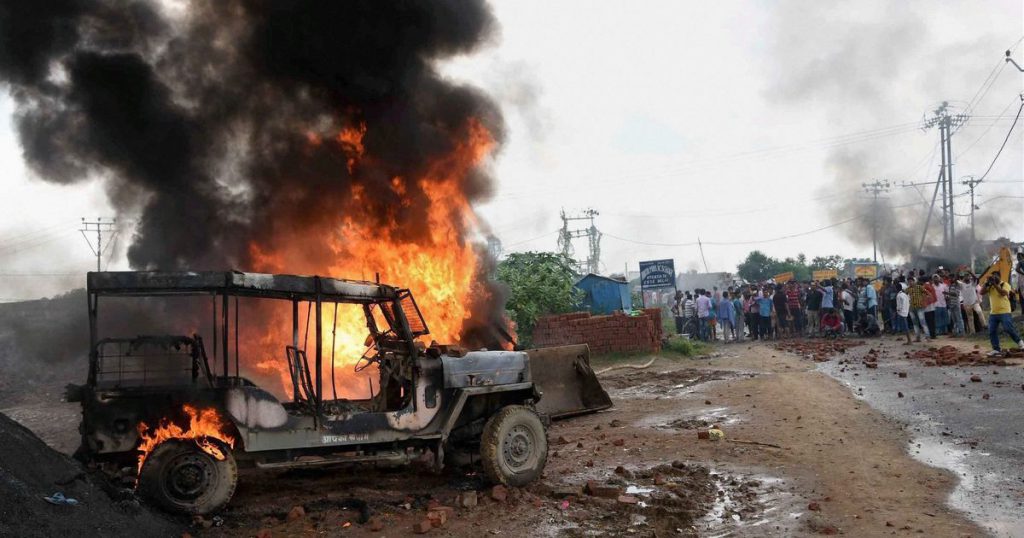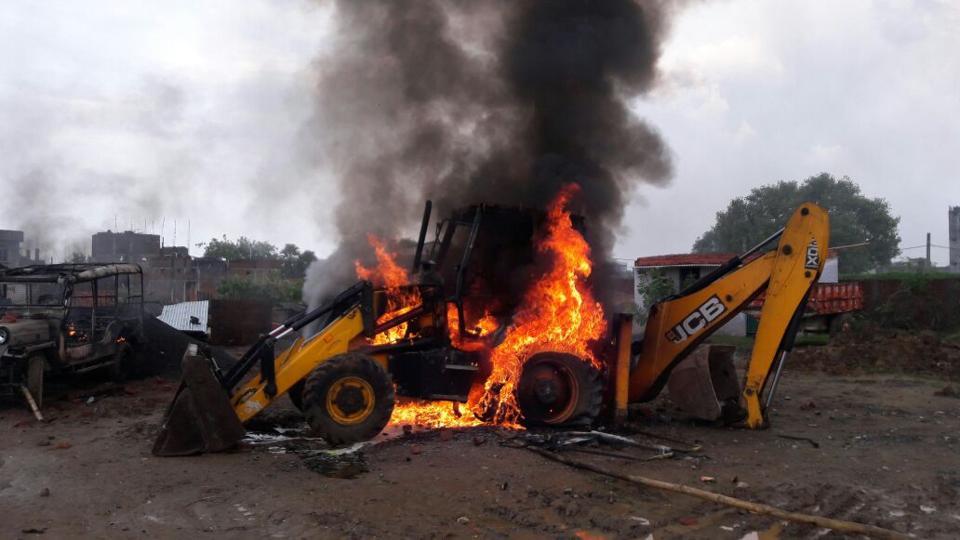 4/9/17:
Eire, Meath: wildcat strike by agency medical workers

Myanmar, Yangon: over 200 striking workers set up barricades round factory "Strikers said that they will maintain the barricade until they get positive results. Workers asked the factory officials to re-hire them at their former positions or to compensate for the loss of jobs, in accordance with the labour law. "The factory denied both rehiring and compensating. We have no other choice than to build barricades. It can last more than two months if we go with the routes of arbitration councils system and strikers have problems with their daily expenses," said Ko Pyoe Ko Ko Aung. Factory officials told The Myanmar Times on September 4 that they were blocked in the factory by the protesters. …"Today, the worker's demands were completely denied. The factory blocked every possible route for conciliation. We don't encourage the barricades as it is illegal, but we also don't object to their strike," said Ko Aung Soe Min, labour supporting officer from the worker organisation We Generation."
South Africa, Limpopo: violent clashes with cops during service delivery protest against empty government promises Video here…Durban: 2 members of Abahlali baseMjondolo kidnapped, beaten  and tortured

Cameroon, Kumbo: after cop kills man in marijuana drug bust, protesters set fire to administrative buildings, wound head of prefecture

France, Centre-Val de Loire: 4 CCTV cameras destroyed by a dozen masked individuals…Isère: railway line to nuclear power station sabotaged…Montpellier: metal shutters damaged, anarchist tag on newly opened local HQ of leftist deputy belonging to "France Insoumise"

Finland, Jyväskylä: massive crowd of protesters against deportation of family confront cops "Police in central Finland clashed with a large group of protesters on Monday afternoon as officers began the deportation process of a young Afghan family housed at the Salmiranta asylum seeker reception centre in Jyväskylä. Police had planned on removing the family from the facility at about noon, but it took nearly seven hours and dozens of riot gear-clad officers using pepper spray and brute force to ward off the growing crowd of protesters. An Afghan family – a father, mother and their eight month-old baby – who face deportation from Finland were removed from their residence by police early on Monday evening. However, due to a crowd of protesters who tried to thwart the officers from carrying out their orders, the removal did not go as police had planned. By mid-afternoon some seven additional police units were called in to face the protesters, with a few officers taking shelter in the deportees' home during the confrontation….Video footage…shows officers on the scene using pepper spray and physical force to disperse some of the protesters, who were heard shouting "no deportations" and seen blocking the road."
3/9/17:
Belgium, Brussels: police station under construction ravaged by arson attack "By December, at the latest, the building was to house a new police station, but the damage caused by the fire is very great. Investigators were unable to identify any suspects.…The building was to replace four existing police stations."
Greece, Athens: once more in Exarchia

UK, Birmingham: prison "disturbance" "An unknown number of prisoners refused to return to their cells at the end of Sunday evening at the category B jail". More here

Switzerland, Bâle: 2nd night of attacks on state vehicles "For two consecutive nights in Basel, fire burned cars of this world of control and authority. On the night of Saturday to Sunday 3 September, an unmarked  cop car was burned …Then in the night of Sunday to Monday 4 September … a company vehicle, probably a car of the company Swisscom, which went up in smoke.…]...This fire is also linked to the struggle against the enlargement of the prison at Bässlergut." … Neuchatel: 40 youths in mini-riot as they turn on cops after cop intervention against them fighting

2/9/17:
Greece, Athens: cops attacked yet again in Exarchia Apparently this is a bit of a ritual there: the only cops in the area guard the Socialist Party (PASOK) building, and they – from time to time – are the object of attack. A lot of cops don't want Exarchia to remain the virtual no-go area that it is, but the government doesn't think it's worth the bother to push them to end this largely cop-free zone, as it would provoke a massive, and fruitless, confrontation with the world-famous "anarchist ghetto".

France, Calais: migrants clash with cops

1/9/17:
Argentina,   El Bolson: molotovs thrown at military following disappearance in August of Santiago Maldonado, supporter of evicted Mapuches …Buenos Aires: clashes with cops over the same issue  (see entry for 7/8/17). Received by email from Cuadernos de Negacion, translated from Spanish:
"Comrades, sympathisers, friends,
Writing to friends from other countries we thought that perhaps it is necessary to share this bit of information on this issue that is already going round the world.
These are difficult days – they "disappeared" [it is used, rightly, as an active verb in Spanish, knowing how widespread the phenomenon of disappearances by State forces is] a comrade, a close friend, friend of friends, who has travelled to many parts and established affinity with many people within the anarchist movement and around it. Here in the city we have been doing many things and dedicated ourselves fully to this. And to the classic repression must be added the one of parties, unions and human rights organizations that only remember the disappeared Santiago, not his solidarity nor his fighting spirit.
We share a rap song that he wrote, sang and recorded last year, which makes his position very clear: https://www.youtube.com/watch?v=P5i2dt4u1-o
Here is No. 49 of the bulletin The Black Sheep that reports on the subject and compiles some pamphlets: http://bibliotecaalbertoghiraldo.blogspot.com.ar/2017/08/ya-salio-la-oveja-negra-nro49.html
And this is the site of his family: www.santiagomaldonado.com
Here and now! The fight continues!
Internationalist greetings!"