"Shining through tears, like April suns in showers, that labour to overcome the cloud that loads 'em." 
– Thomas Otway
"It was a bright cold day in April, and the clocks were striking thirteen."
– George Orwell, 1984
(March here  &  May here)
30/4/18:
Mexico, Chihuahua: heavy clashes as co-operative farmers attack illegal wells of wealthy farm family (backed by corrupt local state & cops) because they are effectively stealing their water"During the scuffle, two peasants were injured with a firearm, while the peasants stoned the wells and four trucks parked on the ranch.…Julián LeBaron, said that more than a hundred people attacked his property, forcing the family to leave the premises"
South Africa, Cape Town (Macassar): housing office burned down in housing protest"Computer equipment, furniture and office records were destroyed in the fire."…Cape Town (Vrgrond): residents chuck petrol bombs, demanding right to build informal housing on contested land"The ownership of the land is believed to be the matter of a legal dispute. Community leader Daniel Nomavila said: "The residents are very angry at the municipality. Law enforcement came to break down their structures and shacks on the land." Protesting residents set alight a sports clubhouse in Seawinds, petrol bombed neighbouring apartments and set a car alight…."City of Cape Town Traffic reported that Prince George Drive has been closed at Military Road, direction towards Sunrise circle for traffic due to protest action and community members wanting to vandalise the Capricon Park Mall. All necessary Law Enforcement agencies are on the scene." Rubber bullets were fired to disperse the crowd. The City of Cape Town's Maxine Bezuidenhout said the roadway was later opened. Residents vowed to illegally occupy Xakabantu as talks with mayor Patricia de Lille collapsed last week. De Lille held a meeting with residents following violent protests in the area two weeks ago. Protesters have continued to burn tyres and debris. The protest began on April 16 after residents complained of overcrowding in Vrygrond and the lack of access to land."
US, Arizona: report saying  state-wide teachers' strike may be illegal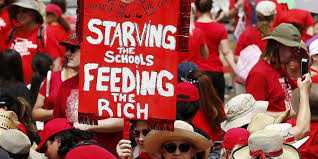 Morehere "Republican governor, Doug Ducey, proposed to give teachers a 20% raise. The proposal, which would still have left the state's educators among the worst paid in the US, was rejected by the teachers' union and the Arizona Parent Teacher Association after it was revealed that the plan would be paid with cuts to other state programs."
France, Besançon: business school covered in graffiti"YOUR WORLD IS A ZONE TO DESTROY", "OUR PAVING STONES ARE NOT LISTED ON THE STOCK EXCHANGE", "SCHOOL OF SHEEP" , "RATHER AGITATORS THAN SALESMEN", "ON 1 MAY, WE FEAST ON BOURGEOIS"

Rwanda, Kiziba: refugees and cops clash at refugee camp"Rwandan police fired teargas on Monday at refugees and injured at least one child after senior police officers and government officials visiting their camp were pelted with stones…The refugees said they feared the police intended to arrest the executive committee that helps to run the camp. In February police killed at least five refugees and injured 20 at the camp after protests over cuts in food rations turned violent. "They are firing teargas. One child was injured in (the) head and was transferred to Kigali," Muligande Ntabana, a refugee at the camp told Reuters"
29/4/18:
South Africa, KwaZulu Natal: 32 trucks torched, some looted, in riot More here"…police officers were engaged in running battles with rioters for most of the night….Sources reported that some officers came under fire from the crowds…the source of the consternation is veiled in mystery"
Belgium, Brussels (Anderlecht): youth who (allegedly) repeatedly threw stones at cops & journocops over several months arrested "A series of incidents in which police officers have been hit by projectiles thrown from the roofs of buildings, have occurred sporadically within the neighborhood of Peterbos since the end of 2017. Last Sunday, controllers of the Stib [city's transport company] were assaulted by young people during a ticket control operation. Monday, it was a team of the VRT [TV & radio broadcasters], filming in the district, which was hit by a projectile…. throwing stones in the neighborhood have so far given rise to the opening of a judicial investigation into a dozen "attempted murders"."

28/4/18:
France: Tolbiac damage to walls etc. estimated to cost over  £600,000Typical shallow flippant BBC journalism…Lyon: 2nd day of clashes with cops in popular area More here "In response to projectiles thrown from the street or windows of buildings, the national police fought back with tear gas and a few flashballs".
27/4/18:
Bangladesh, Sylhet: rickshaw drivers in heavy clash with cops over them being banned from main highway"The protesters got into a violent clash with police as the latter tried to disperse and prevent them from blocking the road. The autorickshaw drivers, who sustained bullet injuries in the incident, refused to get admitted to Habiganj Sadar Hospital fearing that they might be arrested by law enforcers if they go there for treatment. However, they later received treatments at local clinics and doctors' chambers. The injured policemen were admitted to the hospital."
Senegal, Sedhiou: high school riots in support of teachers' strike spread to another area

26/4/18:
Nicaragua: the struggle continues"…the clashes have killed more than 2 dozen people including students and 2 police officers…Ortega has caved to demands and reversed the social security reforms that triggered these protests in the first place, but the protests haven't slowed down. "This protest isn't only because of the reforms, this protest is because we're tired of all this abuse". Now marchers are calling for him to step down."
See also "nicaragua and the sandinistas", on this site.

Poland, Warsaw: disabled children's parents occupation of Parliament now a week-long and not over"Although parents occupying the Sejm receive visits from politicians, none offer solutions to their problems. …Prime Minister Mateusz Morawiecki promised protesters a "road map" but cautioned that federal coffers were empty. Nevertheless, the parents have no intention of giving up."
France, Loire-Atlantique: English-language reports on ZAD occupationThis site is largely from an insufficiently critical perspective that ignores most of the contradictions that developed which showed the weaknesses of the ZAD in dealing with the  divisions that were complicitous with the state's divide-and-rule.…Ariege: administrative buildings & engineering laboratory of tungsten mine, aimed at supplying arms industry, sabotaged & torched"…the arsonists first smashed a wall with a sledgehammer at the back of the workshop, before bringing in several tires that lay outside and set them on fire. A tank containing 18,197 liters of fuel oil exploded in the fire and a generator was destroyed, as was the roof of the workshop, whose metal frame was partly melted. In the offices, a second fire started damaging the PVC floor." This mine had recently been re-opened after 30 years of closure. Everyone in the area apart, maybe, from the prefecture and the company, are likely to have celebrated this sabotage, as they invariably have opposed it on the grounds of health & safety. Tungsten is one of the strategic metals for civil and military use. For example, it is amalgamated with depleted uranium, or replaces it, for perforating "shock cones" and, given its relative rarity, its current price reaches that of "rare metals", the group of metals without which it would be impossible to build any processor. In this region the extraction and refining of tungsten has very harmful effects on health: anorexia, amnesia, and so on, sometimes including lung cancer. Combined with asbestos used for decades in the mine…not hard to imagine the rest. The miners were often immigrant workers from North Africa who, now retired, have developed chronic diseases, never recognized, of course, as occupational diseases. For several months, the protests intensified against the reopening of the mine.

Senegal: high-school students ransack town hall and riot in 3 different areas in attempt to force government to give in to long-running teachers' strike over  wages"In … the commune of Gandiaye, the ransacking of the premises of the town hall of Gandiaye and the blocking of traffic for hours with burnt tires on the national road number 1… gendarmes who tried to reason with them, came out with injuries as a result of projectiles  and pebbles thrown …In total, three gendarmes were injured …Storming the town hall of Gandiaye, the schoolboys also ransacked the premises of the municipality of the aforementioned commune by breaking the windows."
Mainstream media reports often imply that these high-school students are opposed to the teachers' strike, but reading between the lines and often simply explicitly it shows they support the teachers' demands and  want the state to settle the strike in the teachers' favour.

South Africa, Gauteng: hospital workers striking for unpaid bonuses & overtime trash a bit of hospital"Throughout last week they trashed the hospital and on Tuesday police fired rubber bullets to disperse them," DA Gauteng MPL Jack Bloom said. …"I visited the hospital on Thursday last week and found mounds of trash, including medical waste, scattered in various places. A cold drink dispensing machine was also tossed on its side"
25/4/18:
South Africa: state warns against proletarian "violence" as official General Strike to raise minimum wage begins"…the South African Federation of Trade Unions … and its more than 20 affiliated unions, are set to stage protest marches all around the country on Wednesday in protest at the basic minimum wage of R20 [about £1.20p] an hour. Government, in a statement early on Monday, said marches had played a central role during the apartheid era and culminated into the transition from apartheid to democracy. "Today, marches continue to play a role in the democratic South African society wherein people have a place to make their voices heard….We call on all those participating in the marches across the various provinces to refrain from violence, destruction of property and intimidation. The rights of people who do not want to participate in the marches must be respected. When marches deviate from the intended cause and becomes characterised by violence, looting and civil-disobedience it is less likely to produce democratic progress." Government further called upon the convenors of the march to ensure that chaos does not ensue around Parliament, as this is a national keypoint and the highest law-making arm of the State. The same sentiments should be applied to other areas across the country". Now obviously anyone with some basic radical sense cannot simplistically support such gestures launched by the South African Trade Union rackets. But the fact that they're having to do  this indicates a simmering fire & fury that pushes these bureaucracies to take the heat out of the situation, to turn it off before it boils over…Strike unlikely to impact legislation "Saftu's national strike on Wednesday is more about the federation flexing its muscles and is unlikely to have an impact on the legislative process of amending labour laws. This is the view of labour analysts… the Saftu strike was .. an attempt to try and sell itself as a alternative federation for unions that are unhappy with Cosatu." …lefty "libertarians" give uncritical unnuanced support for this circus
Taiwan, Taipeh: clashes outside parliament as vets protest against pension cuts and show healthy disgust towards the professional liars of the media"Taiwanese military veterans on Wednesday scuffled with police as they tried to storm parliament in the latest of a series of protests against planned pension cuts. Hundreds gathered outside the legislature's main entrance and some threw smoke bombs and water bottles at police guarding the building in central Taipei. They also tried in vain to hurl an empty wooden coffin into the parliament compound's courtyard, television footage showed….Around 63 protesters were taken away after they climbed parliament's gate according to police. Others tried to pull down the gate using ropes and chains. Some barricades outside the compound were torn down by protesters, while 32 officers and 11 reporters were injured…Many journalists were injured and their equipment was damaged … protesters intentionally used violence and inflicted injuries"
24/4/18:
Iran, Marivan: houses of 2 of the states' counter-"revolutionary" guards torched after they murder a local villager"The clash took place when Pasdar-Colonel (IRGC colonel) Kaveh Kohneh-Poushi along with another Pasdar, Latif Nikpay, murdered an inhabitant from one of the villages of Marivan. The people burnt down the houses of the two criminals in protest of this crime. The anti-riot unit started attacking and beating these people in support of the two criminals. The clashes, which lasted for hours, continued up to the Bu'ali Hospital in Marivan. …In Baneh and Javanrood, the strike of the merchants and shopkeepers continued for the eleventh day. The intelligence agents arrested a protesting woman who was calling on people in the Baneh main street to continue the strike, and transferred her to a police station. The people of Baneh, having gathered outside the police station, forced the mercenaries to release her. …The poor farmers in the east of Isfahan continued their protests by staging a sit-in in front of the governorate building…." This report continues, providing interesting information which the racket behind this site would suppress themselves if they ever achieved any similar position to the scumbags presently in power, because this opportunist gang would obviously be forced to be as brutal in the unlikely event of assuming control of Iran's specific capitalist interests.

South Africa, KwaZulu Natal: police station spontaneously combusts"DA Police Portfolio Committee member Dianne Kohler Barnard tried conducting her own investigation into the incident. "Conflicting stories are being told. The police at first said a case of arson had been registered, and a source said it seemed there was no foul play. This means a SAPS station has simply burnt itself," she said…."We have so few stations and such a huge need. The sight of this destroyed building hurts…" 

Senegal, Bargny: clashes between farmers and state as farmers & locals try to stop work on port, having been cheated out of promises of compensation and employment

France, Hauts-de-Seine: logistics depot of SNCF blockaded by 300 students, train drivers, hospital & striking post office workers  This, unlike the almost invariably abstract  "convergence of struggles" called for from on high, at least has the merit of something concrete, despite (apparently) the absence of any suspicion towards the union agenda.

23/4/18:
South Africa, KwaZulu Natal: several hours of clashes with cops as informal settlers, demanding free water & electricity, erect barricades of burning tyres & portable toilets, blocking motorway…probably provoked by the death of this 9-year-old…North-West: looting & barricades as protests spread outside Maheking"Protests in the North West have flared up once again, with Taung and Delareyville now affected.As a result, the police have responded, stopping looting in Taung. On Sunday night, roads were also barricaded with burning tyres in Vryburg.The situation in Mahikeng, however, where the protests began last week – remains calm with a heavy police presence…despite some looting in Taung on Monday, the police have been able to bring all the affected areas under control"...cops kill 16-year-old during protestVideo of clashes here shows attacks on school conditioning factories
France, Hauts-de-Seine (near Paris): over 150 workers occupy SNCF (state-run railway) building during another 24-hour strike; most trains cancelledThis was mainly workers with CGT or SUD flags. Hard to know if this was yet another merely symbolic action, if the occupation lasted beyond a couple of hours…Another reporthere. See this site's critique of these unions here…Loire-Atlantique: renewal of clashes at Notre-Dame-des-Landes (video)…80-year-old Zadiste arrested…4 breakdown lorries belonging to company helping the cops with the ZAD destruction destroyed in solidarity with ZADists A text on some of the divisions in the movement, talked about below (especially entry for 9/4/18),  here.

Zimbabwe, Marange: diamonds are fornever – clashes with cops as villagers demand work"Zimbabwe Consolidated Diamond Company (ZCDC)'s…chief executive officer Morris Mpofu, however, chose to downplay the incident, saying…"This is a small group who are demonstrating and we don't know their motive…." Among other grievances, the villagers claimed the diamond mining firms had desecrated their graveyards, provided them with inadequate accommodation and taken away their grazing lands." Report with videos here

22/4/18:
Nicaragua: pension reforms withdrawn as result of riots"Several television stations were taken off the air as the government tried to stem the unrest…."We have to restore order. We cannot allow for chaos, crime and looting to prevail," Ortega added in his televised address. "We cannot allow it. And we will act under the rule of law and under the constitution to ensure and guarantee the restoration of stability and social peace so that workers can peacefully go to work."…. death toll rises to at least 25"A further 43 people were reported to have "disappeared" over the weekend…Snipers were reportedly placed in Nicaragua's national stadium to shoot at protesters holed up in Managua's cathedral. The demonstrators symbolically pulled down one of the brightly coloured Tree of Life sculptures erected in the capital by the vice-president, Rosario Murillo, Ortega's wife….In the city of León, university offices were torched …Ortega, who is facing the biggest crisis of his leadership, said on Saturday that he was ready to consider changing an unpopular social security overhaul announced last week, which would increase worker contributions and lower pensions. He said, however, that talks would only be held with business leaders and not with other sectors of society…people spilled back on to the streets in seven cities including the capital, after tensions had calmed somewhat on Friday night." Video here…Morehere"Nicaraguan newspaper La Prensa said more than 30 had died…Some students vowed to keep the pressure on the government up as their demands had now widened beyond protecting pensions. "We are fighting …for all those years of pillaging of the people by the Sandinista regime," an engineering student in Managua who identified himself as Cristofer told AFP news agency."
The people pillage back a tiny fraction of what has been pillaged from them: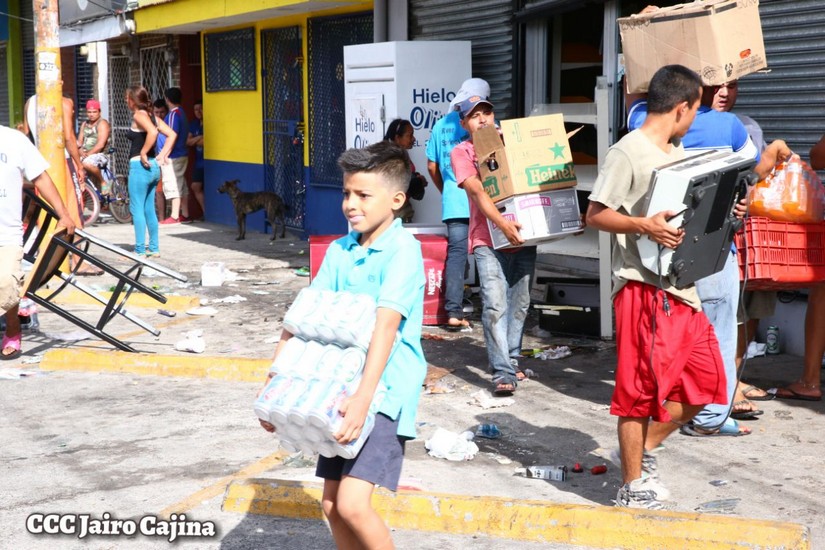 Proletarian shopping, Managua –
Bargains galore! Everything must go go go!!!
More photos here
Italy, Piemont: protesters trying to help refugees cross French-Italian border clash with copsThis Daily Express article describes the protesters as "anti-fascists". The only indication that these people  adopted this label is that some called the cops "fascists' – clearly an original appellation and obviously something only a self-defined "anti-fascist" would shout. Apparently among some of  those arrested face up to 10 years in jail for simply helping someone cross a border (meanwhile the French cops have transgressed the sacred border without much problem, surprise surprise).

Greece, Lesbos: clashes between nationalists and refugees & supporters

21/4/18:
South Africa, North West: "calm", apparently, has returned to Maheking(see entries for last 3 days below) "The situation was calm in Mahikeng on Saturday despite two attempts to burn buildings overnight, North West police said. A petrol bomb caused minor damages at the house of a traffic officer in Magogwe Tar village on Friday night, Brigadier Sabata Mokgwabone said. "No one was injured during the incident. In the second, separate incident, a petrol bomb that was apparently meant to cause fire and damage to [the] Mmabana Arts Foundation building failed. This is the same building that was burnt on Thursday." He said the situation in Mahikeng was relatively calm on Saturday. "At this stage, despite visible objects that were used as barricades, traffic is flowing on most of the roads" …Twitter feed here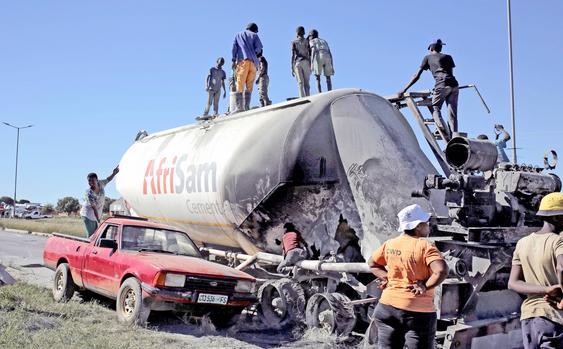 Locals loot cement from an AfriSam cement truck during protests in Mahikeng
Nicaragua: report about 3 days of clashes with the Sandinista state and its neoliberal policies…at least 10 dead"…Violent protests against pension reform left at least 10 people dead in Nicaragua on Thursday and Friday. Called "riots" organized by individuals seeking "to break peace and harmony" by Vice President Rosario Murillo, the protests hardened on Friday, the third day of mobilization, with barricades erected, clashes with police and attacks on government buildings, in Managua and in other cities of the country. About 80 people were also injured in these demonstrations, the most violent since Daniel Ortega came to power eleven years ago. Four independent TV channels were prevented by the government on Thursday from covering them…This mobilization seems to have taken the government by surprise, which until now had managed to contain the discontent thanks to the influence of the ruling party in the public and military spheres. "It's a grassroots protest, not a political party…I think the government did not anticipate this reaction"
20/4/18:
France, Paris: Tolbiac occupation evicted, blockade lifted by cops…at least 4 hospitalised as media claims eviction happened without incident…man hit by BAC (Brigade Anti-Criminel – psychotic cops in "plain clothes") in a coma – immediate demonstrations in various parts of the country…cops deny this, calls it a "rumour"No confirmation either way, though this report in French, gives 3 witness accounts confirming that this event happened, though whether the guy, despite having been unconscious, fell into a coma or not is not clear. The implication is a possible state cover-up with media complicity. "A small group of occupants – including the witnesses, homeless people who had been actively involved in the occupation for about ten days – tried to flee the police by escaping from the back of the building, via the terraces, by a ladder connected to an adjacent street, rue Baudricourt. Police officers of the Anti-Crime Brigade (BAC) gave chase. All occupants managed to get down to the street, except one. As he was about to get down, a BAC officer grabbed his leg. The occupant lost his balance, his head tilted forward and he crashed at least three meters below. Two witnesses saw the policeman's action and the fall of the fugitive. A third witness confirmed to Reporterre their description of the body, which he saw on the ground. The injured person, who fell on his face, had blood coming out of his mouth, nose and ears. The witnesses tried to revive him, in vain. The man was in a state of unconsciousness. One of the witnesses immediately called the fire brigade, who arrived at the scene thirty minutes later and took away the young man. Shortly afterwards, police blocked access to rue Baudricourt, the site of the fall. At seven o'clock, municipal cleaners entered the street. One of the two direct witnesses saw them erase traces of blood on the ground." The report continues giving accounts from various people which neither clearly confirm nor genuinely deny this incident, partly because no-one knows which hospital this guy was taken to, or whether he was taken away by state representatives and dumped on the street – after all, who would care about an isolated homeless guy?  In 1986 the death of an Arab at the hands of the cops was the main factor forcing the government to withdraw its education reforms. But the fact that the state has an obvious interest in making out that this is fake news does not in itself mean that it is true. Moreover, a culture of lying in order to manipulate people pervades those who claim to be fighting the ruling world almost as much as the ruling world itself, a culture which either breeds cynicism and passive resignation or anger against both sides in this manipulation war. Hopefully we shall discover the truth of this sinister event soonish.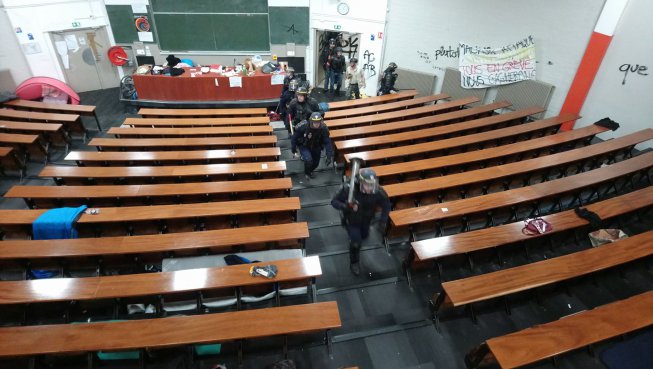 Reinforcing class power: cops give students a lesson
South Africa, North West: protests spread to 3 areas outside regional capital (see 18/4/ & 19/4 below) "A petrol station along the Vryburg road was looted and damaged … An ATM next to the filling station was bombed. Cars were also torched….The administration block of Mmabana Foudation in Mmabatho was partially burnt and two vehicles were torched in front of the building. A filling station and a liquor shop were looted and damaged"….more extensive coverage here… National bus strike intensifies …3 prisoners awaiting trial escape

Zimbabwe: confrontation between striking  nurses and government builds up as 16,000 strikers are sacked

Iran, Kazerun: "Beware of the day when we arm ourselves" chanted on 5th day of anti-government protests (video) See entry for 19/4/18

US, Michigan: lecturers & students occupy building on university campus in support of wage rise

19/4/18:
France, Paris: teargas & water cannon v stones etc.  during demo & strike; windows of businesses smashed (video here)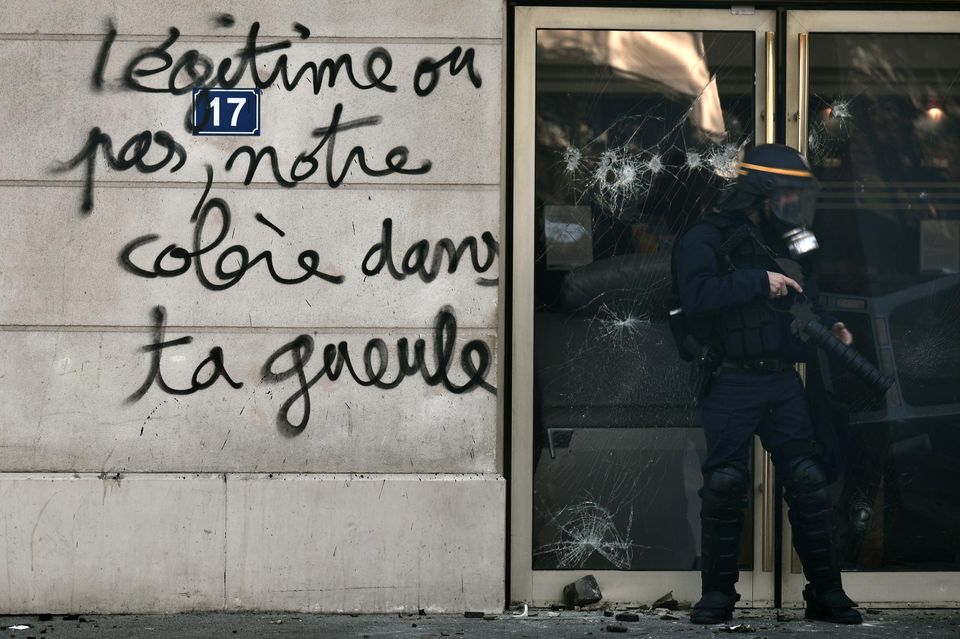 Hotel Marriott, Paris: "Legal or not, our fury in your gob"
…Nanterre university blockaded & occupied See English translation of a leaflet I co-wrote for a demo on 14 april 2018 for a critique of some of the significant contradictions of this movement. When I find time, footnotes will be added to explain more concretely some of its general reflections. From afar this movement might seem like something BIG, when, for the moment at least, it is far more dominated by dreadful ideologies than, for instance, the movement of 2006. Of course, all this could change. Or not. The leaflet was received well by at least some young people, which is a change from the illusions of 2 years ago, but let's not be over-optimistic. Both optimism and pessimism compete in people's heads to stop those who want a development of self-organised struggles from trying to become clearer and from drawing practical consequences from striving to assess the pros and cons of events.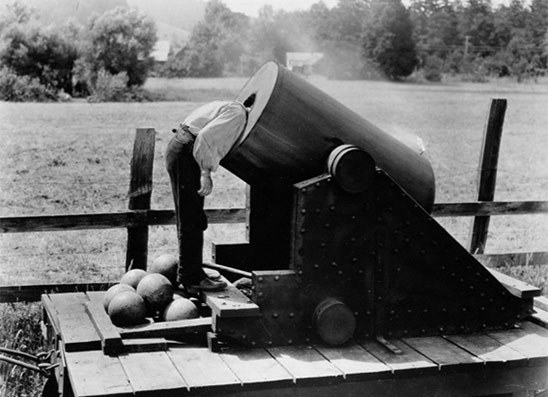 A student from the Immobilisation Committee of Montpellier's occupied faculty talks to the media

This is a reference to the fact that, despite the media having clearly lied about the clashes on 14th April, in  particular the regional rag Midi-Libre, students from the Mobilisation Committee gave interviews to these scum and  allowed them  to film a largish conference of the occupied section of the university, knowing full well that being filmed would prevent anybody with a less traditional, more radical, point of view from speaking their minds. In the movement of 2010the media were prevented from coming onto the campus, but nowadays being famous for 15 minutes is considered a worthier pursuit than striving to attack the journalist thought-police along with all other cops. They somehow think that the media can help, by potentially filming cop brutality, to restrain the cops from such violence, even though they'd done their usual filthy work of deliberately distorting events last Saturday (April 14th) when the cops had been especially violent. More details later…
Guinea, Conackry: youths block main crossroad with burning tyres on 2nd day of riots protesting electricity cuts

South Africa, North West: angry protests continue (see below) "Shops were closed and streets blockaded with burning objects as the calls for Mahumapelo to step down mount. A group of youngsters armed with rocks and sticks barricaded Nelson Mandela Drive linking the North West capital and Botswana, with burning objects littering the road. "We do not talk to media, go and talk to Supra, we do not want Supra and his cabinet," said one man from the group. On the same road, about 10 kilometres away, a truck trailer was torched and youngsters were also piling burning tyres on the road. Elsewhere, a police armoured vehicle (Nyala) was petrolbombed in Danville near the capital, while in Dibate near Mmabatho, a group of youngsters looted tuck shops and police resorted to firing rubber bullets. Protesters, who were aggressive to the media, said they want Mahumapelo to resign as the premier of North West….The capital was totally shut down on Thursday. The protest started on Wednesday in Montshioa where a bus was torched. This was apparently sparked by the death of two people at the Montshioa Stad Clinic, after they reportedly did not get help due to the ongoing strike by nursing staff. Members of the National Education Health and Allied Workers Union (Nehawu) have been on strike since February 26, demanding the dismissal of head of the health department Dr Thabo Lekalakala, the termination of contracted companies by the department, bonus payments, the payment of occupation specific dispensation (OSD) for employees at provincial offices and increases of Community Health Workers salaries." …one person killed by cops…More here "…a police armoured vehicle (Nyala) was petrol bombed in Danville south of Mahikeng….a police officer's house was also attacked by a rioting crowd in Danville."
Iran, Kazerun: heavily armed riot cops surround demo on 4th day of protests against state plans to divide city

US, Georgia: wildcat strike by school bus drivers  The strike (a sickout) continued until 23/4/18. "…nearly 400 school bus drivers and monitors in DeKalb County called in sick, aiming to pressure school district officials to boost driver pay, improve retirement packages and reclassify drivers from part-time to full-time employees. The drivers have 50 demands in all. Some paint a picture of a bus system in disrepair: Drivers say they need restrooms at parking lots, working intercom systems, air conditioning on buses. Other demands, like "fair treatment for bus drivers," tell a story of workers who are tired of being pushed around. While district officials say they fired "ringleaders," drivers say plans for the sickout emerged informally, and spread by word of mouth. Drivers in DeKalb, which covers part of Atlanta, are not unionized, and as public employees in Georgia, they're barred from collective bargaining and striking. But Brown, who's 51, felt like she had to speak out. The sickout comes after months of meetings in which drivers voiced concerns over benefits and pay to district officials. And it follows waves of wildcat strikes by public school teachers across the South and West who are demanding better treatment and pay."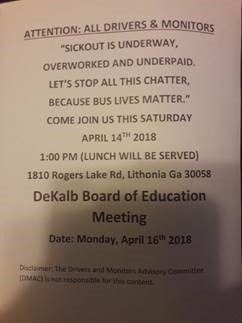 18/4/18:
South Africa, North West: looting & burning barricades as protest against ANC regional premier turns to rioting in regional capital (formerly  Mafeking of Boer war fame) "North West police were outnumbered overnight as angry protesters shut down the entire Mahikeng town. Police vehicles were forced to make u-turns while trying to respond to the chaos that was unfolding  as residents barricaded the roads  with burning tyres and pelted motorists with rocks. The protesters are calling for premier Supra Mahumapelo to step down. He is reported to have spent the night at his Haartebespoort Dam home. Almost all intersections in Mahikeng and neighbouring villages were closed and police were prevented from coming near to the blockades. Prominent businessman Sefidvash Naraghi and wife Sanao were admitted at Victoria hospital after their vehicle was attacked. According to a family friend, the couple was stopped by protesters who demanded money and cellphones before pelting them with stones….The last time Mahikeng  experienced riots like this was in 1994 when residents took to the streets to force the late Bophuthatswana president Lucas Mangope out of office. In Ramosadi, Seweding, Phola, Danville and Motshioa townships, small groups of people were burning tyres. Foreigners are running for help as protesters have emptied their shops while some residents were shot with rubber bullets." More here "Police in Mahikeng had to use teargas and fire rubber bullets when Lonely park residents went on a rampage looting foreign owned shops this morning. Children as young as 10 years-old were seen running out of the shops with stacks of money  in their hands. Protesters also looted refrigerators , mattresses and groceries. Petrol bombs  were being readied to be used for breaking into more shops….Residents complained that it was unfair for Mahumapelo's son to get R1-million pilot bursary whereas they were struggling to get funding for tertiary education.Over the weekend reports emerged that Mahumapelo Junior had received the bursary from state arms manufacturer Denel. At the crossing shopping complex a food outlet McDonalds , owned by Mahumapelo's wife Kule is situated, shops were forced to closed. Protesters threatened to burn down the outlet before the end of today."If he does not want to step down, this town will be on fire," said one of the protesting youths."We want his Mc Donalds, we want those burgers." …cop's armoured truck torched…National bus strike
France, Nantes: pallets set on fire at all 4 roads of major roundabout in solidarity with nearby ZAD struggle

Niger, Niamey: students seriously injured in clashes with state over demands for reinstatement of expelled students and withdrawal of security forces on campus "We barricaded the road that goes in front of the campus, and the security forces burst onto the campus…some of the injured are fighting for their lives"
Greece, Lesbos: 200 refugees occupy main square See also this analysis of aspects of the social relations concerning "the refugee problem", particularly in Greece (but also in Germany)

17/4/18:
France, Lyon: about 30 youths clash with cops whilst they try to stop an unofficial motorbike race in street…Toulouse: 3rd night of riots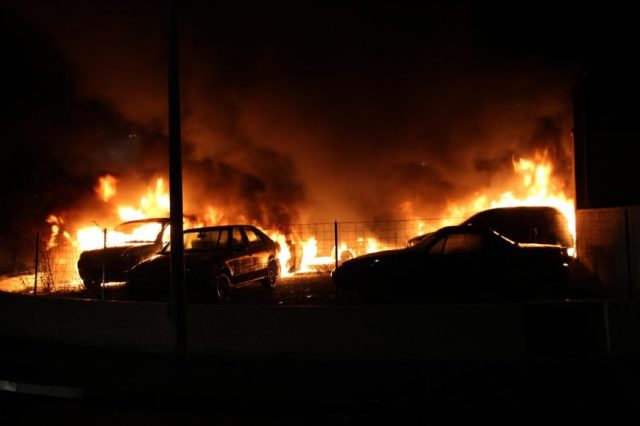 12 cars burn at Citroen car dealership, Toulouse
Zimbabwe, Bulawayo: students loot food, block access to campus in protest against high fees, service delivery, etc.
US, Philadelphia: Starbucks occupied after arrest of black guys for "loitering"  whilst waiting for friend (video) More detailed report here

South Africa, Western Cape: interesting housing protests
"Protests flared up again in Vrygrond, near Muizenberg on Tuesday. It appeared to be a continuation of a housing delivery protest that started on Monday night, where residents set alight debris, obstructing traffic …A vehicle was also set alight, and a Pick n Pay liquor store was looted. The protest is linked to vacant land which residents want to occupy. Residents of Vrygrond claim they own the land.  The police maintained a strong presence in the area as protesters continued to burn tyres and other debris. "We are struggling. We use our Sassa money to pay our rent and we still need to buy food. We can't cope," resident Deborah Brant said."
16/4/18:
France, Toulouse: 2nd night of riots extends to 3rd area
South Africa, Western Cape: liquor store looted, burning barricades, after illegal settlers are evicted by cops
15/4/18:
France, Toulouse: police station attacked with molotov, 11 vehicles burn, cops stoned, burning barricades as youths from 2 popular areas express their fury at prison death of local man…though this in English says it was because a woman was arrested & charged with "rebellion" for refusing to remove veil…Loire-Atlantique: further clashes at ZAD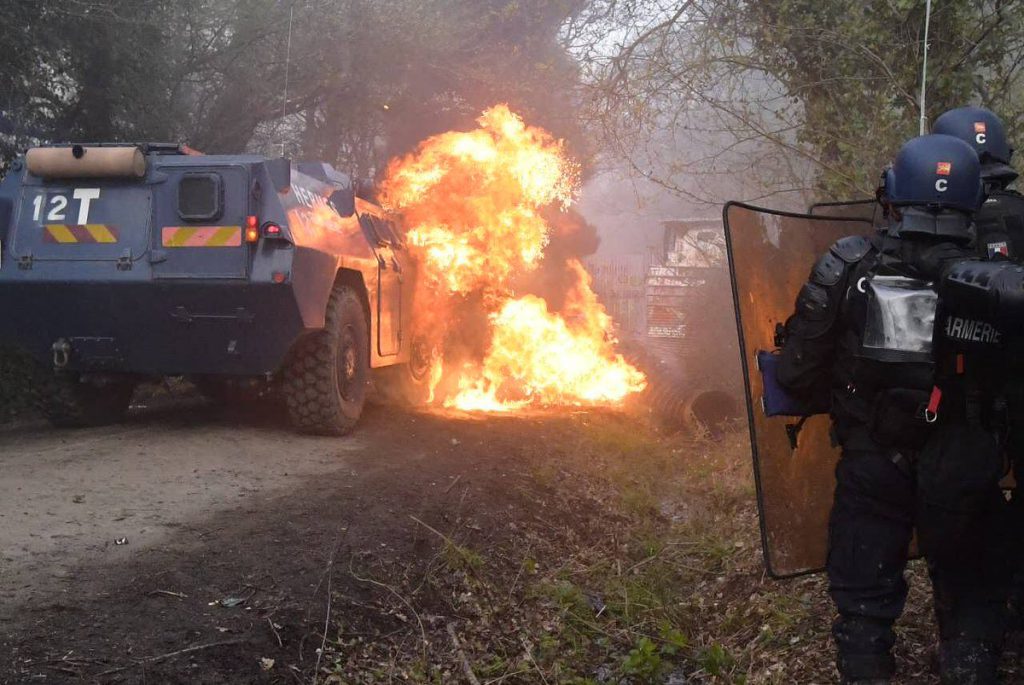 Notre -Dame-des-Landes, 15/4/18
UK, Buckinghamshire: surveillance cameras and fire alarms wrecked as youths smash up prison wing

14/4/18:
France, Nantes: clashes between Zadists and cops after cops prevent several 1000s on ZAD demo meeting up with train drivers & student demo – shop & bank windows smashed…Montpellier: cops teargas demo within a few minutes of it starting; subsequently shop & bank windows smashed, burning bin barricades etc. 
The usual route of demos here is from outside a park at the top of a hill downwards past some shops towards the station. This was the first time ever the route was blocked by a line of cops, who immediately started firing a considerable amount of teargas grenades after 1 stone was ineffectually thrown towards the lines of cops. A TV report  threw in footage of  a minor incident of a guy throwing a barrier towards the cops, which happened in another part of town at a later time, as if it was part of the reason for the cops launching teargas immediately. However the cop spokesman was more honest than the media, saying simply, without claiming that the teargas launched was against any "violence", that it was to prevent shop windows being smashed up. In fact, the reason for this unprecedented blocking of the normal route was the fact that the march was lead by the black block, a tactic that had been announced several days in advance at a fairly public planning meeting on part of the university campus, abandoning the basic minimal strategy of surprising your enemy. 
Despite this, the cop strategy didn't really work as the march turned round and went along a route that included even more shops and businesses, some of which had their windows smashed or tagged. However, the flag-waving leaders of the march, which by this time seemed to be a student organisation, turned off just 10 metres before the main square of the city (where just 4 vans of unarmoured non-riot cops were placed, though at the far end of the square – about 150 metres away – the heavily armoured CRS were ready) along a small road leading to the other end of the road that the cops had previously blocked off. On this Saturday, the main square is full of tourists and others eating and drinking in cafes and restaurants or waiting for their tram, and it would have been a lot harder, causing them  a great deal of bad publicity, for the cops to have fired teargas grenades there than they later did when they seemed to have broken up the march and attacked part of it from both ends. More windows and businesses are tagged and smashed (mainly estate agents, banks, temp agencies, luxury shops, jewelers…), as the riot cops massively teargas one end of the demo and attack with troops the other end. Not all cops have gas-masks, and some are seen crying from their own gas. A woman in a wheelchair very slowly drove in front of a tram for 5 minutes to slow it down until the tram company sent a car along to ask her in repressed angry tones to please get off the track.
Apparently the regional deputy Muriel Ressiguier, from the Leftist Melenchon racket "La France Insoumise" (literally translated as "Unsubmissive France"), shouted out some demagogic crap inciting the youths to attack the cops (as if they hadn't already wanted to do so) and that as soon as they got into power they'd do everything necessary to reverse the neoliberal policies.  Later on, after at least 40 shops & businesses had had their windows "smashed" (well, cracked really because nowadays business windows are, as most people know, pretty much stone-resistant, never really leaving the goods on open display ready to be liberated) a spokesman for the business "community", along with the city's mayor from the Socialist Party, called on her to be prosecuted for such incitement. Shit-scared, she made a rapid U-turn and called on people to  grass up the "casseurs" (window-breakers) and that they should be prosecuted to the full extent of the law: "Unsubmissive France" indeed. Perhaps she remembers a tag put up on 4th September 2017 on her newly opened local HQ which said "Unsubmissive generation".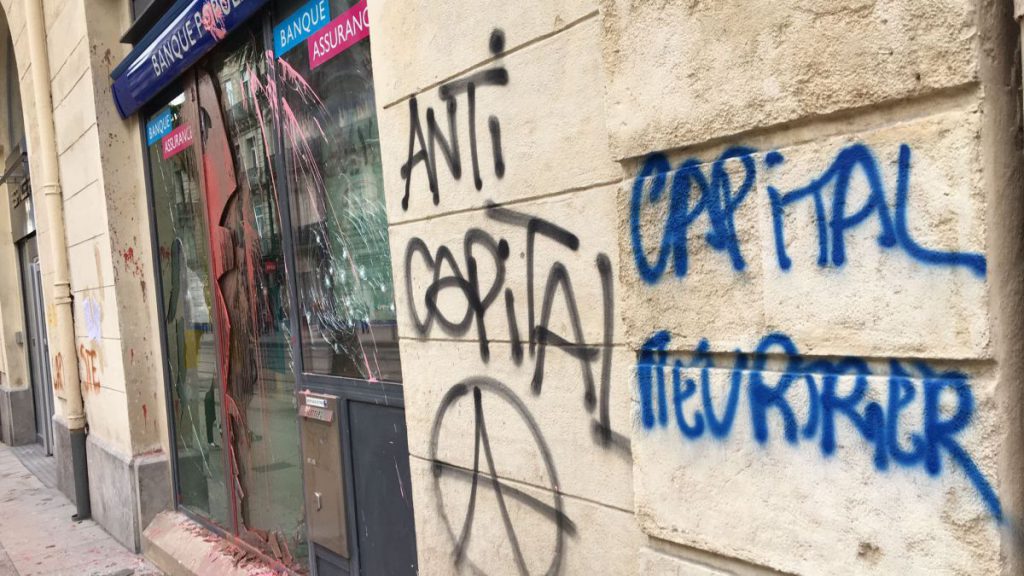 "Capital – murderer", Montpellier
A wildcat march – now numbering about 250, including a small group of youths who spontaneously joined because it seemed like more fun than strolling around gawping at pricey goods – meandered through the back streets setting up innumerable "barricades" of burning bins to stop traffic. Some local residents shouted out against them from their windows, telling them to leave "their" neighbourhood; others complained that they were endangering their street-level drug-dealing. Some car drivers were confronted when they tried to drive through them because their journey was delayed for 5 minutes. Eventually, after over 2 hours of going round the back streets on their way to the university campus, the BAC and the CRS suddenly caught them unawares (they'd requisitioned a few of the town's tram company vans, from which they unexpectedly emerged) and, despite two sets of burning bin "barricades, which would have allowed far more people to escape through side streets, some 40 or more went into a supermarket to escape, but the back way was blocked and they were trapped and very badly beaten, a couple being hospitalised. 55 were kept in custody and the next day about 200 or so people amassed outside the town's Hotel de Police (which sounds like a hotel – sadly the only mini-bars are on the cell windows), cheering as one by one most of them were released.

France, Paris: Sorbonne occupation evicted; train strikes resume The strikes are pretty much ritualised union gestures to allow the bureaucrats to retain their power round the negotiating table.  See France Goes Off The Rails, about the 1986 – 87 strike, a successful wildcat  organised independently of the unions. Quote: "At the beginning of November '86, a non-union driver on the Paris Gare du Nord network put into circulation a petition demanding the amelioration of the drivers' work conditions and the suppression of a project for a gauge of salaries based on promotion by merit (the petition also threatened the unions with "suffering the consequences" if they didn't support the strike). The petition rapidly received over 200 signatures. Only the CFDT, whose presence amongst this category of employee is virtually insignificant, agreed to announce a strike for the 18th December. Very quickly, several depots in Paris & the provinces walked out on strike illegally, without previous announcement…."….Tolbiac university occupation threatened with eviction as president of university spreads calumnies that the place was being used for prostitution…Lyon: clashes between students and riot cops at university blockade …
Notre-Dame-des-Landes

(Loire-Atlantique)

: clashes continue as virtually all squats destroyed
"

The gendarmerie said it had made about ten arrests.

There are wounded on both sides.

According to the figures of the police, 45 gendarmes were wounded.

According to the local medical teams, some sixty Zadists were affected, 130 according to the activists of the communication cell.

"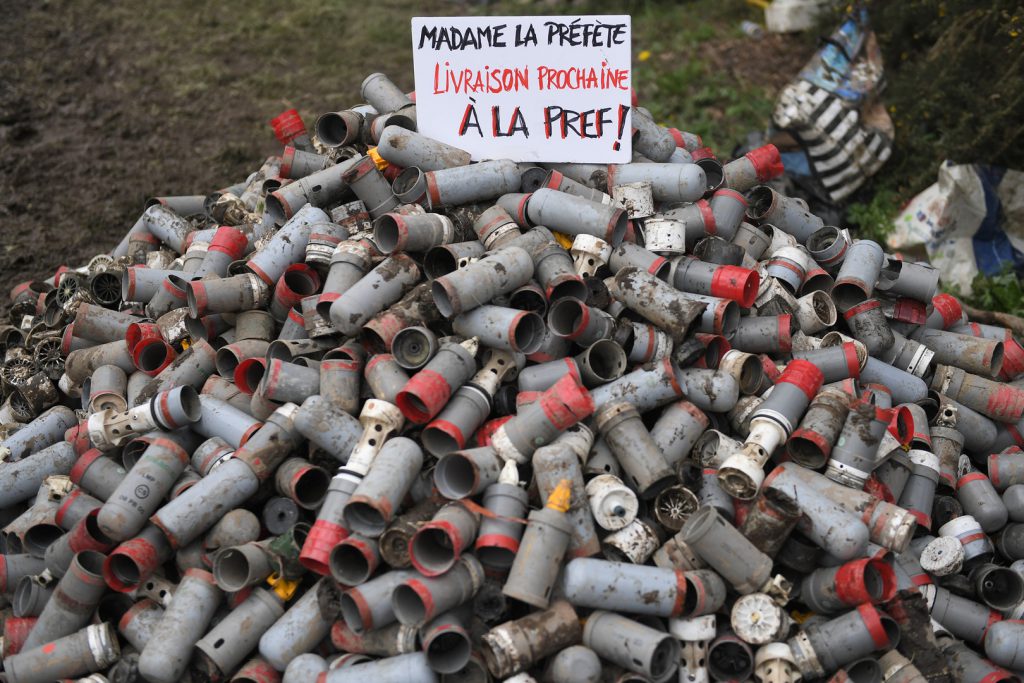 Pile of teargas canisters – "Madame Prefect: next delivery – to the Prefecture"
China, Shanghai: report on partially successful sanitation workers' strike and on the general strike situation in China "Over the years the pattern around China has been that after workers unite and strike, and receive the support of public opinion, local government and firms make some temporary concessions. But then they begin to carry out harsh retribution against the most active rights defenders among the workers; they claim that they were taking orders from hostile foreign forces, and in some cases even frame up charges and get them sent to prison. This, however, doesn't frighten workers, who are fighting for their own survival and that of their families. This is different from, for instance, the struggle for freedom of speech. Stripping workers of their income and benefits is a direct threat to their lives — but no one dies because they can't speak the truth."
South Africa, Durban: informal settlers block roads with burning tyres in protest against electricity cuts
12/4/18:
France, Notre-Dame-des-Landes (Loire-Atlantique): barricades destroyed by the gendarmes the day before are rebuilt "I had confidence in the prefect's speech, in his overtures towards us. Negotiations were under way, and from the first day, we excluded people whose project was rigid…I feel betrayed, my sense of  citizenship has been affected a little"…at least 6 cops injured in ambush 80 Zadists had been injured the day before, but today, despite (or maybe because of) 29 squats being destroyed, there seems to have been quite a counter-attack: apart from the ambush, 10 cops were injured, five of whom were burned by acid on their legs, and one wounded by several little explosions from an "improvised explosive device". Five gendarmes were evacuated to hospital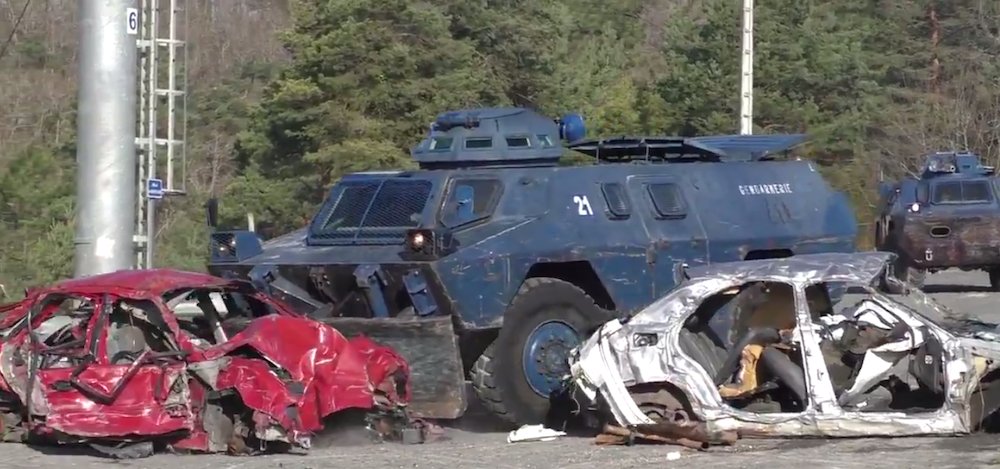 armoured vehicles clearing away barricades, Notre-Dame-des-Landes
…Paris: Sorbonne occupied From afar this may seem like something big, because of its symbolic connection to May '68 (see, for example, this, which speaks, amongst other things,  of the occupation of the Sorbonne in '68) …but unrealistic hope born out of an underlying despair desperately tries to convince itself that a lot more is happening  than most of the evidence suggests. It ignores the enormous absence, so far, of critical vigilance (e.g. towards the unions) and of independent activity, of ideas-in-action – unlike May '68, which is not to nostalgically  minimise the problems of that epoch. No predictions of course – optimistic or pessimistic, but we live in an epoch where the unexpected rarely happens and, unlike 50 years ago, the large communities of working class rebellion hardly exist. But maybe from the little communities of discussion striving for practice beyond discussion combining with the little communities of rebellion within work places…well, you never know…Essonne: meeting of Minister of Labour plunges into darkness after locals sabotage transformer

Indonesia, Papua: local regent's residence torched, airport blockaded with  burning tyres as 'fun walk' becomes fun riot "The incident was reportedly triggered by disappointment regarding the regent's failure to fulfill his promises to give door prizes to participants of a fun walk event held to celebrate the 15th anniversary of Pegunungan Bintang regency. The crowd also blockaded Oksibil Airport. Before burning down the regent's house, they set fire to a stage, tents and chairs prepared for the anniversary celebration."
Germany: report in French about various actions over the last 2 weeks  12/4/18: Berlin – 2 vans of estate agents with €21bn worth of assets Europe-wide torched & burnt out; 11/4/18: Berlin – cop vehicle forced out of area after being stoned from a bridge; 11/4/18: Munich – underground garage of French Consulate sabotaged in solidarity with N-D-D-L ZAD; Berlin – vehicle belonging to armament company supplying Turkish state torched…etc.etc.

South Africa, Eastern Cape: council meeting to work out 5-year plan violently attacked by 200 locals  "The meeting started at 18:00 and just before 19:00, a group of about 200 local community barricaded the hall entrances at its gates with burning objects. Seven vehicles were damaged with stones and rocks thrown at them…one Metro vehicle, a Nissan NP200 bakkie, also had a flammable object thrown inside the cab causing fire damage to the seat. Some of the windows of the hall were also shattered by stones…. the Public Order Police Unit (POPS) had to use rubber rounds to disperse the stone-throwing crowd after their vehicles were also thrown with stones. POPS members forced open the gates in order to free the delegates that were trapped inside the hall. By 21:00 some of the crowd moved to the N2 in Colchester where they attempted to close the road with burning tyres and objects and threw stones at passing vehicles. A further nine vehicles, including four trucks, were damaged by these stone throwers."
No mention of what this meeting or the plan was about or why there were such angry protests.

11/4/18:
France, Loire-Atlantique: 3rd day of clashes and burning barricades at Notre-Dame-des-Landes as about 150 Zadists continue their resistance to the divide-and-rule 'compromise' that leaves them landless & homeless (see entry 9/4/18 below)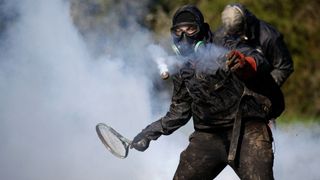 Notre-Dame-des-Landes meets Wimbeldon

"By destroying the settlements around the D281, the gendarmes destroyed collective agricultural projects. Hence the anger of the ACIPA, the main association of opponents of the ex-airport project, and a feeling of betrayal expressed on Tuesday by zadists who believe they played by the rules of the game with the prefecture and have been cheated. The significance of the operation led opponents to call for mobilization. "If tonight the prefecture does not withdraw its troops, there'll be general mobilization," said Julien Durand, spokesman for Acipa, on Tuesday….On Tuesday, the clashes were more violent than the day before, with twenty-eight injured gendarmes…According to Wednesday morning's assessment of the medical team of zadists, about twenty opponents were injured, including one who was hospitalized after thirty being injured on Tuesday, including two hospitalized."…Montpellier: about 30 masked students sabotage administration's internet site (including smashing up machines) during blockade  and part-time occupation of campus; site no longer functions This action  was in response to the admin's decision to organise exams via the internet, and was followed by about 200 personnel & professors demonstrating against this sabotage, though amongst radical students it was popular, obviously. The site was back up within 36 hours, and the admin said that no data was lost, but several students suspected that this was them trying to put up a good front, that it was not true.

Kyrgyzstan,Toguz-Toro: gold recovery plant torched during riots against the company owning it
Colombia, Medellin: riots and burning barricades as riot cops evict squatters
Argentina, Santa Cruz: miners and other workers clash with cops after cops prevent march against austerity & precarity from advancing (videos)

9/4/18:
South Africa, Gauteng: 16 prisoners escape…2 of them later shot dead by the filth

Bangladesh, Sundarganj: state paramilitary camp torched during heavy clashes with cops and  locals resisting construction of solar plant which would steal their land "Locals have been against the set up of the solar power plant since the beginning of the initiative, and have been holding demonstrations under the banner of the "Krishi Jomi and Bastobhita Rokkha Shongram Committee." They claim the project is hampering their livelihoods as they lose farm land.On Saturday, when Teesta Solar Ltd workers set up a river dredging machine to fill the river with sand, locals went to the area and interrupted the company's operations. Subsequently, a clash ensued between the villagers and workers, and the dredger was vandalized. Teesta Solar Ltd filed a case with Sundarganj police station over the incident. When police went to investigate the scene at 4pm on Tuesday, villagers clashed with them as well and 10 were injured after police opened fire. Later, the villagers surrounded the police and set fire to the Ansar camp on the Teesta Solar compound. Extra police forces were deployed to the scene and rescued their trapped colleagues."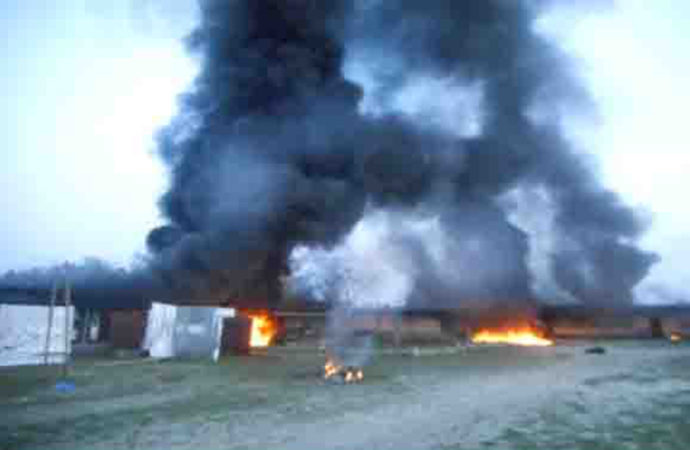 Ansar camp, Sundarganj
France,  Loire-Atlantique: clashes as about 2,500 riot cops etc. attack the 250 squatters resisting eviction of Notre-Dame-Des-Landes ZAD; burning barricades and stones v. teargas and stun grenades (videos)  More here and  here, in English. However, it's not just the official state cops that have been attacking those who don't want to negotiate with the state. On March 20th, 5 masked people, armed with baseball bats and teargas sprays, raided a squat on the ZAD. This squat opposed the divide-and-rule compromise with the state, which involved legalising some people's land and houses, but not others. These scum beat up people at the squat and then kidnapped the most outspoken opponent of the compromise, tied up his hands and legs, blindfolded him  and gagged him with duct tape. They put him in the boot of their car  and drove off. Later, they beat him again, broke one of his  legs and arms, finally abandoning him in the night  next to a psychiatric hospital. The most vociferous defenders of the compromise in the assemblies there have been the Invisible Committee, the "Appelistes". They've done this kind of thing before, though less brutal (gagged and bound a guy who'd burnt out a tractor, bundled him into a carboot and left him in the middle of the woods). So most people are 99.99% sure that it was the "invisible committee" who'd done this red-fascist shit.  They've always sat on the fence, playing revolutionary anarchists to the revolutionary anarchists, reformists to the reformists, leninists to the leninists. In this instance they were playing the filth to the filth. And not the kind of "playing" that's fun. See here and %