2019  2018   2017  2016  2015  2014  2013
"It is December, and nobody asked if I was ready."
― Sarah Kay
"It was a chilly December morning and the birds sitting on the high wires in the neighborhood refused to fly any longer."
― Malak El Halabi
31/12/18:
France, Alsace: clashes and fires  "13 bins burned…At least two cars were burned, and at least three were damaged by the fire spreading… a police car was smashed…Police officers were then hit with more projectiles, including stones and street furniture, particularly interior doors. Two other vehicles were damaged, but no police officers were injured…. police mobilized for the night…used about thirty teargas grenades, and resorted to  flashball…In the vicinity of the city of Bartholdi, around 4am the gendarmes had identified three bins burning"…Amiens: at least 10 cars and some bins torched…Bordeaux: access to major bridge blockaded by 'yellow vests' before being dispersed by water cannon

Iran, Tehran: 3rd day of clashes between state and students following bus crash in which 10 students were killed    "Students have protested over the aging transport fleet and lack of accountability from the authorities. A video on Twitter showed students at a campus in Tehran chanting slogans and demanding the resignation of the chairman of the university's board of trustees, Ali Akbar Velayati, an aide to supreme leader Ayatollah Ali Khamenei. In recent months, Iran has experienced demonstrations in different cities as factory workers, teachers, truck drivers and farmers protested against economic hardship and corruption." More here

Mexico, Oaxaca: residents clash with cops as they protest against arrests of locals "In the morning, local residents tried to evade arrest in which elements of the Mexican Army, state and municipal police participated. Armed with stones and sticks, they punctured the tyre of  a municipal police patrol car. After the arrest, the inhabitants of El Carmen spread around the streets of the town to block them and ask for them to be released. In these protests they were joined by some groups with other types of demands. Neighbors …blockaded the streets until tonight, beginning, since the afternoon, with the burning of tires. In addition some acts of robbery and the theft of merchandise from a delivery truck have been reported. The residents say they do not know the reason for the arrest of five people"
Sudan, Khartoum: "revolution is the people's choice"  More here 

US, Arizona: report on attacks on self-driving cars

30/12/18:
France, Val-de-Marne: prisoner escapes under fire "Around 3.30pm, Sunday, December 30, 2018, a 28-year-old prisoner escaped from the Fresnes prison in the Val-de-Marne. He managed to climb the walls of the penitentiary center, despite being shot at by guards…the guards fired three times with their service weapons from the watchtower. But that was not enough to stop him. It's likely he would have hurt himself on the hand because of the barbed wire….He was in prison for burglary. According to our colleagues, he had already tried to escape while he was being tried in the court of Créteil, and was therefore subject to special surveillance. A search is still in progress to find him."…Charente Maritime: 10 cars torched

29/12/18:
Belgium, Brussels: cop truck torched

Australia, Northern Territory: prison riot due to over 40C temperatures "…the prisoners had refused to return to their accommodation cells due to the heat on Saturday. "Officers negotiated and permitted prisoners to stay in the open court yard of the accommodation block where there is better airflow… Some prisoners took the opportunity to cause a disturbance and began damaging property. Once attempts to negotiate those prisoners back into their cells failed, chemical spray was used in accordance with standard procedure to subdue them and swiftly bring the situation under control." Conditions at the ageing prison are "inhumane" for prisoners living through such heat…"

Tunisia, Tunis: further clashes, some looting
France: 'yellow vest' clashes in 15 towns… Paris: a dozen or so cars torched outside offices of mainstream newspaper…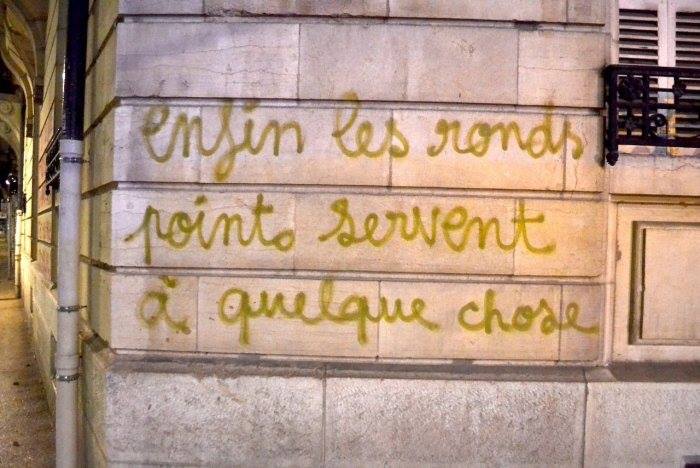 "At last roundabouts have some use"
Bordeaux: journalists chased out of square by 'yellow vests' More here… Rouen: 'yellow vests' clash with cops…Banque de France door torched (video)…Montpellier: railtrack blockaded…Toulouse: burning barricades…Nimes: demo outside main police station This is an over-simplified take on the movement (e.g. minimising any critique of flag-waving or the singing of the Marseillaise), but interesting.

28/12/18:
Sudan: further demonstrations as state imposes news blackout "New demonstrations took place Friday in several cities in Sudan in the wake of a wave of protests since December 19 against the rise in the price of bread. The police again used tear gas and live ammunition. The heavy deployment of security forces in Khartoum and  other protest cities such as Omdurman, Port Sudan, Madani and Atbara, did not stop the movement from continuing for the tenth day of demonstrations – it even increased. Participation seems the largest since December 19, the date of the beginning of the protests. Hundreds of protesters, men, women and young people again took to the streets this Friday, December 28 after prayer to chant again slogans demanding freedom, dignity, the departure of the government they say is "corrupt" …For the first time, unsigned leaflets were distributed in Khartoum, denouncing the dictatorship and the military regime. The protesters have sometimes been original. In addition to the traditional protest marches, some have been shown in small groups reading poems, others singing or shouting youyous (ceremonial cry by women in Arab countries); others, all dressed in white, mounted in their hundreds on horseback, as was observed in the state of Al Jazirah, in the center of the country. The Khartoum regime continues to impose a total blackout on events. A little filters through social networks that are cut. These protests are led by a new generation that does not recognize itself in the old leaders, whether those of the regime or opposition. Nevertheless, a dozen opposition leaders were arrested by the regime as early as Friday morning. As always, protesters were dispersed by riot police with tear gas …Sporadic protests were observed in the streets of Khartoum at dusk. The demonstrators burned tires and garbage cans and there were some clashes with the police"
Tunisia, Tunis: clashes with cops in 3 parts of town "Young prtesters demonstrated by blocking roads and setting fire to tyres…the main road between Tunis and Bizerte… was closed"
France, Vaucluse: TGV rail line sabotaged, the 2nd time in a week
27/12/18:
Sudan: more on the movement   "…doctors and paramedics are already on an indefinite strike. Independent unions, professional associations and other groups observed strikes and work stoppages across the country this week. In addition, opposition parties along with independent trade unions and workers groups are planning to organise a general strike next week. The intervention of workers in the protest movement and a series of strikes and work stoppages could put more pressure on the regime. Moreover, student protests have prompted authorities to suspend classes in schools and universities in at least eight cities, including Khartoum, and to impose a state of emergency and curfew in some parts of the country. …So far, a few thousand people have participated in protests in various cities. But the continuation of these protests for nearly a week, despite the use of force by the security forces, suggests that the level of popular discontent over Omar al-Bashir's rule is dangerously high. He crushed two protest movements in 2011 and 2013. In 2013, thousands of people protested against the rising costs of fuel and cooking gas. The government used force to crack down on the demonstrations. Hundreds of protesters were arrested and, according to rights groups, more than 200 people were killed. In 2016, life came to a standstill on the streets of Khartoum when people took part in several days of civil disobedience, with many staying home from work, universities and schools. The strike was a response to a dramatic increase in the prices of medicine, fuel and electricity."

Mongolia, Ulaanbaatar: nearly 25,000 demonstrate against political corruption "Tens of thousands of Mongolians have taken to the streets to protest against corruption in the top echelons of politics, braving temperatures that dropped below minus 20 degrees Celsius …Local media described the gathering as the second largest after a riot in 2008. Protesters focused their anger on Mongolia's parliamentary speaker, Enkhbold Miyegombo, and the two main ruling parties, the Mongolian People's Party and the Democratic Party."
Iran: report on truckdrivers strike…ultra-leftist report on strikes over the last month or so
Uganda, Arua: South Sudan refugees riot against callous World Food Program "…some refugees in Uganda have not gotten food rations for the past three months and spent Christmas Eve without food."
Chile, Santiago: cop beaten unconscious as Mapuches & supporters demonstrate again against murder of Mapuche by the cops back in November 
Tunisia, Kef: youths block roads with burning tyres  as movement continues
26/11/18:
Tunisia: riots spread to 6 towns…journalists call for General Strike on 8th anniversary of 'revolution' More here in French…Sfax: further riots due to death of young man caused by cops

Brazil, Sao Paulo: riots against fascist president's pension reforms "…protesters tried to storm the Senate building in the major Brazilian city by destroying its gate. Police then fired rubber bullets to disperse the angry crowd."
Nepal, Birgunj: high school students clash with cops   "Police clashed with the students of Birgunj-based Maisthan Bidhya Peeth today. The students also shut down private and government schools in the metropolis today. Police have been deployed in different places after students started vandalising public properties. Clashes erupted in several places. Police resorted to baton-charge after a crowd of students moved towards the metropolis office and the situation worsened. The students threw stones at the police after the latter interfered in the protest. Tension intensified in the bazaar and school areas. Some police personnel and half-a-dozen students were injured in the clash."
Algeria, M'sila:clashes at provincial governor's HQ during demos against callousness of authorities following death of youth in well   "The clash began when some demonstrators tried to force the gate of the HQ of the provincial governor, something that pushed sections of the National Security to intervene to secure the area. Tyres were then burned and several advertising signs and bus shelters ransacked. This situation led to the closure of all the roads leading to the center of the city of M'sila…the next day, citizens publicly expressed … their support for the protesters. "We are all for the departure of the provincial governor and his subordinates"… It should be noted that the interdepartmental delegation composed of representatives of the Ministries of Hydraulics, of the Interior and of Solidarity, as well as the Director General of Civil Protection, dispatched to the scene to present the government's condolences to the family of Ayache Mahdjoudi , was booed, stoned and prevented by the people from  going to the well where the young Ayache is still buried after more than a week."
25/12/18:
Zimbabwe, Chiredzi: cops kill man during clashes with villagers – Merry Christmas!

France, Indre-et-Loire: a day after the imposition of a curfew for adolescents, youths organise the burning of 15 cars

Tunisia, Kasserine: further clashes following journalist's death by self-immolation…clashes also in Foussana, Tebourba & Jebaniana "Clashes between protesters and police began again yesterday afternoon in downtown Kasserine. Young people from the Ezzouhour city set fire to tires blocking several alleys and threw stones at police who used tear gas to disperse them. In addition, units of the National Guard of Foussana in Kasserine, intervened in the night from Tuesday to Wednesday, to disperse nearly 70 people, in front of the district of the security institution of the region. According to Colonel Houssem Jbebli, the intervention units used tear gas after people threw stones and Molotov cocktails at the district headquarters. In Tebourba (La Manouba), young people burned tires and blocked traffic. They also attacked a train that they damaged." More here in English "No one can deny today that all the leaders of this country are responsible, responsible for the distress of our youth, their despair and their frustration." And not just in Tunisia, but everywhere across the world.

Sudan, Khartoum: further clashes "Large numbers of security forces were deployed across much of Khartoum on Tuesday in anticipation of the march, with soldiers riding in all-terrain vehicles. Police fired in the air, used teargas and hit demonstrators with batons to disperse them, only for the crowds to assemble again and continue their march in pitched battles….The London-based rights group Amnesty International meanwhile said it had "credible reports" that Sudanese police have killed 37 protesters in clashes during the anti-government demonstrations."

24/12/18:
Tunisia, Sfax: youths riot after cop vehicle runs into and kills young man…Kasserine/ riots following journalist's self-immolation "Authorities said Zorgui died of his injuries on Monday soon after being taken to hospital. His action triggered a protest on Monday night in Kasserine that degenerated into violence, with police firing tear gas to disperse crowds blocking the main street, setting tyres ablaze and throwing stones at police….The Tunisian National Journalists' Union called for demonstrations and a possible strike in response to the journalist's death. In a statement, it accused the state of contributing to Zorgui's death by not cracking down on corruption. The union said he died protesting "difficult social conditions…and lack of hope." Tunisian reporters expressed solidarity with Zorgui, lamenting precarious conditions for freelancers with no legal protections and low pay amid Tunisia's struggling economy…Interior ministry spokesperson Sofiane Zaag said on Tuesday that six police officers were injured and several people arrested in the protest. A new protest was held on Tuesday night in Kasserine, with new tensions with police, and other actions were reported elsewhere. …"For the sons of Kasserine who have no means of subsistence, today I start a revolution. I am going to set myself on fire," Zorgui said in the video published before his death."

Nigeria, Zamfara: protesters against gang kidnappings and killings block road, torch administrative building and council motorbikes"UNABLE to bear any longer, the unceasing killing and kidnapping of their relations for ransom by bandits, residents of some parts of Zamfara State, yesterday, trooped out in protest against the worsening insecurity in the state…The latest killings forced the protesters, mainly residents of Tsafe Local Council, to barricade the Gusau-Zaria highway linking the state to Kaduna, Kano, and Abuja, yesterday morning. The protesters, who came from surrounding villages, reportedly converged on council headquarters where they joined other villagers who had been taking refuge in Tsafe since their communities were sacked by the bandits. An eyewitness told Premium Times that the protesters destroyed political billboards of President Buhari and Governor Abdulaziz Yari before the protests later degenerated into a riot, leading to the burning of council secretariat and newly acquired motorcycles meant to be distributed by the local government chairman. "The protesters began by blocking the highway and burning tyres, but as we speak, the local government secretariat in Tsafe is on fire," the eyewitness said. According to the eyewitness, the protesters chanted derogatory songs against the Defence Minister, Mansur Dan-Ali, who is from Zamfara, and the state governor Abdulaziz Yari." More here "The protesters had burned several vehicles and offices in the local government secretariat including the chairman's office and offices allocated to some international non-governmental organisations operating in the area."
Sudan: strikes and demonstrations as casualties mount "A strike began Monday in Sudan, in the wake of protests against the price of bread overshadowed by deadly clashes…The call for a strike was launched Sunday by a gathering of professionals from different sectors, while protests were still organized until late in the evening in several cities including Oumdurman, neighbor of the capital Khartoum. The hospitals were the first to join this strike movement, Monday morning…in front of a public hospital south of Khartoum, doctors had placed placards on which was written: "doctors on strike, only emergencies" …The angry movement of part of the population, which has affected up to a dozen cities, was triggered last Wednesday by the government's decision to triple the price of bread …On Monday, new demonstrations took place in Al-Manaqil and Roufaa, in Al-Gazira State, south of Khartoum…."Dozens of students demonstrated by chanting + the people want the regime to fall," said a resident of Al-Manaqil…Protesters blocked streets and burned tires, a resident of Roufaa said. In both cases, the police officers intervened by beating  people with batons…After the first demands against the "high cost" of living, gatherings are now punctuated by the slogan "The people want the fall of the regime", taken from the Arab Spring of 2011…Since South Sudan's independence in 2011, Sudan has lost three-quarters of its oil reserves. This year, the country is experiencing growing economic difficulties with inflation of nearly 70% and a plunge of the Sudanese pound against the US dollar."
France, Dordogne: town hall torched…Paris: 1st hand account of 'yellow vest' blockade (sent by email) – 
As you probably know, the Halles de Rungis site has for several weeks been subjected to filter blockades at the main access gate, the Thias Gate. Taking my courage in both hands, braving the wind and rain, I got up at 4 am, took the subway, then the bus, and after a depressing more than 1 hour trip to the industrial areas south of Paris,  I found myself facing  dozens of yellow vests that filter the entrance, just to take the temperature of the apparent "blockade"  myself.   
I already had some suspicions, given the interviews conducted, about the content and purpose of these brilliant "direct actions" (says "Paris Lutte Info"). But I admit, in all modesty, that the atmosphere  exceeded all my expectations. I was  faced with bands of vulgar nationalist nags, both sexes, one of whom was from the French West Indies and accepted because he "was French too": "We are not racist", proudly affirmed the leader of the group… They were there, in their words, "to save French peasants and traders" from the "unfair competition" "organized by the  Europe of bankers represented by Macron". After a few attempts at awkward approaches and some attempts to get me to wear the famous yellow uniform, which I refused with a lot of courtesy (for fear of maybe getting my face broken), I innocently asked the question: "Which bank is Macron the representative of?".   I was told by the leader, with strong nods from her acolytes: "Well, the Rothschild bank, of course." I  therefore focused on the eminently revolutionary nature of their opposition to finance capital, which, as is well known, has been in the hands of rabbis since time immemorial.   
To expand somewhat on the scope of this communication that had begun so well, I timidly evoked the role of   Macron's brilliant second-in-command, the so-called Philippe whose origins are not from the banks but from  nuclear power – in this case, Areva . To which the chief replied that she did not care and that besides she was a partisan of French nuclear power and hostile to all the "Parisian bohemian bourgeois ecologists who want to deprive us of electricity." A position which was so typically popular it was also shared by her groupies.   
I began to feel somewhat lonely and tried to reach a conclusion, before clearing off, about these interesting modes of "direct action" that "Paris Lutte Info"  had loudly proclaimed.  I was not disappointed: these remarkable saboteurs of "European trade" had first filtered exclusively foreign trucks for 30 minutes, and then very soon after, for the sake of justice probably, French trucks for 15 minutes and then foreign trucks for 45 minutes. They did not even realize that, because of the European agreement, French trucks can carry foreign goods and vice versa. In the final moment of my visit, their last exploit consisted of delaying for almost three hours one of the Spanish trucks, threatening the driver, who was transporting oysters, French molluscs in fact, from Oleron to Rungis. Which led the Rungis wholesaler to throw them in the bin. No comment. 
Merry Christmas !
23/12/18:
Sudan, Khartoum: football fans clash with cops on 5th day of demos against massive rise in bread prices and general misery More here "Residents in Um Rawaba, 200 kilometres southwest of Khartoum, told AFP that some 600 people gathered in the market chanting the slogan "the people want the fall of the regime"….Protesters burnt tyres and branches in the streets and attempted to storm a government building before being rebuffed by security officials, witnesses said.  In Atabara, 300 kilometres northeast of the capital, riot police and plain-clothed operatives deployed tear gas against hundreds of protesters, a witness said. Late Sunday evening, hundreds of people poured out of a football stadium after a match in Khartoum's twin city of Omdurman calling for "freedom, peace and justice"…Clashes with riot police killed at least eight people — two in Atbara and six in Al-Qadarif to the southeast of the capital, according to official figures. A higher death toll of 22 has been given by Sudan's main opposition leader Sadiq al-Mahdi, who blamed "armed repression" for the casualties….There was a tense calm in the streets of Khartoum on Sunday as schools and universities were shuttered and riot police equipped with batons and tear gas guarded buildings. "We were asked to leave this morning," said a university student from northern Khartoum. Frustrated Sudanese queued outside bakeries in the city, where vendors were refusing to sell more than 20 loaves of bread per person…A bakery worker said a security guard standing nearby was not allowing the shop to sell any more…Inflation is running at close to 70 percent and the Sudanese pound has plunged in value, while shortages have been reported for the past three weeks across several cities including Khartoum." …Doctors to go on strike in solidarity with bread riots

France, Vosges: clashes between cops and 'yellow vests' as the latter try to blockade toll gates

Lebanon, Beirut: clashes as 'yellow vest' idea gets taken up "During Lebanon's first "yellow vest" protest, riots broke out and saw multiple people injured after the police and military attacked them with nightsticks and riot shields with one man being unable to stand and another requiring stitches in his head. The protest began in Beirut's Martyrs' Square with only a few dozen people in attendance. However, the crowd quickly grew to several hundred as people vented their frustrations towards the government. …"A small child who didn't have $2,000 to enter the hospital ended up dying at the doors of the hospital, so we made our movement about this as well."…[While other] people are asking for a decrease in taxes, some others are asking for the medical card to be issued as soon as possible. Some of us are asking for prisoners to be released because we have prisoners who have been arrested for 10 years and have not had a trial yet" he said "We're asking for everything because we have nothing in Lebanon….They will never listen. As long as we have a religious country, they will only ask for what they need."…The protesters soon marched on the Prime Minister's headquarters in Beirut where they were surrounded by police in full riot gear. Soon, the protesters ran in panic as the police started to chase them away once several water bottles were thrown at them. In response, some protesters tried to fight back. …Despite efforts made by several heads of the protest, riots later broke out on Hamra Street with trash bins being lit on fire. Some members of the police and military chased and attacked protesters in the streets after several water bottles hit one of their cars….Protesters continued to chant "thawra", the Arabic word for revolution, and yell at the dozens of military and police forces who had blocked off the street. The military and police attacked again, hitting people with nightsticks and shoving people with riot shields."
Canada, Montreal: statue of white supremacist vandalised

22/12/18:
France: 'yellow vest' clashes in 18 towns and cities…Toulouse "Garbage cans that blaze at the corner of boulevard de Strabourg and Jean-Jaurès alley but also rue Remusat, rue de Metz, rue du Langedoc … Shattered bus stops, billboards tagged, ATMs "exploded", a Caisse d'Epargne and a Crédit Agricole, in the devastated Carmel district, bars packing away their terrace furniture at top speed, shops forced to pull their shutters amidst torrents of tear gas throughout the city center… 48 hours before Christmas Eve, Toulouse sank into chaos yesterday between 4pm and 7pm. An outburst of violence that police and gendarmes tried to contain but they met again a lot of difficulties facing groups of mobile individuals, determined "to show Macron that nothing has been settled," warns a man… eyes reddened by gas….The watches were at 3:15 pm and  fireworks were flying in the sky accompanied by the applause of the yellow vests. The temperature very quickly hotted up. The fireworks no longer went into the sky but horizontally towards the police. The first salvos of tear gas fell on the heads of the demonstration where  those who were the most virulent, masked, hooded and ready for a conflict were gathered. The face-to-face lasted about fifteen minutes. The wind helped, sending the gas back to the police, the atmosphere taking a festive "red and black" color….tear gas fell from the sky en masse, causing a huge crowd movement and the real start of the mess and violence. The water cannon truck chased after the irreducible ones and the incidents multiplied. Often violent. Even acid had been thrown at the forces of order according to the prefecture. …"We will not give up. We have nothing. What can we lose? It is a shame the way we are treated", cried a young woman, supported by her companion." …. Paris video –

Should be pointed out that the media is saying that the less participation there is in these situations the more the ultra-right take prominence. Hard to know how much this is true, how much this is a self-fulfilling media strategy – intended or not. Certainly on December 22nd at Sacre Coeur (built explicitly against the Paris Commune in the 1870s) there were Nazis openly displaying their anti-semitic etc. agenda, complete with gas chamber denial.
UK, Oxford: pseudo-rebels occupy shopping centre complaining about environmental destruction  See entry for 17/11 for a critique of this organisation.They quote David Attenborough without the slightest irony – even Monbiot is able to criticise him. For a better critique, see this.

21/12/18:
Iraq, Basra: further clashes See entries for 15/12 & 14/12 below

Hungary, Budapest: anti 'slave labour' law demo briefly blocks bridge

France, Mulhouse: 13 'yellow vests' arrested as cops remove burning blockade of fuel system company… Haute-Garonne: horror shock as WWI Supreme Allied Commander loses his head, over 100 years too late

20/12/18:
Sudan: at least 8 people killed on 2nd day of furious nationwide demonstrations against rising bread prices "Angry demonstrators set fire to the headquarters of the National Congress Party of President Omar al-Bashir in the cities of Al-Gadaref (east) and Dongola (north), said the witnesses. The protests spread to the capital Khartoum and its twin city of Oumdurman, where students demonstrated in their hundreds blocking the streets leading to the universities before being dispersed by riot police who fired tear gas…Protests, involving many students and law enforcement trying to disperse them with batons or tear gas, broke out after the government announced on Tuesday a rise in the price of bread in a country where the cost of some commodities has more than doubled in recent months. In a context of growing economic difficulties, with inflation of nearly 70% and a plunge in the Sudanese pound against the US dollar, the government on Tuesday increased the price of bread from 1 to 3 Sudanese pounds (from 2 to 6 cents). …The deputy of Al-Gadaref state, Mubarak al-Nour, told AFP that "the situation in the city is out of control". See also this in English, and this   "Authorities declared a state of emergency in the states of al-Qadarif and Atbara … some protesters called for the overthrow of Sudanese President Omar al-Bashir who has been in power since 1989. A constitutional amendment proposed this month would allow him to retain his position past the end of his term in 2020" Videos here and here

France, Lot-et-Garonne: 9th 'yellow vest' death –  by large lorry; state blames 'yellow vests'…Loiret: Town Hall torched "The damage is mainly on the ground floor, the smoke has blackened the entrance and all the offices caught fire," said the mayor of the town who has been there since the middle of the night, warned by firefighters….Tires were placed against the front door and ignited part of the building."
19/12/18:
South Africa, Johannesburg: bus drivers go on wildcat strike over non-payment of Sunday wages

France, Alès: 2 cops hurt by 'anarcho-libertarian'  'yellow vests' during blockade of sub-prefecture

Chile, Valparaiso: more dockers riots as they reject union's executive's agreement with government "Dozens of workers protesting against the company Von Appen, from whom they demand a salary increase and an improvement in shifts, forced the main gate of the port terminal until it was demolished. At the same time, three water cannon trucks…one of them sent specially from Santiago, appeared in the square to disperse the crowd, which set up barricades to which they set fire and retreated to the union headquarters…From there, through the narrow access street to the building, they threw stones and everything they had on hand while several police vehicles roamed the vicinity firing tear gas"
18/12/18:
Iran, Ahvaz: striking steel workers arrested (see entry for 4/12/18)

17/12/18:
Greece, Athens: bomb attack on right-wing TV station

Chile:  Valparaiso dockers strike spreads to other ports "Protests spread briefly to several other ports overnight on Monday…the Chilean police had raided union offices in Valparaiso to tame protests late on Monday after about 20 people were seen throwing Molotov cocktails from its roof….Local daily newspaper El Mercurio reported on Tuesday that the strike had caused fruit exports from Valparaiso to fall by 95 percent from the same period last year"  See also report for 14/12/18 below.

France, Var: toll booths burned down …250 toll booth areas vandalised or destroyed during this 'yellow vest' movement   "The damage amounts to tens of millions of euros for the operator, not to mention the shortfall in toll payments. In some places, motorway tickets are no longer distributed and there are no more barriers at the exit."
16/12/18:
China, Jiangsu: 1000s of striking brewery workers clash with cops   "Workers at a major brewery in the eastern Chinese province of Jiangsu faced off with police and security guards over the weekend after thousands went on strike over pay and conditions. Thousands of workers at the Yanghe Brewery in Jiangsu's Suqian city tried to storm management headquarters on Sunday, but were headed off by dozens of police and security personnel, who shut the gates to stop them. Video footage of the confrontation showed hundreds of mostly female workers clad in white coats and hats running for the gates, but being overtaken by personnel in uniforms. The Shenzhen-listed brewery promised to hike wages in a statement on Sunday evening after reaching a negotiated settlement with workers. … the strike at a major local employer had made Suqian city leaders very nervous, and that they had imposed an information blackout on online news or content related to the protests. …A Yanghe Brewery worker who gave only a surname, Liao, said police have now locked down the Yanghe Brewery site, and are preventing workers from entering or leaving. He said the strike had been sparked by what workers said were unreasonable demands of the work force, including a production target of 8,000 cases per nine-hour working shift, which he said was "extreme," and was accompanied by no additional pay….Liao said management at the factory were also flouting health and safety regulations, including depriving workers of rest breaks. "The strike isn't over; we're not back at work yet … there are about two or three thousand of us"…The strike began on Dec. 15 in a bid to protest "the disparity between rich and poor," and to "defend the rights of thousands of people," a statement from the workers posted to social media said. It said the dispute is more than a decade old, with bosses making large fortunes from the factory while exploiting generation after generation of its workers."
Kenya, Kitale: 5 killed by state as villagers try to prevent man being beaten up by cops
15/12/18:
Iraq, Basra: more 'yellow vest' clashes (video)

France, Paris: further 'yellow vest' clashes, though a lot down on previous Saturdays…state had been prepared to use knock-out chemical gas "…some of the 14 armoured police cars deployed at the weekend contained "a radical device" that was only to be used as "a last resort" against their own citizens… the "debilitating powder" has the same power as 200 tear gas grenades and can knock people out immediately. The weapon which is mounted on top of vehicles, has the ability to spread across an area the size of six football pitches in ten seconds."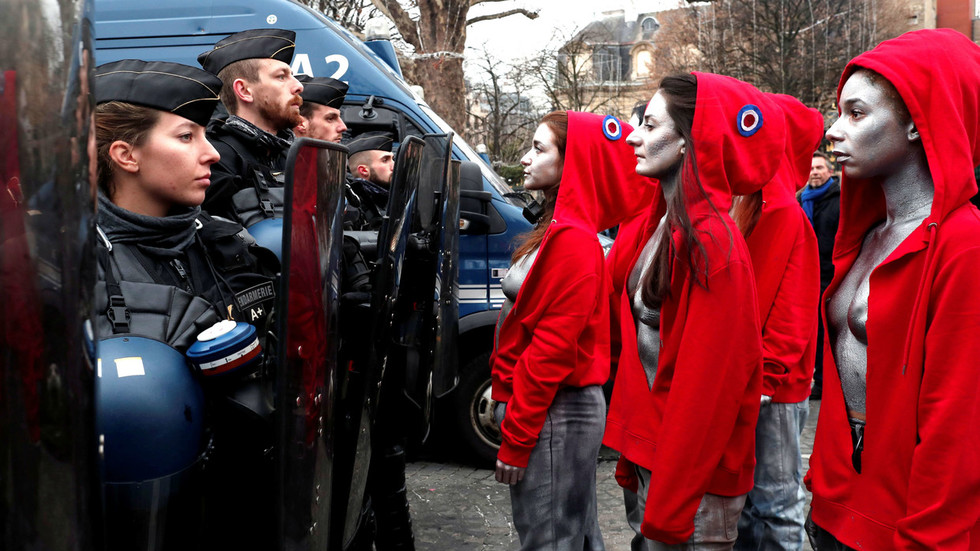 Strange femen-type 'event' – bare-breasted Mariannes, though apparently not femen (femen would not normally be seen wearing a French flag)
More clashes in Nantes…Lorraine…Lyon…Bordeaux…Perigueux…Toulouse: banks & shops attacked…Narbonne (tollgate torched)…Besancon…Dijon…St.Brieuc… Nancy & Lunéville
14/12/18:
Iraq, Basra: cops fire live rounds as 'yellow vests' chuck rocks at cop vehicles "Around 250 people had surrounded a building used as temporary headquarters for the provincial council to protest against corruption and demand jobs and better public services. Protesters threw rocks at riot police vehicles. Iraq's second city has been rocked by demonstrations in which government offices, including the main provincial council building, have been ransacked and set alight by protesters angry about corruption."
Hungary, Budapest: further clashes over 'slave labour' law "Some of the 2,000 protesters outside the Hungarian parliament threw bottles and smokebombs at riot police who responded with tear gas. During this week's disturbances, the most violent in Hungary for over a decade, police said more than 50 people had been arrested and at least 14 police injured. Demonstrators also marched along main roads and across bridges temporarily blocking traffic. "
Chile, Santiago: more clashes with cops over cops killing 24-year-old Mapuche… Valparaiso: striking dockers blockade port with burning tyres on 28th day of strike

Israel, Tel Aviv: yellow vests come to Israel – clashes as they protest against high prices Y writes: "The amount of Israeli flags is very typical for demos there. It was attended (maybe also organized?) by some populist politicians and would-be politicians. It is also interesting to note that from the Israeli media coverage that I read about what's going on in France they hardly mention or at least don't make it clear the amount of damage or rioting in the demos/occupations/blockades. But as usual these pieces are written mostly by "commentators" that want to show their "knowledge" about French society and earn their money as specialists, rather then really tell people what's going on and the reasons for it."

France, Guadeloupe: high school students block roads, attack cops with stones, home-made 'bombs', burn bins…Report on high school clashes here over the last 3 days…report on strikes called by unions throughout France For a critique of the CGT union see this.

Zambia, Kitwe: students riot over non-payment of meal allowances
Colombia: further student riots in Valledapur…and Bogota
South Africa, KwaZulu Natal: army take over autopsies as illegal mortuary workers' go-slow  enters 6th week…Western Cape: clashes as wildcat bus drivers' strike continues

UK, Salisbury: armless Christmas

13/12/18:
Ukraine, Lviv: miners sit-in underground demanding unpaid wages

France, La Reunion:  burning barricades and burning bins during clashes at high school, as movement on island expands…Guadeloupe (another French department, this time in the Caribbean): high school students clash with cops "Thursday's protest shut down schools and some roads across the island as students burned debris and threw rocks at police….The government also has temporarily banned businesses from selling gasoline to anyone seeking to fill jerry cans or other types of containers."…Essonne: high school students clash with cops

South Africa, Western Cape: stones v stun grenades as sacked wildcat striking transport workers clash with cops

Colombia, Cauca: student demo violently repressed by riot filth …clashes also in Bogota, Popayan & Medellin See also reports for 6/12 & 5/12 below

Jordan, Amman:  anti-austerity protests  "Our demands are bread, dignity and freedom," chanted demonstrators as scuffles briefly broke out when some protesters sought to break a police cordon to march closer to the prime minister's office…Unlike the summer protests in which the country's unions played a major role, the renewed demonstrations have no clear leadership and many of those participating come from provincial towns hard hit by the economic downturn."
Hungary, Budapest: further clashes "There is a clear difference between the protests from both Wednesday night and those presently underway in the Hungarian capital this evening compared to previous demonstrations over the past eight years. On the surface, the current demonstrations of around three thousand protesters are about the Orbán regime's oppressive new labour laws, reportedly adopted due to pressure on the Orbán government from multinational companies in Hungary. But it is clear that the youth-led demonstrations, much more strident and aggressive than most over the past eight years and poorly controlled by Hungarian police, are about the entire regime, as such. Both on Wednesday and Thursday evening, largely spontaneous demonstrations, spearheaded mostly by a younger generation of Hungarians, successfully disrupted traffic on Budapest's Chain Bridge, broke through the security barricade at parliament, set garbage cans and benches on fire, threatened to set the massive Christmas tree in front of parliament ablaze and withstood the tear gas used four times by the police. Some of the angriest, most radicalized elements chanted mockingly: "we are here to work overtime."
12/12/18:
France, La Reunion: headmaster hurt during clashes between high school students and cops

Bangladesh, Gazipur: at least 20 factories close during clashes between cops and garment workers demanding implementation of minimum wage

Hungary, Budapest: clashes outside parliament over new 'slave law' More here. See also entry for 8/12/18 below
UK, Cornwall: O Smash All Ye Faithful…Hampshire: the true spirit of Saturnalia

Iran: report on various strikes and protests   "…workers at the Iran National Steel Industrial Group (INSIG) continued their strike for the 24th consecutive day under the banner of "Humiliation, Never!", the Free Trade Union of Iranian Workers reported on it its Telegram account…. INSIG workers held an assembly protest on December 11 outside the National Bank office in Ahvaz, the capital of oil-rich Khuzestan Province, while workers rallied in support outside the Iranian Parliament in Tehran….Teachers across Iran, supported by university students, have also held sit-in protests, calling for better pay and free, quality education….Students at universities have rallied in support of the teachers and workers across the country. A support assembly at Amir Kabir University in Tehran was violently disrupted after so-called Basij students stormed the gathering. The Basij is a volunteer paramilitary militia established in Iran in 1979 by order of Ayatollah Ruhollah Khomeini."
11/12/18:
France: 450 (out of 4000) high schools blockaded; 'disturbances' at 170 of them …details in French about 16 of the towns involved in these disturbances…Montpellier: 9 schools blockaded; lively wildcat demo involving about 350 meandering through the centre of town Some of the variety of homemade placards: "Power makes us mad – let's hospitalise Macron", "Macron, Macron – we're not fucking you up the arse – sodomy is between friends", "The state pisses on us, the media says it's raining", "French people, foreigners – same studies, same rights" (reference to a new law making foreign high school students pay money to go to school), "Run Emmanuel – the sea is rising" (with a picture of the planet and a thermometer showing very high temperatures),"Shoot at children, steal from the poor, burn the planet". And there was a massive banner referring to the kids in Mantes-la-Jolie who, on 6th December, were forced to kneel with their hands behind their backs, which said "A class on their knees – Montpellier stands up!", and about 100 teenagers imitated what those at Mantes-la-Jolie had been forced to do and then everyone stood up together in a roar of defiance. More in English "The really important point that we've been hearing from students is that they are not the Yellow Vests – they want to say that, while their anger and frustrations are similar to those of that movement, their goals are very different."…Paris: 6 cars belonging to Town Hall torched Communiqué:
Paris: Attack for a black December
You're waiting for the Revolution! Granted ! Mine began a long time ago! When you are ready – God, what a long wait! – I won't feel disgusted by going a little of the way with you!
But when you stop, I will continue my mad and triumphal march towards the great and sublime conquest of Nothingness! Every Society you build will have its margins and at the margins of every Society will roam the heroic and bohemian vagrants, virgin and savage thoughts that can only live by preparing new and formidable rebel explosions! And I will be among them.
Pretty words – there must not be more than words.
I do not want to run behind the masses. It is said that this time it is the real thing, that the insurrection has arrived … Mine arrived a long time ago and it is an individual revolt.
In the early hours of December 11th I set fire to six  of the cars belonging to Paris' Town Hall , rue Corvisart (13th). It was not the Socialist Party specifically that was targeted, any more than Macron or any other. All powers have to be destroyed.
In order not to forget the companions who have left us. For Mikhail, Zak, Sebastian, Mauricio, Alexis and all the others.
For those who are in prison. One thought in particular for Krème and the defendants of the case of Scripta Manent in Italy.
For a black December!
A black hood on your  head, a new world in your heart"
Egypt: sale of 'yellow vests' forbidden "…industrial safety equipment dealers have been instructed not to sell yellow vests to walk-in buyers and to restrict business to wholesale to verified companies, but only after securing police permission. They were told offenders would be punished"
Jordan, Amman: riot No explanation or context for this riot, but probably an anti-austerity riot.

UK, Wiltshire: mindless statue gets decapitated by mindful vandal…Swansea: the end of Christmas as we know it

10/12/18:
France – high school student movement –  Beauvais: clashes with cops …Creil: cars overturned & burnt.(video here)..Compiegne: street furniture trashed…Loire-Atlantique: 8 schools involved, various clashes,  improvements to property, etc.…Montpellier: bins burnt on tramlines…Hauts-de-Seine: 6 high schools blockaded…up to 10% of high schools throughout country blockaded…details in French about 37 of the towns involved in these disturbances…universities blockaded…Disneyland blockaded by 'yellow vests'  A little anecdote: apparently staff working at Disneyland used to call it Mauschwitz because of the miserable working conditions. Management threatened them with the sack if anybody continued referring to it like that (specifically online).  Within half an hour workers started calling it Duckhau…Nouvelle-Aquitaine: prefecture bricked up within hours of Macron's speech Three aspects of his promise to increase the minimum wage by 100 euros per month not mentioned by the international media is that, firstly, an increase of 28 euros, paid by the boss,  had already been decided before the 'yellow vest' movement. Secondly,  the rest is an allowance paid by the state but not by the bosses; more importantly, this 'minimum wage' is conditional – if your partner gets above the minimum wage, the average of the 2 wages is taken into account. Thirdly, all this is not an increase in the minimum wage at all but in fact an increase in the activity premium, paid by the Family Allowances Fund (the 'CAF'). This increase was already planned for the entire five-year period for which Macron was elected, so it just accelerates the process. …yellow vests enable cars to drive at 300mph without being caught in a speed trap (more like "News of Opposition to all sense")

UK, Staffordshire: school shuts down after schoolkids "run riot"…Leicester: cop car re-modeled

South Africa, KwaZulu Natal: workers arrested for going on a wildcat strike…Western Cape: bus torched following wildcat strike

Mexico, Mexico City: about 15 hooded students, demanding resignation of University board of directors, break door, throw stones and fireworks

Argentina, Rio Negro: cops, using pepper spray, water cannon & rubber bullets, beat up students, journalists and arrest lawyer during eviction of 3 month occupation of university against education cuts

Germany, Bamberg: riot and arson in migrant detention centre "…damage is estimated at about 100,000 euros…Security service personnel who were exposed to disturbances were attacked by residents of the…center. As a result, the situation escalated: several men barricaded themselves in the facility. First incoming police were pelted with paving stones. There was a fire.
…Only a few weeks ago a major fire happened in one of the buildings of the site, in which at times the entire roof of a dormitory was on fire. None of the 150 residents of the house was injured, police said. The employees of the security service were able to escape into the open in good time. The damage was….about two million euros."
8/12/18:
Hungary, Budapest: thousands demonstrate against proposed law changes seeking rise in maximum overtime hours "The draft bill, introduced earlier this week, seeks to allow employers to ask for up to 400 hours of overtime work a year. If passed, the law would add an extra eight working hours to a week or result in a six-day work week. The protesting workers were joined by students from several Budapest universities"
France, Paris: preventive arrest used in advance of any actual "crimes" to contain protests Arrest without the slightest evidence of a crime already shows how readily the diaphanous gown of legality tears when confronted by the necessity of keeping the boutique districts intact. However, despite the massive deployment, TV news has said that there was more damage than on December 1st, with looting (particularly of jewellers) etc. being carried out away from the thoroughly policed centre. On December 1st 3 'arrondissements' (Parisian boroughs) were involved, but today there were 7 arrondissements involved. See this "The sector concerned by the incidents was much larger. With fewer barricades, the protests were more dispersed so many more places were affected by the violence…There was much more damage yesterday than there was a week ago." ...Toulouse: looting, clashes, etc…Bordeaux: burning barricades in  pedestrianized street decorated for Christmas…St.Etienne: cop car torched, looting…Clashes in: Dijon…Lyon…Caen…Avignon…Tours…Bourg-en-Bresse…Nantes…Marseille: armoured trucks and teargas during clashes as 10,000 march for the climate  "Hundreds of young people, mostly masked or hooded…were dispersed around 5pm by jets of tear gas launched by the police…In the surrounding streets, small groups of protesters confronted the police in the middle of thick fumes caused by tear gas and garbage fires.A blue armored vehicle of the gendarmerie intervened as reinforcement, followed by several mini-cars of the police force, while a helicopter flew over the area. The police prefecture said it had conducted eleven arrests in the department of Bouches-du-Rhone including 7 in Marseille, stating that the march of demonstrators for the climate that gathered 10,000 people on the Old Port early afternoon was dispersing. In the morning, 2,000 "yellow vests" had also marched peacefully in the center of Marseille." …video here

Belgium, Brussels: yellow vests' attack on European parliament building… cop methods of controlling 'yellow vests' ""A lot of our staff are also mobilized to work on Open Source Intelligence (OSINT), which is the exploitation of information from freely accessible sources.The data collected on the internet and the social networks on the yellow vests will be analyzed and disseminated to different services involved on Saturday. This work is important because the Yellow Vests refuse to contact the police or the City to organize the framing of the event…This Saturday, the day of event, " a Real Intelligence Center will be established where staff working on the OSINT, will provide real-time monitoring and screening of information on yellow vests on social networks and internet, to transmit directly to the command center and effective in the field".  More here. Z writes: " The demo today was a bit weird… It was divided by the police into 3 "sections" (relatively easy as far as I can say, though I arrived late). The section I was in was not much "rioty" as opposed to another section to which they prevented us from reaching….we were held captive by a big circle of riot police and police trucks in a crossroad that we blocked for a little more than 3 hours …. It became both depressing and boring once we were really isolated and closed-off, throughout those 3 hours. Some scuffles leading up to that encircling, and some fire-crackers and paint-bombs thrown at the police once some young-people became bored, but no breaking or pillaging. That is, as I said, in the part that I was in."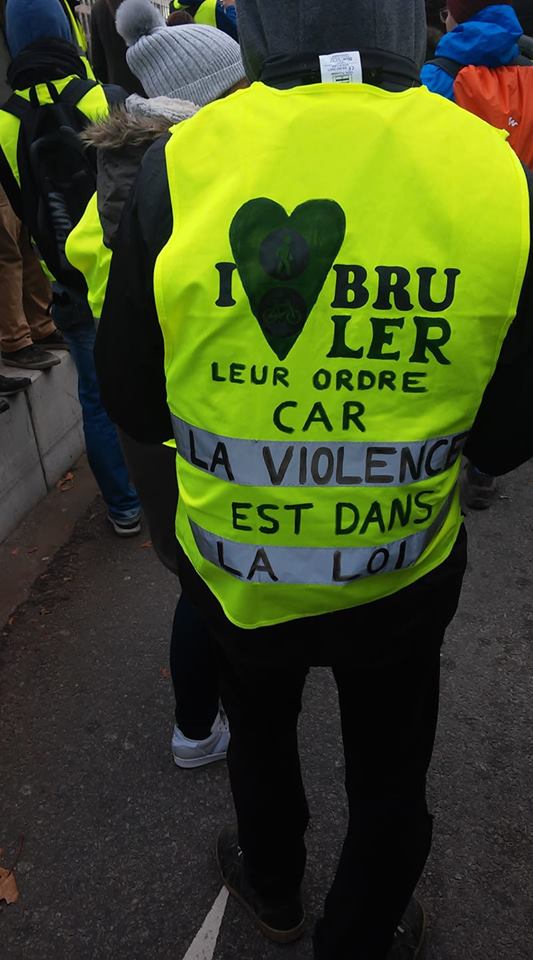 Brussels yellow vest: "I love burning their order because violence is in the law" [The original vest was branding the slogan "I ❤Bru"]
UK, Harrogate: hark the harrogate vandals sing

7/12/18:
France, Herault: disturbances outside high schools in 5 towns in this county …Nimes  …Lyon… Mulhouse: masked motorcyclist deliberately runs down cop at high school blockade…clashes at high school student demos in 35 towns… armoured cars to be deployed in Paris "A government official said 89,000 police and gendarmes would be mobilised across the country, 8,000 of them in the French capital, alongside a dozen VBRG armoured vehicles….Staff at the Bastille Opéra were reported to have locked the orchestra's instruments somewhere safe fearing an assault on the building."  There have been calls for people to arm themselves against the state, others are hoping to occupy the Elysée Palace tomorrow. But before you get all excited, the probability is that these calls are coming from the ultra-right…or maybe sections of the state trying to frighten people away from Paris for fear of people starting shooting all over the  place. A strange atmosphere, not easy to get to grips with either emotionally or intellectually, and not at all like the more lighthearted, and more clearly class-conscious, epoch of the anti-CPE movement of 2006.

Eire, Dublin: occupation of Department of Communications, Climate Action & Environment for 2 hours The activist mentality is drawn to such gesture politics because it makes them feel that they've done something without really doing anything other than show their need to plea to the State to do something which if the State  ever does will invariably be worse than useless for the vast majority. But at least it helps them feel good and pure and maybe gives them an anecdote to tell people.

Paraguay, Asuncion: report on tent city occupation of part of town by indigenous protesting companies' attempts to uproot them from their land

6/12/18:
Peru: indigenous occupy pipeline pumping installations

Greece, Athens: riots on 10th anniversary of cop murder of Alexis Grigoropoulos More here "Young men with their faces covered smashed sidewalk concrete, threw rocks and placed barricades around several streets …Others vandalized the entrance of the Ministry of Culture by breaking its doors, before heading to the rooftop of the Ministry building, where they then threw rocks down on the police. The Athens police had ordered the closure of Syntagma and Panepistimio metro stations from Thursday morning as a precautionary measure against possible violence. The two stations opened again after noon but Panepistimio Station was forced to shut down again, due to the new clashes….Clashes broke out in Thessaloniki as well, where people threw Molotov cocktails at the police …A construction site in Thessaloniki's new metro system was set in fire following the clashes on Egnatia street. "
France, Beziers: clashes as 500 high school students take to the streets; 2 cars overturned, bins burnt, etc…clashes in 29 towns…video of cops humiliating youths at a banlieu school … (homage to them on a 'yellow vest' demo on 8th)…700 high school students arrested…Ariege: at least 10 vehicles, a hanger and the ground floor of the management building belonging to Enedis, national electricity company – all burnt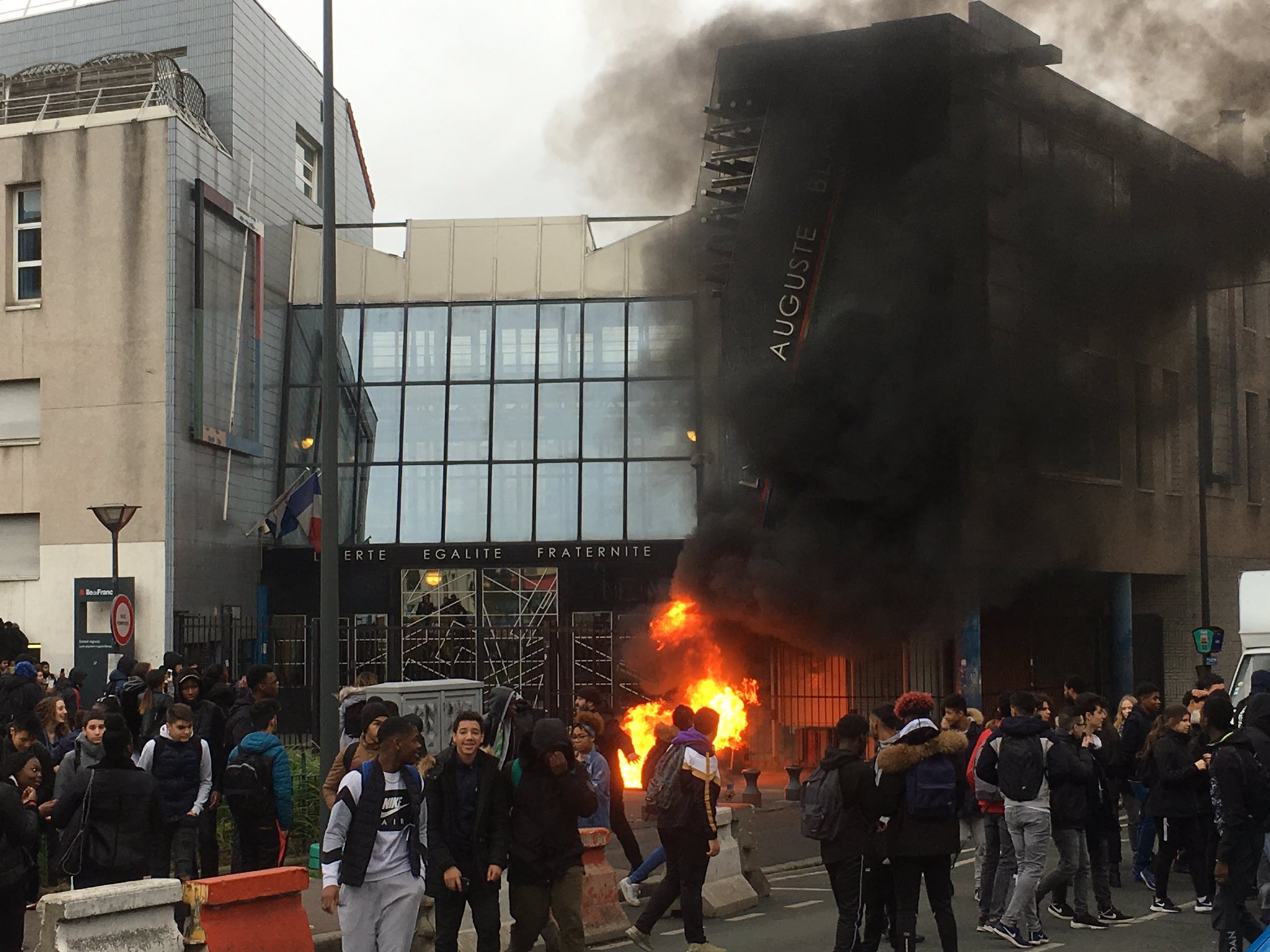 St. Ouen: Liberty, Equality, Fraternity, Incendiary – the burning of Auguste Blanqui High School

" Why… in spite of the virtues and talents for which they are so noted, are the academies generally centres of intellectual repression, stupidity, and base intrigue? That question ought to be proposed by an academy: there would be no lack of competitors." – Blanqui
Colombia, Cauca: riots as residents receive bills for water but don't receive any water…Narino: students clash with riot cops, throw potato bombs
5/12/18:
Colombia, Cali: more clashes between students and riot cops "This situation left two police wounded and substantial material damage, because vandals attacked the Christmas lighting recently installed in the area. They burned some ornaments "
France: clashes between high school students and cops in 22 towns…blockade of 2 Paris universities.  This is a more balanced take on the situation than most  texts, though not uncriticisable (what is?). In France, there are principally 2 tendencies amongst those who claim to want a revolution: those who tend to opportunistically over-emphasise the radical aspects of what's happening and those, partly in reaction to this tendency, who tend to exaggerate the bad aspects. We live in confusing times and trying to unravel this confusion is not helped by trying constantly to impose more classical proletarian ways of thinking and categories onto  a movement that involves lots people who have never confronted this society before. People are trying to break out of their isolated individualist responses to intensified misery by trying to come together but with a whole load of other baggage from the past and present of this society colonising their brains and habitual discourse.  These people have lived through a period of intensified ignorance of the contradictions and obstacles we have to confront and trying to help ourselves and them clarify the significant changes in both the composition and consciousness of 'the working class' will be part of overcoming such ignorance. Which involves neither opportunist cheer-leading demagogy involving intellectual contortionism of the most spurious kind nor impotent laments that the course of class struggle is not running smoothly according to notions developed through over a hundred years of previous movements This epoch could lead to a kind of totalitarianism very far from classical fascism (though reflecting aspects of it) or to a genuinely subversive movement with the potential to create serious problems for all forms of capital, not just the current neoliberal form. Remaining content to merely  comment on these tendencies will inevitably ensure the victory of the former.

UK, Norfolk: shocking mindless attack on deeply sincere memorial to the most wonderful time of the year

4/12/18:
Tunisia, Sidi Bouzid: clashes between tyre-burning youths and cops  No clear reason given for this.

France: unions announce unlimited lorry drivers strike from next Sunday…There are also rumours of post office workers going on strike soon… high school students clash with cops in 22 towns in protest against the reform of the 'Bac' and increased limits on university access…Nice: 2,500 high school students block many roads throughout town…about 200 high schools blockaded or partly blockaded throughout country … Report in English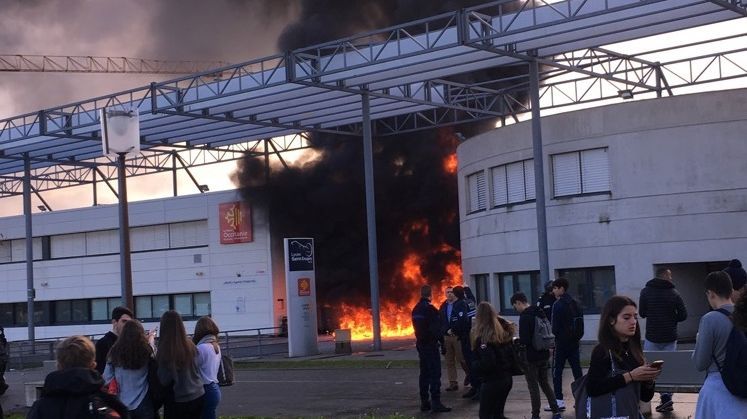 Bins and pallets burning in Blagnac, where the fire spread to the entrance of Saint-Exupéry high school and caused significant damage to the project of conditioning that goes under the absurd name of 'education'. The high school closed for 48 hours for 'security'. 24 schools in Toulouse were blockaded, amongst which a dozen were blockaded with burning bins and pallets. A young demonstrator was seriously wounded in the face by a flashball.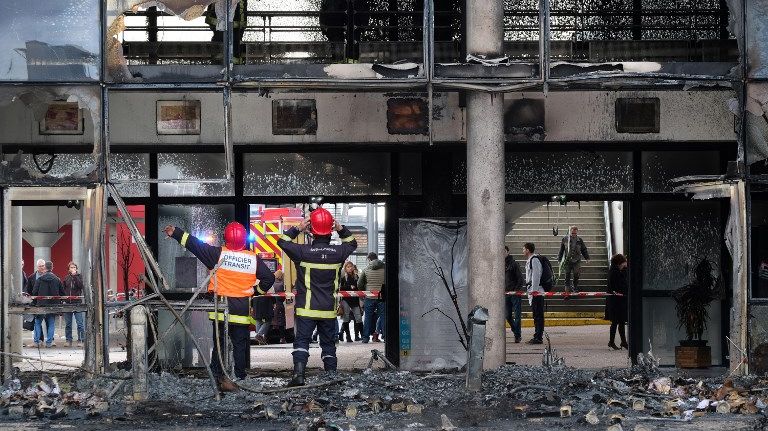 Below: outside a high school in Bordeaux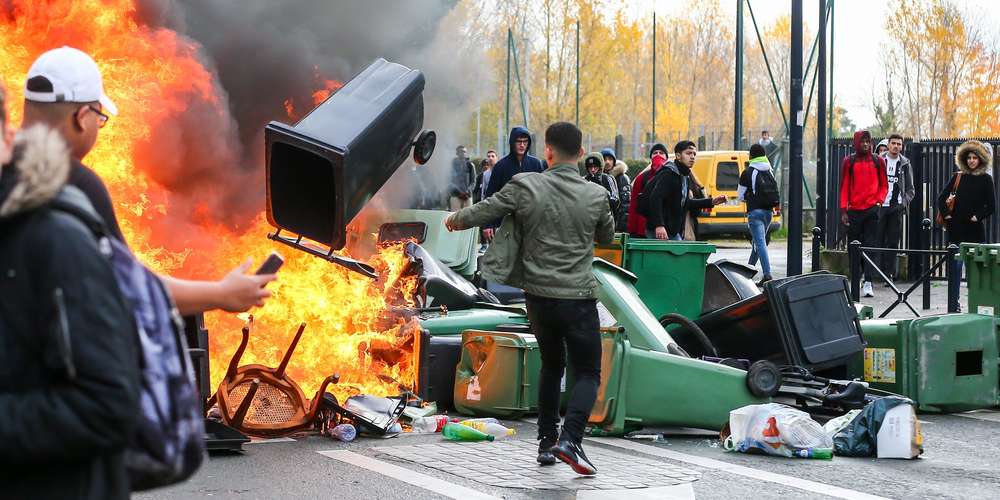 UK, Staffordshire: football fans attack cops and stadium…Warwickshire: Christmas abolished

Spain, Cadiz: shop windows broken, ATM and containers burnt, right-wing journocops attacked on demo against election of 12 deputies from far-right anti-immigration/anti-abortion party

Iran: students protest in solidarity with striking workers and jailed students & teachers

3/12/18:
Bangladesh, Narayanganj: garment workers vandalise 20 factories and 30 vehicles,  block roads, demanding wage hike

France: over 100 high schools blockaded in protest against the reform of the Baccalaureat…Seine-St.Denis: some looting etc. during high school protest   "Protesters burned garbage cans, destroyed street furniture, and attacked businesses that were looted. Several vehicles were burned.…On images broadcast on social networks, we see police fleeing from  dozens of "casseurs"." …clashes between cops & high school students in 14 towns Though this was for the most part initiated by the high school union, obviously in many cases they went beyond the limited protest the union envisaged.…Paris: ambulance workers clash with cops "…ambulances… blocked a bridge leading to the National Assembly in Paris on Monday. Lines of riot police officers stood in the rain to prevent the ambulance workers from getting too close to the building. Ambulance drivers were also pictured facing off with officers during a demonstration at the Place de la Concorde."…Montreuil: part of court building torched…Cote d'Azur: increasing problems of getting petrol due to blockades …Report on how 'yellow vest' blockades are effecting work in UK…La Reunion (East Port): heavy clashes between 'gilets jaunes' and cops as state tries to unblock blockade of port  "According to the prefecture, "nearly a thousand customs-cleared containers are awaiting delivery: fresh products, wheat for bakeries, raw materials for the manufacture of animal feed, medicines and medical equipment intended for hospitals and hospices for the elderly …other Yellow Vests  invaded the university campus of Moufia. Taking over the amphitheatres, they presented their demands to the students."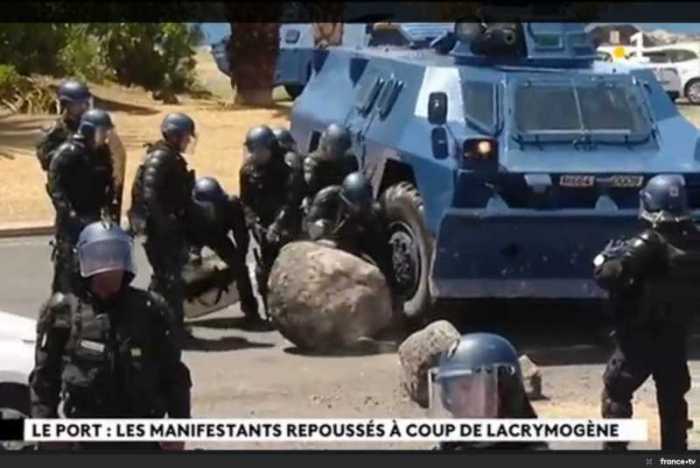 Cops on La Réunion, backed by 2 armoured trucks, remove part of port blockade
Eire, Dublin: teachers & staff occupy private language school following non-payment of wages

Lithuania, Vilnius: 2nd week of teachers' occupation of Ministry of Education

Belgium, Liege: 'yellow vests' block entrance to Finance Tower, closing it down

China: report on truckdrivers' strike
2/12/18:
France, Narbonne: night of rioting as Vinci building-cum-police station, toll both etc are torched "Last night dozens of "casseurs" burned  buildings around the southern toll booth of Narbonne on the A9 motorway. Buildings and cars on fire, barriers broken, panels torn off, toll booths attacked with pickaxes… Events took a violent turn in the night of Saturday to Sunday….Near the toll booth, all the buildings were evacuated, including the premises of the gendarmerie highway platoon. There were 8 gendarmes and 6 policemen inside… …A group of vandals went to the headquarters of the General Society in Croix Sud and attacked the windows with projectiles. At the toll booth, the extent of the damage is considerable…The few policemen and gendarmes present on the spot received Molotov cocktails launched by a horde of 200 people and saw their premises set on fire. …The operating premises destroyed during this arson attack included those of the district and the security police."
1/12/18:
France, Paris: far left and far right clash with cops in 'yellow vest' protests…lots of luxury cars & cop car torched; also a restaurant… More here "…masked protesters fought running battles with police, torched cars, set fires to banks and houses, and burned makeshift barricades on the edges of demonstrations against fuel tax. Near the Arc de Triomphe, one of Paris's best-known monuments, masked men burned barricades, set fire to buildings, smashed fences and torched luxury cars on some of the most expensive streets in the city as riot police fired teargas and water cannon. Then, by early evening, rioters spread around Paris in a game of cat and mouse with police. Luxury department stores on Boulevard Haussmann were evacuated as cars were set alight and windows smashed. Near the Louvre, metal grilles were ripped down at the Tuileries Garden where fires were started. On the Place Vendôme, a hub of luxury jewellery shops and designer stores, rioters smashed windows and built barricades….Anti-Macron graffiti was scrawled over the Arc de Triomphe near the tomb of the unknown soldier and protesters burst into the monument smashing up its lower floors before climbing on to the roof. More than 250 people were arrested and at least 100 injured – including one protester who was in a serious condition on Saturday night…" It was later revealed that the cops ran out of teargas.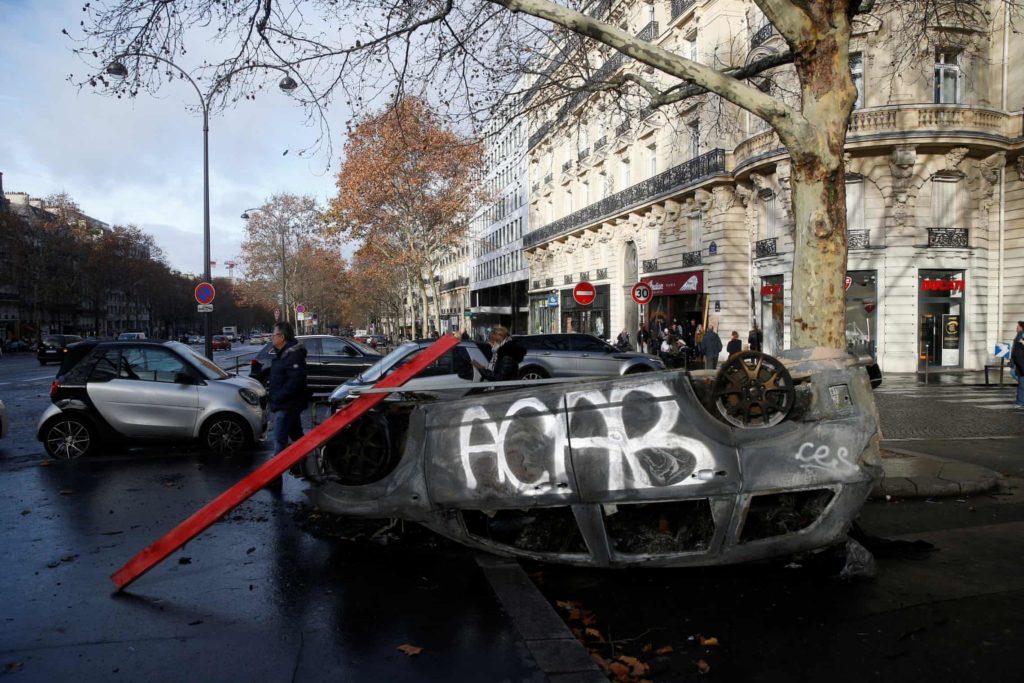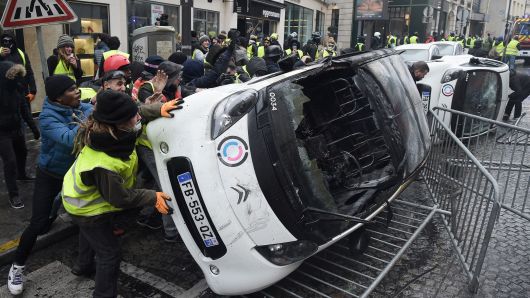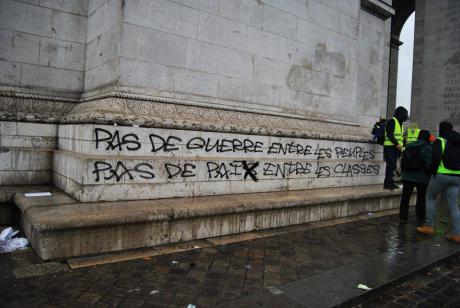 "No war between peoples, no peace between classes"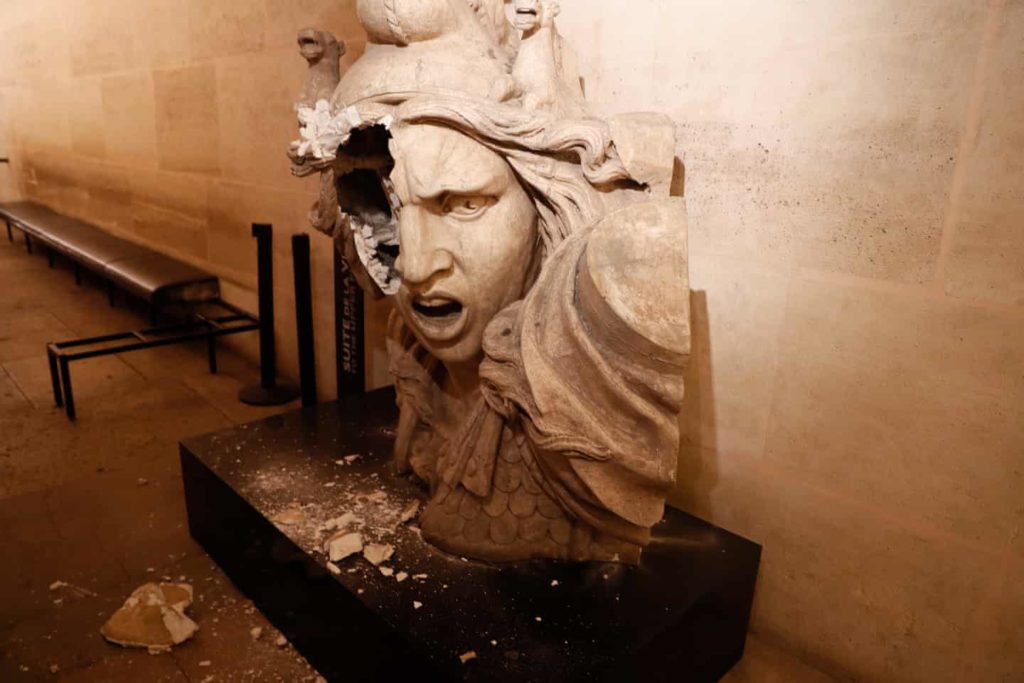 So long, Marianne – it's time that we began to laugh
and cry and cry and laugh about it all again:  a smashed  statue of  Marianne,  symbol of the French Republic, inside the Arc de Triomphe (some suggest that this may have been done by right-wing monarchists, but given that there were all different strands of the political spectrum, including anarchists & ultra-leftists, round the Arc de Triomphe, this is pure speculation). Protesters smashed other statues in the monument and destroyed the gift shop…On the other hand, some 'yellow vests' protected the tomb of the unknown soldier –  a symbol of militarism – from those who wanted to attack it.

Can all this seriously be simply reduced to just petit-bourgeois populism and nothing but? This is not to underestimate the growth of ultra-right populism, but it's clear that there's a lot more to what's happening in France than just that. It's a weird difficult-to categorise mix of people…Possible state of emergency to be declared. The government has asked all the other main political parties to have a meeting with them.  Marine Le Pen asked Macron if he wanted to be the first president of the 5th Republic that had ordered the shooting of protesters. But during  '68 at least 2 people were shot dead by the cops towards the end of the movement (and several others either disappeared or turned up to have apparently died in car accidents). Moreover, in 1961, also under de Gaulle, something like 200 Arabs were killed, most of them thrown into the Seine. And in '86 an Arab was killed by the cops, though not shot. But for the daughter of the torturer of Algerians, these incidents are obviously irrelevant.
See this Crimethinc article for an account of the day.
This round-the-clock French TV station gives constant news (but also about different things)….I'm tempted to say "Watch this space" but, apart from the fact that you can probably get more information elsewhere at least until Monday, it also implies you should just "watch"…clashes in 17 other towns…Nantes: airport invaded…Puy-en-Velay: prefecture burned down The media presents this crowd as being callous & bloodthirsty, indifferent to the fact that this was full of workers as well as the prefect; hard to know if their being constantly subjected to teargas had made them blind to the situation or that it was the media, indifferent to most people's real lives, typically doing their worst…Marseille: looting as 3 demos converge (CGT, 'yellow vests' and those protesting 2000 people evacuated following collapse of buildings 4 weeks ago) "Thirteen people were arrested in the evening… including for the looting of a phone shop and the burning of a police vehicle on the Canebière."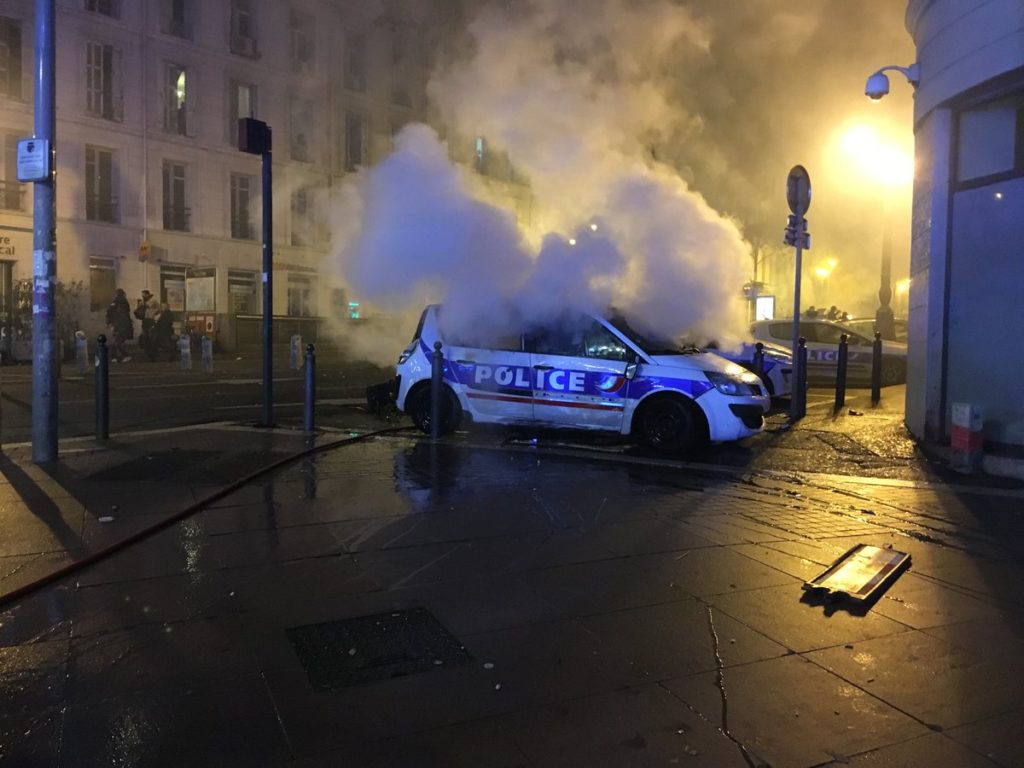 …. An 80-year-old woman killed by a teargas grenade fired at her face  (the official version is that she died because the hospital made some medical mistakes)