2019 2018 2017  2016 2015 2014 2013
"There is always in February some one day, at least, when one smells the yet distant, but surely coming, summer"
"If you can live through February you can make it another year"
(January 2019 here…March 2019 here)
There are obviously significant limits to providing links to information about situations I know little about. Some of this might give people the idea  that struggle is advancing or happening far more than it in fact is, and may even blind people to the contradictions and complexities of any specific situation. However, despite the inevitable limitations,  I will continue to put up links if only as a method of keeping a record of events, though this will be reduced compared  with previous years.
26/2/19:
Algeria, Algiers: high school & middle school students clash with cops  See entries for 23/2 & 22/2 below

Greece, Athens: burning barricades after cops murder Nigerian migrant

25/2/19:
France, Essonne: cops stoned and molotoved in ambush "The vehicle was blocked in an alley by vehicles parked on the taxiway. Police managed to maneuver and move forward, but the time lost allowed a group of young people to organize. There were ten to block the road, on foot, …They began to throw a rain of stones on the vehicle whose front window was broken by two impacts. …To escape, the police backed up, but were blocked by a parked car that they hit during their U-turn. A Molotov cocktail exploded right next to the patrol. …No attackers were arrested. Four policemen were very slightly affected by shards of glass. "This defiance of the state will continue until human resources are sufficient".
Greece, Corfu: locals clash with cops over landfill

South Africa, Eastern Cape: shackdwellers burn tyres as they refuse relocation

23/2/19:
Venezuela, San Antonio: "armed gangs" attack Maduro's state TV journalists See also this:A Desperate Venezuela Today. It should be pointed out, for those who can't see the obvious, that Guaido, who's supported by Trump and Richard Branson amongst other creeps, is clearly using this as a way of buying support from the impoverished and starving. Whether the Venezuelan poor can steer  their way past the Scylla of the Left of Capital and the Charybdis of Capital's Right wing is unlikely without an intensification of independent class struggle throughout Latin America and further. See also this: Humanitarian Aid… for War

Algeria: massive demonstrations continue (video)

France: yellow vest clashes in 17 towns  I wasn't in Montpellier this Saturday, but a friend told me that on the route of the march an enormous amount of ATMs, parking meters and especially CCTV cameras were wrecked. A breakaway group of about 50 'yellow vests' headed for the main shopping precinct of the city and before they got there the whole building was closed, to would-be shoppers and demonstrators alike.
22/2/19:
Canada, Quebec: Mohawk cop car torched after cop cannabis raid

France, Paris: nearly a thousand, mainly adolescents influenced by Swedish 15-Year-old, march against climate change"Warm hearts, not the planet"…Led by a large number of police officers, the young demonstrators left the Place de l'Opéra, carrying placards "the future begins here", "Save the Earth, eat a lobbyist", "Water is coming" and chanting slogans "we are warmer than the climate" or "join us, do not look at us".…Last week for the first mobilization, there were about 200 high school students and students blocking traffic in front of the Ministry of Ecological Transition." Unfortunately there were also some politicians involved, like the mayor of Paris and an MEP.

Algeria: despite suppression of social networks, demonstrations and riots follow half-dead president's decision to stand in elections for a 5th time "On Thursday evening, the day before the demonstrations, social networks were largely neutralized in Algeria to deprive citizens of their ability to mobilize on the Internet.…"power is capable of everything", explains a diplomat, "even the election of a dead person"...The only official reaction – Algerian national TV has broadcast a documentary on the reproduction of frogs" As with almost all social movements, these included those against smashing things, politicos belonging to 'opposition' parties hoping to gain power, Islamists, and doubtless loads of other types of people.

Sudan: president declares one year state of emergency   "The state of emergency will give the security forces a free hand in cracking down on protesters and carrying out detentions and it places heavier restrictions on the press and opposition parties. The announcements were instantly met with street demonstrations, demanding Bashir should step down. Witnesses said riot police fired teargas and arrested a number of protesters….As he was speaking in the presidential palace, dozens of protesters were taking to the streets in Khartoum and other places, chanting, "just fall."
Venezuela, border with Brazil: 3 soldiers taken prisoner by angry crowds as army kill 2 people following attempt by locals to let through  aid convoys blocked by Maduro…though this says that they defected…and, as if the Venezuelan poor haven't suffered enough, Richard Branson gets in on the act  See A Desperate Venezuela Today, which, despite elements of self-management ideology, is pretty good.
Haiti, Port-au-Prince: rubber bullets used against mourners as movement continues  For an anarchist take see  this

UK, Sussex: absoutely disgusting outrage at pertinent critique of war

21/2/19:
Chile, Santiago: clashes on 6th anniversary of state murder of trade unionist

UK, Cornwall: pompous contempt for valid, if minor, attempt to go beyond "responsible display of passive action" against climate change"The event was one of more than 65 simultaneous protests around the country under the banner Youth Strike 4 Climate…Demonstrators had written slogans and statements across the sign – such as "We have no Plan B, stop pretending that nothing's happening" – despite Cornwall Council declaring a climate change emergency recently. One parent, who did not want to be named, told Cornwall Live: "It's hardly a responsible display of passive action to deliberately deface signs at County Hall. It detracts from what should be a mature demonstration. Unfortunately maturity was lacking and the event was used as an excuse to bunk off and/or vandalised property."
20/2/19:
Morocco, Rabat: cops water cannon demonstrating teachers   "Ambulances evacuated the injured to hospital. …The demonstrators gathered in central Rabat holding up banners that read "no to fixed-term contracts" and "no to the dismantling of public schools". But some of them decided to march on the city's royal palace and diverted from the main group of protesters, heading for an avenue that skirts the site and sparking the clashes. Some protestors also chanted calls for an "end to dictatorship" in the North African kingdom. Authorities said security forces intervened because the protesters were not authorised to protest in the area near the palace….It also coincided with calls by trade unions for a nationwide one-day strike in the public sector on Wednesday to protest against inflation."
18/2/19:
South Africa, KwaZulu Natal: academic programme cancelled as students clash with cops over accommodation, debt etc.

US: 260 rallies across 48 states – demonstrators march against Fake Trump Emergency "…against Trump's fake crisis and racist deportation force and to stand with immigrant, Muslim, and Black and brown communities to stop Trump's dangerous and illegal power grab." See also this.

17/2/19:
Sudan, Khartoum: cop killed by stone, street vendor killed by teargas as demonstrations continue "Besides Khartoum North, similar protests took place in other parts of the capital, such as Burri, Halfaya, Shambat Alshajara, and Al-Abassiya of Omdurman …Observers noticed that the anti-riot police and other security organs use tear gas extensively as they try to avoid the use of live ammunition as much as they did during December and January. With the death of the fruit seller, the death toll rises to 33 people. The Sudanese authorities said a police officer was killed by a stone thrown by protesters in southern Khartoum neighbourhood of Al-Sahafa."
Tunisia, Hammamet: youths clash with cops after young man dies  in police station

16/2/19:
South Africa, Gauteng: hundreds loot overturned truck
15/2/19:
Jordan, Ajloun: 1 killed during rioting after arrests "Following news of the death, rioting resumed, resulting in attacks on government property and vehicles, while a handful of buildings were set on fire, according to a statement by the Public Security Department."
13/2/19:
Haiti: 1 more killed as riots & demonstrations continue "On the outskirts of the largest square in Haiti, where the crowd finished its march, some looting was carried out in the surrounding shops…"A government that cannot give food and water to its people must resign but it is also necessary that the bourgeoisie decide not to monopolize all the wealth because we, we are more numerous in the popular districts", warned the protester."
12/2/19:
Haiti, Aquin: 78 prisoners escape during demonstration in front of police station  "Port-au-Prince also saw clashes between police and hundreds of protesters in working-class neighbourhoods….Thousands of people took to the streets. After police forces dispersed them, some set fire to cars and looted stores to express their mounting frustrations over growing social inequalities worsened by systemic corruption. A youth was also shot dead at a crossroads near the presidential palace." Videos here and here.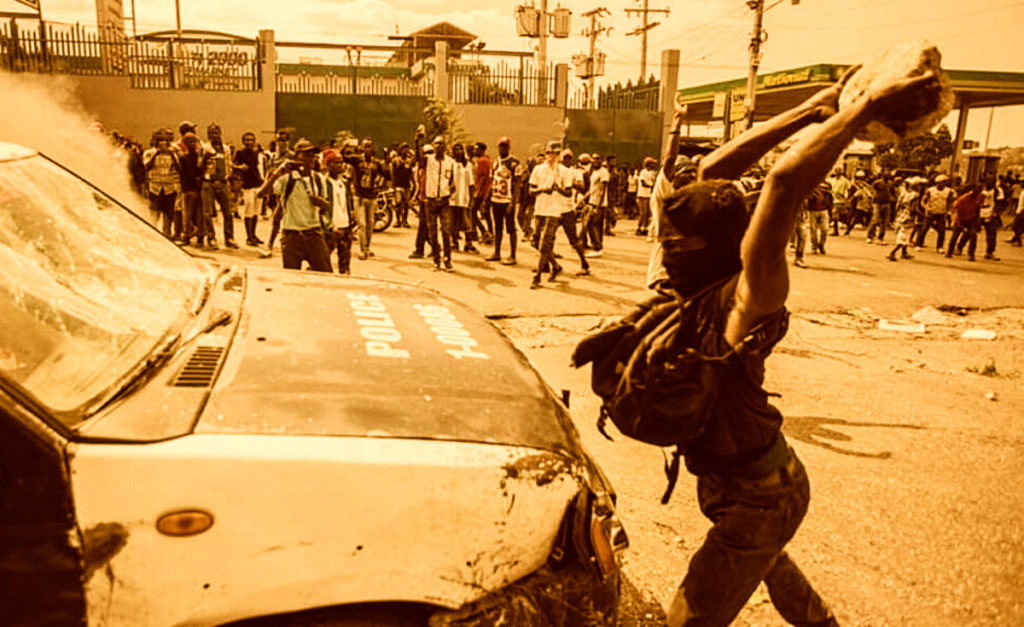 South Africa, Gauteng: University of Technology shuts down due to protests

11/2/19:
Haiti: 5th day of riots "Schools, shops and municipal offices were largely shuttered in Port-au-Prince and many roads were closed by barricades erected by protesters. Thousands of protesters poured out of the capital's slums towards wealthier neighborhoods in the city center, where there were reports of rioting and looting alongside peaceful protests."
South Africa, Gauteng: cops fire rubber bullets as 400 students block university entrance

Belgium, Brussels: statue to one of the world's biggest mass murderers disappears and gets replaced by statue to  another, lesser, mass murderer, which then gets vandalised King Leopold ll was responsible for the massacre of up to 80% of the indigenous population of the Congo at the beginning of the 20th century, proportionally probably as many as those who were murdered in the holocaust. Mandela was responsible for covering up sexual abuse in ANC camps in the 1980s (see also this) and his ANC contributed to the massacre of up to 20,000 in the war between the white apartheid state and the ANC racketeers. No wonder him and de Klerk (a high-up minister in the vicious apartheid government until the social struggle forced the system to reform its image and give the appearance of the abolition of apartheid)  got  the Nobel Peace Prize.  See also "Mandela can go to hell!".
10/2/19:
Haiti, Port-au-Prince: looting etc. on 4th day of clashes "Port-au-Prince and surrounding areas and other major cities of the country have experienced tension. Barricades of burning tires were erected here and there. Protesters partially burned a gas station at Poste Marchand. A huge crowd demonstrated in the Village de Dieu, arriving in front of the forecourt of Parliament…another branch of the demonstration took the direction of the national palace; arriving at Lamarre Street in Port-au-Prince, the protesters trapped a contingent of UNMIJUSTH [United Nations mission for the application of justice in Haiti]…At Lalue, the situation was no different, a food depot was looted. The premises of the Office for Citizen Protection (OPC) were attacked,
several cars were burned there." The United Nations mission mentioned above were responsible for the death of at least 4 people "in a traffic accident" (see this video), as part of their "application of justice" in the country.

9/2/19:
Haiti, Port-au-Prince: President's home stoned as clashes continue…demonstrations and burning barricades in 9 parts of town"Burning barricades, stones thrown, demonstrations … the police on the spot could do nothing in the face of the anger of the demonstrators who demand better living conditions and the departure of the President of the Republic. Because of this situation, the municipality of Carrefour which hosts the largest fuel terminal in the country has already not been able to supply other parts of the country for three days." Despite the fact that the main catalyst for this uprising were the government's austerity measures, the official opposition reduces the whole situation to largely political demands: the resignation of the president and prime minister, an enquiry into the PetroCaribe corruption scandal in which 3.8 billion dollars seems to have 'disappeared' and the holding of an independent national conference to develop a social project in the interest of all layers of society (as if the latter was possible).

France: yellow vest clashes in 16 towns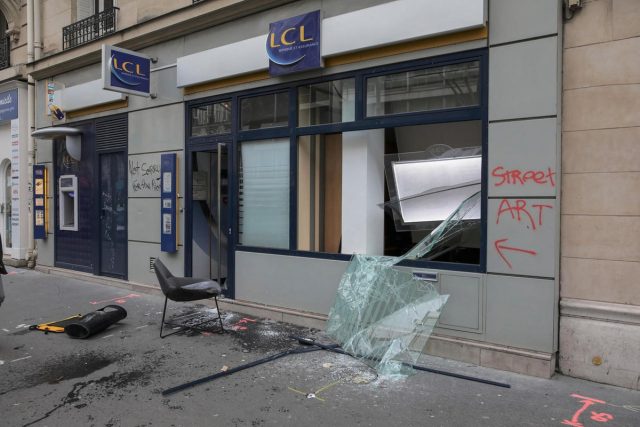 In Montpellier, this leaflet was distributed and it was generally well-received, though, ironically, those from the so-called anti-authoritarian milieu were the most critical. Those least addled by oppositional ideology seemed to like it, though it's hard to know whether this was politeness or that they hadn't had time or space to read it all or whether they genuinely found it interesting and pertinent.
There were some remarkable acrobatic-tactics – like 2 people climbing up to the 2nd floor on the outside of  2 buildings, without ropes or any other equipment,  to put up some banners. One was simply "Social ecological emergency –  Stop capitalism". The other was "Police – don't obey orders – obey your ideas!", to which lots of people clapped. An almost unbelievable naivety (a friend pointed out that a large percentage of cops vote for Le Pen, so that if they obeyed their "ideas" things would be even worse). I shouted out "But these shitheads have no ideas, otherwise they wouldn't be cops" but without any response.
The demo was largely peaceful until the cops in front of the prefecture responded to fireworks (not being thrown at them, but merely lit on the large traffic island in front of the large building) with teargas and teargas-laced water projected through large hosepipes.  As evening descended the cops fired more and more teargas until much of the centre of town was filled with it, the main square becoming a thick fog of the stuff. At one point, plain clothed cops from the BAC got teargassed by other cops who mistook them for black blockers. A few bins started to be torched, stones were thrown and at one time a strange firework that took a 5 meter length 2 meters high form right in front of the line of cops about 3 meters behind it.  I only had one second to appreciate this curious display before the cops started firing massive amounts of teargas. Running off, my eyes burning for a short while from the gas, I followed about 200 people, amongst whom were some wheeling a very large wheelie-bin with its contents on fire, which they took down a long flight of stairs down to the tramway where they left it to burn. The clashes continued into the night but I was knackered, after having walked round town for about 6 hours.
Italy, Turin: clashes between filth  and anarchists as the latter try to re-take evicted squat "Clashes between far-left and anarchist activists protesting evacuation of a squat and police on Saturday night in the center of Turin (north-west Italy), concluded with four casualties and a dozen arrests. Several hundred people had gathered in the late afternoon behind a banner proclaiming: "They are waging war against the poor and calling it renovation. We resist the bosses of the city. The protesters announced their willingness to "take back" the squat evacuated Friday morning after being held for more than two decades by movements of the far left and anarchists and where Arab families lived …On the way, they burned garbage cans and blocked traffic arteries, damaged vehicles, attacked a bus after  the few passengers fled, and threw stones at the police who responded with teargas, but took two hours to restore calm."
8/2/19:
Haiti, Gonaïves: 2 killed as burning tyre barricades are erected here and there "Demonstrations are underway, at midday, in several cities, including the capital, Port-au-Prince, Petit-Goâve (Western Department), Gonaïves (Artibonite / North), Jacmel (South-East) and Mirebalais (Central Plateau), the latter city having been, on February 7, 2019, the scene of clashes between the National Police of Haiti (Pnh) and protesters. In different places, on February 8, 2019, barricades of ignited used tires are still erected. At the same time, stones are thrown here and there. Most of the activities are totally paralyzed, this Friday, February 8, 2019, in the metropolitan area of ​​the capital, Port-au-Prince, and several other cities in the province. Public transport operates very limitedly on the various arteries…As on Thursday, February 7, 2019, the doors of public and private schools remain closed. Petrol stations as well as commercial banks…are not open. Formal and informal trade is also affected by the climate of concern and uncertainty…Some offices and other services work, though marginally. In several neighborhoods,  firearms are fired from time to time. This discouraged many people from  going on the streets to their  different activities. A significant number of people preferred… to stay at home"
7/2/19:
South Africa, Gauteng: student protests continue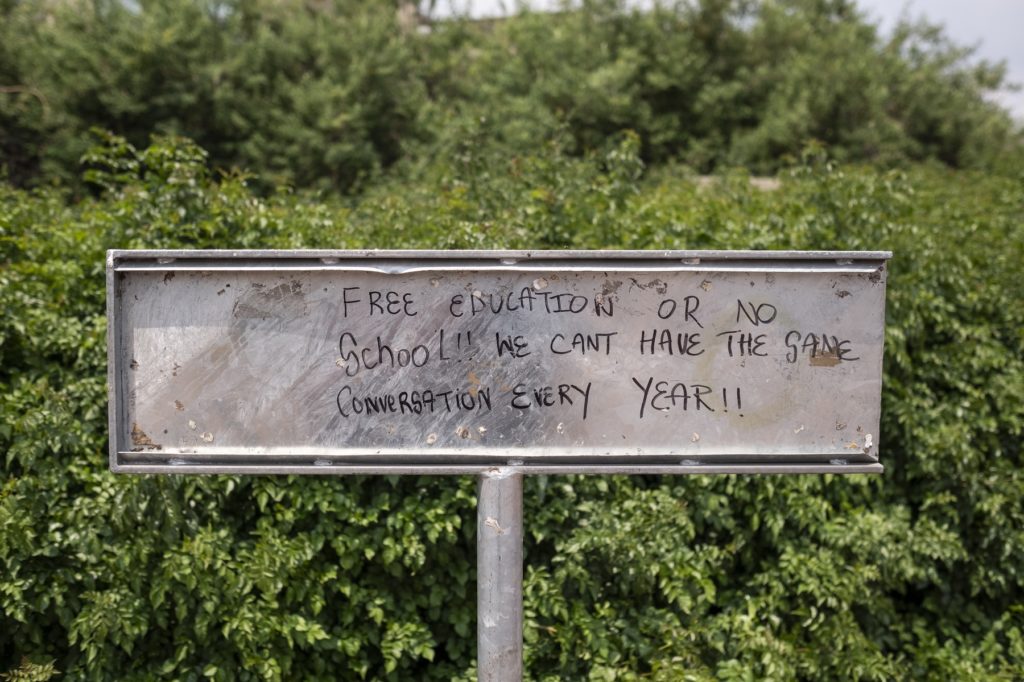 …but sadly so-called education, even if 'free', is 'education' in order to adapt people to an unfree life and unfree world – which is not to say that  privatised expensive education is not intended to intensify  class apartheid, to intensify precarity for those at the sharp end.
"The school for the oppressed is a revolution" – Soweto high school students, 1976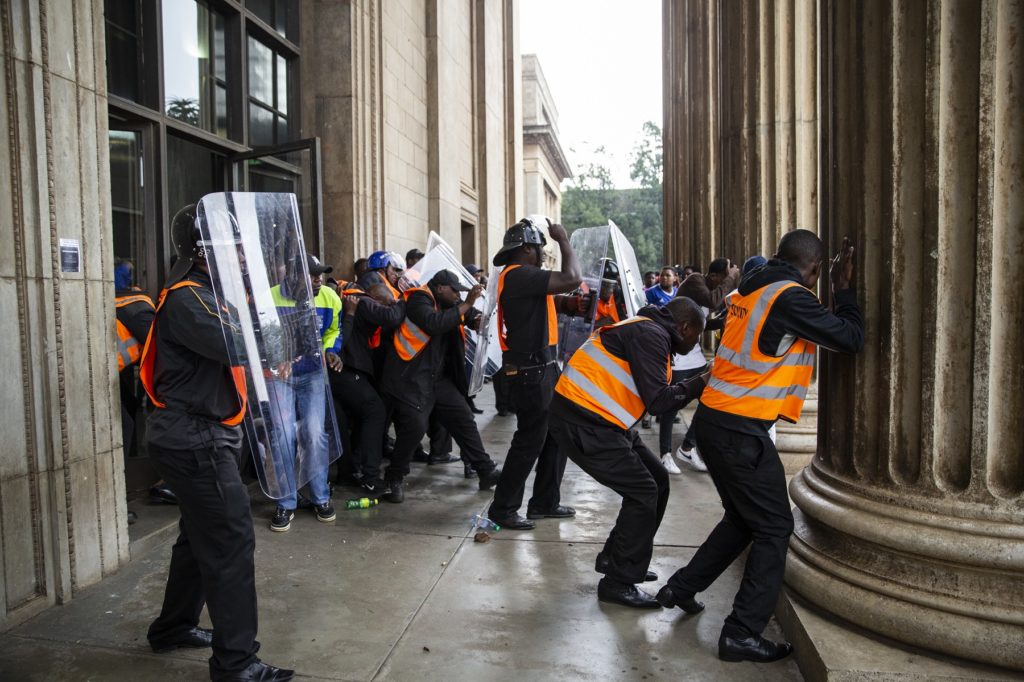 Private security guards hide themselves behind shields as students throw stones during a protest at Johannesburg's University of the Witwatersrand (WITS).  Students tried to shut down the university, demanding that homeless students should be provided with adequate accommodation and students who have historical debts be allowed to register at the university. The day before, at least 1 student was seriously injured after security guards fired stun grenades. In Durban, 2 days before, a security guard killed a student.
… Eastern Cape: 3 screws stabbed by prisoners

Haiti, Cap-Haitien: at least 4 dead as police station is attacked following cop killing of young woman…Mirebalais: further clashes against intensified poverty…Port-au-Prince: protesters riot as they refuse to be excluded from "exclusive" part of town "Protests were registered in several parts of the country, the largest of them in the capital, where thousands of people marched against the government, two days after it announced several measures to try to alleviate the economic crisis that affects the impoverished country…The demonstrations, which caused the closure of schools and many shops, turned violent at times, leaving several injured and at least ten vehicles burned, including two belonging to the police. In the exclusive area of ​​Pétion Ville, southeast of the capital, the police fired tear gas at the demonstrators, who, in turn, responded by burning tires and throwing rocks at businesses and some closed offices. In Pétion Ville the demonstrators also tried to burn down a gas station"
6/2/19:
South Africa, Northern Cape: truck torched, beer looted during protest over lack of running water

5/2/19:
France: several high schools & universities blockaded as General Strike is called by unions, leftist parties and yellow vests… Paris: wildcat yellow vest demo teargassed  (includes video)…bank, currency exchange place and MacDonalds smashed Apparently (at least in other parts of the country, though probably also in Paris) the unions and their followers stuck to the officially designated routes, whereas many of the yellow vests insisted on wildcat demos going all over the place…Meanwhile the ruling class vote in extra cop powers against demonstrators

South Africa, Johannesburg: clashes between students and security guards during occupation-cum-hunger strike after management reneges on concessions relating to student accommodation and registration of students with historical debt…Durban: security guard kills student during similar protest More here

4/2/19:
South Africa, KwaZulu Natal: security vehicle torched, cops stoned, during student protests about accommodation etc.

Senegal, Thiés: students blocking major road demanding more buses, better health facilities and more 'security', clash with cops

Colombia, Tolima: hooded youths evacuate university so as to plant explosives; they issue communiqué in opposition to  Dean's repression of  struggle against privatisation

3/2/19:
France, Dunkirk: town hall torched – true Dunkirk spirit affirmed yet again

US, New York: clashes outside jail as prisoners suffer heat & electricity cuts

2/2/19:
France: 80,000 cops mobilised as yellow vest protests continue…clashes in 14 towns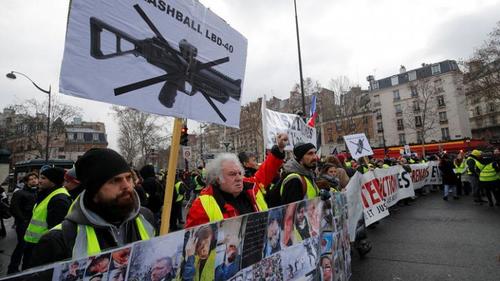 anti-cop brutality banner, with photos showing many of the permanent injuries inflicted over the last 11 weeks
Venezuela: information & analysis of the situation there, though ending with a meaningless municipal anarchist ideology … A Desperate Venezuela Today, however, is better, despite elements of self-management ideology.

1/2/19:
US, West Virginia: cops fire pepper-spray pellets at partying students