2019 2018 2017  2016 2015 2014 2013
"G'morning November
You lurch & you lumber
From bonfire to ember
From waking to slumber
You deaden the grass & you piss in the pot
The birds all haul ass And the pumpkins all rot"
(October 2019 here…December 2019 here)
References to IRAN have been transferred here
References to Hong Kong will not appear here, but in "HONG KONG latest!".
  References to CHILE will appear here, references to IRAQ  here and LEBANON here
"Reading the morning newspaper is the realist's morning prayer. One orients one's attitude toward the world either by God or by what the world is. The former gives as much security as the latter, in that one knows how one stands. "
– Hegel

29/11/19:
28/11/19:
27/11/19:
"A small group vandalized the center of the city, especially two commercial warehouses"
26/11/19:
25/11/19:
"At least four protesters were killed Monday in anti-UN riots in Beni, eastern Democratic Republic of Congo, where the authorities announced "joint" military operations with peacekeepers over the killings of civilians. Rioters attacked a UN camp to denounce their "inaction" after the massacre of nearly 80 civilians in a month, attributed to an armed group…"Investigations" will determine the origin of the shooting…Blue helmets fired "warning shots in the air," but "none was directed at demonstrators," according to the UN Mission in Congo (Monusco). Congolese security forces (army and police) also fired…A curfew has been ordered until further notice…An office in Monusco was invaded and partially burned. "Houses of UN personnel have been attacked and vandalized," said a spokeswoman for Monusco AFP…Before attacking the UN in Beni, protesters had burned and partially destroyed the town hall of the city"
23/11/19:
"…when the Joker film came out, police raided cinemas to check IDs, threatening parents who brought their children to see it that someday they might lose custody of their children as a consequence."
22/11/19:
Sample quotes:
"Colombia will keep troops on the streets to help police maintain order, President Ivan Duque said Saturday, after nationwide protests in the past two days degenerated into looting in some areas. Joint military-police patrols will continue…Bogota's mayor Enrique Penalosa ordered a curfew last night after looting broke out in the south of the city. Rumors that the attacks had moved to the wealthier north led some people to form vigilante groups to protect their property….The demonstrations have been motivated by a range of issues, including the government's education and labor policies, unsolved murders of social leaders and corruption. Unions said they'd convene another national demonstration Monday…On Friday, demonstrators chanted "Down with Duque!" and "Long live the national strike!" Thieves hijacked a city bus and used it to batter down the doors of a shuttered shop in the south of Bogota, allowing a mob of looters to enter…On Thursday, more than quarter of a million Colombians took part in the nation's biggest protests in years." (Video including bus hijacking here)

"Several protesters  caused damage to the facilities of the Palacio de Liévano, in the historic center of Bogotá, shortly before the riot police launched tear gas against the crowd …clashes escalated in the vicinity of the Gran Estación shopping center…The National University, the Congress and the headquarters of the Colombian Institute of Educational Credit and Technical Studies Abroad (ICETEX) have also been the scene of clashes…In front of the ICETEX headquarters, a group of people  tried to enter the premises using stones and 'potato bombs' (which are named after their resemblance to the tubers and may include nails, nuts and stones). At least four policemen were injured…The deterioration of pensions and salaries, breach of agreements with students, and the perennial situation of violence in the country – more than 160 social and union leaders have been killed so far this year – as well as the  Government's attempt to modify the peace agreement with the FARC in 2016, are the main reasons for the mobilizations…in the city of Cali the authorities have declared a curfew due to the riots and looting "
"Commuters in Bogotá and other cities faced long delays on Friday. Many of Bogotá's bus stations were closed and police used tear gas in a least two parts of the city's working class south in an attempt to clear road blockades. Several supermarkets in the area were looted and some protesters stole a public bus"
3 cops were killed in a bomb blast – which could possibly  become a pretext for nipping this particular movement in the bud before it's hardly got started; it's likely to overshadow the killing of 3 protesters/looters earlier. More here "At least 151 security forces and 122 civilians were injured, "most of whom suffered minor injuries and tear gas inhalation." Six people have been killed..Friday night's curfew in Bogotá was the first of its kind there in 43 years."
21/11/19:
"Clashes have erupted between tens of thousands of student-led protesters and security forces on the outskirts of Bogota's El Dorado International Airport and other parts of the Colombian capital. Flights have not been canceled, but passengers were forced to walk to the airport from nearby hotels to get past throngs of marchers early this morning. Anti-riot police known as Esmad are using tear gas to try to divert the protesters away from the airport. In the historic center of Bogota this morning, thousands of marchers had gathered peacefully under a steady rain in Bolivar Plaza. Unrest has now broken out there as well, with police tear gassing protesters and vandals attacking public transport, businesses and monuments as nightfall sets in. Elsewhere in Colombia, vandalism and looting in the southwest city of Cali prompted the city's mayor to declare a curfew at 7pm ET this evening… Many schools and businesses across Colombia are closed today."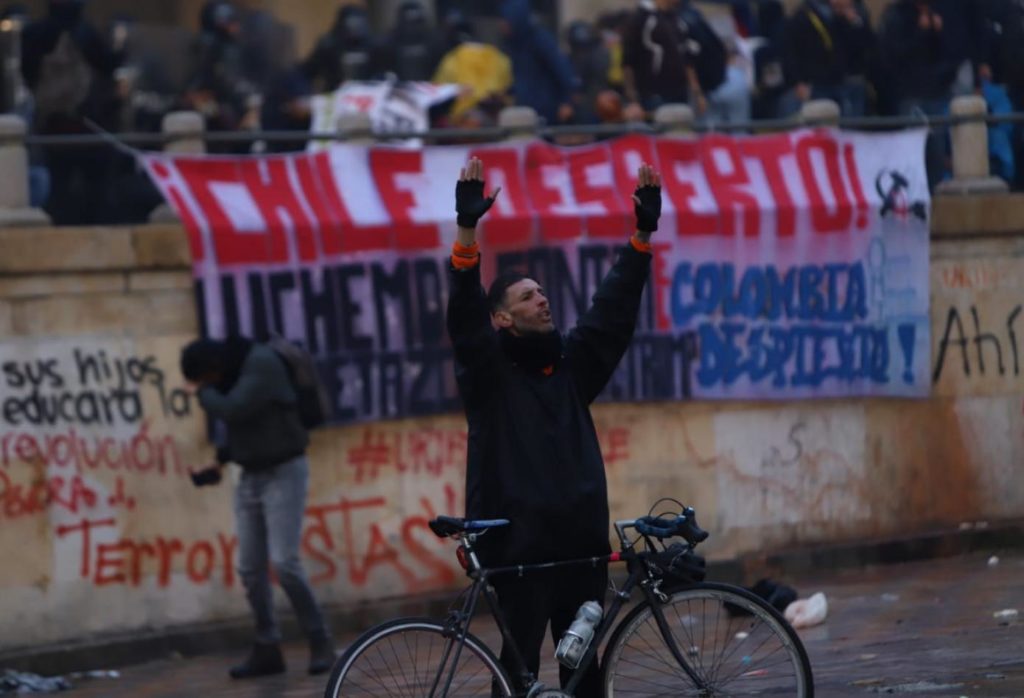 Colombia shows solidarity with Chile
X writes: "Looks like the students and friends got outmaneuvered, and out-thugged by the piggies – to the tune of $800,000 of our tax money. What is interesting is the way the campus Republicans actually and unabashedly owned up to the idea of Coulter's xenophobic and fact-free position on immigration as a major influence on their own official position. The marriage of fascist and conservative has been openly consumated and no one is embarrassed. This provides acceptable cover – even to NPR (let's give credit to Ken Knabb for calling it National Police Radio long ago) – to make this nazi crap respectable…which does, if the button is pressed enough times, help make the whole notion of "respectability " stink like the rotten corpse it is."
And here's some of the results of this respectability: at least 5 hate incidents reported on college campuses this week
20/11/19:
Will we see a repeat of what happened in July this year after the cop killed this Ethiopian Jew? –
On July 1st thousands of Ethiopian Jews protested nationwide after a teenager was shot dead by this cop :"Hundreds of protesters burned tires and blocked major roads in the Haifa area on Monday afternoon and evening, and thousands reportedly staged protests nationwide, amid intense anger in Israel's Ethiopian community over the fatal shooting of an unarmed man by an off-duty police officer a day earlier…In Haifa and nearby Kiryat Ata, demonstrators blocked roads and hurled burning tires in the streets. Three police officers were injured by rocks hurled by protesters" More here. "The largest protest was taking place in the Haifa suburb of Kiryat Ata, where more than 1,000 people had been blocking the Histadrut Junction since the morning hours. Similar protests were taking place in Rehovot in central Israel and the southern cities of Be'er Sheva and Ashkelon. In Ashdod, protesters blocked the southern entrance to the city, as well as main roads in the area….Dozens of protesters also gathered Monday night outside the home of Public Security Minister Gilad Erdan in Kiryat Ono, near Tel Aviv." See also "ethiopian jews riot in israel (may 2015)"
On July 2nd the riots spread and 111 cops were hurt as nationwide  riots  (in Haifa, Tel Aviv, Jerusalem, Hadera, Petah Tikva, Kiryat Malahki, Ashdod & Netivot) continued to escalate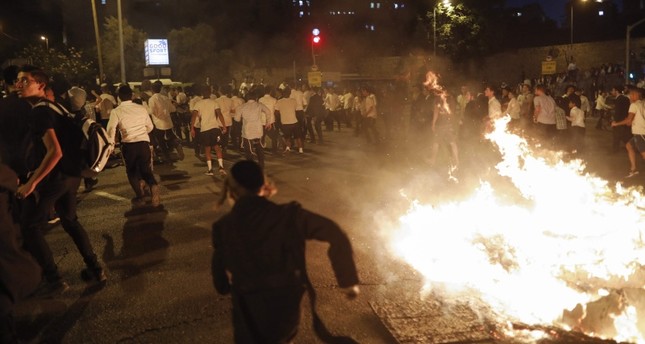 Above: official version is that this shows ultra-orthodox Jews running as members of the Israeli Ethiopian community block the main entrance to Jerusalem on July 2, 2019, to protest the killing of 19-year-old Solomon Tekah by an off-duty police officer, who was merely put on house arrest.
Below: Netanya: cop car placed right way up
More here "Demonstrator moderately injured in hit-and-run; some 50,000 commuters remain stuck in traffic as thousands block highways nationwide; car set on fire in Tel Aviv…The throngs of protesters closed down at least 12 critical junctions across the country. Nineteen-year-old Solomon Tekah was shot dead during an altercation in the Kiryat Haim neighborhood of Haifa on Sunday. An eyewitness to the shooting has reportedly told the Justice Ministry's Police Internal Investigations Department that, contrary to the officer's claims, he did not appear to have been in danger when he opened fire. The officer was briefly arrested before being released to house arrest, sparking rage in the community….Footage captured in the center of Tel Aviv saw a demonstrator leap onto a moving car and proceed to smash its windshield. Hours later, the car was set on fire….While protests Monday against the police were primarily attended by Ethiopian-Israeli demonstrators, Tuesday saw a mobilization of members of the general Israeli public, who joined the chants against police brutality toward the minority community."  
Tal, from Israel, writes: "…the Ethiopian protests in Israel are spreading, many main junctions throughout the country are blocked for most of the day and night, with burning tires & burning cars (a "new" thing here – you could hear how the journocops are gasping and shocked when describing this, as if it's the most extreme act they ever saw). It's still going on as I'm writing this. I was trying to reach a blockade at a junction in the area where my parents live (about 35 minutes by car) but there was no possibility of arriving with public transport because of the blockade itself… This junction is close to the town where the murdered youth was shot. I tried to walk from the nearest stop of the diverted bus route, but it was way too much walking from there to the blockade (I think about 45 minute walk, or more), so I headed back. I spent 1½ hours trying to arrive there and then trying to get back to where my parents live. Anyway, on the TV they say that in some places they are also throwing rocks and other objects at the cops and fire-trucks. There were also a few dozen (maybe more at this point ?) violent arrests. The "leaders" of the Ethiopian community who speak on TV, at least the ones I had a chance to watch, are justifying the protests but imploring the protesters not to turn violent and be peaceful. But there are also others, such as the young man who just spoke on TV while I was writing this (I don't know who he is, if he is a known figure or not) who  angrily asked of the others in the TV studio why they are so shocked by a burning car and how it's bollocks compared to the suffering of the Ethiopians at the hands of the police and the state etc. They even lie about what they show to the viewers while they show it, for example showing live a demo/blockade at the entrance to Jerusalem where you can clearly see a large presence of non-Ethiopians and even Orthodox Jews among the protesters and the reporter ignores this and describes all of them as Ethiopians. A broken and old-looking car that was dragged by protesters to the bonfire at another blockade made the reporter say something like "obviously, this car was attacked [how can you 'attack' an empty car?] and probably dragged from among the cars abandoned by their owners who couldn't get home due to the blockade…" [Afterwards I heard someone else on the same program say that this was an already broken and probably abandoned car from a nearby parking-lot.]…many confrontations. brick-throwing, police-car flipping and burning, a molotov cocktail was even thrown towards a police station. The police are preparing for a heavy crack-down for tomorrow morning to prevent any sort of demonstration."
A Facebook page in Hebrew wrote this (translated by Tal): "In 2006, Border Police officers entered a house in Jaffa to locate illegal [Palestinian] residents. Some are caught. They are made to stand in a row with their backs to the officers, who beat them vigorously, also with the truncheon of their commander who was present at the event. For dessert, a rifle was attached to the back of one of them, and he was shot to death. The commander claimed that a bullet was accidentally discharged. Do you know who the commander in that the event was? I don't know, but he has the same name as the policeman who now claims to have fired on the floor and the bullet was accidentally sprayed at Salomon Takka and killed him."
More here: "In addition to the protests, dozens more Ethiopian-Israelis joined a Facebook campaign declaring that they would refuse to perform their reserve army duties. " This official report shows that young 'offenders' of Ethiopian origin in Israel are 3 times more likely to be sent to prison than 'offenders' with other backgrounds. And see this for a report on previous examples of cop racism and brutality against Ethiopian Jews. See also "they stole our bodies: work in Israel" which in part talks of racism there, though more generally.
19/11/19:
14/11/19:
13/11/19:
12/11/19:
On 8th November a 22-year-old student set himself on fire in front of the building of the regional Center for Academic and Scholarly Works . "I accuse Macron, Hollande, Sarkozy and the European Union of killing me, creating uncertainty about the future of everybody," wrote Anas K., before setting fire to himself. Although still alive, his chances of survival are slim.  See also "Suicide or Revolution".
T. writes: "It's been a "thing" much talked about throughout the year. The "strikes" merely meant going to a peaceful march instead of school once a week, every Thursday, for many highschool students, where they hold vague banners (the likes of "we don't have a planet B", etc.) and plead nicely for the leaders to "do something".
"In the first few months of this year, Belgian teenagers organised 20 weeks of school strikes, events that led to the resignation of a regional environment minister, who had made false claims that the strikes were directed by foreign powers." 
She resigned after claiming – later saying she may have "exaggerated" – that she was told by sources within State security (or something like that) that these marches/climate activities are a security risk, I don't remember the exact phrasing. It was mediatized a bit and then everyone forgot about it.
These marches – which may have started as a spontaneous student activity, I don't really know – were soon becoming a routine boring liberal event headed by stars and future-politicians like Anuna and the other youth-stars mentioned in the article, focusing exclusively on influencing current politicians to change their policies – a total failure even in that aspect as far as I know. The politicians ignored them and didn't change anything regarding Belgium climate policies.
"Four weeks into the journey, 36 climate activists from across Europe sailing on the Regina Maris schooner had reached Cape Verde, the island nation off the coast of west Africa, when they heard of Chile's abrupt decision to cancel hosting the meeting.
"It's heartbreaking news," wrote Anuna De Wever, one of the founders of the Flanders school strikes, who also voiced "full support to the people power in Chile"."
This is total, disgusting, hypocrisy. In one of the climate marches this year in Brussels, when a small black block-type group of people attacked the offices of the European Commission, they were purely and simply handed to the riot-cops by the rest of the "responsible" protesters who insisted on distinguishing themselves from the "vandals" and allowed the police to filter through the crowd and to encircle the vandals, to punch and arrest some of them. After that incident that Anuna girl told the media how this violence is totally unacceptable (the violence of attacking the EU offices and similar acts of necessary violence, that is), how they are ruining the message that she and the others want to send, and also, if I remember correctly, how she is proud of the fact that these violent demonstrators were marginalized and pushed out of the march/demo.
That's pretty much all I can say about the matter. It's a kind of "thing" with young people here to focus mainly on the "climate emergency", even the supposedly radical ones. But the supposedly radical ones tend to take it to a useless anti-civilisation direction on the one hand or to form official youth climate organizations on the other hand."
11/11/19:
10/11/19:
9/11/19:
"Police used tear gas canisters to prevent protesters from approaching City Hall. The police received projectiles, a police officer from Security and Intervention was wounded in the throat and transported to the hospital. The protesters then went up the Canebière, a window was damaged, garbage burned. At 8:30 pm, the police announced that they had arrested a dozen people."
7/11/19:
SF: This is from a contact (this interesting development certainly  requires more research and more critical insights). He wrote:
"Today in Idlib (Syria), the population demands the restoration of the power of Local Councils.
A wave of demonstrations against the rule of the Hayat Tahrir al-sham (Syrian Al-Qaïda) group has swept through the cities of the Syrian region of Idlib. People are demanding the departure of this group, which collects taxes from them and organizes violence against residents. People are in favor of the restoration of the power of Local Councils.
It is a little-known fact that after the beginning of the Saura (uprising against Assad) only in the Idlib region, which today has a population of 3 million people, 150 Local Councils were established in various cities and towns. The self-governing bodies tried to provide the population with everything necessary. Unlike Rojava, these Councils were predominantly non-partisan. However, no one went to protect them…
The conflict in Syria is complex and multifaceted. It cannot be reduced to clashes between different religious paramilitary groups and the government, between parties, or between ethnic and religious associations. All this exists in Syria, for sure. But along with the parties there is a social movement and self-organization. In the chaos and war, hundreds of thousands of Syrians from different ethnic groups and faiths have learned to live without a state, creating Local Councils and providing themselves with everything they need – food, medicine, municipal services. This is an important layer of Syrian reality, completely ignored by much of the media, "leftists", and many anarchists. Meanwhile, Local Сouncils have developed enormously in Arab areas but also wioth the participation of minorities (Kurds and Turkmens, Ismailis and Alawites).
A Syrian anarchist, a participant in the Syrian revolution, Leila al Shami wrote,  in The New York Times:
"The people of Idlib have been at the forefront of the struggle against Hay'at Tahrir Al Sham, or H.T.S. Since Idlib's liberation from the regime — partially in 2012 and then fully in 2015 — many of its citizens worked to build a free society that reflected the values of the revolution. According to researchers, more than 150 local councils have been established to administer basic services in the province; many held the first free elections in decades. Long-repressed civil society witnessed a rebirth. Independent news media, like the popular Radio Fresh, were set up to challenge the regime's monopoly on information. Women's centers grew, empowering women to participate in politics and the economy." – here
Of course, the Local Councils in Syria were not pure class organizations, they were not like the Workers ' Councils of Budapest in 1956 or in Northern Iraq in 1991. However, these self-governing bodies operated outside the centralized state, without the influence of parties (or this influence was minimal). The network of non-partisan Local Councils covered not only Idlib, but also Daraa and several other regions of the Syrian province. Today, almost all of them have been destroyed by Assad or his Islamist opponents. The huge and most shameful act of  so-called anarchists and leftists is that they did not pay attention to this phenomenon when talking about Syria.
The non-partisan Councils of Syria have been destroyed. But people want them back."
SF: I feel that maybe more research may lead to a more critically nuanced take on all this. For instance, the sentence written by the anarchist in The New York Times – "Women's centers grew, empowering women to participate in politics and the economy." could merely mean the beginnings of the kind of reformism that could lead to a Thatcher or a Hillary Clinton or a Marine Le Pen in a few years unless it's seen within a CRITIQUE of politics and the economy.
For more information see this, this, this and this and this.  Also here "…the demonstrators have dismissed the deputies of the General Authority for Zakat stationed in Olive compressors. The demonstrators also burned the papers on which they write down the amount of Zakat of each farmer, and dismissed the members of the police outpost thet belongs to Hayyaat Tahrir Al-Sham. In this context, an evening demonstration went out in Idlib city condemning the decrees of the Salvation Government. On the 3rd of November 2019, SOHR published that residents of "Idlib" continued their rejection of the decisions of the "Rescue Government", where there was an evening demonstration in the city of Idlib demanding the "Rescue Government" to reduce taxes and prices…."
Despite it's limitations, this movement is a refreshing contrast with the more obviously hierarchical state of Rojava, beloved by far too many "anarchists" desperate for some mirage of "hope" which allows them to throw their uncritical minds into supporting it, rather like Leftists did in their admiration of Mao's China back in the 60s. See this, which in part deals with the insurrectionary movement  in Syria in 2011, which the municipalist anarcho-Stalinists of the PKK abstained totally from participating in, despite its considerable stash of arms.
6/11/19:
5/11/19:
Following 2 youths badly injured in the eye and abdomen by cops' flashballs, and continuous racist insults by patrolling cops on estates, youths set fire to 2 bulldozers amidst sporadic ambushes of cops and stone-throwing etc., over the previous week in different areas of the department.
4/11/19:
"The previous regime may have stolen as much as hundreds of millions of dollars. The current regime has been branded as just as bad, although that would be nearly impossible given the lack of cash to steal or construction projects to skim from. ..the government has barely functioned for over a decade, with all parties and individuals using the people's taxes as their own personal piggy bank. Call me cynical, but I very much expect the next administration — whoever and whenever that is — to do the same thing…Six weeks of barricades and clogged streets have had huge repercussions on the masses that all sides of the political morass purport to represent. School, currently postponed until January, has not opened at all this year…" – here.  This  mainstream article claims that the riots and barricades are purely organised by the official opposition and that barricade-builders are paid by them.  Whereas, this article, from the end of September, tends to make out that it's a revolutionary movement. I suspect that  both are simplifications. It's really useless and exasperating reading anarchist sites like itsgoingdown that almost invariably avoid looking at, or at best minimising,  the contradictions of movements, that think being excessively positive about wherever actually contributes to the progress of movements, when it's clear that it just helps blind people to the complexities.
2/11/19:
"Around 2,000 people took the streets tonight against gentrification in #Berlin. Construction sites were looted for projectiles which were then thrown at cops. Luxury cars had their windows smashed out. Reports of a joyous atmosphere….Fires set in Friedrichshain near #Rigaer, cops repelled with bottles. Later in the evening folks went to a different district and attacked a police administration building with rocks, paint bombs, and set up burning barricades outside #interkiezionale #b0211"
"…textile and health workers filled the streets of this capital with anti-government protests, and denounced corruption, as well as a complete change to the imposed neoliberal system, to resolve poverty and inequality."