"February, fill the dyke
With what thou dost like"
"February
Makes me wary
The Days Vary
Sometimes Merry
Sometimes Scary"
– May Duppe
January 2020 here…March 2020 here
From now on, the "News" pages will be updated sporadically, probably only once a week.
For those desperate to get information each day, I recommend:
(type in "clash police" or "wildcat strike" or "riot" or whatever into the search  box at the top and you'll get lots of headlines with those words in them; make sure you get the right wording – "riots" will get you different headlines from "riot", "lashes police" will get you different headlines from "clashes police")
https://berthoalain.com/about/
(a French site with lots of links and videos to English or other language sites; on the right hand side there's a list of links to specific situations, including stuff like ethnic riots or things that have nothing independent about them; you click on them and get several links dealing with the events of any particular day)  
Obviously there are other sites, but you'll probably do your own research if you want the very latest information, and if you want to –  post information in the comments boxes  below.
There are obviously significant limits to providing links to information about situations I know little about. Some of this might give people the idea that struggle is advancing or happening far more than it in fact is, and may even blind people to the contradictions and complexities of any specific situation. However, despite the inevitable limitations,  I will continue to put up links if only as a method of keeping a record of events, though this will be reduced compared  with previous years.
"Reading the morning newspaper is the realist's morning prayer. One orients one's attitude toward the world either by God or by what the world is. The former gives as much security as the latter, in that one knows how one stands. "
– Hegel

29/2/20: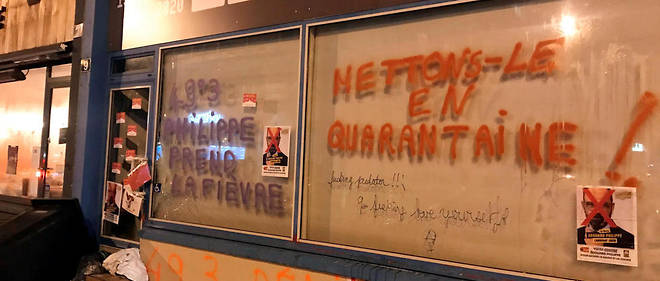 "Philippe has got a fever – put him in quarantine!"
28/2/20:
27/2/20:
25/2/20:
24/2/20:

"Authorities have imposed prohibitory orders under Section 144 of the Criminal Procedure Code (a government order which prohibits assembly of more than four people in public places) at 10 locations in the northeast district of Delhi. The Delhi Metro Rail Corporation (DMRC) closed the entry and exit gates of Jaffrabad and Maujpur-Babarpur stations – the areas affected by violence. Trains will not be halting at these stations. Clashes in the area were triggered on Sunday after a leader of the ruling Bharatiya Janata Party (BJP) issued an ultimatum to police to remove the anti-citizenship sit-ins. "BJP leader Kapil Mishra's men yesterday came to Jaffrabad and incited people and threatened people who are protesting the citizenship law. Police were there but did nothing," said a Delhi-based activist Nadeem Khan, who visited Jaffrabad. "Members of various right-wing organisations, brought from various places, threw stones on people's homes and beat locals. It's clearly an organised, preplanned attack.""
See also this: "From a working class perspective a liberal-left response that targets the 'fascist BJP' as the main aggressor against 'the Muslim community' is dangerous for the following reasons:
a) Because it let's the 'democratic' state and its representative parties like Congress off the hook. The current situation is bad, but nothing compared to the massacre that the 'democratic' Congress Party organised against Sikhs in 1984, or the violence of the CPI(M) against anyone who would oppose their industrial investment plans. This is not about comparing 'evil', it is about emphasising that 'pogroms' and 'democratic state rule' are not mutually exclusive and that therefore, an 'anti-fascist' response only goes so far.
b) Because it neglects the influence of the 'Muslim middle-class' and its political and religious representatives. These forces have an interest in portraying 'Muslims' as a community whose cross-class interests outweigh its inner class-contradictions. These forces have been mobilising anti-government protests in response to the new 'anti-Muslim legislation' and have an interest in state violence against them. Instead of rallying behind them and other political profiteers ('democratic' parties like the CPI etc.) we have to propose working class self-defense.
c) Because it misses the chance to strengthen working class unity against religious or caste politics. In working class neighbourhoods like Faridabad, Kapashera and Okhla 'Hindu' and 'Muslim' workers live and work side by side, in particular in the garment sector. Currently there is little tension in these areas. The violence takes place largely in areas with a significant Muslim middle-class. In recent years we have witnessed waves of struggles that undermined divisive politics, in particular the division between male and female workers. In the face of a state that wants to provoke communitarian feelings (the BJP lost regional elections recently), this is what we should emphasise."
23/2/20:
22/2/20:
21/2/20:
"The graduate students are represented by United Auto Workers Local 2865, which negotiated a contract in 2018 that got them a 3% wage increase and included a no-strike clause – meaning this current strike, known as a "wildcat strike", has been taken without the union's approval. More than 80% of the members on campus voted against the contract initially. The administration has cited this as a reason for not negotiating with the graduate students. "To accede to the demands of a group of employees engaged in an unauthorized wildcat strike would undercut the very foundation of an agreement negotiated in good faith by the UAW and ratified by thousands of members across the system… Meanwhile, the movement is growing. Talk of "spread the strike" has begun at UC Davis, UC Irvine, UC San Diego, UC Riverside and UC Merced"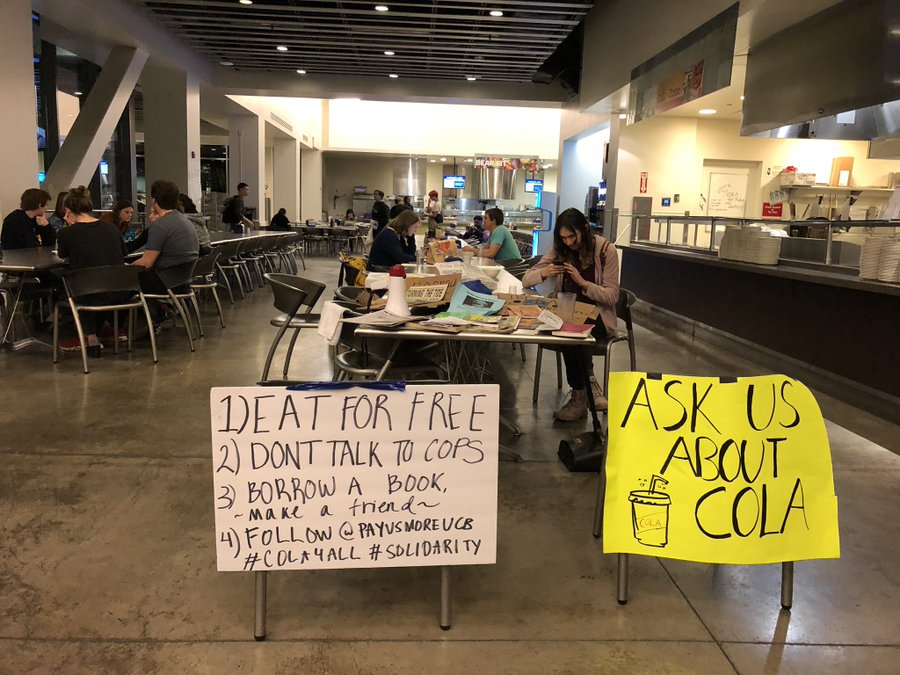 Canada: various texts etc. over the last month related to the  rail-blockades and other actions in support of Wet'suwet'en indigenous tribes against oil pipeline –
Twitter accounts:
"A range of guidance documents drawn up by the counter-terrorism policing network and featuring environmental groups were sent to teachers, doctors and other public sector workers, encouraging them to refer concerns to Prevent….Public sector workers, including teachers and doctors, are under a legal duty to refer to Prevent any individual they suspect could be vulnerable to radicalisation."
You might  as well be hanged for a sheep as for a lamb…
20/2/20:
"…more than a thousand people took part in a gathering organized by "Stuttgart against the Right" to protest the far right terrorist attack in Hanau. Afterwards, about 600 of them took to the streets in rage against Nazi terror and its systematic trivialisation and moved across the main shopping street to city hall. On the way, pyrotechnics were lit and people broke through a police line, which was supposed to protect city hall. Activists stormed the already closed Stuttgart city hall through an open emergency exit and visited the offices of the "Alternative for Germany"(AFD) on the third floor. Among other things, posters with slogans such as "Racist hate leads to racist terror" and "You are responsible for Hanau" were pasted on their door and in the hallway."

18/2/20:
"Authorities in Indian-administered Kashmir have filed a police case against social media users under "anti-terror" laws for defying a social media ban using proxy servers. The move has triggered panic among the people of Kashmir, which has been under a security and communication lockdown since August 5, when the Muslim-majority region was stripped of its limited autonomy…A first information report (FIR or police complaint) has been filed against unnamed users under the Unlawful Activities Prevention Act (UAPA). A person booked under the UAPA can be jailed for months without bail."
15/2/20:
10/2/20:
I suspect, judging from the photos and from experience of this site, that the amount of people involved in these actions has been greatly exaggerated, as may be other aspects of this report.
9/2/20:
7/2/20:
"The intention is to hold the space and turn it into a community centre, the activities of which will culminate in a week of action against capitalism. This is motivated by the belief that capitalism by its very nature will continue to destroy our planet and ultimately our civilisation. We chose this building because the police have time and again shown that they will gladly break their own laws to suppress any challenge to the entrenched, unjust, systems our society is based on. Only by moving beyond the inherent oppression of capitalism to a system based on co-operation and communality, can we hope to survive in any meaningful way to the end of this century. During the week of action the space will host workshops, skill shares, socials, planning sessions and a wide variety of other informative and entertaining events while also acting as a base from which to launch actions to reclaim our public space from corporations and government, and strike at the very heart of capital. We will show the mega rich and powerful that we will not stand for their greed and corruption."
6/2/20:
5/2/20:
X writes: "…the first, hesitant, belated realization that bourgeois "democracy" as we have known it, is on the rocks. Of course what is really finished, not just here in the US, but around the world, is the pretense that this system, this society and this civilzation, was ever "democratic" in the first place….
I'm driving home from San Francisco and I'm giong down the local expressway, "Capitol", and a motorcycle cop – Highway Patrol goes by. I have imbibed so much military history, present day arms info and general militaria that I immediately thought something was weird. I recognized the outline of something I just could not believe for a moment, surreptitiously increased my speed so I could get a better look and – blow me down – sticking out the back of the cop's seat on the left-hand side was the stock and body (the forward part of the gun was  invisible because it was stuck in the holster) – a fucking Heckler und Koch submachine gun! I had never, ever seen a motorcycle cop, who after all is supposed to just stop people for traffic violations, with such a piece of hardware. This fucking place is switching over to full on-fascism awfully quickly."
3/2/20:
"According to protesters in Qaddum, this is the first time the army has used this kind of drone, which was likely designed by the Chinese company DJI and has a Mavic 2 Enterprise Speaker attached that allows it to play pre-recorded messages. Sharon Weiss, an Israeli activist who was at the demonstration, said the drone told her to "go home" and "don't stand with the enemy" in Hebrew, before moving on to someone else. "There is almost always a drone at the protests, but this is the first time it spoke to us," said Weiss. "The goal is to make us understand that they are watching and following us."" …Criticism of Israeli leftist ideology of non-violence

Unfortunately, this was paraded as "art", giving it also the obligatory air of 'social critique' in order to boost the image of its  apparent subversive significance and boost the artist's career at the same time.  Amazing what you can do if you call it "art". A few years ago a Russian performance artist set fire to the massive door of the KGB in Moscow – and only got 2 years' imprisonment.  Maybe we should brick up an art gallery and call it "art".  Over 40 years ago  I went along with some friends to an exhibition at the Royal College of Art next to the Albert Hall and spray-painted anti-art slogans all over the walls ("Art is dead but the student is necrophiliac", "Art must be directly lived" etc.). When one of the guards came in and politely asked what we were up to, we said, "This is our art – it's an experiment. We come in and paint all over the wall and another lot come in and paint over our slogans and then we repeat the action and so on…". The guard, genuinely perplexed, walked off saying, "I'll just have to check that…", and we managed to escape by  running off through the library. The problem with these kinds of some of these anti-art acts is that unless they're connected with a significant critique of the social function of art, they can very easily become just part of the specialised world of art itself, with all its ego-flattering pretensions of inventiveness and creativity. For a more developed critique of art, see The Closed Window Onto Another Life.