"…the month of June trembled like a butterfly"     
– Pablo Neruda
"In June as many as a dozen species may burst their buds on a single day. No man can heed all of these anniversaries; no man can ignore all of them"    
– Aldo Leopold
30/6/20:
"He was a symbol for the Oromo people who spoke up about the political and economic marginalisation that they had suffered under consecutive Ethiopian regimes. In one of his most famous songs, he sang: "Do not wait for help to come from outside, a dream that doesn't come true. Rise, make your horse ready and fight, you are the one close to the palace." The musician had also been imprisoned for five years when he was 17 for taking part in protests…In Addis Ababa, police used tear gas to disperse the crowd outside the hospital and gunshots have been heard in the city where people set fire to tyres…The internet has also been shut down in parts of the country as the protests spread in Oromia regional state…In the eastern city of Harar, protesters have pulled down a statue of a royal prince – Ras Makonnen Wolde Mikael – who was the father of Haile Selassie, Ethiopia's last emperor. The statue shows Ras Makonnen, an important military figure and former governor of Harar province in the 19th Century under then-Emperor Menelik II, sitting on a horse. In a recent interview with local TV station Oromia Media Network, Hachalu had said that people should remember that all the horses seen mounted by old leaders belonged to the people…Prime Minister Abiy Ahmed has expressed his condolences saying in a tweet that Ethiopia "lost a precious life today" and describing the singer as "marvellous"…The Oromo, Ethiopia's largest ethnic group, have long complained of being side-lined. Demonstrations erupted in 2016 and pressure built on the government…The ruling coalition eventually replaced then-Prime Minister Hailemariam Desalegn with Mr Abiy, who is Oromo himself. He has brought in a series of reforms, which have transformed what was considered a very oppressive state. He won the Nobel Peace Prize in 2019 primarily for making peace with long-time foe Eritrea, but his efforts in transforming Ethiopia were also recognised." [SF: my emphases in bold]

Harar:
                 After:                                            Before:                                                 After: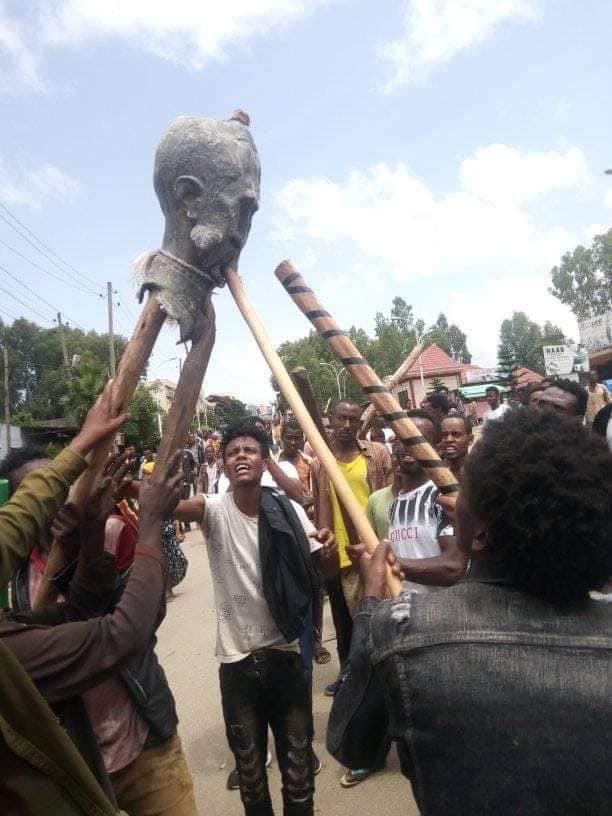 "The incident in Cannizaro Park, which is being investigated by police, was carried out on Tuesday evening by a group of around 100 people, according to an eyewitness. It appears to be linked to unrest in Ethiopia"
Video here
"The unrest is also happening against a disturbing backdrop: over the past year, police killings in Trinidad and Tobago have increased by a startling 86 percent, with 43 people shot dead by police officers so far this year."
29/6/20:
28/6/20:
Eyewitness account says:
"The march proceeded to the Mayor's house which was surrounded by metal barriers and these were promptly removed and used to block off the intersection. Some protesters lounged on the lawn and some relieved their bladders on the house. Others busied themselves by painting the street with calls for the mayor to resign. Some neighbors were sympathetic and confused while wanting to protect their property. Others were hostile and aggressive while wanting to protect their property. A few tried to drive their Lexuses and Mercedes Benzes through the repurposed metal barriers but were unsuccessful. One guy ventured into the crowd with his phone filming, was surrounded and then extracted by his family or neighbors. Another guy almost pulled a gun to prevent people from touching his luxury car and spent the rest of the night sitting on his steps protecting his property which is only a few doors away from the Mayor's house. Later as everyone was leaving he apparently threw M-80's at the dispersing crowd (1/4 sticks of dynamite that make a loud bang but not much else) though I didn't see this myself. That prompted a standoff with the remainder of the crowd with some returning fire with fireworks of their own and others breaking up a huge landscaping stone to throw at his house. At which point he began waving his gun around. Luckily no one was shot. It is illustrative of the disconnect with poor and working class realities that people like this and the McCloskey's think they can act that way in front of their own homes. Doing so in a poor neighborhood would undoubtedly have consequences. Time will tell if the upper crust gets a real education in what life is like for the rest of us.
Despite these components of visceral class antagonism, the movement still hasn't escaped the limitations imposed by the "organizer" role and its attempt to provide exclusive "leadership." Many of the faces controlling the crowd are the same faces that controlled crowds in 2014, 2015 and 2017. While the protest side of the movement is more multi-racial than it was in 2014, the division between protester and rioter is still just as real. This time around there is no united front among the mostly young, black protest organizers and they are openly airing their conflicts in the street. Some "veterans" of Ferguson who haven't maintained their roles seem somewhat jaded and disillusioned with the power struggle and general approach to movement of the new groups while others have doubled down and are attempting to recreate what they, somewhat narrowly, see as the successes of the protest component of the previous rebellions."
This – eu.usatoday.com/story/news/nation/2020/…/ – claims ""When the victims observed multiple subjects who were armed, they then armed themselves", but according to an eyewitness, "the claim that they armed themselves in response to anything but a mob of angry black and white working class people in their neighborhood is…. bullshit designed to deflect the hostility that is coming their way. There were armed protesters but they were asked to show up in response to the unhinged behavior of richie rich and his coked out wife and did not appear until much later."
27/6/20:
"Dutch troops were been sent into the Caribbean island of Curacao to assist local police in keeping unrest in check, broadcaster NOS reported on Saturday. The move follows days of violent protests against Covid-19 layoffs which saw demonstrators looting stores and storming the government palace on the island. The addition of Dutch troops to the island is expected to allow local authorities ease the 9:00 p.m. to 6:00 a.m curfew it has held in place in recent days. A reporter for the broadcaster said that there were dozens of fires set leading into the early morning hours of Saturday, and that the authorities seemed to have a difficult time preventing them from happening."…More here  "According to correspondent Dick Drayer, the perpetrators are not protesters, but gang members, who are active at night and leave a trail of destruction. "The police always seem to be a step late. There were 63 fires the previous night…" The Ministry of Defense is now granting a request from the local authorities for support in guarding and securing objects. The military will also patrol the street visibly and support the police. Defense is present on Curaçao with Dutch soldiers who are temporarily seconded and with members of the 'Curaçao militia', who have been trained locally. The latter group, unlike the Dutch military, is usually more visibly deployed. This concerns, for example, law enforcement and roadblocks. "This also has to do with the sensitivities between the Netherlands and Curaçao…The island is autonomous and has a long colonial history. Many white soldiers on the street can be interpreted as colonial interference…The deployment of Dutch soldiers on Curaçao is not new. "Coast Guard border control has been stepped up early in the corona crisis to prevent potentially contaminated Venezuelans from entering the country unseen. Dutch military personnel are actively involved" …In the fight against the current riots, the Curaçao police also receives support from the corps of the surrounding islands of Aruba and Bonaire. The agents arrived in Curaçao yesterday afternoon." …tourist hotspot

26/6/20:
"The north side of the North Precinct was set ablaze around 2:15 a.m. Police used CS gas, a type of tear gas, to try to disperse the crowd, but militants threw canisters back at the pigs. At one point in the early morning, militants and pigs physically clashed as police tried to move them from the area. Some militants shot paintballs at the pigs' face shields, rendering them unable to see. Several businesses were looted overnight after windows were smashed and more fires were set. A nearby bank is believed to have been vandalized as well. Multiple pigs were injured in the uprising. For the first time since George Floyd was killed exactly one month ago, people in Portland demonstrated at two police precincts simultaneously overnight, and set up barricades outside the precinct in North Portland, which was set on fire …Revolutionaries vandalized the police building by spray-painting graffiti along the outer walls, blacking out security cameras and rolling dumpsters into the street to form a barricade as a line of uniformed pigs looked on from a distance. Some revolutionaries also attempted to barricade the North Precinct's exit doors so that anyone inside the building could not get out. Across the Willamette River at the Justice Center, another group formed on Thursday evening for a vigil for George Floyd and others killed by police. Later, the group dismantled the fence near the building and vandalized the structure."
"This comes after violence broke out at an illegal rave in Colville Gardens, Notting Hill, in the early hours of today, just 24 hours after a similar event in Brixton."
25/6/20:


Their world turned upside down
Wikipedia account of riots of over 50 years ago
"The riots arose from a strike by workers in the oil industry. A protest rally during the strike turned violent, leading to widespread looting and destruction of buildings and vehicles in the central business district of Curaçao's capital, Willemstad. "
"Twenty-two police officers were injured during clashes at an illegal street party in Brixton last night after large crowds descended into violence. Two officers were taken to hospital after trying to disperse the "unlicensed music event" near the Angell Town estate in Brixton last night, after residents complained about noise and violence. Footage on social media showed a number of police vehicles being smashed up and officers being chased during clashes with a large crowd. Home secretary Priti Patel described the scenes as "utterly vile"…Police later implemented a section 60 order, which allows officers to search anyone in the area without "reasonable grounds". Patel added: "Just last weekend, the whole country came together to praise our heroic police officers for putting their own lives on the line to keep us safe," referring to the terror attack in Reading last Saturday. …The Prime Minister's official spokesman said the government will launch a consultation on doubling the maximum sentence for assaulting an emergency worker. "These were appalling scenes. Violence against the police will not be tolerated"…Mayor of London Sadiq Khan took to Twitter, saying that "violence against the police will not be tolerated…I'm in touch with the Met about the completely unacceptable events in Brixton overnight. Violence against the police will not be tolerated. Large gatherings during Covid-19 are deeply irresponsible and risk others' lives"
24/6/20:
"The unrest started on Wednesday, when the local government announced that a number of garbage collectors on the island will be laid off because there is not enough money to pay them. This led to protests, which turned into riots, and a storming of the government center Fort Amsterdam in Willemstad, according to the broadcaster. Shops in Willemstad were looted and fires were started all over the island. A total of 48 people were arrested on Wednesday, mainly young people suspected of theft and vandalism. According to the local authorities, gangs took advantage of the demonstration to loot. 36 cases of arson were reported. No injuries or deaths were reported. Thursday was again restless on Curacao, despite the authorities implementing a curfew banning people from the streets between 9:00 p.m. and 6:00 a.m. An unknown number of arrests were made. While the unrest was triggered by the layoffs of garbage collectors, the discontent on the island goes much further, according to the broadcaster. Curacao's economy was hit hard by the coronavirus pandemic. Tens of thousands of people are out of work, because tourists – the island's main source of income – have not been able to visit for months. An estimated 80 thousand people currently depend on food aid. That is half the island's population. Which means, that Curacao is dependent on coronavirus support from the Dutch government, which is willing to provide that support, but with conditions attached. According to Curacao Prime Minister Eugene Rhuggenaath, substantial budget cuts are inevitable. He already announced that he will have to cut salaries, which affects a large part of the population." More here : "Several people were arrested on Wednesday for their role in looting and arson in the city center of Willemstad. This happened after the riot police evacuated Fort Amsterdam, where there was a manifestation, with the use of tear gas. The Punda and Otrobanda districts were closed on Wednesday afternoon until at least Friday morning. For the rest of the island, a curfew applied on Wednesday evening from 8.30 to 6.00 Thursday morning. A march of Selikor employees got out of hand on Wednesday when the protesters on Fort Square demanded the resignation of Prime Minister Eugene Rhuggenaath. There they climbed on cars, threw bottles, and forced an entrance gate. Eventually, the riot police drove out the protesters, after which fires were started in the city center, including a police car was set on fire. Many vandalism and shops were also looted. Justice Minister Quincy Girigorie emphasized the right to manifestation but condemned the disturbance of order. The chief of police, Mauricio Sambo, resigned on Wednesday. According to Minister Girigorie, the crowd should never have reached Fort Square. Rhuggenaath said at a news conference on Wednesday that he had invited a small group of protesters for a meeting, but that this invitation was declined. The protesters demanded that he come out, which Rhuggenaath did not. Then the protesters were expelled by the police. Rhuggenaath condemned the actions, but still says he wants to meet with the leaders of the demonstration."
20/6/20:
"…the riot was triggered by a police control for a possible drug offense near the Palace Square. Many people gather there on weekends to celebrate. But during the inspection, many revelers  showed solidarity against the police. "Parked patrol cars were massively damaged," the police said. "The vehicles were hit with poles and posts, the windows smashed." Rioters are said to have thrown large stones and other objects at passing strips. The police officers were "extremely aggressively attacked". As a result, more than a dozen officers were injured. According to police, the situation was "completely out of control" at times. Forces from across the state had been ordered to the capital to calm the situation….Hundreds of the predominantly young men went together in small groups and moved to the pedestrian zone. There they  rioted indiscriminately: ….jewelers, cell phone shops and one-euro shops were hit. Bottles, stones, broken glass and rubbish were lying around everywhere in the morning…Baden-Württemberg Prime Minister Winfried Kretschmann and Stuttgart Mayor Fritz Kuhn (both Greens) condemned the violent riots. These acts "against people and things are criminal acts that should be prosecuted and convicted," said Kretschmann. "Our thoughts are with the injured police officers and the victims of the looting." …"One thing must be clear: there must be no lawless parts of Stuttgart," Kuhn said on Twitter. … The Green Group's domestic spokesman for the Greens, Uli Sckerl, said it was imperative that the state parliament get an idea of ​​the situation with a special session of the interior committee."
16/6/20:
"…the suspect fled and a police officer was shot in the hand when he was apprehended. The incident sparked false rumors of Black men being shot, which triggered that crowd to march to St. Cloud police headquarters, doing damage along the way and eventually at the police station early Monday morning. … numerous people started to congregate in the area, eventually taking over the roadway and blocking traffic. …Individuals in the crowd began to throw rocks at officers and passing vehicles before the liquor store was breached. Multiple people entered the store, stealing items and causing damage..At that point, officers moved in to stop the looting. "Chemical crowd control munitions were successfully utilized"…The use of teargas sparked outrage from some leaders of community groups who met with Alberts on Tuesday afternoon to talk about how to alleviate violence and damage over the upcoming nights. …Anderson…the police chief asked. "If I seem a little bit tense — one of my cops got shot…It's not that I don't respect the agreement. It's because people were throwing rocks," he said. "Last night was worse than the night before. And for what?". When some of those who had gathered continued to question the use of force, Anderson raised his voice and said, "People were shooting at us last night. Bullets were flying all over the south side last night…We're sitting on a powder keg." Anderson also responded to comments that he and the police department should publicly show more empathy about Floyd's death. Some suggested that would resonate with youth who are angry and trying to find ways to be heard. "
15/6/20:
See also the John Oliver show, "Last week tonight",  from 7th June. It's perspective is reformist – what would one expect from a guy who's got his own show on US TV and wears a suit and tie to give him the image of reasonable respectability? But it's genuinely passionate and outraged,  very informative, especially about "qualified immunity" (about 21 minutes 30 seconds in),  and the last few minutes – starting at about 30 minutes in – is excellent, and has some great footage of a furious black woman.
14/6/20:
This is taking place in the atmosphere where cops are demonstrating for their right to strangle people as they arrest them (chucking their handcuffs on the ground en masse) and against the attempts to reform their image following demonstrations and mostly mini-riots inspired by Minneapolis etc. (eg this in Lyon the day before) .   Though the argument about giving them  back this right is portrayed as something to do to prevent days of  horribly violent clashes  between Chechen drug gangs and Arabs in Dijon.
13/6/20:
"…around 80 young people clashed with the Lannion police outside the bars. Two people were arrested, including a minor. …It's almost unheard of in downtown Lannion. On the night from Friday to Saturday, around 2 a.m., brawls broke out between highly alcoholic young people. Upon the arrival of the police, who were trying to separate the people confronting each other, the groups regrouped and began to throw projectiles at the police officers. The authorities call for reinforcements towards the gendarmerie as well as the police station of Saint-Brieuc. After approximately 1.5 hours of intervention, the situation is under control and calm returns. In all, 3 police officers were reportedly pushed around while 3 youths were reportedly slightly injured. They decided to file a complaint…Following the events, two people were arrested, an adult and a minor. …"In the comments and their attitudes, we noted a certain hostility towards the police services by speaking of" police violence" and "racism ", in  words used by the media. So obviously, this media context has played its part in this crowd and its hostility towards the police officers ", explains Stéphane Le Scornec, police commander and chief of staff in Saint-Brieuc."  More here "Nearly 80 pissed and pissed off  youths faced … the police, threw bottles at them and wanted to fight them. …Things degenerated around 2 a.m. …a fight first broke out between several people. A crew of the National Police, made up of three policemen, intervened to try to restore calm. However, the situation quickly got out of hand. "Our colleagues found themselves faced with 80 young tipsy people. They chucked bottles and various projectiles. They threw whatever they got their hands on", said a police officer. The patrol then asked for help. Police came from Saint-Brieuc to lend a helping hand to their colleagues as well as a crew from the gendarmerie surveillance and intervention platoon."
12/6/20:
"Angry Lebanese protesters blocked roads across the country with burning tyres, debris and their vehicles, incensed over the local currency's depreciation by more than 25 percent in just two days. The demonstrations from northern Akkar and Tripoli to central Zouk, the eastern Bekaa Valley, Beirut and southern Tyre and Nabatieh on Thursday were some of the most widespread in months of upheaval over a calamitous economic and financial crisis."
Demonstrators are once again united against sectarianism, which in Lebanon has been used to divide the population for a long time. The attitude of the security forces in these attacks on the banks, etc., is interesting since they seem at this point completely indifferent to the idea of protecting the government/politicians themselves.
11/6/20:
"Hundreds of Syrians in the mainly Druze city of Sweida have taken to the streets for a fourth day, protesting against worsening economic conditions and demanding the downfall of Syrian President Bashar al-Assad in a rare show of dissent. Residents said demonstrators near a main square of the south-western city called for Assad's overthrow, echoing chants at the start of pro-democracy protests in 2011 that were violently crushed by security forces and sparked a violent, nine-year conflict.Syria is in the throes of a deep economic crisis that has seen its currency hit a record 3000 Syrian pounds to the US dollar earlier this week in a rapidly accelerating free-fall. It traded at 47 pounds to the dollar at the start of the conflict. Since Sunday, protesters have also called for an end to rampant corruption and the pull-out of Iranian militias and Russian troops, whose support has helped Assad regain most of the territory once in the hands of rebels seeking to end his rule…For the first time since the protests began, dozens of government supporters organised a counter-demonstration in front of the provincial government offices, where they criticised a wave of new, tighter US sanctions, known as the Caesar Act, which takes effect later this month.Syrian authorities blame Western sanctions for widespread hardship among ordinary residents, where the currency collapse has led to soaring prices and people struggling to afford food and basic supplies.State media made no mention of the opposition protest. Sweida city had been spared the unrest seen in other parts of Syria since the start of the conflict and has remained in government hands.The majority Druze population has long resisted being drawn into the conflict that pits mainly Sunni rebels against Assad's rule.
10/6/20: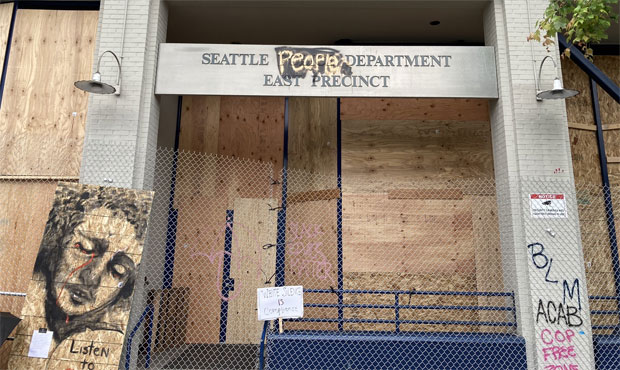 Whilst this is obviously an interesting & significant  development, substituting "police" with "people" is ambiguous; it could imply that "the people" act as cops within the logic of the commodity economy, and this is happening to a certain extent. Someone on a private forum wrote "… according to two friends in Seattle, developments at the CHAZ (Capitol Hill Autonomous Zone) are fluid but mostly upbeat. The armed checkpoints are apparently being staffed by a semi-famous local rapper and his crew. They already made some ugly decisions, like chasing and beating a guy who was spray painting. Some of the anarchists there condemned this establishment of policing (under the banner of "community"), while others are paralyzed by fear of being called racist because the armed folks are predominantly Black." For a text on "the people" see "We should we belong to the people?".
9/6/20:
"THE Seattle enclave that has been abandoned by cops has been dubbed as "part street festival, part commune" with armed checkpoints to keep police out. Demonstrators have declared the "Capital Hill Autonomous Zone," or CHAZ, near the city's central district, with a banner telling all that enter that "This space is now property of the Seattle people."
This happened when 4 cops  tasered him after a car chase when he failed to stop after he'd committed the horrendous crime of not dipping the headlights of his car.  It seems the fact that this was being  filmed by a TV crew for a  real-time police show might well have been part of the motivation for the cops taking pursuit for such a trivial 'offence'. The cop taking chase, a black cop by the way, is a regular on this show, and was the first to taser him when, despite showing his hands,  he failed to get down on his knees or spread out on the ground. Then a white cop arrived with the "Live PD" crew and shoved his Taser into the guy's back. Despite telling the 4 cops four more times that he can't breathe and pleading "save me….I have congestive heart failure.  I am not resisting." the 4th cop tasered him for the final time and he was  later pronounced dead. Failure to dip your headlights  or passing a fake $20 bill (I once got a fake £20 bill  from a bank's ATM machine) are now capital crimes in the States!
8/6/20:
This was an action linking the murder of George Floyd with the cop murder of Giovanni López, a  30 year old bricklayer.  See also this.
"The hooded men removed separation walls placed in some banks and shops … and again broke windows in businesses … the first to be damaged and looted. They also removed the protective walls of the Monument to Juárez, for which they used tubes and hammers, attacked guards and painted the half-circle with graffiti, while others removed the metal fences in the Alameda Central and some others damaged the emblematic Juárez Avenue. None of the thousand deployed police officers suppressed the alleged demonstration that reached the Central Axis, in the historic center, where they removed walls to enter the Palace of Fine Arts. There a police barrier prevented their entry, which bothered them, so they started throwing firecrackers at the uniformed men….The violent ones also threw firecrackers and liquid from fire extinguishers, reporters and photographers. Shortly after they entered the Zócalo which they graffitied and … broke windows of buildings located on Avenida 5 de Mayo. The hooded men, mostly dressed in black, with face masks, bandanas or turbans, looted stores and destroyed private video surveillance cameras to the cry of the song 'Dale, Dale'. The walls that protect the Banco de México buildings were removed to graffiti its walls, and used to form a barricade…With pipes and chains they hit  the shutters of commercial establishments and the door of the Majestic hotel, but they could not knock them down. They did manage to break video surveillance cameras located at their intersection with Monte de Piedad, while a group of police officers observed them. The government's order is not to use force against the vandals, who apparently acted with all impunity. The destroyers continued toward the Mexico City Attorney General's Office, located in the Doctores neighborhood, on Calle 5 de Febrero, where they damaged businesses and looted convenience stores, without finding a single element of the police in their path."
"A group of hooded youths marched through the main streets of Xalapa in protest of the police repression in Jalisco and Xalapa and smashed up financial institutions, shops, ATMs and the Tower of the Secretariat of Public Security in the center of Xalapa. The alleged anarchists were approximately 50 young men and women who also marched against male violence. But the main reason for the protest was systematic police repression against youth by the Veracruz police…They recalled the case of the young silk-screen printer, Carlos Andrés Navarro Landa, allegedly beaten to death by Public Security police officers on May 2 when he was detained in the Los Cántaros neighborhood of Xalapa and sent to the San José barracks where he died from blows, but the police said he died of "cardiac arrest". The anarchists started the march at the State Theater and destroyed the Bancomer de Ávila Camacho along the Monument to the Mother, at the Banamex ATM near the Tecajetes Park. In the center of the city, they painted and smashed glass from the Diario de Xalapa building, over the viaduct, and broke the windows of the Public Security Tower with stones. … they broke the windows of the banks located on Enríquez Alley and Santander Bank. They also broke the windows of the clothing stores located on the Tanos passage…In front of the Government Palace, on Enriquez Street, an effigy of the police was burned." Video showing the destruction of the idiotic street art.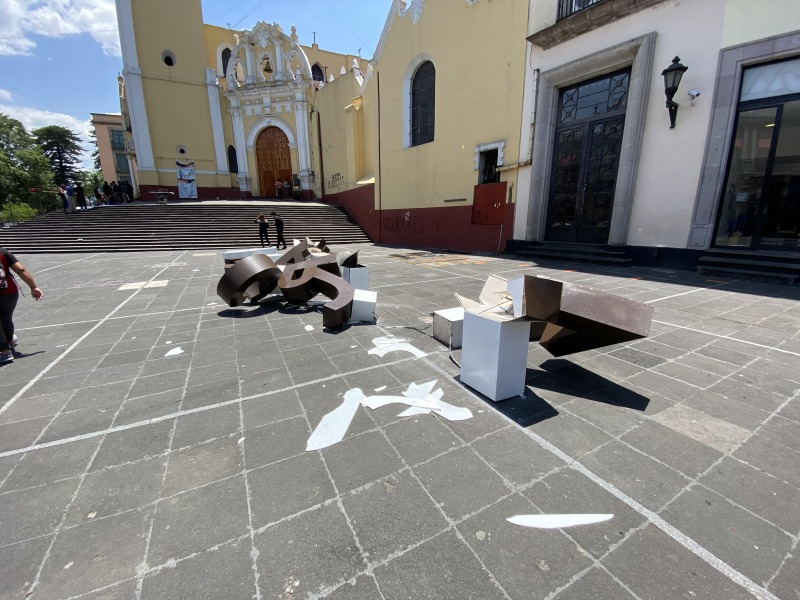 Vera Cruz: the realisation & suppression of art and the art of realisation &  suppression
 T. writes:
All but one of these arrests were only administrative arrests and were released.
The strike threat was because "the colleagues present on the spot had a huge feeling of abandonment because of the 'reserve' in the use of the means (sprinklers…) and in the chaotic nature of the orders given…" – which I interpret as "why can't you just let us break some skulls?". This is following a media campaign in recent weeks by cop unions in Brussels who cry and moan how they're not allowed to use enough force and how they're unwelcome in some neighborhoods (I wonder why…?), saying there's a "threatening" attitude toward cops and that they're worried about their security etc. – calling for more force and more funding (or something like that, I don't remember exactly).
Cops said "While it is obvious to the SLFP Police that any act of willful and unlawful violence by a police officer must be punished, we have just shown that the vast majority of Belgian police officers are respectful people".
"Footage of two police officers in Brussels arresting two boys aged 11 and 13,  and placing one of them in handcuffs, has sparked outrage and drawn condemnation from children's rights advocates.A video posted on social media shows a pair of officers from the Midi police zone approaching two boys in the streets of Saint-Gilles before leading the kids into a police car in an incident from 1 June.
The video shows the handcuffed 13-year-old being led into the car by one officer as the other follows behind, pushing the 11-year-old by his back."
To comrades in Belgium: beware of BNFBL, beware of cop collaborators
BNFBL stands for "The Belgian Network for Black Lives". More like "The Belgian Network for Bourgeois Lies":
Quotes (my emphases):"The Belgian Network for Black Lives (BNFBL) collective, which was part of the anti-racism demonstration on the Place Poelaert in Brussels on Sunday, said it was shocked to learn of the events that took place after the rally. The organisation spoke both about the chaos and looting from the protesters' side and the police response to it. "That a demonstration against police violence would lead to more police violence is something we can't imagine," said spokesperson Stephanie Collingwoode Williams…."We have no idea how it could have escalated so quickly," Williams said. "We have also seen the pictures of what happened in Brussels and other places, and we regret the damage, but we do not know these people and this is not the message we wanted to get across," she said, adding that "at least some of these people were members of an anarchist collective composed mainly of white people." …"This was an excellent opportunity for the police to show that they could do something different. They could have isolated people and then stopped them, instead of beating them up," she added."
Like all pacifiers and recuperators, people like Stephanie Collingwoode Williams and other cop wannabes should be critiqued ruthlessly and publicly, before they even have a chance to spread more lies to build their careers on our backs by the help of police violence and their own mediatic strategies.
**************************************************************************************
"Ironically, those who engage in this kind of snitchjacketing are doing something very similar to what Amy Cooper did in Central Park, calling the police and lying about being threatened, knowing full well that the target of her accusation faced police violence.
And we have already seen how protesters in various cities have assaulted demonstrators and given them over directly to the police for damaging property, once again valuing capital more than human life, which is the very kind of thinking that gives us police murders in the first place."
[https://roarmag.org/essays/counterinsurgency-dousing-the-flames-of-minneapolis/]
"Peace is never peaceful in a colony. The peace of the slave master is not the peace of the enslaved. The slave master finds placid the view of the masses of enslaved people working for him under the whip of the overseer. The enslaved finds peace in a plantation on fire… Protests are not peaceful; they are pacified. They are uprisings put down, revolts tamed. Barack Obama's speech, news anchors' performances of outrage, the reframing of revolutionary action as a modern civil rights movement strips the work of the "dangerous" radicals who led the uprisings in Minnesota, and Baltimore, and Ferguson etc, and hands it to the people who want reform."
[https://www.aljazeera.com/indepth/opinion/racists-peace-200607085302328.html]
X writes:
There has been a dialectic between imperial expansion and the necessity of crushing movements in those areas of expansion ranging from those for national independence to proletarian autonomy since the American invasion of the Philippines, as this article points out. The underlying reason behind counter-insurgency abroad, the necessity of creating a safe environment for capitalist exploitation, applies equally at home. Capital is an alien presence no matter where it goes and it invariably takes its colonial logic with it, whether it penetrates a new geophysical territory like it did in Vietnam, or a new territory in the social-imaginary or behavioral realms: in the commodification of lifestyles, or the pursuit of time-motion studies or today's AI-conducted evaluations of "productivity" in individual workers.
What this article leaves out is the depth to which the intelligence function plumbs the target societies in the new lands to be conquered. As Alred W. McCoy makes clear in his book on the American experience in the Philippines, Policing America's Empire, this included developing files on all the important people in Philippine society, especially those connected with the independence and labor movements, not only using statistical methods and official records, but tapping telephones, reading private mail and recruiting large numbers of informers. This allowed the US military authorities a great deal of information suitable for sub rosa leverage (the conventional rendering of this concept is blackmail) against target individuals in order to compromise the movements to which they were connected.
McCoy goes on in the chapter "President Wilson's Surveillance State" to detail the way the Military Information Division of Major Van Damen accummulated a database on hundreds of thousands of US citizens under categories determined by ethnicity such as German Americans, Irish Americans, "Negroes", "Hindus" as well as those regarded as subversive, driven by the "fear that the people of the United States could not be trusted and therefore should be controlled". Together with the American Protective League, a vigilante "citizen surveillance network," regarded by the Bureau of Investigation (later to be known as the FBI) as a "most important auxiliary and reserve force", millions of investigations were conducted and raids fomented by their "red squads" against such organizations as the Socialist Party, and especially the IWW, during the First World War. At the conclusion of the war, this machinery of repression went into overdrive with the Red Scare. The destruction of the most militant sections of the American labor movement can be directly attributed to the application of counter-insurgency methods developed as an integral component of the American imperial adventure abroad to the class war in the United States itself.
This dialectic of foreign and domestic counter-insurgency on behalf of the Empire and its beneficiaries continues to this day. It is, like the police itself, not an "excess," exterior to the requirements of capitalism that some can claim can be made "humane," it is a constituent part of an inhuman system inimical to human freedom and, as we can presently see, to the continuation of the biosphere as we know it.
Similar forms of manipulation by Israeli Intelligence
Note by T.  re. the sub rosa/black mail leverage used by US Intelligence talked about above.:
The Intelligence wing of the Israeli Defence Force's (official name of the Israeli army) is one of its most prized possessions, with a vast presence of Shin Bet among the Palestinian population that one can only imagine (I don't have sources for this right now, but the idea of its vastness is also based on interviews I transcribed as part of my wage-slavery), but also with the work of the famous "unit 8200" that runs "one of the largest listening bases in the world, capable of monitoring phone calls, emails, and other communications, throughout the Middle East, Europe, Asia, and Africa, as well as tracking ships" – according to Wikipedia. A part of the job of regular service soldiers in that unit is listening/monitoring to hours upon hours of private "civilian" phone calls and private communication, in order to find the right "information" with which they can blackmail a person into being a collaborator and a snitch – one notorious example of this kind of information used as blackmail is sexual orientation, a delicate and sometimes life-threatening issue in Muslim and Palestinian society.
…a big part of [ Q's military service] was spending entire nights listening to bugged conversations to see if they contain "useful" information, and that most of the time it was just boring, trivial, useless small talk and chats, and that he hated every minute of it. (Not that this made him critical of his function, that's too much to ask).
7/6/20:
An eyewitness says:
"…at one point a white guy hurling or trying to hurl bricks/stones at police, but pretty isolated from other rioters. Thus, a bunch of black "peacekeepers" who opposed this were trying to stop him and to beat him up while saying stuff like "you're white, you're unwelcome here", until people intervened and stopped them from hurting him...the demo stewards (usually dressed in purple/pink or with armbands) go and stand between "hoodlums" and the police, trying to protect the cops/discourage the protesters from throwing stuff … one steward got hit on the head from something thrown and knocked to the ground… when the "official" demo and speeches etc. were over and people began to improvise and to try to head for the "neutral zone", where it is illegal to demonstrate etc. (where some embassies are located, some important EU buildings, the Royal Palace, etc.) and to do other "unruly" things – a bunch of stewards actually formed a line, hand-in-hand, at the edge of one street where the protesters were heading from, to prevent them from leaving that street or from going too far."

More information:
1) Another testimony, of the racist behavior of Brussels' cops, by a black arrestee:
There's also a good comment under this against the 'black bourgois' policing of the organizers and stewards:
https://bxl.indymedia.org/spip.php?article27648&lang=fr
Many colonialists' statues are vandalized in Belgium these days (with red paint, graffiti etc.), but it's still rare to take them down or break them like in this case. A good start.
"A group of people gathered around the statue of Leopold II shouting "murderer" and waving the Congolese flag….1,200 people gathered on the Steenplein in Antwerp …After the event, a large group of young people still went to the Groenplaats. They were repeatedly urged by the police to leave the square, which they refused. The police then ordered three De Lijn buses to arrive, after which more than 100 people were taken to the police station. They can expect a  fine [SF note: these fines are usually at least 150 euros]. …The organizers of Belgian Youth Against Racism expressed their disappointment that not everyone just went home. However, they are not happy with the way the police responded. "Hundreds of people were herded together as if they were a herd of animals. Without a reading of their rights, without an explanation. People who were probably just going to take the tram "…What particularly offends them is that whites and blacks are said to have been separated on the buses. …More than 200 participants  gathered at the Kolonel Dusartplein in Hasselt for a Black Lives Matter action… In Hasselt, the organization was not given permission for a physical protest, so that an alternative action was initiated. The activists were called on to place a pair of shoes on the Kolonel Dusartplein, after which some speakers gave speeches. According to the Limburg Region Hoofdstad police, the sit-in went smoothly. Some of the children created a powerful moment by holding up their clenched fist, symbolizing the Black Lives Matter movement, between the shoes. Many activists then spontaneously joined the children, so that social distancing was no longer the case. After the action, many participants went to the Leopold II statue, which was daubed with red paint earlier this week. Some activists tied a white cloth around the head of the statue, in protest against Leopold II and his reign of terror in Congo in the nineteenth century." 
Leopold II: probably about 10 million people were killed in the Congo as this King of Belgium amassed a fortune there between 1885 and 1908. Some estimate that 80% of the population were killed/starved/died from European-inflicted diseases, but certainly a minimum of 50% . The very least people could have done with his statue  was to do what they did in Bristol (see entry about Bristol, UK, just below) to the statue of someone who was "only" responsible for the deaths of 20,000 blacks, as opposed to Leopold II's 10 million. Incredible that Belgium should have statues to a man responsible for the deaths of  more black Congolese than the death of millions of  European Jews by Hitler.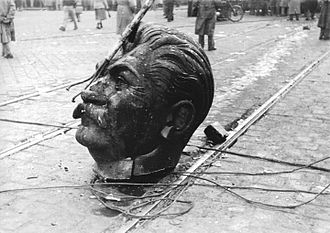 Stalin loses his head: statue of Russia's former head of state decapitated by the Hungarian uprising of 1956
"One death is a tragedy – a million deaths is a statistic", said Stalin. But nobody who claims to be against this society should make an equivalent of deaths, any more than make a hierarchy of them.    Death and how people die can't be reduced to the the quantifiable –  their deaths are as different as their lives, even if some aspects are measurable.  For example, the British concentration camps in South Africa during the 2nd Boer War, killed over 26,000 women and children. Undoubtedly they weren't as horrendous as, and had a significantly different history and consequence  from, Auschwitz (including a far lower amount of deaths). But that doesn't mean they didn't have some comparable elements – cramming non-combatant populations into confined spaces and starving to death a specific selection of people, for instance. Whilst making equivalences of misery ignores and trivialises significant differences, making a hierarchy of misery ignores and minimises significant similarities. It's impossible not to partly compare different situations, even if many aspects are not at all comparable. But in itself, this is not relativism. It only becomes an ism, an ideology,  when a comparison is used to say situations,  people and their histories are the same. Likewise, emphasising only the difference between situations  becomes an ism, an ideology,  only when   this is used to dismiss comparing two situations which genuinely have aspects in common . "They've got nothing to do with each other" might be pertinent when comparing chalk and cheese, but not for many other comparisons. Struggle  partly involves recognising that equivalence and hierarchy are 2 fundamentally intertwined aspects of the commodity form and of class power, of "recognising" people only in their reduction  to exchange value, to a comparable quantifiable  monetary equivalence on the one hand   and, on the other hand,  of an inability to see our common enemies and to recognise ourselves in  each other.
"Today capital starves to death (or kills by easily curable diseases) 8 million children a year, and yet so few people do something to genuinely oppose this, even though such opposition would not – generally speaking – lead to torture and death, which such opposition would certainly have meant if anybody in Nazi Germany had done anything against the Nazis (and, despite this, there was opposition by the working class in Germany under Hitler – see, for example, this). This is certainly not to make an equivalence of all capitalist misery – which makes every misery as interchangeable and exchangeable as a commodity – as, say, "a quarter of wheat…exchanged for X blacking, Y silk, Z gold, etc." (Marx, Capital). Mass murder is mass murder but  body counts avoid understanding the historical and subjective meaning of the lives and deaths of those involved. But equally making a hierarchy that puts the killing of about 73% of Europe's Jews at the top, the killing of about 73% of Hutus in Rwanda in the middle and the massacre of between 50% and 80% population of the Congo by Belgian imperialism at the bottom is obviously a euro-centric arrogance.  Any radical hatred of capitalism can neither make a hierarchy of horrors nor impose a simplistic "objectivism", in the name of some very general critique of the totality, on what are very different experiences of mass murder. Equivalence and hierarchy are two sides of the same ideological thinking inculcated by the commodity form." – On German Guilt
"The Statue of Edward Colston…was designed by John Cassidy and erected in 1895 to commemorate Colston's philanthropy. It was designated a Grade II listed structure in 1977….The Royal African Company, on whose board Colston sat, transported more than 100,000 slaves from West Africa to the Americas between 1672 and 1689; more than 20,000 of them died during the crossings.[1] Colston used his wealth to provide financial support to hospitals and schools throughout England, particularly in his home city of Bristol."  – here. Philanthropy: rob and murder the poor to give to the less poor to try to give them a belief in the philanthropic nature of those who rule over them rather than unite with the poorest to destroy their common enemies.  John Cassidy, who designed this monstrous monument, "… attended art classes at night and won a scholarship to study in Milan, Italy. After two years, he moved to Manchester, England, where he lived for the rest of his life. He studied at the Manchester School of Art in 1883 and taught there in 1887. He created many public sculptures, especially war memorials, and exhibited at the Royal Academy, the Royal Hibernian Academy and in Manchester City Art Gallery. He was for a time assisted in his studios by John Ashton Floyd, a local sculptor.[1] For most of his career, his studio was at Lincoln Grove in Chorlton-on-Medlock. Many of his works remain in the Manchester district, notably those in the John Rylands Library, Deansgate: a group of three figures representing Theology Inspiring Science and Art ". I supply this information so as to hopefully inspire the further development of  critiques of Theology, Science and Art by showing their mutual complicity in the development of capital, a development dependent on the murder of, in this instance at least, 20,000 blacks. Over 100 years later, the Holy Trinity  of Theology, Science and Art have of course changed enormously, but even in their apparent oppositional forms – like Martin Luther King, Didier Raoult and Banksy – still significantly contribute to supporting  class society  whilst their reformist rebellion  genuinely opposed some of the more horrific symptoms of it.
As for the horrendous black slave trade –  this is often used to try to make white wage slaves feel guilty  and that their history is utterly different from their fellow black proletarians. There may be objections to the use of the expression "wage slave" as if I was making an equivalent with  the Atlantic slave trade, which is obviously  one of the most abhorrent  aspects of human history whose consequences continue to this day.
[By the way, to get some idea of how fundamentally sick the mentality of the American South was mid-19th century – and which continue in diluted form today – it's worth looking at the psychologistic category   "Drapetomania" – " a conjectural mental illness that, in 1851, American physician Samuel A. Cartwright hypothesized as the cause of enslaved Africans fleeing captivity". In a sense it's an extreme and  crude example of all forms of psychologism, which obscure and falsify consciousness of the symptoms of  distress caused by dominant social relations. Thus some people categorise the current spread of  rumblings from the USA to a tentative global movement as "hysterical"]
A few weeks before these global beginnings of a movement arising like a bolt from the blue,  in an argument with a white person weighed down with the guilty ideology of "white privilege", a friend pointed out, " "wage slave" has its own abhorrent history and context, and was a term used and defined by those who experienced it directly. It came to prominence in the horrors of the formation of the English working class in the late C17th and early C18th. As I have said, it is this different context and not an equivalence to … slavery …, but is a close relation and sharing in many respects the same origins and ruling elite. For those who lived through it (or more often than not, didn't) it was an experience equally destructive, and arguments over definitions would have counted for little in either context. The slavery wasn't absolute in technical terms, but the "liberties" afforded to the English poor were essentially fictional. In reality they were liberties afforded to the masters to not have any care for their workforce beyond the immediate needs of a season, the current productive cycle, or even just specific requirements of a particular day or week, etc. While a destitute mass of poor were forced off customary lands through legalised enclosures (or 'The Clearances' in Scotland) throughout this period (the last 'Enclosure Act' being in 1882), their poverty was criminalised, for example through the New Poor Laws (1834). Survival outside of formal work or domestic servitude (the single biggest sector) only became possible through criminality or in workhouses. It is well known that collective action was criminalised through the Combination Acts of 1799 and 1800, but perhaps less well known that almost every form of dissent or disobedience was also criminalised, and resulted in beatings, gaol, death or transportation to a colony in "indentured servitude" or "debt bondage", both now universally recognised as forms of slavery in their own right.

While the image of this period is of "satanic mills", most industrial labourers worked in sweat workshops or their own cramped accommodation. It may seem crass for the working poor of England to have compared their condition to that of the slaves in the colonies and Americas, but these figures perhaps illuminate the severity & magnitude of their situation:

The average age of death of a member of the labouring class in 1842

Liverpool: 15 years old

Bethnal Green (London): 16 years old

Manchester: 17 years old

Leeds: 19 years old

(Report on the Sanitary Condition of the Labouring Classes, 1842)

All had endured a short life of hard labour from the age of 7 or 8 years old in a factory, earlier at home. Many were deformed by it. Almost all were killed by it. For example, girls working in the mills around me were notoriously disfigured by having been required to stand for 14-17 hours a day, six days a week from the age of around eight. Their hips remained narrow in puberty and many subsequently died in childbirth. The many girls working from a young age in mines operating the ventilation dampers or pushing coal trucks had deformed heads from their work. They had sight deficiencies from being in constant darkness and worked practically naked up until their death usually at work or in childbirth. I could fill hundreds of lines with similar examples. Some relief came in 1833 when in theory working days were reduced to 9 hours for those under 14 though as I've said, most work was in fact outside of formal factory settings.
A meticulously researched book I am currently working through and I recommend is EP Thompson's "The Making of the English Working Class".

So while you may find the term "wage slavery" objectionable … this term does not attempt to represent an historical equivalence to the Atlantic slavery, but does have its own specific historical and contemporary meaning, relevance and significance. For the people who experienced it (and in many places still do), it was a life as short, brutal and hopeless, as full of displacement, violence, death and and as lacking in liberty as any on the planet. Far be it for me, or you, to deny this historical experience or its reckoning."
6/6/20:
In fact, there were lots of demos throughout France, mostly very controlled by the Left. The media gave prominence to the usual nationalist leftist recuperators like Mélenchon's "Unsubmissive" France and the French "Communist" Party, which, in an alliance with other leftist groups, got 2.7% at the last election, having been the party with the most votes 75 years ago. There wasn't one my way, because there was one here 2 days ago, which I missed. Lots of slogans in English ("Black Lives matter", "I can't breathe", etc). There was also a banner saying "Use your privilege for change" and other ones expressing this "racialist", "Intersectionalist" trend , which shows something of the influence of the terrible world of American Identity Politics. Most of the slogans when referring to France centered on Adama Traore or Sabri, an 18 year old killed by the BAC* in a motorbike "accident" . There've been loads of others killed by the cops but these 2 were the ones apparently exclusively focused on. I only watched on TV, so maybe others were mentioned but I suspect that they weren't. For instance, a guy was killed trying to escape a control on a stolen motorbike in Beziers about an hour's drive from me back in April during lockdown. The cops opened the door of their car just at the "right" moment, so he just drove right into it. An "accident". Rather than openly killing like they do in the States, the tendency here is to kill by creating "accidents", usually by driving at speed behind a stolen motorbike and touching the back of it enough to knock it over.
The French ruling class is obviously scared of a repetition of what happened just a few days ago in Paris (see also this). The initial demonstration concentrated solely on the death of Adama Traore, mainly because the initiators of the demo were his support group, the Adama Committee, which has some dubious history and constantly  liaises with the cops. 2 years ago, at the end of May 2018, they held a demo in Paris: "An unheard of thing for a Parisian demonstration, the leading section of the demonstration  had, this time, chosen to surround themselves with the police service. Composed of anti-fascist, anti-racist and decolonial activists, concerned with protecting families, it worked perfectly to regulate the relations between the demonstrators and the many journalists, as well as to reduce tensions after the police once again decide dto join the procession ".  At that time, they kept away from the working class banlieux, but this time it overflowed out of their control,  going way  beyond the organisers' wishes. Which is probably why the Left were so present and so controlling in Paris on on June 6th, substituting fiery action with mere  fiery rhetoric.
After the June 2nd  riot (see this and this ),  the media and the state at first insisted that comparison with France was not at all pertinent. But then after some demos on Thursday they conceded that there were some aspects which were similar: individual cops can be racist, but the Police as a whole are not racist. The Minister of the Interior insisted that racism would be rooted out of the police force, and various racist comments by cops on social media were given publicity. But the publicity of cop murders and beatings of blacks and arabs have been reduced to just 3 cases (the above mentioned 2 and a 14 year-old beaten black and blue by the cops for no reason at all). Obviously the amount of murders etc by cops in France is a great deal less than in the States. However, there are some incredible instances of cop savagery in the past which have not at all been mentioned in the current context, even though they constantly talk about the history of slavery in the States.
***
About France's history of racist massacres 
At the end of 1944 in Senegal, a  French colony at that time, after France's 'liberation', there was a massacre  of  Africans who'd fought with de Gaulle's French army against the Germans and had been captured and made prisoners of war by the Germans. "As colonial subjects, tirailleurs (colonial infantry) were not awarded the same pensions as their French (European) fellow soldiers during and after World War II, pensions that had been promised to them at the beginning of the war. The pensions for veterans of both races were calculated on the basis of living costs in their countries of birth, supposedly lower in colonies than in metropolitan France. These soldiers additionally claimed they were owed back pay due to an order issued by the Minister of Colonies authorizing benefits for ex-prisoners of war from West Africa, which both fell short of the benefits given to French prisoners of war and was in any case not implemented. This discrimination led to a mutiny by about 1,300 Senegalese tirailleurs at Camp Thiaroye on 30 November 1944. The tirailleurs involved were actually from Guinea, Mali, Senegal, Burkina Faso, Chad, Benin, Gabon, Ivory Coast, Central African Republic, and Togo. The former prisoners of war had been repatriated to West Africa and placed in a holding camp awaiting discharge. They demonstrated in protest against the failure of the French authorities to pay salary arrears and discharge allowances. The immediate grievance was the unfavorable exchange rate applied to currency brought back by the repatriated soldiers from France. A French general, briefly held by the tirailleurs, promised to have the rate changed to a par with that applicable to white veterans. Early the following morning French soldiers guarding the camp opened fire killing between thirty-five and seventy African soldiers. A detailed French-language account of the massacre states that 24 of the former prisoners were killed outright and eleven subsequently died of their wounds. However, war veterans claim that over 300 of the black African soldiers were killed while the French only claim 35 deaths. The French provisional government of Charles de Gaulle, concerned at the impact of the Thiaroye incident on still-serving tirailleurs, acted quickly to ensure that claims for back pay and other monies owing were settled."
In 1953, in a cop-provoked riot following a demonstration mainly for Algerian independence on Bastille Day, 6 Algerians  were killed: "The demonstrators clashed with police at Place de la Nation, where most of the protesters dispersed. The parade planned …continued somewhat farther in spite of heavy rain, as some marchers went toward Avenue du Trône to drop their signs and flags in a…truck. There, and without warning, the police opened fire on them on their own initiative without direction from their command. This escalated the demonstration; the Algerian demonstrators used barricades to attack the police and burned at least two police cars between 5:00 PM and 5:30 PM. Seven people were killed: six Algerian workers, and one worker from the General Confederation of Labour. Besides the deaths, over 50 demonstrators were injured, at least 40 by gunshots. About fifty police officers were injured: between three and five by stabbing, and the remainder by makeshift weapons."
More notably and horrifically,  the massacre in Paris in October 1961 when between 50 and 300 Algerians were killed: "On the evening of 17 October 1961, at the height of the Franco-Algerian war, tens of thousands of Algerian protesters, including women and children, from around Paris gathered at various landmarks to demonstrate against what they considered a "racist and discriminatory" curfew imposed against them. The mobilisation had been organised by the Paris wing of the Algerian National Liberation Front (FLN), an organisation that was fighting for Algeria's independence from France and had been accused of carrying out attacks on Paris police that left a dozen dead. It was intended to be a peaceful demonstration, but Maurice Papon, the Paris police chief, ordered his officers to stamp out the protests. As the Algerians gathered, the police acted swiftly and brutally, firing on protesters and arresting an estimated 11,500 who were herded on to buses and taken to makeshift detention centres where many claimed they were beaten and held for days without food. Claims that officers had beaten protesters and dumped them into the Seine appeared to be confirmed when bodies were washed up on the banks of the river. Though nobody could have foreseen the extent of the violence, tensions between the Paris police and the city's Algerian community had been building up after the curfew was introduced in response to the police deaths. The daily newspaper France-Soir said: "Fifty years on and a wall of silence exists around these events. The Algerians of France would today like France to recognise its responsibility." Papon was awarded the Légion d'Honneur by President Charles de Gaulle the same year as the Algerian killings, and went on to hold a number of senior official posts. In 1981 details emerged of his part in the deportation between 1942 and 1944 of 1,690 Jews from Bordeaux, where he was secretary of police, , but it was not until 1998 that he was convicted of crimes against humanity and stripped of his decorations and titles."
On Papon, see this. "Papon was also in charge of the Paris police during the February 1962 massacre at the Charonne metro station, which took place during an anti-Organisation armée secrète (OAS) demonstration that had been organised by the French Communist Party (PCF). Forced to resign in 1967 after the suspicious forced disappearance of the Moroccan Marxist Mehdi Ben Barka, he was supported by de Gaulle in being named as president of Sud Aviation company, which co-created the Concorde plane. After May 1968, Papon was elected as a member the French National Assembly and served several terms. From 1978 to 1981, he served in the cabinet of Prime Minister Raymond Barre under President Valéry Giscard d'Estaing. Between the two rounds of the May 1981 presidential election, where Giscard d'Estaing was running for a second term, details about Papon's past were leaked in Le Canard enchaîné newspaper. Documents signed by Papon were made public that showed his responsibility in the deportation of 1,690 Bordeaux Jews to Drancy internment camp from 1942–44. After a long investigation and protracted legal wranglings, he was eventually tried."
See also this: "Republican values of liberté, egalité, fraternité will be all but forgotten when thousands of Parisians recall the most murderous episode in the French capital's postwar history tomorrow. Commemorations are planned for the 50th anniversary of the French-Algerian massacre, when up to 200 peaceful protesters were slaughtered in cold blood around iconic national monuments, including the Eiffel Tower and Notre Dame Cathedral. The most memorable – and vicious – atrocities saw policemen herding panicking crowds on to Paris's bridges, where many were tossed into the Seine. Normally a romantic symbol of the most popular tourist city in the world, the river became a watery morgue for scores of victims, whose lifeless bodies were washing up for weeks afterwards…Maurice Papon, the Paris police chief who instigated the killings, only died four years ago, aged 96; and some of his unrepentant and unpunished henchmen still remain at large. Like Papon, many of the killers had been Nazi collaborators who learned their crowd control methods from the Gestapo. They were experts at disinformation too: the official death toll after Papon's self-proclaimed "Battle of Paris" was initially three, before being revised to a vague "several dozen" almost 40 years later. No judicial inquiry ever took place…".
See also my "brief notes on racism in France": "I remember being shocked by a story back in the late 1980s of a small town in the Gard (Languedoc-Roussillon) which was having a weekend festival in the summer. Some Arabs, including kids, were walking around. A white French guy went to his car, took out a baseball bat and started taking swipes at them. The cops came, didn't arrest or harass the guy with the baseball bat but expelled the Arabs from the town and set up roadblocks to prevent any other Arabs coming in to participate in the festival. I know this because I was staying with friends in the area; the events were  not reported anywhere. In the UK such a blatant public form of state-protected racism would have, at the very least, created a massive scandal. We must remember that in October 1961 (when de Gaulle, the famous anti-Nazi, was president) probably about 200 Algerians were killed in Paris under the orders of Maurice Papon, chief of police for Paris, who'd been a collaborator with the Nazis. Nothing appeared in the media at that time. The French state only acknowledges about 40 killed (and it took it 37 years to admit to it)" .
***
The idea that "individual cops can be racist, but the Police as a whole are not racist" is the opposite of the truth: individual cops can often not be racist but the Police as a whole, as representatives of  capital and the state, has to be racist, just as  individual capitalists may or may not be racist but the system has to maintain elements of a racist hierarchy however much it reforms itself. Racism, although aspects of it pre-date capitalism,  has been fundamentally part of capital ever since capitalism developed nationalism as a form of manipulated form of pseudo-community, inculcating the masses of individuals' adherence to   identification with specific nation-states.  Racism is endemic to society as a whole, reinforced by borders and nationalism and the need of  probably the majority of the more submissive individuals not striving to combat the basis of their misery to have an easy-to-recognise category of people below them who are more wretched than them, to make them feel a little bit superior, more moral, more civilised or whatever.  The "race" targeted may change, of course: for instance, immigrants treated as scum after a decade or ten may be treated as "equals" but those of them who do not try to challenge racism in all its forms will then treat, for example, asylum seekers as scum.
The current attitude of the French state – trying to root out racism amongst the cops – is a difficult balancing act for them. Cops are already complaining about it, at the same time mentioning the rise in suicides amongst cops since the yellow vest movement. Obviously the ruling class doesn't want the cops to be demoralised but at the same time they need  the spectacle of reform  (maybe more Arab and black recruits into the force, plus their promotion in the hierarchy, giving more interviews with black and Arab cops in the media, anti-racist training amongst cops, etc.) to try to head off the kind of explosion that happened in Minneapolis and elsewhere in the States. And clearly they don't want similar things to what happened on June 5th in Buffalo in the US (see Trump's conspiracy theory about this nasty cop incident).
*Note on the BAC: Anti-criminal brigade, the most psychotic of France's cops, set up by President Jospin of the Socialist Party. They love hand-to-hand combat (I got truncheoned on the hand by one of them using one of those telescopic extending metal batons 10 years ago). They're "undercover" (ie not in uniform) and don't have helmets or shields normally, and the most visible ones walk around in black. On one yellow vest demo over a year ago some of them got teargassed by the riot cops because they thought they were black block.
5/6/20:
4/6/20:
"On Thursday, New York governor Andrew Cuomo… declared in his afternoon press briefing that the state's coronavirus testing criteria would expand to ensure anyone who attended a protest in the past week would have access to COVID-19 testing. First of all, according to the official New York City COVID-19 information portal, "all New Yorkers should get tested now, whether or not you have symptoms or are at increased risk." There aren't even testing parameters to expand anymore. Everyone who wants to get tested for COVID-19 explicitly could already, at least in New York City. Residents in the rest of the state can get a test if they think they might have been exposed. At a time when distrust of law enforcement and city officials is at an understandable high, it's easy to wonder whether going to get a COVID-19 test and telling your doctor you were protesting is the best idea". Meanwhile the NY cops are bent – on giving arrested protesters the virus.  "Lawyers say the NYPD is also denying many of those arrested their right to a phone call, leaving their friends and families fearful for their lives. ..Despite the coronavirus pandemic, they said most police officers do not wear masks and in some cases confiscate those of protesters who are being "packed" into cells with no regard for social distancing… the conditions in the holding cells that they are held in, in many cases for 10-20 hours, are abysmal. Especially following some of the larger demonstrations and mass arrests, that there are extremely crowded conditions, that the cells are dirty and unsanitary and unsafe."
There has clearly been a shift as the middle class take over and start kneeling everywhere. The dominant media obviously emphasise the spectacle  of opposition which makes it all seem  very co-opted already – safe symbolic stuff like kneeling. Maybe white middle class people feel safe breaking curfews, while poor black Americans just know how it ends for them – jail time or worse….the rush of white lefties to show their colours and be seen to be kneeling. It's the usual cathartic response. Obviously the black American footballers was a powerful moment (in media terms) – not cathartic but an act of defiance where they risked their jobs and the wrath of their supporters, but the white signalling here is truly painful to see.
But in fact, there are, apparently, more or less two worlds developing in the USA: the world by day is controlled by the professional activist-politicos condemning the violence, condemning, like Trump himself, "white outsiders". See for instance, this sad display of "moral highground" taking: "On a bullhorn, an organizer has the crowd say in unison: "I will not provoke (or) lash out at police, at property, or at each other. If I see somebody breaking that rule, I will do everything in my power to make it stop, by any means necessary."
"By any means necessary" used to be a slogan of the 60s movement, with all its strengths and weaknesses,  But what does this "by any means necessary" mean? "By any means necessary" to stop any independent form of revolt and replace it with the professional activist politicos control of revolt and its transformation in reforms that'll end up as largely cosmetic (particularly given the massive limits on capital and the states' margin of manouevre compared with the 50 years ago).
A friend in the States told me that a friend of his, whom I know a little bit,  almost got strangled  by some activist trying to "control" her by choking her during a demo-turned-riot.  She couldn't breathe for a few seconds. How's that for irony? Though ideology can't entirely explain this psychotic behaviour, it certainly plays a part. Apparently  there are a lot of conspiracy theories going around that white outsiders  are being paid to bring the movement into disrepute by pretending to be as angry as the blacks. This from the Right to  the liberal Left, from Trump to professional activists. The crude ideological attack on "outside agitators" spewed out by black and white politicos means they can't , don't want to  and have an interest in refusing to understand that millions of whites are almost as agitated as most blacks and are left permanently outside, even if a bit less so than most blacks. Because their  place in present and future class society,  their fairly well-paid role,  is above all  making sure that  when black and white fight together they should do so in a  way that poses no  threat to  the professional's place in present and future class society, their fairly well-paid role,  and above all no threat to the social relations they maintain. And they'll defend this "by any means necessary".
A recent leaflet:
" 'We make the path by walking'
A slogan from another place, another time, another struggle. But also words that can help us here, and now, in this fight.
Let's keep walking together: let's keep marching, blockading and disrupting. But let's also think about how to take other steps together. At the end of the day, a protest is primarily a demonstration of collective willpower and strength. This is vital, but sadly, it has proven to be simply not enough. Our struggle to address the intimately linked problems of racism, policing, and poverty has to enter into our daily lives and the multitude of our relationships in order to create an enduring change, a tidal shift in what it means to be black, brown, white, American . . . In that spirit, there are an infinite number of methods that people all across the country are thinking about and experimenting with. From the center of it all, Minneapolis, emerge three particularly promising avenues that deserve to be explored in greater depth.
O N E
Occupation of unused space: There this idea took the form of homeless advocates occupying an empty hotel and turning it into a self-organized shelter: an oasis from police violence and the violence of not having what you need. Our city is full of empty buildings that could be used as movement centers, clinics, shelters, kitchens and anything else we can imagine. There are countless empty lots that could be used to create a new and beautiful vision of agriculture and food supply. Imagination, determination, and the power of the people around us are all that we need to begin.
T W O
Neighborhood organization: On the night that the national guard was deployed in force, neighbors in Minneapolis met with each other. Strangers were introduced, phone numbers shared, fears and contingencies calmly discussed. Some patrolled their streets, not as reactionary vigilantes, but as supportive neighbors looking out for each other. Others created bucket brigades to put out any fires that might accidentally spread to residential areas. Many streets saw the construction of symbolic barriers: a message to the police that they were not wanted or needed. A few went further to create actual barricades, preventing the movement of the State's paramilitary forces. Here in ___, we may not need to lock down our blocks, but we certainly could do with more socially connected neighbors. Not only did some people directly attack the police in Minneapolis, but others simply made them irrelevant. If the abolition of police departments is a goal worth taking seriously, then organizing with our neighbors to make sure all our needs are being met, to address problems locally, to find safety in ourselves rather than an outside force that knows only one solution for every problem; then this is something to take seriously as well.
T H R E E
Mutual-Aid: The networks that were created to address needs brought on by the pandemic blossomed in the aftermath of the rioting. Major streets in Minneapolis were crowded with people handing out free food and water. Those with cars organized themselves via secure text threads into a rapid response ambulance and taxi service, taking the wounded to hospitals and the stranded to their homes. Even looters sometimes pooled their recently acquired resources to share for anyone who wanted or needed them. Here in ___, these networks of material support already exist. Some have suggested defending those facing eviction in the coming months with our bodies and our collective strength. Others are working to crowdsource funds, food and supplies for anyone who needs it. Now is the time to reinforce these efforts with our own resources and create new initiatives as well.
From the forest fires of the past week, let the flowers of a new meadow bloom!"
An angry reflection on the official Black Lives Matter in Minneapolis (it's important to note that
BLM

is not a unified organization with a program; various local chapters have more antagonistic relationships with politicians and law enforcement)

I keep seeing people declare that BLM didn't start the riots, that BLM had no part in the vandalism and looting in Minn. Allow me to go ahead and confirm that. Those declarations are absolutely correct. BLM insisted on people remaining peaceful. And insisted to the point of getting in the faces of black and brown angry youth and attempting to control their actions. And I can confirm with my own first hand experience, that BLM defended the 3rd Precinct with their own bodies. They sided with the police. The Minn BLM played absolutely no role in the attack against the State because they are fucking cowards. Their liberal pacifism failed to stop the inevitable explosion of rage against the police, their precinct and subsequently their control and domination of that area. If it was up to Minneapolis BLM, we'd all still be marching in circles for hours chanting about being angry without having the courage to materialize that anger into rebellion.

You want to donate to the "movement"? Donate to your local anti-authoritarians, the black and brown youth and all those who had the guts to make history by showing the world the police – the State – can be defeated on their own fucking ground. The police can be overwhelmed and sent running. The people across all gendered and racial lines can strike back, can weaponize that anger and fight back.

The Minneapolis BLM doesn't know shit about that. They were the bootlickers shaming black and brown youth from the beginning, and now many of them are the ones claiming the uprising was started by "outside agitators" and "white supremacists". So when people say BLM was peaceful, that is correct. Peaceful with the police. Peaceful with colonial order. Peaceful with full obedience to the law. Peaceful with the fact that George Floyd is dead.
The Great Escape:
Handcuffed protestor dolphin dives into car to escape police. from r/PublicFreakout
3/6/20:
California, Long Beach: Interesting video of a National Guard genuinely fraternising with protester:
LONG BEACH, CA — NATIONAL GUARD CRIES AND PLEADS HE WONT HURT CIVILIANS; HERE TO CLEAN UP THEIR MESS from r/Public Freakout
2/6/20:
If the social movement erupting in the States doesn't furiously tackle hypocritical "pacifists" like this, then it'll end up in the arms of the reformist filth, cop collaborators who want to present an acceptable face so as to climb the reformist rat-race career hierarchy in a fundamentally violent system.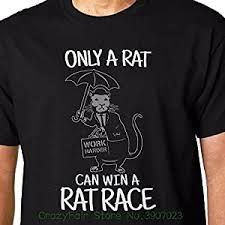 "The Only Race Is The Rat Race" – graffiti Notting Hill Gate, London, 1968
A friend in the States told me that a friend of his, whom I know a little bit,  almost got strangled  by some activist trying to "control" her by choking her during a demo-turned-riot.  She couldn't breathe for a few seconds. How's that for irony? Though ideology can't entirely explain this psychotic behaviour, it certainly plays a part. Apparently  there are a lot of conspiracy theories going around that white outsiders  are being paid to bring the movement into disrepute by pretending to be as angry as the blacks. This from the Right to  the liberal Left, from Trump to professional activists. The crude ideological attack on "outside agitators" spewed out by black and white politicos means they can't and don't want to  understand that millions of whites are almost as agitated as most blacks and are left permanently outside, even if a bit less so than most blacks. Because their  place in present and future class society,  their fairly well-paid role,  is above all  making sure that  when black and white fight together they should do so in a  way that poses no  threat to  the professional's place in present and future class society, their fairly well-paid role,  above all no threat to the social relations they maintain.
Also see this . Also see entry for 6/6/20 above for elaborated comments

1/6/20:
SUMMER SALES
"Shopping should be an emotional experience. People should want to drop in." –
Mr.Quayle, director at Woolworths' "21st Century Shopping Ltd.", new name for Woolies in Bristol (The Times, 14/2/82).
"Just doing a bit of window shopping" –
Wood Green rioter, 1981 (LBC, July ).
There are certain situations when dropping into a shop is a truly emotional experience. That's when people start to smash that blatantly seductive parader of the beauty of possessions, the shop window which reflects back to you the ugliness of your fundamental dispossession. Don't the vast majority dream of wrecking that fragile separation? At the same time as it titillates us with things we've been told we want, it prevents us from grasping them. When we smash a shop window, it's not only the miraculous display of things (with their artistic image association and their ideological free gifts) that gets shattered, but also the 'reasonable' cops in our head. The objects become what they always were – just objects, whilst the bourgeois rationale that hypocritically distinguishes between theft and property also appears for what it is: bullshit to keep us impotently yearning. How can those who resign themselves to a world which is meant to be expectantly gazed at know the simple beauty of the delightful anger hurling the brick shattering the repressive splits of this fragmented vicarious life? Perhaps they mutter "Greed…Resentment" as they greedily clutch onto their narrow resentment of those who are having a smashing time….
– from here: https://dialectical-delinquents.com/daily-life/shopping-who-gives-a-toss/