"The whole system must go"

Whilst the world's media is mostly, and conveniently, silent about this, concentrating on the very dubious vaccination programmes going on all over the place, what seems like the beginnings of a national uprising against misery is hitting the streets of Tunisia.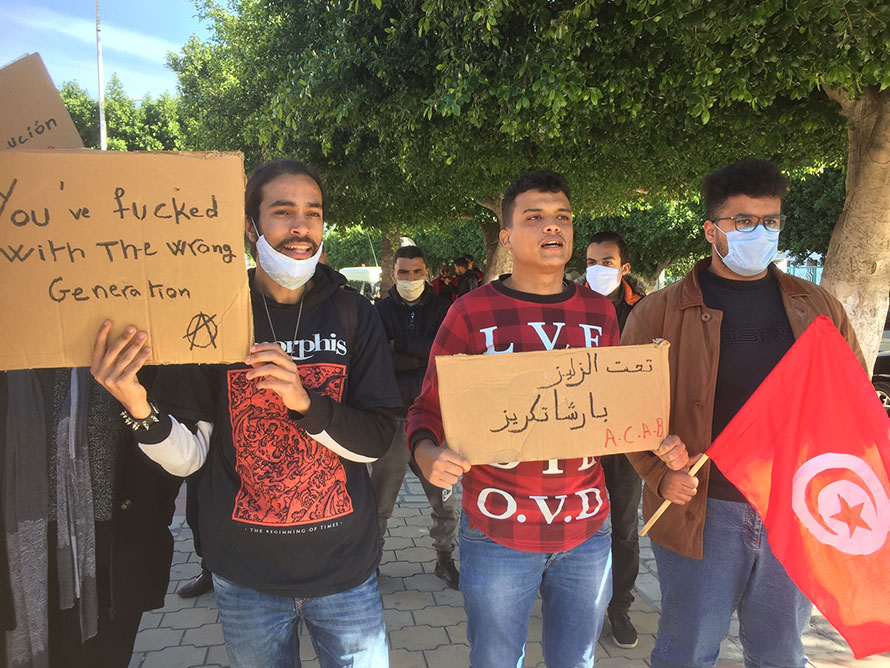 26/1/21:
"Tunisian riot police on Tuesday turned water cannon on protesters outside the heavily barricaded parliament as they tried to quell the largest rally yet since demonstrations began this month over inequality and police abuses. Hundreds of protesters marched from the Ettadhamen district of the capital where young people have clashed nightly with police for more than a week, and were joined by hundreds more near the parliament. Police blocked the march with barricades to prevent protesters approaching the parliament building where legislators were holding a tense debate on a controversial government reshuffle…The session comes a day after protesters clashed with police in the town of Sbeitla, in Tunisia's marginalised centre, after a young man hit by a tear gas canister during clashes last week died in hospital…mothers in the Tunisian capital have accused authorities of arbitrarily arresting their children in response to the unrest"
See also Tunisia  Resistant for a detailed description of the day
See also:
Clashes break out in Tunisia after protester dies of injuries
23/1/21:
"The government on Saturday extended a night-time curfew from 8 p.m. (1900 GMT) to 5 a.m. and banned gatherings until February 14. But protesters took to the streets in several parts of the country, including the capital Tunis and the marginalized interior region of Gafsa, to demand the release of hundreds of young people detained during several nights of unrest since January 14. "Neither police nor Islamists, the people want revolution," chanted demonstrators in a crowd of several hundred in Tunis, where one person was wounded in brief clashes amid a heavy police presence. Protests were also held in the coastal city of Sfax on Friday. Much of the unrest has been in working class neighborhoods, where anger is boiling over soaring unemployment and a political class accused of having failed to deliver good governance, a decade after the 2011 revolution that toppled long-time dictator Zine El Abidine Ben Ali."
22/1/21:
"In 2020, the economy contracted by 8 percent, crucial tourism revenues dropped by 65 percent, and thousands of companies were forced to shut down. Meanwhile, unemployment among youths continued to climb well past one-third, and the decade-old trend of declining poverty reversed. The combined effects of the virus and government containment measures also spurred more Tunisians to head for Europe, with nearly 13,000 migrants reaching Italy's shores in 2020 compared to 2,600 the previous year—a reminder that instability in North Africa carries far-reaching implications for America's European allies. Indeed, the United States has several strong interests in seeing Tunisia's democratic experiment succeed. In addition to the substantial symbolic cost of seeing an Arab democracy collapse, instability in Tunisia would invite spillover from the Libyan conflict next door, exacerbate the growing challenge of uncontrolled migration to Europe, and provide an opening for terrorists and other armed groups congregating elsewhere in Tunisia's neighborhood. In the near term, then, Washington should make clear that it stands ready to assist Tunisia as much as possible. Even low-cost measures would yield strong returns. For example, the new administration can leverage America's influence with the World Bank, IMF, and other international organizations to bolster emergency assistance, expedite Tunisia's long-sought Millennium Challenge Corporation compact, and invite the country to attend the global "Summit for Democracy" that President Biden has pledged to hold during his first year in office. More forcefully engaging with European allies on economic and migration challenges will also be key. In any case, Tunisia's eruption of social unrest suggests that the pandemic will no longer deter people from taking to the streets and voicing grievances over their lack of economic prospects or basic services. And as in 2011, the unrest could be a harbinger of things to come in other countries. Many of Tunisia's neighbors have suffered similar effects from the pandemic, and as they emerge from the COVID crisis, the economic damage of the past two years could be highly destabilizing if citizens remain unconvinced that their governments will bring them adequate relief. Ten years after the Arab Spring, Tunisia's predicament suggests that regional economic and political reform may lag indefinitely, so the Biden administration should prepare accordingly. However much the new president may want to focus on his stated priorities, the outburst of protests shows that local events can quickly push their way onto the foreign policy agenda."
21/1/21:
Following a brief video of an interview with a young woman in which she says "…either I emigrate clandestinely or I set fire to myself" the report continues:
"The young people you see here are neglected and have no food at home. They go home and have nothing to eat. People are unemployed, there are no wages, there is no money, where is the money? We are being made false promises. The politicians tell us they are going to make us work, they silence us with words ". Like this resident of the popular Ettadhamen district, near the capital Tunis, many Tunisians, many of them young, have taken to the streets to express their anger and weariness in recent days as the country faces an economic crisis. , health and politics. "It happens in a context of a long-standing economic crisis, with soaring unemployment rates. You have   Covid-19 which creates even more frustrations and deprivation … Mini-markets and cash machines have been attacked"
20/1/21:
"There are 1,000 people arrested" including many minors, said Bassem Trifi of the Tunisian League for Human Rights, who charged that many arrests had been "arbitrary," including of people inside their homes. "Some were arrested without having taken part in the demonstrations," he told a joint press conference of a dozen groups, also including the journalists' union and young lawyers' association. Some activists had been detained for voicing support for the protests on Facebook and other sites, and at least one of them now faces six years prison if convicted, the groups said….They warned that "violent security practices would only… aggravate the crisis of the rejection of the state".
"Tunisia's Ennahda Movement [mildly Islamic "opposition" party] on Tuesday called on the country's premier to launch investigations into the riots and alleged vandalism on public and private property across the country. In a statement, the party expressed its strong disapproval of hate speech and incitement by unnamed political parties which it described as "speeches outside of national contexts." Ennahda called on the Prime Minister Hichem Mechichi to "tell the people the truth about last night's protests, carry out the necessary investigations, protect public and private property and apply the law." It also strongly condemned "the attacks on private and public property, the looting and sabotage of administrative and commercial institutions," calling on protesters not to deviate from their demands and to refrain from sabotaging and harming the country, according to the statement."
19/1/21:
"The whole system must go … We will return to the streets and we will regain our rights and our dignity that a corrupt elite seized after the revolution," said Maher Abid, an unemployed protester. Shortly before last week's 10th anniversary of the revolution, Prime Minister Hichem Mechichi's government ordered a four-day lockdown and a tighter night-time curfew against the coronavirus pandemic, as well as a ban on protests. However, in cities across the North African country youths have thrown stones and petrol bombs, burnt tyres and looted shops while police have deployed tear gas and batons, arresting hundreds. In a televised speech on Tuesday, Mechichi said he understood popular anger over the economic situation and the frustration of young people, but that violence was not acceptable. "Your voice is heard and your anger is legitimate… Do not allow saboteurs among you," he said, addressing protesters…Protesters … chanted "the people want the fall of the regime", as well as demands for jobs. Tunisia was suffering economically even before the COVID-19 crisis, with high unemployment and declining state services. Earlier, the powerful labour union and other rights groups voiced support for peaceful protests against "policies of marginalisation, impoverishment and starvation", accusing the state of squandering the revolution's hopes."
More here. "In 2020 alone, the Tunisian Forum for Economic and Social Rights (FTDES) recorded 6,500 protests, all of which were motivated by economic, social and environmental demands." And here"Earlier‮ ‬in the day, protesters rallied in Tunis, reviving the chant that rang a decade ago in a revolution that ushered in democracy: "The people want the fall of the regime."

18/1/21:
"Street clashes between riot police and youths rocked Tunisia for the fourth night in mostly working class neighbourhoods, with calls on social media for more rallies on Tuesday. More than 600 people had been arrested by Monday over the disturbances in which teenagers and adolescents have hurled rocks and Molotov cocktails at police who have fired volleys of tear gas at them. The social unrest comes at a time of economic crisis, worsened by the impact of the Covid-19 pandemic on the tourism-reliant North African country, which has deepened poverty and driven up inflation and unemployment. In the latest unrest until the early hours of Tuesday, hundreds of youths in the capital battled police in several districts including the vast Ettadhamen city on the outskirts of Tunis. In Sfax, the second largest city, protesters blockaded roads with burning tyres, an AFP correspondent reported. "
17/1/21:
"Arab media broadcast amateur video of crowds of young men setting fires and looting banks and private businesses in a second day of violence in a number of Tunisian cities. "
More here (videos and reports mostly in French)
Sample quotes: "Protesters did not formulate clear demands during protests, which authorities described as riots…In the capital Tunis, a dilapidated neighborhood was the scene of clashes between mainly teenage protesters and the police, who used water cannons and tear gas to disperse the crowd after having had stones thrown at them. According to several witnesses, demonstrators looted shops in several cities. "…"the majority of "casseurs" arrested were between 12 and 15-years-old"…"There were reports that a police station in Souk Lahad belonging to the National Guard was set on fire. The information was denied by a security source "…"A decade on from a revolution against poverty, corruption and injustice, Tunisia has progressed towards democracy but its economic problems have worsened, with the country on the verge of bankruptcy and public services in a dire situation. Gross domestic product (GDP) shrank by 9 percent last year, consumer prices have spiralled upwards and one-third of young people are unemployed."
See also this
16/1/21:
"During the clashes, the youths attempted to ransack the Ettadhamen post office, before being dispersed. As for the ATM  at this office, it was destroyed and looted. The security forces, attacked with stones, responded with tear gas"
15/1/21:
More here in English.
13-14/1/21: