September 2013 

30/9/13:
South Africa: cops fire rubber bullets during violent service-delivery protest
USA, New Jersey: stylish  improvements made to police vehicles
Australia, Queensland: aborigines in anti-cop riot after arrest;  rocks thrown at the local police station  (more here)
Yemen: farmers and water drilling company in violent confrontation
Sudan: cops launch heavy tear gas attack on university (more here)
Haiti: barricades set on fire after political demonstration
Madagascar: students end strike against hunger after violent confrontation with army
Canada, Winnipeg: cannabalise legalis
29/9/13:
Turkey, Istanbul: leftist killed by drug gang "Gülsuyu, known to be one of the most politicized neighborhoods in Turkey, has been witnessing attacks by drug gangs on locals for months." Coincidence? Provocateurs? Why would a "drugs gang" move from outside to a very politicised (therefore organised) neighbourhood, unless they are simply attack-dogs of the YDD (New Deep State)? Expect the same in Gazi Mahallesi very soon."
Gaza: hundreds of stranded Palestinian students riot against border guards
Sudan: riots continue……"…revolution is the choice of people" but the state tries to bribe them
Romania: Rosia Montana gold diggers' plans not withdrawn as previously promised… (see this)…
"Gold…will make black, white;   foul, fair;  wrong, right;  base, noble; old, young; coward, valiant"                                                     
(Shakespeare,Timon of Athens).
27/9/13:
Sudan: protests against fuel hikes etc. continue – at least 50 deaths
South Africa: NUM scabs (surprise surprise) on AMCU miners strike against redundancies … rand faces losses….reports of "intimidation" and NUM members being stopped from going to work
Nigeria: riot cop shoots 60 yr old woman in protest against demolition of market
26/9/13:
India, Kerala: protest against road conditions takes interesting form"The Road Vikasana Janakeeya Munnani on Thursday staged a novel protest against the poor condition of the Badiadukka-Mullaria road by turning it into a playground of sorts and cooking delicacies….Volunteers of the Munnani blocked vehicular traffic on the road by placing huge logs and stones"…Walajah – road blocked in ptrotest against lack of water….. Interesting (despite its obvious liberalism) take on the recent ethnic riots in Muzaffarnaga – "People of diverse faiths who live together do not spontaneously turn against each other. There are three requisites for mass communal violence to occur. The first is the deliberate manufacture of hatred. The second is the manufacture of a 'riot'. The third is a complicit State: no riot can continue beyond a few hours unless the state actively wishes that it does so….I visited Muzaffarnagar as part of a Centre for Policy Analysis fact-finding team…We were deeply dismayed to find striking evidence of each of these elements combining to violently divide communities that have lived and worked together peacefully through generations….Communal organisations have perfected the art of manufacturing hatred against the 'other' community by cynically deploying rumour, innuendo and falsehood. The issue chosen to demonise the 'other' varies based on what would resonate and enrage most. In Partition, pork was thrown into mosques and beef into temples; later riots are spurred by rumours of cow slaughter, support to terror, and violence perpetrated by the 'other' community (the falsehood of the slaughter of Hindu students in hostels by Muslims led to the massacre of more than a thousand people in Bhagalpur)….In Muzaffarnagar, in the patriarchal Jat community, the issue chosen to foment hatred was women's 'honour'. The claim was that 'love jihad' was being waged, by which Muslim boys were equipped with smart clothes, deodorants and sweet talk to entice Jat girls into 'love' traps…."
Turkey, Istanbul: commuters block roads for 3 hours in protest at insufficient number of buses
25/9/13:
Sudan: 3rd day of fuel subsidy riots – cars, petrol stations, university building torched, cops stoned – "Internet access was cut off all over Sudan after activists began sharing images of the unrest on social media."…at least 29 dead…police station set alight
Greece, Athens: anti-fascist stone-throwers tear gassed …shops and bank attacked, molotovs thrown at cops Interesting look at some aspects of the struggle in Greece by the TPTG here (July this year).
Bangladesh: garment workers violent strike enters its 5th day….over 100 factories on strike
Iraq, Sadr City: riot attacks government institutions after bombing "A security source stated to Iraqi News (IraqiNews.com) "Some protesters attacked some governmental institutions including the Local Council of Mudhafar square on the background of the bombing that took place in Sadr city and targeted a solace." "The protesters called to close the governemtal institutions in Sadr city," the source concluded.
UK, London: official tube  solidarity strike with firemen…Coventry arsonists in solidarity with firemen 
24/9/13:
Sudan: 2 killed as riots break out against lifting of fuel subsidies; shops looted, state building set on fire (more here)
USA, New York: angry demo against former CIA chief Petraeus
India, Hyderabad: a truly successful strike
Turkey, Antalya: high school students skirt the issue
23/9/13:
UK,Ashton-Under-Lyne: the despotism of speed cameras
21/9/13:
UK, Worcestershire: stand off with screws in Hewell prison, Redditch, has riot cops called
USA, Washington: Thou Shalt Be Condemned To Listen To Tedious Lectures
20/9/13:
India, Kashmir: demo against curfew (now almost 2 weeks old) imposed after cops kill 3 students turns into riot; media attacked; cops shoot…
19/9/13: 
Greece: workers' demo turns into small riot
18/9/13:
Ireland, Dublin: key  bridge blockaded after anti-austerity demonstrators are pepper-sprayed outside Parliament
Greece, Athens: stones, molotovs thrown at cop shop on anti-fascist demo…..clashes erupt across the country
17/9/13:
Thailand: rubber planters occupy and blockade main highways  
15/9/13:
Nigeria: cop lynched, and then a riot with cops being beaten after cop kills youth for traffic violation
Bahrain: riot in west of Manama
14/9/13:
USA, Florida: riot at juvenile detention centre
13/9/13:
Mexico, Mexico City: riot pigs take back square from teachers and others "Friday's massive raid by thousands of police against the teachers was a dramatic reassertion of state authority after weeks of near-constant disruption in the centre of one of the world's largest cities. The teachers have marched through the capital at least 15 times over the last two months….. The confrontation erupted after the teachers armed themselves with metal pipes and blocked off the Zocalo with steel grates and plastic traffic dividers, threatening to scuttle the Independence Day gathering. The teachers, many veterans of similar battles with police in poor southern states, vowed to not move from the square where they have camped out since last month. Some fixed knives and nails to wooden planks and declared themselves ready to fight. Others set up sewage-filled portable toilets in the path of police vehicles. Shortly after 4 pm, the police swarmed in, firing tear gas canisters and spraying water from armored trucks. Protesters hurled sticks and chunks of pavement broken from the streets around world-famous tourist attractions including the Metropolitan Cathedral, the Templo Mayor and the National Palace. But within a half hour, police had cleared the Zocalo and much of the surrounding historic center of virtually all demonstrators. Union organisers said they would reassemble away from the main plaza at the nearby Monument to the Revolution. Small knots of teachers, self-described local anarchists and other supporters hurled bottles and rocks at police on some of the main downtown avenues. "We're going to reorganise and go back," said a masked teacher who gave only his first name, Juan Carlos, as he waited in an alley with about 10 other demonstrators. "It's not going to stay like this. The government isn't going to repress us."  – from here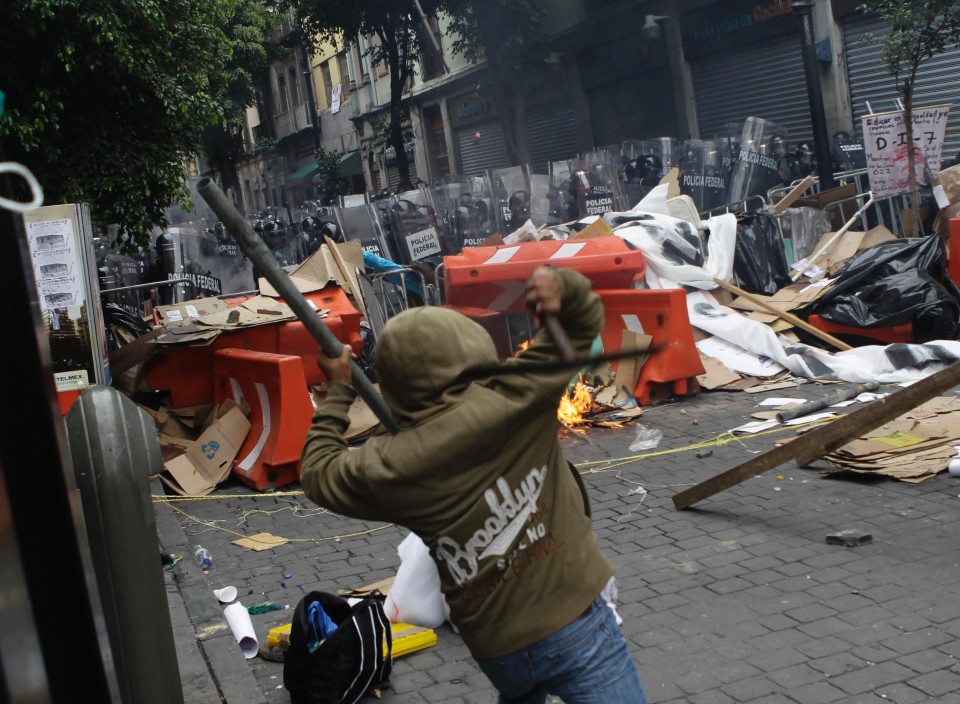 Mexico city
Manuel Mondragon y Kalb, head of the federal police…. warned that aggressive protesters would be detained. The police were not carrying firearms or truncheons, he said.
 India: power workers strike seriously disrupts power supply
Turkey: 3rd night of anger (more here)
12/9/13:
India, West Bengal: angry parents ransack school –  classrooms, offices, the auditorium,  furniture, computers, telephones and window panes after death of pupil …Telangana: national highway blocked …Kashmir: violent protests against cop killings continue
USA, Washington: 100 women immigration protesters arrested after blocking road intersection outside House of Representatives
Turkey: Ankara & Istanbul – clashes with cops over killing of 22-year old in Hatay …
 UK, Shropshire: dairy farmers blockade milk processing factory
Chile: video of riots  Also, see "chile: the Allende years" for a reflection on what happened in the early '70s leading up to the coup.

11/9/13:
Greece, Thessaloniki: sports fans trash office of Golden Dawn …..Athens: state losing war on graffiti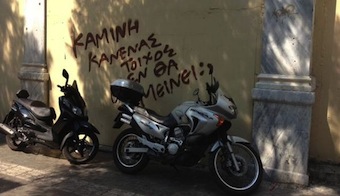 'Kaminis, no wall will be left untouched,'
In Athens a strike (against massive public sector worker redundancies) of employees at the University (the University of Athens) and Polytechnic (National Technical College)  has been going on since Friday the 6th, with an occupation of the Physics and Pharmaceutical departments of the University and the whole of the Polytechnic going since Tuesday 10th, with entrances being blockaded, though often not totally successfully. These occupations, however, are minority occupations – run by the more politicised (leftist/anarchist etc.) sections. The majority are mostly passive.
Bolivia, La Paz: residents block roads in protest against national census
Mexico, Mexico City: clashes with cops over education reform (morehere) Chile: violent clashes continue (more here) (summary of cop injuries, stores attacked, etc. here)
South Africa, Randfontein: violent service  delivery protests…simillar violent protest in Zuurbekom  – 90 arrests (areas 28km apart, both in Gauteng)…."In mid-May, it was reported that Gauteng, South Africa's smallest but wealthiest province which includes Johannesburg, had seen 650 protests over the previous five weeks, of which 40 had been violent." – see here…3 diggers and an excavator torched during mineworkers' strike 
Thailand: violent rubber planters protests end with their victory – the government doubling of  subsidies
India, South Kashmir: strike and riot against cop killings of 4 civilians –"Soon after the death of the young man, protesters went on rampage and set ablaze the official residence of a senior officer in the town, a PTI report crediting sources said. A curfew had been imposed in the south Kashmir town on Sunday following widespread clashes between security forces and agitated residents after the killings. It was lifted this morning. However, a spontaneous strike was observed in the town with all shops and business establishments closed and transport off the roads."…….Delhi: students and cops clash in struggle for hostel accomodation 
….as for inter-communal strife – it's not all totally depressing.
10/9/13:
UK, Cumbria: prison rooftop protest
Turkey, Antakya: violent protests over death of demonstrator continue (video here and another  video from Istanbul)
South Africa: "initimidation" improves official petrol station strike (more here)
India, Bangalore: short wildcat bus drivers strike
Pakistan: indefinite customs agents strike joined by container boat   strike apparently costs 10bn rupees (about 72,044,000 euros) so far –
"The protest is being supported by bonded carrier associations causing a shutdown in supplies for western forces based in Afghanistan….Customs agents' leaders claimed that goods carriers had also joined the protest and supplies of imported goods up country and similarly transportation of exports would soon be suspended…."All Pakistan Goods Carrier Association, United Goods Carriers Association and KPT Goods Carriers Association have joined the protest of customs agents," said Saifullah Khan, president, Karachi Customs Agents Association (KCAA)…KCAA, APCAA and All Pakistan Customs Bonded Carrier Association are jointly protesting against the FBR against dragging the clearing agent into the ISAF missing containers scam."
Colombia: farmers end strike, withdraw blockades; teachers demonstrate
9/9/13:
Nigeria: petrol stations strike in response to State Security Commander  violence (commander almost lynched)
Turkey, Istanbul: demonstrators and cops clash over 14-year-old in coma "Police used tear gas and water cannons to attempt to disperse a crowd marching on Istanbul's main court buildings shouting "We want justice for Berkin Elvan". The demonstrators, mostly masked members of far-left groups, threw rocks and Molotov cocktails and erected barricades."... man killed in anti-war protests in border town – Antakya 
 Romania: gold mine project withdrawn after nightly nationwide protests (see also "Leave it in the ground: the gold of Roșia Montană") (and also this)
USA, Denver, Colorado: cops don't get stoned but protesters do
8/9/13:
Chile, Santiago: clashes with cops on 40th anniversary of coup –"dozens of masked protesters have hurled stones, burned barricades and clashed with police" (more here)  (the absurd illusions in Allende on this demo ignore simple facts like, for instance, the fact  that on 23 August 1973, Pinochet was promoted to Commander-in-Chief of the Chilean Army byAllende himself…see "Strange defeat")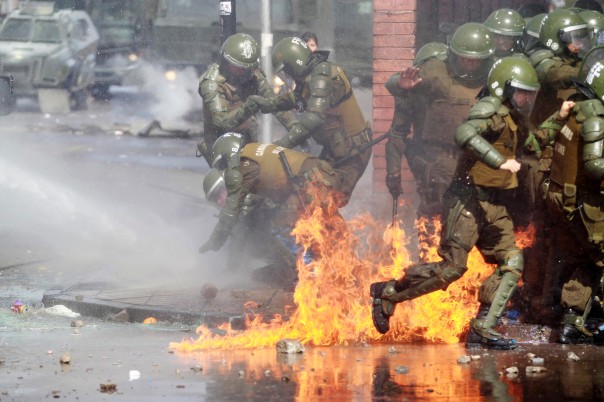 Santiago…..pants on fire
7/9/13:
Brazil: clashes between anti-govt demonstrators and cops in several cities (this includes clashes near Mane Guarrincha stadium before the international friendly soccer match between Brazil and Australia in Brasilia and confrontations near Guanabara Palace in Rio; demonstrations   also held in Sao Paulo, Belo Horizonte, Fortaleza, and several other cities)
Romania: anti-gold mining protests throughout country…mining project will "lead to the destruction of four mountains and require hundreds of families to be relocated". Read more: http://www.foxnews.com/world/2013/09/08/thousands-protest-romania-gold-mine-plans/?#ixzz2eNQLCVj7throughout country "
India, Hyderabad: students pelt cops and journalists with stones
6/9/13:
Turkey, Ankara: violent clashes over building of new road across university green space
Thailand: rubber planters in violent clash with cops…attack on professional liars of the media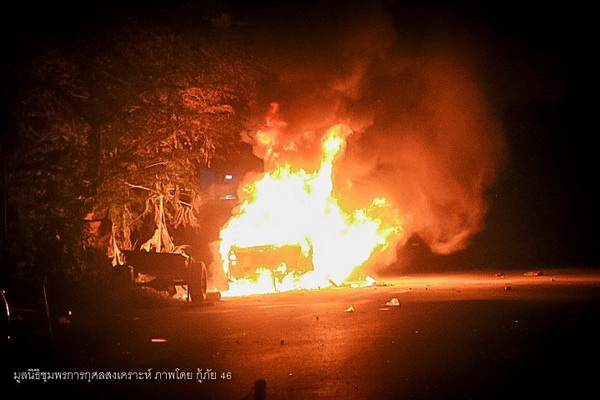 Journalists' cars burn
USA: Walmart protests – 100 arrests in 11 cities ( walmart sept 2013 )
5/9/13: Zimbabwe:  villagers confront ethanol company security and police in collaboration with Mugabe's governing party over last 5 days
Colombia: roads blocked in at least 3 regions as movement continues
India, Uttar Pradesh: violent confrontation between cops and villagers after protester against illegal sand mining killed
Mexico: striking teachers block airport's main access road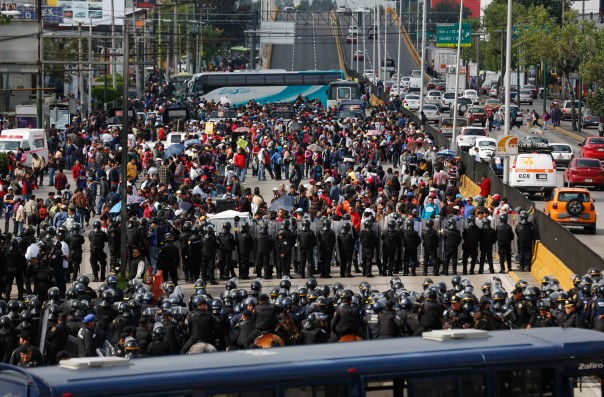 Mexico City teachers demo
Chile: students clash with cops over education reform plans
Cambodia: garment workers push through cop barriers and win protest against lay-offs; garment worker strikes occur 2 or 3 times a week in first 6 months of the year
UK, Sussex: anti-fracking tripod protest blocks road for 5 hours…….Somerset: farmers blockade Morrisons …. Immigrant group saves refugees from detention
USA, L.A.:  anti-Walmart protesters block main intersection (more here)…..     Jesus gets a makeover
4/9/13:
Algeria: clashes between protesters and cops as demo against water shortages surround town hall
Bahrain: clashes with cops after activist killed
Pakistan: nationwide protests against electricity loadshedding, price hikes and for 100% increase in  "emoluments" (i.e. wages/fees) 
Greece: mayor injured in riots
India, Hyderabad: student movement gathers pace
Mexico, Mexico City: riot cops protect Ministry of Interior as teachers continue to demonstrate
Thailand: rubber planters blockade transport hubs
South Africa, Western Cape: protesters close road with burning tyres
Chile, Valparaiso: tyre-burning to mark 40th anniversary of Pinochet's coup (more here)  See also "Strange Defeat" – a text written shortly after the predictable coup of 1973
Bulgaria, Sofia: protesters push back police barriers round National Assembly…….clashes continue(obviously some of this involves opposition parties, but it seems like there's an independent element as well)
3/9/13:
Colombia: armed group burn army vehicle a day after blockading farmers release soldiers taken captive
Mexico, Mexico City: teachers block main access to Senate
Romania, Bucharest: sit-down protest against gold mine vampirising of Translyvania blocks main roads
Thailand: rubber planters' blockades spread
2/9/13:
Trinidad, Port of Spain: Beetham residents chuck rocks at army vehicle in response to police murder of 25 year old (cop version of events here)
1/9/13:
UK, Lancashire: 11 to 15 year-olds educate the educators
South Africa, Soweto: residents block roads against power cuts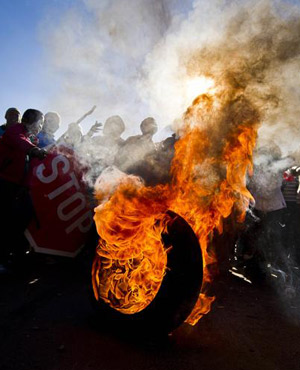 Soweto blockade
USA: troops posting protests against Syrian intervention on internet (possibly)
Trinidad, Port of Spain:  road blockades  with debris after cops kill youth
Romania: demos against mining  and fracking project throughout country; roads blocked by sit-down in Bucharest (more here)
UK, Sussex: Balcombe anti-fracking protests block roads Mexico: students join teachers in riot against state-intensified misery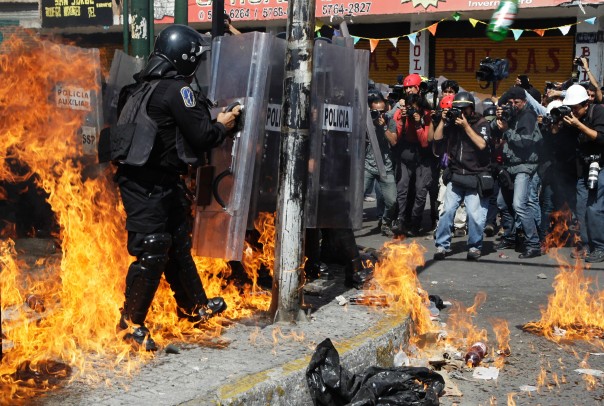 Mexico City
Thailand: rubber planter protester killed in unclear circumstances