"January 1st – when new year's resolutions and solutions are supposedly solved  and re-solved with a heavy hangover"
– N. Ventid
"January looks forward to the new year and back to the old year. He sees past and future"
 – M.L. Stedman

December 2020 here…February 2021 here
31/1/21:
"…on January 28, Moïse insisted that he must remain in power for another year. He claimed that he assumed power on February 7, 2017 to serve a five-year term, so he will retain the leadership of the republic until 2022. However, Moïse's term ends in February 2021 according to the article 134-2 of the 1987 Constitution… Moïse along with other current and former ministers and government officials have been accused of embezzlement of around USD 3.8 billion from Venezuela's Petrocaribe funds. Moïse's austerity measures, imposed in accordance with the International Monetary Fund policies, have pushed the majority of the country's population into poverty."
Very irritating and  misleading language used consistently on this site – everyone who protests or riots is automatically a "revolutionary" or "militant". Plus nothing at all critical to add to their reports. In this case, no critique of  the political pretext which seems to dominate – as if a change of the personnel in power has ever significantly changed anything for the better.  Sure, within pretexts such as these, independent opposition is expressed, but ignoring illusions in a change of illusions in effect supports such illusions: silence is complicity.
30/1 21:
"Hundreds of young people took to the streets of the Tunisian capital on Saturday to protest against police repression and demand the release of demonstrators detained in recent days. The protesters marched from Tunis's central Human Rights Square to Habib Bourguiba Avenue, trying to make their way to the interior ministry, an AFP reporter said, but security forces blocked their path. Denouncing what they say is police repression and government corruption, some demonstrators held signs that read, "Police everywhere, justice nowhere". Some threw plastic water bottles at security forces, while others chanted slogans including "Down with police rule" and "Release the nation's sons (from detention)". Security forces have carried out mass arrests, including of minors, after more than a week of night-time riots and daytime protests against police repression, poverty, corruption and unemployment. "The security forces are repressing us and want the return of a police state," protester Majdi Sliti, 33, told AFP on Saturday. "We will not accept this."
"about sixty activists blocked the checkouts of a supermarket and obtained the agreement of the management to leave with the contents of all the shopping carts filled with essential   food and hygiene products. ..Throughout the negotiations, the cash registers were blocked, leaflets distributed to employees and customers alike and slogans sung. Two banners carried our messages: "Faced with precariousness: Solidarity! " and" In Brazil, Carrefour assassinates " because we did not want to forget the murder of Joao Batista Rodrigues Freitas, a black man beaten to death last November by Carrefour security guards in Porto Alegre. This homicide had led to numerous demonstrations and actions against the Carrefour group in Brazil. During the action, several speeches took place over the megaphone, to explain the meaning of this action. Self-reductions have been around for a long time and are practiced in many countries. Also, we wanted to recall the gigantic profits made by mass distribution on the backs of its employees and to the detriment of their health. After an hour and a half of blocking and negotiating, we left with management approval and the contents of all filled shopping carts. Regarding the talks, they mainly focused on the nature and quality of the products. According to Carrefour management, the precarious must eat mediocre goods or unsold goods. We refused their crumbs to collect the good stuff, the things everyone should have access to. In the end, the police unfortunately did two ID checks before we could all get back on the metro. We will redistribute the goods donated free of charge to the collectives in which we are active, for the audiences most affected by the crisis (exiled refugees, precarious, single mothers, suffering families …). We no longer want to wait for charity to fight against insecurity. The economic crisis linked to the health crisis is only in its infancy and static gatherings will not be enough! Blockages of the economy, strikes, requisitions for housing, self-reductions in supermarkets, let's step up solidarity actions! "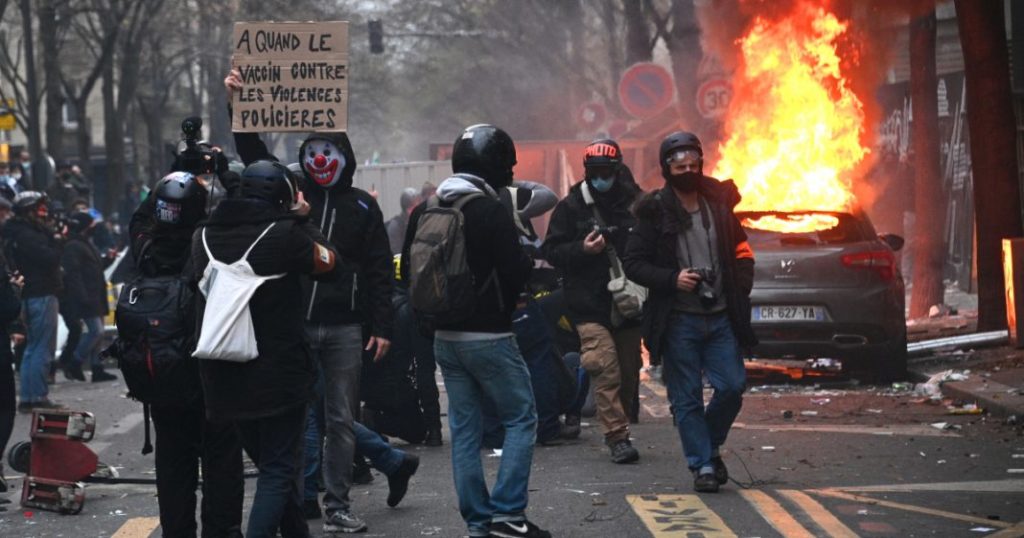 "And when will there be a vaccine against police violence"
28/1/21:
Libertarian anti-authoritarian solidarity with the government and the police for stopping these Trumpite individualists from contaminating themselves and each other!</sarcasm>.
See also "Lebanon – October 2019 – September 2020"
27/1/21:
See also "Lebanon – October 2019 – September 2020"
"Trouble started after the TSR [Tripura State Rifles], led by senior police officials, raided the protest venue at 5.30 am and detained a few hundred protesters. .. .within three hours of the raid, several hundred terminated teachers arrived at the City Centre and the nearby areas, and started raising slogans against the police action. They damaged three police vehicles, including that of an Additional Superintendent of Police, and clashed with the personnel. At around 10.30 am, more protesters reached the venue and started moving towards the official residence of Chief Minister Biplab Kumar Deb…Despite security deployment, the protesters managed to break two barricades and were stopped 100 metres from the residence of the Chief Minister. Despite repeated appeals from the district administration to disperse from the area, they sat on the road and raised slogans . The police used water cannons, lobbed tear gas shells and charged batons to break up the crowd. The protesters pelted stones and scattered, but once again assembled outside the City Centre and blocked the road. Security personnel and protesters fought pitched battles at several points throughout the day, creating panic in the capital city and disturbing normal life. West Tripura District Magistrate Dr. Shailesh Kumar Yadav in a press briefing confirmed that 87 people, including 23 police officers, were injured"
26/1/21:
"Police hit protesters with batons and fired teargas to try to disperse the crowds after hundreds of thousands of farmers, many on tractors or horses, marched on the capital on Tuesday. One protester was confirmed to have died in the clashes, and dozens were injured. Mobile internet services were suspended in some parts of Delhi, and some metro stations closed…For more than two months, tens of thousands of farmers have been stationed in a huge protest camp around the peripheries of Delhi to demonstrate their fierce opposition to a series of new farm laws, which they say will destroy their livelihoods, offer no protection for crop prices and leave them at greater risk of losing their land. ..Agriculture employs more than 40% of India's population but it is a sector plagued by poverty and inefficiency, with farmers often selling their crops for one rupee. Rates of farmer suicides in India are among the highest in the world. Farmers say their plight has been ignored for decades and that the changes, aiming at bringing private investment into agriculture, will only put farmers at the mercy of large corporations." Video and another report here
See entry for 29/12/20 for some more background to all this. Also entries for10/1/21 and  3/1/21 below.
25/1/21:
"Riot police clashed with groups of protesters in Amsterdam as well as the port city of Rotterdam, where people smashed shop windows and ransacked their supplies.  The unrest also hit Amersfoort in the east, the small southern city of Geleen near Maastricht, The Hague and Den Bosch, police and news reports said. Geleen police said in an earlier tweet that they were dealing with "rioting youths who are throwing fireworks". In Rotterdam, police used a water cannon after clashing with the protesters…Images on social media showed rioters looting a shop in Den Bosch and a press photographer being hit in the head in Haarlem, after an angry mob chased him off and threw a brick at him."
Dutch anarchist discussion and timeline of the riots here.
T writes:
I've just watched several video reports of the riots in the Netherlands, in most of them they emphasise how "supporters of Pegida", anti-Islam and other extreme right-wing groups "participated" in the demos and riots – clearly to create a very specific image among the public regarding resistance to the new biomedical totalitarianism – and in almost all of the riot scenes you clearly see dark-skinned people and other minorities, sometimes even in the same frame of the video where they say or write how this is a "right-wing" riot…
Not to deny that it's very possible that right-wing or racist people participated, some probably did, but it's pretty clearly not organized racist or right-wing riots at all. And to emphasise their participation as the most essential thing, right at the beginning of some of these reports, is a clear distraction and manipulation.
SF: Moreover, looting is not usually considered a right-wing tradition unless it's of immigrant-owned shops.
For Leftists the State has a positive value and the "defense" of the workers is equated with the defense of the all-powerful state, the provider of public services and of the general interest. Thus, in the eyes of France's Stalinist rag l'Humanité, the State in this crisis is acting as a protector and taking measures to protect the population in general and workers in particular. So there is no question for this newspaper to admit the legitimacy or even the possibility of a spontaneous uprising against confinement or the curfew, given that the state is obviously protecting our health. The very idea that such measures would hamper the margin of freedom left to us is considered by it to be an extreme right-wing fantasy. This is why the newspaper  approves of the "liberal Prime Minister, Mark Rutte" when he " denounces the idea of ​​a deprivation of liberty, agitated by the extreme right" and called on the army to put down these riots, whilst pretending that only the extreme right complained about restrictions on freedoms. Yet the far-right racist leader Geert Wilders, whilst being against "the restriction of citizens' freedoms", is also  against immigration,  blaming immigrants for  the riots. Wilders reduced the riots to immigrant "scum" (a term also used by the "liberal" finance minister, echoing Sarkozy's attack on those living in the  banlieux back in 2005, which helped spark off the November riots of that year). With anti-fascists like this, who needs fascists? [taken in part from this]

24/1/21: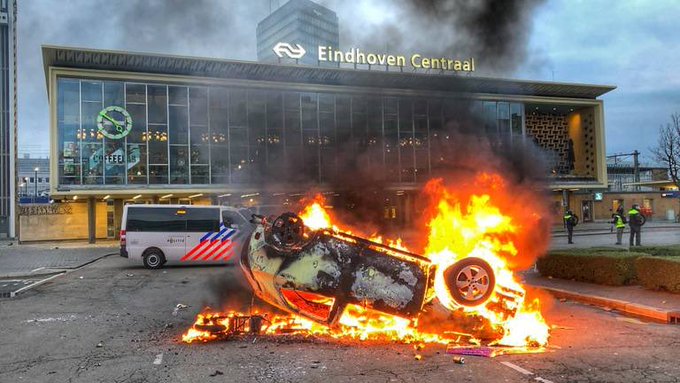 "A number of vehicles and businesses were burned and a Covid-19 testing facility in the city of Urk had been destroyed. Protests against a curfew to curb the spread of Covid-19 in the Netherlands have degenerated into clashes with police and looting in cities across the country, authorities and reports said. Police used water cannon and dogs in Amsterdam, public television NOS reported, after hundreds gathered to protest the curfew which is set to last until February 10 and is the country's first since World War II. In the southern city of Eindhoven, police fired tear gas to disperse a crowd of several hundred, regional television Omroep Brabant reported. At least 30 people were arrested there, according to police. A number of vehicles were burned and businesses at Eindhoven's central train station were also looted" More here: "Rioters attacked police and set cars and bikes on …In the southern city of Eindhoven, protesters threw fireworks, looted supermarkets and smashed shop windows…In Eindhoven, golf balls and fireworks were hurled at police in full riot gear, who eventually used tear gas to clear the crowds. Burning bikes were built into barricades. In the eastern city of Enschede, rioters threw rocks at the windows of a hospital. A Covid-19 testing centre was also set alight on Saturday evening in the northern village of Urk."  Now obviously attacking  a hospital or a test centre is not something to be recommended – it's indicative of the general nihilist absence of class consciousness that infects the world, expressive of the victory of dominant capitalist meaninglessness. But equally obviously dominant society  will  only focus on these aspects of the riots, when they fear looting and attacks on the cops far more (after all, it's their policies that have led to the run-down of hospitals anyway, not that one should defend the whole of mainstream medicine that hospitals function with by any means).
Report of what happened previous day
"At least two people were injured when a police officer responding to a report of a street race plowed his car through a crowd of pedestrians that had gathered around him and were pounding on the car's windows in downtown Tacoma on Saturday night…The incident happened just before 7 p.m. as about 100 people were blocking an intersection and watching several cars spinning in circles, police told The News Tribune of Tacoma…Video posted on social media shows the police car hitting several people and running over at least one person…"
23/1/21:
"Hundreds of young people  expressed their anger by rioting that lasted all afternoon. At the scene, youth groups argued that the green space in their neighborhood was chosen to host a real estate site for the construction of housing. … around noon, young people came out of nowhere. …they came together to barricade the roads that converge on the four sides of the estate. Armed with old tires, they   set them on fire to vent their anger. The youths in question refused the fact that the  green spaces, the only spaces that remain for the estate, are to be invaded by concrete. Young people also fear that local authorities let this happen  as happened in previous years. …In fact, the fear of suppressing their green spaces on the estates is only the straw that broke the camel's back. Anger has been  brewing among the citizens of this large city…in recent years, citizens watched helplessly as their estate…took on the appearance of a vast illegal open dumping ground. …Just one week ago, parents of students from several schools stirred themselves up to call the relevant departments to deal with primary schools that are in disrepair. At primary school Ameur Said, students remain in the cold and without tables in some classes…the situation of schools, dumping grounds and the taking over of green spaces are just examples of total lack of management in this city since the departure of the mayor."
"Clashes broke out as police wielding truncheons ran protesters off main squares in Moscow and several other cities, and columns of demonstrators broke through police lines in both Moscow and St Petersburg, leading to pitched battles in the streets. The police at times appeared to be losing control. In Moscow, video showed protesters trading blows with riot officers near the main site of the protest, as young demonstrators nearby kicked around a police riot helmet like a football. In St Petersburg, protesters shut down the city's main street, Nevsky Prospekt, and Navalny's team eventually had to issue a call for them to go home."
Obviously support for yet another potential future conman is not indicative of autonomous opposition, and the fact that the call by Navalny's team to go home seems to have been followed is also indicative of this absent independence, but maybe for some, this is  a pretext for trying to oppose misery more generally and could maybe lead to something better. Navalny is a nationalist through and through – in 2008 he joined forces with the  Movement Against Illegal Immigration to form a new coalition, so it's possible that the aforementioned optimism is unfounded. However, we live in an epoch where ideology permeates social movements like never before, and somehow those who strive to be anti-ideological internationalists are going to have to try to influence events rather than just complain that things ain't what they used to be.[written January 24th]
The link to the Crimethinc report (seen only on January 25th) below confirms much of what I've said here:
Interesting  report from Russian anarchists.
"Today, January 23, a spark has been lit in the Russian Federation. From Moscow to Ulan-Ude, tens of thousands have poured into the streets for protests against Putin, corruption, and repression. At first glance, these demonstrations may seem like the same opposition protests that kick off every time a prominent opposition candidate is acutely repressed. But to us on the ground, we feel that something has shifted. The usual passive attitude that is typical for these kinds of protests has been abandoned. People are fighting back against the police. Likewise, these rallies aren't just in the typical places, nor are they comprised of just the same politically active upper-class people. From the city of Chita, we hear stories that the cops have been routed. In Perm, a crowd applauds after anarchists speak about rebellion, self-organized activity, and solidarity against repression. In Irkutsk, people are receiving anarchists and their words warmly as well. In one place, people block police cars, while in another, they de-arrest a protester. On one street, a man knocks out a cop, while on another, people chant "Freedom! Freedom!" as a woman wrestles a baton from a cop's hand…Many people here seem to have seen Belarus as an example where repression and police violence didn't force the rebels to back down. Chants and messages of solidarity with the struggle there can be found in many of the gatherings today. This fills us with hope—not in the sense that two nationalisms are greeting each other, but because these struggles are breaching their national borders."
If I can't dance I don't want to be in your revolution
22/1/21:
The protest involved 100s of drivers and they'd insisted on the mayor discussing things outside  with everybody but when the mayor said he'd only have a meeting inside and only 10 could enter, the protest ascended into rioting.  Significant because it seems they didn't want any representation – he had to speak to everybody and publicly.
21/1/21:
"…on Wednesday, as soon as the shift began at 7:00 a.m., about 60 metalworkers at one of the two Concurrent maquiladora factories in Matamoros decided to walk out in opposition to a 7 percent wage increase offer by management, demanding instead a 15 percent increase and bonus of 10,157 pesos (US$ 514). The strikers bravely refused to work for several hours and held heated debates outside the plant with management and delegates of the STIME union, which controls the contract at the factory and belongs to the corrupt Confederation of Mexican Workers (CTM). The wildcat strike was an attempt by the workers—lacking confidence in any of the unions, "independent" or otherwise—to take the struggle against the company into their own hands. However, the STIME representatives were able to bring the work stoppage to an end in the immediate term, agreeing to a 10 percent increase and the 10,157 pesos bonus behind closed doors with management. At about 10:00 a.m., the union delegates announced their deal and ordered workers to end the strike. A striker explained in a live feed that the delegates opposed demanding 15 percent "because we earn more than the minimum wage, and well everyone walked back inside.""
20/1/21:
"The whole system must go … We will return to the streets and we will regain our rights and our dignity that a corrupt elite seized after the revolution," said Maher Abid, an unemployed protester. Shortly before last week's 10th anniversary of the revolution, Prime Minister Hichem Mechichi's government ordered a four-day lockdown and a tighter night-time curfew against the coronavirus pandemic, as well as a ban on protests. However, in cities across the North African country youths have thrown stones and petrol bombs, burnt tyres and looted shops while police have deployed tear gas and batons, arresting hundreds. In a televised speech on Tuesday, Mechichi said he understood popular anger over the economic situation and the frustration of young people, but that violence was not acceptable. "Your voice is heard and your anger is legitimate… Do not allow saboteurs among you," he said, addressing protesters…Protesters … chanted "the people want the fall of the regime", as well as demands for jobs. Tunisia was suffering economically even before the COVID-19 crisis, with high unemployment and declining state services. Earlier, the powerful labour union and other rights groups voiced support for peaceful protests against "policies of marginalisation, impoverishment and starvation", accusing the state of squandering the revolution's hopes."
More here. "In 2020 alone, the Tunisian Forum for Economic and Social Rights (FTDES) recorded 6,500 protests, all of which were motivated by economic, social and environmental demands."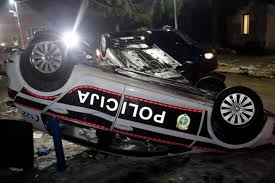 The world turned right side up
19/1/21:
"Street clashes between riot police and youths rocked Tunisia for the fourth night in mostly working class neighbourhoods, with calls on social media for more rallies on Tuesday. More than 600 people had been arrested by Monday over the disturbances in which teenagers and adolescents have hurled rocks and Molotov cocktails at police who have fired volleys of tear gas at them. The social unrest comes at a time of economic crisis, worsened by the impact of the Covid-19 pandemic on the tourism-reliant North African country, which has deepened poverty and driven up inflation and unemployment. In the latest unrest until the early hours of Tuesday, hundreds of youths in the capital battled police in several districts including the vast Ettadhamen city on the outskirts of Tunis. In Sfax, the second largest city, protesters blockaded roads with burning tyres, an AFP correspondent reported. "
18/1/21:
Admittedly this was an action of the base of the CGT and they did it within the perspective of defending the public sector. Whilst this  attitude is contained within the false nationalisation v privatisation debate, invariably throughout the world over the last 30 years or so some genuine resistance to the worsening of conditions and the intensification of divisions amongst the working class  has been expressed ideologically within choices that don't have an anti-capitalist perspective. And whilst the CGT often plays populist politics for opportunist reasons a minority of sections of the base  also express themselves independently (eg by helping squatters connect the  electricity). For some of these contradictions, see The CGT – sheepdogs in wolves' clothing.
17/1/21:
"Arab media broadcast amateur video of crowds of young men setting fires and looting banks and private businesses in a second day of violence in a number of Tunisian cities. "
More here (videos and reports mostly in French)
Sample quotes: "Protesters did not formulate clear demands during protests, which authorities described as riots…In the capital Tunis, a dilapidated neighborhood was the scene of clashes between mainly teenage protesters and the police, who used water cannons and tear gas to disperse the crowd after having had stones thrown at them. According to several witnesses, demonstrators looted shops in several cities. "…"the majority of "casseurs" arrested were between 12 and 15-years-old"…"There were reports that a police station in Souk Lahad belonging to the National Guard was set on fire. The information was denied by a security source "…"A decade on from a revolution against poverty, corruption and injustice, Tunisia has progressed towards democracy but its economic problems have worsened, with the country on the verge of bankruptcy and public services in a dire situation. Gross domestic product (GDP) shrank by 9 percent last year, consumer prices have spiralled upwards and one-third of young people are unemployed."
See also this
16/1/21:
In Montpellier, the main "event" was the loud techno truck for "teufeurs" – rave party-goers, who seem to be the most lively of the usual crowd; though often with little social sense they were generally speaking very friendly. People were dancing, smoking spliffs, drinking and chatting in small groups. The truck had stopped  on its way to be part of a (rather stupidly pre-announced on Facebook) party  at a very large squat before about 100 heavily armoured cops came along to prevent them going there. The cops started launching a particularly eye-stinging teargas that irritated people's eyes about 150 meters away from where the grenades landed, without even the wind to carry the gas further.  The concert never happened because the cops had surrounded the squat (which was in a very large  garage repair shop that had been already been squatted  for about 6 weeks) since 8am. Such are the way Covid rules are applied. All day they stopped and searched anybody but anybody who passed along the street outside the squat, regardless of whether they were part of the squat or its milieu or not. The squatters themselves were trapped inside, unable to leave. The cops stayed till about 4a.m., getting drunker and drunker as the night wore on, banging on the shutters and in the middle of the night chanting "Down with Darmanin! We want Castaner!". Castaner was the old Minister of the Interior, Darmanin is the new one, with old semi-fascist connections (he wrote an article for Action Française in 2010).  Unprecedented!
"During the clashes, the youths attempted to ransack the Ettadhamen post office, before being dispersed. As for the ATM  at this office, it was destroyed and looted. The security forces, attacked with stones, responded with tear gas"
14/1/21:
The guy was tazed twice, arrested,  released next morning without charge visibly bloodied and bruised, having been  bitten  and kicked by cops with several bones dislocated and died about 8 hours later. "South Wales Police have said the death of Mr Hassan was "sudden and unexplained".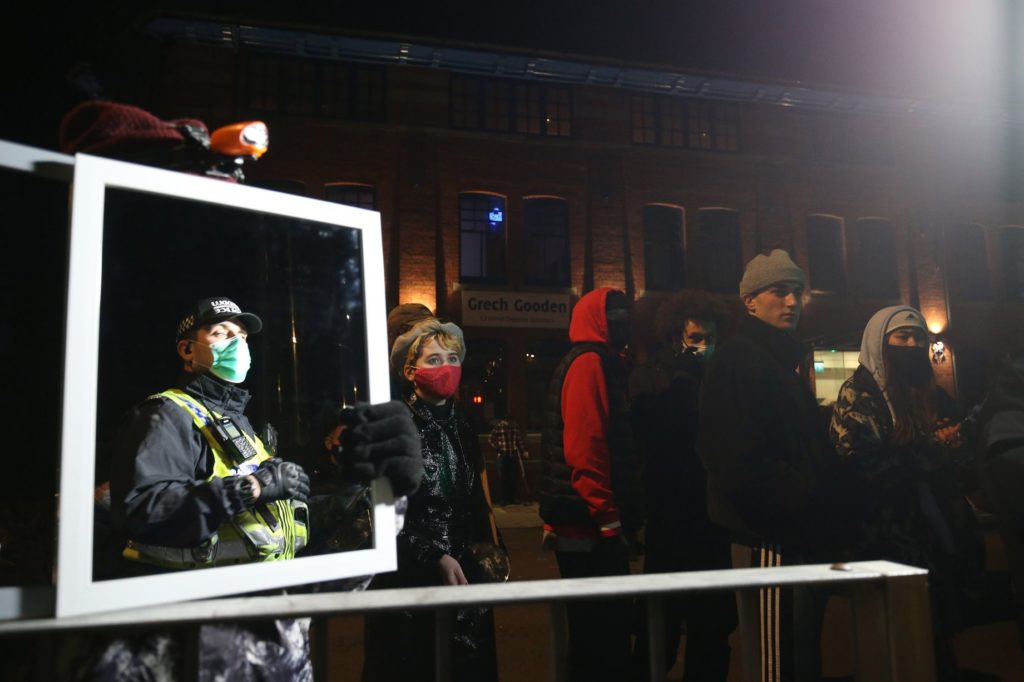 Demonstrator holds mirror up to the filth
"Mirror mirror on the wall – who's the ugliest of them all?"
13/1/21:
More here  in French
"The protest got out of hand shortly after 4 p.m. after protesters threw stones at law enforcement. The King's convoy was also stoned by demonstrators. The Royal Palace confirmed to our colleagues from Het Laatste Nieuws that King Philippe's convoy "accidentally" ended up in the crowd of demonstrators in Liedts Square. The incident took place around 5:40 p.m. The sovereign was present in the car, said the Palace. He had left the Royal Palace and was returning home to Laeken. The King was not in danger and was not directly attacked. At first glance, the car is little or not damaged.  Numerous street furniture was vandalised and garbage fires were noted after the rally. The start of a fire was brought under control at the police station located on rue Brichaut, where the window and door were damaged. There was also a garbage can fire against the garage door of a police station located on Nicolay Street. A total of six police vehicles were damaged, including two during the demonstration. A tram and bus shelter were also been degraded on Liedts Square. A pharmacy suffered damage on rue Gallait, as were businesses and vehicles parked in rue de Brabant and rue Aerschot. A window and a garbage container were broken at the Sint-Lukaas nursery and primary school on rue Verte. …a container on fire on rue de Brabant …a shop on fire on rue Rogier. Projectile throwing at the police At around 3:45 p.m., a hundred people disassociated themselves from the demonstration and rushed into the tunnel leading to Place du Nord, in front of the station. These demonstrators were repulsed by a police roadblock as they left the tunnel. The group then chanted "Police, Assassins". Smoke bombs were ignited. Some wanted to advance towards the police, but were contained, in particular by the organizers. The police then advanced through the tunnel to bring the protesters back to the initial rally square. Police forces were present in large numbers. There were projectiles thrown at the police. Police spokeswoman Audrey Dereymaeker also notes that there was damage to street furniture and that two police vehicles were damaged. …At least two police officers were taken to hospital between 6:00 p.m. and 6:30 p.m. Clashes Clashes then occurred at Place Liedts. A protester was taken to hospital. …The Brussels public prosecutor's office has requested the appointment of an investigating judge for manslaughter in connection with the death of a young man at the hands of the police…"He exercised his right to videotape the police and things went wrong," Alexis Deswaef, Ibrahima's family lawyer, said at the start of the rally. "Ibrahima should never have been arrested for filming the police. Then, at the police station, in the search room, he felt bad. He fell from his chair unconscious. For very long minutes, nothing happened. No police officer worried that he was lying unconscious on the ground. They let him die. There is at least a delay, according to our information, of five to seven minutes ". According to the lawyer, toxicological examinations did not reveal the presence of drugs."
And also here in French. "The stewards tried to contain the movement, but in vain" . T. writes:
In one video of Wednesday's events I saw how a couple of people tried to attack an empty police van and  stewards not only trying physically to stop them (maybe "citizen-arrest" them?) but in one image you can see one steward trying to punch a rioter (both of them were black, if that makes any difference…). One comment in response to the above quote was:  "Also, in my opinion, the stewards were a little less awful than the presentation made here. The message was mostly "demo peaceful until 5 p.m., after that you do as you see fit ". Finally, on a less sympathetic note, at least two anarchists got beaten up because they were mistaken for plainclothes cops.
Lots of other videos and reports, mainly in French, here.
11/1/21:
10/1/21:
"…the clashes erupted in Haboubi square in the town of Nasiriyah in violence that began over the arrest of activists in the province. Security forces used tear gas and batons in effort to disperse the protesters who threw stones and rocks at security forces. Occasional gunfire could be heard. It was not immediately clear how the policeman was killed amid conflicting reports. The officials said at least 18 protesters were injured and more than 40 among the security forces. They spoke on condition of anonymity in line with regulations."
See entry for 29/12/20 for some background to all this. Also entry for 3/1/21 below.
9/1/21:
"In a Facebook post late on Saturday evening, one man detained on Christmas Island said the centre was "on fire again because the authorities don't want to give those who are sick, those who have mental problem, those who have heart failure, their medication for days". "I can't breath, the rooftop is burning and the smoke is coming in here," he said, claiming police had firearms and teargas. "This place is not a good place, we're traumatised here." The man said medication had not been provided for "five days".
See entries for 6/1 and 7/1 below.
8/1/21:
" Several young people from the Kankan Koura neighborhood took to the streets to protest against the installation of a security roadblock at the entrance to the locality. They accuse the soldiers who are deployed there of engaging in racketeering and demand their departure from the scene… According to the authorities, bandits who steal motorcycles and other goods in Kankan most often use the road to Mandiana to escape the security services. And to deal with this situation, it was decided to install a checkpoint on this road. However, this decision is now arousing great anger in Kankan Koura, a district located outside the town of Kankan, at the entrance of which this roadblock is installed. Anger that several young people went out to express in the street this Friday. At around 9:00 p.m. they erected barricades and burned tires on the road. The demonstrators demand the departure of the soldiers deployed on the scene, who are accused of preventing the inhabitants of this locality from moving normally, but also of engaging in racketeering. "We are demanding the removal of these agents from here, because they are there simply to extort money from us. When they take you, you have to pay 20,000 francs. And if you don't have any money with you, they'll hold you back until you call a friend or relative who will come and give it to you to release you. The neighborhood chief and the youth president are informed of the situation, but they have done nothing. This is why we have decided to make our voice heard today because normally these agents are there to secure us and not to intimidate or rip us off, " said Oumar Sylla, one of the protesters. Very upset, these young people occupied the street, blocking traffic for a long time. But the security forces eventually intervened with tear gas and warning shots to disperse them. … This Saturday morning again, the young people of Kankan Koura erected barricades at the start of the neighborhood to demand the release of their arrested friends. And, they were once again dispersed by law enforcement officers."
7/1/21:
"…in the hands of the capitalist state, antifascism can be a powerful rationale for building the repressive apparatus—which ends up getting used mainly against oppressed and exploited groups."
The  same mainstream leftism that condemns this "coup" in the name of a defense of bourgeois democracy doesn't want to realise that there's nothing at all wrong with storming the seats of power  in principle. In December 2018 the yellow vests (at that time a mix of fascists, leftists, anarchists and others who had no specific label) almost stormed the Elysée. Macron was terrified. Now, Macron – in his televised  support for Biden and US democracy after this "coup" attempt – showed that he was obviously afraid of such an event happening again, maybe this time succeeding. Of course, you can't separate actions from those doing the acting – and people are tending to take absolutist positions against taking over the Capitol because the people who did it were/are repulsive white supremacist arseholes. A pretext for taking the ridiculous "it's against democracy!" line of course. After all, back in 2011 the Capitol of Madison, Wisconsin was taken over by angry teachers, public sector workers in general, revolutionaries, leftists  and others – and nobody with any sense objected to that (see this ).
"…a movement that had built itself in large part as supporters of US police against BLM and antifa began planning for armed encounters with not antifa or the Democrats, but the cops themselves. This profound ambiguity is best captured by the storming of a police line in D.C. by an insurgent waving a Thin Blue Line flag….By contrast, the mayhem in D.C. demonstrates that a considerable segment of US rightists are beginning to unambiguously embrace a system-oppositional framework. In doing so they are…working out of contradictions in their own theory and practice through struggle, toward an extra-parliamentary fascism, the same way moving beyond reformism is an essential for a leftists' coming to political maturity, and is often achieved only through concrete engagement. …Most commentary so far has been limited to the eternal stating of the obvious that right-wing white men have a comparative easy time with the police, which functionally amounts to a plea for the proportional use of brutal state violence against everyone. And while the right-wing conspiracy theory mill is already claiming the insurgents were antifascists in disguise, the garden variety leftist analyses aren't much better. A single video showing some cops abandoning a barricade without a fight has been circulated alongside a clip of some bemused cops inside the Capitol taking selfies with the insurgents, to support the conspiracy theory that the Capitol police let this happen on purpose…such conspiracy narratives are preferable to confronting the fact that an explicitly revolutionary rightist tendency is very likely enjoying an auspicious moment of recomposition, unafraid of meting out violence or meeting it, even to the point of death, and should therefore be respected as formidable foes, equally capable as leftists of opposing the US state, or worse yet, appearing as the only visible alternative to neoliberalism, as Trump did in the 2016 election. ….Moreover, the conspiracy narrative allows people to sidestep facing the challenge that a comparatively small, focused, and courageous group of people can do a whole lot once it lets go of its fear and preoccupations with appeasing polite society or stepping on the toes of anyone who claims to represent large groups of people. In a country where the majority of eligible citizens do not vote, rampant interpersonal violence, addiction, routine mass shootings, and suicide epidemics testify to a profound hopelessness that anything can be done to improve daily life. The nonsensical, logic-proof theories of QAnon don't demonstrate the stupidity of their adherents as much as the desperation people feel for communal belonging, to find a theory that makes sense of the desperation and misery of their lives, and to take actions into their own hands, acting in concert. Collective actions like the siege of the Capitol, no matter how ephemeral, register in the minds of millions of people the idea that drastic measures can be taken by ordinary people. Forget how risible or horrific it may seem to professional pundits or social media celebrities who shed tears for the sanctity of the "hallowed halls" where imperialist wars and austerity programs are hatched. The sight of gatecrashers angrily storming the Senate demanding Mike Pence reveal himself, a man clad in ordinary proletarian dress with his feet up on a desk in the office of the multi-millionaire powerbroker Nancy Pelosi, and the perverse fun most of them seemed to be having doing it, furnish powerful political images that speak to the widespread disgust with US life that's just about the only thing everyone agrees on."
Just to note (and this is something I often forget) that in the US the historical associations with the term "leftist" are not the same for someone, and  certainly someone my age (70),  in Europe and in particular in France where I live, with its Social Democratic or Leninist, including Stalinist, connotations.  In France, leftism  has historically been both a significantly debilitating  power in the State (eg the Communist Party's coalition with the mainstream Right, much of the time with de Gaulle, between 1944 and 1947) and in the trade unions.
For an example of a superficial  utterly unnuanced leftist/marxist take on the storming of the Capitol, see this, where a funny style and  heavy-hammering-home the message-type form distracts from its largely empty and sometimes way off-beam content. Re. this see also comments boxes below.
6/1/21:
Typically, these take the form of burning tires, throwing stones at cops, cops responding with teargas, etc.
Olympia (Washington), Austin (Texas), Sacramento & Los Angeles (California), Atlanta (Georgia), Lansing (Michigan), Topeka (Kansas ), Oklahoma city, Santa Fé (New Mexico), Denver(Colorado), Salem (Oregon), Saint-Paul (Minnesota), Columbus (Ohio).
5/1/21:
"…two compounds were set alight on Tuesday night, and at least two men climbed on to the roof of a compound. One of the detainees involved in the riot told the Guardian that they had sought permission to stage a peaceful protest over what they say is inhumane treatment, but were denied. Rey, a detainee who has been in detention for six years, said that many of his cohort were in lockdown for 22 hours a day, were denied access to workable wifi and struggled with mental and physical health.Video supplied to Guardian Australia shows a mattress being set alight and a man on a roof shouting "enough is enough".
4/1/21:
3/1/21:
See entry for 29/12/20 for some background to all this
2/1/21:
For as truly profound Good Upstanding Citizen response to the use of the term "Covid1984" see this.
1/1/21:
"…On sometimes almost deserted streets, cops were hunting down all young people in various proletarian neighborhoods who dared to go out on the streets despite the state of emergency, attacks on cop cars, including a convoy unit of Federal Police, in Wedding and Neukoelln, Lichterfelde… – skirmishes with the cops in Victoriapark, where people were celebrating together, in the Urbanstrasse Molotovs flew at a cop car… – and on the confrontations in Sanderstrasse, where the cops lost control for an hour. We received this report from a comrade from Berlin…."