I have now decided to reduce these entries to the bare minimum, mainly for future reference. For social contestation related primarily to the health pass and other Covid-related demonstrations see here.
Those who wish to keep up with various news of social contestation may find this French site useful, with links in lots of different languages. On the right-hand side there's a list of the latest bits of information. It's an eclectic  mix – much of it includes ethnic or other miserable clashes, but it also includes aspects of class struggle . For translations I recommend Deepl.
Since nothing goes without saying, I should make it clear that I am not in agreement with  the ideological aspects of the sites or texts linked to . Which of course doesn't say much.
Since my input here will be very limited, I've decided (for the moment at least) to put everything related to this year on one page.
18/12/22:
14/12/22:
"Demonstrations erupted at the weekend in impoverished areas in southern Peru and have now spread to the north and east of the country amid widespread vandalism and looting, in which police stations, regional prosecutors' and tax offices have been torched. At least seven protesters – five of them teenagers – have died from gunshot wounds in clashes with police, six of them in the southern city of Andahuaylas, which became a hub for the protests. On Wednesday, the government declared a 30-day state of emergency, suspending the right of assembly and free movement."
26/11/22:
23/11/22:
14/11/222:
See 4/11/22 below.
8/11/22:
Includes information about strikes not directly related to the cop murder of Mahsa Amini.
4/11/22:
"CUPE members would face fines of $4000 per day for participating in any strike. This would cost the union $250 million per day. In addition, the union would face a $500,000 daily fine."  More here.

2/11/22:
28/10/22:
16/10/22:
13/10/22:
"We want food, not PCR tests. We want freedom, not lockdowns. We want respect, not lies. We want reform, not a Cultural Revolution. We want a vote, not a leader. We want to be citizens, not slaves," said one banner, while a second called for a boycott of schools, strikes and the removal of Xi."
8/10/22:
"…Schoolgirls chanted slogans, workers went on strike and street clashes erupted across Iran on Saturday…In another widely shared video, a man is seen altering the wording of a large government billboard from "The police are the servants of the people" to "The police are the murderers of the people". Hengaw, a Kurdish rights group based in Norway, said "widespread strikes" were taking place in Saqez, Sanandaj and Divandarreh, in Kurdistan province, as well as Mahabad in West Azerbaijan province….."
2/10/22:
21/9/22:
Translation:
RUSSIA: Explosions of spontaneous reactions against the mobilisation
We have previously reported on the resistance of the Ukrainian population to the mobilisation for the Russian-Ukrainian imperialist military conflict: widespread insubordination, flight of those subject to military service, speeches by those drafted into the army and their families… After the Kremlin announced the mobilisation on 21 September, similar demonstrations broke out in Russia. Many do not want to go and kill or die for the ambitions and profits of the ruling class.
The most common reaction of Russian citizens has been an exodus abroad. In the first 4 days alone, more than 260 000 men left the country.
Huge queues are lining up at border crossings. Residents of Russia are taking advantage of the fact that (unlike the situation of those liable to military service in Ukraine) they are not yet banned from travelling abroad, although the authorities at the border are apparently trying to put all sorts of obstacles in the way of those seeking to leave, and often try to hand them summonses for mobilisation on the spot. Moreover, solidarity between states (even those at war with each other) has very quickly taken hold in the fact that draft dodgers from any army and deserters from any country are regarded by them as dangerous and potentially subversive elements. The European Commissioner for Migration, Home Affairs and Citizenship, Ylva. Johansson, spoke in this spirit. The Baltic States have openly announced that they will not allow Russian citizens seeking to flee the mobilisation to enter their countries.
In order to prevent mass evasion of mobilisation and conscription into the army, the Russian authorities are further strengthening repressive legislation. Amendments were made to the Criminal Code, according to which, for leaving a unit, or not reporting for military service and or not complying with the commander's order during martial law, you now face up to 10 years in prison. Summonses are handed out to men everywhere, even in public places.
In direct response to the announcement of the mobilisation, demonstrations, rallies and other protests have erupted in Russia on a scale not seen since the spring, when they were crushed by a fierce crackdown. According to the human rights NGO OVD Info, already on 21 September, anti-war actions took place in at least 39 cities across the country, including Moscow, St. Petersburg, Yekaterinburg, Perm, Chelyabinsk, Ufa, Krasnoyarsk, Voronezh, Krasnodar, Tver, Saratov, Kaliningrad, Ryazan, Petrozavodsk, Irkutsk, Arkhangelsk, Tulu, Novosibirsk, Korolev, Ulan-Ude, Jeleznogorsk, Izhevsk, Samara, Salavat, Volgograd, Vologda, Yakutsk, Tomsk, Kazan, Tyumen, Ivanovo, Syktyvkar, Surgut, Nizhny Novgorod, Kaluga, Vyatskiye Polyany, Smolensk and Belgorod. In the following days, street demonstrations continued. They took place in various forms, from unauthorised demonstrations to individual and collective pickets. In all cases, the demonstrations were brutally suppressed by the repressive state forces.
From 21 to 26 September, 2,415 people were captured during anti-mobilisation protests (https://ovdinfo.org/#). Some of those captured were immediately summoned to the military registration and enrolment office.
The most powerful protests, which turned into violent clashes with repressive forces and widespread civil disobedience, broke out in Dagestan [a Caucasian republic of the Russian Federation bordering Georgia and Azerbaijan]. Initially, protesters blocked the highway in Babayurt, after which the head of the republic of Dagestan called on military registration and enlistment offices to work more carefully so that no man would be missed. On 25 September, protests began in the village of Endirey, Khasavyurt district, where outraged residents blocked the highway. Then the protests spread the same day to the Dagestan capital, Makhachkala. People chanted: "No to war", "Our children are not fodder". According to lawyer Arsen Magomedov, there is a real threat of a large-scale social explosion. In Khasavyurt, the police, breaking up the rally, beat and arrested everyone, including women and children, using batons, stun guns and pepper gas. In Makhachkala, the initiators of the anti-war speech were women. The demonstration in front of the puppet theatre quickly grew in size, joined by hundreds of people. Repressive forces then blocked access to the square. At first, although the local police were nervous, they did not dare to disperse the crowd decisively. But then the cops started arresting people. A fight then broke out between protesters and plainclothes police. However, it was only after the deployment of the National Guard to the square that the action was very brutally repressed in the evening, with more than 120 people ending up in the hands of the repressive authorities.
However, the violent crackdown in Makhachkala did not stop the protests in Dagestan. An ultimatum to the authorities was circulated on social networks calling for the immediate release of all those arrested; if not, the initiators urged [on the telegram channel "The Black Book of Capitalism"] the inhabitants of all villages to take to the roads of the whole republic and block them. As a result of this popular ultimatum, most of those captured were released. However, 8 people were still prosecuted.
Apparently, the Dagestani authorities were scared off for good. An order signed by the military commissar of Dagestan Mustafaev was circulated on the internet, according to which the mobilisation in the republic was cancelled. The existence of this order was later refuted. However, the military commissar announced on television that neither people without military experience nor conscripts would be enlisted on the Ukrainian fronts, and that rumours in Dagestan that 13,000 people had been enlisted there were false. The head of the republic promised to "correct the mistakes" made during the mobilisation, but did not fail to accuse "foreign external forces" of organising the protests.
On the same day, a protest rally, also mainly led by women, took place in the main square of Nalchik, the capital of the republic of Kabardino-Balkaria [a Caucasian republic in northern Georgia]. The participants demanded that the authorities leave their relatives alone and not take them to war. The officials who addressed them tried to justify themselves by referring to the fact that they were only "respecting Russian federal law" and obeying orders.
In Yakutsk, Central Siberia, about 400 people, mostly women, came to Ordzhonikidze Square in the centre of the city and organised an anti-war action in the form of an "osukhai", a traditional Iyakut dance round. Young girls were the first to hold hands, supported by older women, after which other demonstrators gradually began to join the circle. The participants chanted "No to war! At first, the police persuaded the demonstrators to disperse, then stepped aside and let the women hold the osuokhai. But at one point, the police found themselves in the centre of the march, surrounded by the women, who then began chanting "Let our children live!"
After some time, the police started beating and arresting people; the protesters reacted by shouting "Shame! According to OVD Info, 24 women were captured by the police.
In Kyzyl, the capital of Tuva [a Siberian republic bordering Mongolia and speaking Turkish] on 29 September, dozens of women took to the streets against the mobilisation. About 20 of them were captured by the police. The repressive forces roughly pushed them into a salad basket and took them to the police station, where they were interrogated and forced to give their fingerprints.
It is reported that in addition to street demonstrations, cases of arson of military registration offices and administrative buildings have become more frequent. Between 21 and 29 September, the press reported at least 20 attempts to set fire to military or administrative offices, mostly by throwing Molotov cocktails, in many parts of the Russian Federation, including the outlying republics of the Caucasus or Siberia, poor and rural areas where most of the soldiers sent to be killed in Ukraine so far come from. Most of these attempts have caused little damage.
On the night of 24 September, in front of the door of the office of the ruling party "United Russia" in Salavat (Bashkortostan, a republic located between the Volga and the Ural Mountains in the east of European Russia), someone set fire to car tyres.
In the early hours of 26 September, a resident of Uryupinsk set fire to his car in front of the military registration and enrolment office and then threw Molotov cocktails at the building. The fire hit the entrance to the building and spread over an area of 100 square metres.
The extent of the distribution and the geographical dispersion of these actions indicate that they were uncoordinated, purely spontaneous. [The small amount of damage inflicted indicates that these are not the actions of "professionals".] In an effort to intimidate potential arsonists, the Russian military headquarters declared that arson would now be considered an act of terrorism, punishable by 15 years in prison.
However, there are cases of other actions by even more desperate people. For example, on 25 September in Ryazan a man set himself on fire at the central bus station. An eyewitness said that the man shouted that he did not want to participate in the war with Ukraine. The police took him to the back room, then the paramedics arrived and took him away. According to an eyewitness, all the clothes burned off the man
And on 26 September, 25-year-old Ruslan Zimin, who came to the military registration office in Ust-Ilimsk, Irkutsk region, opened fire with guns at the military commissar, seriously injuring him. The arrested young man told investigators that he decided to shoot because of the death of his 19-year-old best friend during the fighting in Ukraine. In addition, after the announcement of the partial mobilisation, his cousin, Vasily Gurov, 21, had received a summons. It has already been noted that Zinin, 25, himself was to be mobilised.
18/9/22:
12/9/22:
29/8/22:
Shows the complicity of the state with gangs terrorising working class areas, plus the bloody killing by the cops of at least 3 demonstrators demonstrating on 22/8/22 on the anniversary of the general uprising of the slaves of Santo Domingo in 1791, demonstrating also against  the vast increase in the cost of "livng" (leftist site that includes, over 100 years after the brutal suppression of Kronstadt by the Bolsheviks, absurd call for a state in the service of the people; still, it's an informative site).
24/8/22:
More here
20/8/22:
10/8/22:
19/7/22:
Writing from afar about the situation there feels like walking on eggshells – there are so many nuanced aspects to it all that it seems presumptuous to make comments when it's not a life and death situation for you. Nevertheless it seems strange that anarchists can be so uncritical of other anarchists who participate as anarchists in the state's army, an army which has incorporated the neo-nazi AZOV regiment.  And surely once the state has made use of these anarchists they'll disarm them. It may well be that they can see no other possible realistic way to fight the Russian state's horror but to do so whilst claiming anarchist horizontalism falsifies such participation as far as I can see. Another strange thing is the use of uncritical quotes on anti-imperialism from Mao or Lenin by some anarchists to justify these things (not the above mentioned site). Though the situations and histories of Vietnam and Ukraine are obviously very different, 50 years ago one could oppose US imperialism without supporting the Stalinist state of the North or the NLF, and doing so merely added to the confusion to say the least.
From afar, and despite uncritically quoting Lenin on nations in a positive manner, this text seems highly informative about the history of Ukraine.
13/7/22:
Maybe there's going to be a heavy crackdown – "Wickremesinghe had used his new executive powers to declare a state of emergency, an overnight curfew and to call on the military and police to do "do what is necessary" to stop protesters entering government buildings." but this was followed by "However, it was unclear if Wickremesinghe had full control of the armed forces. A statement issued by former army commander Sarath Fonseka urged officers against opening fire against unarmed protesters, and said instead their weapons should be pointed at corrupt politicians." – here
11/7/22:
More here
More here
9/7/22:
See also entries for 18/6, 10/5  etc. below. Of course, this movement is unlikely to lead to anywhere other than a change of government, and its different discourse, without a large strike movement and other developments. The crisis of survival caused by high food and fuel prices is very likely to continue if not worsen if this movement doesn't extend itself. And maybe even if it does. Class struggles continue of course, but they're very far from becoming revolutionary crises for this society even if social relations temporarily become more human as a result of significant amounts of people taking risks and seizing state and/or bourgeois property.
3/7/22:
Anarchist report here.
1/7/22:
"A senior United Nations official for Libya has condemned the storming of the parliament's headquarters by angry demonstrators as part of protests in several cities against the economic turmoil and the political deadlock in the country. Hundreds of protesters marched in the streets of the capital, Tripoli, and other Libyan cities on Friday, with many attacking and setting fire to government buildings, including the House of Representatives in the eastern city of Tobruk." – here

Hard to know if there's much independent of political parties in this –  though  I suspect that the storming and burning of part of parliament may well be independent.
"The sudden eruption of unrest appeared to be spreading to other areas of the country, with Libyan media showing images of protesters in the oasis city of Sebha, deep in the Sahara, torching an official building. A local journalist said protesters in Libya's third city Misrata were blocking roads after setting fire to a municipal building on Friday night." – here
"This weekend, protesters held their biggest rallies in years in the capital, Tripoli, chanting slogans against Libya's feuding political elites, while demonstrators blocked off roads in Benghazi and Misrata and set fire to government buildings in Sebha and Qarabuli." – here
26/6/22:
25/6/22:
"…City dwellers also took to the streets of Quito over the rising cost of living. Mechanical engineer Miguel Terán, who could not get to work due to roadblocks and strikes by bus and taxi drivers, joined the marchers. "There is a clamour among the people, especially those who don't have a job," he said. Unemployment rocketed in the pandemic and recovery has been slow with just 33.2% of Ecuadoreans with formal employment and 22.1% underemployed, according to Ecuador's statistics institute. "It's very difficult to live when all the prices have risen so much. The fuel prices have gone up, so all the basic products have gone up," said Terán, adding also that people were angry at the meagre investment in health and education…"
Not yet reached the level of uprising that happened in October 2019, but…Worth looking at this to reveal the extent of the indigenous leaders' complicity with the state at that time. They refused dialogue with the government then, just as they do now, but then quickly reversed this position of non-cooperation.  Of course, this post Covid,/Ukrainian war epoch is far worse than 2019, and the government may well just simply resort to out-and-out massacre if the movement develops, which would hardly favour eventual dialogue, but who knows?
Mentions a lot more deaths at the hand of the state than previously mentioned dominant media.
24/6/22:
23/6/22:
22/6/22:
Ecuador: various links to  indigenous conflicts with state over massive rises in cost of "living" – here, here and here (links and videos mainly in Spanish)
Example of what's been  happening over last few days: after at least  1 protester was killed  by cops,   a police station was torched and now 18 cops  are "missing". Lots of looting. Bank and Governor's building  attacked, etc. Indigenous leaders denounce vandalism. This in Puyo.Hard to unravel the complexities of the situation. Guardian report here.
18/6/22:
13/6/22:
7/6/22:
"EMERGENCY SOLIDARITY
Solidarity initiative with refugees, deserters, pacifists in Ukraine as well as in Russia and Belarus
War is raging in Eastern Europe. In an imperialist war of aggression, Russian troops have invaded Ukraine on the orders of Vladimir Putin. There are already many dead and wounded. Further escalations are imminent.
Tens of thousands of Ukrainians have taken to the roads to escape the advancing death with tanks and bombing. In Russia, courageous demonstrators are braving the repression to express loudly their refusal to march in military step. In Belarus, anarchists are campaigning for soldiers to desert.
Whatever the rhetoric – 'humanist', nationalist, militarist, historical or otherwise – that justifies the current conflict, it is only in the interests of those who hold political, economic and military power.
Bombing peaceful cities, killing people, has no justification.
For us, workers, peasants, pensioners, students, it only brings suffering, blood and death.
Because nationalism is war, we oppose all forms of nationalism and we do not take sides with any government, neither here nor there. Our solidarity is with the people, not the institutions.
We propose to all those who, like us, yearn for freedom and abhor war to join our solidarity initiative to support – materially and financially – those who are fighting against the war, be they Ukrainian, Belarussian or Russian. We particularly seek to support Russian and Belarussian deserters and pacifists, who hold in their hands part of the solution against the war. We are also involved in solidarity with refugees, and we call for the widest possible acceptance of refugees in Europe.
Our initiative is independent of any political party. It is strictly secular.
We are inspired by Olga Taratuta. Ukrainian Jewish revolutionary anarchist activist, born in 1876. Imprisoned for more than 10 years in tsarist prisons for revolutionary activities in Odessa among other places, freed in February 1917 thanks to the revolution, she founded the Black Cross in Kharkov in 1920, to help the political prisoners of the revolutionary movement, whether they were in the prisons of the White Russians, the Ukrainian nationalists or the Bolsheviks. She was imprisoned again for her solidarity activities by the Bolshevik authorities, who finally shot her in 1938. Olga Taratuta is a universal figure of the uncompromising struggle against dictatorship and for freedom.
Мир хижинам, война дворцам!
Peace to the thatched cottages War to the palaces!"
31/5/22:
27/5/22:
20/5/22:
14/5/22:
13/5/22:
12/5/22:
10/5/22:
Many of the reports here   say that much of the violence was committed by ruling party goons attacking peaceful anti-government protesters. Sorry for not being able to make  confused, and sometimes contradictory,  reports clearer – hard to clearly define who was attacking who (see, for example, this which says that a local politician was trying to provoke an inter- communal clash). Perhaps the confusion is deliberate. See also report below for 19/4/22.
4/5/22:
More details about other clashes re. access to abortion here. On some of the history of resistance to anti-abortionists and the self-defeating liberal establishment that undermines the fight against them, see this.
1/5/22:
Not sure if I agree with every word of it:  it's  very hard to get to grips with the complexities of the situation from afar, but at least this poses significant questions.
24/4/22:
22/4/22:
19/4/22:
See also entry for 1/4/22 below
18/4/22:
12/4/22:
Occupation lasted a bit over 30 hours – More here
10/4/22:
6/4/22: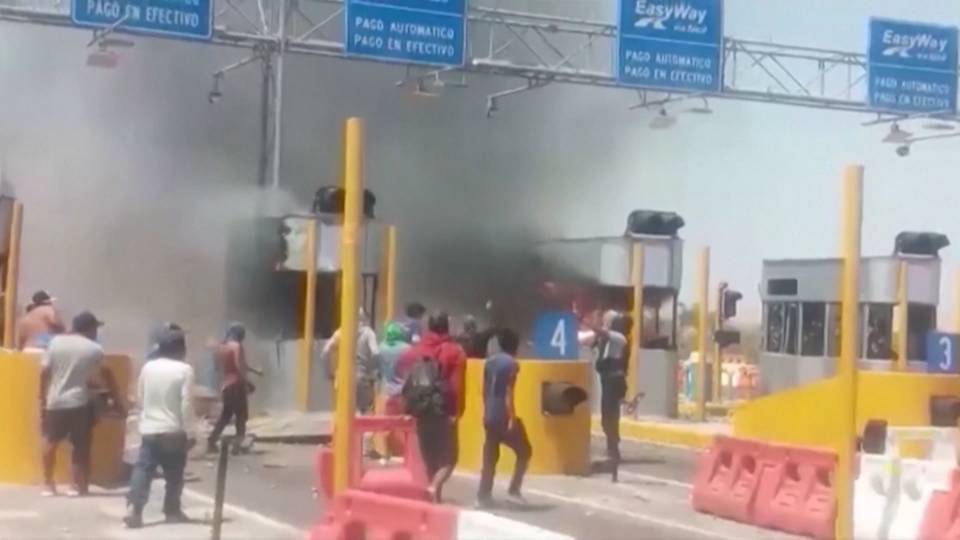 Attack on toll gates
See also entry for 4/4/22 below
5/4/22:
This latter includes a podcast which I've not yet listened to.
"The municipality does not intend to solve most of the real problems of Kharkiv's population, even under emergency conditions. The social services worked so poorly before the war and proved totally unprepared for such workloads. That is why the needs of those who can't leave and need help are covered by volunteers, who make these lists themselves. Officials, on the other hand, promote themselves by distributing humanitarian aid and it is very profitable for them to keep people in the city. And they show everybody how cool Kharkiv is: look, they sweep up leaves in parks even under bombardments! That is, the real problems of everyday life are not solved, but the image of a well-maintained city remains. In that, their pre-war philosophy has not changed at all, it has just taken on new colours"
This provides some interesting information for those like me not familiar with aspects of the political economy etc. of Ukraine.
4/4/22:
"Several violent incidents, including the burning of toll booths on highways, looting in stores and clashes between protesters and police occurred during the first such stoppage faced by Castillo's leftist government. Protesters had also blocked the Pan-American highway, the country's most important transport and traffic artery snaking north to south, and school had been suspended."
3/4/22:
Seems, though, that much of this is being organised by the official "opposition", as compared with earlier protests.
1/4/22:
"…Near the presidents' home in Mirihana, the demonstrators set fire to an army bus and police vehicle…."
"…A number of protests were organised by opposition parties, but unlike before, ordinary Sri Lankans with no political affiliations have taken to the streets. And that is something that is concerning the president…"
30/3/22:
26/3/22:
24/3/22:
23/3/22:
"… To me it's incredibly clear that the Ukrainian authorities, amidst all talk of heroism and patriotism, is ready to sacrifice thousands of people stuck in the cities under attack. The state and the police aren't concerned with our survival, they're concerned with the survival of the law as such, and with the survival of the economy…"
20/3/22:
14/3/22:
7/3/22:
5/3/22:
""Young boys are thrown like cannon fodder, and most importantly for what? For palaces in Gelendzhik?" the close family member of the captured sniper Leonid Paktishev said, referring to the palatial mansion on the Black Sea that Russian independent journalists have said is linked to Putin."
"The alliance "8. März United" alliance called on its social networks for an unauthorised demonstration on Saturday. The aim of the alliance is to "gather our anger against exploitation, discrimination and oppression and commit ourselves together to an emancipatory society". The group deliberately chose not to seek permission for the demonstration. On social networks, the following justification can be read: "The requirement of a permit is a repressive instrument of the state. We do not want to comply with it. According to Pascal Siegenthaler, spokesman for the municipal police, several hundred people gathered in downtown Zurich. Dozens of police officers accompanied the procession, which the police had chosen to tolerate on condition that the demonstration remained peaceful and followed a precise route. But the demonstrators had decided to be combative. As they blocked some streets, they chanted "Get the hell out!" at the police.The latter then reacted with a water cannon. People on the scene say they also used tear gas – something the municipal police deny. And while some demonstrators set off fireworks, the police called in support from a helicopter. Meanwhile, a large part of the march was dispersed."
4/3/22:
Not at all sure how much this is an idealised version of events made to fit into the positive ideological vision of the author, but it's worth a read.
More examples of resistance (admittedly nationalist) – here, here and here
"No war but the class war" – the only worthwhile slogan – is being abandoned by some anarchists and other "revolutionaries" of all shades (see, for instance, this from Crimethinc, written before the invasion, which is not to say they consistently take sides in this misery by any means). This is not to deny the need to resist but this need has to take a position independent of the Ukrainian state if "No war but the class war" is to remain more than just a slogan conveniently abandoned as soon as inter-imperialist war and the massacres begin. Taking or using weapons from any state is not the same as supporting these states. During WWII there was resistance independent of the various states, even if this resistance was small. Support for the Ukrainian state and NATO (or the sick idiots that support Putin) means supporting your future executioners. Whilst the situation is obviously more complicated than these over-simplified statements from afar,  to abandon an internationalist position is to support your enemies.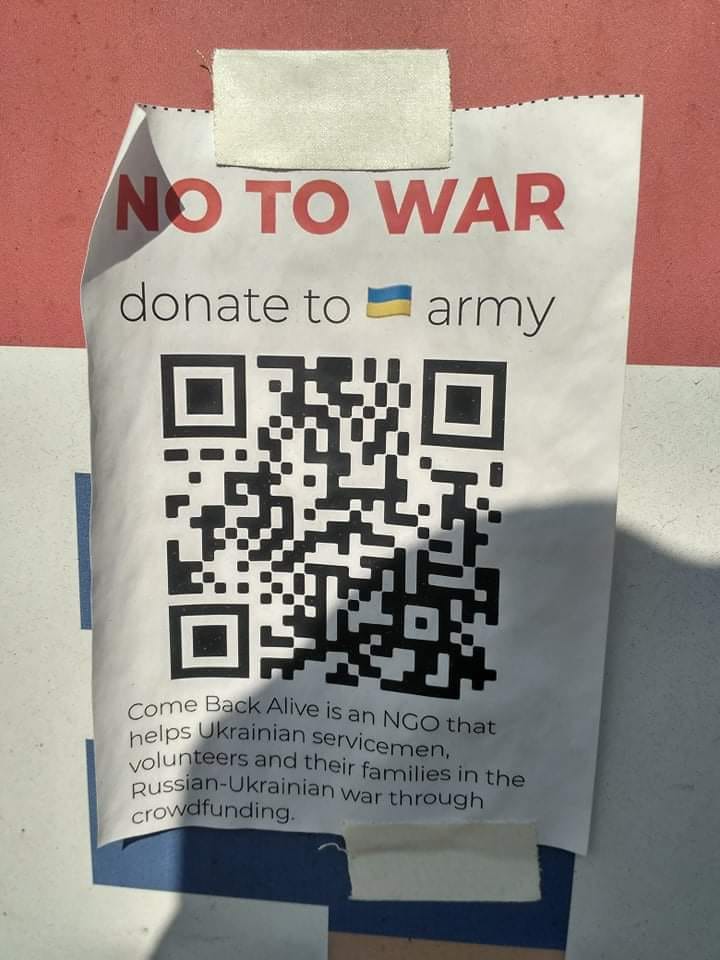 Doublethink sticker (also indicative of some "anarchist" attitudes)
3/3/22:
27/2/22:
As Belarus prepares to join Putin's invasion, this Belarus-based anarchist site might be interesting to follow (though, like most anti-state statements so far, they have nothing to say but well-intentioned banalities). They've also published this.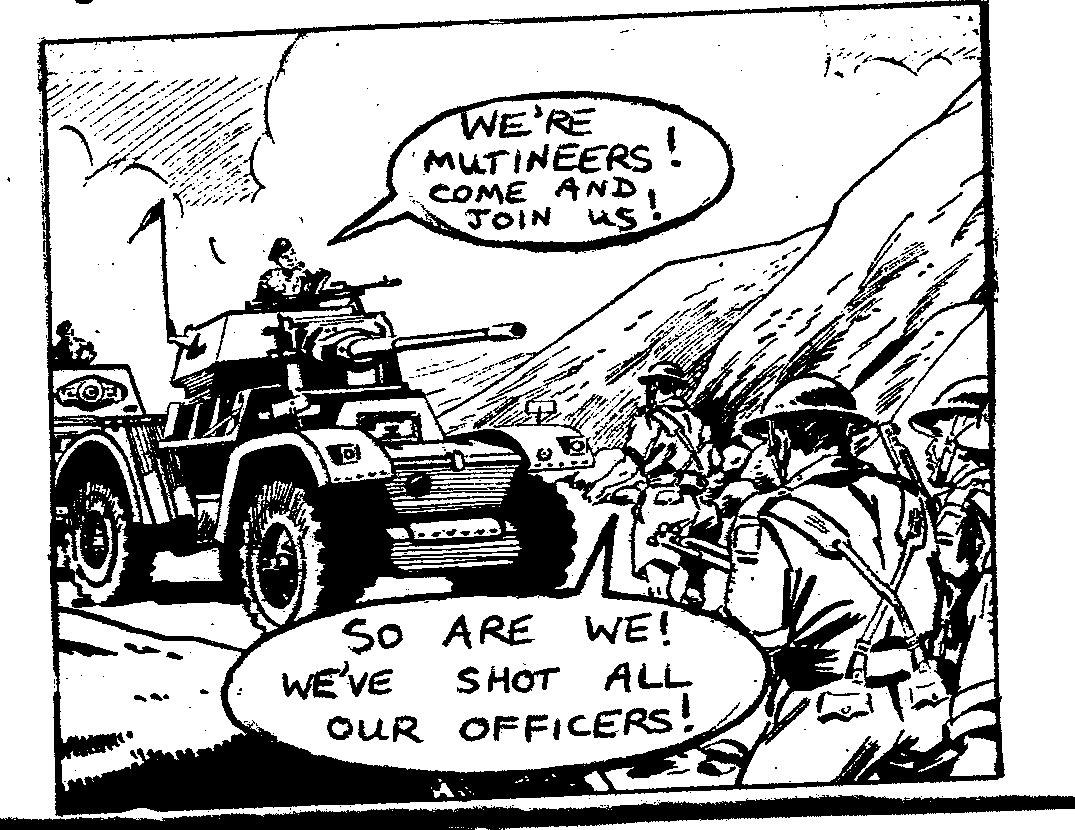 24/2/22:
More here from Crimethinc, including demos throughout the world. And here.
7/2/22:
4/2/22:
1/2/22:
28/1/22:
22/1/22:
13/1/22:
During a national teachers' strike, high school students protesting lack of replacement of teacher, burn stuff, chuck projectiles at cops, block bus lane, whilst cops throw teargas, with one cop car driving into a student who was filming, and another cop on a motorbike driving into another student.
6/1/22:
"The movement swept across Kazakhstan like wildfire and for a short time, on 5 January, threatened the power of the state. By Wednesday 5 January, protesters in Kazakhstan had occupied government buildings in a number of cities, and airports. They had blocked roads and railways. There were (unconfirmed) reports from Mangystau that police units have gone over to the side of the protesters. In Almaty, the largest city and commercial centre, a huge demonstration took over the city centre before security forces began to fire on it. (Please read this linked post: An eyewitness to the uprising in Almaty.) On that same day, the former president, Nursultan Nazarbayev, was sacked as the head of the national security council, the government resigned, president Tokayev appealed to the Collective Security Treaty Organisation headed by Russia to come to his aid, and 3000 mainly Russian troops flew in. (The absurd fiction that the demonstrators were "terrorists" was needed in part because the CSTO has no mandate to intervene in domestic law-and-order issues, as far as I understand.) In my view it's important to keep in mind that the state was, however briefly, in danger of collapse. Popular movements create that danger."
5/1/22:
More here, here and here – about earlier protests this year.
31/12/21 – 1/1/22:
Not as interesting as last year's riots: "It is not the first time Leipzig has seen clashes on New Year's Eve. The city has for some time been known as a center of left-wing violence. Last year, unknown assailants set vehicles belonging to the German Army – the Bundeswehr – on fire. "
Of course, this is hardly "social contestation"  more an expression of nihilist disgust/despair.