…"deus ex vaccina" and other texts on the vaccination programme…
published February 16th 2021
 (for  information and opinions on vaccination following this date see this in the comments boxes below)
Big Pharma
wants

YOU!
"If science was put to the service of capital, the recalcitrant worker's docility would be assured"
— Andrew Ure, Philosophie des Manufactures, 1835
 "It was thenceforth no longer a question whether this theorem or that was true, but whether it was useful or harmful to capital, expedient or inexpedient, politically dangerous or not. In place of disinterested enquirers, there were hired prize-fighters; in place of genuine scientific research, the bad conscience and the evil intent of apologetic"
–  Karl Marx,  Preface II of Capital
"Scientists expose themselves as ideologists until, at the end of a long chain of prize-fighting, eclecticism, syncretism, evil apologetic and so on, sham-science appears … and the scientific "ideal" is presented in the image of the stock-market, where gambling decides our fate"
Above: a vaccination information video
Below: a vaccination information poster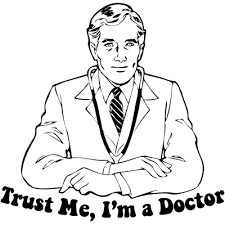 This comprises 4 translations (one of which is a Google Translate version) from French of texts about the current vaccination programme, followed by some further quotes on capital and science, plus some links to relevant material. Most of this has been put on the Covid1984 part of this site, but has been put here in one place because people have expressed difficulties in trying to find relevant material. The ideological aspects of some of these texts are obviously not something I agree with, but my disagreements will have to be left till later.

Another reason I've put them here is with the aim of implicitly dismantling the knee-jerk Newspeak-type reactive insults spat out at those who have the "arrogance" to question the vaccination programme, or the ad hominem amalgam techniques which automatically associate such criticisms with the Right, both of which were the kind of vile categorisations propagated by Stalin and his "useful idiots" in the 1930s. Then there were no more Trotskyists but only "Hitlero-Trotskyists", nowadays there are no more critics but only "conspiraloons" and "anti-vaxxers". A  put-down endlessly repeated  becomes like a  mantra you mumble in your sleep. One can dispense with actually 'thinking' it – that is, with going through the complicated logical acts involved in verbal formulation of it.  The concrete melts into the abstract and no one seems able to think of turns of speech that are not clichés and unearned received ideas. Such mechanization is essential for the repression of critique and in this "reason" itself is instrumentalized, taking on a kind of blind positive obviousness, becoming a fetish, a magic entity that is accepted rather than intellectually experienced. Such language is the prison of hierarchical power, the refuge of its police violence. Any dialogue with power is violence, whether passively suffered or actively provoked. When power wants to avoid resorting to its material arms, it relies on language to guard the oppressive order. Concepts like "conspiracy theorist/conspiraloon" become 'streamlined', rationalized, labor-saving manipulative tools. Thinking itself is thus reduced to the level of industrial processes, subjected to a tight schedule – in short, made part and parcel of the production of ideology.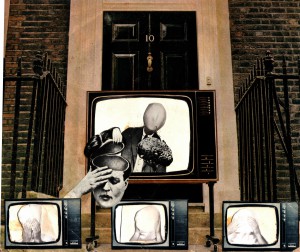 Doubting the almost overwhelming propaganda, and the manner in which the vast majority of people seem to accept it, tends to induce such high levels of anxiety that people more than ever prefer to bury their heads even deeper into the sand than they've ever done up till now.  As if speaking, hearing and seeing no evil provides them with some sense of security.

All this is symptomatic of what a friend referred to as "The deterioration of the attitude towards life and its meanings; towards what's essential for oneself and others around you; towards knowledge in general and especially one's own ability to know; the relation between knowledge (or rationality in general) and feeling; the attitude towards science as method vs. "Science" as institutional representation of knowledge; towards institutions in general; and how media- and politically-manipulated fear and illusion of managing and controlling is taking over all other possibilities of feeling, knowing and acting, and how this fear compensates for dealing with other kinds of fears that are denied expression and thus remain stronger than ever…"
None of the 4 initial translated texts  comprise a radical critique in themselves, but they are a contribution to seriously questioning the race to vaccination.
Some people will justify, to themselves at least, their being  vaccinated because "it's better to be safe than sorry". The following shows that not taking it is almost certainly the safer bet.
 Note added 17/2/21:
"According to data from Pfizer, 0.6% of vaccinated subjects presented "serious adverse events" and 0.1% "life-threatening events" (here). So far, official statistics say that  2.22% of those who have Covid die. On that basis you could say that Covid is roughly 22 times more lethal than the potential effect of the vaccine on the 109 million people (roughly 1.4% of the world's population) who officially have had Covid. However, 2.22% of 1.4% = 0.0311%. That is,  0.0311% of the world's population has died from Covid. On that basis Pfizer's vaccine could potentially kill a bit over 3 times more people than Covid has killed for the moment, but Pfizer would have to vaccinate the whole world, and Covid would have to stop infecting people totally, for the comparison to be valid. Make of that what you will.

Text no.1
(translated from here):
Deus ex vaccina
(pubd. 16th January 2021)
After a much-talked-about year of pandemic management, the long-awaited and announced vaccine is finally here. Note that the term "vaccine" has been used more in the singular than in the plural, which is reminiscent of the deus ex machina of Greek tragedies: a divine intervention that suddenly resolves a desperate situation. Advocates of technology (under the banner of progressivism) obviously welcome the arrival of the miracle solution that would end the epidemic shaking the planet. Any deviation from this framework of thought gives rise to the use of a vocabulary with a propagandist overtone: "conspiracy theorists", "covidiot" or "reassurance ideologist" i (the latter being particularly violent in my opinion, because it implies that the simple act of reassuring those around you is already ethically questionable; since when has it been deplorable to simply reassure people in psychological distress?).
The pharmaceutical industry as a whole offers us four types of SARS-CoV-2 vaccines.
Two are based on "classic" technologies that have been in use for nearly a century and consist of:
1) attenuated viruses (e.g. from companies: Sinopharm, Sinovac), polyclonal vaccine (i.e. targeting several components of SARS-CoV-2).
2) virus fragments (e.g. from different companies: Novavax), monoclonal vaccine (targeting only one component of the virus).
The other two are built with new "gene" technologies and are composed of:
3) viral genetic material in the form of RNA, never before applied to humans (e.g. companies: Pfizer / BioNTech, Moderna), monoclonal vaccine.
4) a viral vector which delivers viral genetic material (RNA) of interest (in this case, that of SARS-CoV-2) (eg from companies: AstraZeneca / Oxford, Johnson & Johnson), monoclonal vaccine.
All of these vaccines should not be treated equally and rejecting them as a whole without considering them separately would be just as narrow-minded as viewing the COVID-19 vaccination as a deus ex machina to our pandemic (or rather deus ex vaccina). Although the result of different technologies, these vaccines have some things in common. Their development was extremely rapid, bearing in mind that the development of a new vaccine can take years (sometimes more than 10 years, according to the WHO) ii. In fact, when developing new vaccines, part of the time is wasted waiting for various authorizations, regulations and funding and another part is devoted to the development of vaccine technology. In the case of SARS-CoV-2, these two phases could be shortened, because on the one hand the usual administrative delays were accelerated and on the other hand studies on these new technologies had already started before the arrival of the pandemic. But making vaccines in a rush is never ideal, especially when it comes to assessing their effectiveness and the extent of side effects of new technologies. This is all the more true for this virus which has peculiarities that make the design of a vaccine complicated.
Two main fears: the effectiveness and side effects of vaccines
I. Effectiveness
Vaccine efficacy does not depend solely on biotechnology, but on the nature of the target: the virus itself. One reason for the lack of durable vaccines against the viruses that cause colds or the flu is that these viruses evolve rapidly. This is typically the case with RNA viruses (of which coronaviruses are a part). In addition to mutations (that is, the transformation of the genetic code by "mistake"), they also frequently recombine (which is the equivalent of genetic "exchanges" between viruses) iii. If coronaviruses are able to perform "ping-pong between animal species (including humans)" iv, it is thanks to this power of transformation.
A monoclonal vaccine (which therefore targets only one part of the virus) will most likely only have short-lived efficacy, limited in time by the appearance of any variant of SARS-CoV-2. On the other hand, a polyclonal vaccine offers the vaccinees the possibility of developing defenses against different parts of the virus, making it possible to reduce the risk of the virus escaping (after evolution) from herd immunity.
In the case of monoclonal vaccines against SARS-CoV-2, the target component is the "spike" protein (those famous button-shaped surface proteins that are represented on the surface of the virus when it is drawn). The strategic choice of this target is based on its nature of stimulating our immunity. However, this protein is used by the virus to recognize its host and is subject to mutations, several of which have already been documented v. Thus, the hope of eradicating this virus overlooks the following possibilities:
• the virus spike protein mutates and the vaccine becomes ineffective. The new variant is as dangerous as the previous one, if not worse;
• Darwinian selection pressure favors virus transmission independent of the spike protein (a less frequent mechanism, but documented vi);
• the virus recombines with another virus and changes so as to escape the vaccine (a scenario which is all the more dangerous if there is another epidemic of the coronavirus virus, such as MERS-CoV vii);
• the virus disappears from the human host (ideal scenario) and "takes refuge" in animal reservoirs, where they continue to evolve. The return of a variant escaping the vaccine would therefore not be excluded. It should be noted as such that it is impossible to eradicate a zoonosis (that is to say an infection shared between humans and other animals) unless all host animals are vaccinated or eliminated.
The pharmaceutical industry obviously offers a solution: that of renewing the vaccines and providing the doses according to a vaccine strategy that consists of administering a vaccine against SARS-CoV-2 several times a year. For a price of 20 euros a dose, twice a year for a market targeting a large part of the planetary population, this is indeed very attractive for the industry and for stock market investment funds. This is a market strengthened by the political decision of providing 300 to 500 billion euros per year with negotiated financial guarantees (with the European Union amongst othersviii)
II. The side effects
Concerns about side effects and tolerance of modern COVID-19 (RNA) vaccines are frequently dismissed by staunch techno-progressives, who refer to clinical trials. While admitting that a clinical trial (like that of the Pfizer firm) carried out on 38,000 people is promising and that it would be difficult to demand more from a company, it is extremely unlikely that the results are likely to be so encouraging applied to larger figures of several orders of magnitude. If the figure of 38,000 people may seem high, it can never include a diversity of health profiles equivalent to the population for which the vaccine is intended. The epidemic being global and the percentage necessary for the acquisition of collective immunity being between, approximately, 60-70% according to the WHO ix, this would make a theoretical target of approximately five billion people, that is to say a population a million times larger than in the Pfizer trial (while admitting that the actual number of people vaccinated will likely be lower). According to data from Pfizer x, 0.6% of vaccinated subjects presented "serious adverse events" and 0.1% "life-threatening events". But 0.1% of life-threatening side effects put on the scale of a billion people would put a million lives at risk! Any preventive measure must do less harm than the pathology in question. However, the lethality of SARS-CoV-2 (which fluctuates around 0.2% xi) is far from being comparable to that of plague or Ebola epidemics. So is it justifiable to risk all these serious adverse events?
Since RNA vaccine technology is new, it is imperative to validate it. Conventional vaccines can be certified very quickly, because their technologies are known and thus pose no problem (this is why two influenza vaccines can be produced and certified per year). For RNA vaccines, certifying without applying the same basic stringency would be incorrect. Note also that those who claim the precautionary principle with social distancing and masks are suddenly absent from the debate!
To the list of concerns already mentioned can also be added:
the ineffectiveness of such new viral vector vaccines in people who would have natural immunity to the vector itself (the vector is an "empty" human virus, filled with RNA encoding SARS-CoV antigens 2). This is a benign but real problem, but nobody seems to care (non-existent problem with conventional vaccines)
A possible recombination of the vector / SARS-CoV-2 construct with a natural virus/viruses. This is a much more serious problem. In the scientific community (and this is becoming a bit technical, but may interest some competent readers in the field), two arguments are opposed to this concern (i) gene exchanges only take place between viruses of the same type (between DNA viruses on the one hand and RNA viruses on the other hand, but not between these two categories) and (ii) any catastrophic event would be unlikely. The first argument is correct, but examples of exchanges between RNA and DNA viruses exist and cannot be overlooked xii. The second dialectic, which consists in sweeping aside fears on the pretext that even if risks exist, they are so improbable that they can be dismissed, demonstrates the carelessness of techno-progressives in the face of calculations of probabilities. Just imagine, for example, that only one hundredth of the world's population would end up being vaccinated, twice a year. This would still represent hundreds of millions of doses per year, integrating into thousands / millions of our cells several virus vector particles of the vaccine, all potentially capable of transforming themselves… The nanoscopic adverse event that could give birth to a Frankenstein monster would have to be less than a chance in hundreds of billions.
Add to this probability an additional, more basic, but absolutely crucial condition: the fact that you cannot administer a vaccine when you are actively infected. For example, when injecting flu shots, the doctor should make sure that his patient is not carrying the virus. This would open the door wide to wild recombinations. Have governments considered in their vaccination strategies to screen people for the presence of SARS-CoV-2 (including asymptomatic) before giving them the vaccine?
Note also that those who claim the principle of taking precautions with social distancing and masks are suddenly absent from the debate!
It is for these reasons that in 2016 "the Brighton Collaboration" (a non-profit global network on vaccine safety and aimed at healthcare professionals) formulated guidelines following the recommendations of the United States Agency. Food and Drug Products FDA and the European Medicines Agency) for the design of vector vaccines. These recommendations include (i) the review of knowledge related to viral recombinations, (ii) the extent of the timeliness of these events, (iii) the review of the mechanisms leading to these events and (iv) the establishment of safety measures as well as methods of detecting these adverse events xiii. Have these principles been respected?
We are told that the advantage of modern vaccines, compared to conventional ones, is their ability to be modulated to adapt them to a changing situation. So, if a particularly virulent variant were to suddenly spread, modern vaccines would have an advantage. If this is indeed correct, these new vaccines which overstimulate and modulate immunity nevertheless have a major drawback compared to more traditional vaccines: that of interfering with the immune balances themselves. The principle of these gene vaccines is to force our own cells to produce viral fragments (rather than injecting them) against which the body will immunize. When it is our cells that produce foreign particles, the risk of an autoimmune reaction that escalates into anaphylactic shock [https://www.webmd.com/allergies/anaphylactic-shock-facts] or rejection from our own cells is higher. In practice, we do not know what will happen in a whole category of patients, starting with those who suffer from immune or endocrinological pathologies (we are thinking here, for example, of Alzheimer's patients, type I diabetics, rheumatic diseases and joints, Cushing's or Addison's diseases, certain thyroid pathologies, etc.). This represents a significant fraction of the population and deserves to be investigated.
There remains one final concern regarding the science behind all these vaccines (all types combined): that of the vaccine strategy. Belgium has decided to give priority to vaccinating people at risk, including the elderly, and nursing staff. While the strategy makes sense for the latter category of people, it is less so for the elderly. The virus is only dangerous for certain people with weak immune systems. However, the principle of vaccination is to stimulate the immune system and therefore, the vaccine will never be more effective than the immune system on which it relies… In America, it is children who are vaccinated against seasonal flu, because even though this category of the population does not suffer from the disease caused by these viruses, they can transmit it. However, it responds well to the vaccine and through herd immunity it protects people who do not respond well. Establishing a vaccination strategy based on fragile people who are also the most exposed to autoimmune risks therefore seems ineffective and therefore seems to me to be more of a political communication decision than a scientific one.
As for other reasons that prompt me to consider these vaccines with caution, Paul Lannoye describes clearly in his article his critical review of the implementation of these vaccines and their links with the EU in "About the anti-covid vaccine. Neither conspiracy nor blind belief" xiv. I also invite readers to consult the report by Dr Vélot (molecular geneticist at the University of Paris-Saclay and Chairman of the Scientific Council of CRRIGEN) xv, a summary of which is also provided by Valérie Tilman in "Covid-19 : Expert report on vaccines using GMO technologies: summary of Dr Vélot's note" xvi. This analysis, independent of mine, arrives at the same conclusions. It should also be noted that the first data from the vaccination campaign are starting to become available and reflect our concerns. Indeed, the latter do not confirm the effectiveness of the Pfizer/BioNTech vaccine three weeks after the administration of the first dose, prompting a re-examination of the schedule for the administration of the second in several countries xvii.
My training in environmental virology allowed me to study the extremely dynamic nature of viruses and their reproductive cycles. They represent the most abundant biological entity on Earth and reproduce with formidable speed and multiplicity. They are capable of both killing us and saving us. So, to protect my family and loved ones, it is obvious to me that we all need to be vaccinated with conventional vaccines. But as always, you have to know the difference between which are effective and safe and which are less so. Honest communication and a standards-abiding approach are necessary. It is curious that not only has this communication not been made, but that in forcing vaccines as the only solution – when vaccines are never curative therapies – the authorities have forgotten that medicine is there first of all to treat people… What happens with the practice of general practitioners, that is to say the first line of defense? We cannot examine patients and measure the severity of their condition just by going online and asking for COVID tests… Where are we with curative therapies?
Kaarle P., PhD in environmental virology
***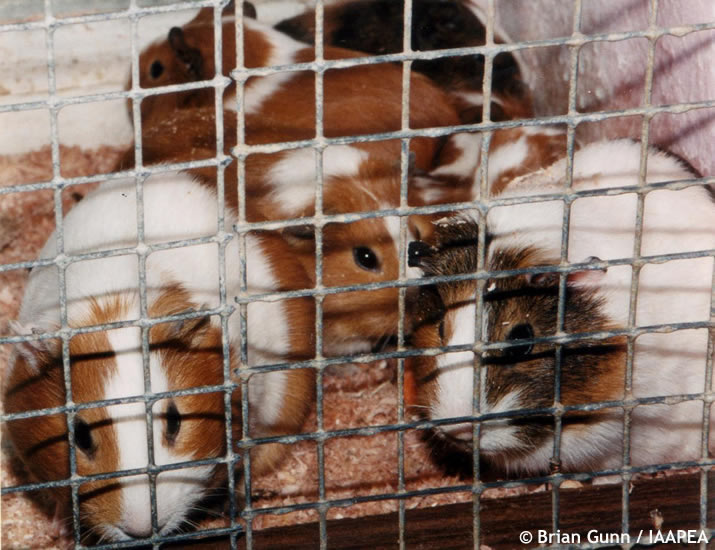 Text no 2
(translated from here)
Does the Pfizer vaccine increase the risk of contamination and death from Covid19?
Published on 01/16/2021 at 19:12 – Updated on 01/17/2021 at 08:48
Does the Pfizer vaccine increase the risk of contamination and death from Covid19? © Sameer Al-DOUMY / AFP SHARE: Author (s): Dr Gerard Delepine for FranceSoir
This can be feared by recent developments in the epidemic in the countries currently most vaccinated, according to data provided by the WHO.
Evolution in Israel since vaccination
The media crown Israel, the champion of the anticovid fight by the Pfizer vaccine [1]. Excellent operation for Pfizer who obtained a price increase of 40% for this priority given to Israel. Since December 20, in 24 days, more than 20% of Israelis (two million people) have been vaccinated.
But, since that date, according to WHO figures, the daily numbers of contaminations and deaths attributed to Covid19 have exploded. Daily contaminations thus went from 1886 cases on December 21 to 8094 on January 10.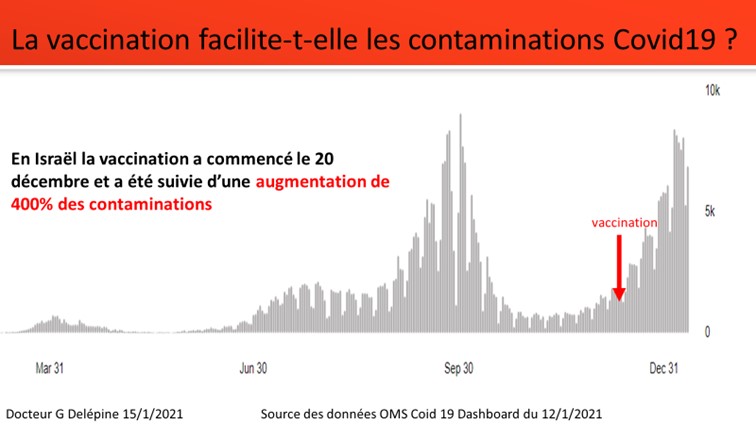 Does the vaccination facilitate contaminations from Covid19?
"In Israel vaccination began on 20th December and was followed by an increase of 400% in contaminations"
And the daily mortality went from 18 on December 20th to 53 on January 10th.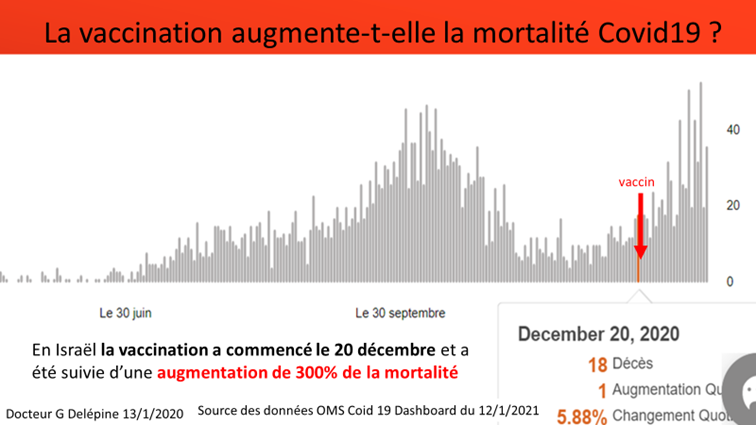 Does vaccination increase deaths from Covid19?
"In Israel vaccination began on 20th December and was followed by an increase of 300% in deaths"
These data led the government to extend the third confinement of the country for an indefinite period.
Evolution in Great Britain since vaccination
Great Britain is the second country in the vaccination race which began on December 4 with the vaccine developed by Pfizer and BioNTech. Since that date, the number of daily contaminations has exploded from 14,898 on December 4 to 68,063 on January 9, 2021.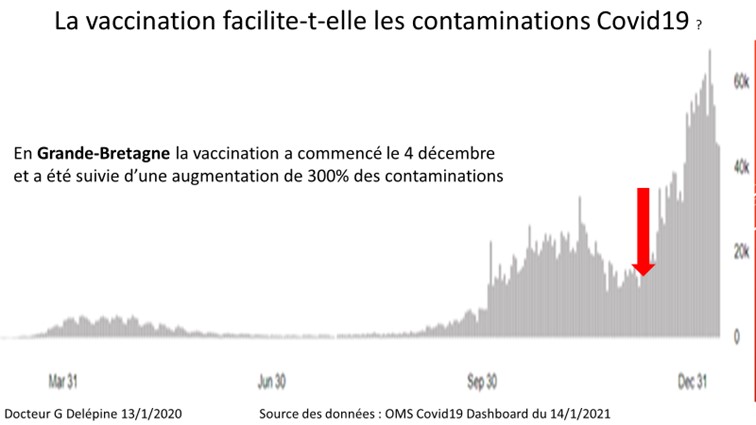 Does the vaccination facilitate contaminations from Covid19?
"In Great Britain vaccination began on 4th December and was followed by an increase of 300% in contaminations"
Unfortunately also the Covid19 mortality, which after an increase of almost 300% (414 on December 4 to 1564 on January 14) exceeds by 27% that observed in March-April 2020 (maximum peak 1224 on April 22, 2020).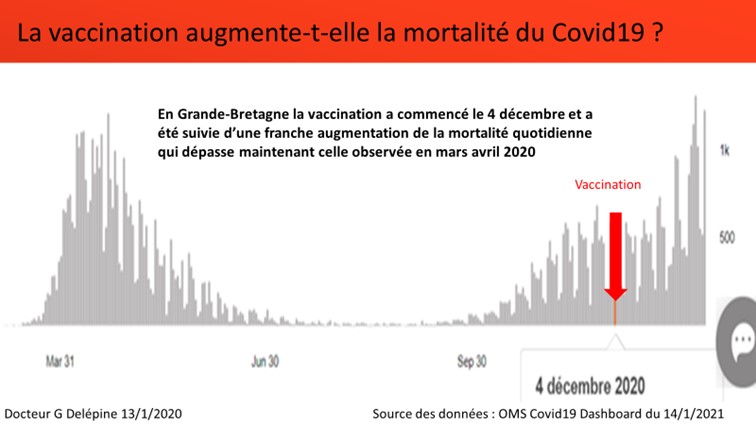 Does vaccination increase deaths from Covid19?
"In Great Britain vaccination began on 4th December and was followed by a clear increase of daily deaths which is now above those observed in March and April 2020 "
These considerable and simultaneous increases in the daily incidences of contaminations and deaths after vaccination are very worrying and confirm that the marketing authorizations for vaccines were premature. Evolution in France not vaccinated during this period In France, both the number of new cases and the number of daily deaths remained stable during this period and at a much lower level (per million) than in countries that are champions of vaccination.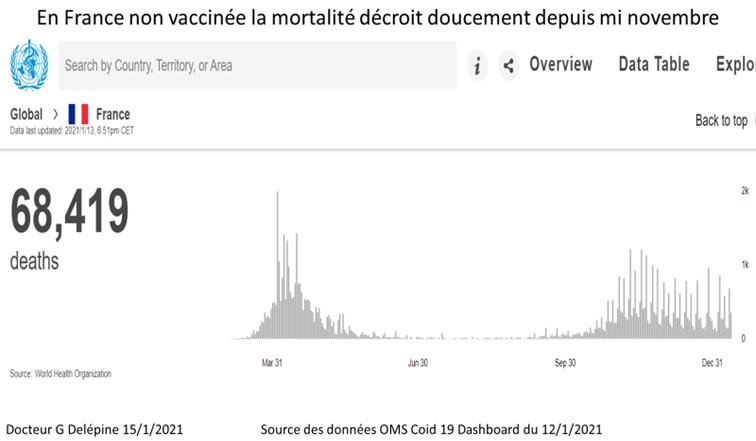 In France, without the vaccine, the death rate has gone slowly down since mid-November
[SF note: this was a month ago; today, 15th February, the official statistic of Covid-related deaths is 81,814]
We are therefore struck by the evolving differences of the Covid19 epidemic between the countries, which are the first in the vaccination race, and France, which is slower to vaccinate.
Since the widespread administration of the Pfizer vaccine, the number of infections and daily deaths has risen sharply in Israel and Great Britain, while among die-hard Gauls the epidemic has slowly receded.
This praise for slowness is a reminder that there are no safe drugs or vaccines and that paradoxically they can increase the severity of the disease they are meant to fight.
This has been observed with the supposedly anticancer vaccines (the anti-hepatitis B vaccines supposed to prevent liver cancer [2] and the anti-papillomavirus vaccines supposedly anti-cancer of the cervix [3] and more recently with the health scandal of the dengue vaccine in the Philippines which has resulted in several hundred deaths and a cascade of ongoing trials.
The lessons of the Dengvaxia disaster have not been learned and endanger the victims of the current frenzied propaganda, those who are vaccinated against Covid19.
Neither pro nor anti-vaccine, but firmly opposed for the moment to the generalization of an insufficiently evaluated vaccine
Contrary to what decoders linked to the pharmaceutical industry claim, I am not against vaccination. I am pro-vaccine when a vaccine is effective, safe and prevents serious illness. I am against a vaccine when it is unnecessary, as is the case for diseases transmitted only by water (polio, typhoid, cholera) in countries with public hygiene having drinking water and treatment of waste. I am against the vaccine, when it has not been properly studied and evaluated: vaccine against dengue (which has caused hundreds of deaths in the Philippines), Gardasil vaccine (which paradoxically increases the risk of cervical cancer).
The indication of any treatment or vaccine should be based on an assessment of its benefit / risk balance.
No individual benefit can be expected from vaccinating those under 65 against covid, since the disease is milder in them than the flu; this population can therefore hope for nothing from anticovid vaccines except for complications.
And the societal argument: "we vaccinate ourselves to protect others" is also irrelevant, since it is far from being demonstrated that the vaccine is able to prevent or slow down viral transmission.
In the current state of knowledge, the vaccination of older people with risk factors (population where an effective and safe vaccine could be useful) has not been properly evaluated, because the trials refuse to include this population at risk. .
The precautionary principle therefore justifies not systematically vaccinating them, as long as there is not a sufficient number of transparent data confirming the effectiveness and the absence of toxicity in a real population.
Norwegian alert
Norway has just issued an alert on January 15 after the observation of 23 deaths possibly linked to the Pfizer vaccine [4] [5], in elderly people in nursing homes. Of those deaths, 13 were autopsied, with the results suggesting that common side effects may have contributed to serious reactions in frail elderly people. According to the Norwegian Institute of Public Health: "For the most fragile people, even relatively mild side effects can have serious consequences. For those who have a very short remaining lifespan anyway, the benefits of the vaccine may be marginal or irrelevant "and the National Institute of Public Health has amended the coronavirus vaccination guide, adding new advice from caution on the vaccination of frail elderly people.
Peter Doshi [6] had warned in November "let's wait until we have full test data" because the industry's victory announcements are imprecise and incomplete. He also recalled that the trials did not study the only relevant criterion, mortality [7] but only the number of cases based on often false tests: "the world has bet everything on vaccines to provide a solution to the pandemic, but the trials are not focused on demonstrating that they will be ".
In conclusion, the government should be congratulated for its slowness in generalizing anti-covid vaccination. The current results of the Pfizer vaccine in the Israeli and British populations indeed raise fears of a vaccine health catastrophe in these countries and the Norwegian alert increases the concern.
Let us thank in advance the French volunteers to be vaccinated: they will constitute the guinea pigs of the phase 3 trial that the laboratory did not take the time to do before marketing. Thanks to them and the risks they take, in a few months we will be able to have a better idea of ​​the advantages and disadvantages in real people.
[1] Frédéric Métézeau: Israel, model country for vaccination but still confined, France info, 1/14/2021
[2] The anti-hepatic B vaccination has been followed in the West by a 2-4 increase in the incidence of liver cancer.
[3] HPV vaccines have been followed by a 30-200% increase in the incidence of invasive cancers in the most vaccinated age groups.
[4] Norway launches alert after discovery of 23 deaths linked to Pfizer vaccine, Businessman 1/15/2021
[5] Norway Warns of Vaccination Risks for Sick Patients Over 80
[6] Peter Doshi: Pfizer and Moderna's "95% effective" vaccines — let's be cautious and first see the full data November 26, 2020
[7] Peter Doshi associate editor Will covid-19 vaccines save lives? BMJ 27 10 2020 Current trials aren't designed to tell us: BMJ 2020; 371: m 4037
Author (s): Dr Gerard Delepine for FranceSoir
Text no.3:
(you can get English subtitles on this video)
Christian Vélot, molecular geneticist , University Paris-Saclay, president of Scientific Council of Criigen (COMITÉ DE RECHERCHE ET D'INFORMATION INDÉPENDANTES SUR LE GÉNIE GÉNÉTIQUE – https://criigen.org/ )
https://www.youtube.com/watch?t=2166&v=tYwCxe9gvQY
Vaccines are not the same as medicines for those who are ill (we may generally accept side effects for those who are ill).
A virus with a "spike" of covid on the surface of an envelope capsule of protein (https://en.wikipedia.org/wiki/Viral_protein). Protein allows virus to be anchored to the surface of cells which are infected with a virus and release its genetic material (g.m.) there.
DNA is genes and some hold the secret of protein manufacture. Proteins are large molecules that act as all biological processes that take place in our cells. DNA holds manufacturing secret of proteins.
From DNA (double helix) genes to protein is not direct – it passes through the DNA which must be converted into single strand molecule RNA. Intermediary between DNA and protein, is called the "messenger" (i.e. mRNA). DNA language conversion into RNA molecule is called TRANSCRIPTION. RNA is decoded to create protein "language" ("translation").
So DNA → transcription to RNA → translation to PROTEIN
Virus injects itself into DNA and follows same DNA → transcription to RNA → translation to PROTEIN process and can then leave cells to infect other cells and individual cells to carry itself because it has no autonomy. It can't create its own proteins.
Some viruses' g.m. is NOT DNA but is directly RNA. That is, it is directly the intermediary to proteins (ie the messenger to proteins). Which is the case with COVID.
Normally a vaccine is used to stimulate the immune system – to prepare the antibodies to neutralise the infectious virus (or bacteria). Some vaccines involve injecting the whole virus – which are "inactive": it looks the same to the antibodies but it's "dead". The problem with these is that they're not very powerfully "immunogenic". (https://en.wikipedia.org/wiki/Immunogenicity) – "immunogenic" meaning able to stimulate the immune system. So you have to empower it with adjuvants (https://en.wikipedia.org/wiki/Adjuvant) – aluminium salts, formaldehyde, etc. and you have to repeat the injections.
Attenuated (or "inactive/dead") vaccines are NOT in fact dead, not inactivated , but weakened.
So if we get a mutant strain of a virus which has become heat-sensitive and can't multiply at body temperature (37º) lab procedures can make the virus heat-sensitive.
Attenuated vaccines are more immunogenic than "inactive/dead" ones. But because they're not dead they can be more dangerous because they're not sufficiently attenuated. Especially for those who are fragile, like pregnant women.
The new "recombinant protein" (https://fr.wikipedia.org/wiki/Prot%C3%A9ine_recombinante) vaccines:
These proteins are manufactured differently from those that naturally make it in real life – such a vaccine can inject NOT the whole virus but a surface protein of the virus, a surface protein that triggers production of the anti-bodies – ie it becomes immunogenic. So it's less dangerous as a method of stimulating the immune system than the whole virus. This method is used in the vaccine against Hepatitis B. Also against Papillomavirus against cervical cancer.
For Hepatitis B – a DNA virus – what is searched for in order to produce the vaccine is the gene holding the manufacturing secret of the surface protein.
"Recombinant" vaccines are manufactured in cells (e.g. in yeast) that are not those which synthesise it in real life. This recombinant cell is purified from the cells that produce it, then combined with adjuvants and injected into people to be vaccinated. The protein is the vaccinating agent.
There are more than 230 vaccines in the race and (at Christmas 2020) 20 were ready to be released on the market. Some are inactiviated (ie widely used already for other diseases). The China vaccine used methods previously developed. They were applied already back in July, though they're not very immunogenic and repeated vaccines are required. They need adjutants.
Others are based on the recombinant method (eg the one proposed by Novavax).
The Canadian "Medicago" bets on capsid [https://en.wikipedia.org/wiki/Capsid ] protein (inside the envelope – not visible on the outside surface of the envelope. It's produced in plant cells (transgenic cells), put into empty capsid called a "virus-like particle"(VLP) – it seems like a virus but isn't.
NEW VACCINES FOR COVID
These are "genetic vaccines" .
They inject a part of the g.m. of the virus , which holds the manufacturing secret of, for example, the spike protein, the surface immunogenic protein. This protein will be synthesised directly by the cells of the person we are trying to vaccinate. These cells will manage the g.m. – decode it and synthesise the spike protein themselves. These are RNA – a bit of the viral RNA – messenger RNA. This method is the one chosen notably by PfizerBioNTech and Moderna.
The gm we want to introduce into cells – either RNA or DNA can't enter into the cells alone – it needs a vehicle – called a "vector" – a nanoparticle of "fat" (a billionth of a meter in length) in which COVID g.m. is enclosed.
What limits our cells – the plasma membrane – "lipid bilayer" [https://www.lexico.com/definition/lipid ] – a layer of fat that fuses with the layers of fat from our cells.
Others are DNA vaccines.
They use a vector which is not a nanoparticle of fat but which is a virus (NOT Covid) to be used for its natural virus properties – an ability to inject g.m. into cells. AstraZeneca and Sputnik use a recombinant virus as a vector – called Adenovirus [https://en.wikipedia.org/wiki/Adenoviridae ] – a DNA virus notably responsible for a flu-like state (like a bad cold) – not a very aggressive virus, but the virus has been disarmed – ie made inoperative by eliminating some of its g.m. responsible for its virulence. The eliminated part is replaced by COVID g.m. Thus it delivers into our DNA hybrid g.m. which is partly its own g.m. and partly the g.m. of Covid. It's called a recombinant virus. [https://en.wikipedia.org/wiki/Recombinant_virus]. Adenovirus is a DNA virus. Covid is an RNA virus. But it's impossible to insert RNA into DNA. Covid RNA has been converted into a Covid DNA and DNA→ RNA is possible. But not normally – normally it's the contrary. But now, thanks to a viral enzyme, it is possible.
AIDS went from RNA to DNA. This enzyme is called "Reverse Transcriptase" [https://en.wikipedia.org/wiki/Reverse_transcriptase]
This delivers some recombinant DNA which will include a recombinant vector.
THESE VACCINES HAVE NEVER BEEN USED BEFORE – or hardly ever. There's a risk of the vaccinating DNA getting inserted into our chromosomes. And we have no control over where – in what chromosomes they can fit in. These recombinant vectors have already been used in some clinical trials, including gene therapy – e.g introduced into the cells of a sick child, a child who has a mutated gene that makes him/her very sick. So a "repairing gene" – a normal gene – is introduced. It's a human gene – not foreign DNA, and done consciously, wilfully. But there's not "will" in the case of the vaccine. 2 out of 10 kids who had this method had major problems because the repairing DNA had been inserted in an "unfortunate place – oncogenes [https://en.wikipedia.org/wiki/Oncogene] – genes with the capacity to produce cancer. If you leave them alone there's no problem, but if you disturb them, modify their function, their expressions, they will lead to a cell proliferation – possibly cancer – these 2 kids developed leukaemia (2003 report). This is called "insertional mutagenesis" [https://en.wikipedia.org/wiki/Insertional_mutagenesis] – mutations of the genes, where the gene structure gets modified.
Another risk related to vaccines using a virus as a vector, like the Adenovirus, which is foreign to our body, is that it can trigger unwanted immune reactions than can disturb the desired vaccine response. The body, not knowing what it is dealing with, feels overwhelmed and can attack anything and everything.
Some immunotherapy has led to immunotoxicity – ie unwanted immune responses which can range from auto-immune disease to far worse – e.g. a fatal systemic inflammatory response. In a trial of 18 people 1 died.
RNA cannot reach/integrate into the chromosomes.
So there are 2 risks: the risk of insertion for the DNA vaccine and of immunotoxicity.
With PfizerBioNTech, Moderna, AstraZeneca and Sputnik vaccines there's a risk of viral recombination, where viruses of the same kind share/exchange g.m. (which is the reason that normally RNA cannot be inserted into DNA and vice versa). So the question is of 2 RNA viruses or 2 DNA viruses . Recombination (exchange of g.m.) is most common amongst viruses of the same type/family, though not exclusively. It's less frequent, but such recombination (not of same type or family) can make the virus either more dangerous or less dangerous – but unpredictably. Swine flu (H1N1) was a triple recombinant. For this to happen, a cell must be infected by 2 viruses at the same time – which is very unlikely. But this – the vaccinating g.m. and the infecting gm = a recombinant virus. The frequency is extremely low. 1 in 10 million to 1 in 100 million. For an individual the risk is so low as to be negligible. But at the level of the population of the whole world it's a significant risk when you vaccinate a billion people. So 10 people could have this recombinant virus that intrudes into the DNA from the RNA – and thence infect others with a potentially more virulent virus. The consequences could be global! Since this is new and not been tried on a general global population it only makes sense to use the tried and tested vaccine methods. The Chinese at least used technology previously tested over years and years even if they didn't complete phase 3 of the clinical trials before putting it on the market. 3 people in the same area and the same age can have very different symptoms. So add to that a new unpredictable virus with a new unpredictable vaccine method and…???
So why not use technology that's long been used if the cure is possibly worse than the disease. Security is not compatible with urgency (financial and political). Safety first!
***
Text no.4:
A propos the anti-Covid-19 vaccine.
Neither conspiracy theory nor blind belief
Paul Lannoye 17/12/2020
Google translated from here: https://www.kairospresse.be/article/a-propos-du-vaccin-anti-covid-19-ni-complotisme-ni-croyance-aveugle/
In Belgium, as in all European countries which have adopted containment measures that are difficult for all to live with, the end of the tunnel is announced very soon thanks to anti-Covid vaccines. Several vaccines will be available in a few weeks; their advertised effectiveness is around 95% … according to the producers. All that remains is to obtain marketing authorizations from the European Medicines Agency: a formality considering the very short deadlines provided.
The spokesperson for the Security Council, Doctor Yves Van Laethem, has repeatedly insisted that collective immunity can only be ensured by vaccines, provided that vaccination coverage of at least 70% is acquired. .
But for that, it will be necessary to reassure and convince the reluctant not only of their effectiveness but especially of their harmlessness. Anyone who takes issue with this rhetoric or cites the long-term risks or side effects of hastily made and licensed vaccines are classified at best as anti-vaccine ideologues, at worst as conspirators. Brushed aside the most founded objections and reluctance in the face of uncertainties, ignored the yet proven facts which undermine the vaccinalist doxa of Mr Van Laethem.
Yet the facts are the facts; we can ignore them but we cannot deny them: they are more valuable than beliefs.
I submit them here to a critical examination:
1.
It is generally accepted that the development of a new vaccine takes an average of 10 years, which is confirmed by both the scientific literature and data from the World Health Organization (WHO). It can be noted, moreover, by consulting these same WHO data i that no vaccine is operational to fight against the most devastating viruses that have appeared in recent decades; no vaccine is cited as available for the deadly diseases of AIDS, Ebola fever, severe dengue or Chikungunya. With the Covid-19, we will have in less than a year of vaccines presented as effective thanks to a fast-track procedure and following clinical trials carried out by the manufacturers whom we are asked to trust. It is hard to believe that the same guarantees of safety can be obtained from clinical trials conducted at a few sites for a few months as with trials conducted at many different sites for several years. We will remember the episode of the vaccine developed in emergency by GlaxoSmithKline during the H1N1 epidemic in 2009. After two years of widespread use of this vaccine in Finland, the vaccine vigilance system had highlighted a risk of narcolepsy for 6 months after injection in children and adolescents. A study published by the British Medical Journal in 2013 confirmed these results for the UK. There are a total of 1,500 cases of narcolepsy in Europe and 80% of the victims are children. ii As a reminder, narcolepsy is a chronic and incurable neurological disease which manifests itself in the form of sudden and acute drowsiness appearing n ' anytime during the day and anywhere. It damages mental function and memory and can only be cured with expensive drug treatments.
2.
The vaccines that will be available very soon, produced by Pfizer / BioNTech and Modern respectively, to which must be added Curevac, are of a new type. They use biotechnology by injecting the RNA encoding the viral protein to make the infectious virus antigen produced by the cells of the vaccinated person. This is a first for which risks of a specific nature are to be feared. As the molecular geneticist Christian Velot points out in a recent expert report carried out as Chairman of the Scientific Council of CRIIGEN, the risks of the appearance of recombinant viruses and insertional mutagenesis are real. But he insists that anti-viral vector immunity can also directly interfere with the desired vaccine efficacy, concluding that current vaccine candidates require in-depth health and environmental assessment incompatible with urgency. iii This evaluation did not take place and will not take place if nothing changes. In order to speed up the marketing of this type of vaccine, the Council of Ministers of the European Union and the European Parliament iv adopted on July 15, under an urgent procedure, without debate or amendments, a regulation allowing producers of vaccines against Covid-19 to escape the requirement to carry out an environmental impact and biosafety study beforehand. This derogation from GMO legislation completely violates the precautionary principle, the basic principle of the Treaty on the functioning of the European Union. * Only a small minority of MPs dared to oppose this decision. Added here is the risk of not taking into account the side effects as a consequence of the little hindsight available, the ecological risk and ultimately health related to the possible spread of recombinant viruses potentially more dangerous than the virus than the we pretend to fight. An action for annulment of this new European regulation with the General Court of the European Union has been brought by six associations (the CNMSE, Terra SOS Tenible, LNPLV, EFVV, AIMSIB and Children's Health Defense Europe) considering that nothing justifies the abandonment of the precautionary principle under the pretext of urgency.
3.
The negotiations carried out by the European Commission with pharmaceutical companies took place in the greatest opacity, which MEP Michèle Rivasi denounced on several occasions: neither the pre-purchase agreements negotiated in secret, nor the raw data of clinical trials, nor the selected efficacy criteria, are available. What seems certain, at the very least, is the clause, according to which the responsibility for defective products will fall on the producers but not for damages resulting from undesirable side effects, which will be borne by the States! It is quite obvious that the big winners in this agreement are anyway the vaccine producers who are guaranteed a captive market without financial risks.
4.
The basic premise, when negotiations are initiated between two parties, is that of good faith that is attributed to its interlocutors. In this regard, one is entitled to question the trust that should be placed in the statements of pharmaceutical companies producing vaccines. With regard to Pfizer more specifically, it has been established that there have been multiple convictions against this company over the past 15 years v. It should be noted in particular that Pfizer pleaded guilty in a case of false advertising relating to several drugs in the USA in 2009 and paid a fine of $ 2.3 billion to avoid any judgment. It's fair to say that Pfizer is not the black sheep of the pharmaceutical industry; most of its competitors have a record that is hardly more flattering. We're looking for a white sheep.
5.
You have to be wary of announcement effects. This is the obvious conclusion when we look at the long list of dashed hopes after premature claims about the efficacy of vaccines on the market. Two particularly dramatic episodes have taken place recently. They are indicative of the inherently dangerous nature of a vaccine race that ends up forgetting the basic ethical principles of medical research.
The case of dengue haemorrhagic fever: botched clinical trials
In 2015, a vaccine developed by Sanofi was shaping up to be a miracle of planetary magnitude. It was a world first, after twenty years of research and 1.5 billion euros of investment. From this announcement, voices were raised in the scientific community to warn about the inconclusive results of the first clinical trials. The enthusiastic Philippine government launched a disastrous vaccination campaign: 500 children died and several thousand suffered severe hemorrhages. It was found that the risk of severe dengue was 7 times higher in vaccinated children under 5 years old than in unvaccinated ones. Clinical trials in phase 3 after reanalysis showed that the history of dengue was not taken into account. The program was eventually terminated.
A vaccine against malaria currently being tested in Africa vi
In January 2020, an article published in British Medical viiand signed by several experienced epidemiologists and experts in the African context, revealed the adverse effects of GSK's vaccine, Mosquirix, which has been being tested in Africa for several years. After relentlessly researching the adverse effects in the reports exchanged between the manufacturer and the health authorities (WHO and the European Medicines Agency), the authors concluded as follows: "the toxicity data are catastrophic: no more meningitis, more cerebral malarias and doubling of female mortality among vaccinated persons ". It would have made sense to stop the experiment immediately, given these disastrous results. But the decision was quite different: launch a new study to see if the vaccine really increased the risk of cerebral malaria (often fatal) and the mortality of baby girls vaccinated. Worse, this new study was scheduled without the informed consent of parents, with the spurious argument that handing over your baby to caregivers was implied consent. This manifest violation of the rules of medical ethics was denounced in a new article from the BMJ on February 24, 2020 viii.
As a conclusion
All the facts mentioned above agree to raise legitimate questions about the relevance of a vaccination campaign in a context where information relating to the effectiveness of vaccines is strictly advertising and not very explicit and where the possible risks for the vaccinated people. are ignored. Even more serious is the leap into the unknown in the large-scale use of RNA vaccines.
Strengthening everyone's immune system is a risk-free choice: reducing the pollution that weakens immunity, ensuring everyone has access to a healthy and balanced diet, encouraging the use of useful vitamin supplements (vitamin D) and in the form of trace elements (zinc), encouraging a healthy lifestyle (regular physical exercises, and outings in the fresh air) constitute a plan for immunity where everyone wins… except the multinational drug companies and the polluters of all categories
Remember that vaccination is a medical act. In this regard, it requires rigorous and objective information about the possible risks that each patient runs in relation to the expected benefits. In addition, it is a preventive medical act. In the absence of reliable data on the effectiveness of the vaccine for each individual, at a minimum, it would be necessary to be able to justify its benefits to society as a whole, given the high cost of the operation and the lack of reliable forecasts available. We are asked to believe in the merits of a choice by remaining blind and deaf to all the signals which warn us.
Yet another prevention policy is within our reach. Strengthening everyone's immune system is a risk-free choice: reducing the pollution that weakens immunity, ensuring everyone has access to a healthy and balanced diet, encouraging the use of useful vitamin supplements (vitamin D) and in the form of trace elements (zinc), encouraging a healthy lifestyle (regular physical exercises, and outings in the fresh air) constitute a plan for immunity where everyone wins ix… except the multinationals of drugs and polluters of all categories. Oddly enough, all of this is missing from the discourse of politicians and experts.
One final word: The seasonal influenza virus vaccine has been available and widely recommended for decades. It has never eradicated the virus or prevented the thousands of annual deaths from the flu.
Paul Lannoye, Member of the Bureau of the ASBL Cluster. Former president of the Green Group in the European Parliament.
Article originally published on the GRAPPE website, grappebelgique.be
World Health Organization: "available vaccine"; https://www.who.int/fr/home
Miller E et al. : Risk of narcolepsy in children and young people receiving AS03 adjuvanted pandemic A / H1N1 2009 influenza vaccine: retrospective analysis; BMJ 2013; 346-f794.
Christian Velot: Expertise note for the general public on vaccines using GMO technologies; CRIIGEN; September 2020
Regulation (EU) 2020/1043 of the European Parliament and of the Council of July 15, 2020 on the conduct of clinical trials with medicinal products for human use containing genetically modified organisms or consisting of such organisms and intended to treat or prevent disease coronavirus (COVID-19), as well as the supply of these drugs.
Dr Vincent Reliquet: Vaccinsanti-Covid in 2020: health, political, media and financial madness: AIMSIB; 22/11/2020.
The following text is largely inspired by the dossier published by AIMSIB: Malaria, Covid -19 and the vaccine miracle; April 19, 2020.
P.Aaby et al. : WHO's rollout of Malaria vaccine in Africa: can safety questions be answered after only 24 months? , January 2020.
P.Doshi, WHO's malaria vaccine study represents a "serious breach of international ethical standards", February 2020.
https://www.kairospresse.be/article/stimuler-notre-systeme-immunitaire-un-imperatif-sanitaire-urgent
***
(while the tendency to an excessive emphasis on the dialectical method  is criticisable, he at least applied it to many concrete aspects of the society of his epoch)
"That scientific observations and calculations have nothing to do with false consciousness is absolutely right. Scientific data are in themselves innocent and betray no sign of the "capitalist mode of production." Correct facts are to be found in the most corrupted ideologies and will remain correct facts under any form of society. It is never this or that correct or false detail, it is always the basic attitude we take, the special form and meaning things receive at our hands, in which the influence of our social existence (again: not simply economy) and its reflection as ideology must be detected. Only if Marx's thesis itself is taken correctly and attention is turned from innumerable details (which can be argued back and forth to no avail for eternities) to the general character of the processes of life — only then can the all-pervasive influence of our social existence be properly traced in whatever field one may choose for investigation."
"The age of decaying bourgeois society, the age of science par excellence, is the most unscientific through which mankind has ever passed, and the law of the dwindling force of cognition is accompanied by the law of diminishing quality in all branches of material and spiritual production, characteristically enough with the exception of production for war."
"Nowadays scientists responsible for or involved (objectively speaking) in production-crimes have rightly been accused in public for their distortion of scientific facts, for their outright lying and concealment with respect to the far-reaching consequences which modern production processes have for us, for their lack of courage to protest and to tell the truth — which they know."
"What about scientists who have raised their voices and have protested against the insanities propelled by their colleagues, by business and government? Analysis of such protests shows that they are (valuable as they may be in other connections) nearly always characterized by inconsistency and confusion. Even in the few exceptional cases where the correct slogan is adopted and a clear, unconditional stop is demanded, consciousness about the source of the insanity and the only remedy against it is again completely lacking or at least not manifested. There is not one scientist who, after having relieved his conscience, has used his authority to call upon the people and to engage in a real fight. Inconsistency and moral cowardice dominate the field — each scientist approached with the demand to go beyond mere oral protest (which, of course, must remain ineffective if not driven farther) has answered with evasions or a clear-cut decline. One was just writing a book or an article in which he would "speak" about the subject; another had anyway "so much to do" and could not go along; a third waited for a conference and a fourth perhaps for a genuine American spring. At all events: Those who had knowledge and authority and with it the power and the responsibility for action fell back and left the disquieted people in the lurch.
Then there is the mass of those scientists, scientific workers, laboratory technicians, teachers, etc., who may or may not "know what is going on" but are, like the masses themselves, not responsible for our social existence and its course towards a catastrophe. Concerning this category it must be pointed out that the consciousness of masses, classes and social groups in bourgeois society is subject to the law of ignorance and isolation as the most general and powerful law of our social existence. The material basis for this law is furnished by the national and international division of labor and the extreme specialization both of the sciences and within the sciences in the framework of competition and the fetish-character of commodities. Modern man is an isolated atom rather than a fully developed social being; a little screw in a tremendous mechanism alien to him rather than a self-asserting individual in a community clearly recognizable in its structure. The slave in ancient society, ignorant as he may have been, had more knowledge about social relations than today's most learned specialists; he, like the serf, knew exactly who oppressed him, what the nature and the product of his labor was, what quality it had and how it was used."
"Up to 1848 (roughly speaking) the general trend of thought was that man had come to master his social existence with the help of reason and science. This was in line with the revolution in which man seemed to take destiny in his own hands; it was also in line with the development of the productive forces and the progress of technology, which seemed to provide him with all he would need in the future. Now, with the stabilization of bourgeois rule, it turned out that social existence had mastered man and isolated him hopelessly from all others with whom he saw himself entangled, in one way or another and even as worker against worker, in the merciless struggle of competition. Industry and science benefited the rich, not society as a whole, and both became instruments of oppression and enslavement. Simple human and social relations, simple regardless of what could otherwise be said against them, had imperceptibly changed into a most horrible plague: relations between things. Money and Capital, the abstract expression of the new relations, emerged as the sole regulating and connecting factors in a totally reified society under which the common human ground had vanished."
"A kind of social schizophrenia overwhelms the consciousness of man, manifesting itself first of all in splitting off enthusiasm for science from its political side, namely the social obligations of science. One has to be scientific and to behave rationally in order to make a living and to survive in the competitive struggle, but for the very same reason one has to shun passionate feeling, conviction, humaneness and responsibility towards the whole. In a word: One has to behave unscientifically and irrationally as a human being and thus affirm the irrationality of the system. This social schizophrenia establishes itself as a veritable impersonal institution which enforces onesidedness, human indifference and hypocrisy in every sphere of life. On the one hand, the bourgeoisie furthers, protects and recognizes only those sciences, ideas, methods, teachings, arts and so forth which are useful or indispensable for its own existence, for industry, business and political rule. On the other hand, much apologetic, confusion, distortion and sham-opposition is needed for the deception of the people. The bourgeoisie therefore assigns thousands of specialists to a fixed task, throws thousands of petty and obedient scholars into the social-economic web, buys off thousands of "oppositional" politicians, turns thousands of "rebellious" artists and ideologists into respectable citizens, looks benevolently upon thousands of apostles, cranks, sect-founders, bohemians, scribblers, reformers and "radical" fools living like criminals at the verge of society and cementing its crevices."
" Scientific "detachment," further, reveals itself to be fierce political partisanship, objectivity to consist of subjective selection of facts fitting preconceived simplifications"
"The self-appointed "elite" man is the one who closes the circle in the decline of cognition, for he is the first vulgar person who turns science into ideology, who abuses science and in whose hands it becomes deadly. Leonardo da Vinci destroyed his design for a submarine out of fear that it would be misused. Einstein, in contrast, induced Roosevelt to produce A-bombs, with which he unchained the deadliest force ever put in the service of capitalist competition in war and peace. Was it fear, naïveté, hope or something else which moved Einstein? It was, in any case, his social existence, the logic of the system which pushed him in a disastrous direction. It was thus false consciousness, ignorance of political science, blindness with regard to social implications and the connection between all sciences if he could not even calculate the first consequence of his step and believed that the bomb would not be used without the "utmost necessity" in the sense in which the bourgeoisie itself understands this term. One has to grasp the dialectical nature of things, which imbued the production of the bomb with its own logic — the bomb was actually used wantonly, with political deception of the people, and the horrible new branch of production had to be pushed further and further. Let it be repeated: The bourgeois character of the "abstract" sciences (which "as such" contain no ideological material) cannot be detected in themselves but in their theoretical interpretation. Let it be repeated, too: In bourgeois society, science cannot benefit the people, it benefits the system and its parasites (general assertion of its bourgeois character) and remains a potential, not an actual friend of mankind. The alienation of man from his work is reproduced in the alienation of science from its social purpose, and both harden the antagonism between physical and intellectual labor in which reason has no place. "
"A letter by Einstein to the editor of The Reporter sums up the point in a rather tragic manner. Having been instrumental in what was to follow from the construction of the A-bomb (secrecy; restriction of scientific communication, freedom and conscience; deception of the people and political persecution) he commented on a series of articles by Theodore H. White under the title "U.S. Science: The Troubled Quest." In these articles it was said "that centers of intellectual life were troubled by recent Federal actions concerning scientists." The New York Times of Nov. 10, 1954, from which the story is taken, noted: "Dr. Einstein has been an outspoken critic of these actions. When Dr. J. Robert Oppenheimer was denied security clearance by the Atomic Energy Commission, Dr. Einstein said: 'The systematic, widespread attempt to destroy mutual trust and confidence constitutes the severest possible blow against society.' " Then followed Einstein's letter to the editor of The Reporter:
You have asked me what I thought about your articles concerning the situation of the scientists in America. Instead of trying to analyze the problem, I may express my feeling in a short remark: If I would be a young man again and had to decide how to make my living, I would not try to become a scientist or scholar or teacher. I would rather choose to be a plumber or a peddler in the hope to find that modest degree of independence still available under present circumstances.
After the letter, the New York Times wrote:
In Princeton, Dr. Einstein's secretary declined to elaborate on this comment. In publishing the letter, Max Ascoli, the editor of The Reporter, said that it was an honor but "hardly a pleasure to publish this letter from Albert Einstein." The comment will be freely used by enemies of the United States, he said. [This is divine: As if it were the fault of the "enemies" that "something" is utterly rotten in the United States!] But he added that the freedom to protest, which Dr. Einstein used in making his comment [this is divine again: Einstein was asked for it, but Ascoli surely expected him to be a "good boy" who never uses any "freedom"!], can still [!] be afforded here. Our country must maintain a good record on this score, not just a better record than do the totalitarian nations, Mr. Ascoli said in an editorial comment.
That is all that came out of a vital issue, and the story confirms what we already know. You can, especially if you are Einstein, still express your feeling and become a "protester" who audaciously uses such freedom, but you will not attempt to analyze the problem, let alone with full documentation and in its full social and scientific impact. It is an "honor" to print a statement by a great man, but hardly a "pleasure" because it reveals a little of that truth which it should be the highest honor and pleasure for any non-totalitarian or honest paper to publish."
"Business is going on in science as in all other spheres of production! 100 different kinds of toilet-paper are produced because people must go into business, must stay in it and expand — scientists, lecturers and students produce for the same purpose en masse. Three or four kinds of toilet-paper would represent a rational production and be sufficient for any need — three or four scientific papers among each thousand would provide for all that is required in the field. The rest is useless duplication and sham-production which has nothing to do with human or scientific needs, but much with business, competition (also among the universities, which are run as business institutions) and a totally crazy system maintaining itself through tremendous waste. Wherever we look there is the dialectical unity of opposites and transformation of opposites into opposites. Material production progresses and incites scientific work as science progresses and incites material production, yet one is simultaneously as rational and irrational as the other. Material production cannot find its general purpose and science cannot define its own subject-matter — both are separated from their human end; both are driven on by blind, external laws; both are governed by false consciousness. Rationality is thus achieved through irrationality and irrationality through rationality, both turning wildly into each other and finally leaving rationality chiefly in scientific methods, laboratories, computers, generators and the means of production, while irrationality appears chiefly in production as a whole, in H-bombs, guided missiles, gases and bacteria for warfare, jet-fighters, insecticides, chemicals and so on down to 100 different kinds of toilet-paper."
"The theoretical thinking of each epoch, thus also that of ours, is a historical product which assumes at different times a very different form and therewith a very different content. The science of thinking is thus, like any other, a historical science, the science of the historical development of human thinking. And this is also of importance for the practical application of thinking to empirical fields. For the theory of the laws of thinking is, firstly, by no means a once and for all established "eternal truth," as the common sense of the philistine imagines with the word logic. Formal logic itself has remained, from Aristotle till today, the field of vehement debates. And dialectics even has till now been more exactly investigated only by two thinkers, by Aristotle and Hegel. But just the dialectic is for today's natural science the most important form of thinking, because it alone offers the analogon and therewith the method of explanation for the processes of development occurring in nature, for the connections in general, for the transition from one field of investigation to another."
***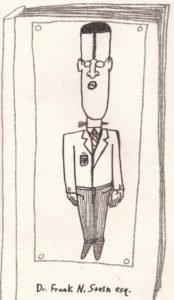 Some other relevant, but badly organised, material about vaccinations from the Covid1984 pages, some of which has not been sifted through much critical vigilance on my  part:
4/2/21:
13/4/20:
***
Further reading: