2019 2018 2017  2016 2015 2014 2013

"A gush of bird-song, a patter of dew,
A cloud, and a rainbow's warning,
Suddenly sunshine and perfect blue –
An April day in the morning"
"The first of April is the day we remember what we are the other 364 days of the year."

–  Mark Twain
(March 2019 here…May 2019 here)
There are obviously significant limits to providing links to information about situations I know little about. Some of this might give people the idea  that struggle is advancing or happening far more than it in fact is, and may even blind people to the contradictions and complexities of any specific situation. However, despite the inevitable limitations,  I will continue to put up links if only as a method of keeping a record of events, though this will be reduced compared  with previous years.
30/4/19:
Argentina, Buenos Aires: JPMorgan and 2 other banks attacked during General Strike against austerity

29/4/19:
Honduras, Tegucigalpa: clashes during demo against privatization of health and education services

28/4/19:
Algeria, Tébessa: locals burn water plant after being shot at by plant's security guards during demo against water deprivation
27/4/19:
France, Strasbourg: yellow vests attack EU headquarters "Smoke canisters were hurled about outside the EU headquarters, with demonstrators holding placards and flags that warned eurocrats not to "forget 2005", a year that saw three weeks of violent riots that included assaults and the burning of cars and public buildings."
26/4/19:
South Africa, Western Cape: fires burn outside poice station as 400 protest home demolitions…transformer, two distribution kiosks and a cable wrecked during service delivery protest

25/4/19:
Mexico, Chiapas: 600 escape migrant detention centre

South Africa, KwaZulu Natal: locals block roads protesting lack of assistance following floods that have killed 70 people

Morocco, Rabat: wildcat striking teachers demonstrate as they defy their leaders' official end to strike against contractual work, privatisation etc.

Colombia, Bogota: striking teachers, students, indigenous people etc. clash with state outside congress over repressive "National Development Plan"…Medellin: clashes during same strike…North Santander: masked students blockade major highway during same strike
24/4/19:
23/4/19:
Mali, Sikasso: locals beat up cops, burn cop motorbikes, in riots against cop racketeering

21/4/19:
Georgia, Pankisi: clashes with cops as locals resist construction of hydro power plant "17 civilians and 38 police officers were injured Sunday according to the Ministry of Interior in Georgia's mountainous Pankisi gorge. Tensions flared as the locals protesting the construction of the hydro power plant have clashed with the riot police…Locals have long been protesting the construction works on the series of small powerplants, fearing possible loss of drinking and irrigation water. They have managed to halt the construction of this particular five mgwt capacity powerplant, "Khadori-3" in June 2018. According to the Reg.Info news agency, the decision to resume construction was communicated to the locals on April 18 …Standoff between the locals and the riot police has escalated around 11 am, local time when protesters confronted the officers separating them from the construction site. Police used batons against the protesters, but were forced to withdraw few meters behind as locals threw stones at them. Officers responded with firing tear gas and rubber bullets, and returned to their initial position. …The clashes intensified mid-day, however, as protesters responded angrily to deployment of the additional police force into the area, while the talks with Minister Gakharia were under way. The construction machinery was burned down, and several police cars damaged. Interior Minister Giorgi Gakharia arrived on the scene shortly after the incident. Locals agreed to cease the demonstration after the community leaders agreed with the Minister that the authorities would remove the riot police from the area. Speaking after the talks, Gakharia said the company building the power plant would halt the construction works and continue talks with the local residents. "We have decided to postpone the power plant construction and agreed on the following – it will only be built, if 90% of locals support it," he noted. Gakharia said, however, that the police would maintain enhanced presence in the area. …Emzar Tokhosashvili, one of the protest leaders, said after the talks that there is near-absolute consensus in Pankisi that the power plant will not be built. "Only 2-3% of local residents might be in favor of building it, the rest are against… The government is not doing anything to develop the area, they are protecting the interests of investors only," he noted…"
Algeria, Tiaret: clashes between locals and riot cops as cops try to re-open town hall after locals had welded it up for 2 weeks in order to close down administration because of 'mismanagement'

South Africa, Gauteng: several Johannesburg roads blockaded by health workers demanding permanent employment

20/4/19:
Greece, Athens: clashes between anarchists & cops

France, Paris: further yellow vest protests "Marching from outside the economy ministry, protesters calmly carried French flags with slogans against Macron written on their yellow vests, such as: "Macron, you take from the poor to give to the rich." Some carried banners slamming the "hypocrisy" of wealthy billionaires pledging a total of more than €1bn (£865m) to rebuild Notre Dame Cathedral, saying business leaders had done nothing to address low salaries and the plight of people who couldn't make ends meet. "Humans first, €1bn for the gilets jaunes," read one banner."Millions for Notre Dame, what about for us, the poor?" read a sign worn by a demonstrator. "Everything for Notre Dame, nothing for Les Misérables," read another sign that evoked Victor Hugo's novel."…Toulouse: and more clashes"A little after 7pm, the prefecture of Haute-Garonne counted two wounded "in relative urgency". Seventeen people were also arrested, in particular for throwing projectiles, violence against people in charge of public authority or outrages…. Without a defined route, the demonstrators circulated several hours in the streets of the center of Toulouse, avoiding the Capitol Square, which was prohibited from 10am to 9pm by a prefectural decree. "I'm scared but it's not going to stop me from coming," says Claudine Sarradet. … "We get millions for stones, but nothing for people, it makes me very angry," says Sarradet in reference to donations, mostly private, for the reconstruction of Notre-Dame. "Notre Dame v  Notre Drame" [Notre Dame v. Our Drama] or "Rehouse Quasimodo and the homeless with him", could be read on posters posted in town by the demonstrators. The tension rose in the late afternoon, shortly before 5pm, near the War Memorial. Protesters clashed with security forces who advanced to block them, firing tear gas and stun grenades."
17/4/19:
France: report showing that 875 churches were vandalised in 2018   See also this

16/4/19:
Tunisia, Sidi Bouali: major highway blockaded with burning tyres, 5 cops hurt in clashes, as region goes on General Strike in solidarity with dairy factory workers, on strike for 5 months over redundancies & unpaid wages

Peru, Yauricocha: work at metal mine suspended due to illegal strike

15/4/19:
Denmark, Copenhagen: cars etc. burnt during clashes between mainly ethnic minority locals and fascists More here " After an anti-Muslim provocateur publicly desecrated the Quran in Copenhagen, demonstrations against him on Sunday and early Monday descended into violent clashes between protesters, who set about 70 fires in the streets, and the police, who made 23 arrests." Video here More here "Copenhagen Police have banned right-wing demonstrations as a "threat to public safety" and established temporary double punishment zones…Copenhagen Police have confirmed that an object resembling a hand grenade was found at the Blågård Plads square in Copenhagen's Nørrebro district".

France, Paris: conflagration of sickening hypocritical bullshit erupts "Thousands gathered at the scene on Île de la Cité, and sympathy-scenes around the world, to gasp, to gape, to weep, to mourn, and to pray that the rocks upon which this church was built– ignorance, superstition, slavery, degradation of women, child abuse, and landed estates– might be saved from the fire…."
Spot the difference: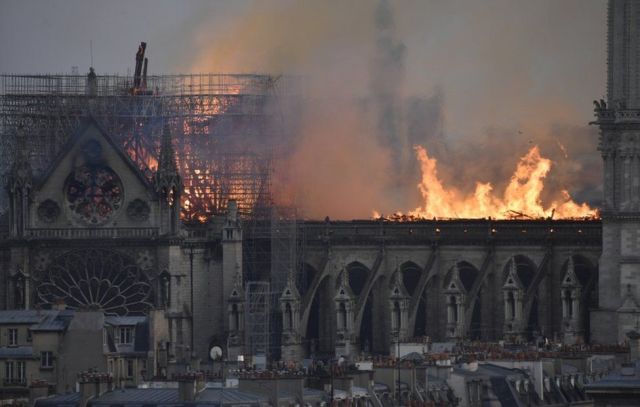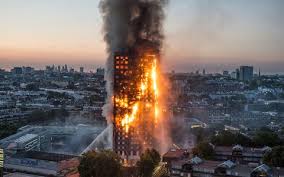 Notre Dame, Paris, 2019                                                                                      Grenfell Tower, London, 2017

  On top of this outpouring of sickening crap indicative of the contradictions we are all forced to endure, the reification that has colonised people's heads so much that things are sacred, human lives profane, it's worth pointing out this bit of hypocrisy: about 3 weeks before this fire, Macron held a banquet in Nice for Xi Jinping, China's increasingly totalitarian President, the man who has presided over the deliberate destruction of hundreds of mosques, including one, like Notre Dame, from the 13th century.
UK, London: interesting initiative – an alternative to Extinction Rebellion's jail-fodder actions "Our main route consisted of visiting and blockading various locations with functional significance for capital and resource transactions in London – the Stock Exchange, the Bank of England and the Metal Exchange. Along the tour we also stopped off at other points of interest – banks, courts, the church of Scientology – either chosen by particular comrades in the moment, or by the police who, due to not having any idea of our plans, kept running to protect buildings we hadn't previously considered trying to get into." The flyer they produced for their march-cum-blockade, however, is a typical lowest common denominator of correct line anarchism which doesn't even begin to try to confront the contradictions of ecological ideologies and movements – perhaps for fear of being unpopular. More about them here. Meawhile, this shows clearly the capitalist nature of the leadership of Extinction Rebellion.  And this shows how their phoney legal advisers are a danger to anybody getting arrested on their arrest-fodder demos. And this is a good critique of the Green New Deal.

South Africa, Mpumalanga: office of social development torched during service deivery protest
14/4/19:
France, Loire-Atlantique: arson attack on army recruitment car

Spain, Bilbao: clashes between cops and people protesting far-right party It should be pointed out that this, in the Basque region, has less to do with pro-migrant feelings than the fact that Vox is against any regional autonomy, an irrelevance supported by capital's Left wing. 

13/4/19:
France: yellow vest clashes in 5 towns…Lyon: 6 people try to escape detention centre – 3 of them succeed; others riot after screws do virtually nothing to stop a detainee killing herself

12/4/19:
Algeria, Algiers: dozens of cops injured during clashes

Sudan, Khartoum: protesters continue sit-in in front of military HQ after military coup

UK: more youth climate change 'strikes' Often said, but unless these protests recognise the anti-ecological nature of the economy, of capitalism, and aim to subvert it, they will all eventually become mere ideological fodder for  a reformism that will only enrich those leaders scrabbling for power over the backs of these protesters. Such a reformism is mostly a mirage that is pretty unlikely to be anything other than a quickly evaporating illusion as soon as it seems we approach it. However, it would be wrong – and determinist – to assume that – as Armageddon seems to approach – that capitalism inevitably is unable to take an ecological form eventually over the bodies of billions of  victims of environmental catastrophe, however unlikely this is or seems to be at present. And  if capitalism, or life on the planet, is not destroyed, we can only  expect – at "best" – an ecological totalitarian form of capitalism involving some form of world state that, even as it maintains the need for money, will police social relations to an unprecedented degree to produce a world and life that has been reduced to mere survival at its emptiest. 

Israel: trains throughout country stop due to 8 traffic controllers' illegal strike  "Israel Railways was forced to stop all train traffic throughout Israel at 8 a.m. until further notice, due to the fact that nearly half of the traffic controllers in the National Railways Command "called in sick." "This is a severe blow by the workers' union to Friday's train passengers, along with the many IDF soldiers who use the trains," the Israel Railways administration said in a statement on early Friday morning. "In the last few hours, in an illegal and irresponsible organizational step, eight traffic controllers in the National Railways Command announced they were sick," the statement continued."
Italy, Venice: report about squatters occupying lots of empty homes in protest against high rents  "Alessandro Dus, 34, has been occupying an apartment for two years. "We want to fight against the thousands of closed abandoned apartments in Venice, when we move to an abandoned apartment we renovate it and we make it habitable again," he said. …While acknowledging that "Venice risks extinction", regional housing agency chief Raffaele Speranzon denounced the squatters for taking matters into their own hands"
South Africa, Free State: 3 trucks burnt and 1 looted – no clear reason given

11/4/19:
South Africa: service delivery protests shut down various parts of country "Tshwane, Somerset West, Khayelitsha, Kroonstad, Orange Grove, and Vanderbijlpark are among the areas affected.Reports of protests in various parts of South Africa have been received as the "Total Shutdown" movement spreads.Tshwane is reportedly undergoing a shutdown, with Mokopane and Shoshanguve apparently blocked and inaccessible. There are also reports that the R101 near Hammanskraal has been barricaded. Clouds of smoke above Hammanskraal have also been reported." More here  "During the early hours of the morning on Thursday, protestors in the precinct of Akasia Police Station stopped and burnt a truck with a cargo of cutlery. They incurred damages of approximately R700 000 in the process…National police commissioner general Khehla Sitole confirmed that police responded to the scene but were ultimately attacked by the protestors. He said one of the officers sustained gunshot wounds to both his legs. He was rushed to hospital for medical assistance and is currently in a stable condition. The statement continues: "However, later in the day the protestors continued with their intentions to loot. It is alleged that during the commotion at one of the shops, the owner fatally shot a 35-year old man and fled the scene." Moreover, officers responded to the scene and were attacked. In addition, protestors damaged their vehicle. Sitole also added: "The protestors proceeded to a house in Extension 5. They broke in and stole musical equipment and set the house alight. The police responded and discovered the body of a 30-year-old man across the street from the burnt house." Protestors continued to loot and damage property during the day. "

Argentina, Buenos Aires: bus burnt, as bus drivers riot against dismissal of fellow workers

10/4/19:
South Africa, Eastern Cape: bus burnt out during protests against electricity cuts

Tunisia, Tunis: roads blocked, stones thrown as students clash with cops in protests against restriction of teaching jobs to only the very highest qualified

9/4/19:
South Africa, Limpopo: 3rd night of barricades of roads by blind students demanding the end of crap accommodation and crap classrooms

Sudan, Khartoum: massacre as army tries to break up sit-in outside military HQ

8/4/19:
South Africa, Johannesburg: proletarian shopping during school students' 'rampage'

Sudan, Khartoum: soldier and another man killed as army breaks up sit-in  "Sudanese security forces attempted to break up an anti-government sit-in outside the military headquarters in the country's capital on Monday, setting off clashes in which a soldier was killed while trying to protect protesters, activists said. Thousands also rallied in front of the compound in Khartoum over the weekend, in one of the biggest demonstrations since protests erupted in December calling for President Omar Al Bashir to step down. On Monday, security forces used tear gas, rubber bullets and live fire to try to disperse the protesters, according to the Sudanese Professionals Association, which is spearheading the demonstrations. The Sudan Doctors Committee, an affiliate of the SPA, said a soldier was fatally wounded while trying to protect the protesters. It said another man died elsewhere in Khartoum after being beaten and tortured by security forces."
7/4/19:
UK, London: once bitten twice shy – 13 screws hospitalised after teenage prisoners bite & punch their oppressors

6/4/19:
Madigascar, Maroantsetra: 19 cop residences burned to the ground, police station attacked, after cops kill 2 youths

Greece: 3rd day of clashes between migrants & filth "Hundreds of protesting migrants clashed with police for a third straight day in northern Greece on Saturday, with migrants throwing rocks at officers who responded with tear gas and stun grenades. …Several migrants, including children, fainted amid the clouds of tear gas Saturday. The protesters have lit fires to make the air more bearable, but blazes have also erupted from exploding stun grenades. In Athens, migrants left a main railway station after blocking trains on Friday and services resumed Saturday."  See also "Asylum seekers in Greece and Germany"

Sudan, Khartoum: anti-government clashes renewed

France: yellow vest clashes in 9 towns…Montpellier: major motorway blockaded on both side by yellow vests for an hour
Australia, Melbourne: mildly funny detournement of disgusting politician/businessman's political posters
5/4/19:
Zimbabwe, Harare: cops teargas everyone  as they clash with minibus drivers and street sellers, trying to resist eviction from Central Business District
Greece: 2nd day of clashes between migrants and cops

4/4/19:
South Africa, Eastern Cape: 2 die as cops fire live rounds during service delivery protest

Greece, Thessaloniki: clashes between cops and migrants See also"Asylum seekers in Greece and Germany"

3/4/19:
South Africa, Limpopo/Mpumalanga: the liberation of animals is the task of the animals themselves

Colombia, Cali: student killed as hooded student rioters confront cops, molotov shopping centre  Video here

Chile, Araucania: clashes between cops and Mapuche

2/4/19:
Venezuela: further riots in Barcelona & Cabimas over power cuts Mainstream report from impoverished areas, showing verbal opposition towards both right and left rackets, here "Alexis Pineda, a 18-year-old student from El Campito, said that for all his community's hardships he felt ambivalent about both men. "The way I see things, neither of them has done anything," he grumbled. "All right, Guaidó declared himself president … but we haven't heard much from him since." José Jaramillo, a 32-year-old construction worker, said the political crisis had left him feeling like an orphaned child: "None of them are any good. Not Maduro. Not the opposition. None of them."…Venezuela's impoverished barrios have been making their voices heard in the weeks since Guaidó threw down the gauntlet to Maduro on 23 January – and have paid dearly for it, with human rights activists accusing security forces of a string of politically driven killings…."I feel afraid. I feel anger. I feel hatred," said Cárdenas, as her neighbours placed improvised oil lamps outside their electricity deprived homes. "The truth is, it's all just too much." Cárdenas did not hesitate in declaring herself part of the opposition to Maduro but admitted she was still not completely convinced by Guaidó. As she sat in the shadows, the grandmother of six scoffed at the chirpy slogan of his campaign to topple Maduro: "Vamos bien", or "We're doing well". "We're well fucked, that's what," she said." See also reports from 17/3 & 10/3 here. See also this: A Desperate Venezuela Today (despite having elements of self-management ideology, and an affirmative use of the dubious Chavista term "People's Power", this seems to be a pretty good contribution to understanding the situation there).  It should be pointed out, for those who can't see the obvious, that Guaido, who's supported by Trump and Richard Branson amongst other creeps, is clearly using this as a way of buying support from the impoverished and starving. Whether the Venezuelan poor can steer their way past the Scylla of the Left of Capital and the Charybdis of Capital's Right wing is unlikely without an intensification of independent class struggle throughout Latin America and further. See also this: Humanitarian Aid… for War. And this, about the conflicts on the Colombian-Venezuelan border bridge (thought the final sentence – "we are simply not in a position to decide which faction in this fight should win"  – is a cop-out, since we are definitely in a position to desire, though not decide, that no faction should win. Also worth reading – this El Libertario article, though very general and lacking in details about present daily life there.
Colombia, Cauca: cops clash with indigenous peoples as more roads are blocked in protest against state breaching territorial accords

1/4/19:
Mexico, Tijuana: riot of migrants  in detention centre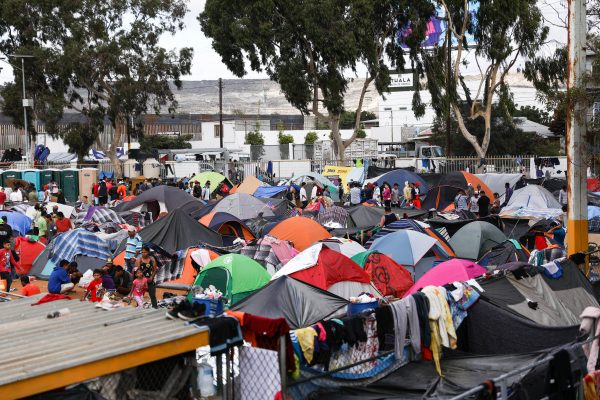 Above: migrant camp
"It was not a problem of overcrowding." – Rodulfo Figueroa, head of the National Migration Institute in Tijuana
US, South Dakota: new law could effectively criminalise any call to demonstrate
Venezuela, Caracas: streets blocked with fires as residents fight power outages
Sweden/Denmark: wildcat strike of trains between 2 countries