"It is a sort of April-weather life that we lead in this world. A little sunshine is generally the prelude to a storm"
– William Cowper
"April with its haunting joy, and swift-stinging tears, month of mist and music, and the old moon-madness, month of magic fluting, the spirit only hears"
– Virna Sheard
8/4/21:
"They used burning tyres to blockade the institution's main entrance. University management says this is in contravention of picketing rules. Ngobese says they were hoping that trade union NEHAWU's handover of a memorandum to management on behalf of staff, would be peaceful, but this was not to be. "There are clashes between students and police today but what the problem is there are those opportunistic parties who hijacked the struggle of workers for their own strike. It's supposed to be a peaceful one. NEHAWU submitted the memorandum but the university must look into the matter, however, the workers just said enough is enough. They won't keep working until their demands are met."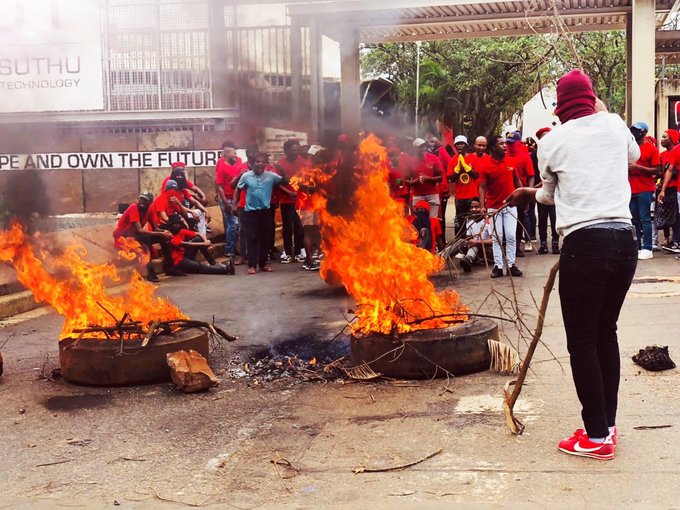 This is a mix of student demands for the cancellation of student debt & increased funding for tertiary education  and solidarity with university workers demanding an 8% pay rise.
7/4/21:
6/4/21:
5/4/21:
"One protester was killed and at least three others were critically injured as the police opened fire on mobs agitating against anti-COVID-19 restrictions in Saltha upazila of Faridpur on Monday night. The mobs attacked the upazila administrative office, Saltha police station, office of the assistant commissioner for land and muktijoddha complex and engaged in clashes with the police, according to witnesses…locals at one stage attacked sub-inspector Mizanur Rahman…hundreds of people marched towards the local police station and set fire to government installations, including the upazila parishad building, police station, AC Land office, UNO's residence, upazila agriculture office"
4/4/21:
"On Sunday night, prisoners smashed through the glass of street-facing windows and threw flaming debris to the street below. A crowd gathered around the facility while people, including local news reporters, filmed the men shouting their demands and chanting. "
For first riot at this jail , see entry for 6/2/21 here (includes eyewitness account, plus mention of  this event at the city jail in 2013).
3/4/21:
2/4/21:
"The unrest came a week after similar violence when police broke up an illegal party in the city. This week the exchanges were more heated, with police at one point being attacked by a Molotov cocktail. They responded with rubber bullets and tear gas. Two young people were injured. Some 21 were arrested by police for questioning, but all have since been released"
"85% of those detained by the army have suffered torture "
1/4/21:
"Calm returned after unrest all evening  in Bois de la Cambre after a fake festival … Large groups of young people played a game of cat and mouse with the police all evening. This afternoon, a multitude of people showed up for "La Boum", a fake festival that supposedly took place there. Peace did not return until 10 p.m. Dozens were injured and 22 people were arrested. 7 police horses were also injured. … The police put it at about 2,000 participants. They had turned up for the April fishing festival [April Fools Day in French is "Poisson d'avril" –  Fish April] "La Boum" announced via Facebook by an anonymous artist collective from Brussels. From the beginning of this week it was clear that it was a joke, but it all got out of hand. Young people in particular often came together to party without a mouth mask. …the atmosphere only became grim when the police arrived a little after 4 pm. "Then it started to derail…The police first tried to quietly evacuate the park, but that did not work. So they deployed the great resources: horses, dogs and the water cannon." …A large part of the park had already been evacuated by 6.30 p.m., but a hard core of a few hundred people continues to play a game of cat and mouse with the police for hours. During the evening twilight, the party is still going on, according to these images. … Fireworks are even set off by the revelers around 9 pm. At the same time, the water cannon must also be deployed several times. At that time, two large groups with several hundred young people are running amok in the Bois de la Cambre….Minister of the Interior Annelies Verlinden (CD&V) reacts indignantly. "The April Fool's joke that got out of hand today in the Bois de la Cambre is a blow to all those people who are doing their best to respect the corona measures," she said in a press release. …"I am well aware that the COVID crisis is now taking a very long time for many people and especially young people and that it is not always easy to comply with the measures," she continues. "The more consistently we show solidarity with the measures, the faster we can stop the spread of the virus together." The Brussels mayor Philippe Close (PS) is also unhappy about what happened. Earlier this week, he had already asked the public prosecutor's office to take action against the April Fish Festival and the police were also on standby this afternoon, he said. "We cannot tolerate thousands of people coming together while the virus is still spreading…Everyone needs a party, but we cannot accept this." … "It is still much too early for this", says virologist Steven Van Gucht…"We are at a stage where very few people are vaccinated and protected, so we have to keep insisting on the measures. This is not worth repeating. " Van Gucht says he understands that many young people are tired of it, but still asks to persist. "By letting go too early you can potentially cause thousands of extra deaths that are not necessary because in a few weeks the people at risk for complications and deaths will be vaccinated. It's too early to let go, however difficult that may be."
More here and here.  "Spokesperson" for the collective apparently "responsible" for the fake festival speaks here. This spokesperson says that they want to spread the idea of "wild parties" (flashmob parties?) throughout Europe, as if the idea came from them. In fact, spontaneously or organised on Facebook or wherever, such parties, in defiance of the authorities, have existed for some time.  I remember towards the end of confinement in Montpellier in May last year, a party of a100 people developed in the park without having been pre-organised at all.  The absurdity of this epoch  is that something as simple and banal as a street or park party is now defined as a threat to people's lives and a callous  egotistical  act – both by "revolutionaries" and conservatives.